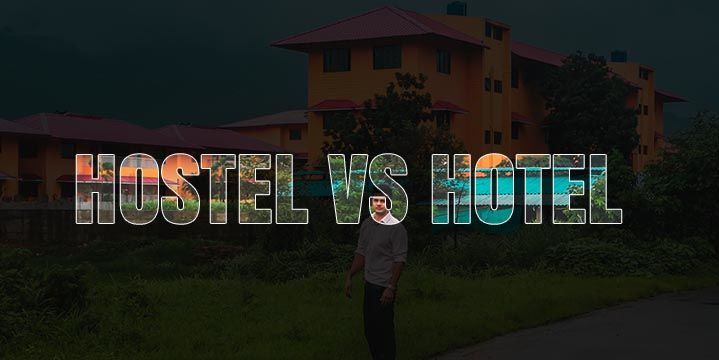 I experienced my first Hostel experience on my Goa trip. It was just awesome and a new experience for me, that i decided to always stay in hostels whenever possible for my next trips. For those who dont know what is Hostel, it is a shared room with multiple beds approx 4-8 depending on Hostel. Dont worry as most of the Hostels are well maintained and come with all necessary facilities . You can always check online and read reviews before booking any Hostels.
Below i am listing top 3 things i experienced and why i will suggest anyone to chose hostels over hotel.
1. POCKET FRIENDLY
A big chunk of our travel budget goes to Hotel booking so it will be a wise choice to save money on it. Hostels are damn cheap when compared to hotels and should be your first choice if you are travelling solo or in budget. In my case i stayed at RoadHouse, Palolem which costed me Rs.150 only as it was a off season in Goa. Currently i have checked and it's price is Rs.305 which is still a very cheap price for a individual . Price may change later as New year is coming. Also most of the time you will not find your room full as not all beds get booked all the time apart from New Years and festivals. So with hostels you can save a tons and use that money to expand your trips.
2. MAKING NEW FRIENDS
If you are travelling solo or also if with friends, staying at a Hostels would definitely enhance your travel experience. You will get a chance to make new friends who are also interested in travelling as mostly travelers specially solo ones are the only one who stay at Hostels. You get a change to talk with them, share travel experience, explore places together and also party.
3. KNOWING NEW CULTURES
Not only Indian but a lot of foreign travelers also prefer to stay at Hostels. You get to know new culture. I hostel i stayed i made friends from France and Russia. Listening their travel stories around the world inspired me a lot. We get to know about their culture , places and thinking also. Most of foreign travelers really love India a lot and also love India food. Making friends from other corner of the world is also a very satisfying experience for a traveler.
FINAL THOUGHTS
I will definitely suggest specially solo travelers to stay in Hostels. Do check all details online about the hostel you are choosing and read the reviews before booking. I hope you will enjoy you stay. Thanks !