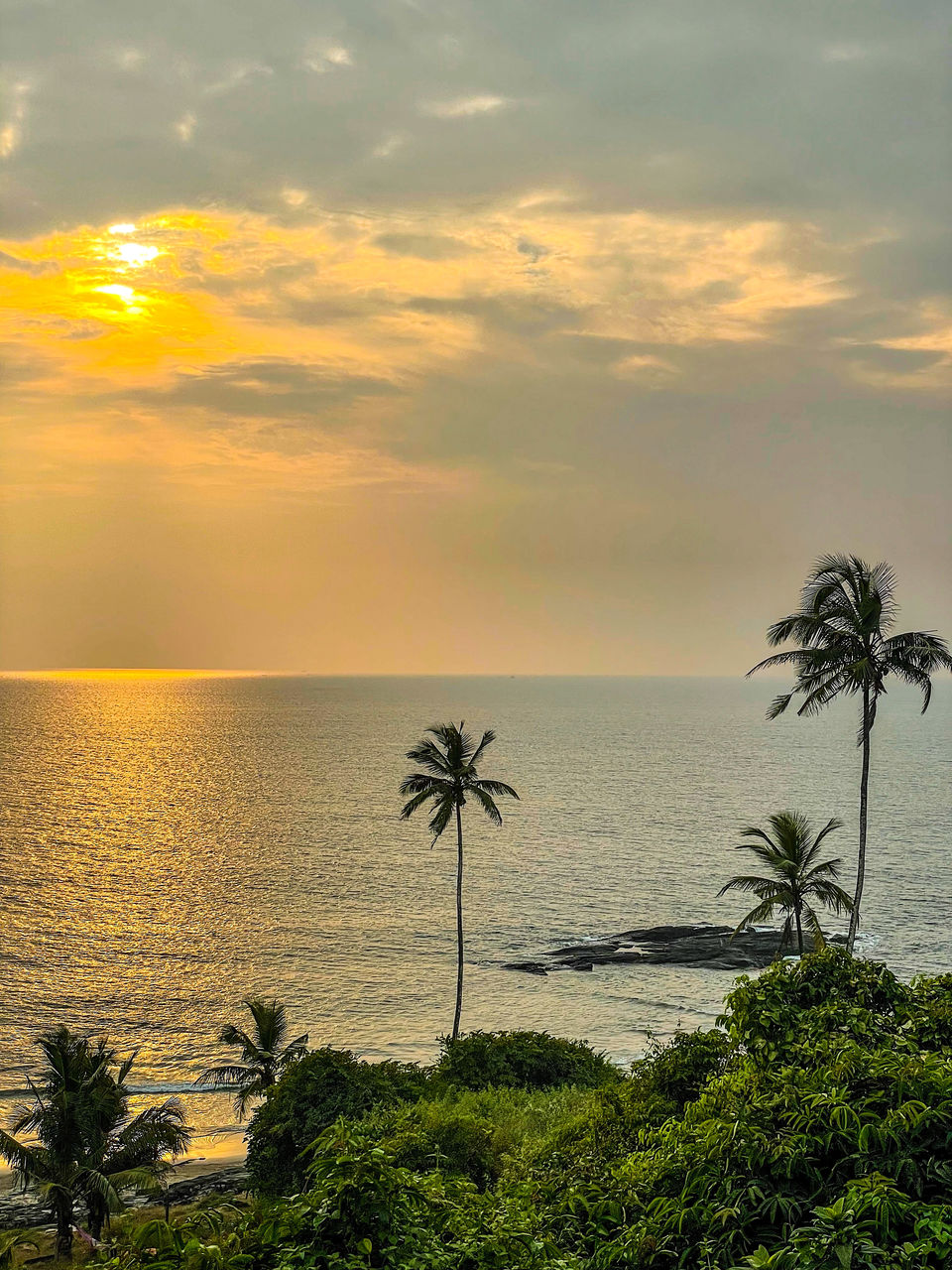 Mention the word 'Goa', and slowly swaying palm trees, golden sands, dreadlocks, beer, hippies, dance parties, yoga retreat camps seem to come to our minds!
Have you ever thought that sunset would be one of the best reasons to visit Goa?Sunsets are always special and the sunset spots in Goa are aplenty! But little did we know that there are numerous hidden places in Goa that remain concealed in its hip streets and verdant naturescapes just waiting to be explored.
If you wish to experience the untouched, unspoiled, rather pristine version of this coastal beauty, then you must head to these unexplored, yet outright divine places in North Goa on your next trip, to witness the magic of the setting sun! And be sure to take a look at the amazing AirBnBs in Goa that will be perfect for your next vacation.
1. Vagator Hill
This is a great spot up the very steep Vagator Hill where you get a beautiful panoramic view of the ocean across Anjuna Beach on the left side and Vagator Beach on the right side. Best to leave cars and scooters parked at the bottom and you can walk up the hill as the roads up are steep. Once up, find yourself a spot to sit down and watch the show!
How to get there: 6-7 minutes walk from Olive, one of the most famous restaurant in Vagator, Goa.
2. Sinquerim Secret Spot, Candolim
Up high on a clifftop that leads down to a very deserted beach is this beautiful secret spot that gives you an amazing panoramic view. This is one of my new favourites and one that not many people know. Also it is an amazing spot for drone shots!
How to get there: 15 minutes hike from Sinquerim fort. Start walking towards the small road leading to the back side of the fort. Keep walking until you reach the top of the hill.
3. Badem Hill
This is a secluded spot up a hill surrounded by bushes with a nice space to put a blanket down and watch the sun do its thing. Drive directly to the sunset point and enjoy the view from your car itself. You can see the beginning of Morjim beach in the distance and the Chapora River to your right and the never ending ocean that spreads out in front of you. This is a great trail for the bike riders!
How to get there: Near the Badem Church
4. Vaayu Surf and SUP School, Mandrem
The beach, Mandrem, in front of this boutique guest house is empty with no beach shacks at all. This means there is lots of open empty space and usually less people. You can choose to wade through the sometimes high river to get on to the beach or you can sit at Vaayu and have a delicious smoothie, cocktail, taco or whatever takes your fancy from their yum menu. They have a special designated sunset spot up a spiral staircase as well as a whole deck on the other side that usually has DJs playing during the season!
How to get there: 6-minute walk from Mandrem bus stop and a 15-minute walk from Ashwem Beach.
5. Nilaya Hermitage
This boutique hotel allows people to come up and use the pool for the day and have food and drink. I would suggest using the pool for the day and then staying for sunset. Nilaya is set up high on a hill in Arpora which gives you an amazing view of the stretch from Calangute to Baga Beach from above along with some beautiful green hills ahead. Depending on the time of the year the sun will set behind the hills or in the sea. Either way it is a really beautiful spot that not many people know about!
How to get there: Situated a little over 4 km, away from the Baga beach.
So, on your next trip to Goa, do not forget to discover these spectacular spots in North Goa to enjoy the magical sunsets!
For more travel stories follow my page on Instagram @tan_s07.
Ready to travel for free? Earn credits and redeem them on Tripoto's weekend getaways, hotel stays and vacation packages after the pandemic is over!