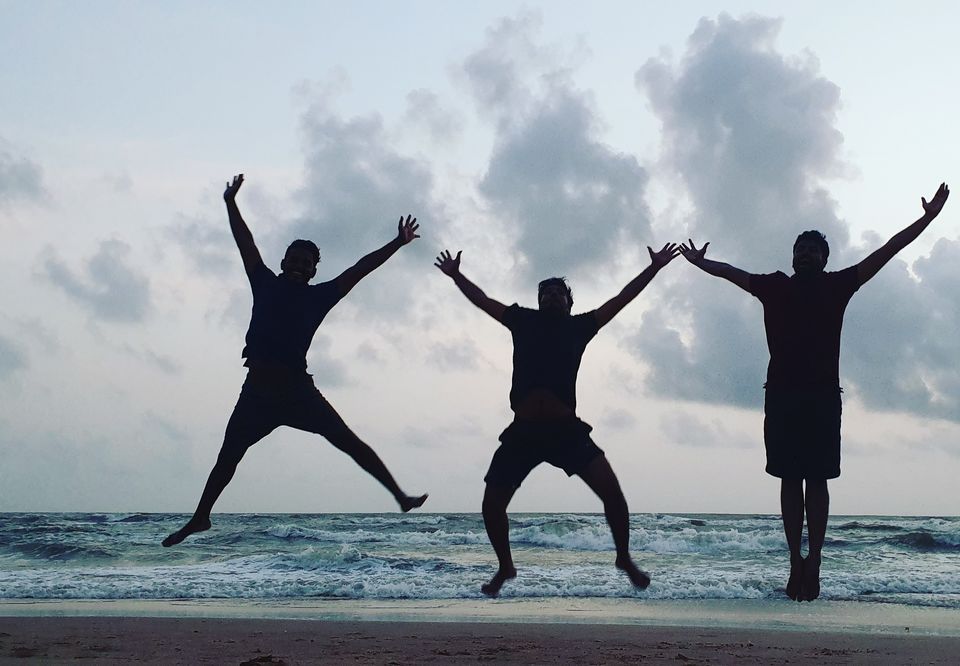 Goa-City of Neon Lights.
It was a journey with the expectation of, finally I am going to dip in a crystal clear blue water.
Day 1
Took the Garib express to Madgaon and reached the destination at almost 2 am.Although its a full AC train, we were devastated to hear we wont get any food until we reach Madgaon from ERS.
Stepping down in Madgaon railway station with a hunger mindset, there I saw my friend who already get down at the railway station with a camera in hand shouting at us from the furthest corner to make a jump like in Chennai express.
Should I give him a shot to take or give him a serious eye of a tiger look?
With almost 4 more hours to reach 6 am hour mark we were looking at each other with no sleep for the last 12-14 hrs.It seems like wherever we go,  suffering is part of plan.
At 6 am we were walking like a lone group of snails with brain and heart thinking concurrently.
We took a bus from Madgaon to Calangute.
Travelling in the bus with the locals at early morning gave me a second thought of am I in Cambodia.
Although we were not understanding what they were speaking, look at there attire I understood they are sea monster hunters.
We took a room next to Calangute beach and slept for some hours to refind ourselves.
We rent 4 scooters and went to our very first destination, Basilica of Bom Jesus.
Let the party begin with a list of confessions.
Later the day we travelled to the famous Dil Chahta Hai location "Chapora Fort".
Looking  down from the Chapora walls does give a spectacular view of Arabian sea.
Staring at the waves going forward and back does makes us rethink, just looking at the gushing water fills the heart and head with peace.
Can the deadly waves bring back the peace or is it the feeling of entering into an unreal  dimension gave the silence and stopped the thoughts firing from all corners of head.
At the end of the day we took a long ride to reach the famous Vasco beach.Sitting there for a while we understood that Goa possess all sorts of beaches to its followers.
Whether its for the those who love to be in the crowd or instead prefer to sit alone and gaze at the mars like sun.Although few of us had other thoughts.Was it a mistake?😝
Day 2
It was one of my friends idea to watch the sunrise in Aguada fort.When we reached there by 7am, the guard said they wont open the door until its 8:30am.
Stringent laws!!!
After riding for more than an hour, early morning and hearing this rule in their everyday life from the guards was more like a  headbutt to switch off the head for sometime.One slept in the scooter with an attitude of being a bat, few in the ground like hyenas.
Honestly I dont remember what I saw in Aguada fort but the history says Aguada fort provided water supply to the ships that used to stop by.They say there are cells underneath the fort which are not accessible now. But one my friend unearthed the fact that bricks used in the mighty walls of Aguada are glued together to make its form.Is it written anywhere in history?
No I guess and glad that I am packed with such big brains next to me.
With the expectation of watching the sunset we went to the Curlies shack facing Anjuna beach.Although the idea was to watch the the sunset,  we were looking at each others food asking ourselves why I ordered this shit.
But the beer was fine!
Night!!!
I should say one of the finest nights of my life.
Casino was an everlasting experience in terms of gambling.To all the men out there, I saw the most beautiful ladies not in beach side but in reception area of Casinos.😝
Casino pride was our option with the budget in hand.I realised the fact that the differing attitude of people coming for gambling was apparent in how each of us played.
Two left after converting the vouchers into cash, two played to win & lose and two played only to win.
We were in the Casino until 4 am with a euphoric mindset.
Day 3
We woke up at noon since we didnt had a proper sleep.We travelled 30+km  to reach Thivim to do the unthinkable.
But Bungee jump was inside the head for a long time.Doing it was more of sense of accomplishment...
Although we suffered many times during our journey, wherever I plan to go these bunch of vivid characters are the first to come to lightup the plan.I do pray we will stick with the same intensity and love towards travelling until we last here on earth.
Thankyou my Friends.
Friends of a lifetime.