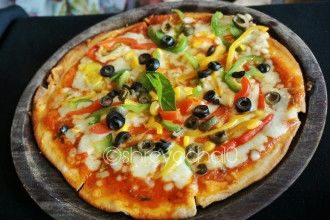 YOU CAN'T VISIT GOA WITHOUT GOING TO BRITTO'S
I visited GOA on March 1, 2017. The best time to Visit Goa is from Mid-November to Mid-February: These are the best months to visit the party capital since the weather is pleasantly cool and comfortable. It's the perfect time to relax on the beaches amidst other tourists who make the most of these three months in Goa. It was really a much needed break for me from all the hectic daily routine.
The most important part to plan a vacation is to figure out which places to visit, coz we always end up in the dilemma to choose one place over another. After hunting a lot on Google (obviously!!! where else can I get help) a constant recommendation was for this place called "BRITTO'S".
BRITTO'S is one of the well known restaurants located at BAGA BEACH. As it is located next to the beach itself you can hear the waves while devouring the tasty food served.
The seating here is made of wooden furniture which gives a typical beach feeling. The super cool view of the Baga Beach and sand under your feet gives you complete feeling of seating next to the sea shore. I visited Britto's around 3 pm-4 pm which I guess was not peak hour, so I guess the service was quick.
I being a vegetarian was mentally prepared for very less option in veg. Food but was surprised by seeing more than expected option in veg.
THINGS I HAD :
¤ veg. Platter
¤ veg. pizza
¤ veg. Fried rice
¤ some drinks whose name I really don't remember.
I would not suggest you to visit BAGA BEACH but would totally recommend BRITTOS 😉