Goa is the party capital of India. Period. From lanky teenage boys wanting to re-create the perfect "Dil Chahta Hain" montage, to new lovers planning to make the most of a beach vacation - Goa is the mecca. A pretty little state, dotted with innumerable beaches,insanely cheap booze, incredible sea food and peppy shopping options, it is a must visit in every travel enthusiast's list. The monsoon months see the least of foot fall, but once you brave the rains, it is a different dimension all together.
This was my second visit to Goa during the rains, and here is how it went.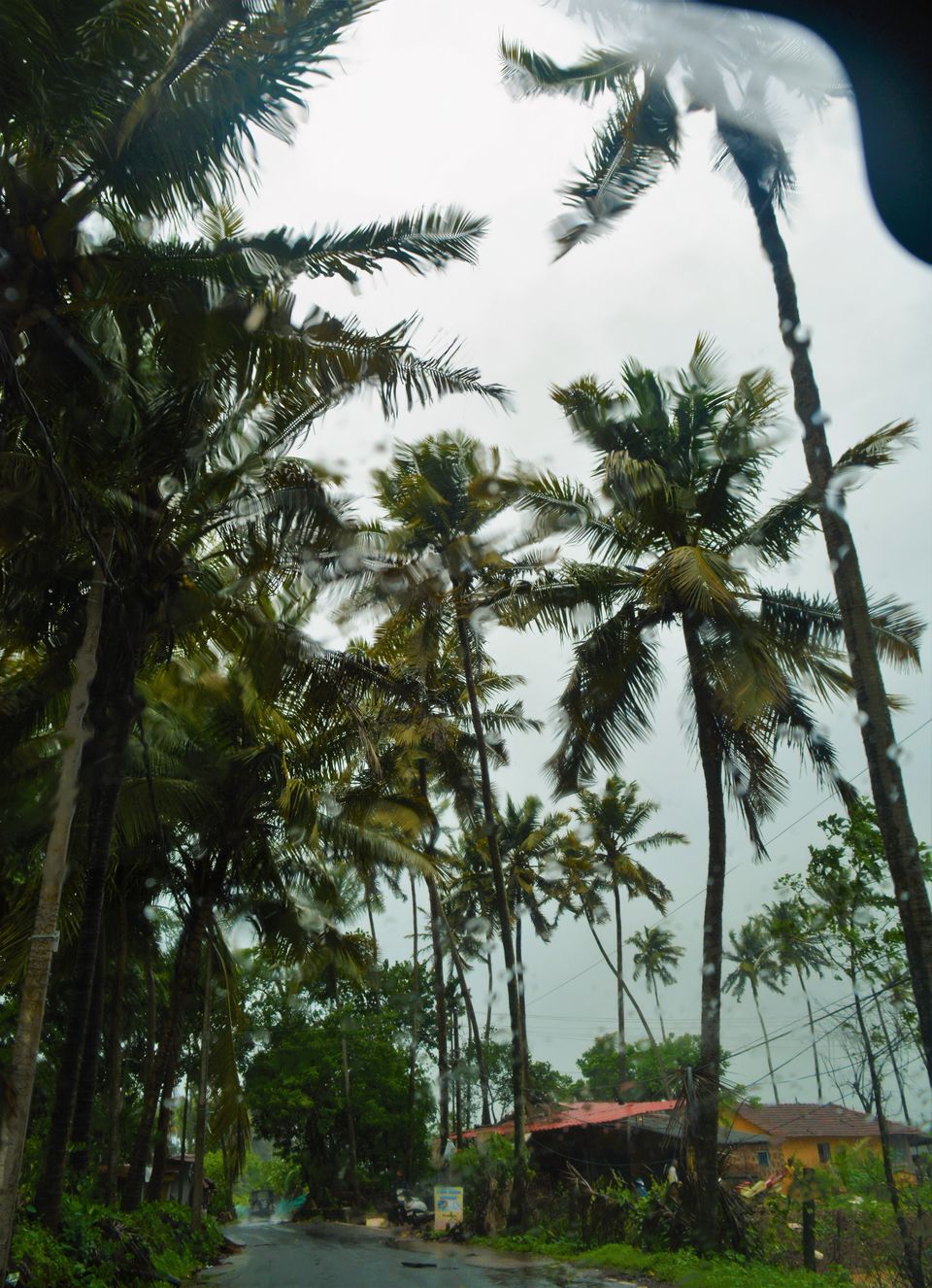 We had taken a early evening flight on a Thursday, to make the most of an extended weekend vacation. There are lot of Airlines plying for Goa, (just make sure you avoid Trujet! that is a horror story I had to encounter during my first time, and not to be recounted today!). When the flight landed at Dabolim Airport it was already raining cats and dogs; We were also armed with rather depressing weather forecast for the next few days but still feeling weirdly upbeat!
The best way to make your way to the city is book a prepaid cab from Airport itself; the cab union in Goa is fighting mightily and there isn't any Uber or Ola there for now. Well after booking a cab we headed to Baga, the party epi-centre of Goa- which is also where we were staying this time. The cab fare for a A/C SUV for 6 costed us INR 1600.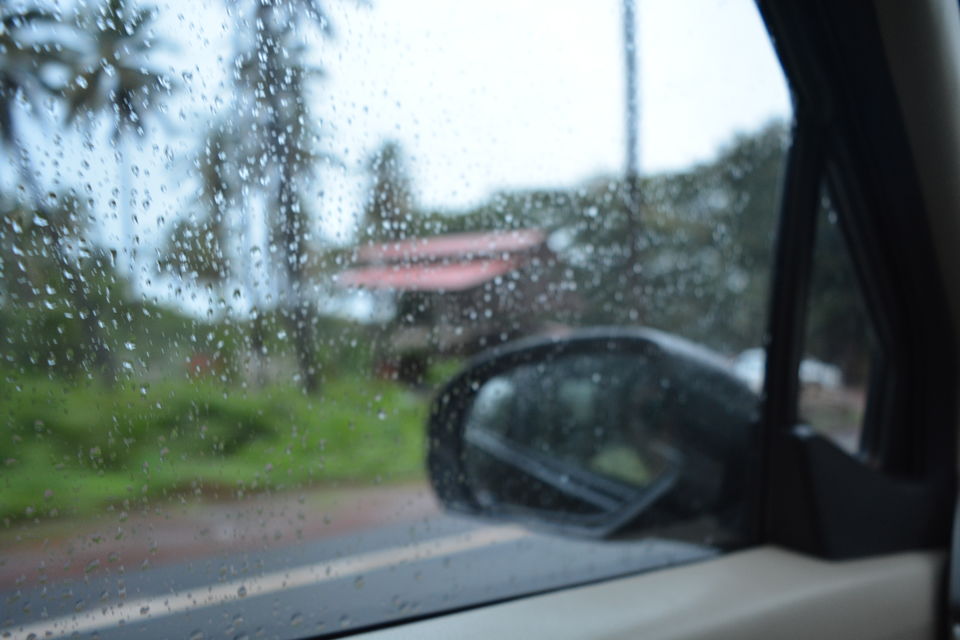 I am a self-declared Pluviophile; so the drizzling which accompanied us more or less continuously did wonders to my spirits; Talking of spirits - that was our next stop, before winding up for the night. Even in between short showers, the Tito's Lane was pretty up and about. A India V/S West Indies match was being aired on big screens and there was one-on-one drinks offer on most places. We stopped by a quaint little pub - "Cape Town cafe" which looked rather vintage with high wooden tables and old fashioned bar cabinets. The starters were basic, drinks did not disappoint, mostly I guess because we were tiered and India was winning the match.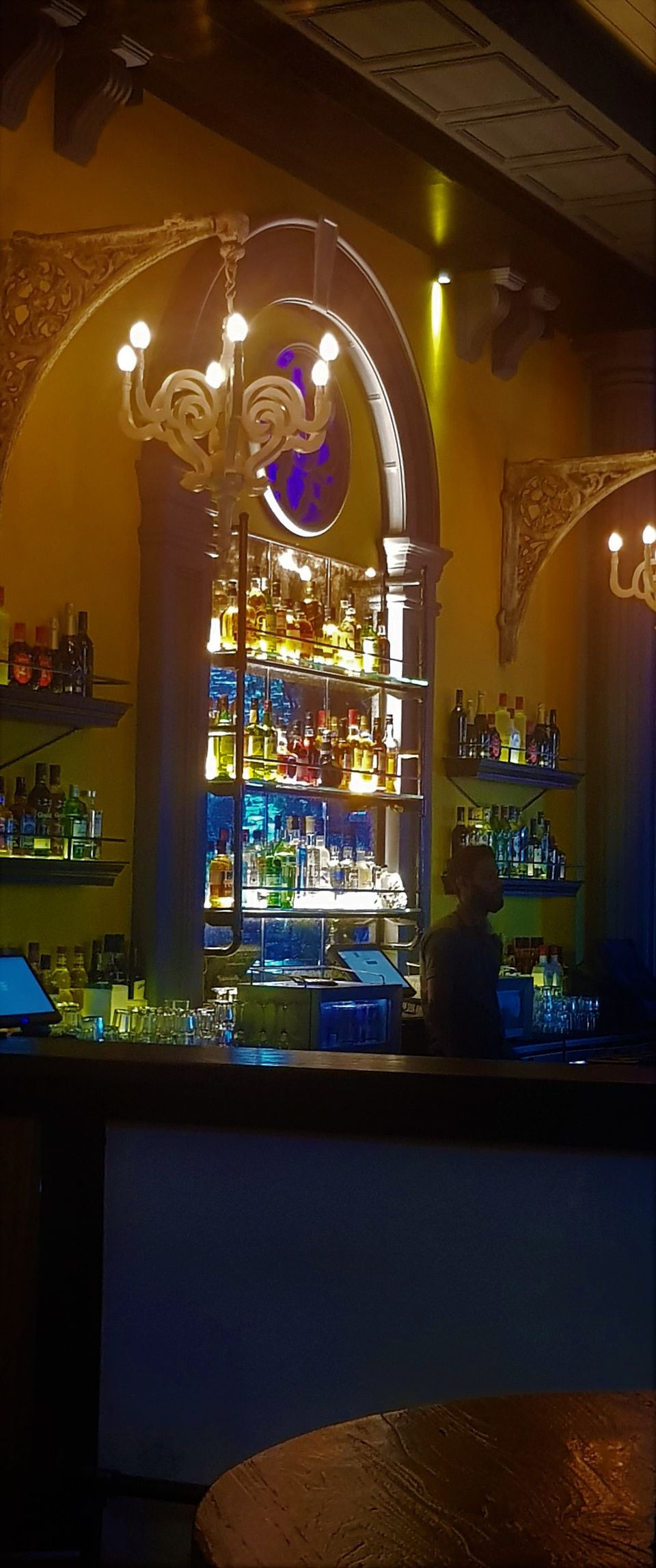 We finished some interesting sea-food starters and our drinks and decided to hit the beach. Thankfully the rain had stopped; the beach did not have many people and it was quite and beautiful. I have always found the night time ocean very mysterious, yet oddly calming. Our phones and cameras were stowed carefully into zip-locked pouches( make sure to keep quite a few handy) and hence no pictures were taken. But anyways, the feeling of sinking your feet into the wet sands and walk with the sea breeze calming your unruly thoughts and the occasional wave flirting in between is something a shutter can hardly capture. After a brief stroll under the rolling rain clouds, we decided to head back to our AirBnB;
After a good night's sleep,our morning started early next day with again, a walk down to the beach. It was not raining , but the sky was menacingly gloomy.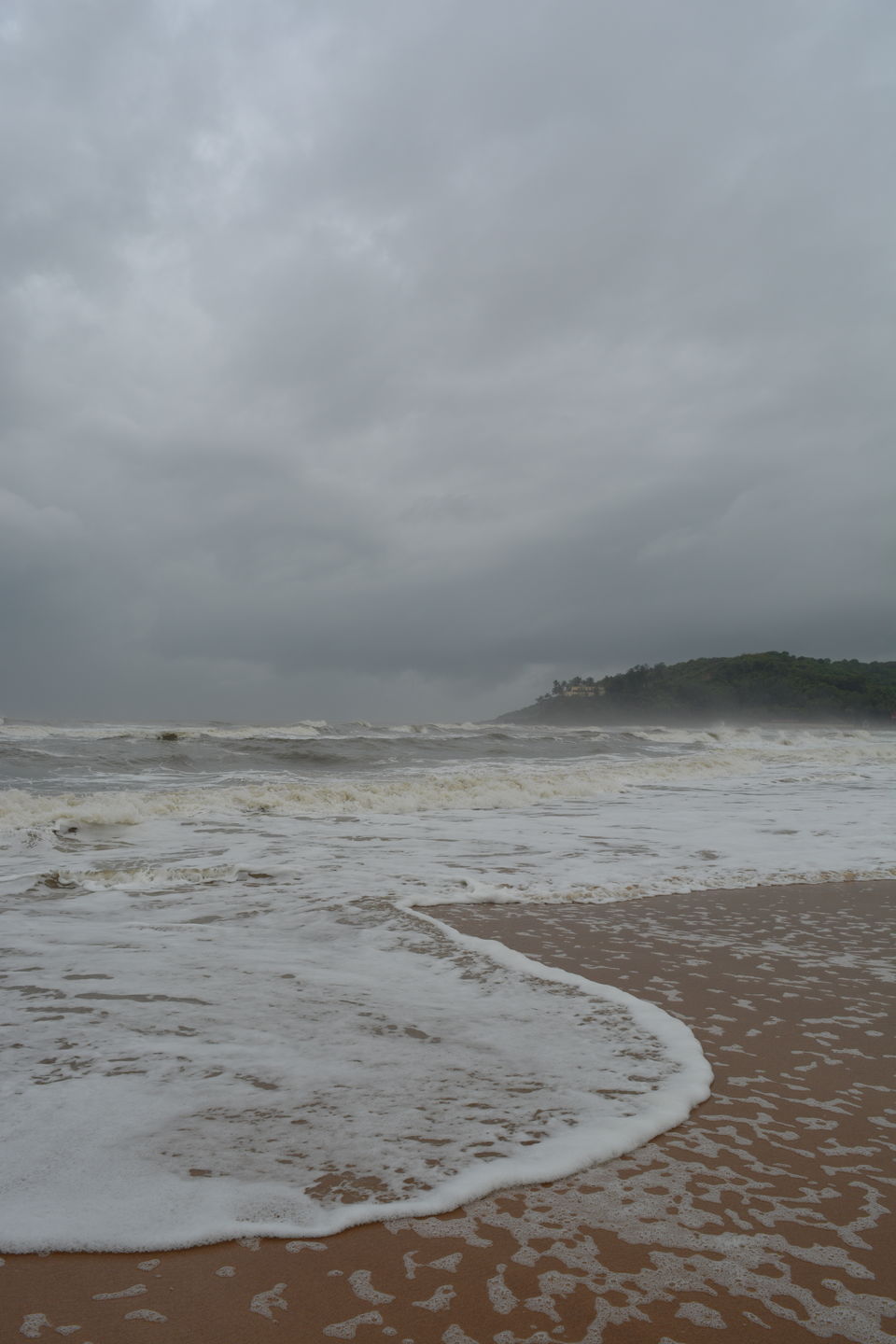 But here is the thing,there are so few people on the beach that its really really peaceful. The coast guards were active however, and blowing whistles asking people to stay away at a safe distance, whenever anyone was going in too deep. The waves were just huge and mesmerizing. Our travel group, consisting of 5 girls and one hapless guy was soon drawn into photography sessions and after everyone( well almost everyone) being satisfied with decent shots ( because come on, a perfect shot is but a myth) we noticed that day light has reduced considerably.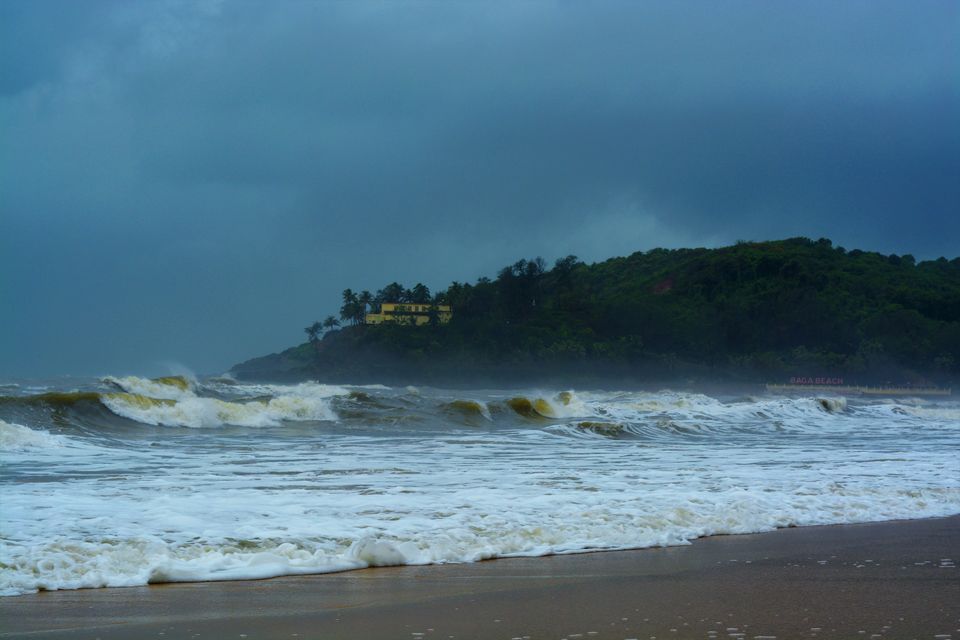 There is something about rains approaching,when you are in the beach. It comes in sheets, like not tiny single drops but sheets. It will give you a warning though, with the top of the sea becoming very dark and the waves fuming darkly, and then it's there. To put it a little poetically, its like falling in love; first slowly then all at once :).
Anyways, we ran towards the cover but like falling in love, getting drenched was inevitable as well. We got soaked by the time we walked back to the Tito's lane and after a point, no one really cared; well, at least the ones who had packed extra shorts and beach clothes (again a must do if you are planning a monsoon trip to anywhere); We saw couples jumping in muddy puddles like small kids and guys playing football in rain - even those (like us) taking a cover were smiling stupidly.
Goa:1;Rain: 0
Looking at the weather, we had junked our plan of renting scooties and had rented a self drive; the rate was pretty reasonable - INR 1200 for a entire day ( 8am to 8am) - fuel cost not included; so the next stop for the drenched souls was Infantria - a famous breakfast stop in north Goa.
We ordered the usual continental stuff and as we waited for the breakfast, our hungry noses caught the whiff of the fresh baked stuff which is also for sale ; orders were placed hurriedly and gobbled up fast, with the following Cinnamon roll being the lone survivor to face a camera [notice the surgical strike already made before the snap]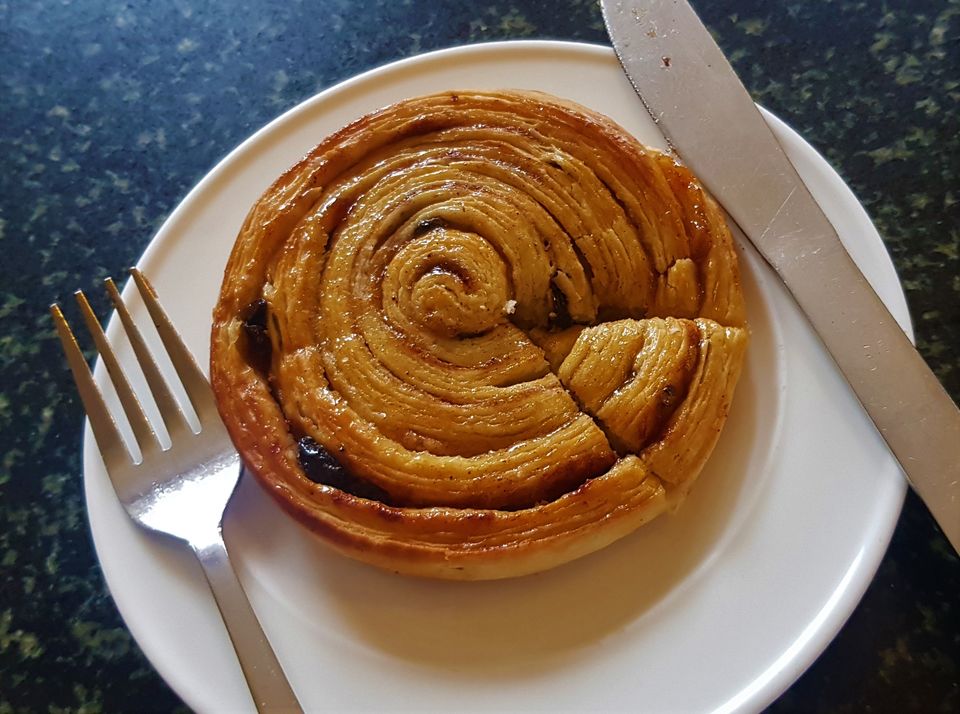 The place was packed to the T, even with rains pouring incessantly outside. We decided to chalk a plan for the rest of the day; with most of the group already having been to Goa multiple times, the common vote was to go somewhere other than the beaches; Not many party hoppers will probably know about this, but thanks to well informed "off-beat" travel enthusiasts in the group - we zeroed down to something called "Fountainhas" a street full of Portuguese houses, quaint souvenir shops, pretty cafes and old churches. By this time food, had arrived.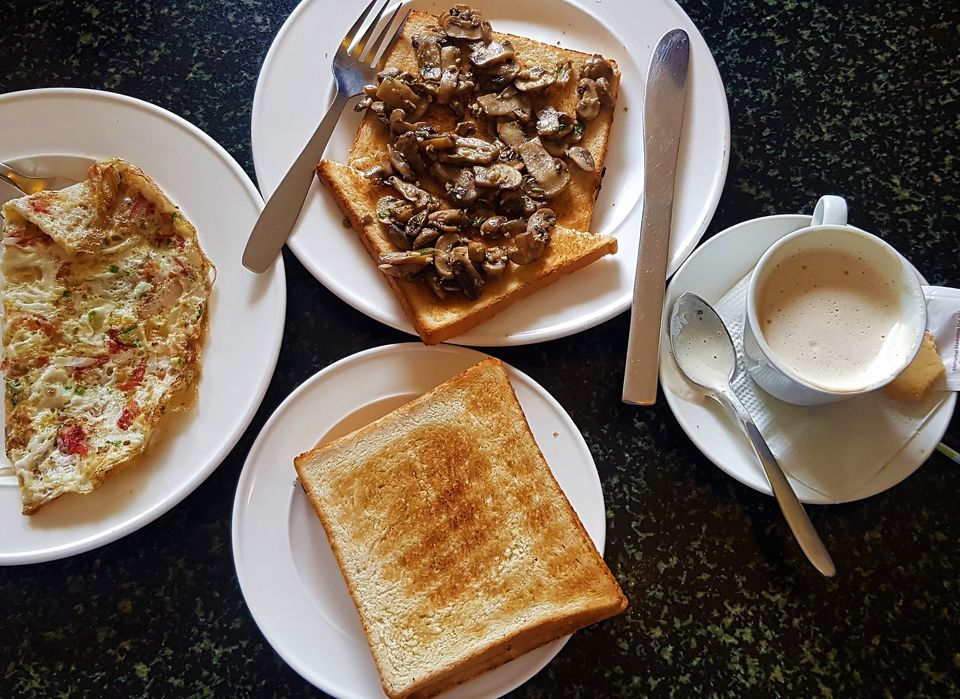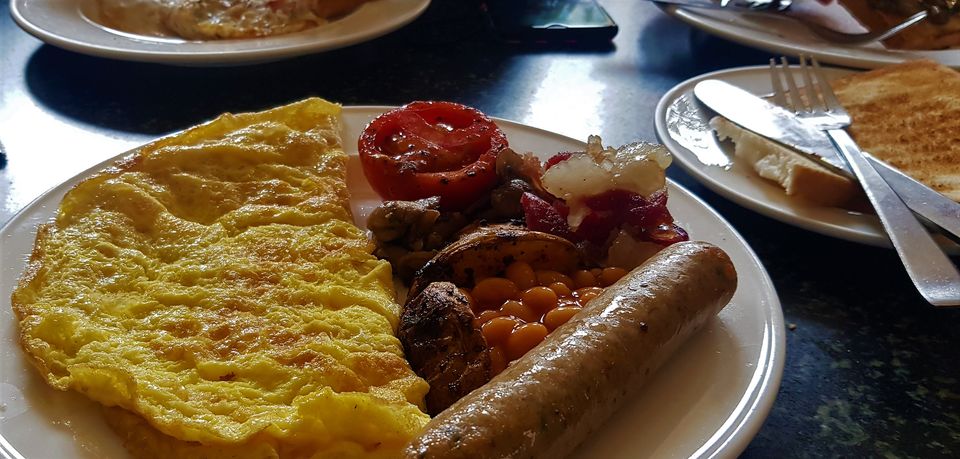 We wolfed down the food; which was again - nothing very surprising but wholesome and good. A friend who ordered goan sausages - Chorizo, was not very happy. It's a spicy pork sausage made into a curry preparation - and not a very usual accompaniment to buttered toast. But then again, one has to experiment.
A very refreshing hot shower, a long getting ready and a short "where-should-I-dry-my-soaking-stuff" later everyone was ready to go out. First stop was to buy more ( and,some more) Raincoats and pretty transparent umbrellas(Be ready to haggle and remember nothing should cost you more than a couple of hundreds); Then we started towards Panaji; the showers were intermittent but both the sides of the roads looked incredibly green - something after the grey drudgery of city life looked delicious different.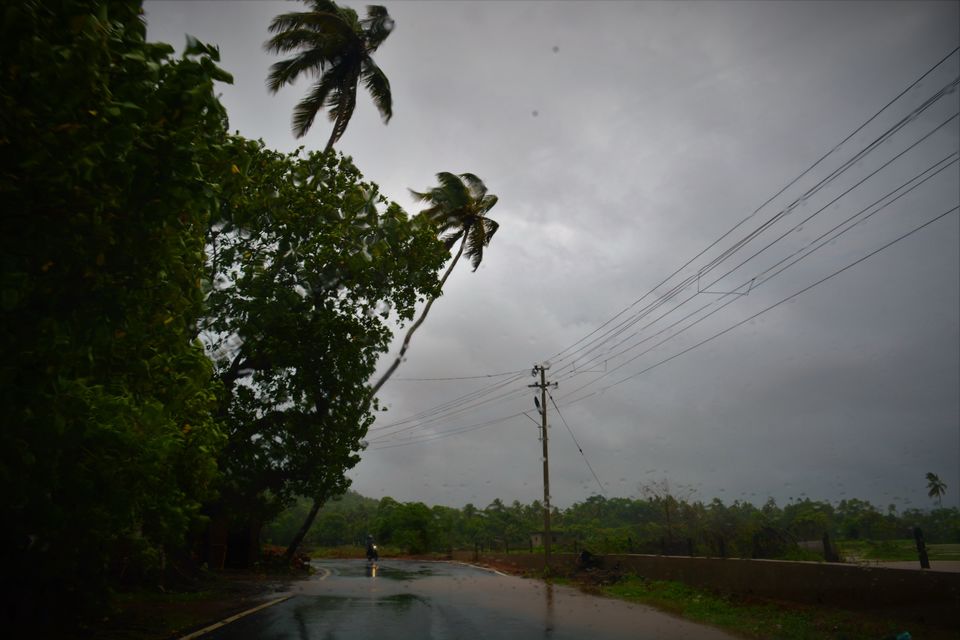 After a drive of about an hour or so, with a constant bickering about which playlist suits the weather most ( with songs as diverse as "Country roads" and "Magenta Rythm" simultaneously fighting for a spot) we reached our destination. It's not a particular building as such but a area with lot of old, colorful Portuguese buildings. Anyone interested in architecture and photography will have a field day here, for sure. We parked beside Desbue - a pretty looking fine dining and started our walk.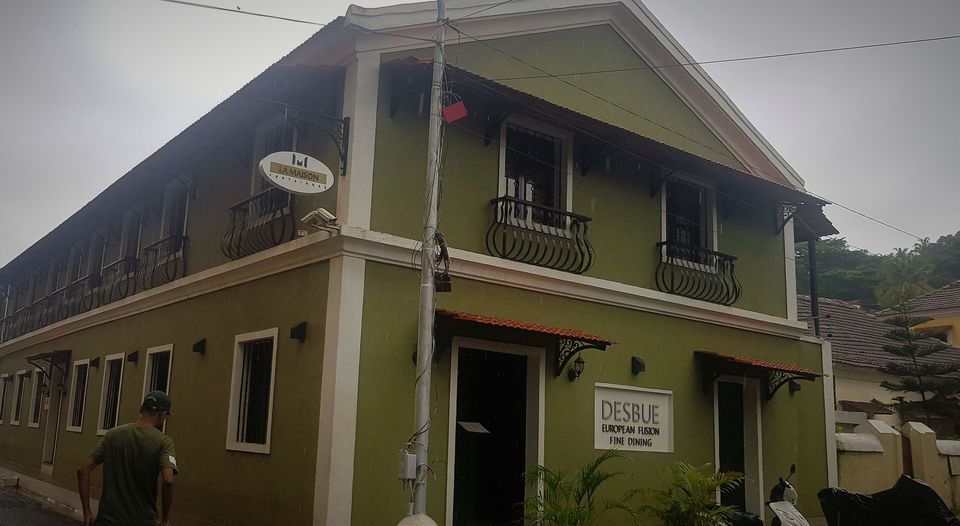 The walk in these lanes will be like a trip down the memory lane; the quaint little colorful buildings seem to be stuck , like forgotten family heirlooms in the folds of time. Renovation, re-painting everything seemed to be have done carefully, not to disturb the original style.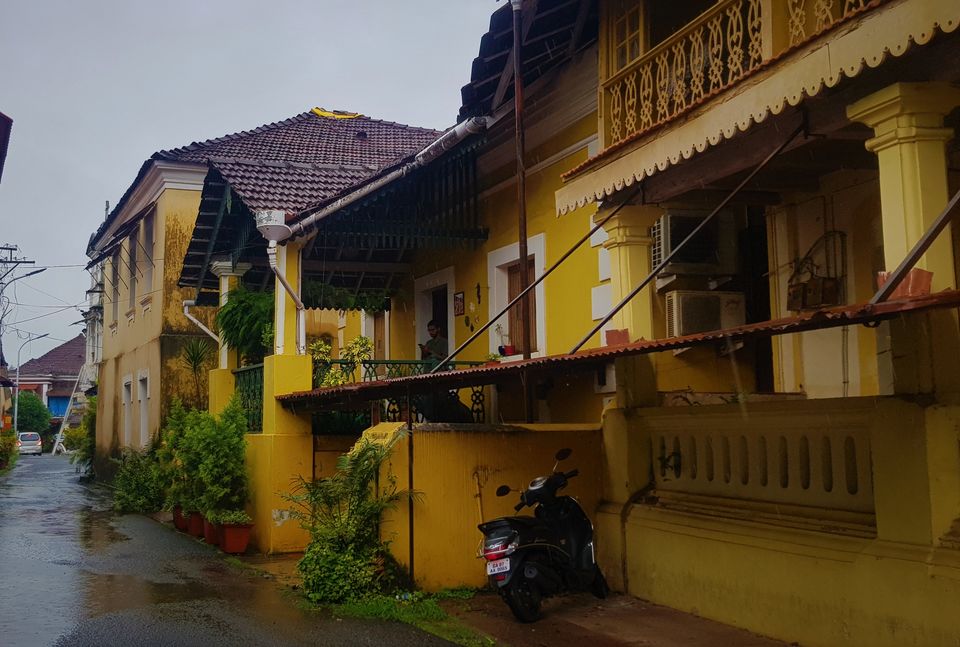 Almost all the houses looked so pretty; It's a quiet neighborhood - I guess used to the handful eager tourists by the looks of it; Be sure to respect the privacy though,if you see someone shying away from the window trellis - we did not encounter any unfriendly face though;
Check out the pretty windows :)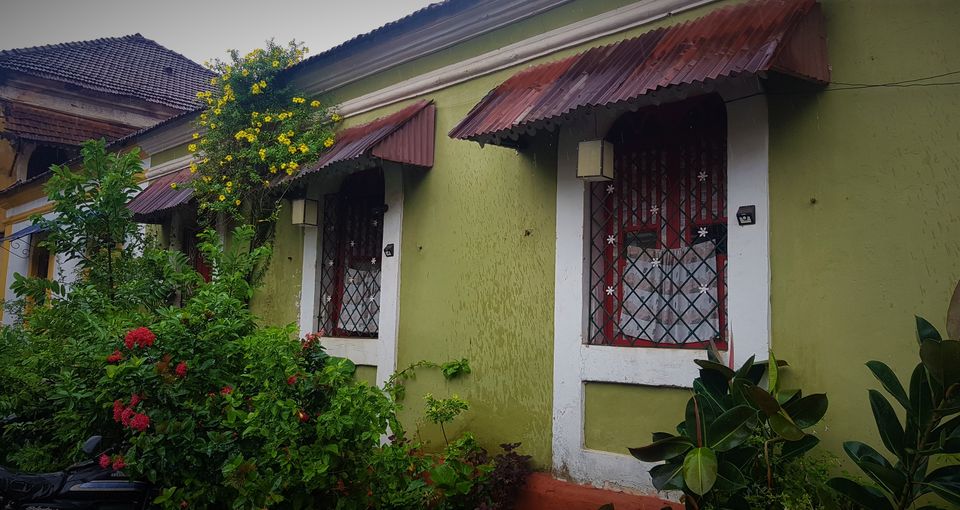 The nooks and crannies of this place is extremely "Instragammable" if that's even a term; See these colorful stairs for inst-ance;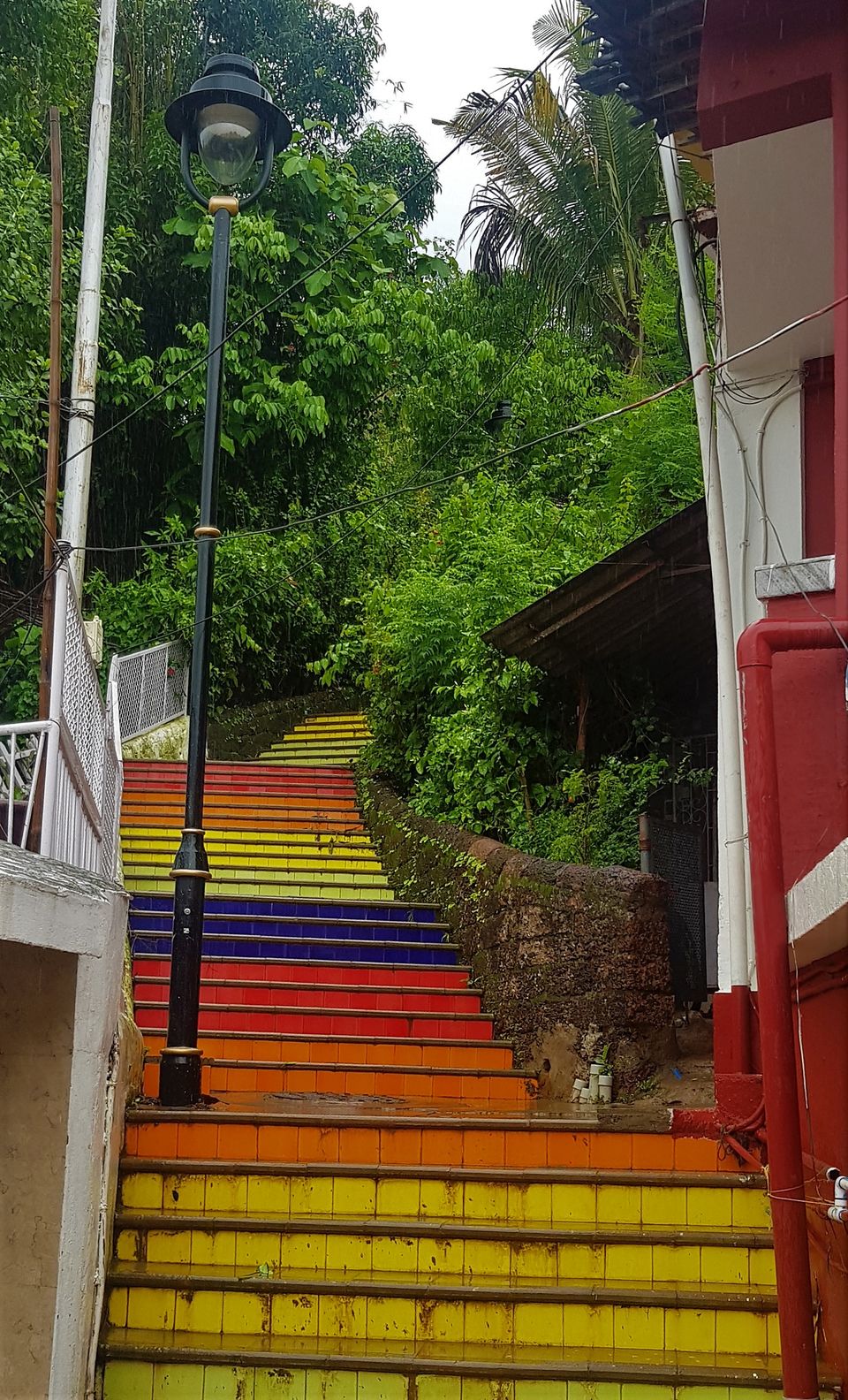 We roamed about a for a while, giving the incessant drizzle a cold - well almost welcoming shoulder - taking pictures, wondering how Goa would have been when these homes were actually built;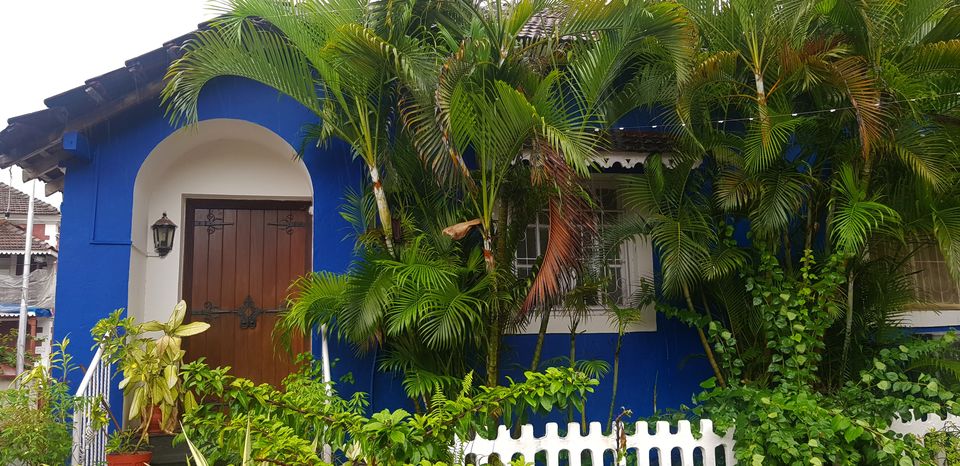 The above blue house was a crowd favorite; with almost all the girls making sure one "DP-good" picture was taken in this background.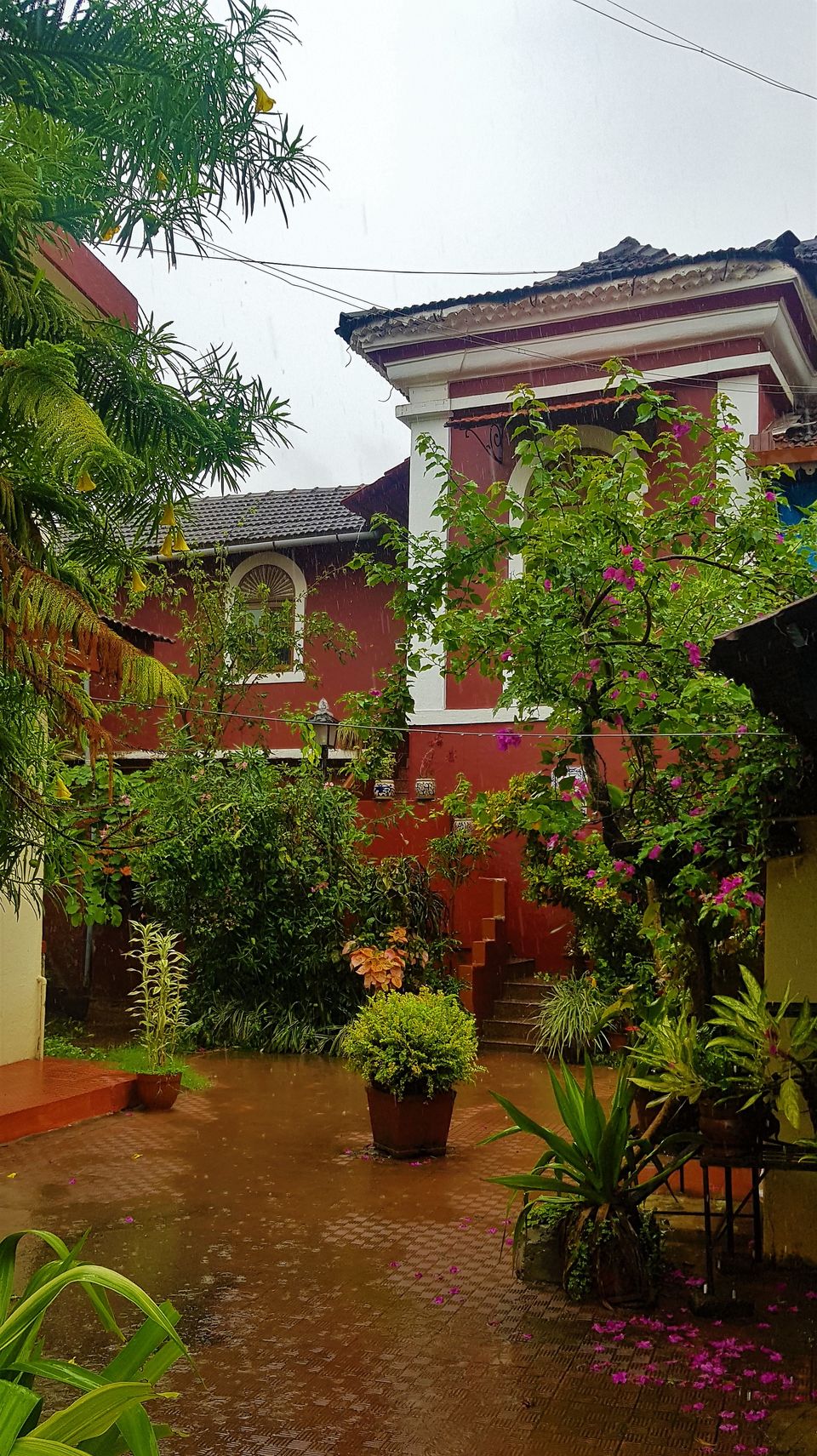 We had heard there is a very old 18th century chapel in the area, but since renovations were going on, there was not much of photography that could be done; Here's a glimpse of Saint Sebastian's Chapel - a testament to time indeed!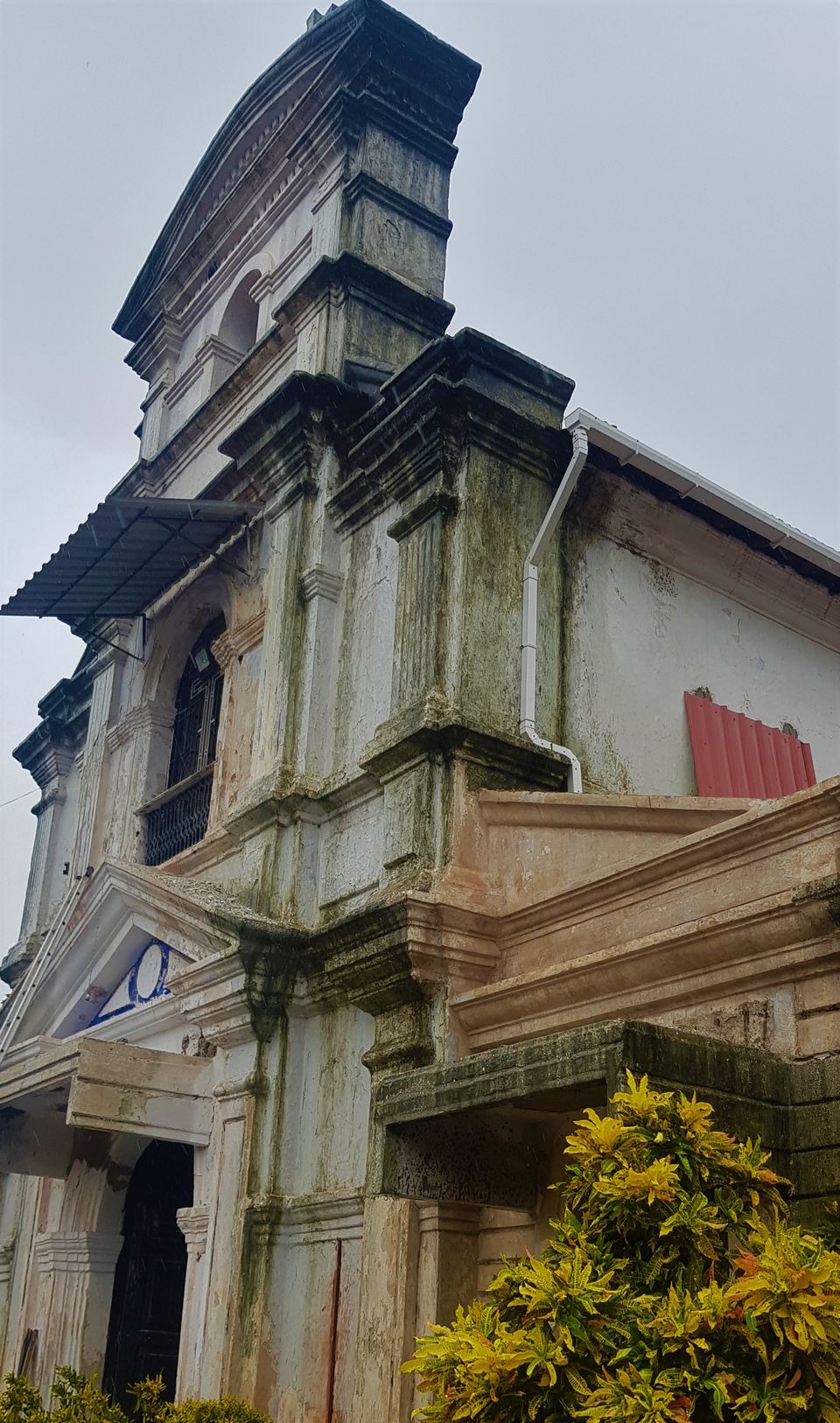 With all the walking, we were by now pretty hungry; Also our feet was cold and people now wanted some liquid energy to keep things going; Researches done, thanks to Zomato - we zeroed down to Viva Panjim for lunch - Right in the heart of Fountainhas, located beside a cute curio shop - its a great place if you are looking for authentic Goan cuisine.
A pretty little cosy place, which is a house turned into eatery this place had many food awards to boast of. We quickly ate and drank,food was good and booze cheap - life cannot get easier than this. We ordered prawns, squids, crab and fish fingers; the starters were pretty filling and thus main course was skipped.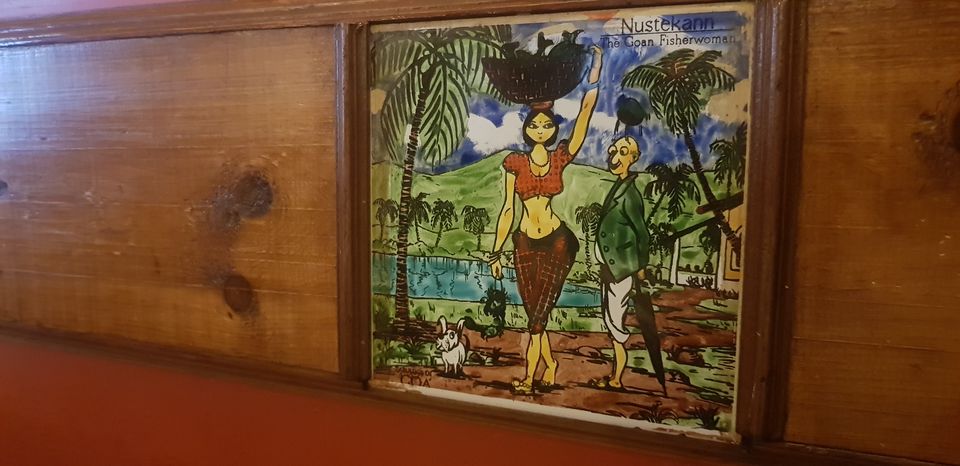 Our next stop was the Panjim post office, yeah you heard it right a post office. There are technology tiered people who like to post postcards from places they visit; a stamp in time - if you like it :)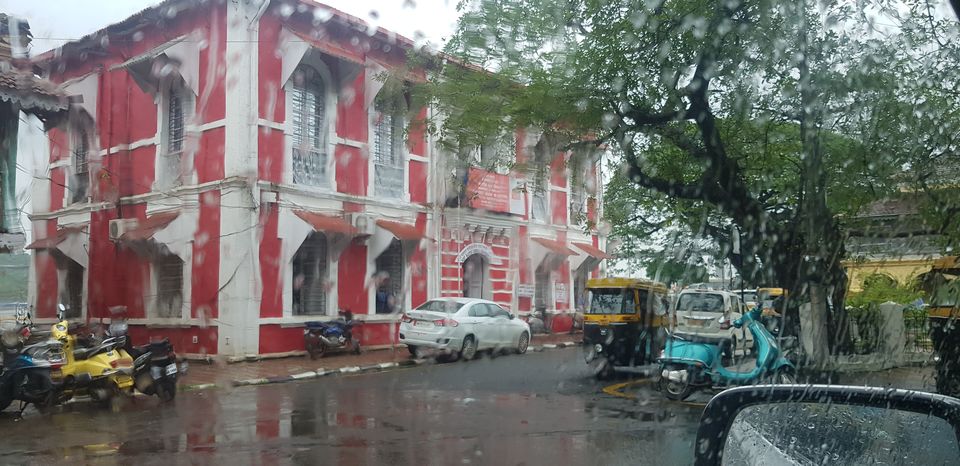 We wrapped up our Panjim visit, by visiting the famous Immaculate Conception church- the pristine white beauty immortalized by so many Bollywood movies - its a must visit.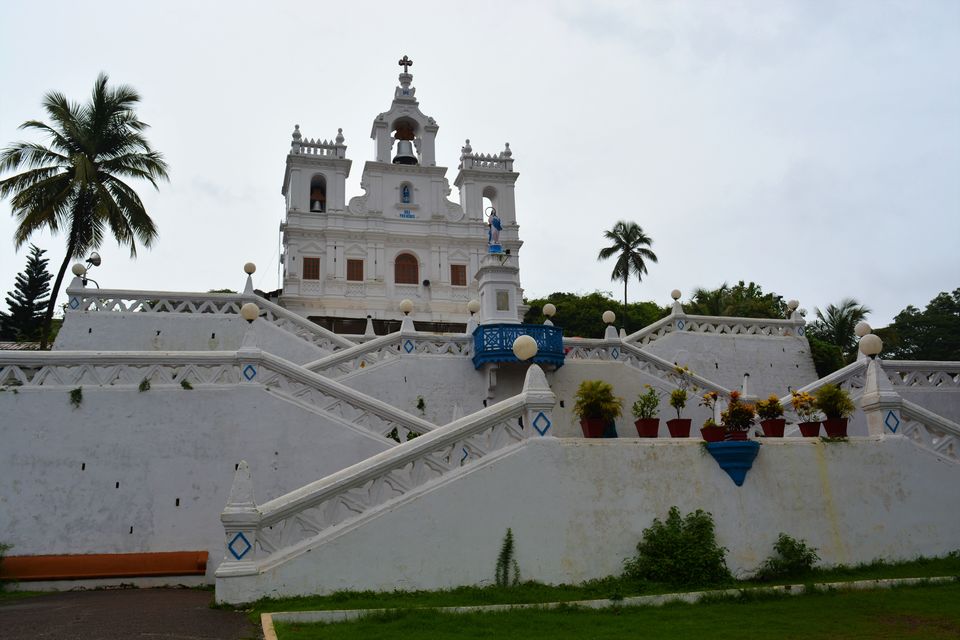 After this , it was already late evening by the time we finished picking up some wine,cashew nuts and souvenirs and headed back home. Idea was to wrap things early and set the stage for a typical goa party night- booze,food and a night full of dancing - no surprises there. Well, we did party - at Tito's and the place was buzzing even when our tiered selves gave up around 3am in the morning.