These places start from Uttarakhand and go upto the North Sentinel Island ( Andaman ).
Dehar Mines, Uttarakhand :- Also known as THE LAMBI DEHAR MINES which is Located on the outskirts of Mussoorie, the Lambi Dehar Mines is one of the most haunted places and has seen some unusual happenings after the death of half a million workers in 1990s. According to the legend, the Lambi Dehar Mines were shut down because half a million workers died coughing blood because of the improper mining. There were several safety regulations as well but the accidents took place because of improper mining techniques. The incident took place in 1990 and since then, there are very few residents in the place because the place is said to be haunted. The natural forces have totally taken over the place and there are trees and animals everywhere. Some locals have also complained of strange noises at night.

Peak Haunting Time

The place is said to be the most haunted at night as strange sounds fill the area. There have also been several cases of truck accidents where they go off the road late at night. A helicopter crash also took place in the same area. People also say that there is a witch, which walks down the hill at night. The remoteness from civilization and the uncountable deaths this place have seen, the Lambi Dehar Mines are one of the most haunted places.

How to Reach

Since the place lies in the outskirts of Mussoorie, you can take a cab or taxi and reach the destination. You can even take your private vehicle and reach there.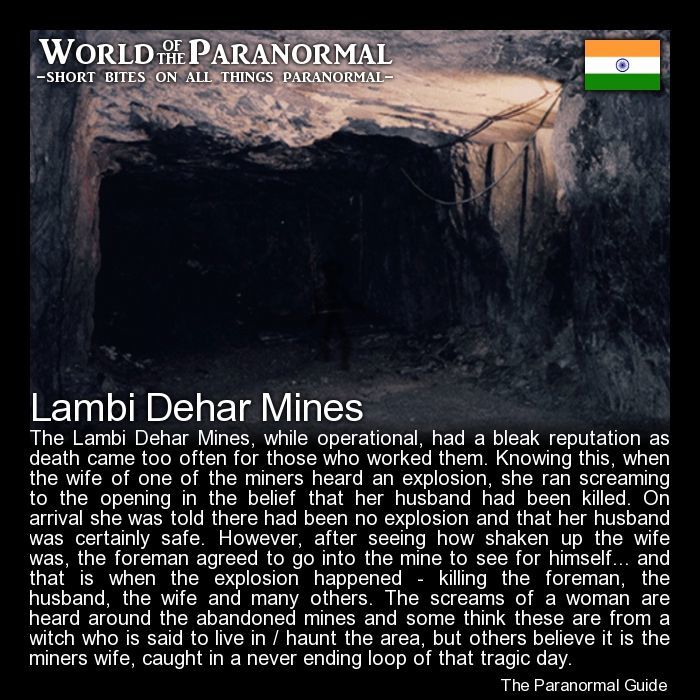 2. DUMAS BEACH- Gujarat: - Dumas beach located in India in the state of Gujarat is a popular tourist attraction. This beach with its stark black sand is located along the Arabian Sea just 13 miles (21 kms) from the city of Surat.

The tourists that come to shop do not know Dumas is considered one of the most haunted beaches in India. The locals however are well aware of this since most have encountered these spirits that seem to inhabit even the air.
Many people who live in India believe in ghosts--they call them, "bhoot". India has the largest percentage of Hindus anywhere in the world. The core belief in the Hindu religion is that once a person dies their soul lives on. This soul is normally in one of two states. The first being, waiting for rebirth in another body--for the Hindus believe in reincarnation.
This belief that the soul hangs around--is the reason there is a larger number of people who believe in ghosts. The second state is when a person's soul has reached, "moksha". Moksha is when a person's soul reaches the highest level--Nirvana or freedom. There is however one exception to these two states and it occurs when one experiences a sudden or horrible death. In this case it is believed these souls linger or even torment the living. The traditional Hindu burial in India involves cremation. It is believed when a person's earthly remains are turned to ash it allows them to leave their earthly trappings behind without struggle. Dumas Beach is considered a very scary haunted place because it is a cremation ground. Many of the dead cremated here belong in the category of--tormented souls.
The locals often complain, " they hear weird noises or whispers as they walk along the beach."
Another prevalent complaint is that all the dogs that live in the vicinity of this beach bark and howl all night. For the paranormal activity at Dumas Beach is very active after the sun goes down. Some even state that as they have walked along this beach their dogs have tried to stop them from continuing further. It's as if their heightened sense of smell and vision warns them before the humans, they protect.
It is often described that the night "air" that surrounds this area is heavy with sadness and weighs the living down. When it is windy this feeling increases.
Needless to say most of the locals avoid this beach at night. But there is another compelling reason they fear this beach. There are documented cases that tourists and locals who have walked this stretch of black sand at night have disappeared. None of them have been found…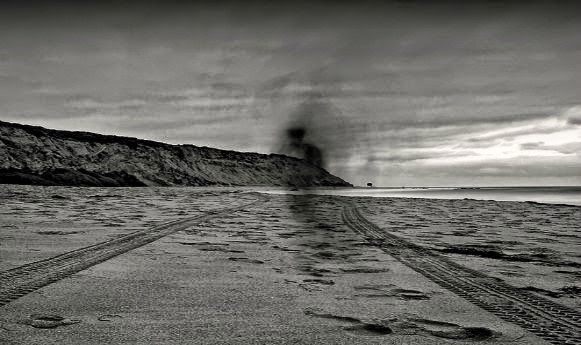 3. Dow Hill of Kurseong- Darjeeling (West Bengal):- Kurseong is a small hill station situated in the Darjeeling state of West Bengal. It is at a 30 KMs from Darjeeling. It has a pleasant climate for the entire year. In local language Kurseong is pronounced as "Kharsang". "Kharsang" means Lands of White Orchids. Definitely it is a very calm and beautiful place for spending days peacefully. But this hill station has a dark side too.
It has stories of murders and ghosts. According to local people ghosts resides in the Victoria Boys High School. Whispering, footsteps, eerie sensation spread out from the school even from December to March also, when school remains closed. The Dow Hill forest near the school is an unquestionably tragical place, huge numbers of peoples murdered in the forest. Naturally it makes the forest horrifying. if we study haunted places, we can see the place where numbers of unnatural deaths occurred, that turns haunted by nature. May be its people's fear or unsatisfied spirits suffering themselves attached or bound to those places. Same is for Kurseong.
One most terrible story is the headless boy. The road between Dow Hill Road and the Forest Office is known as death road. On that road some woodcutters on different times reported a blood chilling experience. They saw a young headless boy walking on the road and disappearing into the trees.
Every time a strange uncanny feelings will surround you in the forest. People always feel someone follow him in the forest. Some people told us they have seen a red eye on them for a sudden moment while they was passing in the very dark jungle. A woman with grey clothes have been seen many times in the forest, those who tried to follow her lost in overtime in the dark. Sometimes screaming for women come out from this haunted forest, children often become terrified by some evil forces.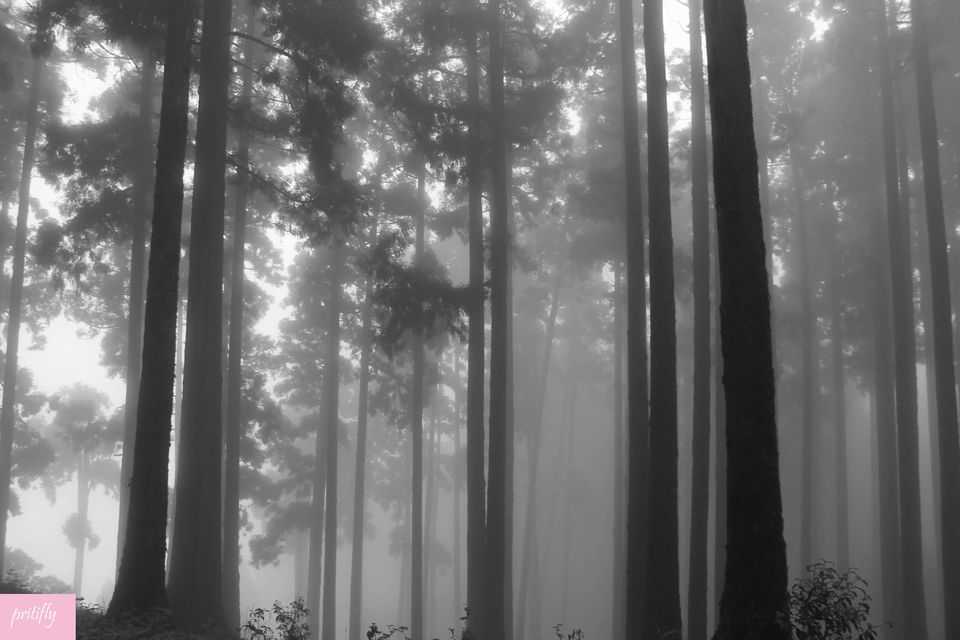 Source:- Google
4. GP Block- Meerut (Uttar Pradesh):- GP Block is the city of Uttar Pradesh, which is said to be haunted. Normally, passers by has witnessed four boys sitting around a table with a single candle. They are always seen playing cards and enjoying their life with beer. Even the presence of girls in red saree is also noticed by them. The specific feature of this building is that passers by continuously see those boys on the roof playing and drinking. Here, one can enter through the main door of the building and can witness its presence. This building has been left abandoned since 1930's. People have claimed to see the spirit of a woman sitting on the roof and others have added to see women wearing red clothes getting in and out of the house. It has been always seen that four men sitting inside the house around a table with a single candle lighted in the centre, and having alcohol. It happens to be most common sight for people passing through that area but few people also added that even they seen the men sitting on the rooftop. The scenes keep repeating all over the house. The house has remained locked for as long as people in the area can't remember. People don't tell all these as apparition too. These are clearer than that. People generally avoid that route stretch lying in the front of the house, and today no one passes by the unidentified yet haunted place.
5. Shaniwar Wada Fort, Pune (Mumbai) : - You might have heard about the place if you've watched Bajirao Mastani. Spooky occurrences are reported every full moon night here and no one knows why. Shaniwar Wada Fort located near on Baji Rao Road near Abhinav Kala Mandir in Pune.Shaniwarwada is an 18th century fort in Pune Maharashtra, India. Constructed in 1732, it was the place of the Peshwa rulers of the Maratha kingdom until 1818, More than Rs. 16,110 were expended in contraction of this fort.
It was named Shaniwarwada from the Marathi words Shaniwar (Saturday) and Wada (a general term for any residence).On the every moon night this fort in India turns into a horror place. Where local people frequently hear a horror sound coming "KAKA MALA VACHWA" (uncle save me) from the fort in the every moon night. The place where the spirit till now and final words of his past mortal life.

History behind Shaniwar Wada Haunted
At the back of Fort's unnatural activities there are story of the murder, greediness for power and fraud. Peshwa Nanasaheb had three sons Vishwasrao, Narayanrao, Madhavrao. After the death of Nanasaheb in the third Panipat war Madhavrao become as Peshwa. During the third Panipat battle Vishwasrao died. After the death of Vishwasrao his brother Madhavrao also died. At that time Narayanrao was only 16 years old. He became as a Peshwa in very small age. Because of his age his uncle Raghunathrao was take charge of the state on behalf of his young nephew.
Shaniwarwada fort haunted
Sumner Singh Gardi sent a group of killers who come into the room of where sleeping Narayanrao at night without any securities. Narayanrao get up and understood that he was going to be murdered. He was run from Raghunath Rao's chamber and shouting "Uncle save me". Although he was caught by killers and cruelly killed by them. Cut into parts and then pull down in the river. The Ghost of the young Peshwa Narayanrao still now exists in in there with his painful soreness. Every moon night he cries and shouting for saving him.
6. Siju Caves, Meghalaya :- Siju in Meghalaya is home to mysterious limelighted caves as well as one of the most notorious hanging bridges in the world. Tethered high in the mountains between two hills, this flimsy bridge made of chipping wood and gnawed rope is bound to give you more than a few scares.Enter into these 'bat caves' and you'd be greeted by an ominously eerie ambience. Good enough to make you shit bricks!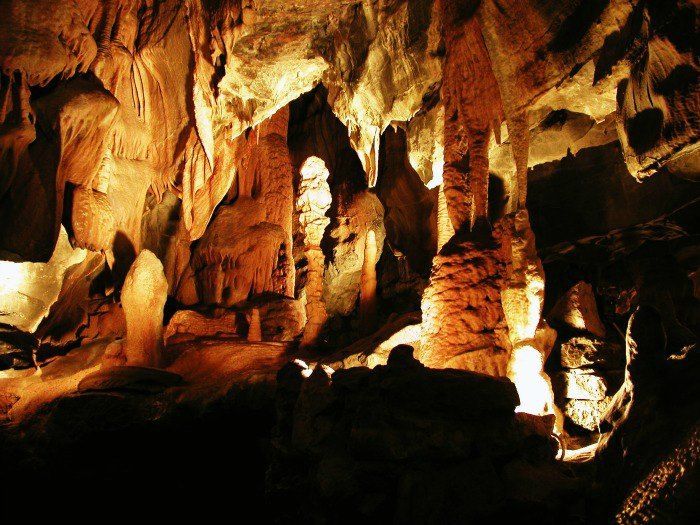 7. North Sentinel Islands, Andaman: - Land of the lost tribe: The Indian Ocean island that is home to a community who have lived there for 60,000 years... but is too dangerous to visit because they try to kill outsiders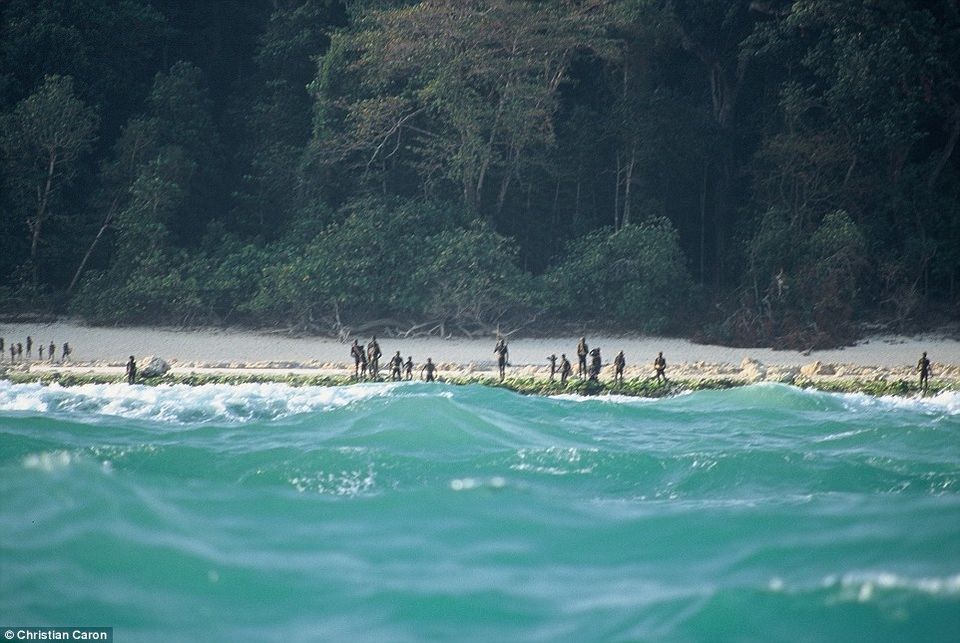 The indigenous tribe has lived on North Sentinel Island in the Indian Ocean for an estimated 60,000 years

Their limited contact with the outside world usually involves violence, as they are hostile towards outsiders

Islanders have been known to fire arrows or toss stones at low-flying aircraft on reconnaissance missions

Tribespeople have rarely been photographed or recorded on video, as it is too dangerous to visit the island

India's government has given up on making contact with the islanders and established a three-mile exclusion zone.
Source:- Christian Caron
8. Kuldhara Village, Rajasthan: - Lying 17km west of Jaisalmer, KULDHARA has a story. Some 300 years ago, it used to be a prosperous village of Paliwal Brahmins under the state of Jaisalmer. According to the legend, the evil eyes of Salim Singh, the powerful and debauched prime minister of the state, fell on the daughter of the village head and he desired to marry her by force. He threatened the village with grave consequences if they did not adhere to his wish. Instead of submitting to the order of the tyrant, the Paliwals held a council and people of 85 villages left their ancestral homes and vanished. But this was not all; before leaving, they put a curse on Kuldhara that no one will ever be able to settle in their village thereafter. To this date, the village remains barren; left almost the same as its inhabitants had left it centuries ago. It is also said that people who have tried to stay there at night have been chased away by strange paranormal phenomenon.

Another, more plausible reason can be that Salim Singh raised the taxes to such an extent that it became unviable for the local community to survive in the village; and they thus decided to migrate to greener pastures. However, people love the former story; after all, who doesn't want a tinge of romance and mystery in their tales!
Kuldhara is a desolate place with a forlorn look and bring sadness to the heart when one thinks of those unfortunate people who were forced to leave the land of their forefathers. However, the place doesn't seem to be spooky for any reason other than the legends themselves, and for our own perception based on those stories. Though there is sadness in the air, there is hopefully nothing cursed about it.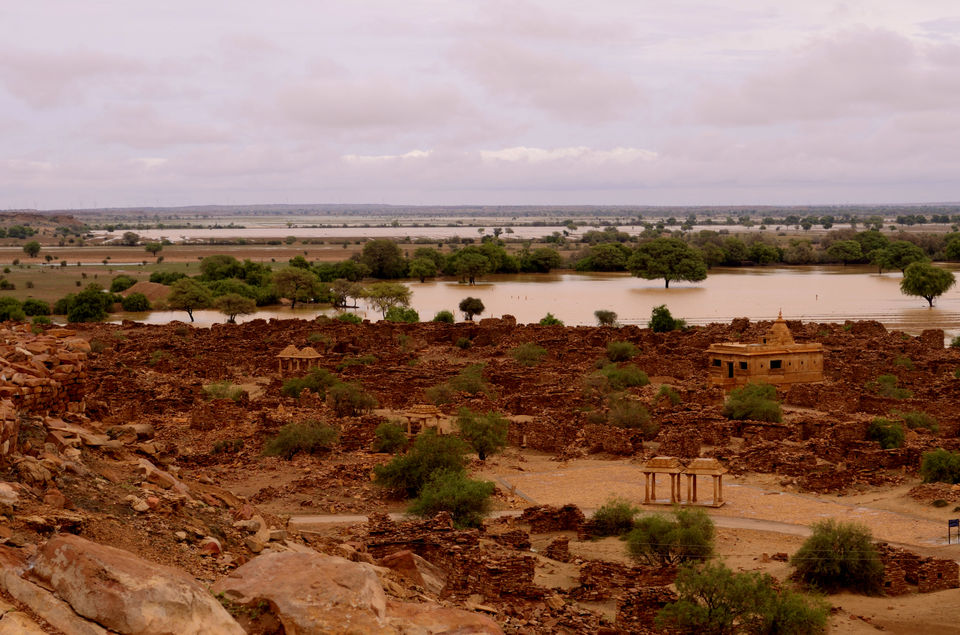 9. Bhangarh Fort, Rajasthan: - Bhangarh Fort was built in the 17th century. Man Singh built this fort was the younger brother Raja Madho Singh Krawaya. At that time Raja Madho Singh was posted as a general in Akbar's army. The population was 10,000 at the time in Bhangarh. This magnificent fort situated in Bhangarh Alwar district that has been constructed in very large sizes.
Surrounded by mountains on all sides of the fort is used best craft. In addition, Lord Shiva, Hanuman temple Vidhyaman accustomed to the finest and most ancient is situated in the fort. The fort has a main wall with five gates. The fortress, which was used in the Drin and strong stones over there are in a situation such as that from ancient times.
Curse on Bhangarh Fort by Black Magician Singia
Bhangarh Fort which is fantastic in view it's past is equally scary. There is a famous story about the Bhangarh Fort. Princess of Bhangarh fort Ratnawati was very beautiful as her name. At that time her beauty was topic of discussion in state and the prince form the every corner of the country wants to marry with her.
When she was just 18 years old her beauty become more beautiful and the proposal were coming for marriage to her from many states. During that time once she had gone into the market with her friends. . Princess Ratnawati reached a perfume shop and she was taking scent fragrance on her hand. At the same time, a short distance from the store a person name Singia was standing watching him very closely. Singia was living in same state and he was expert in black magic. It was said that he crazy for princess beauty and he used to loved badly. He wanted to achieve princess somehow. So he came to the shop where princess was selecting perfume bottle and he turned into black magic that Princess had to Captivate.
What Happened With Princess Rtnawati
Princess Ratnawati raised her perfume bottle, but he slammed on the nearby stone. After that the bottle was broken after the throwing of stone and the perfume into bottle was imploded on stone. Since that the stone was trailing behind singhia and its crushed black magician and he was died on the spot. Before dying black magician cursed that everyone will die soon who was living in fort. And he will not take birth again and will always linger in their souls the fort.
A few days after the death of the black magician war was happened between Ajb Gdh and Bhangarh. All people living in the Fort were killed. Even the Princess could not escape that curse for black magician she was also died. After the huge massacre in same fort the death scream echoes in Fort. Still they are in fort.The massacres in the spirit of the fortress are still lingered. At times this has been brought home from the problem. Once the Indian Government paramilitary forces an appointed here was so that they can find the truth behind them. But they also failed many soldiers had confirmed the spirit had in this area. Still if you are alone in this fort you can feel crash of swords and availability of spirit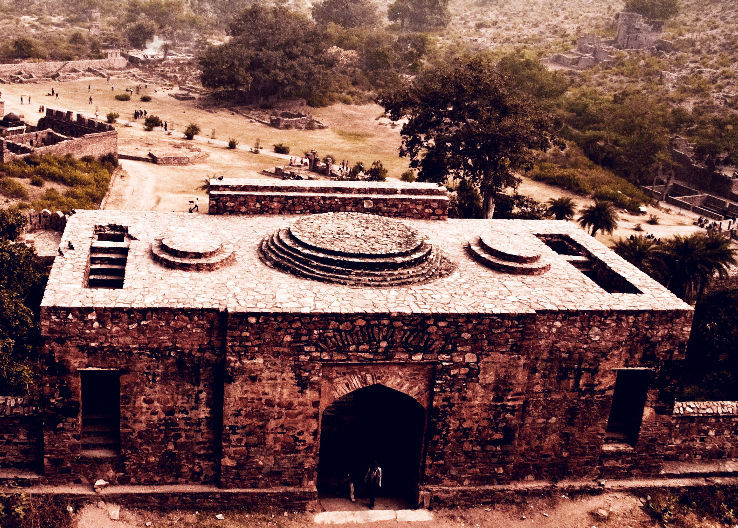 10. Raj Kiran Hotel, Lonavala:- Behind the reception on the ground floor, the haunted room is. Staying night in the room is definitely a creepy stuff. An eerie silence prevails always in the room. Once a couple were on their honeymoon in the room. According to them every moment they felt the presence of something supernatural. Every time someone was there, observing them. In another paranormal incident that sounds funny, but not in reality. In the midnight someone pulled off the bed sheet from a guest. It made her extremely terrified. The lady guest made her husband woke up and searched the room everywhere. But the room was locked and no one was there. They complained to reception and without saying a word they changed their room. In a number of happenings where some people almost gone mad after seeing ghostly figures in the room. One or two of them also reported about scary blue light on their feet. They had gone under psychiatric treatment after those horrible experiences to come back into daily life.
Though not a big and fancy hotel, several paranormal experts confirmed this as one of the top haunted hotels in the country. A room located in a corner behind reception area on the ground floor has been said to be chillingly spooky. Guests who stayed in those rooms have claimed that someone forcefully pulls off the bed sheets when they slept. Some guests felt a ray of blue light when they woke up in the middle of the night. With the increasing reports of such incidents, the hotel stopped renting out this particular room.