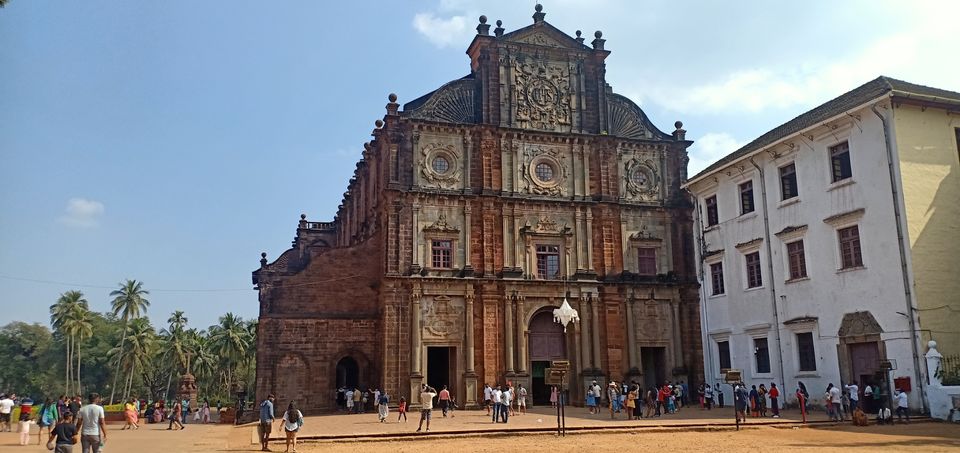 Hello Migrant & Sailor world,
How are you all .
Hope blessed and enjoy the life
CheLa The Excited Traveler welcome you again ,
Goa is usually associated with sprawling beaches, sparkling blue oceans and an atmosphere of tranquillity. Most people who have heard of Goa but not visited it yet know of only the fun, frivolous side of the tiny little state tucked away in western India. But Goa is more than just a destination suitable for relaxation. This state has a long and proud history of Portuguese heritage which has left a heavy impact in the lives and livelihood of the people of Goa. The Portuguese history of Goa can be traced through its cuisine, culture and architecture. Many of the vestiges of this history of the land still remain behind and comprise of Goa's heritage sights.
Here are 7 must see locations and structures that should make the top of your list for heritage sightseeing in Goa:
(1) Heritage sightseeing in Goa – Old Goa
Built by the Bijapur Sultanate of the 15th century and served as the capital of the erstwhile Portuguese regime in Goa, today Old Goa is regarded as a UNESCO world heritage site. It holds many of the heritage sites like forts and churches and is located in North Goa. The Church of St. Francis of Assisi and the Basilica of Bom Jesus is located here.
(2) Heritage sightseeing in Goa – Aguada Fort
This gigantic fort was of strategic importance to the Portuguese in Goa and was built in 1612. The fort was constructed in order to fortify the land against incursions by the Dutch and the Marathas. It is located right next to the Candolim beach and makes for a spectacular heritage sight in Goa.
(3) Heritage sightseeing in Goa – Basilica of Bom Jesus
Located in Old Goa, this church is a UNESCO world heritage site. Constructed in the early 1600s, this church is India's first minor basilica and is well regarded for its baroque architecture. The church is also well known for holding the mortal remains of St. Francis Xavier.
(4) Heritage sightseeing in Goa - Our Lady of the Immaculate Conception Church
Built in 1541 this was one of the very first churches to be built in Goa. The entire construction was re-built from its foundation in 1619 and the two flanking altars are the most striking features of the church.
(5) Heritage sightseeing in Goa – Fontainhas
Owing its name to the Fountain of phoenix spring, Fontainhas is an old Latin quarter in Panaji the current capital of Goa. This area maintains the Portuguese's pasts influence even today especially at the architectural level. Fontainhas makes for a splendid site to take a leisurely walk in, its winding streets, bright coloured buildings with projecting balconies and red tiled roofs are all reminiscent of the European urban areas.
(6) Heritage sightseeing in Goa – Reis Magos Fort
The fort is bordered by strong walls made of laterite and studded with turrets typical of the Portuguese style. The Reis Magos Fort was built in 1551 to provide fortification to the narrowest point located at the mouth of the Mandovi estuary. It was again in 1707 after a considerable amount of construction work was done on it. Visible from Panaji, this fort was once used to entertain and accommodate viceroys before being turned into a fort.
(7) Heritage sightseeing in Goa – Houses of Goa Museum
Located in the Torda village near Panjim this museum owes its presence to Gerard da Cunha. The museum has a striking exterior, shaped like a ship and the exhibits offer a unique insight into the evolution of furniture and architecture in the land, through pictures, sculptures, models, panels etc.
It's depends on us , how's our taste and interest on Beach , fort , and church , cruise and many more excited activity in Goa Tourism.
Best regards
CheLa