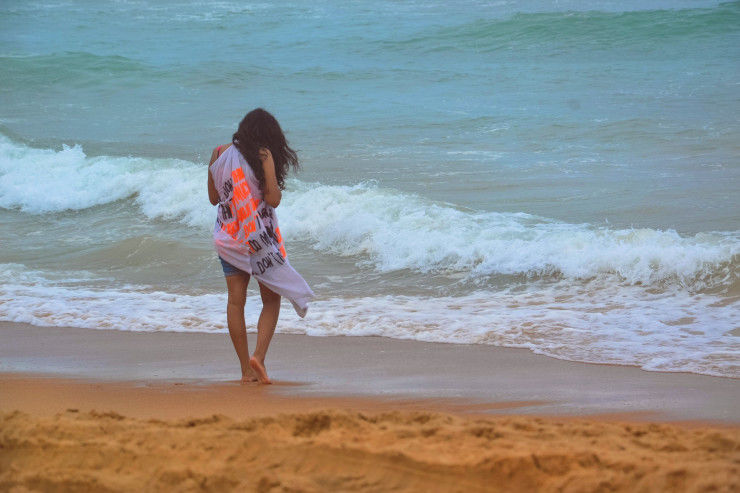 "Life is a journey; don't imprison yourself in a rut.
Break free and travel.
Wander; as if you are lost, it's the only way to discover yourself"
Hello Lovelies,
Isn't it so true that we all are lost into finding ourselves somewhere or the other? Sometimes into someone and sometimes into the place we travel. Travelling is something when you able to search yourself and find peace also. I travel because I find peace and calmness and this visit of mine was close to my heart because of the beaches .
Well I was there for three days but 2 days were only dedicated to work, on the last day I went out and explored Goa so I thought why not wander a little and check out some less crowded beaches and some architectures. I woke up early and went to calangute beach to see sunrise and it was literally unexplainable in words. As I came back I planned where to go and what to do.
Where I visited!
So finally after all planning and local map checking I have finalized few places to visit.
St. Alex Church
I have started from Church, I have visited St. Alex church. It is situated in Calangute itself which was near to my resort. St. Alex was built in 1741. The church has two towers and magnificent dome. It was unique and very pretty.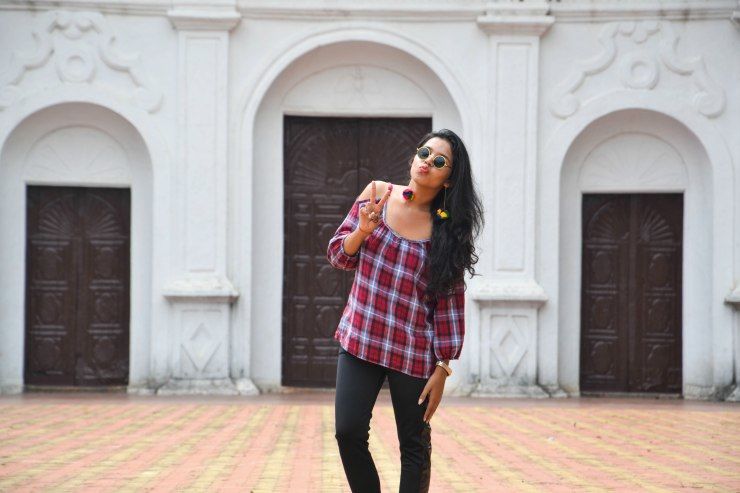 Coffee house Candolim
I decided to go to Fort Aguada next, so as I drove towards the fort I was damn hungry and was looking for some food joint to have something different yet stomach full . And next I saw this beautiful and totally colorful coffee house in Candolim. Plus you wont get this coffee house on maps or even on trip advisor but you know sometimes those places are much better which are not marketed. I met this lady who was also he owner of this place, she treated me so warmly and made pancakes and coffee which was the specialty of this coffee house. Also we chit chatted a little. She was such a sweet person that I would like to tell each one of you that if you are visiting Goa do drop by her café.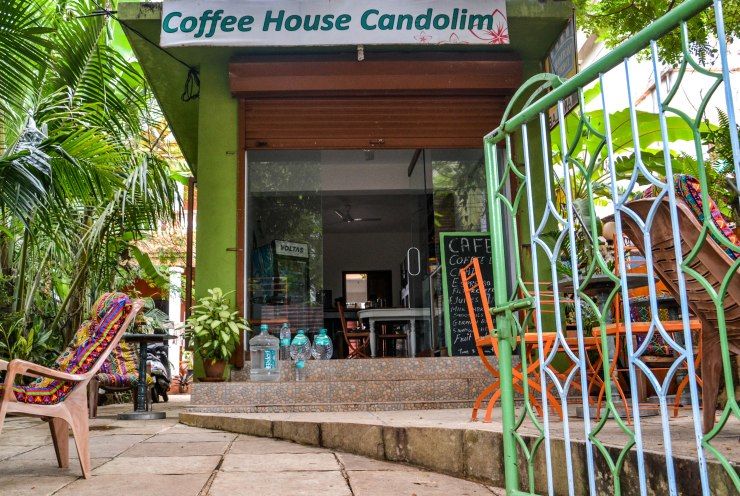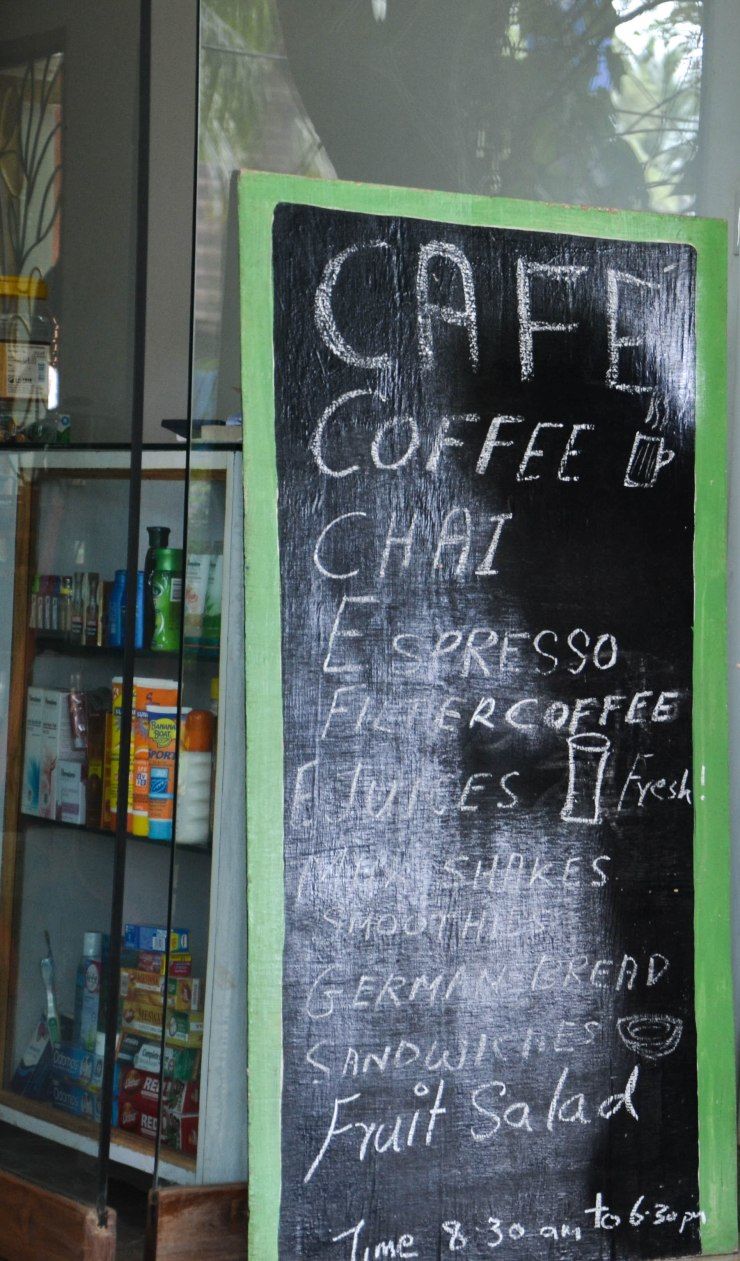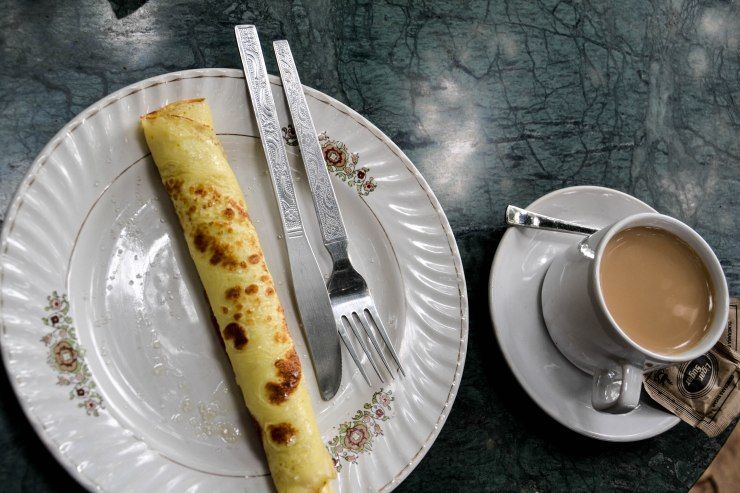 Fort Aguada and Lighthouse
I was already late so I hurried up on my pancakes and rushed towards fort Aguada . Fort Aguada and Lighthouse is situated in North Goa and was built in seventeenth century. Standing on the mouth of River Mandovi, it occupies special place in the heart of traveler as this is a perfect place to see sunset although I went there around 2 PM so I was not being able to watch the sunset as I have to cover few more places. I liked the view which I saw from the fort and it was my first time to see any lighthouse so I was equally excited.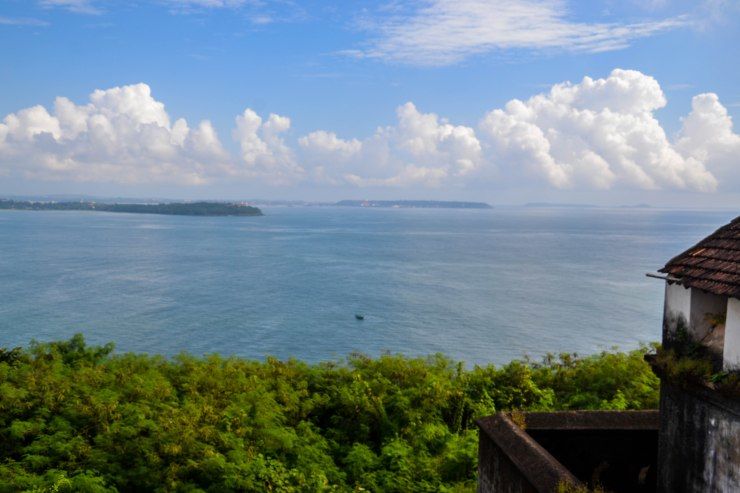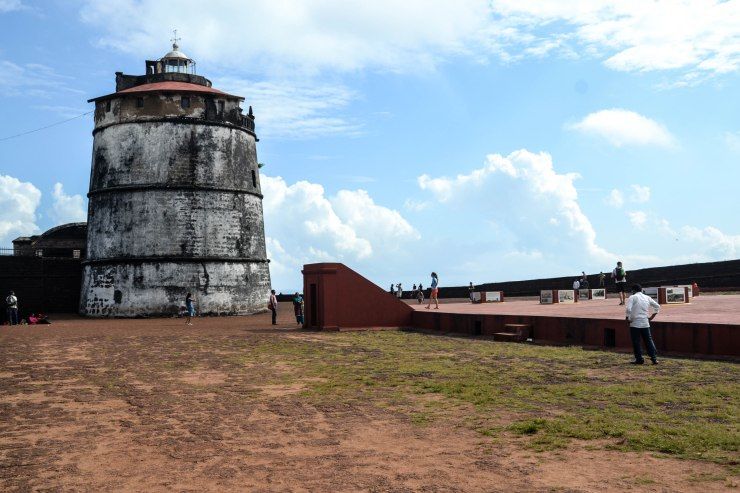 Sinquerim beach
This was unplanned. As I was coming back from the fort I wanted to go to some beach and I saw this road sign pointing towards sinquerim beach. I stopped my scooty and went to check out if the beach was crowded and untidy and do I wish to go there or not. And as I went towards the beach what I saw was serenity. This beach was less crowded clean and totally majestic. I parked my scooty and went on the beach. I spent around 1-2 hours there. This beach was beautiful among all, which I visited.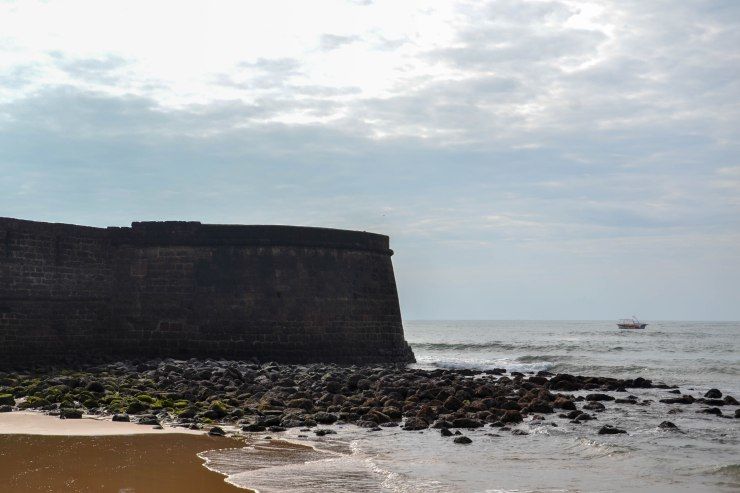 Apart from these spots I have also visited Anjuna beach and Baga beach. Baga beach is full of night life, a total party spot. If you are a music , dance and party lover this is it. You can booze, eat awesome food and just chill whereas Anjuna was again a beautiful beach and also have some flea market from where you can shop and take back as a memory.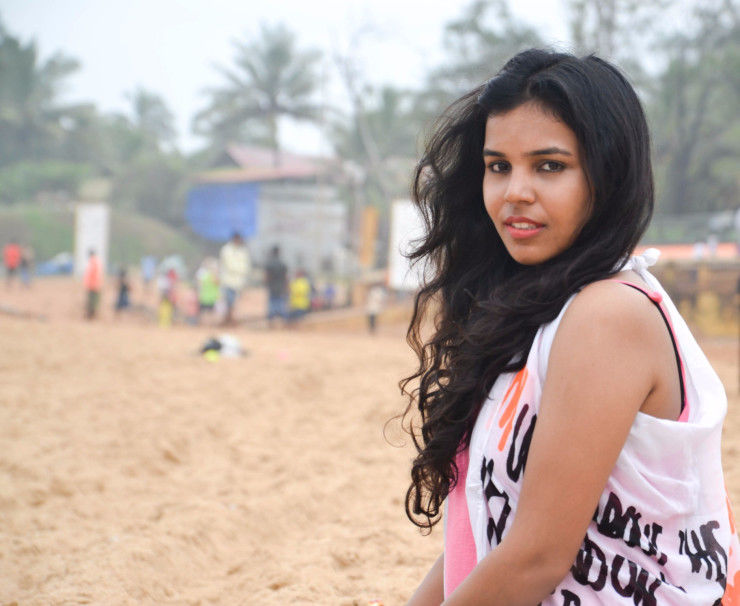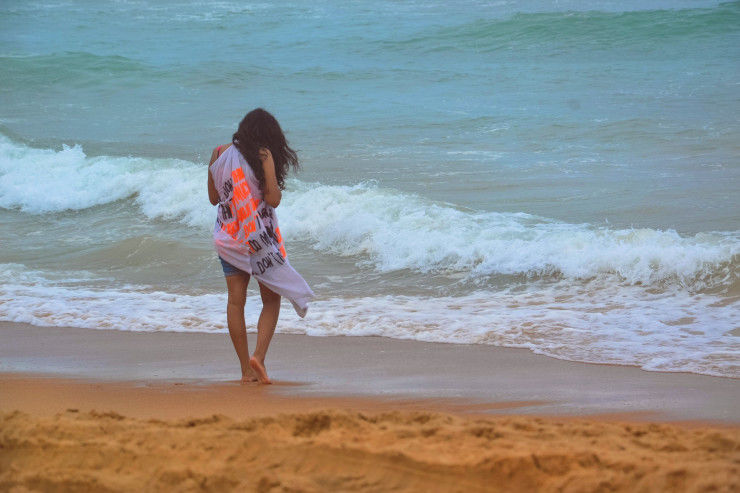 What I Wore
I was pretty much aware that it will going to be a long day with running around the city to cover most of the things. So I decided to wear a cotton comfortable cold shoulder top which I bought from Delhi with the most comfortable thing on this planet i.e. jegging from Vero Moda and of course my crocs. I have accessorized it up by pom-pom earring, Lennon sunglasses and watch. I have lost my kohl stick in the airport itself and was not being able to find my brand so I was kohl-less in the whole trip. Any which ways I have applied a dash of mascara and lipstick. I carried a big bag so that I can keep my camera and selfie stick with me.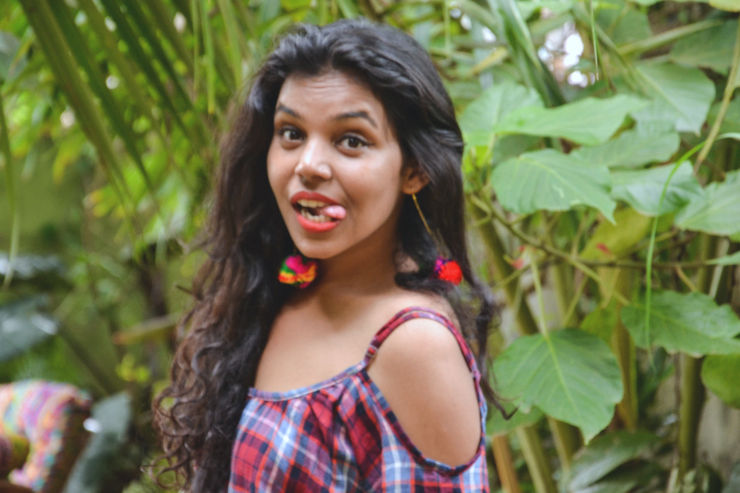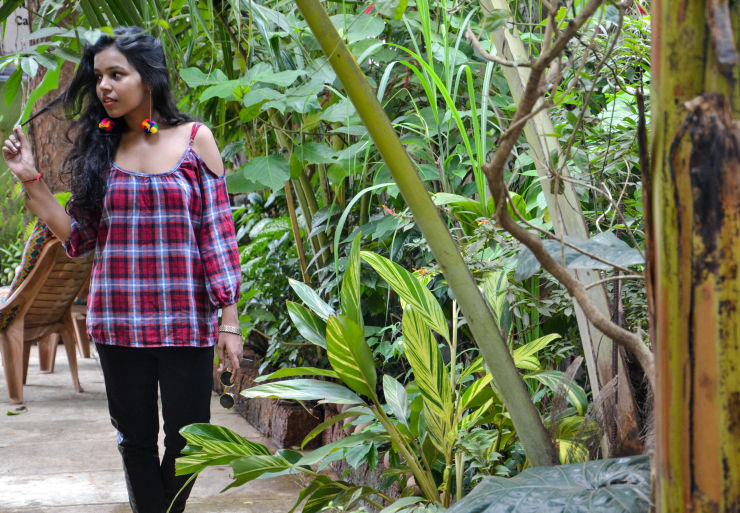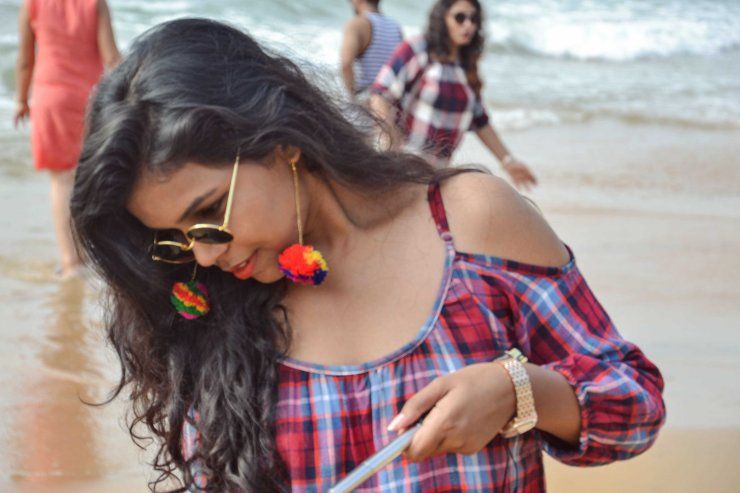 For baga and anjuna beach I kept it simple and wore shorts, bodysuit and a cover up for the same.
As I came back to my resort they had preapred an awesome meal which I was dying to have. Last day I had indulged myself in full plate of Dal Makhani and rice as I totally love these two and a glass of cranberry juice. As I had morning flight next day so started packing for the same and slept around 12.
I want to go back to Goa once again so that I can explore more and can tell you all little more. Oh by the way I have uploaded Goa vlog on my youtube you can check that , although its not upto the mark still.
Till then stay this Gorgeous.