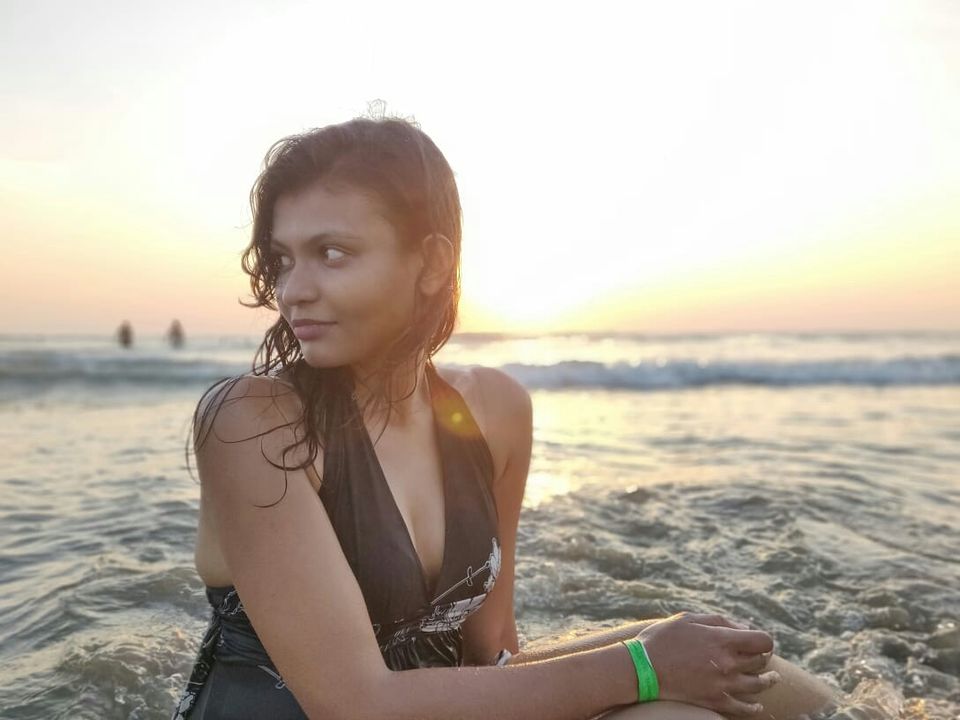 If you thought Goa was the smallest state overlooking the blue waters of the vast Arabian sea. You should delve a little more to discover that 9 rivers also run through the state. Liquor is cheap as hell and if that is not enough, you have plenty of beaches with blue waters to have you swooning. Trust Goa and it's vibes to rejuvenate you as well!
How to head there?
Adios Mumbai!
[ Thane station ]
We took the Konkan Kanya Express towards Feb end (the season of Goa Carnival) and I will tell you that the schedule of the train is a pain if you don't like waiting! We were supposed to board the train around 11 pm but ended up boarding it around 12 am (an hour late).
Good morning Goa!
Thivim was the destination station where we got down the next morning (later than schedule). You can cut down on the cost by taking a train to Mapusa ( 10 bucks ). We took an auto-rickshaw from Thivim to our hostel in Vagator since none of us had license for two or three-wheeler (sadly)! Cab fares should be around 350 approx.
Itinerary for next 3 days:
Day 1:
The afternoon of early March is scorching. Head first to that hostel/hotel swimming pool or the beach!
2-3 beaches you can visit:
Popular and a bit crowded ones-
Vagator beach.
This beach is modest in vastness but pretty. Water sports activities are popular akin to the other beaches. I tried parasailing for 1000 bucks. The 700 buck deal they offer you at the counter instead feels like a short trial session and they won't dip you into the waters. It is after seeing a person dip into the sea that we paid 300 INR extra on-board and went for the complete activity.
The entire package of water activities including jet skiing, boat ride,etc. comes for 1500 INR.
Chapora Fort
Don't miss your Dil chahta hai moment !
Walk a distance of 15-20mins and you reach the Chapora Fort. Find the ruins of the fort after alighting many steps. We entered through a gate into an open area which is enclosed by small walls. The movie "Dil Chahta Hai" has vivid memories of 3 friends having the time of their life on this fort! The sunset view from the fort is surely iconic for you can view the orange sky with the sun descending upon the blue sea.
Baga
Although it can be crowded during the day, sunset at Baga is quite relaxed as you can sit at a shack grabbing a beer.
Calangute
We went for boat ride at Calangute again during sunset. The boat-man stops in the middle of the ride. I was overwhelmed by people jumping into the sea (swimmers and non-swimmers alike, in an attempt to stay afloat on their life jacket!)
Anjuna
It is well connected from Calangute and Baga.
Day 2:
Ideally, this plan is suited for a Saturday. Itinerary includes playing around the river Mandovi!
Destination 1:
Dolphin spotting at Candolim:
The activity starts with a boat ride across the Mandovi river from Candolim which passes by the Aguada fort , a bungalow of some rich guy and a prison on the sidelines of the shore. You won't be disappointed to spot the lively creatures spurting out of water when you least anticipate!
Destination 2:
Fort Aguada:
The entrance is marked by a moat which was actively used during the Portuguese times. The Fort houses a lighthouse which was used to guide the sailors. The Sinquerim beach and the Arabian sea.
Fun Facts:
I missed the jail that was active as recently as 2015. The fort was built to guard the Mandovi river.
Destination 3:
Reis Magos Fort
If you are interested in a less hyped, less crowded but essential fort with a spectacular view of the Neral sea (and it's counterpart Miramar sea on another side), Reis Magos is the place to be! It is part of the Reis Magos village which is easily accessible from South Goa. The road was blocked when we tried approaching it from North. the walk is a considerable distance from where I got down.
There are quite a few hidden chambers inside the fort.
Destination 4:
Arpora night flea market
Things that you must not miss:
What to shop?
Saturdays are when the Arpora flea market gets all vivid and busy.
Spot them if you can!
The Arpora night flea market has corner for everything from shops showcasing intriguing tribal themed dream-catchers to vibrantly colored stores with attires peaking from inside.
A cartoonist was busy sketching caricatures at a corner. The market housed a stage area with live performances to keep the party vibe burning alive.
Sweet finds:
Being a bong and after 2-3 days of continuous feasting on local Goan cuisine, I was ecstatic to find a small Bengali hotel en-route Panjim from Arpora flea market.
Less populated suggestions from other travellers:
Morjim beach.

Day 3:
Exotic beauty:
Arambol
This beach is quite vast and located at half an hour drive from Vagator. It is popular for its Russian population. I got myself temporarily inked by bargaining and bringing down the price to 300 INR. The sunset from the beach is as dazzling and memorable as it's people.
Get onto a cab, rest for 1 hour 18 mins and you are now at Panjim, the capital of Goa!
Fontainhas
To put it in simple words, I admire things of beauty, organised places. The houses in this area seem to be in perfect harmony.
Fun Fact:
Fontainhas got it's name from the springs and fountains that were a very common sight here.
The Portuguese ordered painting houses with all shades. No house could be left with a touch of white except churches and chapels! Landlords even had to pay hefty fines for not painting their houses!
Our Immaculate Conception Church
The church is of prime importance as the entire city germinated around this place that exists on a hill.
The Portuguese Baroque styled church dates back to 400 years.
Walk through the alleys beside the church and it will lead you to a European diner, a store of artifacts. Then you ultimate reach the St. Sebastian Road where the legacy of colorful buildings follows. There is an old church. Fontainhas is mesmerising in short.
P.S- There is a lot to visit in Goa and I have focused mainly on the party-loving Northern part of the state. Wear your heart on your sleeves and you are good to go!