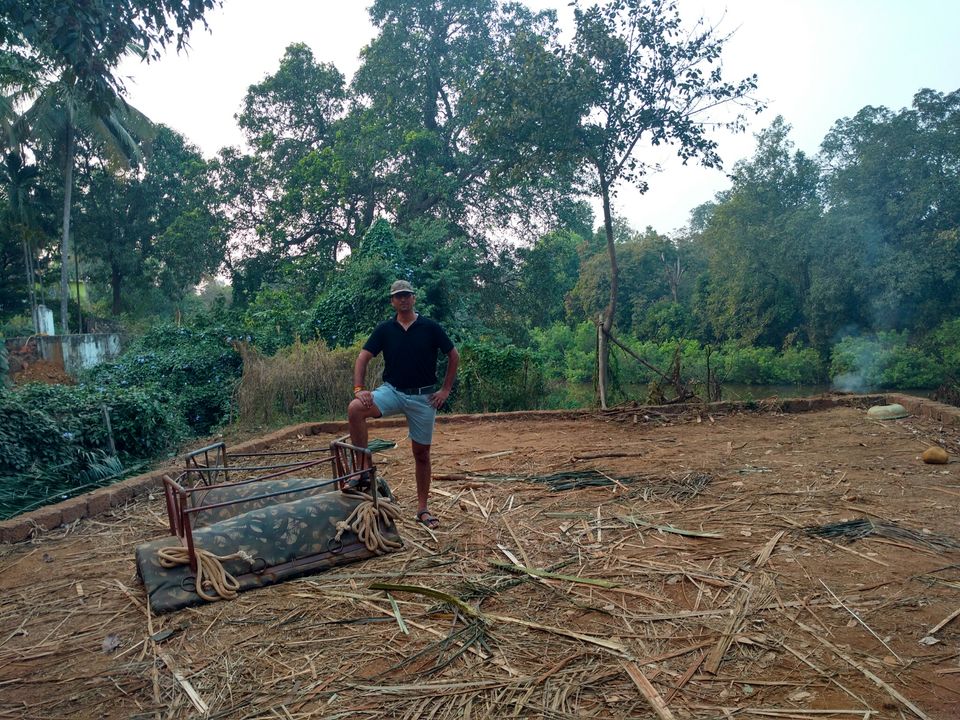 Goa , is known for its crowded beaches with full of water sports with complete enjoyment with drinks and foods at the beach.
Goa is known for the Casino's , cruise rides, dolphin views, scuba diving, island visits etc etc . But GOA is having its other face also , which is completely opposite to this.
There is a place , app. 70km far from Panjim , named -Colem , a village.
Nothing commercial here and completely a natural village at a hilly area.
How could be reached here :
Though trains from Madgaon.
Taxi could also be hired @Rs.3500 for a day.
CAR could also be taken on rent @Rs.1000 (for WagonR), Rs.1500 (swift) etc.
Jungle Book Resort (stay arrangement):
It's one of the best resort , made on the theme of Jungle Book , and gives you a complete feeling of a jungle and to be at a place which is surrounded with 100% natural trees , grass, and a lake.
It could be booked through OYO.
Charges are about Rs.1500-1700ight with complementary breakfast.
Cottages/rooms are given a natural looks and is so simple.
Dustbeens are of wooden strips.
Racks are of wooden to place our luggage.
No telephones are there in the room.
No room service.
No television.
No network (only Jio and some other networks works here).
Activities at Jungle Resort:
They have 5 elephants.
Elephant rides are there @Rs.500/person (could be negotiate) ,this includes shower also from the trunk of elephant in the lake.
Zip line is there , an adventure activity.
Spice plantation visit could be arranged.
No swimming pool.
TV at reception is there , where if kids want to see their program, can see.
A small open gym is also there with some instruments.
Hot water is also available, but not inside the room, but it is to be taken by us only from a large pot , in which the water is boiled over the CHULHA.
Breakfast is complementary and lunch is a sort of buffet type and dinner is arranged at resort , which starts at about 7:30 PM.
Breakfast and lunch is arranged in other restaurant of its own , which is hardly at a meter distance.
Lunch area is also looked like a nursery, as every where you'll find small plants in pots ,hanging with strips over the roof.
Table and benches are of wooden only, which gives a feeling of sitting in a village surrounded with a jungle.
Food quality is good.
It's a small village and some shops are also there where you can enjoy tea and could have fruits etc.
Roaming on the road in evening or afternoon gives a very good feeling and gives a great relax to mind.
It's have small station also.
One could stay here for a night to feel complete serenity and to give ourself a complete relax .
As Doodhsagar ride starts from here only , so one can plan a stay here with a Doodhsagar ride planning for the very next day.
Total cost:
1) Stay at Resort - Rs.1600-1700ight
2) Breakfast complementary.
3) Travel cost from Panjim -
a) RS.3500 for single day (Panjim -doodhsagar-panjim) if hired a taxi.
b) if take a rental CAR - RS.1000-1500 (petrol/diesel yours -cost app. 600-700) for 1 day , so staying at hotel means 2 days travel plan, so it's become - Rs. 2000 +700 for petrol .
One can check my youtube channel also for more details and like and subscribe there.
Channel name is -Rahul sharma - A Randonneur
Link for this tour is below.:
https://youtu.be/ABvaNrz5lQY