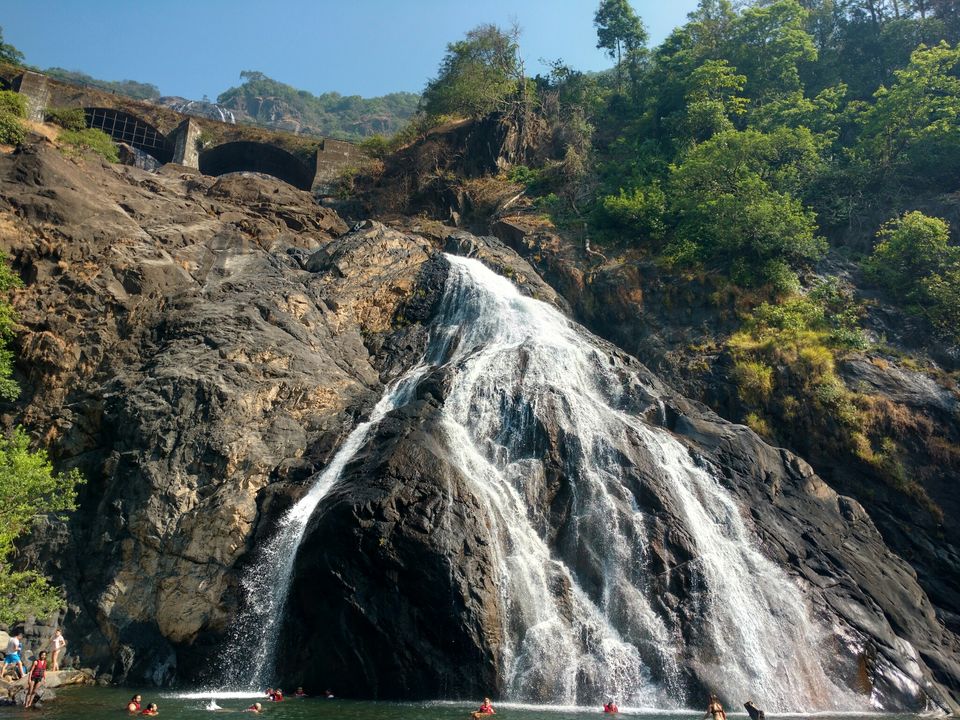 Doodhsagar is about 70 Km from Panjim.
If you hire a taxi , then it will charge app. 3500 from one day i.e., to go and back to Panjim.
For doodhsagar , we have to book an advance booking by paying RS. 25/person as an advance booking charges via online through www.ticketpapa.com
If one don't do the online advance booking then they he/she have to stand up in long queue for the same booking at Doodhsagar.
Doodhsagar is located in a village named -Colem, where trains are also there from Madgaon.
We hired a CAR to reach to village Colem and decided to stay there one night.
There is only one good resort named Jungle Book resort , and we booked the same through OYO.
A very good resort and once you are there , you are completely in a nature's hand.
Property is very good and the owner is having 5 elephants , so:
1) you can enjoy an elephant ride there and a shower through elephant trunk.
2) you can enjoy the aura of resort which is full of green trees .
3) cottages are completely made to give a natural look
4) a small open gym is also there.
5) a lake behind the resort.
6) no TV and no mobile network was there except that of jio.
7) self service is there , as no telephones are there in rooms.
8) Hot water could be taken from a large pot (a MATKA type) , in which the water is boiled on CHULHA.
We decided to stay there to experience a silent and relaxed village life there , apart from crowded places at Goa beaches, in evening.
On second day, we reached at booking counter of doodhsagar.
As we had already done online advance booking in the slot of 9:15 am , so a person was there who called us for formality at about 9 am and made a pair of total 7 people , as total 7 people are occupied in a single jeep (a bolero).
For that one have to pay Rs. 500/person and if having a child of age above 4 years ,then ticket of Child would also be charged.
Life jackets would also be taken (as it's compulsory to take) @Rs. 40/ person and some charges are to be given at the entry gate of doodhsagar (though it's a wild life sanctuary).
Overall it's a 4-5 hr trip and we enjoyed a lot there , once we reached near the Waterfall.
At about 3 Pm we returned from doodhsagar and prepared to left for Panjim.
Though doodhsagar could also be completed in a single day , if we left Panjim early morning , as it's hardly 70 KM from Panjim and a straight highway road.
Doodhsagar trips are done in 3 slots and one can book an early slot also at about 8am or at 9:25 am also or later than this also.
Earlier total 360 jeeps were allowed , but now only 170 jeeps (bolero) are allowed for safari/doodhsagar.
If , somebody wants to enjoy a village life and want to spend a night in an environment full of relax, silence, serenity etc , then one can opt to stay at JUNGLE BOOK resort at Colem , just near to the booking counter of doodhsagar.
How to reach :
Trains are also there from Madgaon to Colem .
One can hire taxi also , rate would be app. RS.3500 , for one day.
One can take a CAR also on rent (available at Panjim only , near casino's), @Rs.1000-1500 (if we want to self drive) for one day i.e., till 9AM next morning and please remember that a petrol of about Rs.700-800 is sufficient to go and back to panjim from doodhsagar.