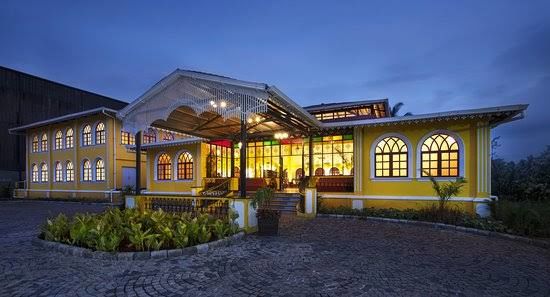 As soon as discussions around New Year's begin, Goa is the first destination that pops up in everyone's minds! The beach destination in the country is extremely popular amongst all kinds of travellers including backpackers, honeymooners, solo travellers, families and of course, your forever-Goa-planning-squad. 
Dotted with serene beaches, the place is known for its vibrant late-night parties, dazzling pubs and casinos. And as the decade comes to an end, here's another reason to pick Goa as your winter getaway – the legendary Paul John distillery has opened up in Goa offering you fresh sips of the finest single malt!
Where
Paul John Visitor Centre, John Distilleries,
Plot #M21A, Cuncolim Industrial Estate, Salcete, Goa – 403703.
What to do?
Know the mystery behind the making of the international award-winning Indian single malt. The first of its kind in India, Paul John visitor centre tells you the story of the famous whiskey created along the tropical Goan shores. This is your chance to witness the craft and time-honoured process behind the making of your favourite whiskey.
With over 200 internationally acclaimed awards in just six years, this single malt indeed is one of the world's most loved whiskies.
About the distillery
The huge mango yellow facade is adorned with amazing artworks and are sure to remind you of Mario Miranda's legendary cartoons. The interiors and the building evoke the charm of the beautiful beach destination. The massive distillery has unique copper pot stills and the woody warehouse towers about 4,000 plus oak barrels.
About the tour
The tour begins with a short film that gives an insight into Paul John's journey into the finest single malts. An expert then introduces whiskey and describes what qualifies as pure whisky. After the brief introduction, you begin the walkthrough learning about the barley, milling process, distillation and storing.
After learning all the science and the making, comes the favourite part! Here, you get to taste some of Paul John's unique expressions including Brilliance, Edited, Bold, Peated and Select Casks Classic.
Tour packages
Package 1: Rs 350  ($5) includes tour only.
Package 2: Rs 650 ($9) includes tour + tasting of Flagship expressions (Brilliance, Edited, Bold)
Package 3: Rs 1,000 ($14) includes tour + tasting of Family expressions (Brilliance, Edited, Bold, Select Casks classic and peated)
Timings
Monday to Saturday: 11 am to 4 pm
Closed on Sunday & public holidays.
Noted: Only 18 years & above will be allowed for tours and tasting.
 So, what are you waiting for? Get a taste of Paul John this New Year's in the party capital of the country. 
Ready to go around the world in 2020? Click here for the ultimate 2020 bucket list!
Share your travel experiences with global travellers. Write about it here on Tripoto and earn Tripoto Credits!