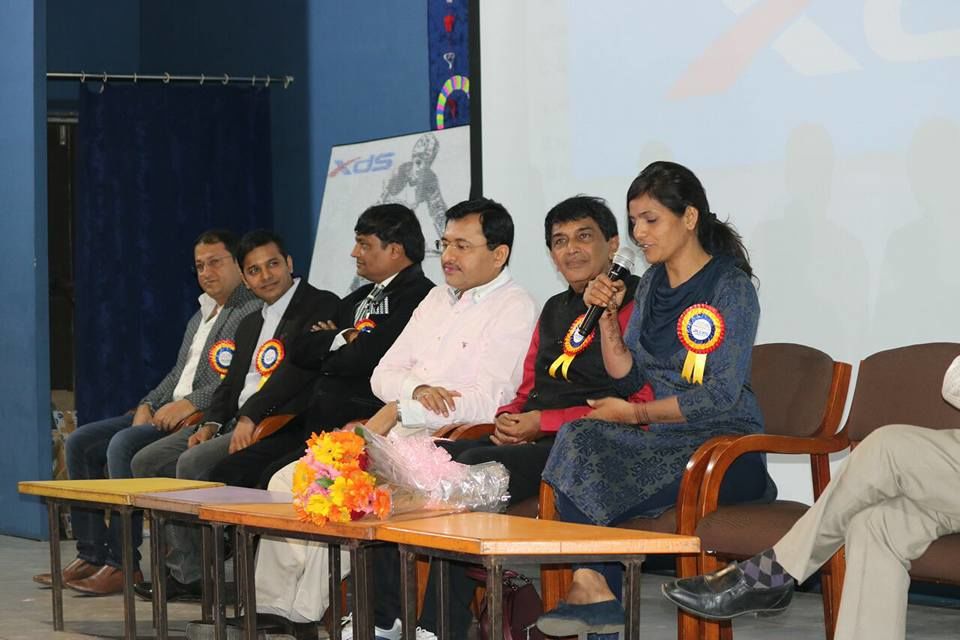 16h July, Junagadh to Morbi (168 km) Motto – Never Give Up and Stay Focused to Achieve Your Goal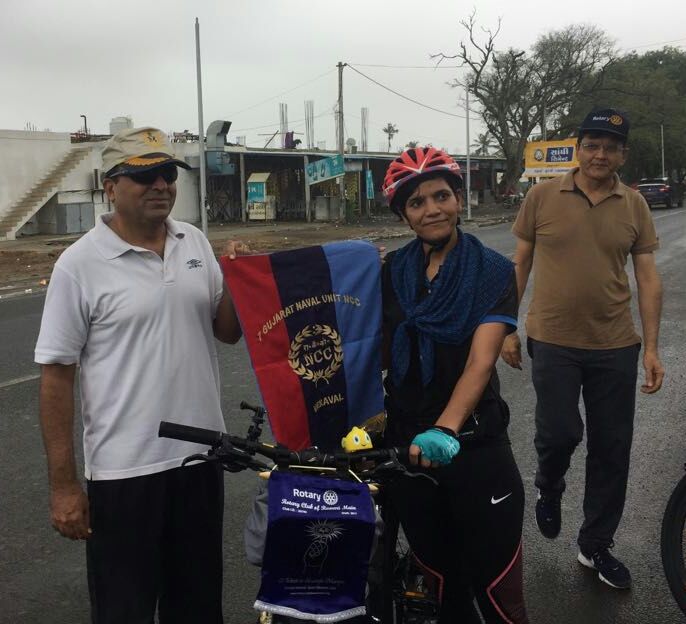 Today, after a restful night at Junagadh, Sunita woke up at 3-45 a.m. to make an early start. She quickly packed her stuff, and was ready within an hour. However, she needed to ensure her safety arrangements before setting out for the day. Sunita called up her sister Jen, and together they installed the "Live Location" facility on Sunita's phone. Thus, from now onwards Sunita can be tracked constantly and accurately through this app.
At 5:20 a.m. Sunita stepped out into a drizzle to resume her journey. She would have to cover a distance of 168 km to reach Morbi, before the end of the day. It was rather a lonely start, but the dark monsoon sky could not dampen the spirit of our indomitable cyclist. In fact, she would not be alone for a long time. Within 10 minutes, she received a call from the Rotary Club, informing her that a group of cyclists from Junagadh were waiting in front of the hotel. Sunita's energy is indeed infectious, and it has rubbed on the young men and women of the town. The noble cause on which Sunita's mind was set upon, has also started to create a sensation across Gujarat.
The joyous company ignored the inclement weather, basking in the warmth of youth and verve. They posed and clicked many photographs with Sunita. The photos must be doing rounds in the social media as we write this blog. At 7-30 a.m.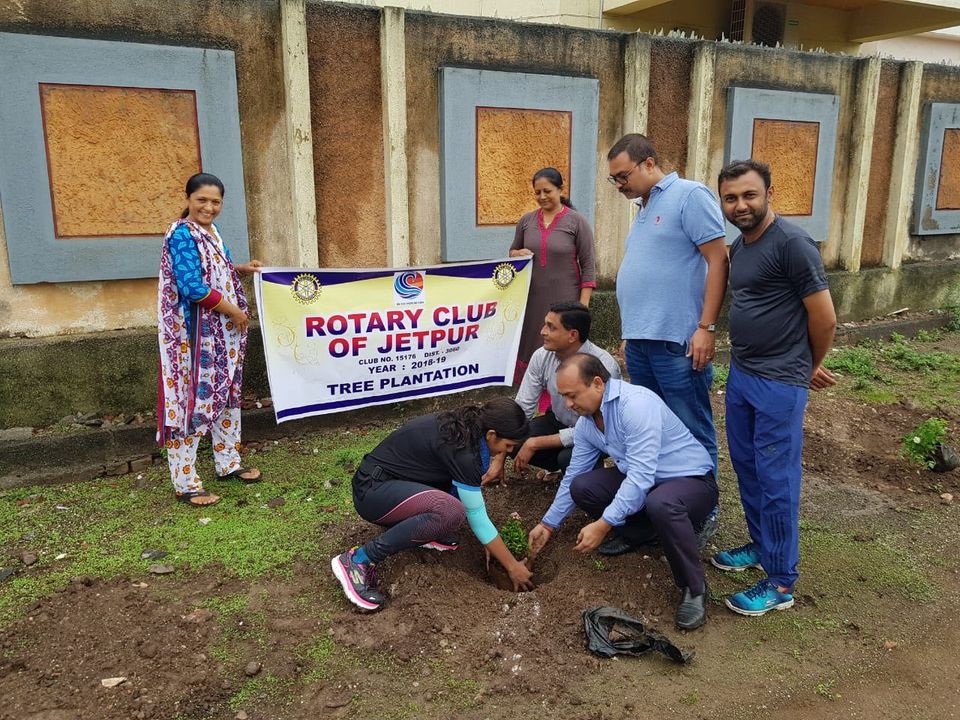 Sunita began to pedal towards Jetpur, a town located at a distance of 35 km from Junagadh. She reached Jetpur at 9-45 a.m. and paused for breakfast. The Rotary Club of Jetpur (Distt. 3060), led by Rtn. Durgesh Dhandha, had made meticulous arrangements for a tree plantation ceremony. Sunita made excellent use of the time spent at Jetpur, planting saplings and interacting with the youngsters. Sunita's unflinching determination and unwavering dedication set great example before these enthusiastic volunteers.
For some time Sunita has been a known name in Gujarat, since the press has shown an active interest towards her social work. In February, 2018, she had attended a program in this state, organized by XDS. As the chief guest, she had the honour to felicitate Gujarat's Limca Record holders in disparate fields.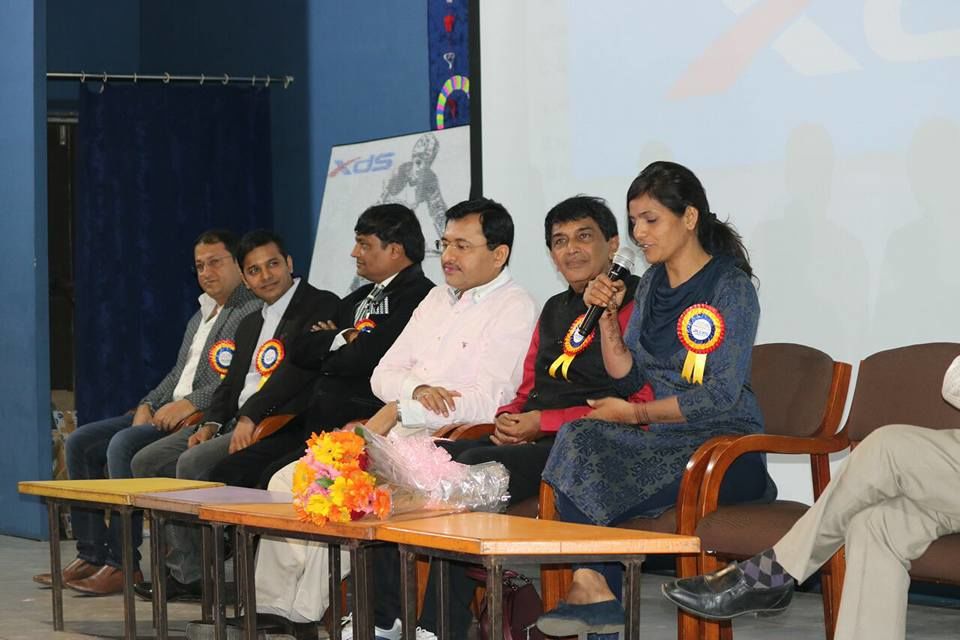 XDS function- 12th February 2018.

Here, Sunita had met Mr. Montu Chadotra, who had essayed entries into the Traditional Book of Records (Mauritius) and Treasure Hunt Book of Records (Canada). The news of Sunita's journey through the heart of Gujarat has been covered thoroughly by the local scribes. Mr. Chadotra read about it, and insisted upon meeting Sunita between Jetpur and Rajkot. The two friends greeted warmly on the highway. Sunita was already hard pressed for time, since she had yet to cover a significant distance. Hence, she had to turn down Mr. Montu's request to visit a nearby factory. Mr. Montu asked Sunita to go live on Facebook, and wished her Godspeed.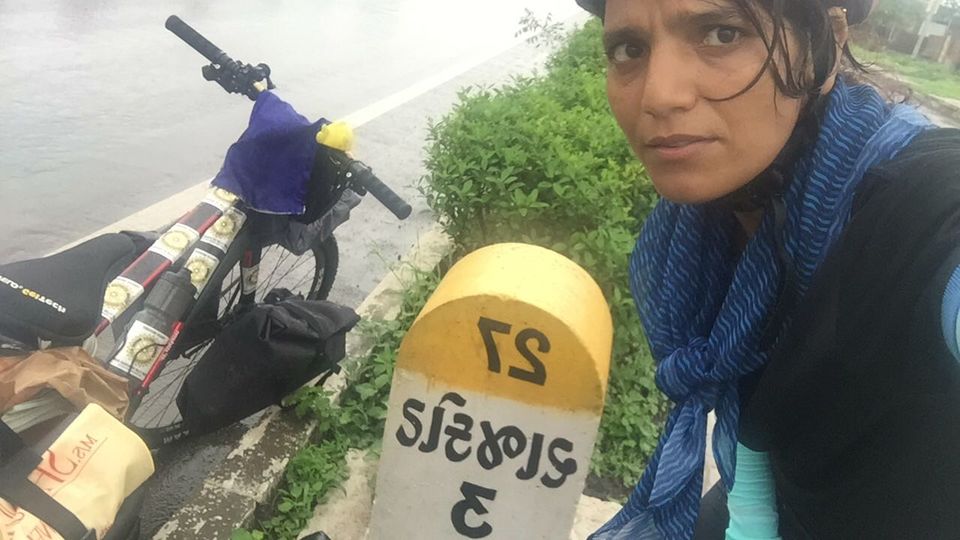 A heavy downpour soon created a serious impediment for Sunita, as she rode in the direction of Rajkot. The winds were strong and the rain lashed furiously against the windshields of the stranded vehicles. The dangerous driving conditions had forced traffic into a standstill. However, the girl who had once conquered the highest summit of the world, Mt. Everest, could hardly be discouraged by a mere monsoon downpour. Time was of essence as well, and Sunita persevered through the impeding wind, blinding rain and the treacherous road. She apprised Mr. Bhavesh , Assistant Governor Rotary Club of Rajkot Midtown, of her bearings, when she was approximately 3 km from Rajkot. She reached Rajkot (69 km from Junagadh, her starting point) around lunchtime. The Rotarians of the Rotary Club of Rajkot Midtown (Distt. 3060) embraced the gutsy girl, and lunch was taken amidst mirth and laughter. After all, what is adventure without a spoonful of sugar? The hosts implored Sunita to wait at Rajkot for calmer winds and a friendlier weather. But Sunita, after having thanked the Rotarians for their hospitality, charged on fearlessly for Morbi, her final destination for the day, which was still 64 km adrift. The Assistant Governor of the Rotary Club rode alongside her for the next 25 km, nonchalant to the driving rain and the steady stream of water, which was now cutting through the roads. The two kept up a steady conversation during the ride, before they decided to take refuge briefly from the rain and stop for a warm beverage. Tea was enjoyable, upon which Mr. Bhavesh headed back to Rajkot, while Sunita carried on towards Morbi. The last 20 km was extraordinarily difficult, with the rainfall becoming heavier and the winds picking up to intolerable levels.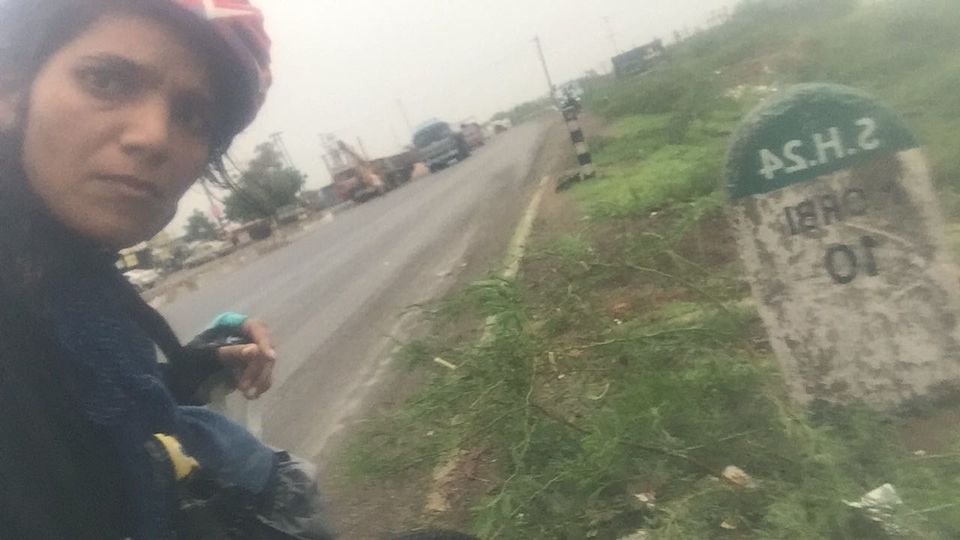 Morbi-10kms.JPG
Finally, Sunita reached Morbi at 7:30 pm – drenched, exhausted but victorious. She was received by Rtn. Prakash Doshi and Rtn. Ajit Sheth. She would find shelter and rest for the night at Rtn. Ajit's house.
Her clothes were all wet and dirty. She completed her laundry, had dinner and retired for a much-needed sleep at 10-30 p.m. It had been a long day for her, but once again, she had vanquished all difficulties. As her mentor Swami Vivekananda would say "Arise awake and stop not till the goal is reached." A worthy disciple of a great master is our Sunita Singh Chocken.