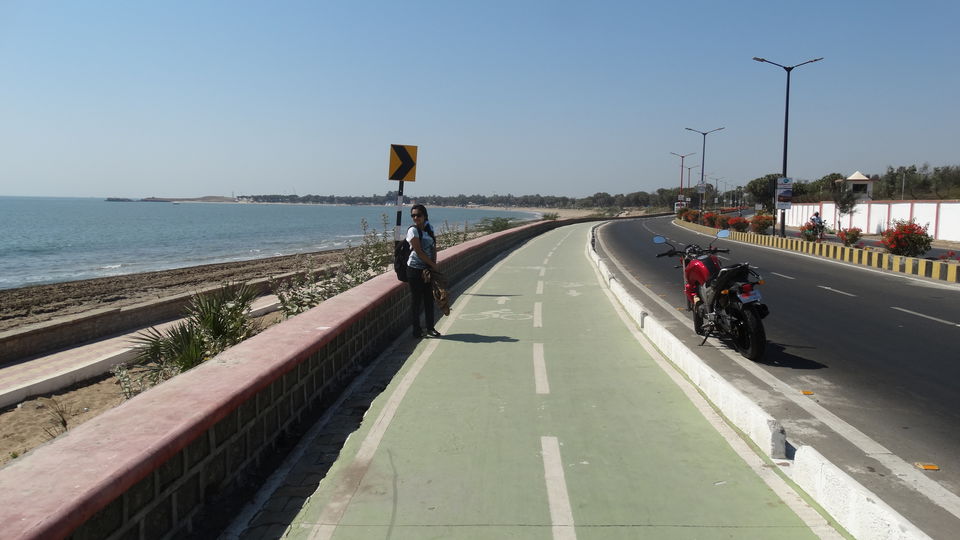 Hie Travellers,
After the most memorable road trip to Ladakh by an SUV, I have sworn that I will get back to Ladakh or exploring some other parts of the mighty Himalayas on bike. On this, Manali – my wife had also sworn that she would not let me go alone and she would give me a company for the dream ride two years later.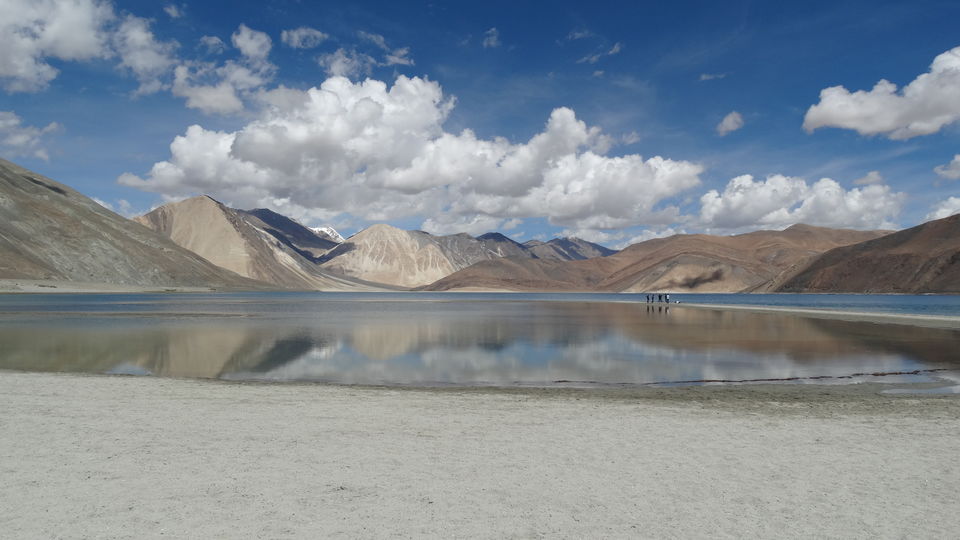 I / we had to start following my dream, I / we had to start riding bikes, I / we had to try and prepare myself / ourselves for the big journey by starting short rides and for that we first need a bike of at least 150cc.
How I managed to buy a used bike and since when, how and why I had developed this hobby of riding? It has already been published in my last blog "The Helmet".
This blog is about Manali's "debut" and my "come back" Journey, from Rajkot to Diu on Yamaha Fz. It has been more than 5 years I had given up riding due to many changes in life. So it was now time to start pursuing the dream of riding in Himalayas. Rajkot – Diu – Rajkot was our first initiative for the dream ride.
This blog doesn't have all the required information about the do's and don'ts in Diu, as we had a very little time we had to skip many beautiful and must visit places in Diu, like Diu Fort, Diu museum, Shell museum, caves, etc. People looking for detailed informative blog on Diu, this is a wrong place.
18th Dec 2015, 5.00 AM
2 nights and 3 days trip was planned.
Rajkot to Diu is approx 285 Km, and there are three routes to reach diu:
Shortest route is of 217 Km via Rajkot Bagasra Highway (SH 104)
(Rajkot – Gondal - Bagasra – Dhari – Tulsishyam – Una – Delvada – Diu)
Another route is of 232 Km via Rajkot Bhavnagar Highway (Toll Free)
(Rajkot – Babra - Amreli – Khambha – Una – Delvada – Diu)
Longest route is of 276 Km via Rajkot Somnath Highway (NH 8D)
(Rajkot – Gondal – Jetpur – Junagadh – Somnath – Kodinar – Diu)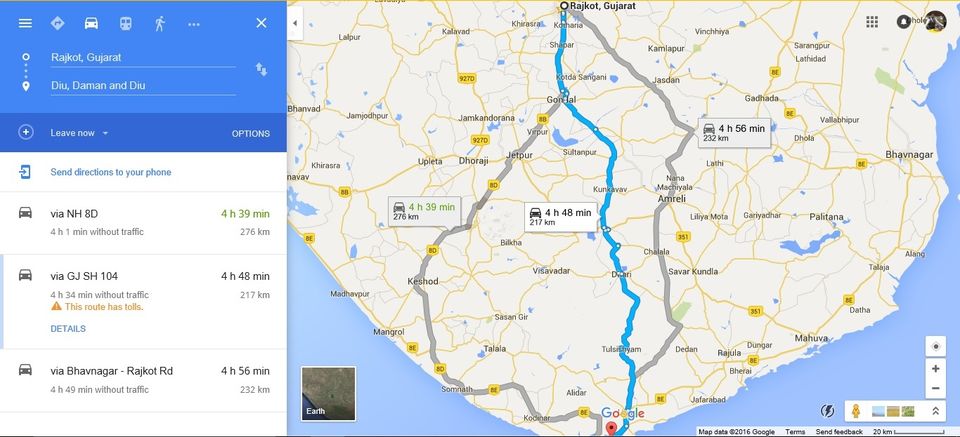 Several times in past I have been to Somnath, Porbandar, Keshod, Junagadh via NH 8D, and I am very well aware of that excellent and fastest route till Somnath, Rajkot Somanth Highway is one of the best highway I have ever driven on in my life. National highways are usually built through the vast barren lands, away from the cities and the villages, and sometimes I get bored if I don't a good view, so this time I wanted to explore another route, I knew going through the internal state highway, would be little bit risky that too for the first longest bike trip of our life. But I was keen to explore a new route this time. Hence I had decided to go through Rajkot Bagasra highway via Tulshishyam and Una.
When Pande came to know I have planned a three day trip, he insisted us to come to Daman instead of going to Diu, so that they both can also join us and we could celebrate my anniversary as well as Pande's birthday, I asked them to come to diu, but travelling from Vasai (Mumbai) to Diu would be a very long journey and they were not permitted to travel by road for long journeys as Vidhi was pregnant by 2-3 months.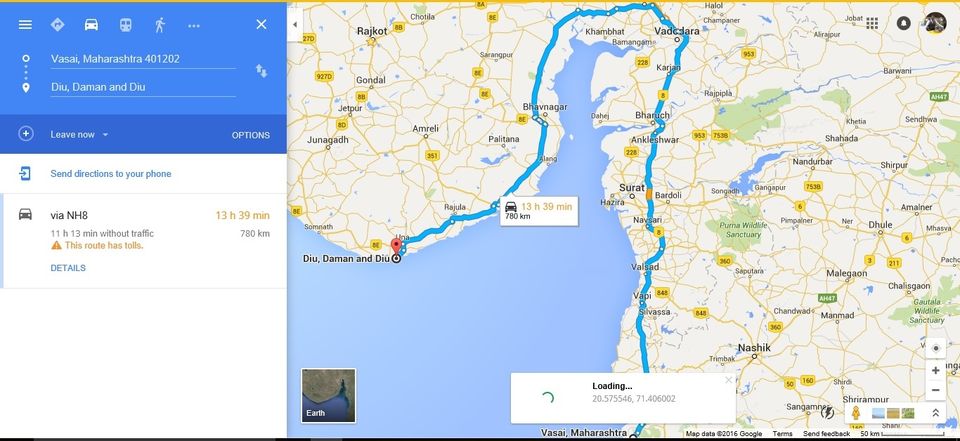 I could not ignore my friend's call and we had a change in plan, we were now headed towards Daman, which is 580 Km from Rajkot, 300 Km more than what we were prepared to travel. Manali completely denied to travel to Daman on bike but I was successful in convincing (read forcing) her. We had planned to leave at 5 in the morning, Manali was worried, though she didn't tell me a word but I could read her face that she won't be able to make it till Daman, and I didn't wanted to take any kind of risks with her health. We dropped the bike plan and went by my i20. The decision came out to be a wise decision, as the outside temperature in morning had dropped down till 4 degree centigrade.As I had driven my car more than 10 times on the Ahmadabad Mumbai highway this time I was in no mood of going through the highways, I wanted to explore the other internal roads. Though I got what I wanted, got a break from express highways, in fact I got a break from the roads, initial 50 Km there was no properly built tar road, I was recollecting Ladakh memories. Lot of trucks go through this road as they don't have to pay toll, though I got good views, small roads with tress all around, we travelled through nature, explored new villages, explored new roads but trust me I was damn tired after driving continuously for more than four hours and covering hardly 180 Km, on the other hand if I had chosen to go through the regular National Highway, in four hours I would have easily covered more than 300 Km. But that was the lesson I learned and I swore to God next time I would never travel through shortest route and would instead always chose the fastest route.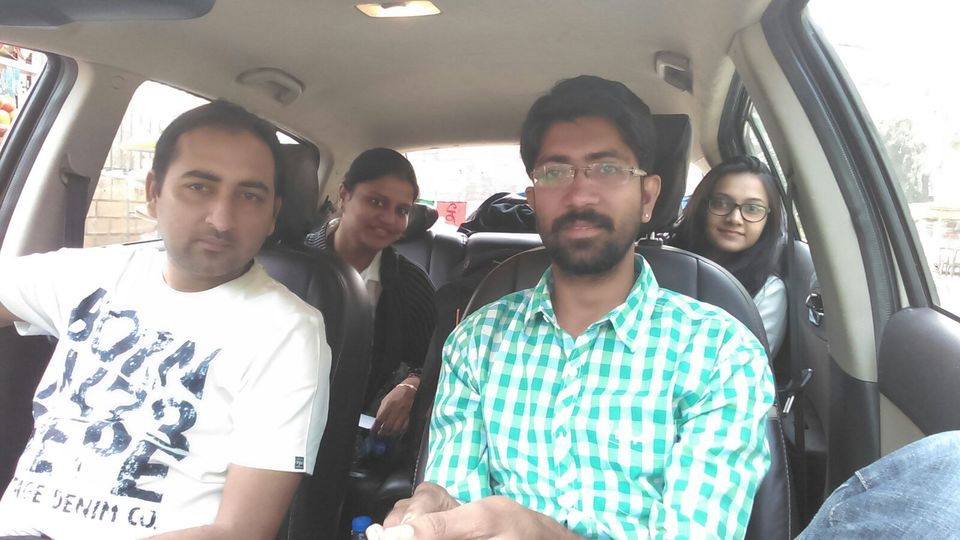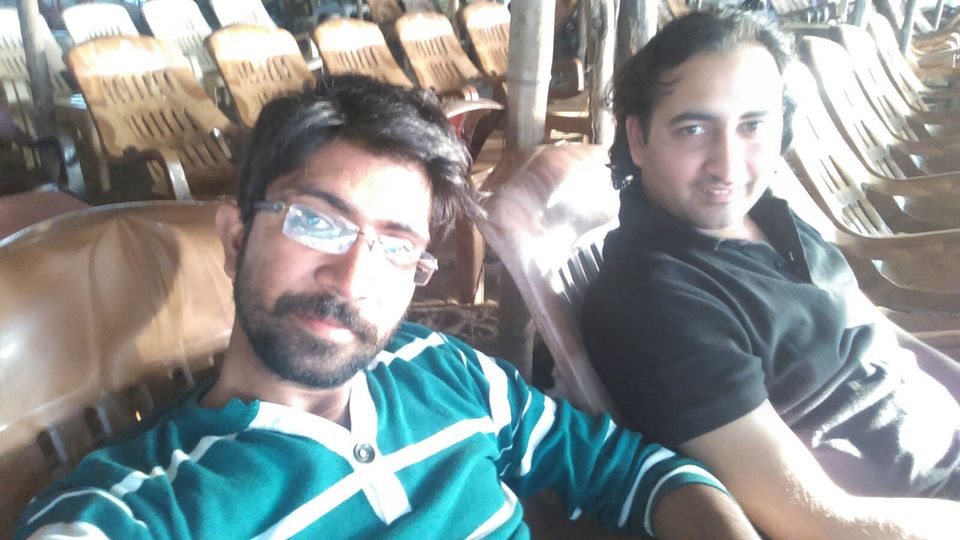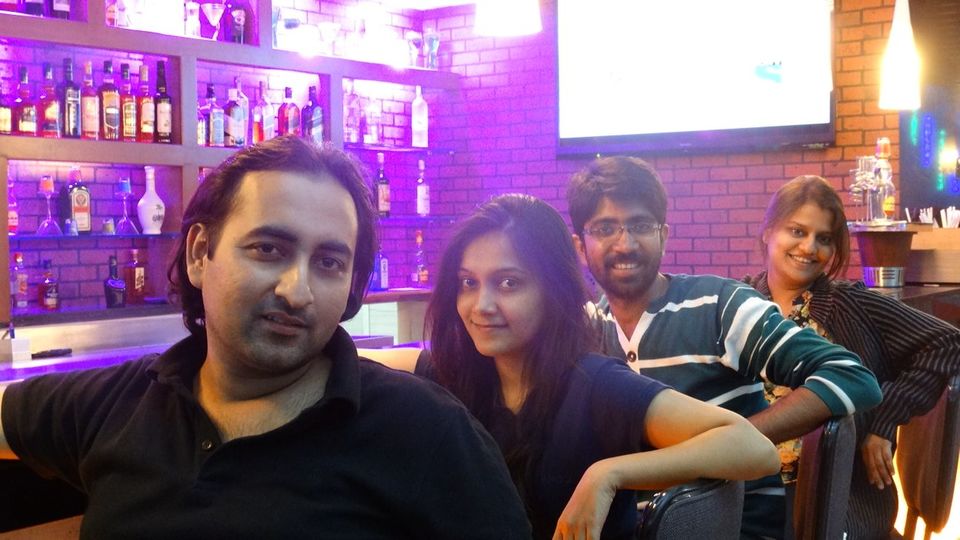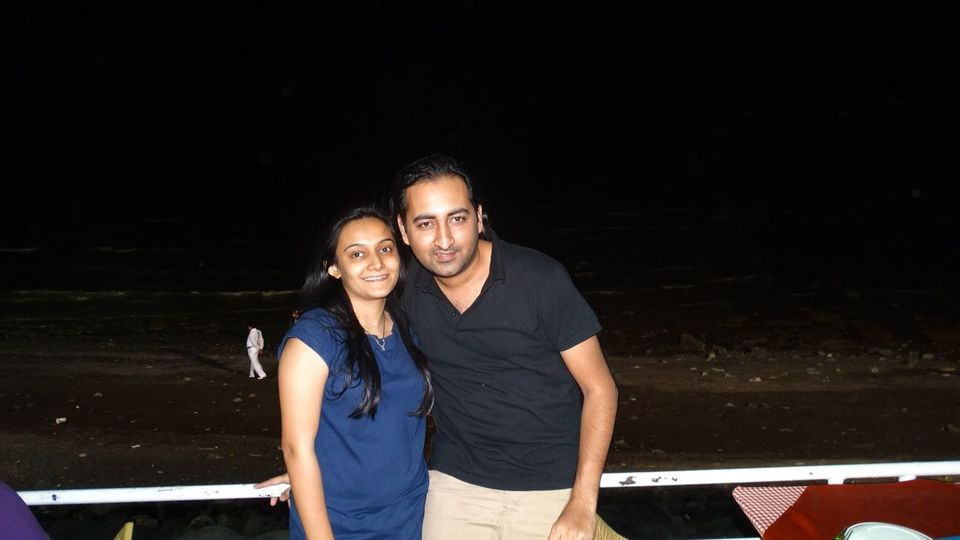 Two months later on 8th Feb 2016, we were to celebrate our 1.2 anniversary and this time Diu plan was back in action. As I was heavily occupied at work due to staff shortage, I had managed to take an off only for 1d 1n but somehow it was stretched to half day more.
So things were set now, bike was serviced, new knee guards, new gloves and a backpack. We tried wearing the knee guards once in the evening, and all seemed perfect. I didn't buy new saddle bags as this was our first test ride for ladakh 2017 and also I was running short on budget. We were about to begin our first ever bike trip from Rajkot to Diu which is around 285 Km (fastest route was selected by me this time).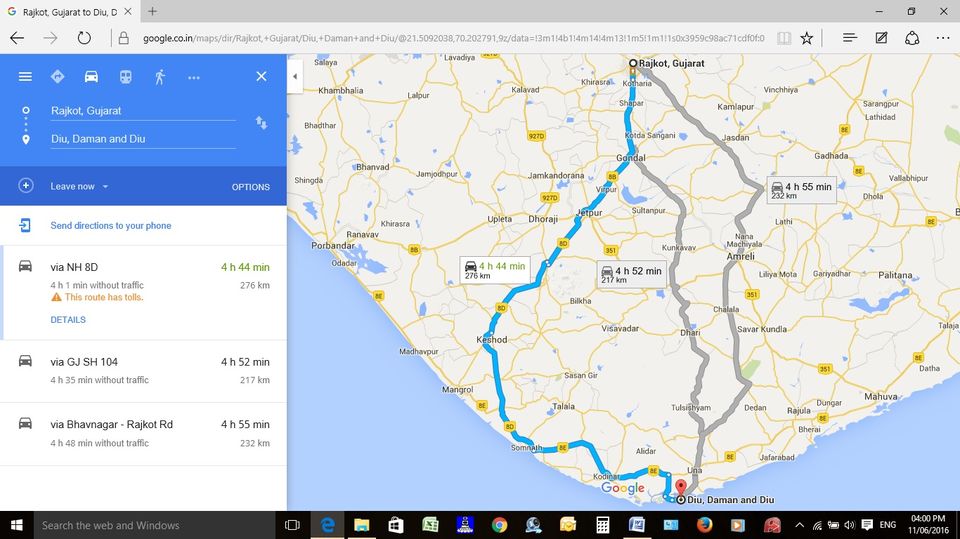 Last two night's lowest temperature was not less than 11-12 degree centigrade and so we were confident enough to start the 1st longest bike journey of our lives.
Even in the morning, Mom and Dad insisted me to go by car and drop the bike plan, but Ladakh was on my mind and I didn't let it go. Morning temperature was bearable, and I was damn excited, with proper gears on we left from my building, stopped at a fuel pump, Rs. 700 and my bike's tank was full. In 10 minutes we were out of city and on NH 8, and got hit by severe cold wind and temperature drastically dropped, It was just 5.30 and I realised there is more than one hour left for the sun to rise and make the temperature little high. Manali at pillion was carrying a back pack, hiding completely behind me and she was saved from cold winds, but I knew sitting in this position will soon make her uncomfortable. She didn't let me cross the speed of 90 km/h, at 6.30 we had ridden 55 Km and had reached at the virpur bypass, stopped at the road side hotel, had 4 cups of hot piping, but still we were shivering. As soon as we left after halting, I was just not able to ride, and both my hands were shivering due to cold, unlike the journey up till here, but I said to myself very soon the sun will rise and make us comfortable. Within next hour we reached at the Junagadh bypass, this 20 km Junagadh bypass has only two lane road, and no highway where any new driver can get confused as all of a sudden 4 lane national highway gets converted into 2 lane road. Though this was not my first time on this highway I didn't feel like taking any chances and we started the navigation system on our cell phone and got it hold at the mobile holder on my bike handle. Within forty minutes we were back on highway but still didn't got away with the cold that I was feeling, many a times I had a thought of skipping the plan and book a hotel in Junagadh itself and spend the day resting here, but Manali would have disagreed and also I didn't wanted to lose hopes, I knew if I can't make it till diu than my mind would never permit me to even think about ladakh. When I get hit by the word Ladakh, I get inspired and don't know from where I get the energy to complete the journey, but it does works, atleast for me.
We took another halt, 30 km before Somnath by pass, from where the National highway will get finished and we had to ride on 2 lane roads for 85 Km right till Diu. We got some tea and went to stand outside right below the sun to get some heat, but we were still shivering and tea was falling on our hands. We did enjoy the attention we got at the Hotel, where people travelling by car wearing jackets and monkey caps, get a shock to see us on bike, there were few people who got curious and came to us asking where are we coming from and where are we headed towards, they wished us good luck for our journey and we left. It was now around 8.30 and we were around 30 minutes away from Somnath bypass. In next five minutes we were enjoying the ride.
70% of the journey was completed, now all I was thinking was only beach and alcohol. I had no bookings done, but I had checked few home stay options on tripadvisor, and the best reviewed home stay was "Heranca Goesa" b/h Diu museum. I again loved the attention we got passing through one small village before diu. Though road from Somnath to Diu is not as smooth as the one from Rajkot to Somnath but still I was easily cruising at 60 – 70 km/h.
We took another halt right before the bridge which connects Diu from Gujarat state, I thoroughly washed my face and I was all fresh again. In a while we entered diu and we were stunned to see the beautifully built roads and absolutely clean surroundings.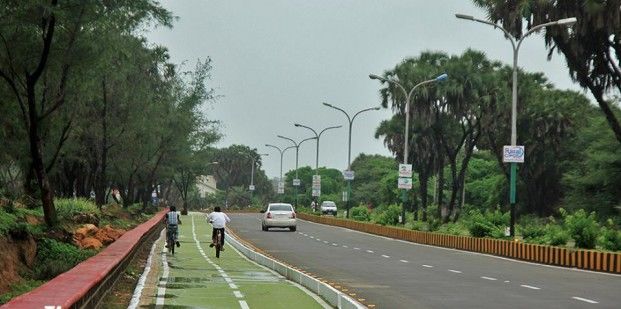 We took a turn towards Nagao beach and headed towards the city.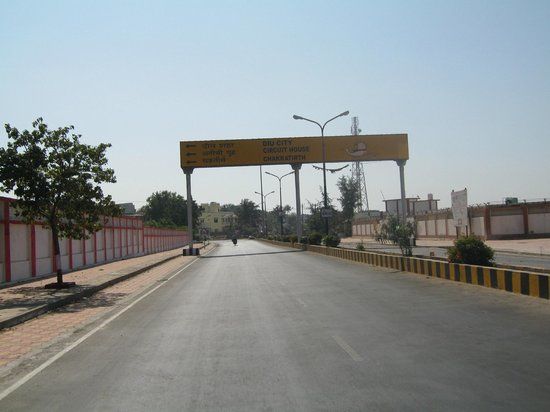 Diu city also got us by surprise, small entrance through the big gate which looks like we are entering into some fort.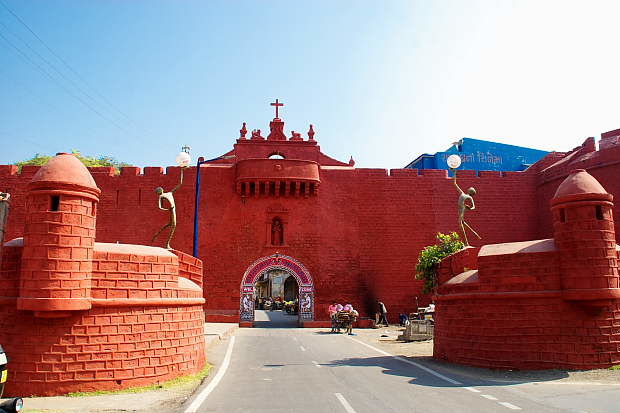 As we went further, roads got converted to narrow streets where only bikes can go in between of the bungalows at both sides of the street, we loved it. Our navigation system got us directly near Diu museum at around 11 Am, and from there we didn't find any difficulty to find "Heraanca Goesa". Hosts of this house are very sweet and friendly Goan couple; we checked the rooms and got us booked for one night at Rs. 800 only. They had around 10 rooms out which all others rooms were occupied by foreigners, later on, on talking with the host I found out, they are very choosy in offering accommodation to the travellers, they said we don't allow groups of guys to stay at our place, reason being he said sometimes it gets very noisy and other guests staying can get uncomfortable, further he said most of my rooms are occupied by the foreigners only and then I have to be extra careful in providing accommodation to others.
In a while, we got fresh, got into shorts, took a backpack and left from the rooms at around 11.45. We came out from those narrow streets of diu city.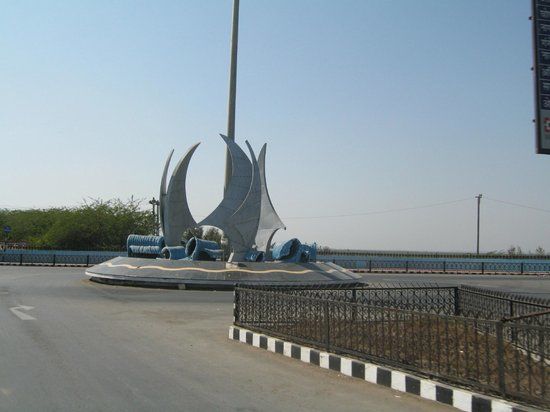 We rode through the beautifully built road towards the nagoa beach.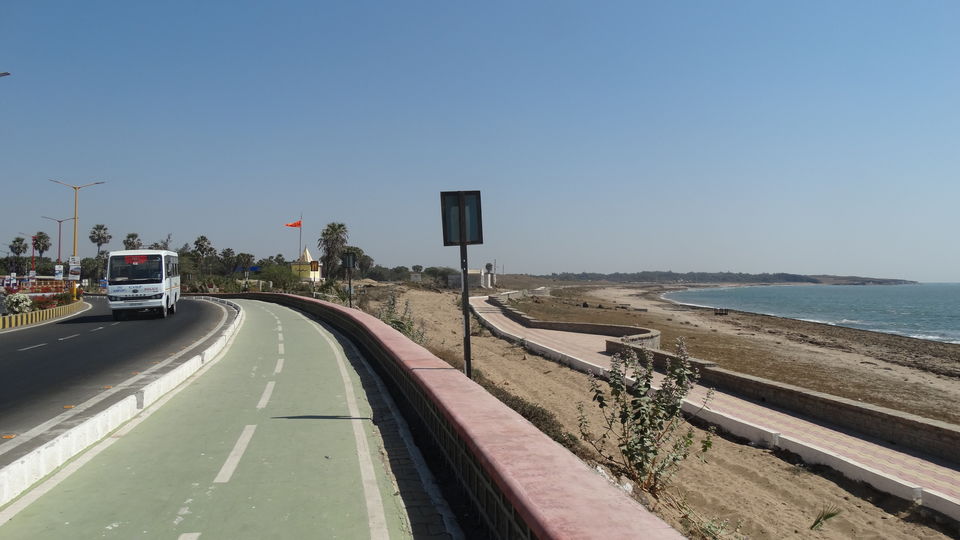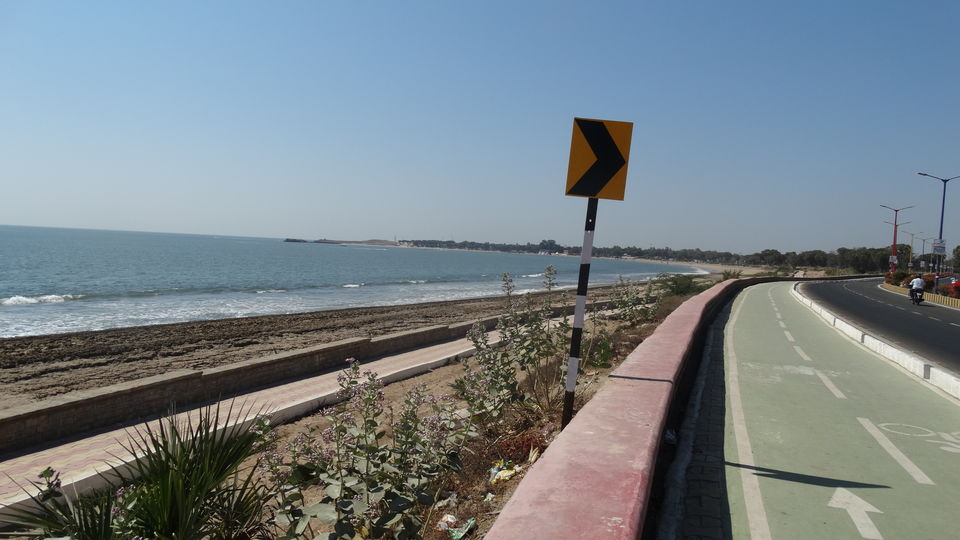 We looked for any beach side bar or any shacks where we could sit and relax watching the beach with our drinks, but to our surprise we found only one bar cum restaurant which had no beach view and was heavily packed with the beer lovers. Manali suggested let us go back to room and sit in the balcony itself having few pegs and then we may go for the lunch at some nice place where we can get sea food. I denied the idea as I wanted to sit in open watching the shore of the sea. We got back to the diu city looking for the wine shop, I got half bottle of blender's pride and couple of breezers for Manali, all @ Rs 400. Though alcohol consumption at the beaches is banned, I told Manali let us find some peaceful place near some beach where we can sit for couple of hours and have our drinks. Getting out of the city from another side we came across "O'Coqueiro" which is the famous open area sea food restaurant managed in a private residential space, I had read about this place on tripadvisor and it had high ratings, I suggested Manali to order some starters for her. We took some prawns for Manali and French fries for myself and left.
I asked owner to advise me on some hidden beaches of diu which would be very less crowded, he suggested Jallandhar beach which was in near vicinity. We took the parcel and left. While in search of Jallandhar beach we came across this beautiful church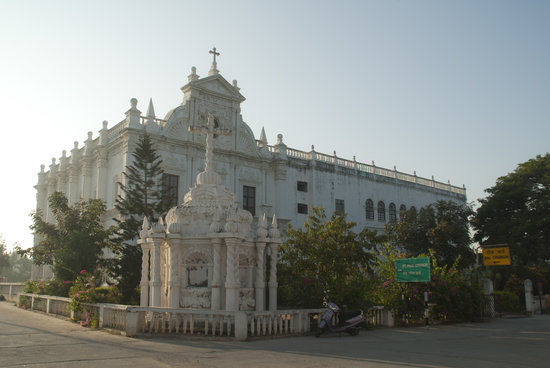 We reached Jallandhar Beach and I instantly fell in love with that secluded beach as it was way too low from the road side and full of trees, occupied by only one couple and a group of friends. We found a nice spot, right below few trees which can't be easily spotted from the road. We got our bed sheet spread on the beach and sat on it having some peaceful and wonderful time of our lives.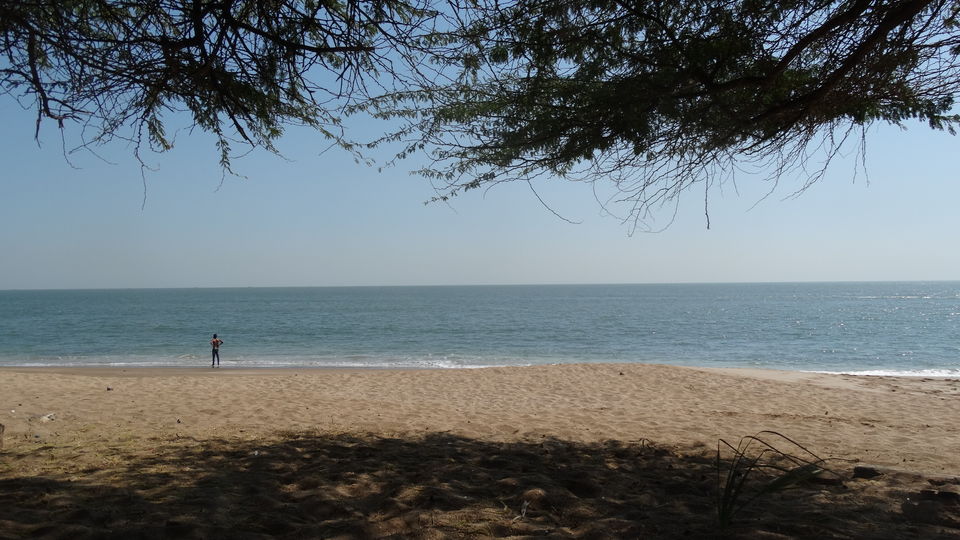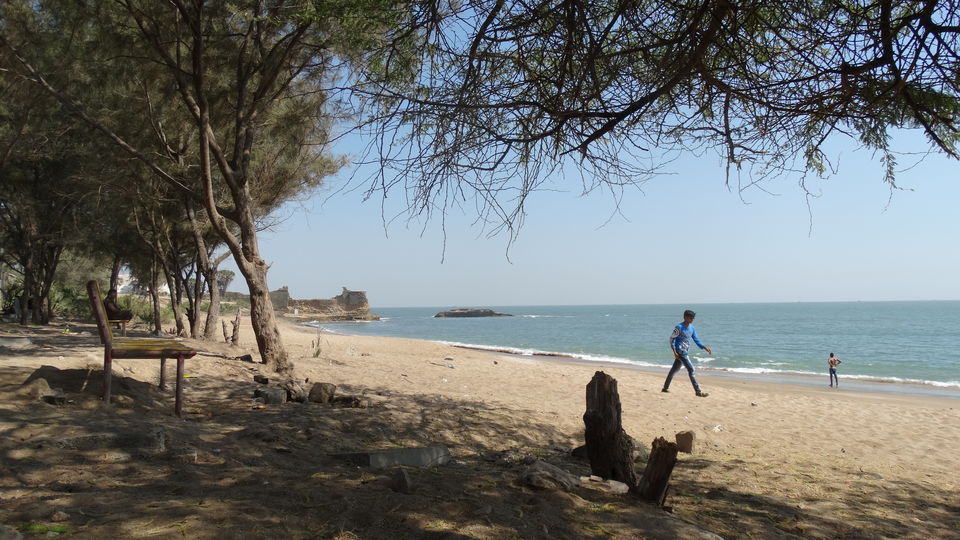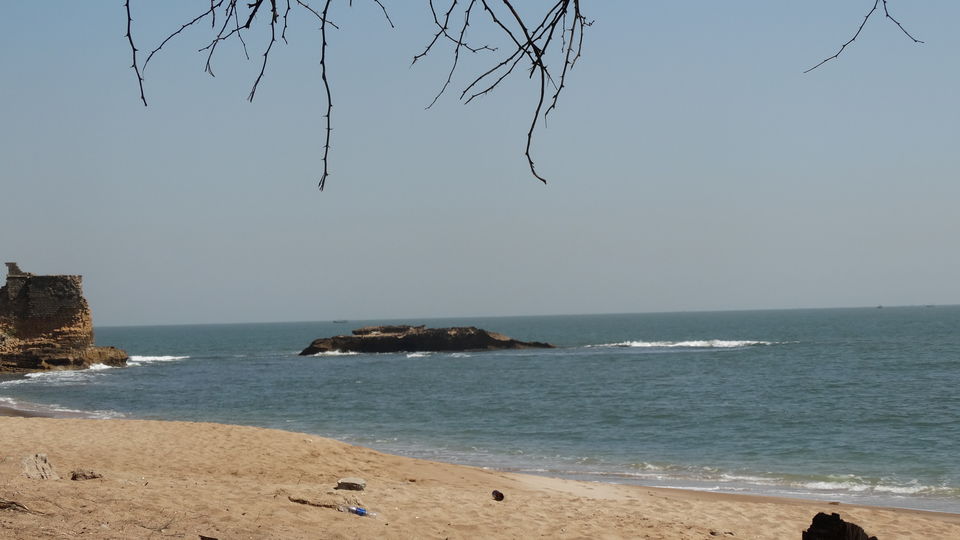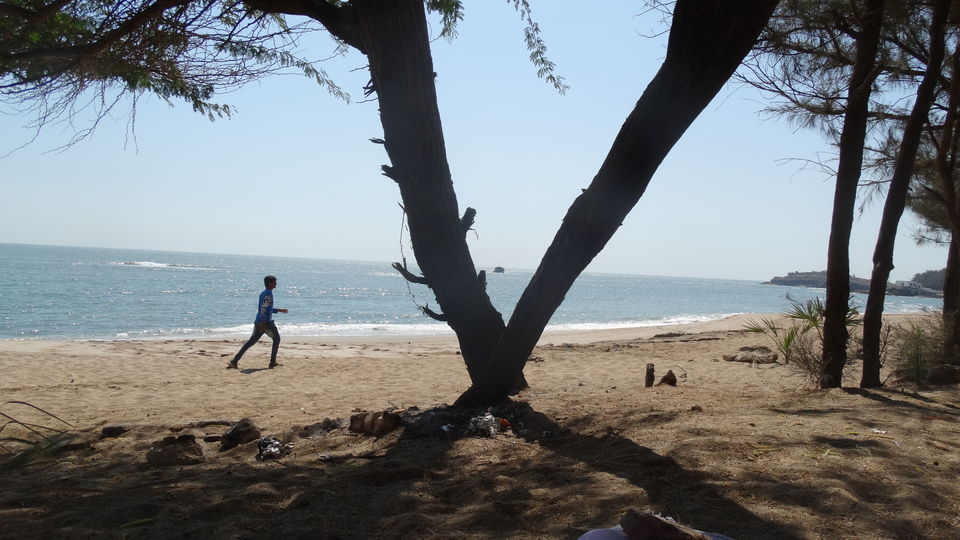 Two hours later it was 3 PM, we left from Jallandhar beach in search of some good sea food, and we went back to O'Coqueiro, Manali had a great time eating some fish, and Dal fry and rotis is all what I need when I am few pegs down.
We took one round of the city and went back to our room for some rest as we had not got proper sleep last night.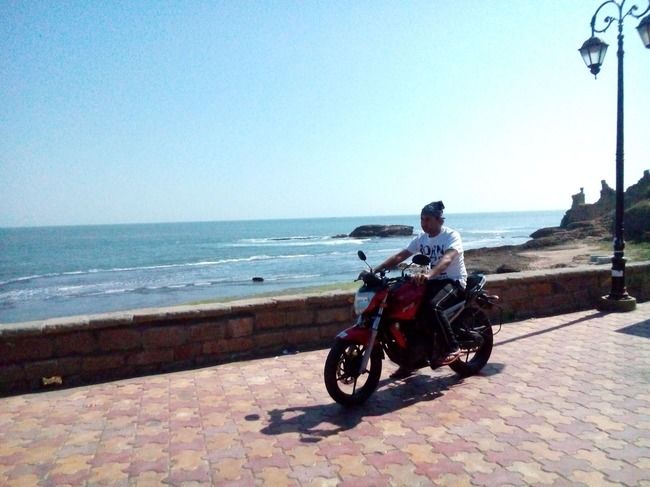 Just little time before sun set we woke up and went on a ride near nagoa beach, sat there for a while, and back to city, we found a good restaurant where they permitted me to have my own whisky, Manali got some breezers and we were once again enjoying drinking in public which we terribly miss when we are in Rajkot.
The day was about to end in a while. I had to get back to work at 11 Am next day, but that thought terrified me. We both had planned to leave for Rajkot from Diu at 7Am, but we had suffered enough in the morning due to low temperatures on the highway, we decided we will leave after 10 and I called up at my restaurant and requested my Manager to postpone his weekly off by one day, he obliged.
After paying for accommodation, lunch, dinner, alcohol and munching, we now only had 500 bucks out of 3000 left in our pockets, we had decided to make this trip a budget trip and not the luxury one, we knew we can save some money on stay and after being to Ladakh it was absolutely okay for us to get ourselves accommodated at the home stays. As we were travelling on bike we also saved money on toll tax and car fuel.
In the morning I felt fresh and was ready to get back, but Manali was little hesitated and tired to get back on the bike but she knew we didn't had any other option. The hosts served us few toasted breads with cheese and an Indian Masala tea which gave me a nice kick; I just loved the tea and ordered one more cup.
Other guests sitting in the front area of the bungalow bid us good bye and wished us a happy journey. I fuelled up my tank with only Rs. 200. Half an hour on road and Manali started to get uncomfortable; she just didn't let me ride above 70 km/h. I stopped at a restaurant at the Somanth bypass, Manali was in a bad shape, I got little scared as we had more than 200 km yet to cover and it was already 11.30, she was now feeling the weight of the backpack, her Helmet was making her uncomfortable, she removed her gloves, and just sat there outside the restaurant. I insisted her to go by bus as we could find an AC bus from Somnath city, but she denied. I ate a little and paid Rs. 100. Now we had only Rs. 200 left.
I tried to tie the bag at the side of the bike, but couldn't tie it. Manali requested me to ride little slow and once again we were back on NH8, in next 100 Km we stopped couple of times on the road side in the scorching heat, we again stopped at the Junagadh bypass, but this time below few trees, we drank few coconut water to keep our self hydrated and saved a bottle of water for the remaining journey. 50 km ride and we stopped again, there was a temple little below the highway, we rested there for a while, and I got some water from the hand pump and washed my face and also tasted a bit. Manali was continuously shouting and getting irritated, she said we have got a privilege to travel by car but still we are one of those fools who have chosen to ride a bike. Though I didn't say anything to her but to me "we are not going Ladakh on bike". Anyhow I got her on bike and we left.
It became impossible for me to ride through the last 15 km of the journey, I was so tired that I thought I can fall down anytime, I was stunned by seeing this condition of mine and was wondering why this last few km are getting so difficult, throughout the journey I never felt this tiredness. We got into the city and anyhow I managed to travel through those busy roads of Rajkot city and we were back home at around 3.30 Pm. We ordered some food from our kitchen and slept, I had to get back to work in the evening.
Though Ladakh was currently nowhere on mind, we came back with lot of memories. We had managed to get back spending only Rs. 2800 which included travel, accommodation, food & even alcohol for two persons. Diu had completely got us, its serene beauty, peaceful, beautiful and clean beaches, low profile and friendly people, cheap booze and very cheap food, got us back to Diu in summers, but this time we travelled by car and stayed at hotel as Heranca Goesa didn't had AC rooms.
Thank you for taking your precious time to read my blog. Follow me to keep yourself updated with new travel stories. My upcoming blogs would be on one day trip to Rann of Kutch, Luxury honeymoon holiday at Coorg n Kabini & Polo forests near Ahmedabad.
Suggestions and feedback will be appreciated.