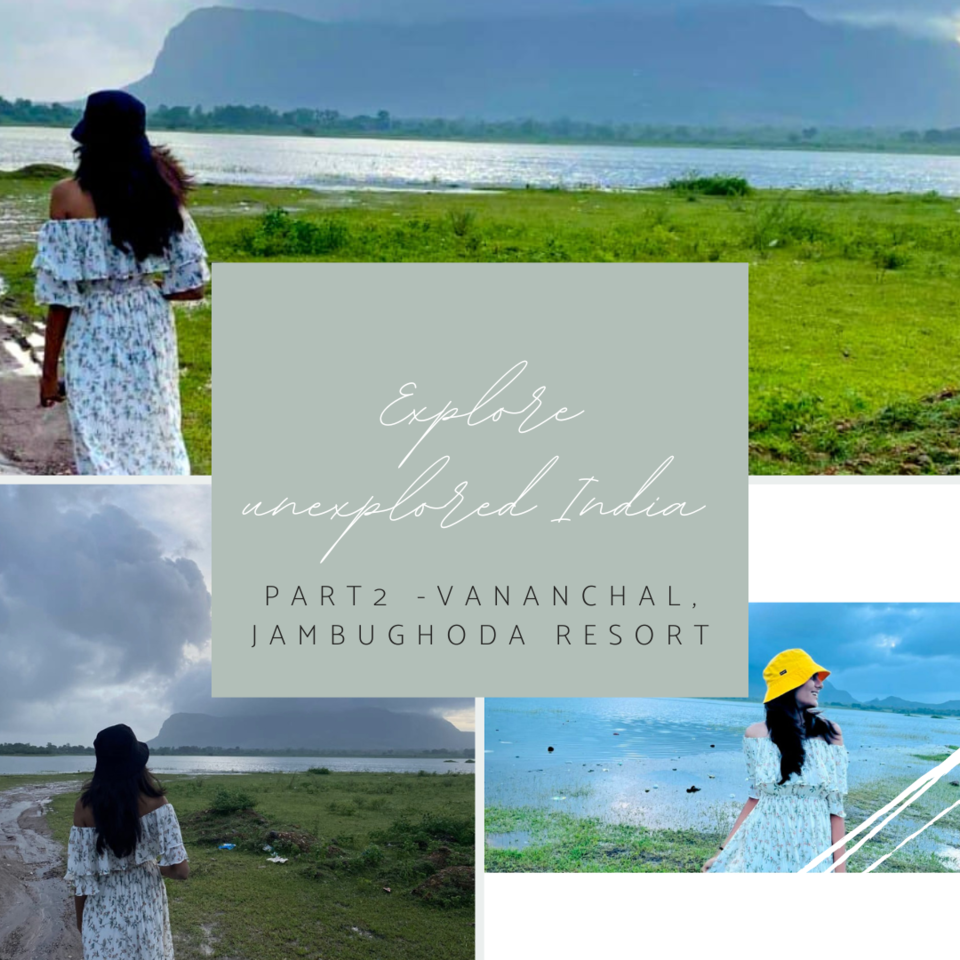 As we were talking about India in the last blog, that's how naturally beautiful and also unexplored our country is, here's part two of
explore unexplored India: vananchal, a jambughoda resort
An eco-tourism lush green jungle located in a peaceful area of jambughoda, a perfect place for a staycation providing all luxurious amenities and adventures is all you need for a relaxing weekend!
Dig into the blog to know what is so special about this scenic place.
THINGS TO DO IN THIS RESORT :
ADVENTURE ACTIVITIES:
Over here, there are a lot of activities that resorts offer, that you'll be tired of performing unfortunately due to rain we were not able to enjoy all the adventure but they offer a variety of Games and full day activities like
Rappelling, Rock climbing, Descending, Rope slings, Tarzan swing, Rappelling, Jungle safari and trekking, Monkey jumps, Obstacle races, a large swimming pool with a baby pool, waterfall, canal surfing. so for all the adventure lovers, this is a worth visiting place
.
SITE SEEING & EXCURSION TOURS
We were not able to go outside for sightseeing as we had a plan for a day only, but you enjoy visiting nearby places like
Jand Hanuman, Sukhi Dam, Kada dam, Dev dam, Kevadia Dam, Jharwani waterfalls etc wherein you can enjoy a full day picnic
Amenities
Rooms were proper with attached toilets. There were issues of flies and insects in the room due to the monsoon but the service was fast and quick and the staff was cooperating.
24 hrs Hot & Cold water
Restaurant with conference hall.
Excursion tours to surrounding places.
Travel desk and guide facility.

HOW TO REACH
It's a 75kms or an hour drive from Vadodara, around 178 km from Ahmedabad. The most fun part is the road trip even though the road is not constructed properly, but the surrounding Greenery and dam are worth visiting!
There is no station nearby so I prefer to go by road.
RATES :
1) night stay
stay with breakfast and activities @ 5000 + tax (we took this package)
2-night stay
-stay with breakfast and activities @ 9000 + tax
cottage room
1-night stay
-stay with breakfast and activities @ 5500 + tax
2-night stay with breakfast and activities @ 10000 + tax
check-in – noon, check-out – 10:00 hrs.
** rates may change as per peak season & season. please call to reconfirm before booking
(this rate information is mentioned as per their official website)
OUR OVERALL EXPERIENCE
We were a group of 10-12 people, and after reaching around 10 am we had breakfast. The food was awesome and hygienic. Jain food was also available. After we relaxed in the pool and chilled and we had lunch over. In the afternoon we did some adventure activities and clicked memories! We returned home after having high tea. The staff over there was cooperative. The whole resort is surrounded by nature and greenery. It looks like you have come to gods land. Various types of flowers and trees were there blooming the place. overall It's a great place for photography for relaxing far away from city shores and also in an adventurous way.
It was a great experience for me to visit this you also visit and tell me your experience!
Thank you vananchal resort for exploring this place in between the jungle and converting it into a beautiful property!
If you like reading this blog, then like share and comment!
Thank you!
Photo blog: