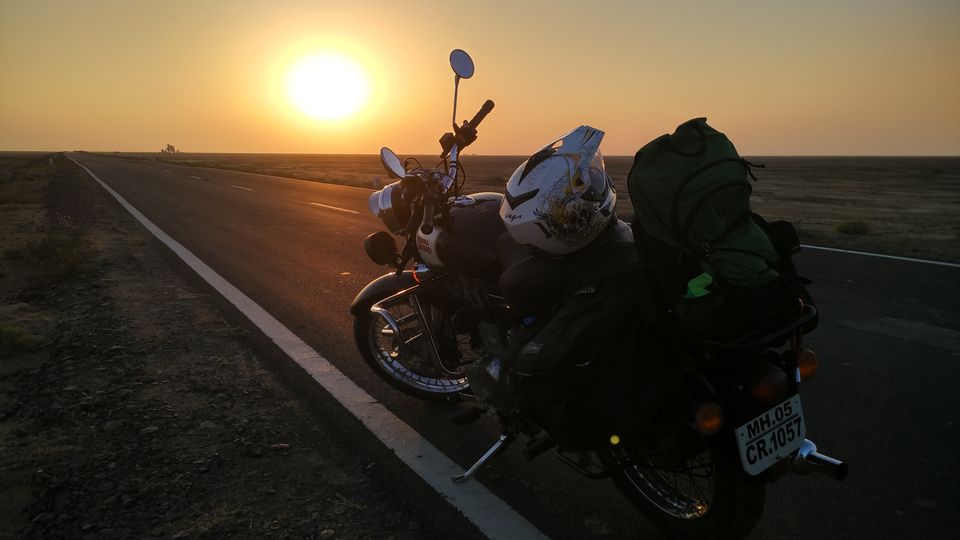 Hey Fellow Readers..!!! If you have some besties with whom you regularly hang around, you should definitely plan a road trip to Rann of Kutch..!!
It all started with a discussion....creating the plan and then finally booking our stays online, but the most amazing fun part of our stay was......"Ummm, let me tell you later as you read till the end". As we had decided to travel on our motorcycles, it all began with shopping for the required accessories, riding gears and some medical kits, getting some extra comfort for our seats, we had installed those bucket seats which gives your butt some extra comfort as you are riding for the whole day. If you are from Mumbai, you should definitely visit the Western Express highway metro station, there are lot of Motorbike accessories shops and you will shop for the entire day...!!
Day 1- Mumbai to Ahmedabad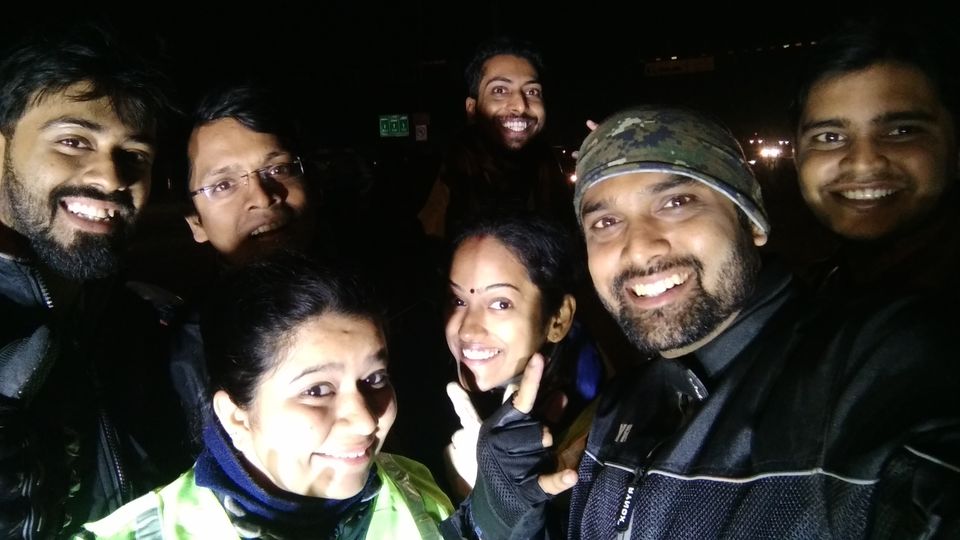 We had enough sleep after a hectic ride on the first day and now we had got a grip of another challenging ride....to Bhuj...One thing you'd be sure of...Gujrat roads are awesome...you can ride for hours at a same speed and enthusiasm. As you get closer to Bhuj, you would find the salt deposits, trucks loaded with salt cartons, we had some beautiful views around while we were riding to Bhuj. The ride was not tiring anymore, The best part was, when we had a halt for a break, we did a group dance and shot a video..All the riders and pillions were truly having an amazing time..!! We reached Bhuj in the evening, checked in to our guest house. We had booked the city guest house which was centered in the main city, for just about 1 km from the Prag Mahal and Aina Mahal. The guest house had basic amenities which met our requirements. We had booked it for 4 days and from there we had planned our visits to Mandvi Beach, Kala Dongar (Black Mountain) and the White Desert.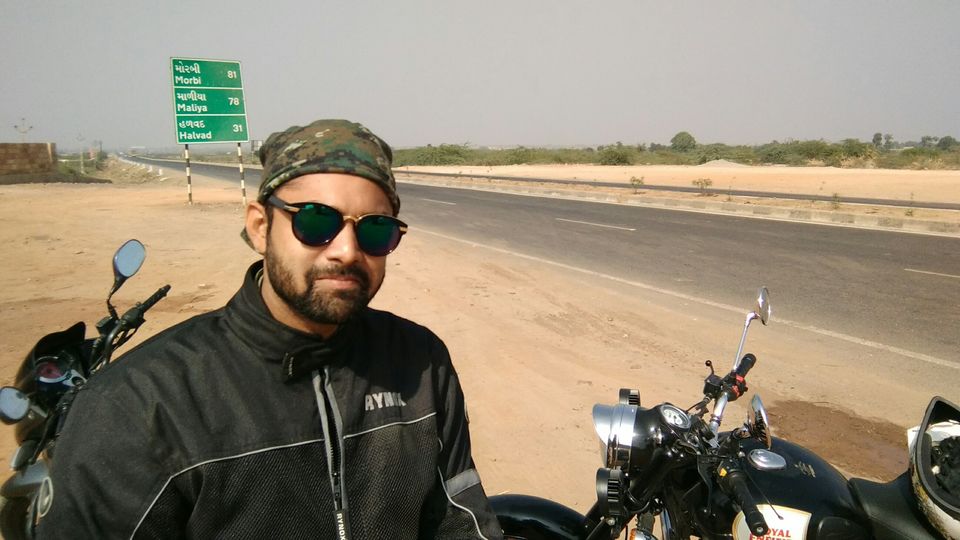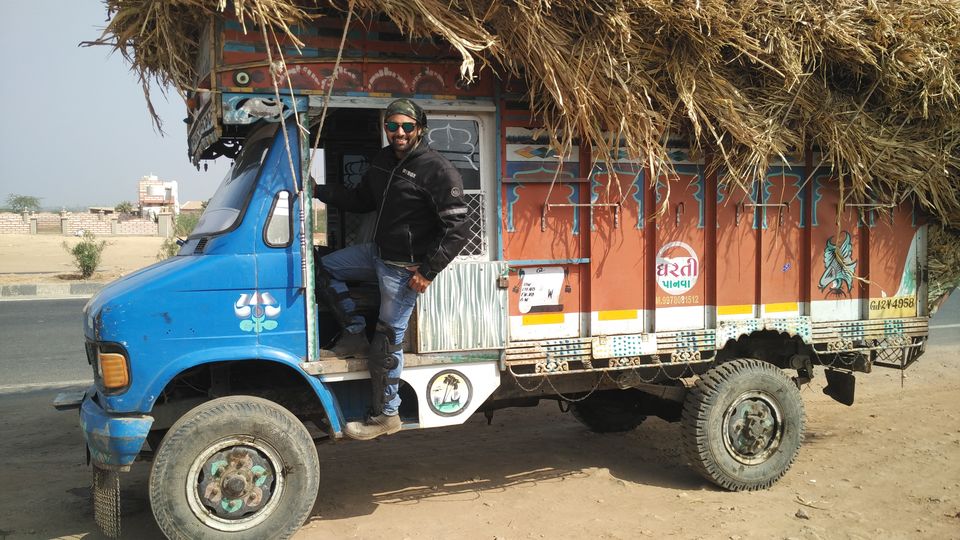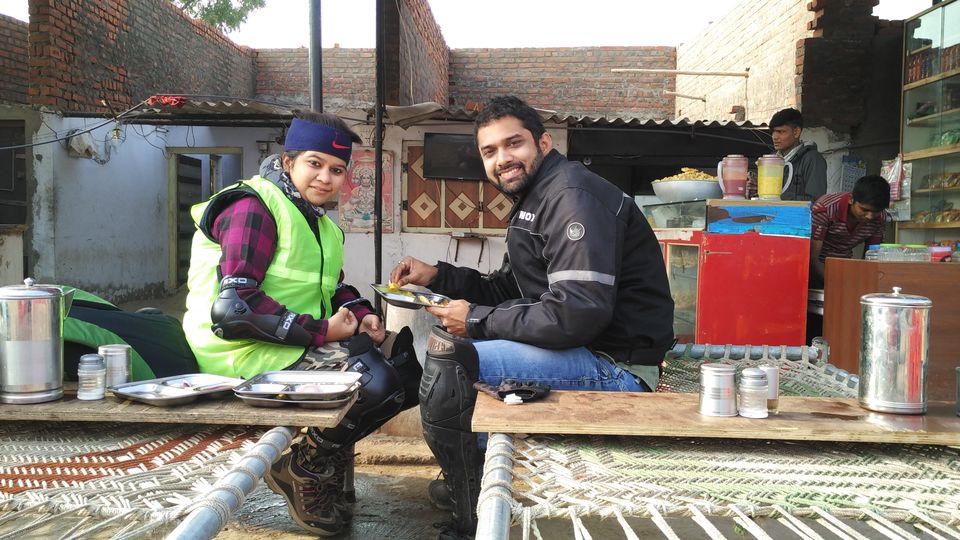 The next day morning we left for Kala Dongar (Black Mountain). Its a 90 km stretch. The kutch area is very much controlled by the Indian Border Security Force so we need to obtain a permit at a checkpoint called Bhirandiara village which is 52 kms from Bhuj. For the permits, every individual has to produce his personal ids for clearance. We obtained permits and made our way clear for Kala Dongar. The Kala Dongar is a must visit spot which gives a view of the white sand desert from the top.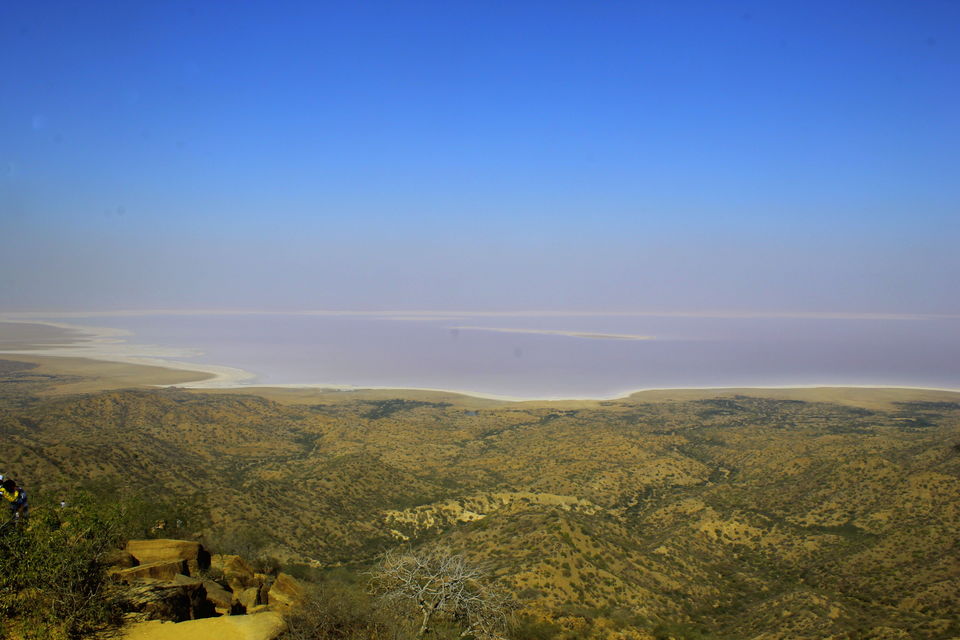 I can't exactly say it was Day 1, rather it was Night 1, my friends had come to my place, so we all could leave together, but none of the so called "Enthusiastic Riders" slept for at least an hour to feel fresh...Now the challenge was to do an excruciating sleepless ride..!! We started our journey during midnight at 3 am from Fountain Hotel, Thane. The excitement was on..!!! Selfies...videos and status check-in on Facebook.....but after a three hours of continuous ride, we began to doze off. "Oops man...!!! You just can't sleep now, else you'll get off the road into the dry grass"...we had a short halt so we could manage to be awake and continue riding to our destination..!!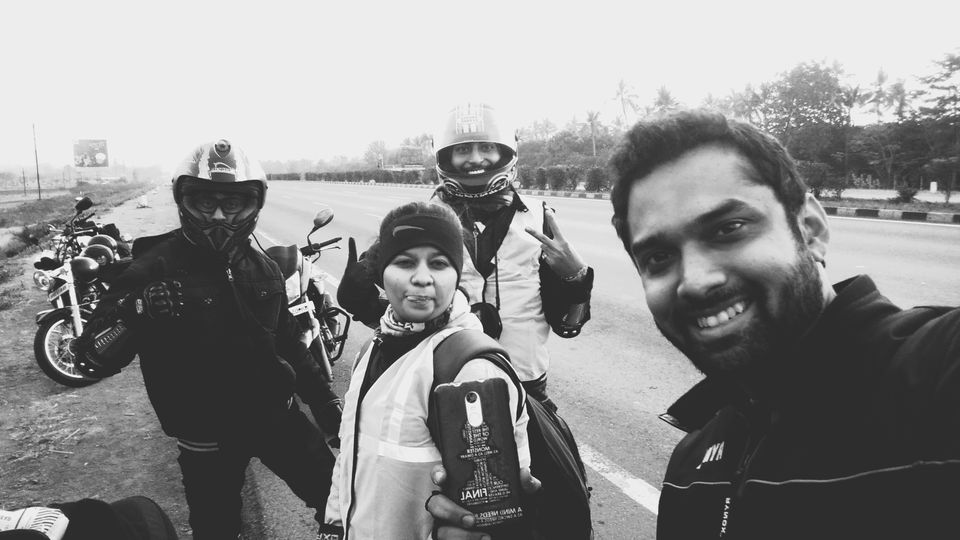 You would be always energetic if you don't miss the roadside tapri ki chai and the bread omlette prepared in the smoky pans...Wohoo..!! We continued our ride..!!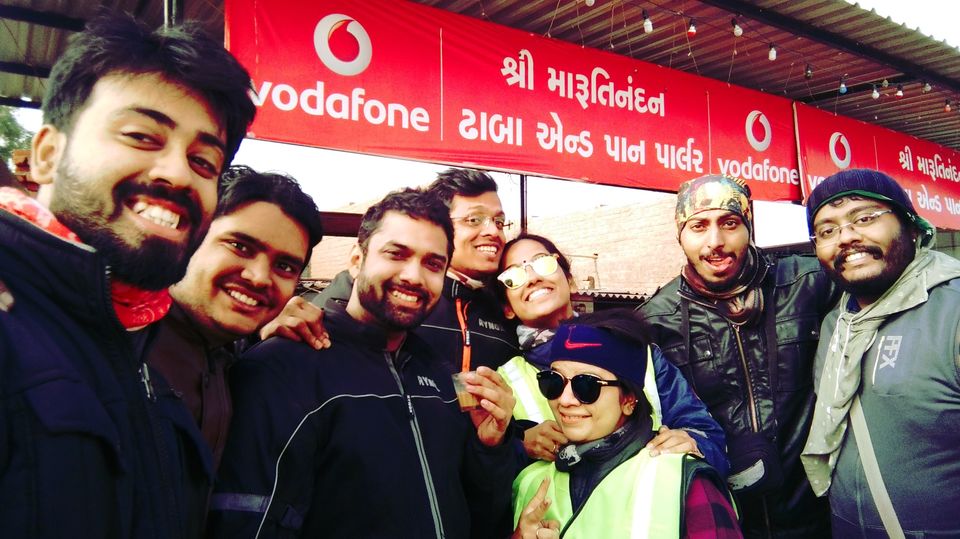 Day 4 - Bhuj to Kala Dongar (Black Mountain), India Bridge and White sand Desert
We then visited the India Bridge. When you're in Kutch, this is a must visit place trust me. Unfortunately, we could not click photos here, as this is a defense area. We had been to a war memorial and then headed towards the white sand desert.
Whilst we were on the way towards the white desert, we'd come across a road which was phenomenal. On both the sides was the endless desert and we could just see the straight road which was looking infinite, the sun was about to set and we stopped to click some pics here.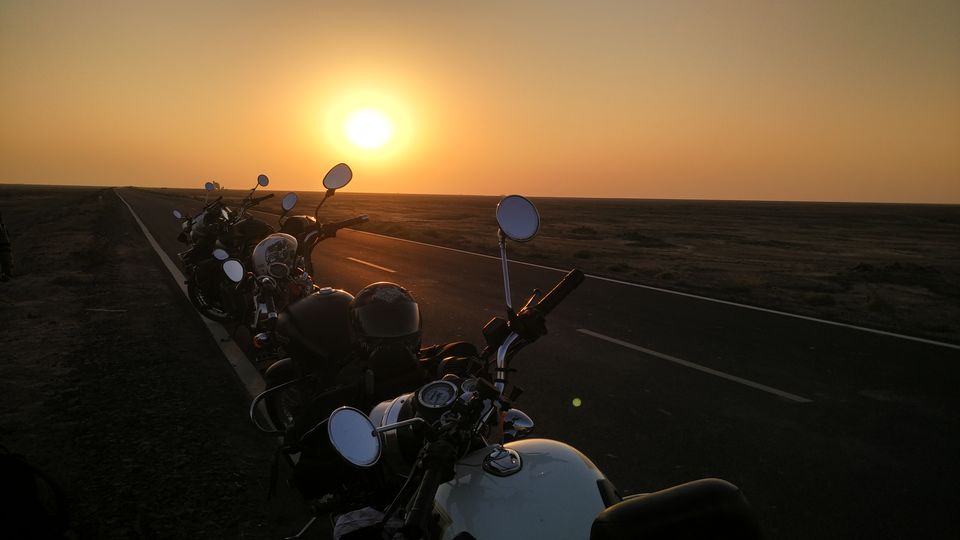 We reached at the white sand desert and as we had planned to visit the desert during the full moon day, the desert in the night was glowing under the moonlight. "Aaaah, these are really the best moments in life" This was what we had planned for. We had planned to wander around the Rann Utsav and then ride back again to our Bhuj Guest house for about 80 kms, and then come back again to the white desert in the morning to get a glimpse of the sunrise. But then came the fun part which I had mentioned in my first paragraph, a villager named Bhaarmal had approached us if we were interested to rest for the night near to the white desert. His home was just 10 mins closer to the white desert. The room rate was just INR 400 per person which included tea and hot water in the morning, we had a deal..!! . We all rode to his home at 12 am in the night. Those 10 mins were like 10 hours as it was freezing cold.
Bhaarmalji had a traditional house with a verandah, where we parked our bikes. He had offered us tea and also campfire. There was one big room where he had arranged mattresses for us to sleep and the bed sheets were hand woven and warm from inside....."Aaah, what can you expect more? We were off to sleep immediately to get up for sunrise, but looking at some of my fellas, it seemed they won't get up early as they were already into a comfort zone, so they will drag the night till 10 am in the morning.
Day 5 - White Sand Desert and Back to Bhuj
We reached Ahmedabad in the evening at 6.15pm and checked into the OYO rooms. The rooms were too good, beds were cozy and the amenities were much to our satisfaction. If you're on a roadtrip and have a stopover, remember to book a hotel that is very nearby to the highway, so that you don't get stuck up in traffic while leaving the city the next day. So as you wake up, you're ready to hit the road.
Day 2 - Ahmedabad to Bhuj
We had again been to the white desert in the evening to see the sunset and left at night back to Bhuj with all the wonderful memories. Now it was the time to wind up and ride back to Mumbai..!!
Day 6 - Bhuj to Vadodara
At 5.30 am we fought all the battles to get up early in the morning as we just had 4 hours of sleep. I was thinking to skip the sun rise but said to myself "You never know when you gonna come back here" so just get up and go for the sunrise". As we got out from the room, we were freezed as the cold was unbearable and to the max. Still, we managed to go to the white desert. We were eagerly waiting for the sun rise and then we got a mesmerizing view of the dawn with the sunrise..."Goodness, couldn't believe my eyes. We got it captured.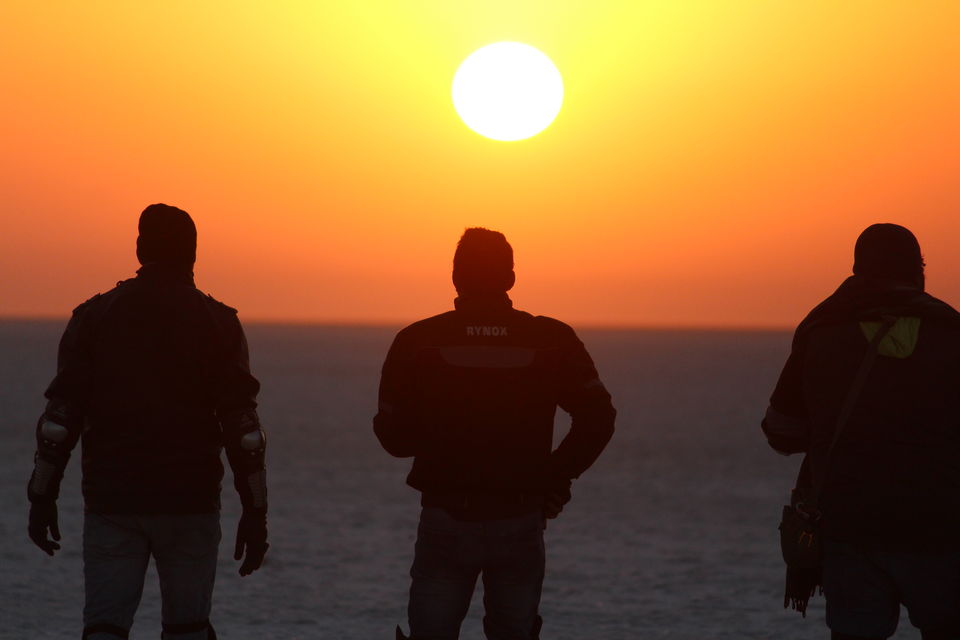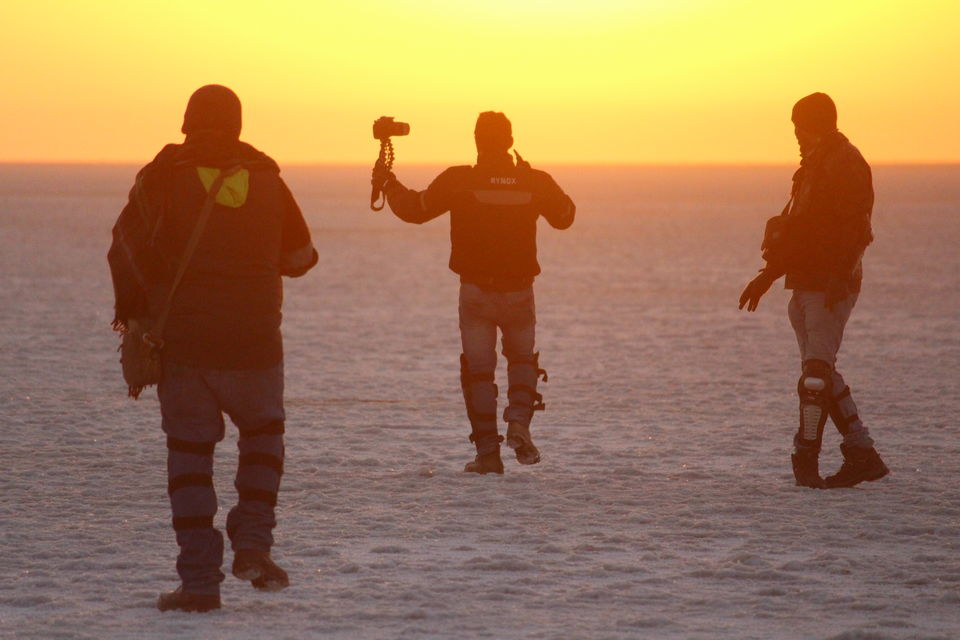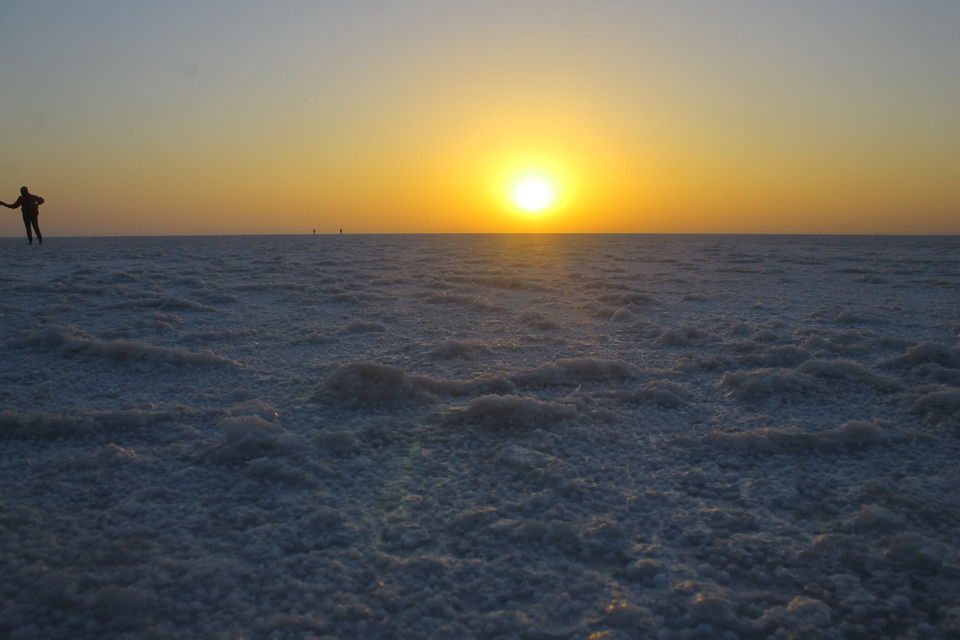 We had a plan to halt again at Ahmedabad, but "We the Riders" aren't only riders, we are "Super Riders". We had started from Bhuj at 8 am. Our breaks were scheduled after every 100 kms, But the exciting part was that we were very close to Ahmedabad in the afternoon itself, we had covered almost 75% of the target destination....."Hmm that's exciting, we can cover 100 kms more, so that we would be close to Mumbai and the next day ride wouldn't be hectic"...Chalo let's cover 100kms more and halt at Vadodara, we decided while resting under a tree. In the evening, we had reached Vadodara to find there was heavy traffic in the city, we were dying to get a hotel. Finally we got one at the Airport....the name itself was Hotel Airport. The stay was luxurious and the comforts were much needed after this long ride. We had stayed there for a night.
Day 7 - Vadodara to Mumbai
We got up late, as we were the masters of the previous day ride that we had covered more distance and now it was time to ride back to "Aamchi Mumbai". With the same excitement, we had started our ride back to Mumbai. I was now eager to go home, get fresh and eat mom-cooked food. Hmmm...after all, even if you get all the comforts of the world, when you come back home, there's someone special waiting for you..!! Dropped my bags, got fresh and started the whole story....."Oh Mom, it was one of my best tr"...........suddenly stopped. Mom said "Beta, I will listen to your complete story, but have food first...and then unpack your bags, give your socks for washing..!! Hmmm Mom never stops, I had to..and then decided to write this experience so now everyone can read my story...!!!
Bhuj is a very simple cultured city and the people here are very humble. We had wandered around local places like Prag Mahal and then we headed towards Mandvi Beach. The beach is just 58 kms at the Gujrat coastline. Its a very nice place to spend an evening to make it an awesome day overall. We were back in the night after the ride to prepare for the next big day.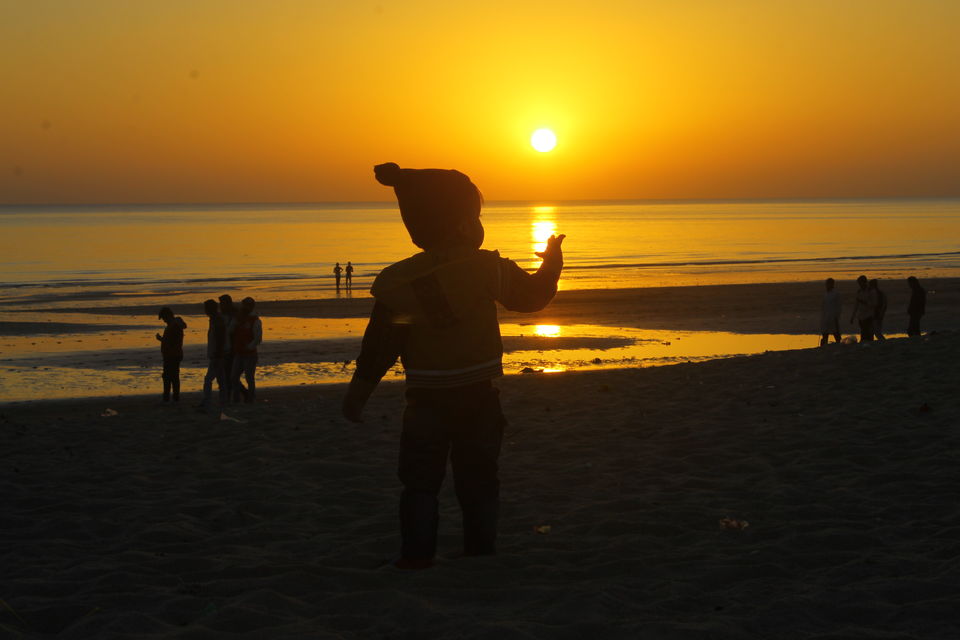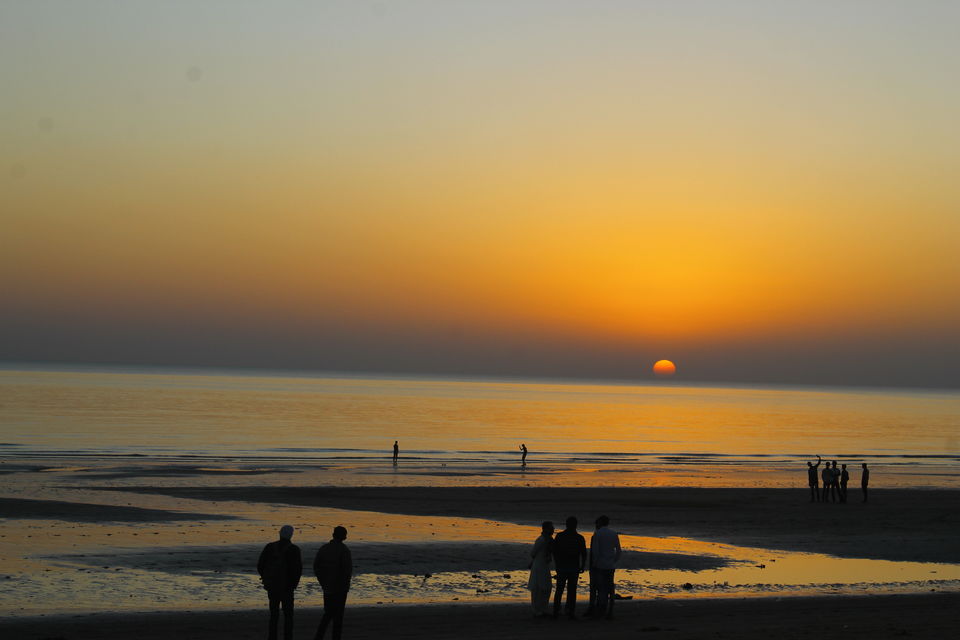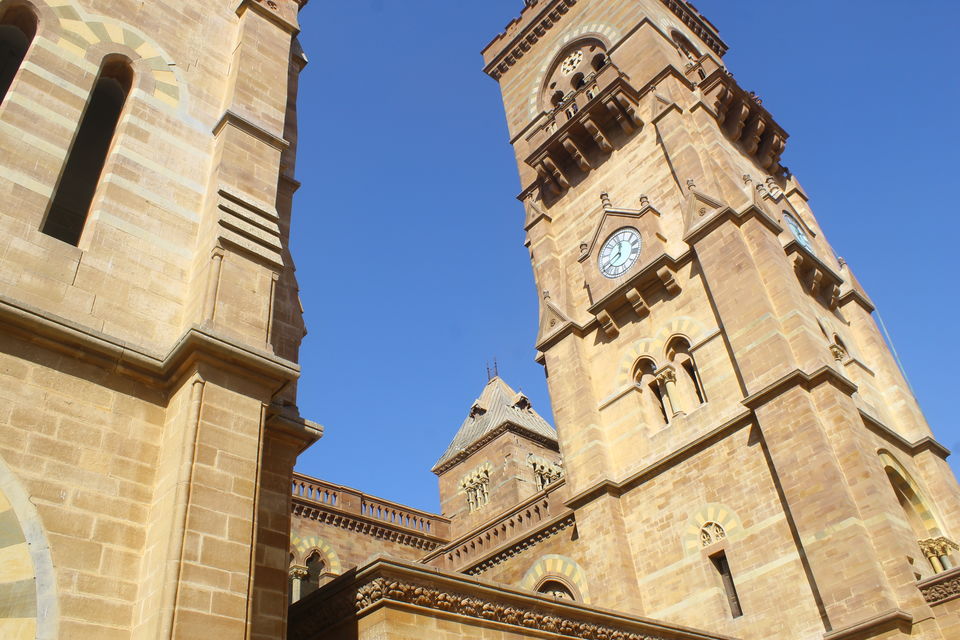 Day 3 - Bhuj to Mandvi Beach
After the beautiful sunrise, we clicked some shots and were back to Bhaarmalji's home. And to our surprise, his wife had prepared traditional Kutchi breakfast for us, it simply tasted awesome. We had some fun times with their kids. And the most fun part was, they offered us the traditional Kutchi dresses and we all were looking damn good in the attire.
The plan to stay at Bharmalji and the moments we had at his place was a value add to our trip and on top of it he did not charge us extra, indeed a splendid hospitality, that we all paid him extra despite his refusals. We would never forget this man and his family.