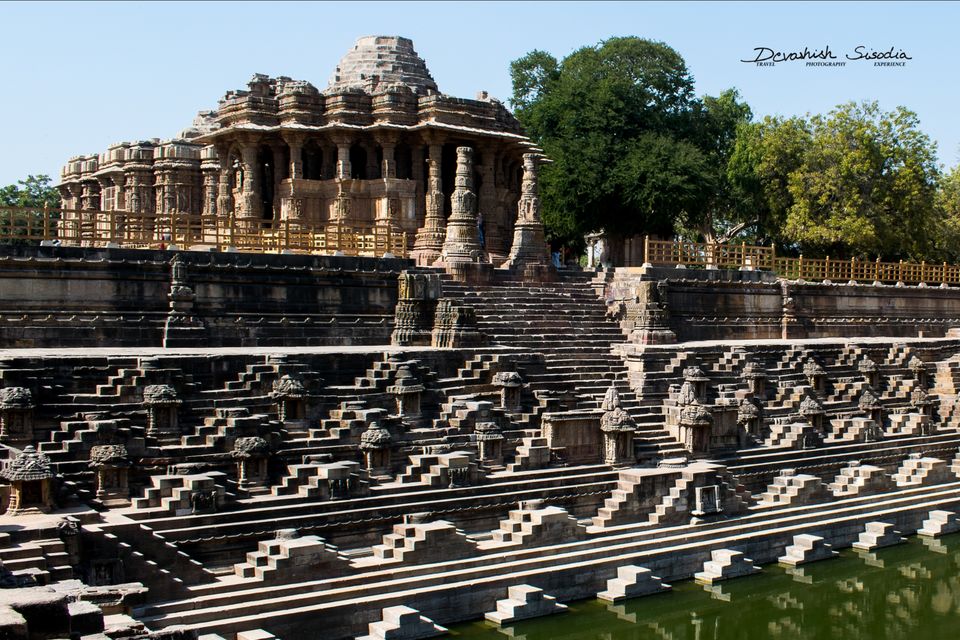 Ride through medieval Solanki Lands (Katiyawad)
The journey started when I reached the Ahmedabad Railway station at 07:00AM. The station is bustling with activity, cars, autos buzzing in the parking area. So, the first priority is to get the rented bike and leave the city before the becomes jammed with the office rushing madness. So, I book an Ola and reach Riant Bikes in Maninagar to pick up my pre-booked Thunderbird 350.
By 8:00 AM I had picked up the bike, filled it to the brim with fuel and rushed to leave the city streets. The route took me through the Sabarmati river front which tempted me to stop (but I didn't) as its beautiful and many states have tried river fronts in India but this is the only one which is clean and beautiful. River fronts in India are like the pirated CAM version of Hollywood movies but this is a lot better no foul smell and the water is not black.
When I was on the highway I made my first stop and coincidently the first myth was broken: Khaman and Dhokla are the same things. They look same from a distance but the texture is different Khaman is spongy while Dhokla is Layered. Even the flour is different, traditionally Dhokla is made of rice. Also had Gota (Yes, just because of the name) which is basically bhajiya or pakora but the unique thing is that all these Khaman, Dhokla and Gota are served with Kadhi which is a little sweet, spicy and tangy and fried chillies.
The next stop was Adalaj Stepwell and when I reached there with the help of Google the place didn't appeared to be touristy and even no stepwell could be seen but only a temple and with huge doubt about Google Map's knowledge I went into the temple worried and then to my relief I saw a board "Donot enter the stepwell from this side" and sighed of relief.
The stepwell is intricately carved built with yellowish sandstone built in 15th century. It is built in Solanki style which has features from Indo-Islamic architecture (floral motifs), Jain architecture (Jalis and Jain Statues) and Hindu architecture (pillars and Hindu God's statues); lots of pigeons inside and calmness. WhenI was back on the top floor I Noticed Tombs and got curios about 2 things:
1. The combination of a temple, Hindu Gods statues and tombs on top of it.
2. It is built on higher ground then how would the rain water flow into it?
So, found a guard and here is an interesting conversation (translated):
Me: Who's Tombs are these?
Guard: The artisians who built the tomb.
Me: Good, Kings usually don't honour the artisians who build all these.
Guard: No, they were killed by the queen so that they don't make a new one.
Me: The classic end of good artisians. The Queen was mad, If they made a new one it would have benefitted the people.
Guard: No (he got defensive like I disrespected his mother). The Hindu king who started making it died in a battle against a nearby Muslim ruler. The Queen (Ruda Devi) who was very beautiful was preparing for sati but the Muslim ruler tried to convince her to marry him. The queen agreed to marry him but on the condition that she will marry him only after the construction of the stepwell is completed. And when the construction was completed she killed herself by jumping into the well and also got the artisians killed because she was afraid that the new ruler will get the well modified as per Islamic architecture.
The second doubt remained unanswered.
Next stop was going to be Modhera Sun Temple. The first hour of the ride was pretty boring just a highway and trucks you have to overtake so I decided to take a wrong turn. Leave the route chosen by google and ride in a general North Western direction. Just after a few minutes I noticed that the farms with yellow flowers which I was ignoring had a different structure than mustard. So, stopped and took a few photos; whatsapped them to the expert and came to know that it was fennel (saunf). India produces more than 50% of fennel and out of that 75% is produced in Gujarat.

Also noticed another plant being farmed here extensively which I had previously seen growing in the wild and it came out to be castor and again Gujarat produces 80% of India's castor seeds and India produces more than 35% of the world's castor oil (Google told this fact). And castor oil is a very important industrial resource; its oil is used almost in every industry and machine as a lubricant, hydraulic fluids, making plastics, paints and even medicines. So, gujarati farmer has taken up farming of crops suitable to arid climate faster than Rajasthan, Maharashtra etc. and it's also quite profitable which I found out later. (Intelligent and Flexible Gujaratis- Respect)
The next stop was Sun Temple of Modhera built by Solanki Ruler Bhimadeva-I in the 11th century. It contains beautiful carvings, intricately carved pillars, has three unconnected sections and a stpped water tank in the front.

Next stop was for lunch at Kamdhenu Kathiyavadi Hotel, Chanasma where I ordered the first kathiyavadi thali and it has many items; dal (a bit sweet), vasundi (a local sweet made of thickened milk), a seasonal vegetable, cabbage made differently, Moong (Green gram whole), Sev Tamatar, salad, Roti, Papad, Rice and Buttermilk (chaach) and it tasted awesome and the sitting arrangement was also traditional.
After I ate more than I needed I started my ride towards Patan and on the road I started appreciating the roads. No matter which road you take, highway or rural road they are all great.
Rani ki Vav, a world heritage site is built as an inverted temple to signify the importance of water. It was built by obviously as the name suggests a queen; Queen Udaymati wife of Bhimadeva-I (the one who built sun temple at Modhera) in 11 century. It is printed on the new 100 ruppee currency note and the statues are very beautifully carved. The interesting story about is that it was silted with sand when the nearby river flooded and was recently excavated and restored.
By the time I was free from Rani ki Vav, It was evening and I now had the decision to make: To stay in Patan which was costly or cover as much distance as I can before its too dark. And obviously the latter was choosen and a mad ride ensued. My next day destination was Dholavira (an Ancient Harappan site stituated between rann of Kutch so I was moving towards it which took me from rural roads and I realised that there was a lot of cattle. It felt everyone was trying to return to their villages with their cattle before dark and then it hit me, Kathiyawadi food has so many milk based items like chaach, Kadhi, Vasundi because the land is arid and traditionally it was mainly used for cattle rearing and other arid crops and crops which needed more water were rarely used in the food but that also didn't explain the use of rice in Kathiyawadi food.
After an hour of riding the rural roads I found a highway and there was a town nearby where I found a place to spend the night Prince Kathiyawadi Hotel, Radhanpur. I was the only tourist in that hotel that day with a TV but no Dish Connection. After a few minutes I was going for the restaurant so I asked for the keys of the room and I was told that they have no locks and locking rooms is not required here. I was shocked so took my wallet, phone and camera with me and again ordered Kathiyawari thali because that was the only option. And to my surprise I was treated with the hospitality better than the most expensive places I have been to and not just me everyone who was eating there. Here it was not a glass of buttermilk but a pot, not a papad but a plate, not a slice of onion but an extra plate of salad just for me and they served like the relatives make you eat a little more than what you came for. And then there was conversation, the waiters job was probably to make you eat more than you want and talk. We talked about things like Rice is not a part of kathiyawari food but added recently by few for tourists, how discovery of natural gas in his nearby village made a few rich, how is gujarati food better than other food etc etc. But just the hospitality makes the place a worthy 5 star.
So, now it was time for me to connect everything electronic to a charger and sleep.