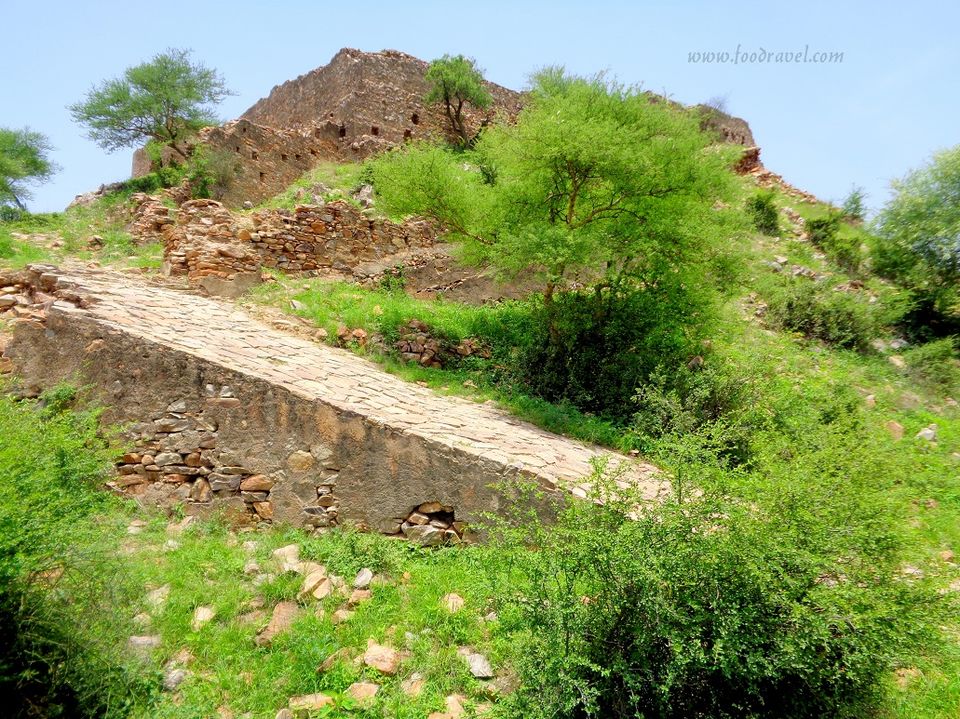 I never knew there was a hilltop fort near to my hometown. And this one was among few left forts in Haryana state. Well, you may get confused as the name sounds similar to the one in Rajasthan i.e. Fort Madhogarh but this one I am talking about is Madhogarh Fort. Not so famous, this fort has lost it's glory and now is left to die a slow death. My hometown Mahendergarh has a fort which is also experiencing the same fate due to sheer ignorance by the administration and government. Madhogarh Fort and Mahendergarh Fort are fine example of this place's great historical and ancient culture but due to no attention, these heritages are left to demolish on their own.

Madhogarh Fort - A Ride on Scooty from Mahendergarh
So, after thinking and planning a lot, one fine Sunday of June, I along with one more guy left for Madhogarh. I have crossed this place several times but never got to visit here in particular. It took us around half an hour to reach there. Madhogarh is only around 12KM away from Mahendergarh. The road is well built and maintained so we didn't face any trouble.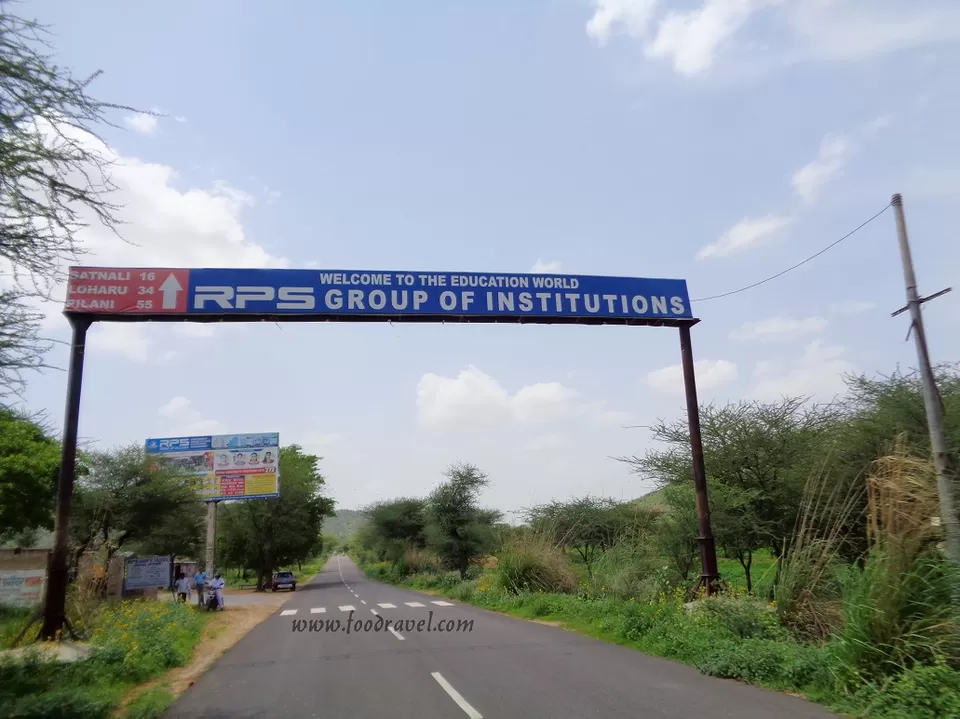 One thing I have always loved about the journey here is that when you are about to reach Madhogarh, at some distance, you will feel like being in some hill station (specially during monsoon when everything is green). One side, there is valley, the other side there is a hill and the road crawls in the middle. However, this place is in touch Rajasthan and you won't find that type of vegetation, but yes, I used to call it Shimla in childhood.
Madhogarh village and the people
We reached Madhogarh village in just half an hour. We had to face the problem of parking. So, the other guy with me, Amit, managed to find some known in the village and we parked the scooty in his home. People were staring at us because we both were talking in English. A guy from the same house offered us help and became our guide.
Historical Background of Madhogarh Fort, Madhogarh
Madhogarh Fort, Madhogarh is among few left hilltop forts in Haryana. The fort is situated in Madhogarh village of Mahendergarh district. There is a hill in the village and the fort is located at the top of the hill, which belongs to Aravalli Mountain Range. The geographical coordinates of this place are 28°17′52″N 76°1′59″E. It is said that the fort was built by Madho Singh I in the first half of 18th century. The fort is built as per Hindu architectural style.
Looking at the pages of history, a Shekhawat Rajput, Rao Shekkha founded Shekhawati and divided it into 33 Pargana also known as Thikana. And Madhogarh Thikana was among them. Madho Singh I handed over this place to Balwant Singh. During 1755, Maratha Empire took it from Rajputs. Khande Rao Holkar was the Maharaja of Indore at that time and he attacked Ismail Beg who was the chieftain of Mughals that time. Beg fled to Madhogarh and set up a post around Madhogarh Fort. On 16th February 1792, Khande Rao Holkar captured this fort. Beg again escaped but Holkar captured him from Kanud and sent him in prison at Agra Fort where he died in 1794. Mahadaji Shinde of Gwalior captured Rania, Fatehabad and Sirsa and that's how Maratha captured Haryana state. (Sources: Wikipedia).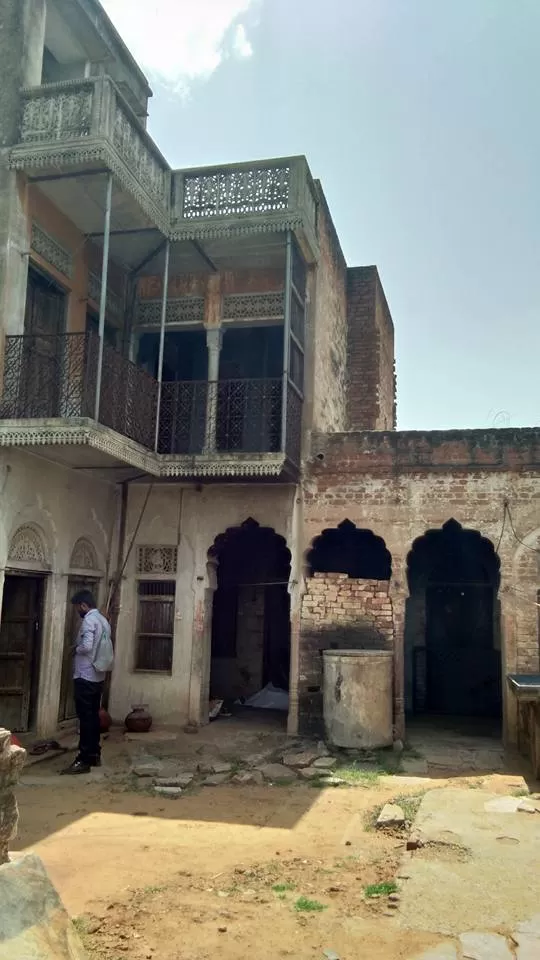 Trekking the hill to reach the fort
The fort on the top of a hill. So, it was kind of trouble considering the climate. It was hot. It took us more than half an hour to reach there. and I was panting badly as I was running out of water. Our guide told us to be careful as we may spot any snake there. So, we finally reached the top and saw the fort. It was totally demolished. Only ruins were left. Not a single structure was in good condition. He told us that no body paid attention. Even the government announced that the fort would be converted into heritage hotel and budget was also passed but nothing happened (same goes with Mahendergarh Fort). There was a rest house which was built by the villagers so that any minister or someone from outside comes to visit there, he may rest there but that too was totally broken and was home to wild animals.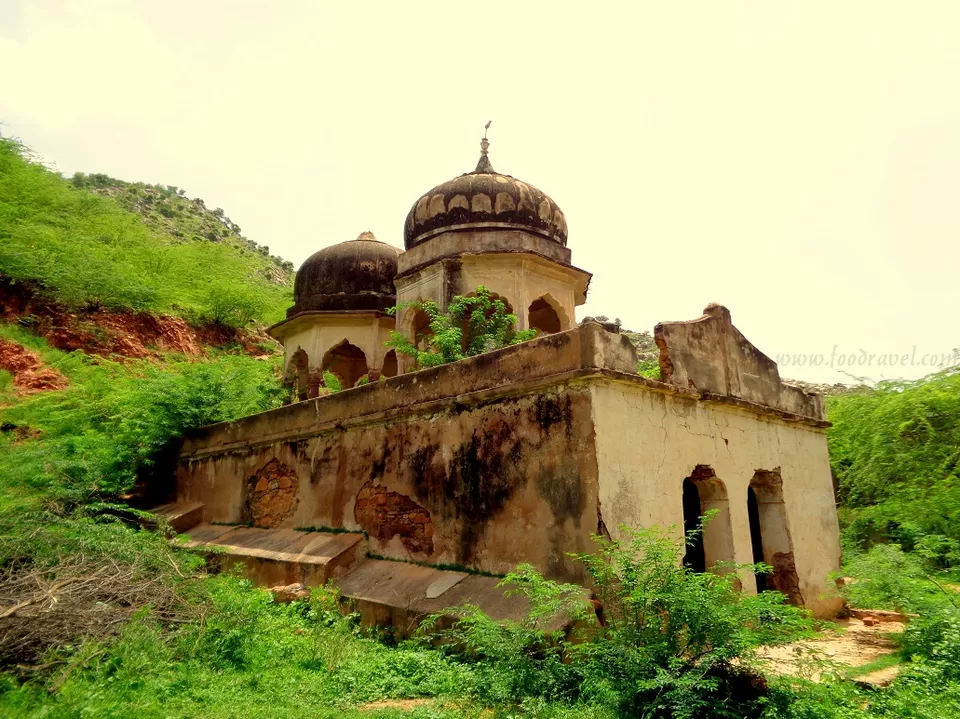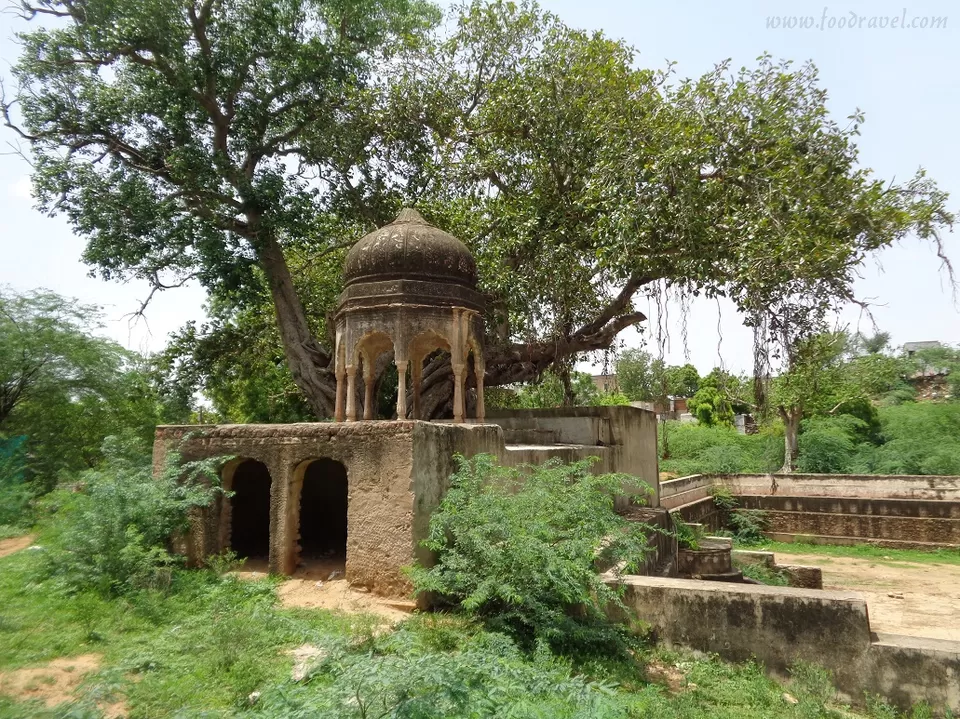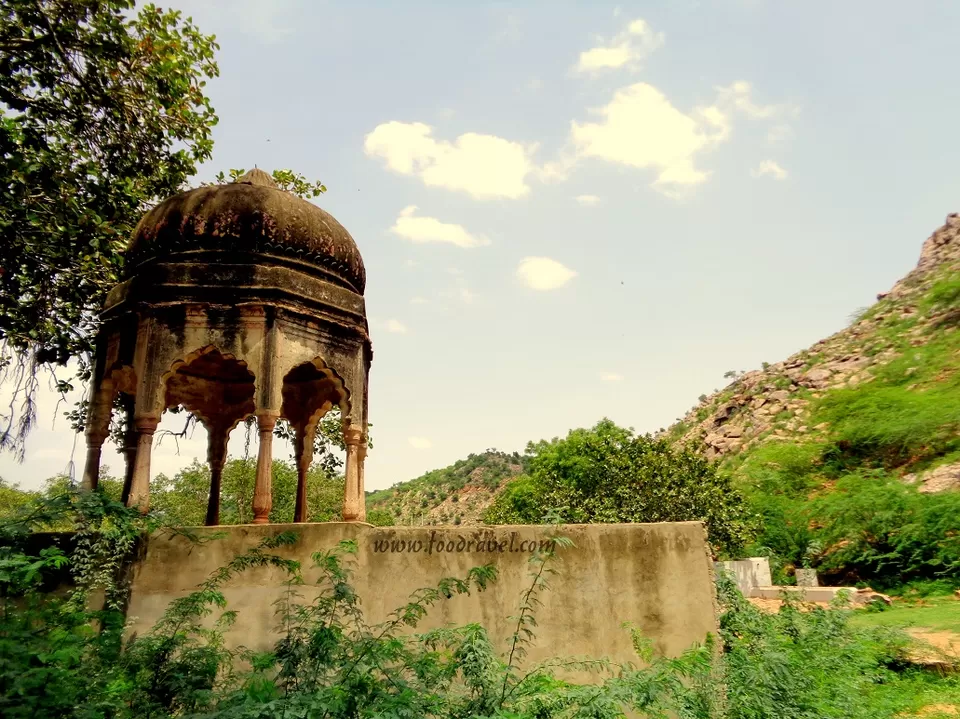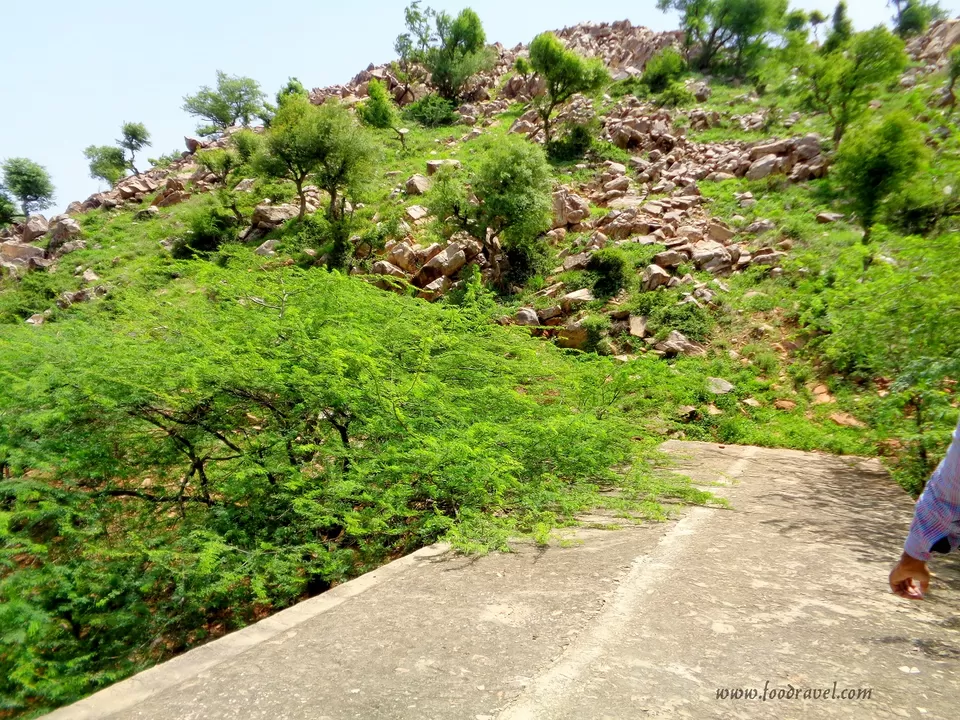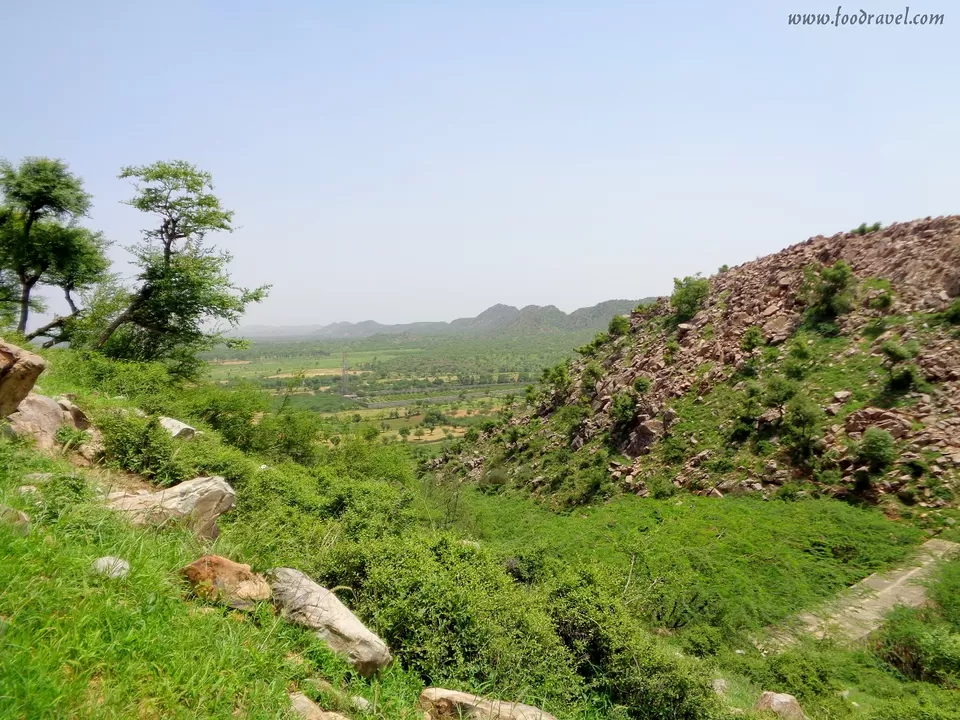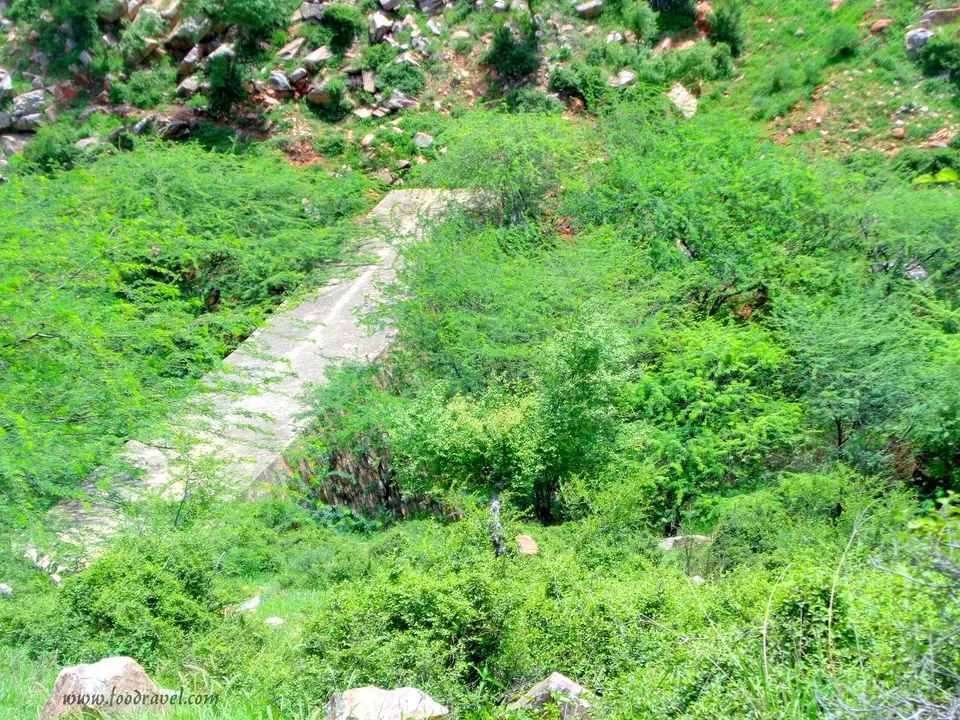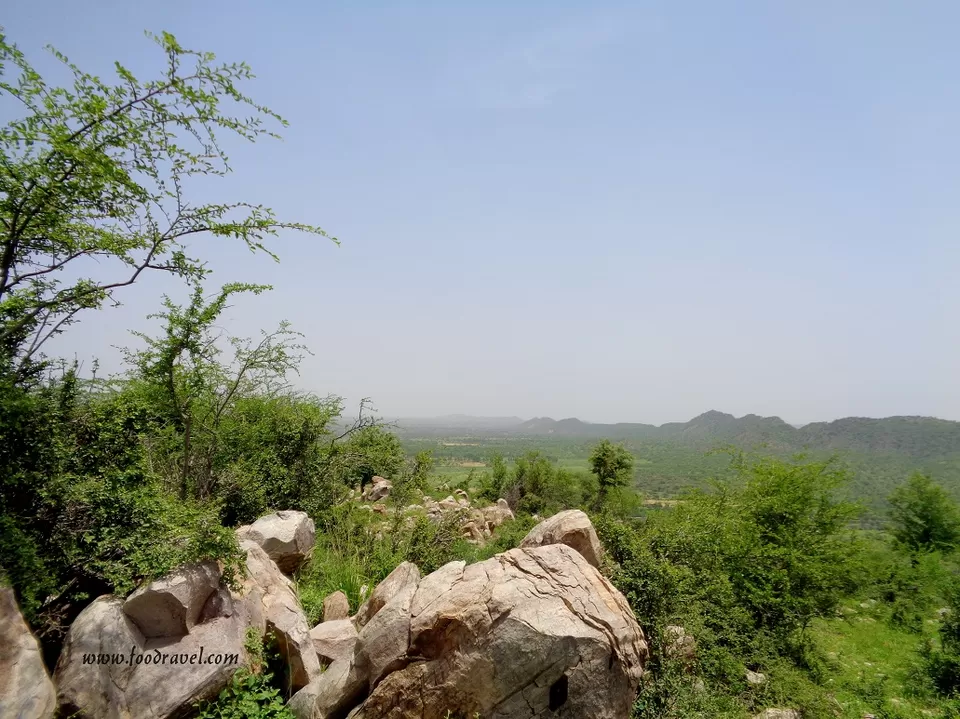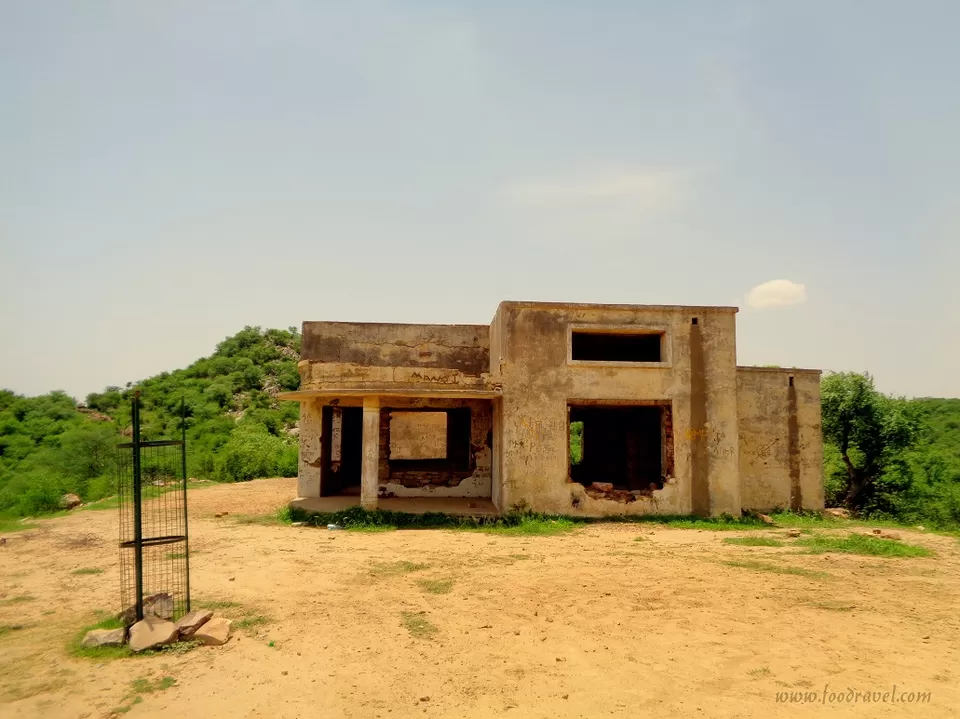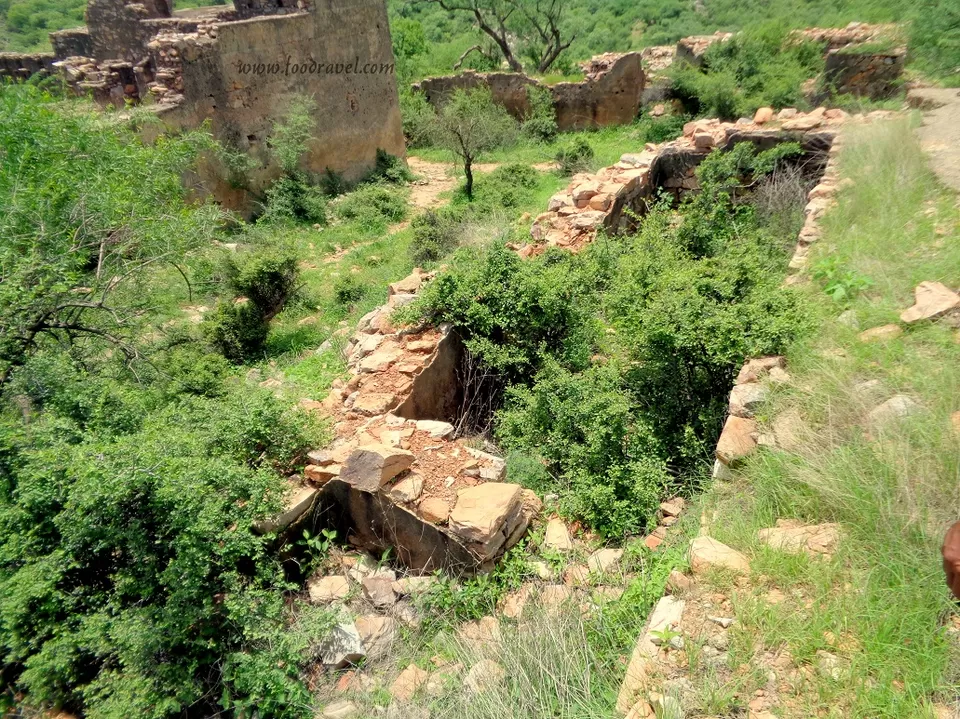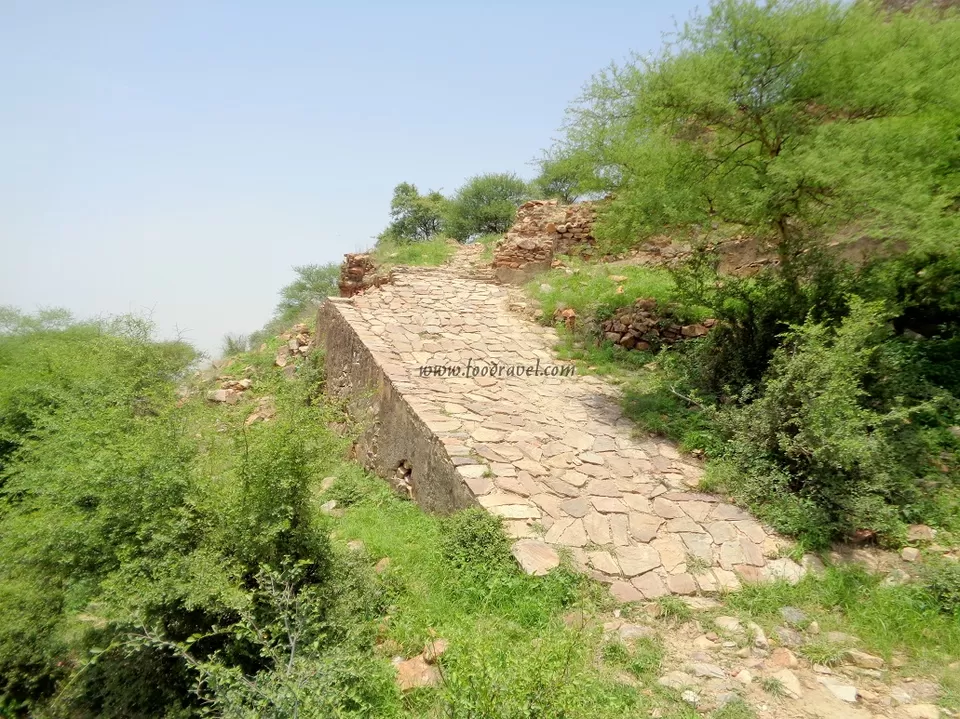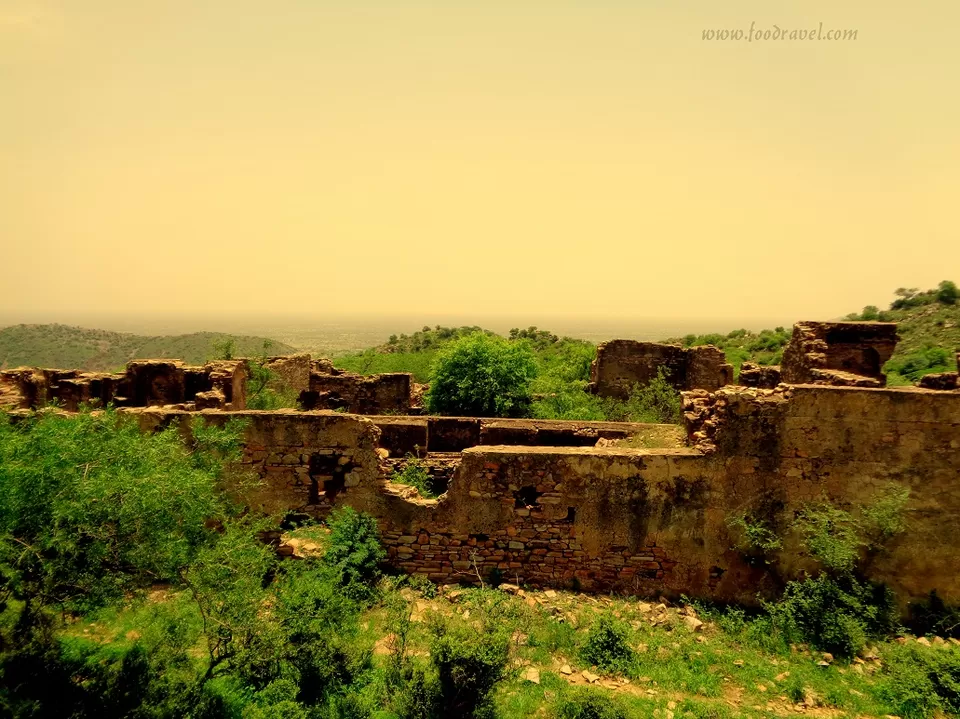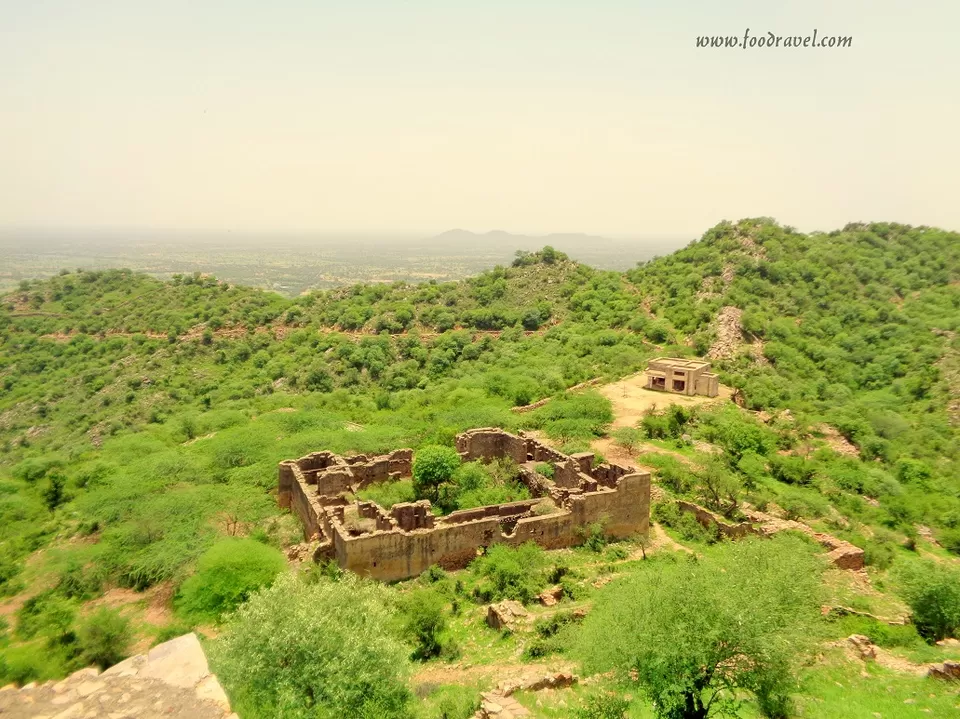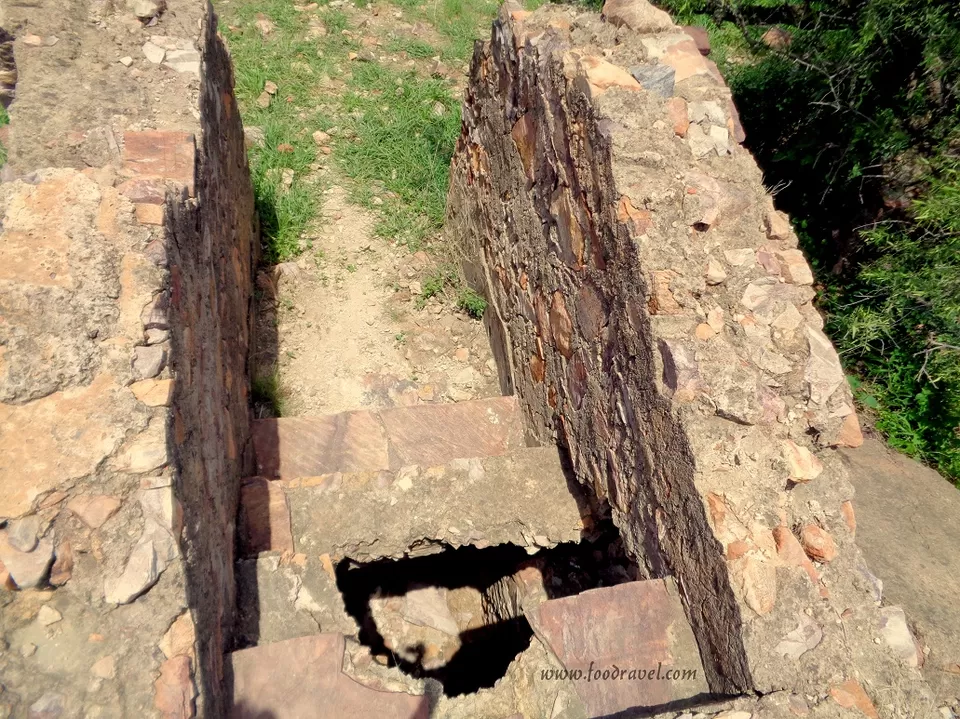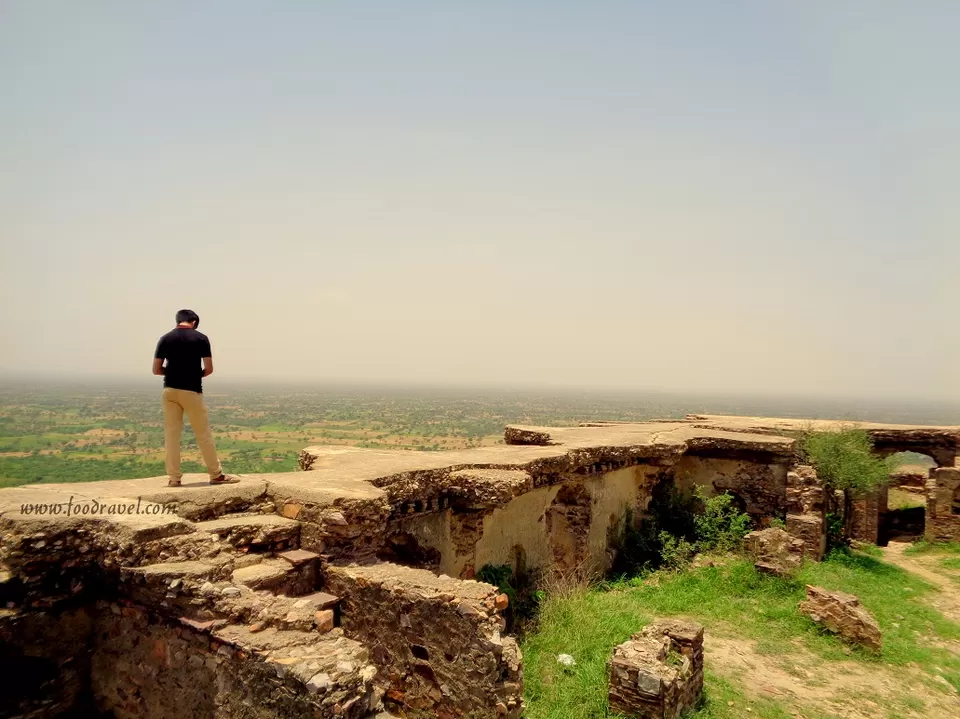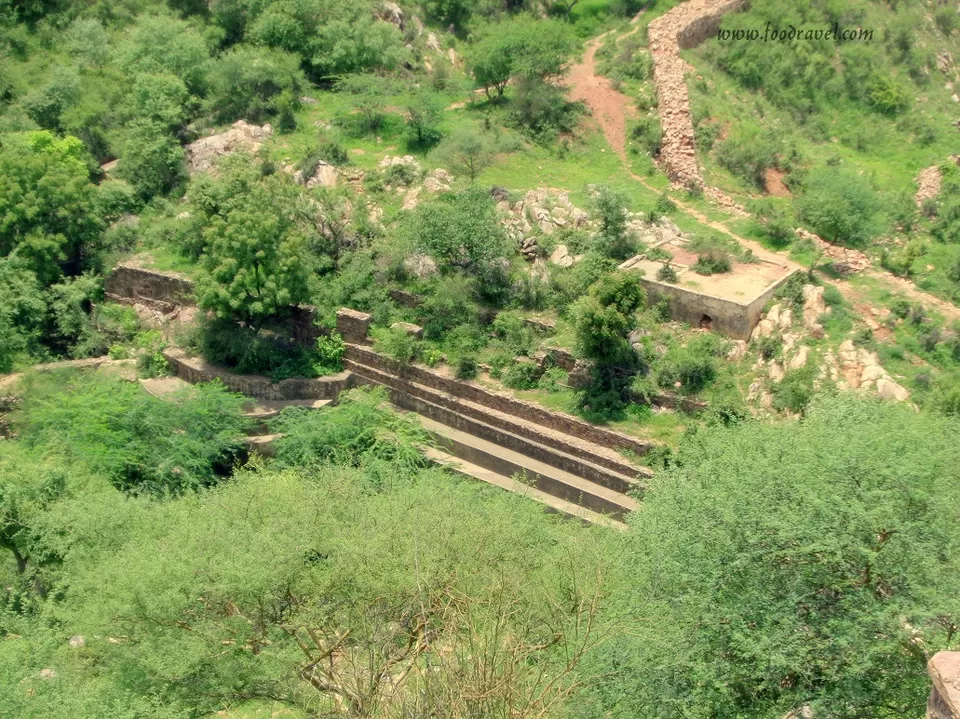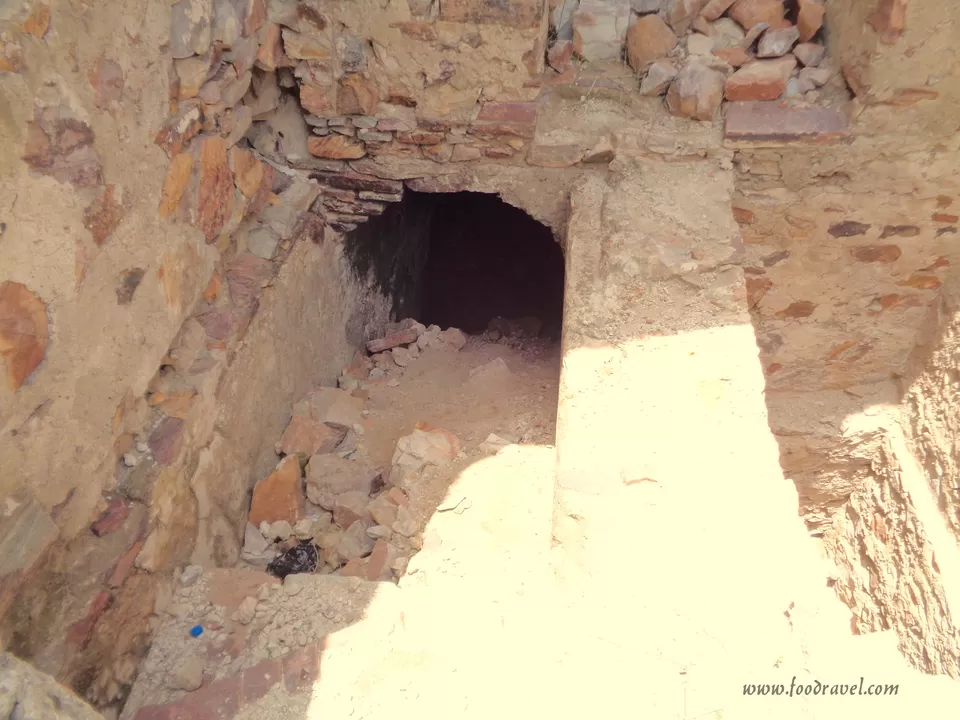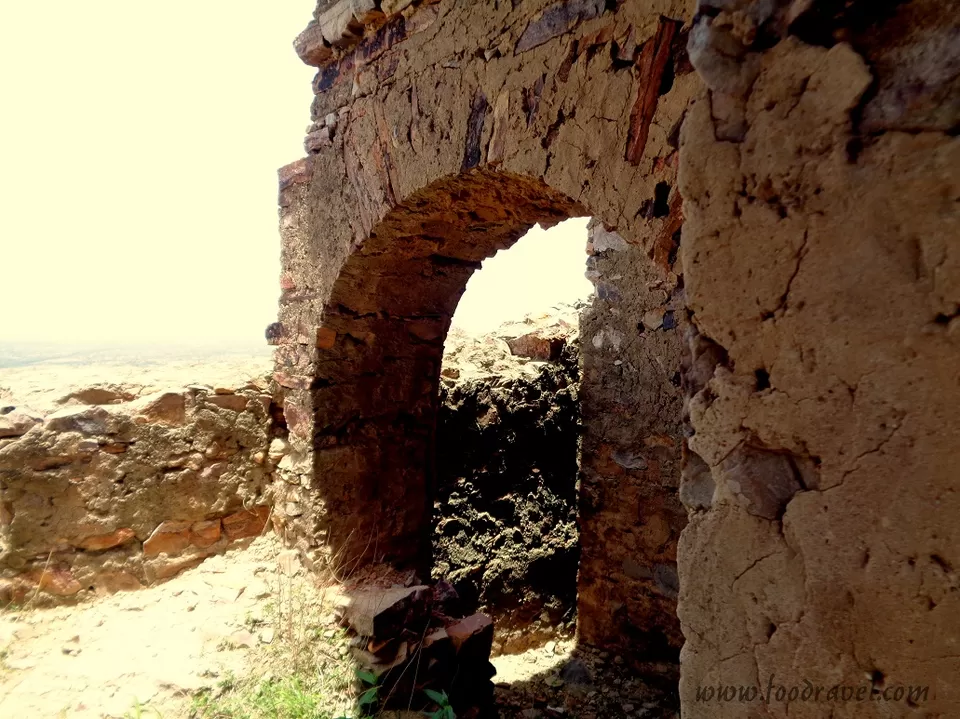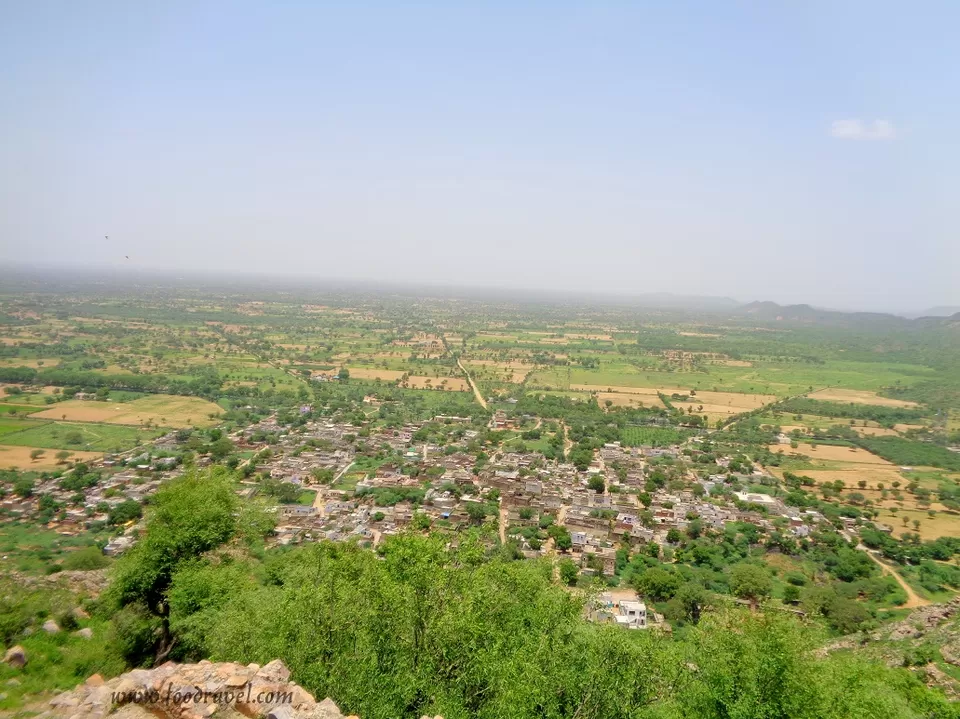 There were two structures. One was king's palace and the other one belonged to the queen. It is said that there was a tunnel into the fort which would lead to some unknown place and the king would use it during the time of emergency. There was a ramp which was used for the horses. There were several rooms and a well. This place needs huge restoration work. Rajasthan government preserved its heritage and restore, maintained forts but Haryana government didn't pay attention else it would have been a great add to the city's historic significance.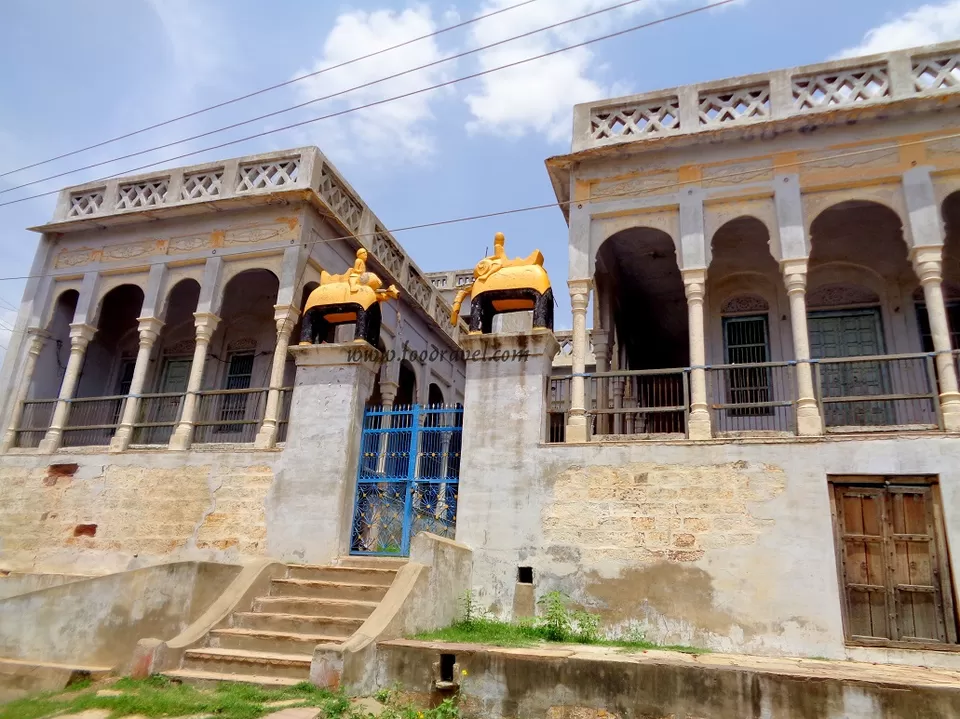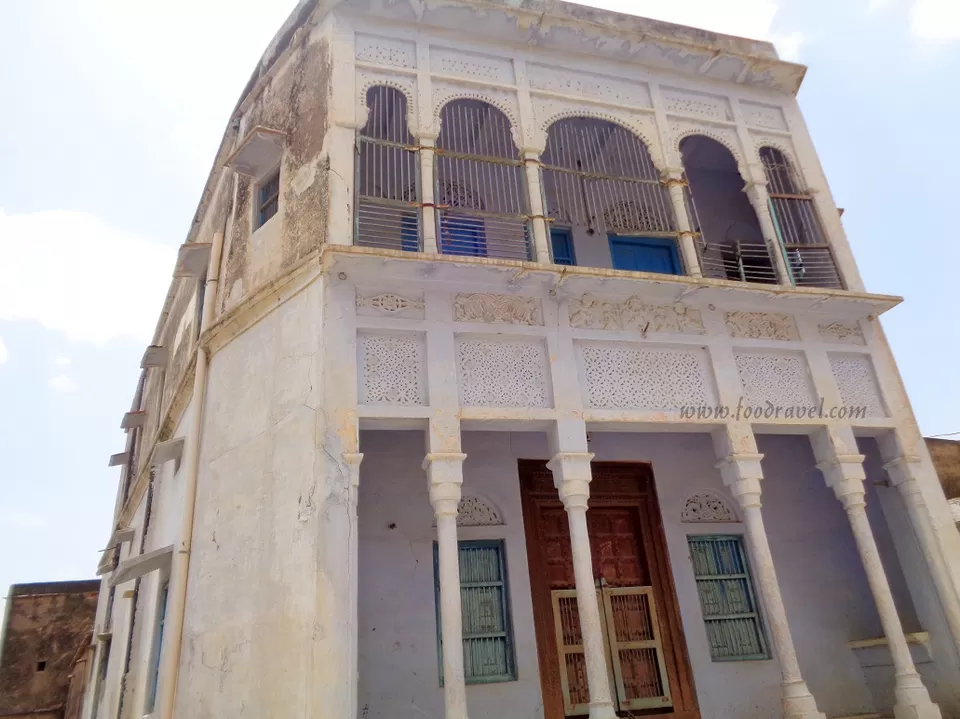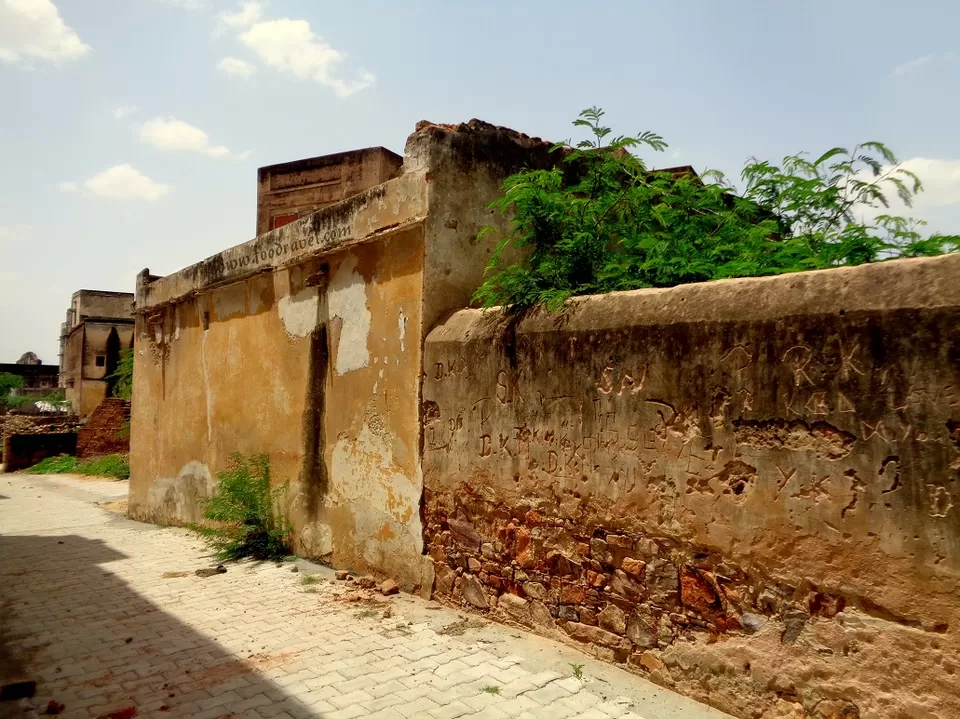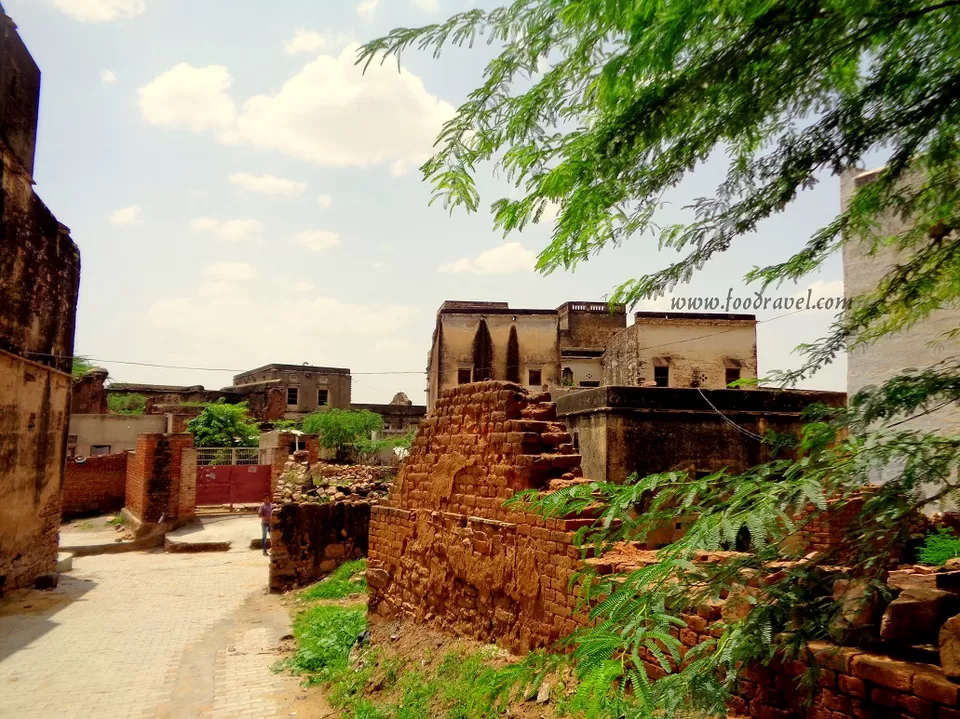 We took pics and talked an old person who was there with his goats. He told us that earlier that fort wasn't in this much bad condition, people used to come to visit this but slowly with time, the fort started to weather and the government didn't do anything. Being on the top of hill with less accessibility, this fort has its own charm. We reached here from the village. There is another way which is smoother than this one and you can also take your vehicle up to the top (SUV).
The village has several ancient Kothi. These all are locked now and the owners are living out in Kolkata, and other parts of the country. These kothis have mesmerizing architecture. The owners of these kothis are rich people and visit once in a blue moon.
This place attracts film - makers
This place has mesmerizing charm which has not only attracted local film makers but even Bollywood too. There have been many movies shot here. Among the most critically acclaimed movies, Jalpari: The Desert Mermaid, which was released in 2012, directed by Nila Madhab Panda, is based on Madhogarh village. Another by same director, Kaun Kitne Paani Mein was also filmed there. One of the most famous Haryanvi pop album Git Pit Git Pit by Aditya Narayan, Harsha set new records, was shot there.
How to reach Madhogarh Fort, Haryana?
If you are coming from New Delhi, you are cant a train direct to Mahendergarh. There are many trains but its better to come by the morning. You can check the timetable here. After reaching Mahendergarh, take an auto to bus stand that will cost you Rs. 10. From there, you can get a bus to Satnali or Loharu. Madhogarh lies on the way. If you don't get a bus from bus stand, you can go to Satnali Chawk and from there you will easily get bus or private cabs going there.
Places to stay - Places to Eat
There are no hotels or home-stays in Madhogarh. Also, there are no restaurants in Madhogarh (you can find small shops for snacks and cold drinks). The only place to find accommodation and food is Mahendergarh. The nearest shopping mall is in Rewari, BMG Mall which is around 50KM away from Mahendergarh.
Near by Places to Visit
If you get enough time, then you can take a bus to Narnaul from Satnali chawk or bus stand which is around 30KM. There you can visit Birbal Ka Chhatta, Chor Gumband and Jal Mahal. Another place on the same direction is Pilani. You can read about Pilani here.