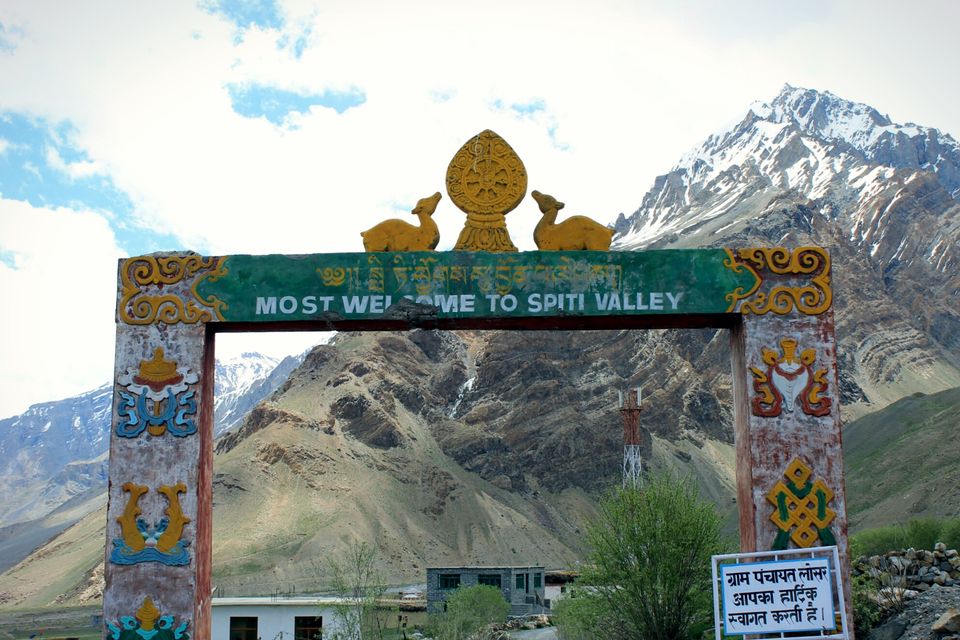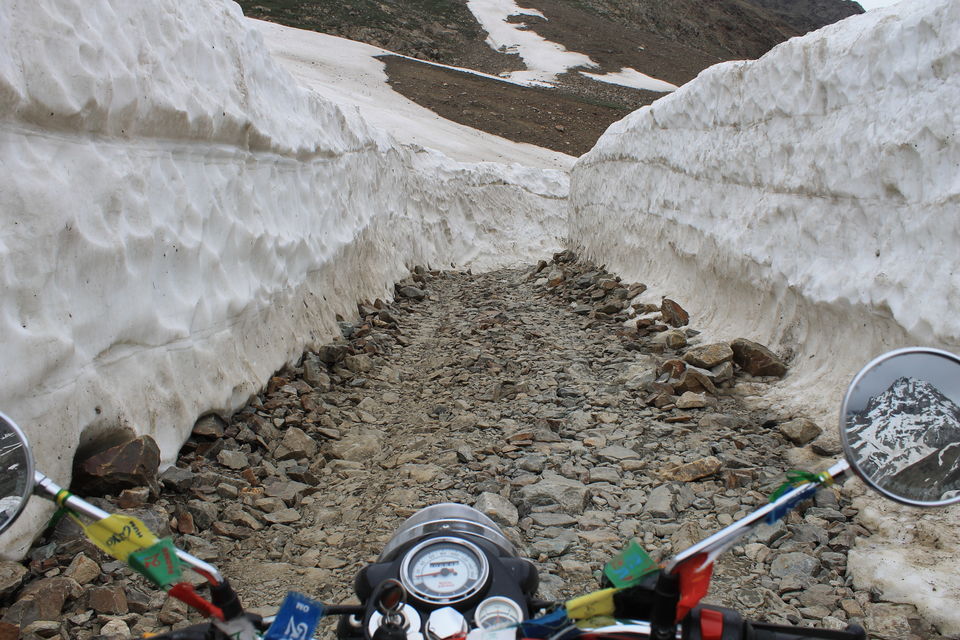 "Only the best of friends or the worst of enemies visit the rugged Ladakh" they say. "Spellbound Spiti is not to be attempted all alone" they say. Regardless of what they say, they're wrong. After having traveled alone for about 30,000 kilometers in 2015; I totally enjoyed mundane activities better being all alone and found newer perspectives in life like never before.
Among the places I've traveled; I can ensure you that the roads along Spiti and Lahaul, Kinnaur and Shimla districts guarantees to make one stand up and applaud mother nature wholeheartedly. From untamed lands to the ever changing hues, from brilliant blue skies to snow covered crags, the roads of eastern Himachal is absolutely euphoric.
The Spiti valley route took me along Gramphoo - Chattru - Batal - Kunzum la - Losar - Kibber - Komik - Kaza - Dhankar - Tabo - Geyu - Sumdo - Nako - Pooh - Kalpa - Chitkul - Sarahan - Narkanda - Shimla.
Among all the places along the world's most treacherous road, you find a few places which are mindbogglingly grandeur. Gorgeous places which makes you drop your jaws and go "Holy mother of god, is this heaven?". Places which can easily make your Spiti valley travelogue a masterpiece.
Having said that, these are 9 of many places that I visited in Spiti and Lahaul, Kinnaur and Shimla districts which are downright riots of awesomeness.

1. Chandrataal Lake.
Cooped in the midst of barren mountains, the first look at the lake unquestionably gives an out of the world experience. Chandrataal, the astonishing blue water body guarded by the looming Himalayas is definitely a sight to behold. It happens to be so surreal, it almost resembles a dream.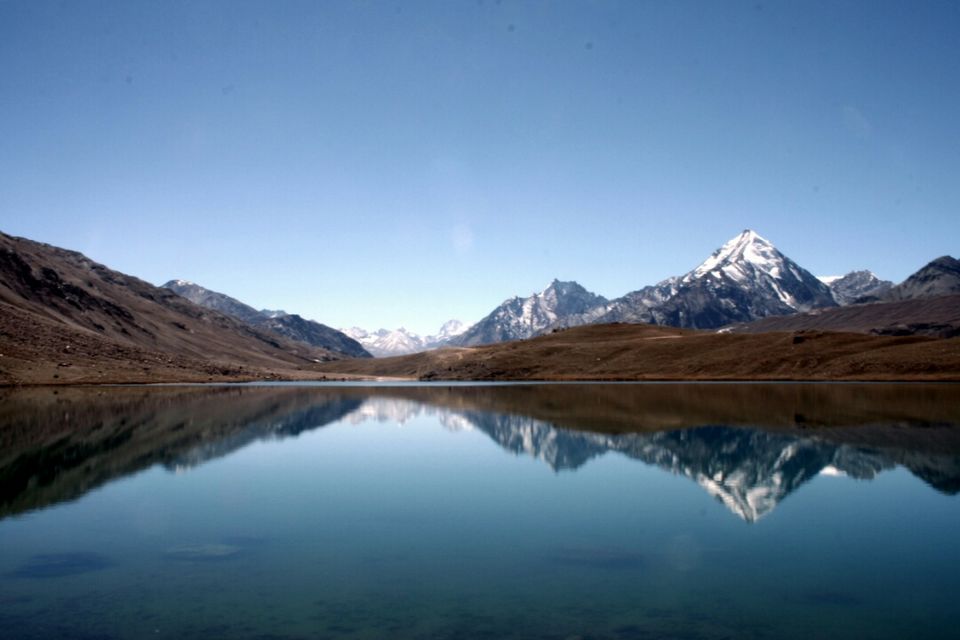 "The lake of the moon" - Chandrataal, named after its crescent shape, is situated high in the Himalayas at an altitude of 4300 meters. Undoubtedly one of the most beautiful lakes in the entire world, Chandrataal is a sheer masterpiece of mother nature.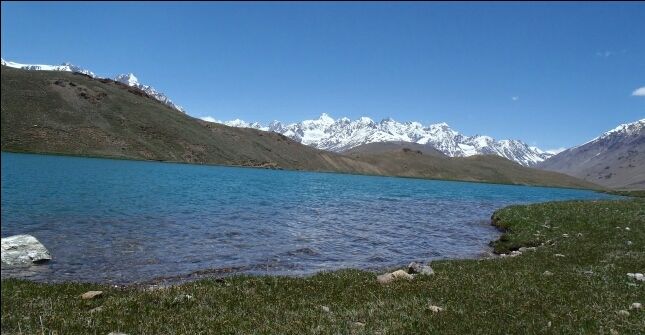 How to get here?.
There are no motorable roads leading to Chandrataal. It can only be accessed by foot. A high altitude trek from Batal happens to be 14 kilometers and the trek from Kunzum pass is 8 kilometers. I strongly suggest you to camp along its shores, soak in its magnificence and not give a flying crap about your mid life crisis while you're up there.

2. Kunzum Pass.
Kunzum la has nothing but mesmerizing turnpikes, jaw dropping beauty and epic scenery. Being the only high altitude motorable pass in the range (4,590 m), the roads of Kunzum la has never tasted tar in its life. Each and every inch of the so called road is dust, rubble and rocks. And when I say rocks, I don't mean pebbles; I mean rocks in size of a human skull, jaggedy and sharp at many stretches which can easily rip the tire apart.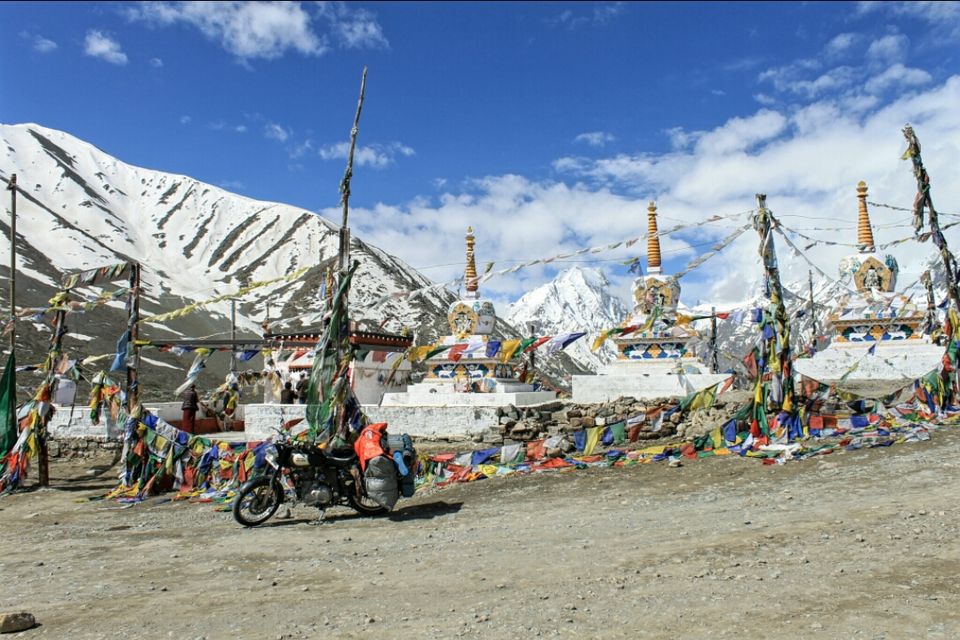 Apart from surrealness, the road to Kunzum la sport blinding curves, landslides, freezing winds and tough terrain. It makes sure that the rider is exhausted physically and mentally while traversing it. But when you're at the top, the satisfaction of getting there and looking at the distant peaks battling with the clouds will be all worth it.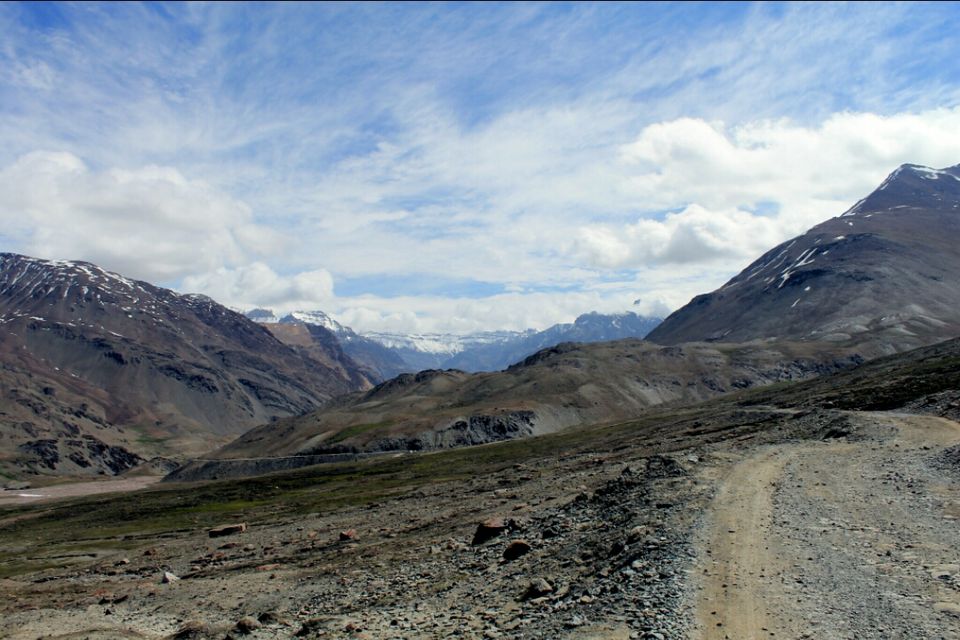 How to get here?.
Road is the only possibility. You need a tough mind and a tougher machine to get here. Its the only way connecting Gramphoo and Losar. Make sure to hold your horses and slow down while you cross the water crossings, because, in a battle against fast moving water and stupidness, the freezing water always triumphs.

3. Key monastery.
Key Gompa, a whitewashed building complex sits on the hill like a king's castle. Panes painted with stunning red, black and gold. Overlooking all of Spiti valley, flaunting its aesthetic appearance with the snow clad mountains in the backdrop.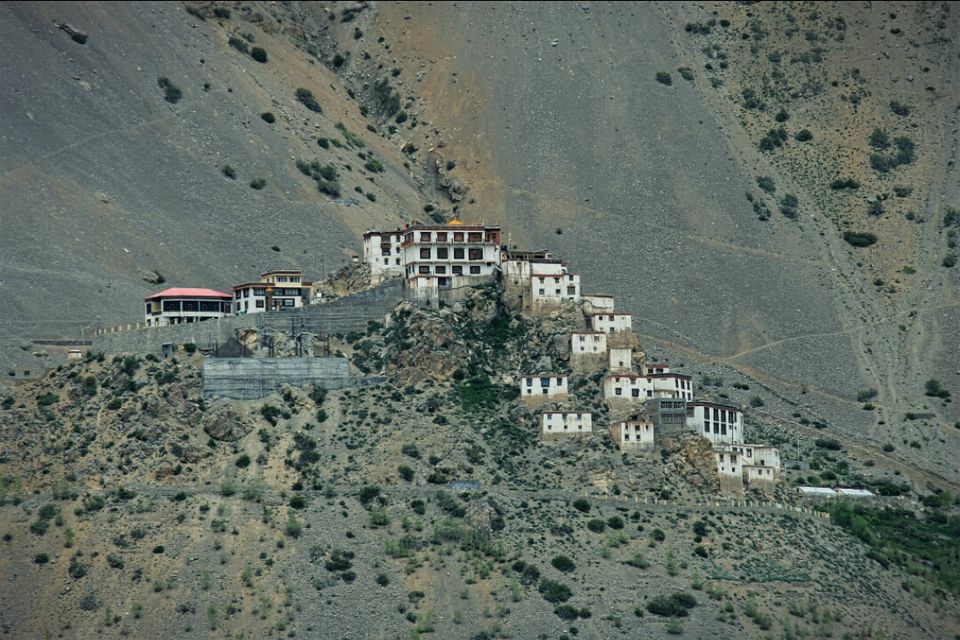 Missing Key monastery (the biggest of all monasteries in Spiti) would definitely be a crime. The interior hosting a spectacular range of silver, gems, precious stones, thangkas, robes of silk, paintings and the setup in itself can easily charm the socks off gods themselves.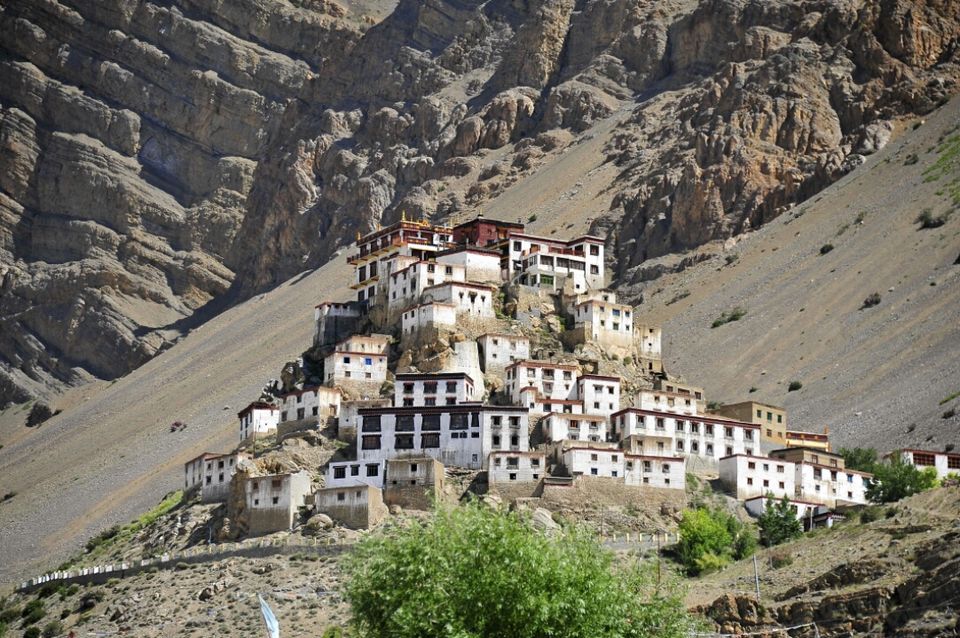 How to get here?.
Key sits atop a cliff looming high in the skyline of the Spiti valley. Situated about 8 kilometers from Kaza, its a landmark visible from miles standing tall in an otherwise brown landscape. You don't have to make any effort getting here. Just have a look at the mesmerizing structure; the next moment, you'll notice yourself soul searching inside the monastery. Nuff said.

4. Langza and Komik.
Consider this. In the backdrop, amongst the magical mountains, the milky white clouds brush the peaks. On rocks and hills and huddled in valleys between dazzling green pastures are mud-washed buildings with slanted window frames painted in dull colors. Moisture soaked prayer flags limply hung on top of each mud house. Setting looks exactly like a scene from a fantasy land, with lord Buddha overlooking the peaceful landscape. That's Langza and Komik for you.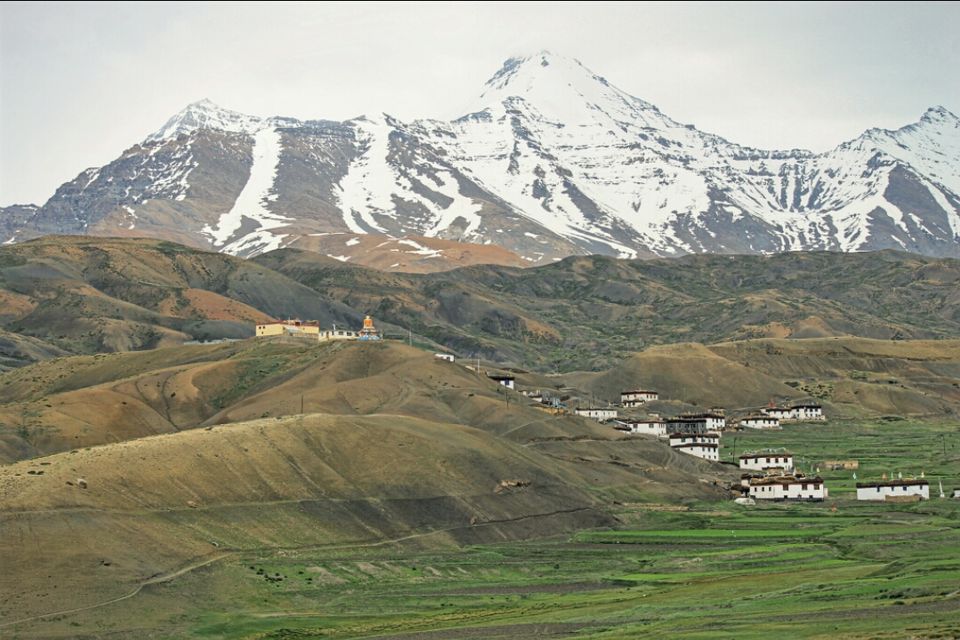 While Langza is kickass in itself, Komik happens to be the highest motorable village in all of Asia if not the world. The fascinating legend says the Komik Gompa has hidden treasures. Horn of an unicorn, egg of a dragon, ribcage of a giant demon, upper tooth of a sheep and a tail of a prehistoric man are among those treasures they say. Scarily fascinating isn't it?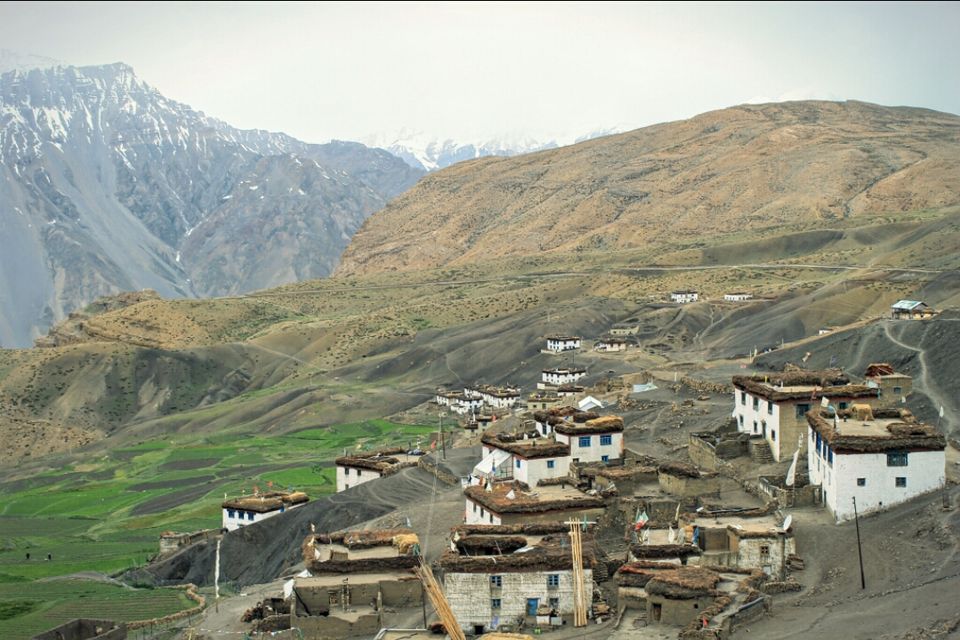 How to get here?
Silky smooth roads connect Kaza, Langza, Komik and Hikkim. Riding along the roads provide one of the finest feelings associated with riding. And if you have days to kill in this paradise, try trekking from Kaza to Langza, Langza to Komik, Komik to Hikkim and Hikkim to Kaza. Spiti valley trek can never get better than this. And visit the highest post office in the world in Hikkim.

5. Dhankar Monastery.
If peace and introspection is what the wanderlust inside you carves for, then put Dhankar Gompa on that Spiti valley itinerary of yours. Located between the towns of Kaza and Tabo at an altitude of 12,774 feet, Dhankar Gompa makes sure to stab everyone in the heart. With beauty.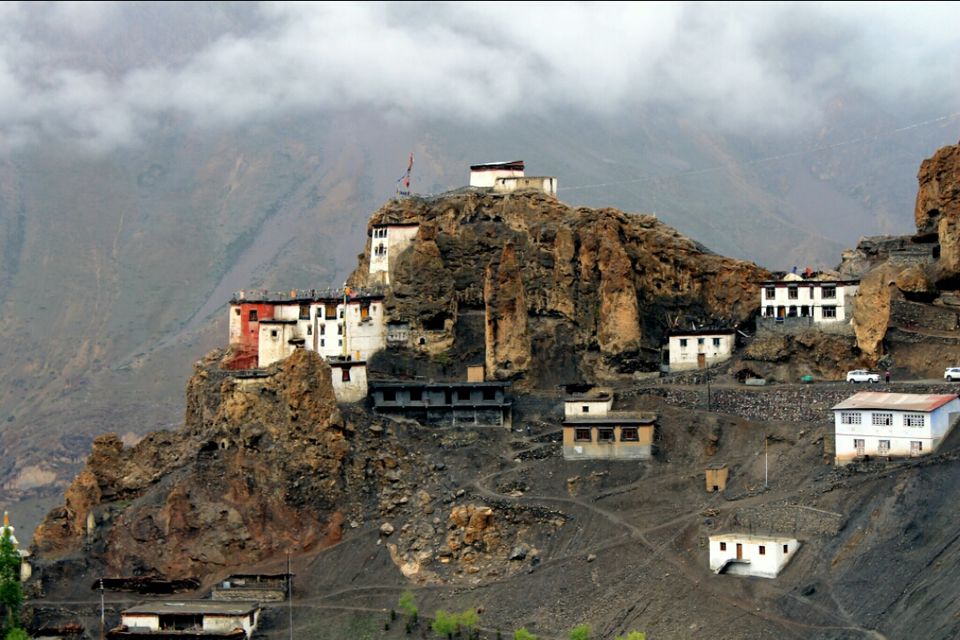 The Central Tibetan style monastery, carved out of the hill, overlooks the confluence on Spiti and Pin rivers; making it one of the world's most spectacular settings for a monastery.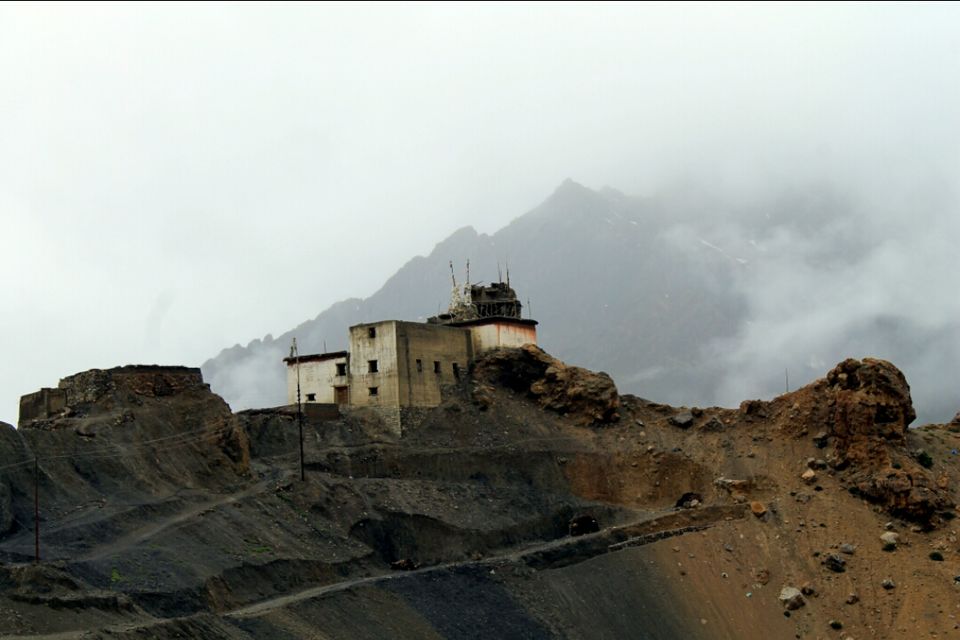 How to get here?.
The road to Dhankar branches off from the main Kaza road at Sichling/Attargo. I have to warn you that you may loose your temper (read: shit) while getting to Dhankar. The roads have a record number of twists and turns, which literally redefines the word "dizzy" to dizzy new heights. A 2 hours trek to the super beautiful Dhankar lake must be among your "things to do in Spiti valley" when you're up there.

6. Geyu/Gue.
Mummies inhabiting exotic pyramids are fascinating, but do you know what's more fascinating than mummies in pyramids?. A 600 year old (approximately) mummy sitting inside a simple glass casing on a hilltop in a small 8×8 room.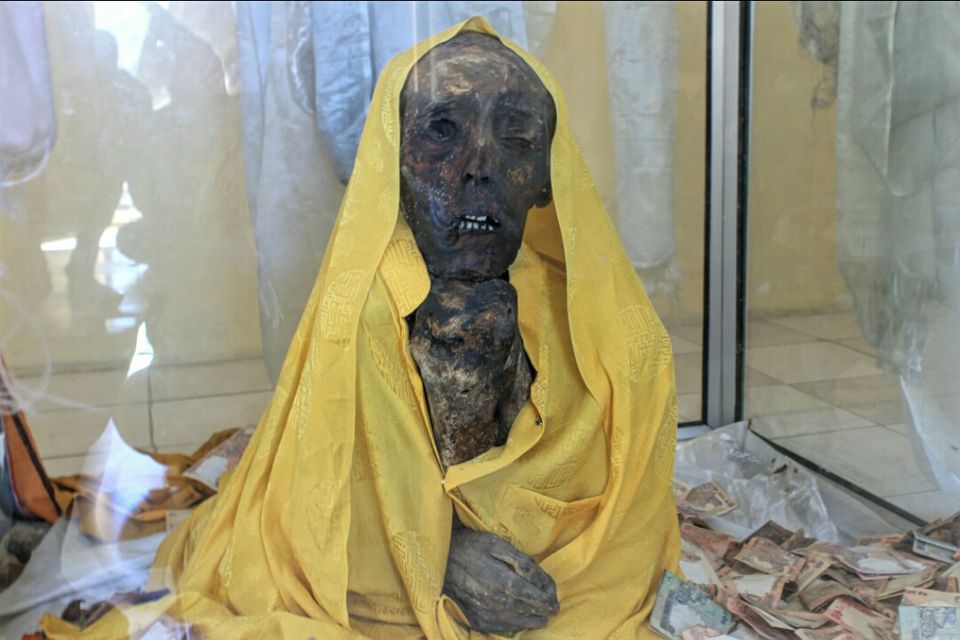 No I'm not kidding. The mystifying mummy happened to be a monk who practiced the highest form of meditation called "Zogchen" before attaining nirvana. The body went devoid of all natural juices and bacteria and chemicals, mummifying the body naturally. The locals say the mummy was found enclosed in the snow and the carbon dating proves the mummy is at least 585 years old. Geyu is the home for this occult mummy.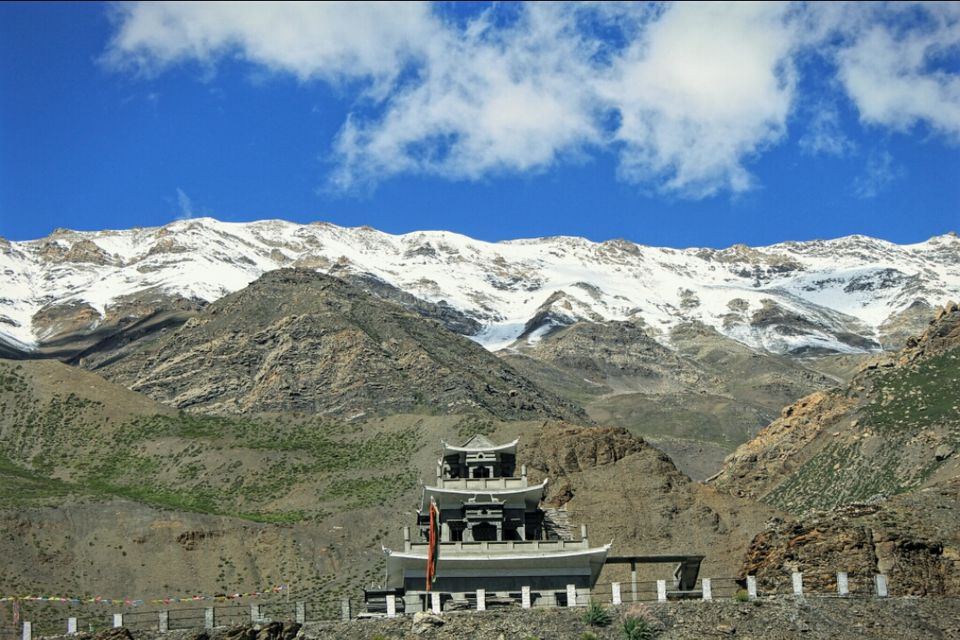 How to get here?.
You get here after an adventure ride criss crossing the undulated hilly terrain without any barricades. The main road splits to Geyu at some point between Tabo and Sumdo without showing any signs of the village. No sign boards what so ever. Asking a local for directions should work just fine.

7. Kalpa.
If you still haven't found yourself in Spiti, fret not, because Kalpa is "the" place to do some much clichéd soul searching. The snow capped peaks, the dangerous bends, lush green pine, meadows of flowers, the beautiful ladies and the view from the top to die for. And that's not even half of it.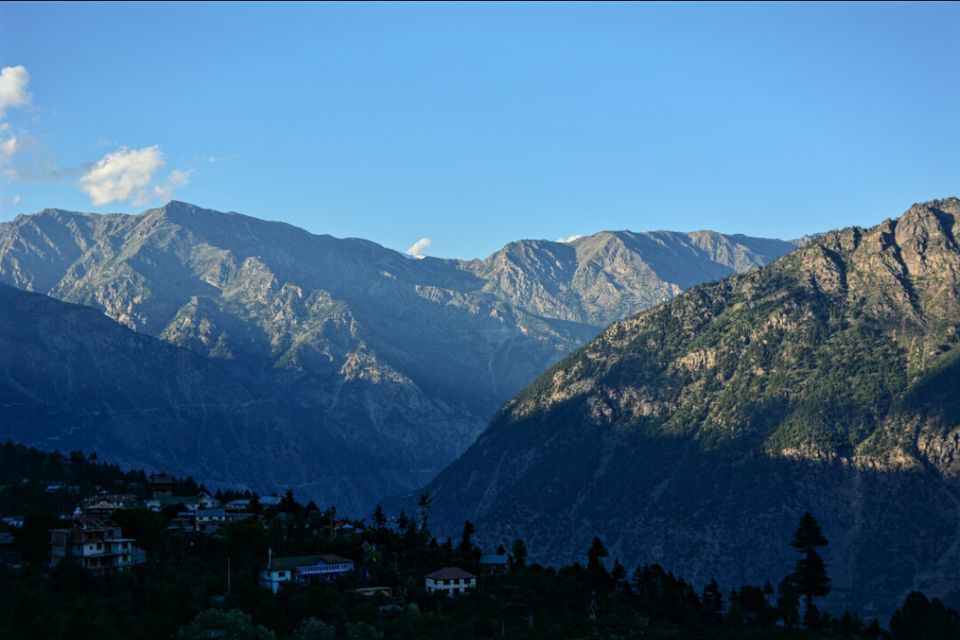 Home to Kailash mountains, the Shivling (a representation of Lord Shiva) rock at the top is mystical. Changing different colors at different intervals of the day. Red to orange to black to white. And not to mention the unexplainably graceful sunset and the sunrise. The whole Kailash range shines and shimmers in the color of gold at these times. Talk about feeling big and small at the same time.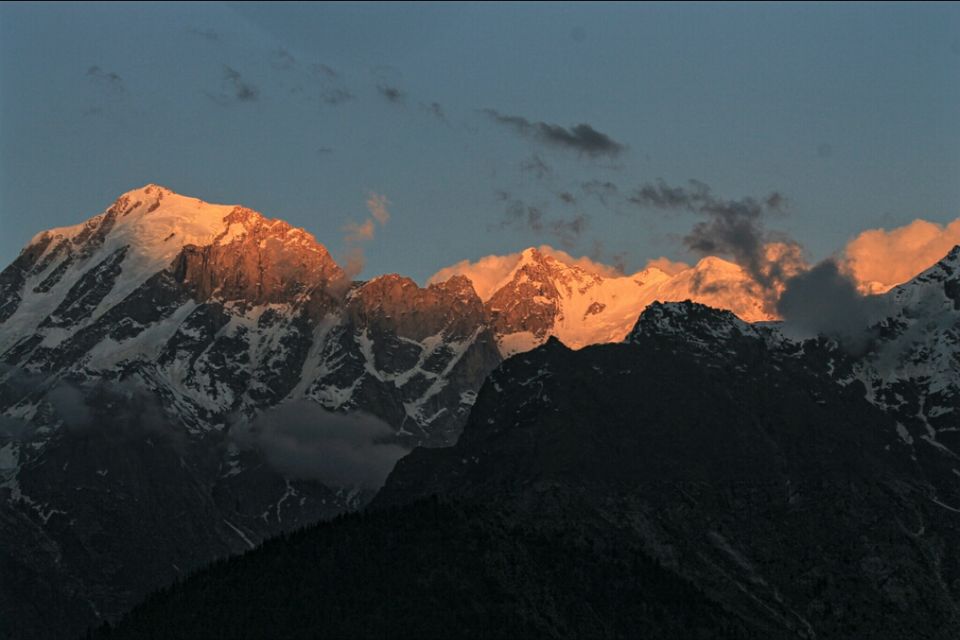 How to get here?.
Kalpa connects to the world by roads. Situated above Reckong Peo, Kalpa is one among the amazing places in all of Kinnaur. Sip a cup of locally brewed tea, camp under the starry skies and try the 2 days trek to Shivling rock while you're in Kalpa.

8. Kamru Killa.
The fort beautifully adorned with wooden carvings and the structure's architecture in itself makes one stand agape in awe. Ravishing landscape in the backdrop. A five storeyed structure, erstwhile home to Kinnaur rulers, is home to idols of lord Buddha, Kamakya Devi and Lord Badrinath.
You enter the snazzy looking square and the temple plays its magic on you. From eagles to lions, from dragons to warriors, from lotus to rotating beads, the carving on the walls and pillars of this amazing fort takes you back in time where men took pride in doing things by hand. Its just unparalleled.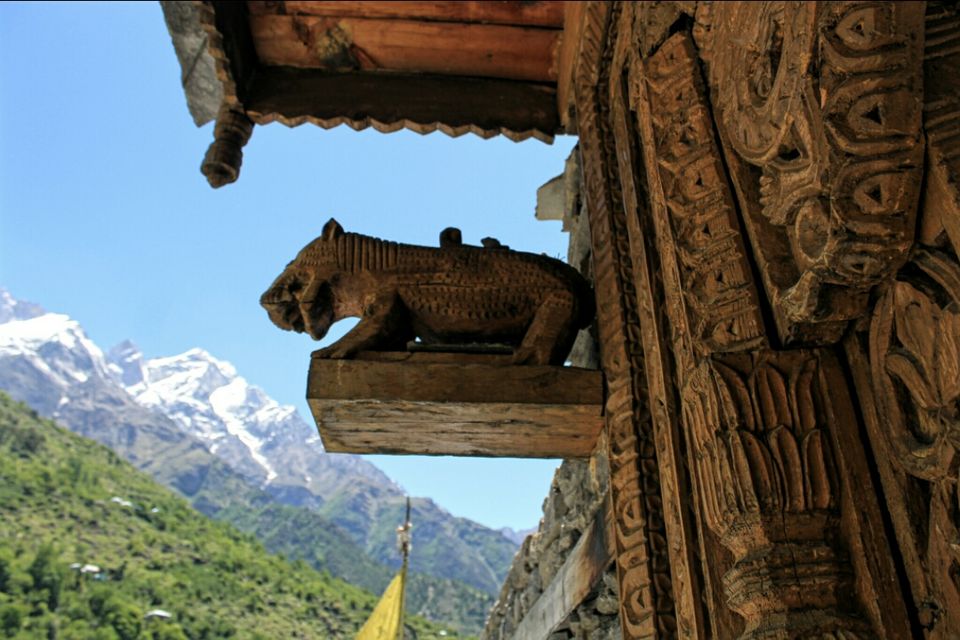 How to get here?.
Kamru killa is situated 2 kilometers from Sangla town in Sangla valley. Roads with huge mountains on one side and a 1000 feet drop to the other connects Sangla to the main highway. Indulge yourself in Namkin Chai and Kinnauri apple curry while you appreciate this spectacular piece of architecture.

9. Chitkul.
The last village of India, sits peacefully on the Indo-Tibet border. Trucks, vans, barracks, check posts and armed soldiers in plenty. A quaint little hamlet with a population of 800 is a land of endless beauty with sparkling blue water emerging from the glacier and a phenomenal valley filled with rhodedrons dotting its landscape. Sights we simply don't get at too many places.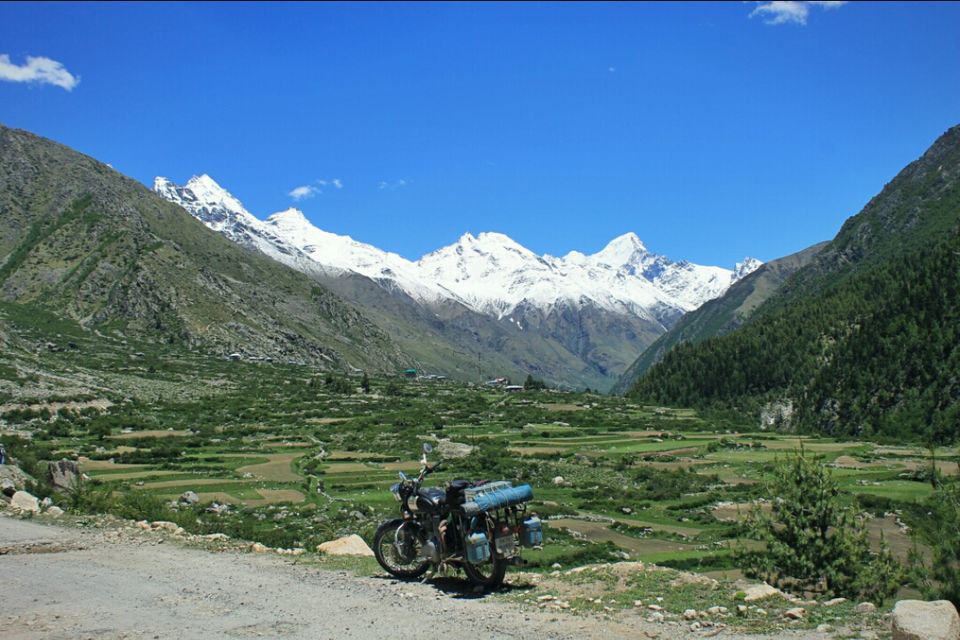 Perched high up in the Himalayas, Chitkul overlooks the Sangla valley. The whiff of Himalayan breeze, the distant skies, the milky clouds and snow kissed mountains make this place a pleasant heaven. Which at such heights feel closer.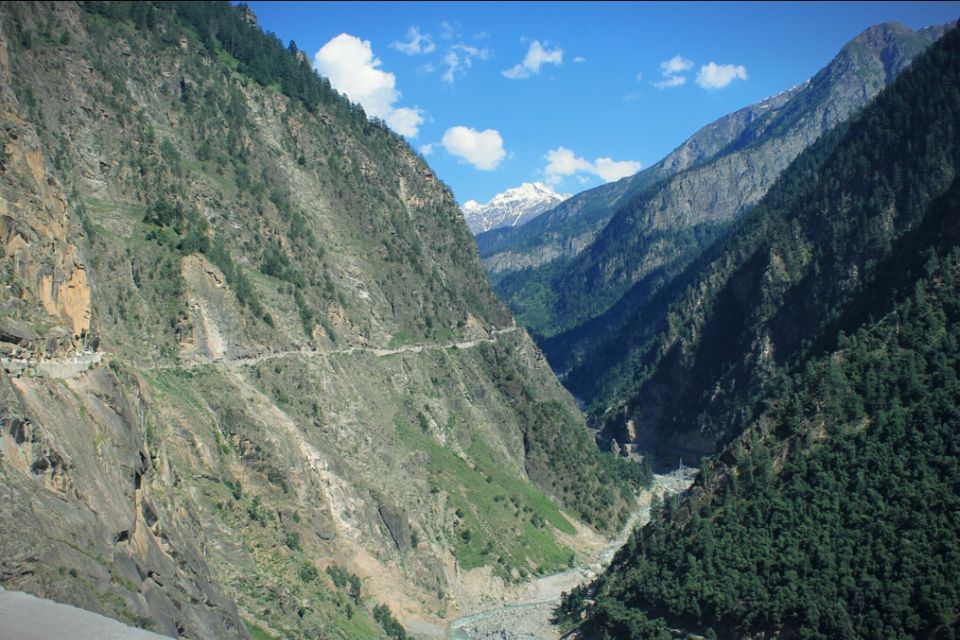 How to get here?.
The deviating road from Karchham in Kinnaur district leads to Chitkul. The roads being a stretch of "the world's most treacherous roads" has to be ridden with complete caution unless you want to end up just as a crash test dummy. While in Chitkul, just kickback and enjoy the grandeur of nature in its prime glory.

Gorgeous places aren't they?
The best time to visit Spiti Valley is from June to October. The roads except Kunzum pass remain open all year long though.
Pack up and leave already!!!