Last November we reached Dharamshala on a sunny morning. Our destination was McLeodganj. As usual, prior to booking the trip, I was trying to gather information about the sightseeing places in and around Dharamshala, where to stay etc. Even downloaded the hand drawn tourist maps, visited a few websites but we were not sure about what we would be able to see.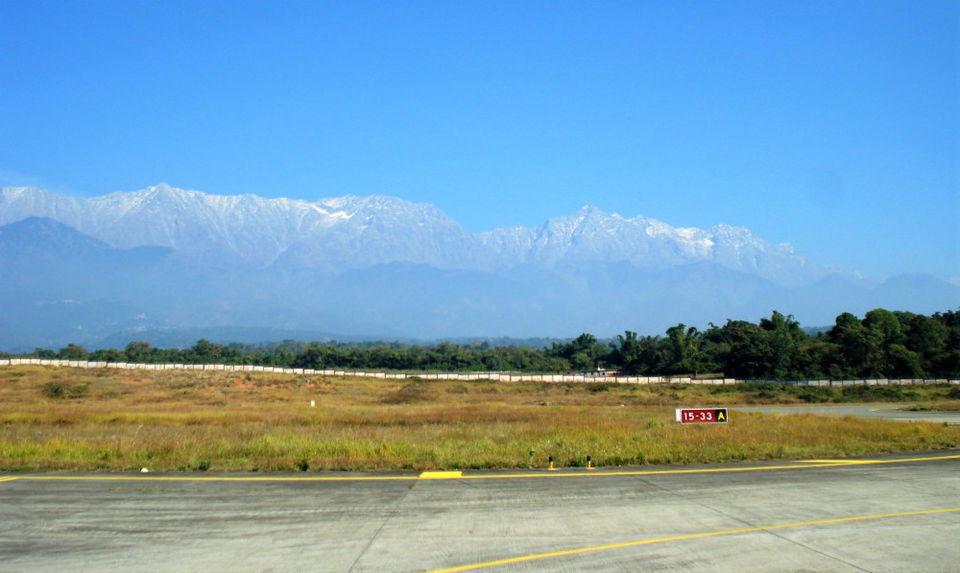 When we reached Dharamshala airport, i.e., the Kangra airport, we were awestruck. No one wrote about this! A huge difference in what we read and what we were seeing. What a beautiful location and how the majestic Dhauladhar range just appeared as a brilliant back drop! On the way to Dharamshala in a rented car, we were again dumb struck.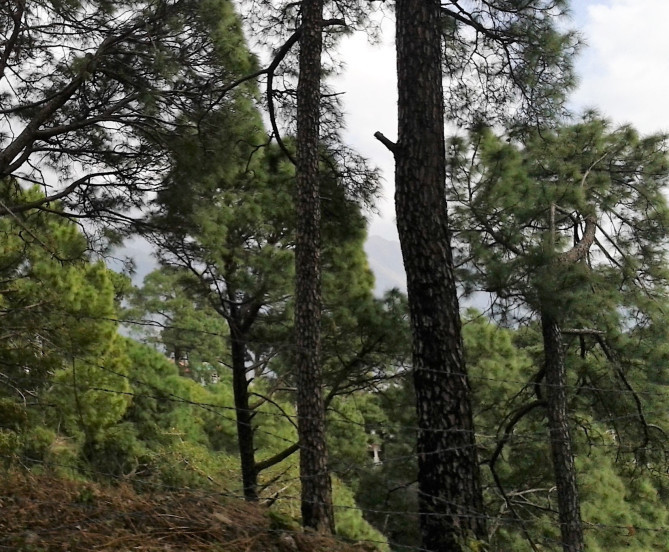 Our car ran through the narrow, steep roads with hair-pin bends. We could see the sky reaching mountains with tall, green deodar trees adoring the mountains. As we were reaching the suburbs of McLeodganj, buildings, shops and concrete structures all suddenly appeared by the side of the road. What a narrow road and what a steep rise! Shops with curios, woollen garments...carpets...colourful stones and Tibetan people, maroon robe clad monks, tourists walking leisurely, our car with a slow speed progressed towards the hotel. A beautiful holiday mood I could smell. I was hopeful that our stay of 5 days would be thrilling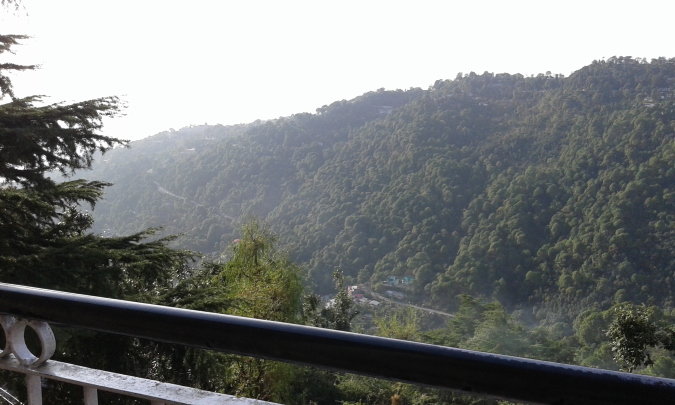 We decided to start our tour with the most important Buddhist site or the main attraction of McLeodganj, i.e., the Dalai Lama temple or Tsuglagkhang. Since in the main temple photography is restricted we just captured the shots in our heart.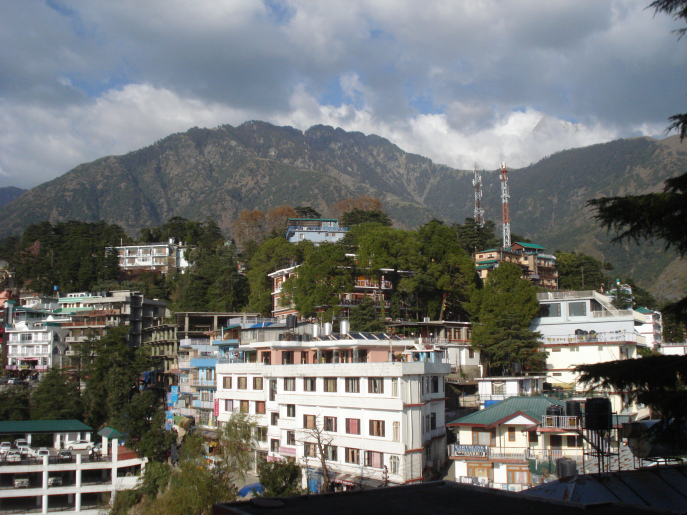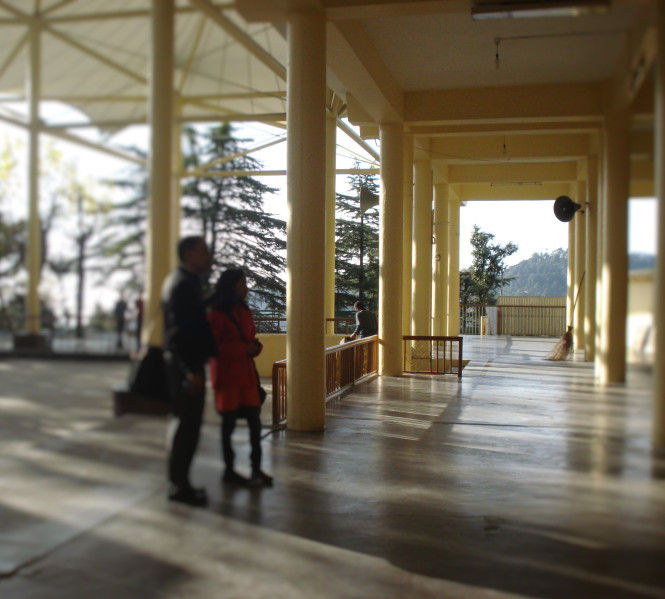 A big idol of Lord Buddha lightened up with a number of lamps and candles, aromas of incense sticks, the walls adorned with beautiful thankas (paintings )and we could feel the calm atmosphere in the temple. The whole temple complex is situated in a beautiful location.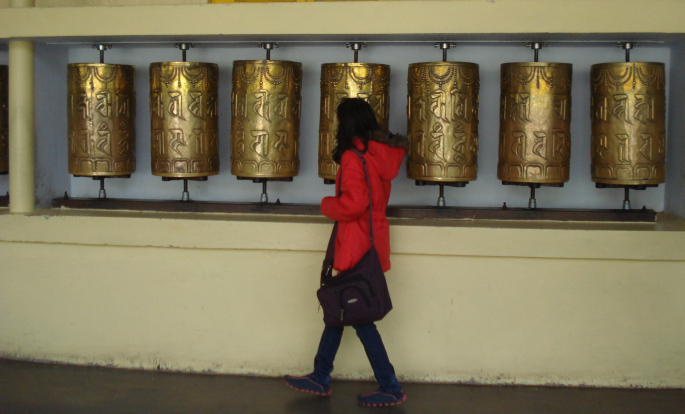 We tried our hand in spinning the stationary prayer wheels in the temple complex. The prayer wheels which signify the wheel of Dharma carry the Sanskrit Mantra....Om Mani Padme Hum. It is believed spinning the wheel has the same beneficial effects of chanting the mantras. Later when we strolled in the shops of McLeodganj we came across a variety of the prayer wheels and many other spiritual items commonly used by Tibetan Buddhists.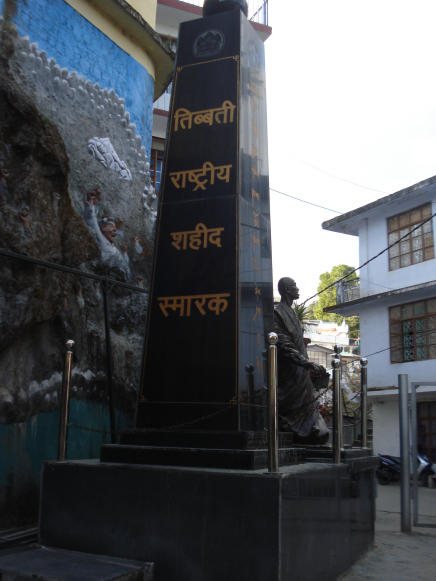 Inside the temple complex, we paid a visit to the Tibetan museum. It displays the plight of the Tibetan people in Tibet, their struggle and their journey so far. Their hardship and struggle portrayed in photography and description reminded me of the Bangladesh freedom struggle as displayed in the Bangladesh Liberation War Museum.Once again I felt, the land may change, the face may change but the struggle for existence still remain the same.
This post was originally published on Jayati's Blog.