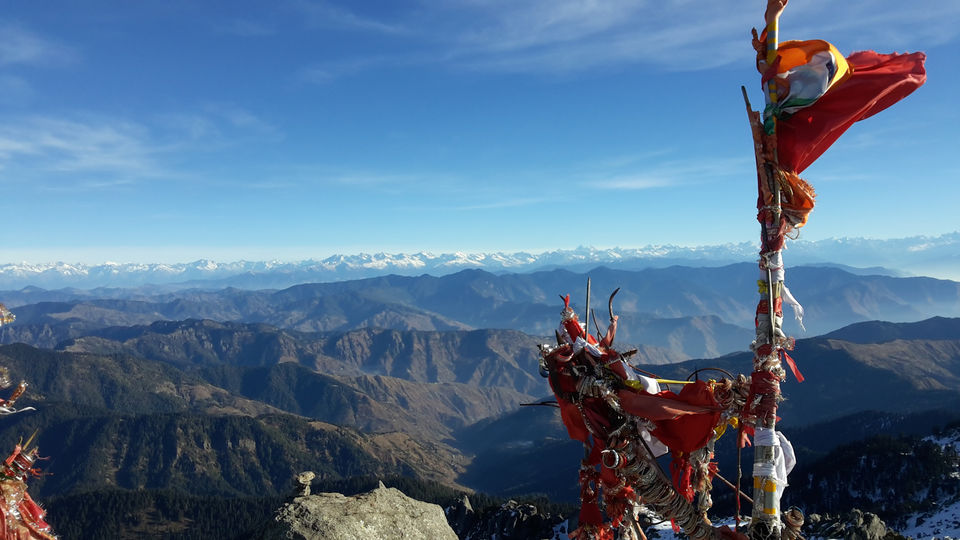 "Over every mountain there is a path, although it may not be seen from the valley"
By- Theodore Roethke
Situated in District Sirmour of Himachal Pradesh is the holy place called Churdhar.
With the elevation of 12,000 feet the peak is the highest peak of outer Himalayas.
So I'm a local villager of Nohradhar and I used to travel to Churdhar very often.
We use to worship our devta lord Shirgula and visit the temple every once or twice in a year.
So one day while sitting and looking at the beauty of Churdhar mountains i asked my cousin to climb up the mountain from Nohradhar. It is approximately 19-20 km from Nohradhar to Churdhar.
Everyone in our family refused us to do so because it was not the right time to travel.
It was all covered in snow upthere. Though travelling offseason was the best adventure we could ever had and thus we decided to travel.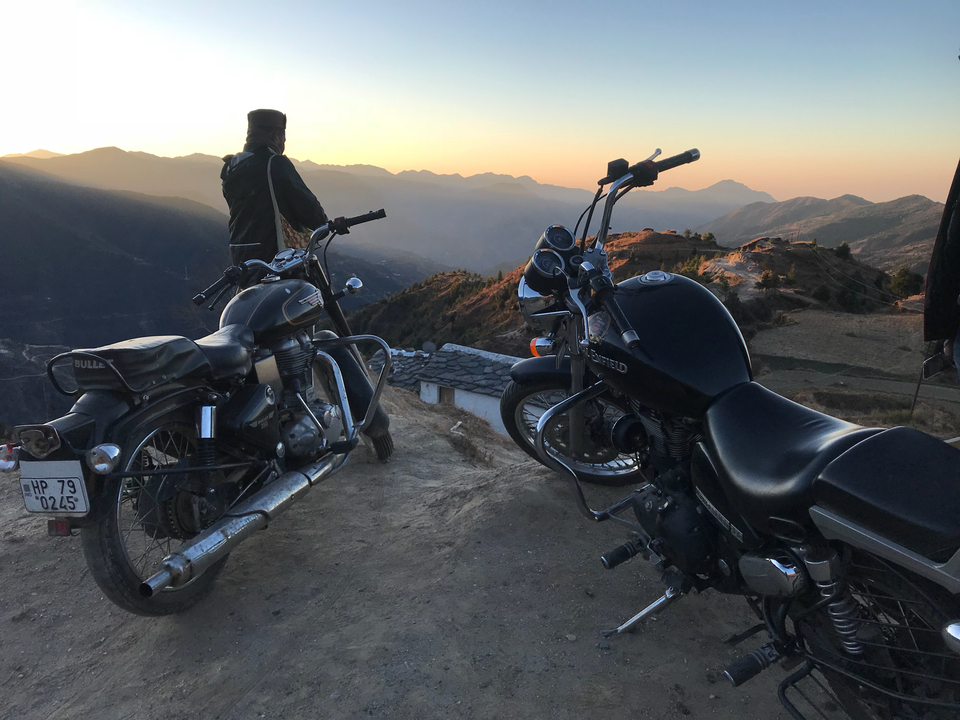 So here we started our trip on December,25 2017.
Our plan was to cover the distance in and come back to our village in one day. Initially we didn't knew about the snow up on the mountains.
So we started our trip without any special snow equipments. We just had our sweaters, jackets, pieces of jaggers and an axe to cut the woods to light up the bonfire in case of cold conditions.
So we started to climb up. So at that time I was unfit a little bit so initially it took me some time to get body warmed up.
So we climbed up and reached JAMNALA the first stop to the way of Churdhar.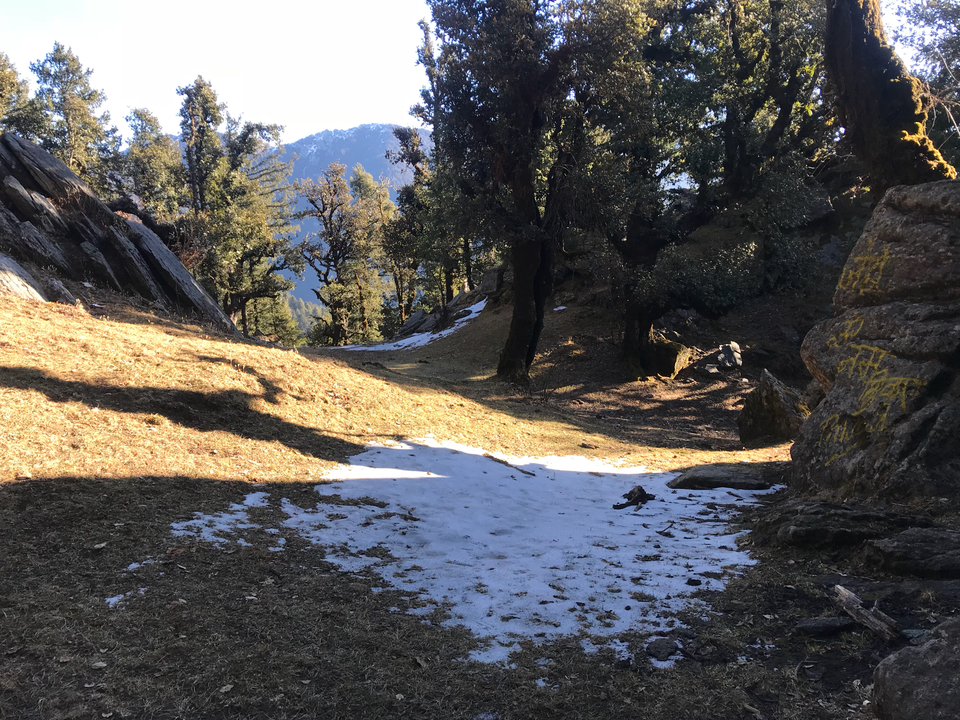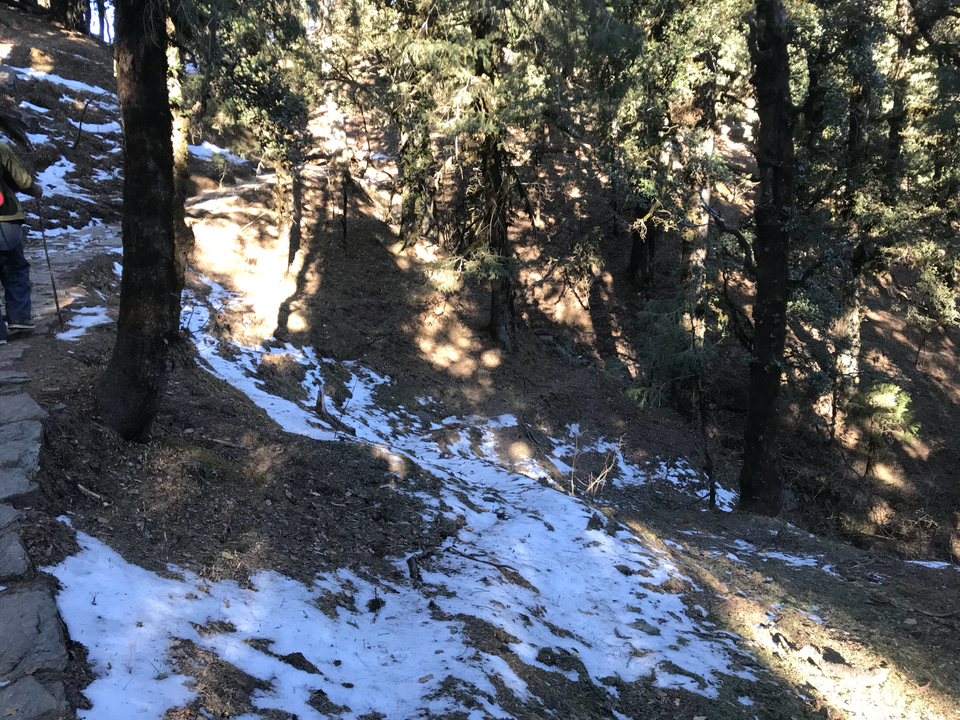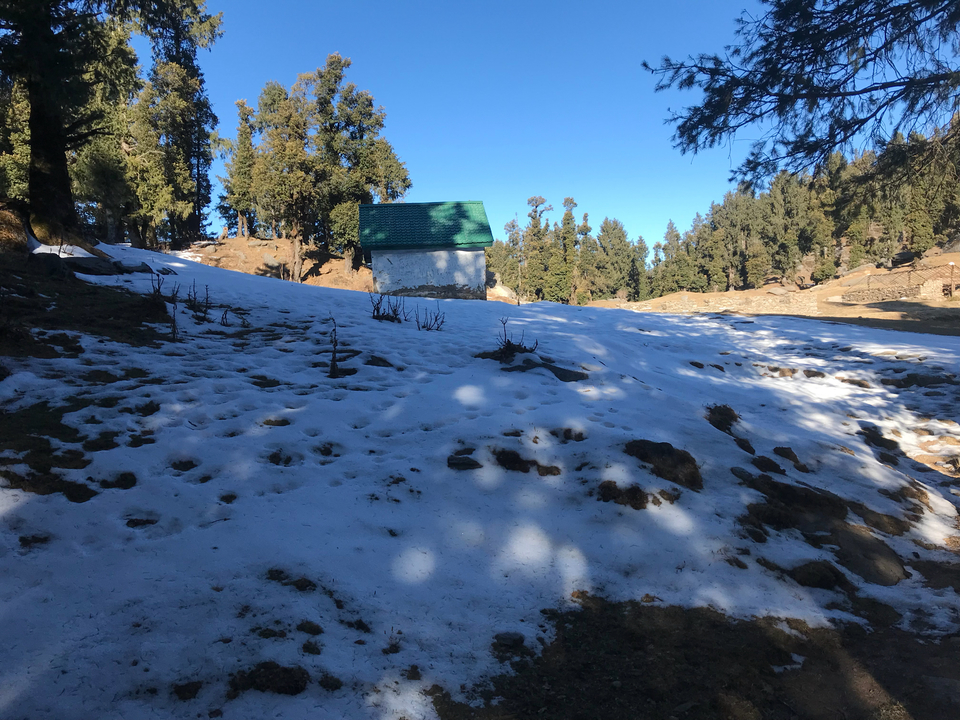 Finding little bit snow there filled me with joy. I was very happy to see snow after so long. We took some rest there and continued to climb.
Everything went well and then we reaced TEESRI AFTER 2 hours of continous walking.
Chilly wind was blowing and the view of the outer ranges of Himalayas were very clear.
From there the path was covered in snow.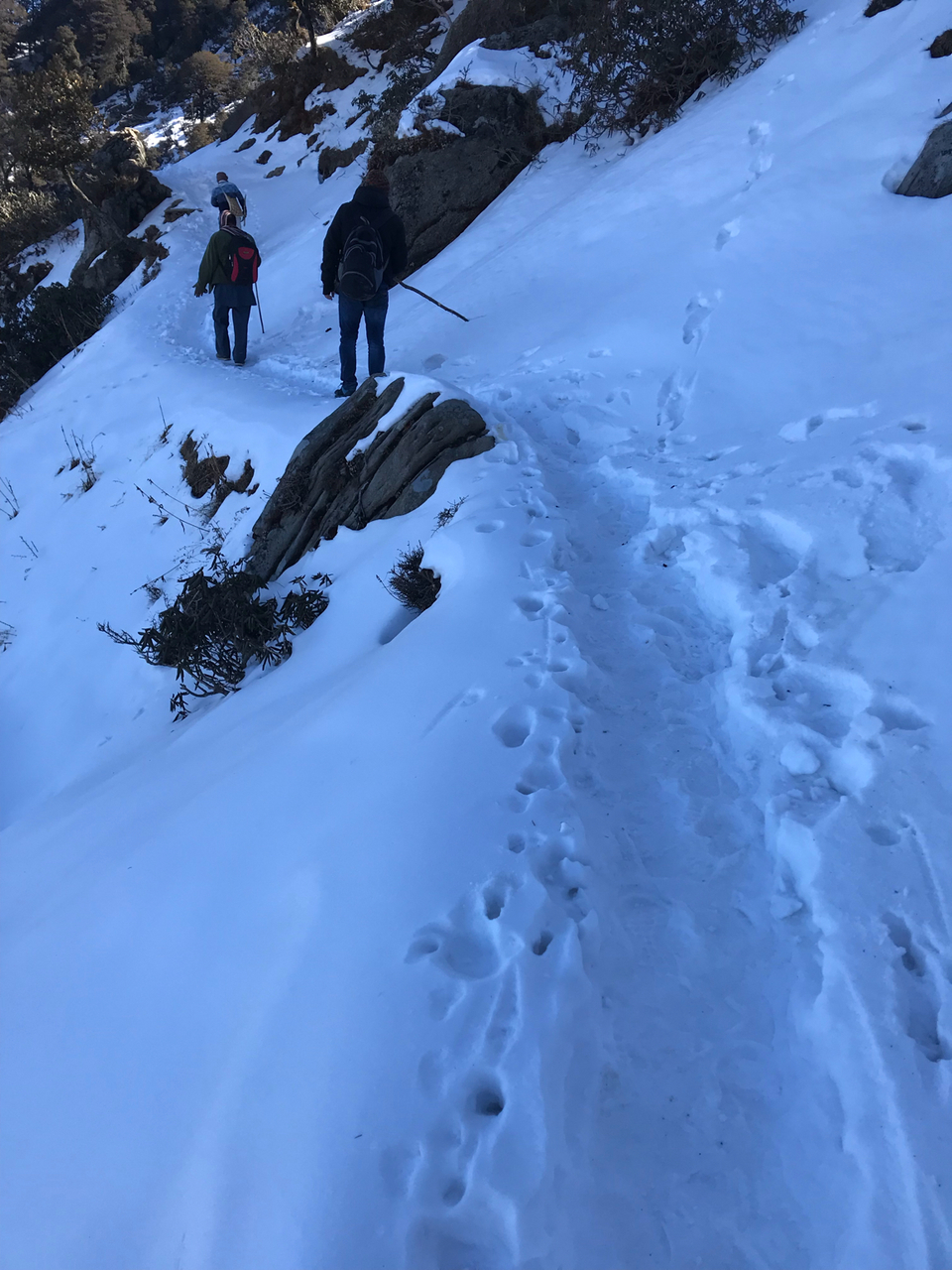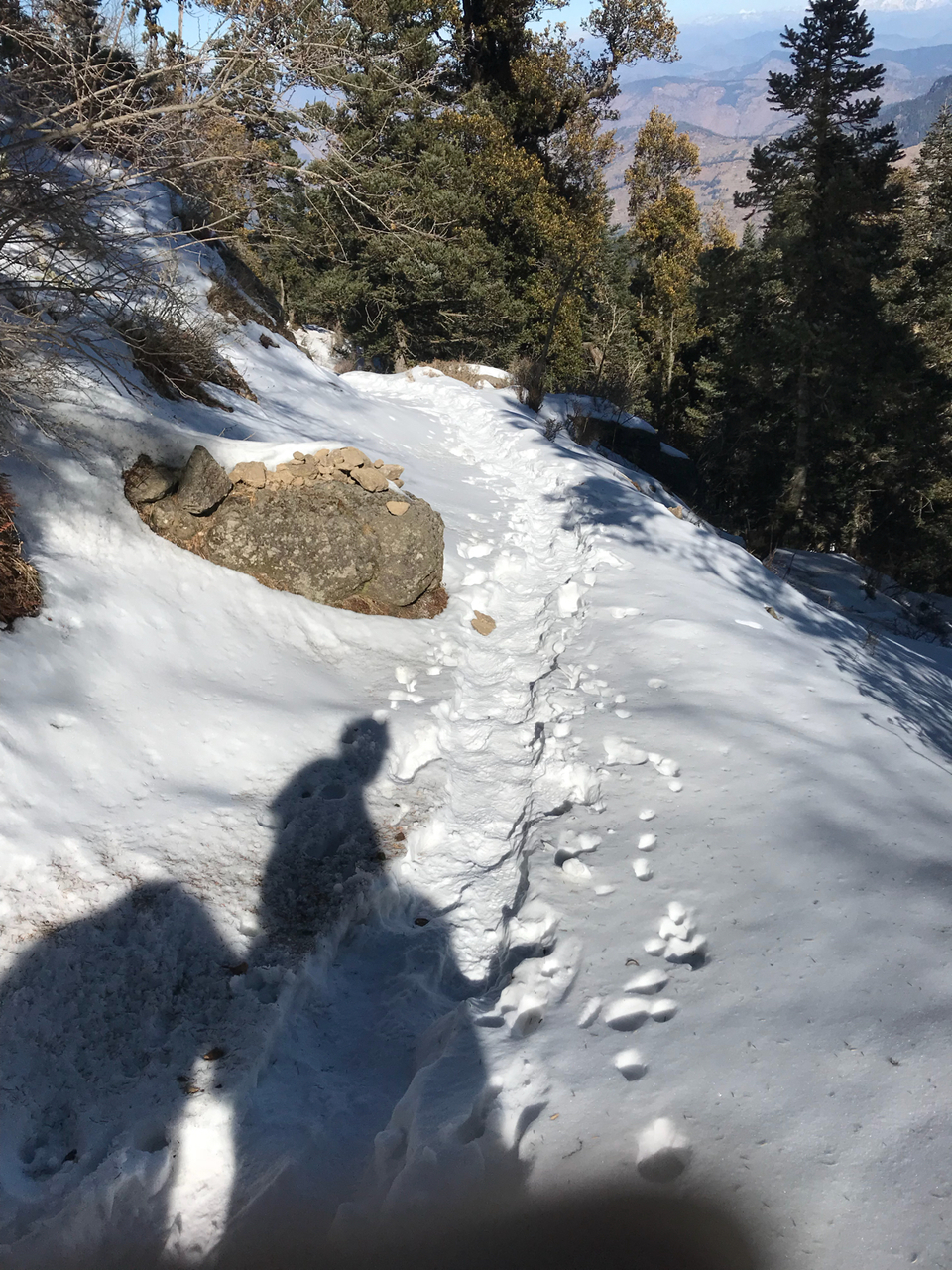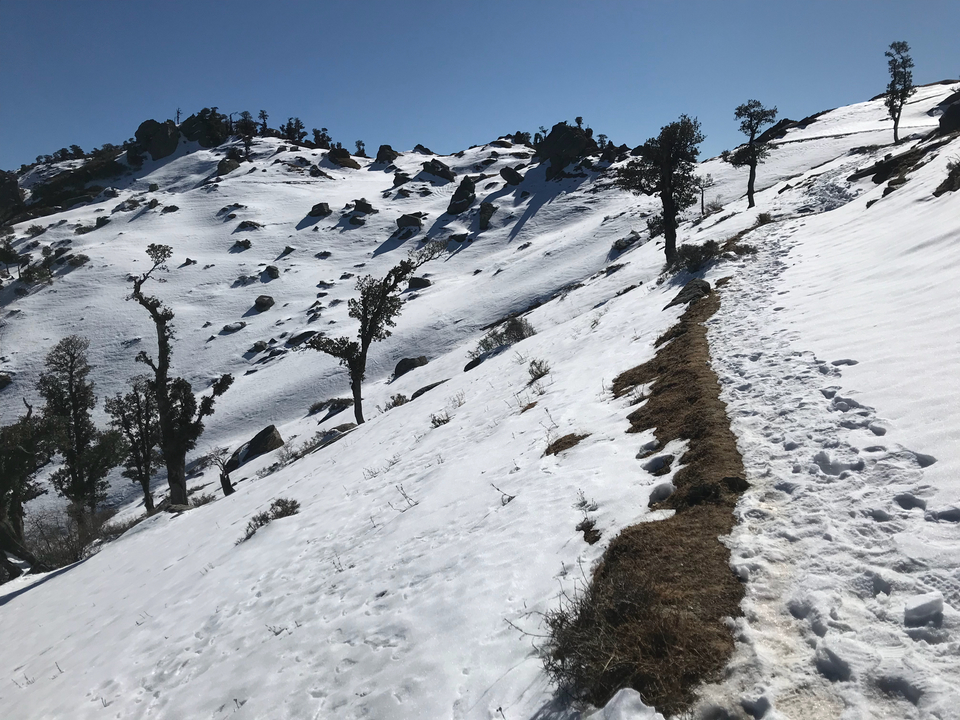 I started to eat snow a little bit while walking. I started drawing and clicking photos up there.
So we continued our journey and started waling until we came to spot where the two road one to the SHIVLING and the other one we call PATRI RASTA specially made for horses to carry goods.
So we dedcided to choose the PATRI RASTA.
We didn't knew about the amount of snow on our way and also the path was not travelled by anyone. We were the first to travel on that path.
So at around 1 pm in the afternoon we started to travel on Patri rasta. My cousin was leading and i was behind him. Sun was above us and the amout of snow was about 1-2 foot initally.
We didn't faced any problem and we were filled with joy.
So on our way we found some sticks and we decided to keep it with us in case of deep pit covered with snow.
So as we travelled snow level became to rise.
It reached till our waist aprroximately 4 and a half foot.
This path had many elevations which was covered in snow.
Nor we could se the sun over there.
Our feet started to get cold and the temperature was -10C.
I started to loose hope that I can't reach the top I shouldn't have come. My shoes were jammed too and my lower was also freezed. While climbing the elevation as much as I tried to go up the more I was pulled down. My legs started to gave up.
To be honest i never experienced something like this before and my whole life flashed in front of my eyes. The people i loved i cared and god i was over thinking.
But I don't know how I regained my courage and in my heart I prayed to lord shiva.
I mustered all my courage and I reached up to the temple.
I wad not able to walk properly I just wanted to sleep.
My shoes were jammed, I couldn't feel my feet my ankle was also hurt because of hardening of lower due to snow.
We reached the temple and asked the saint to pour some normal water on our shoes so that we can open them. Then we removed our lower that were wet and warmed ourself up in front of BUKHARI.
It took us 4 hours to cover that patch. So we decided to stay there and travel to shivling early in the morning. Temperature at night fell to -15c.
I was very tired so I slept and woke up at 6 am.
At morning our shoes were jammed.
We poured some water on it and wore them up. It chilled our body.
We travelled up to the shivling. The snow due to the sun rays was tightened and was slippery. We just climbed up the way like a caterpillar. We kept our foot in the foot steps made before or otherwise we would have fall.
And then when we reaced the top and nothing was more satisfying then that. The view from the top that we got we couldn't get that view in any season except the winters.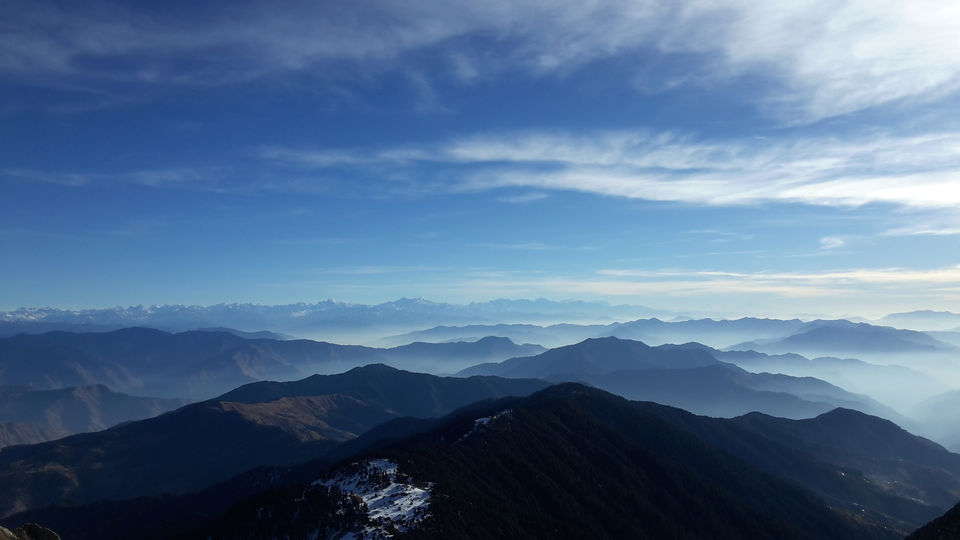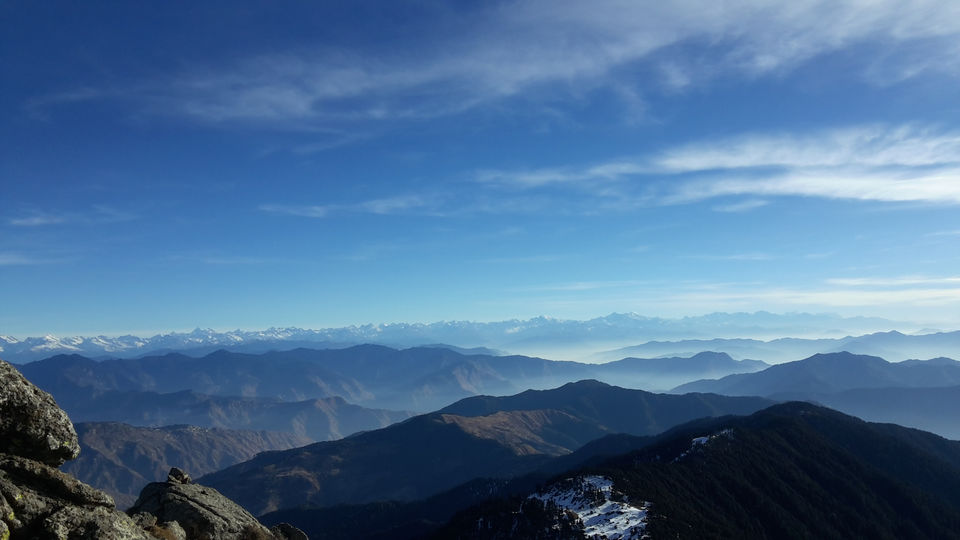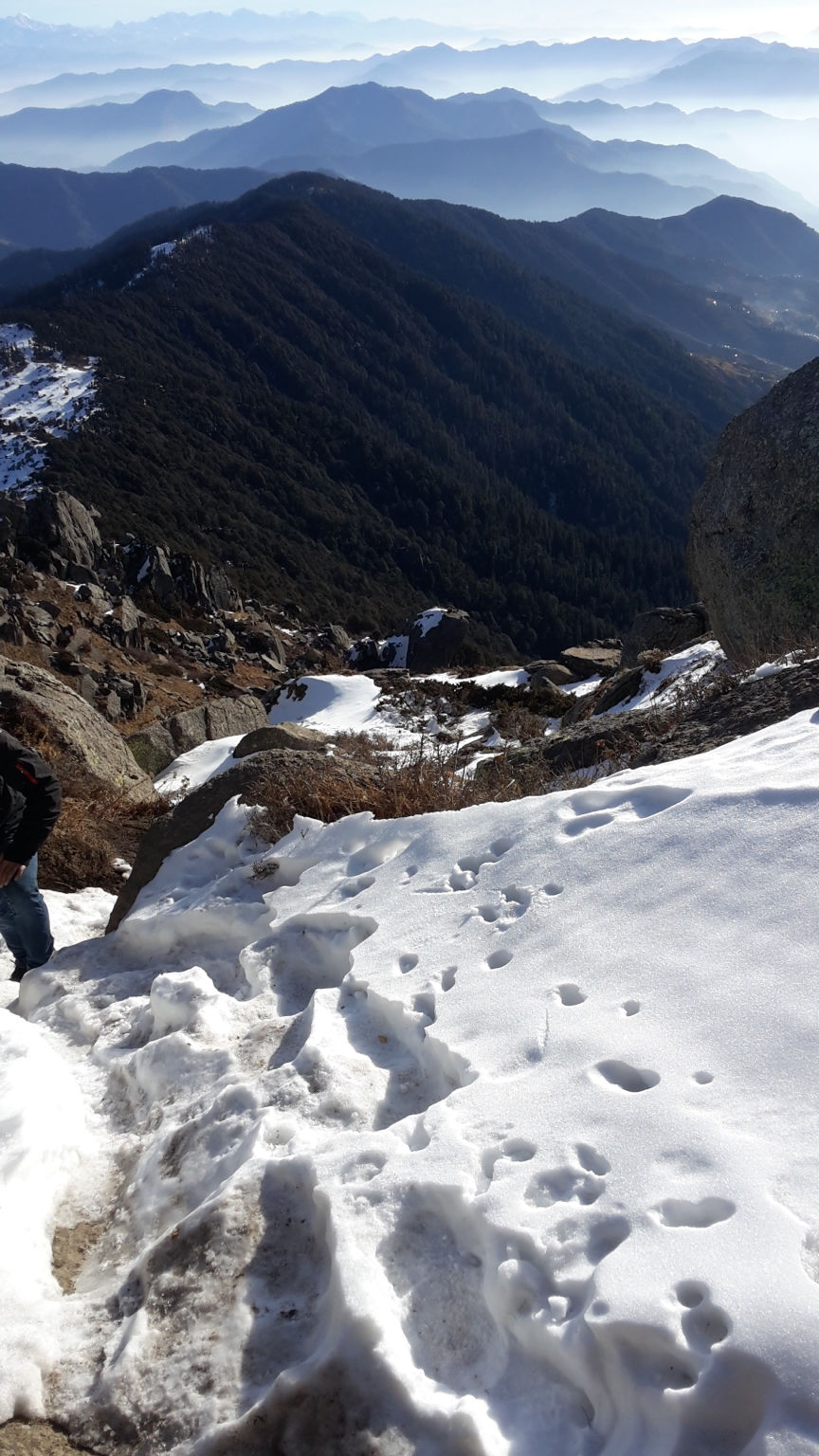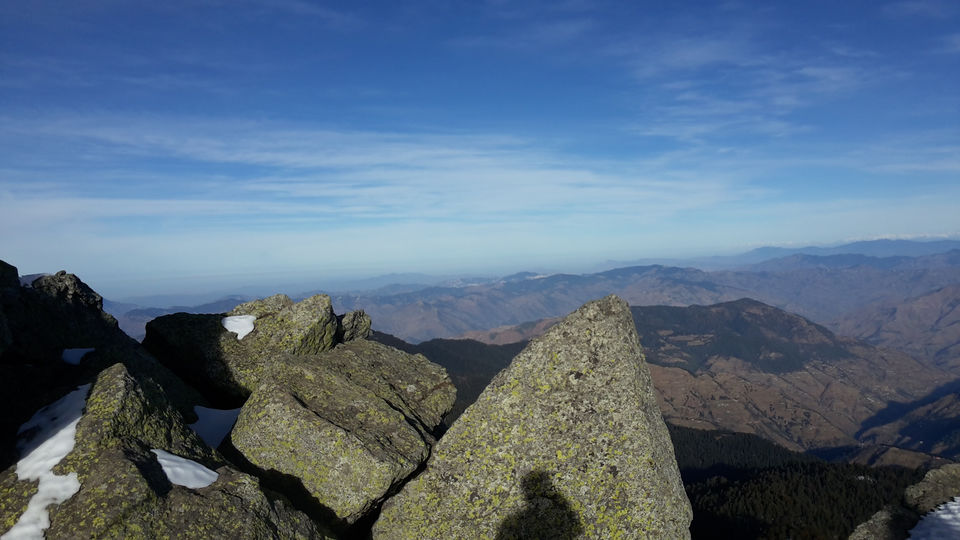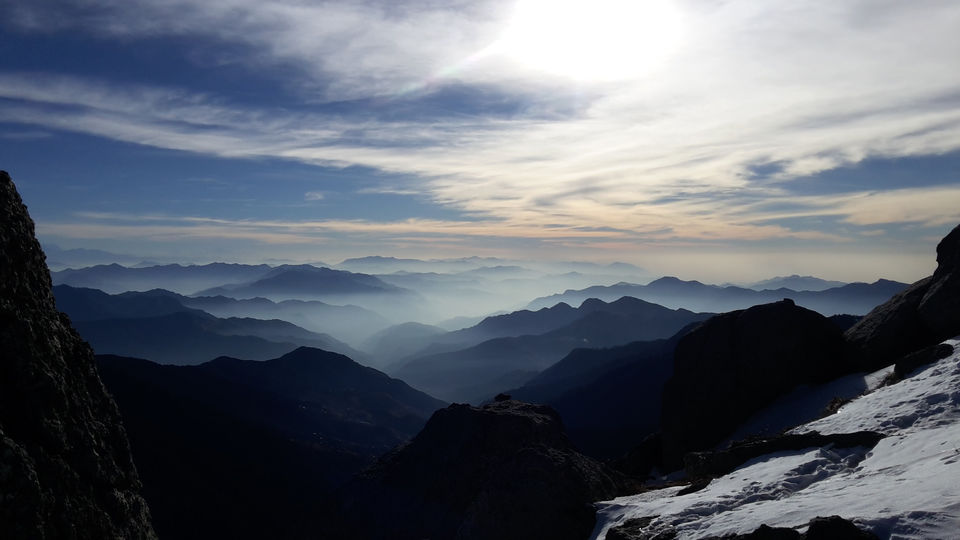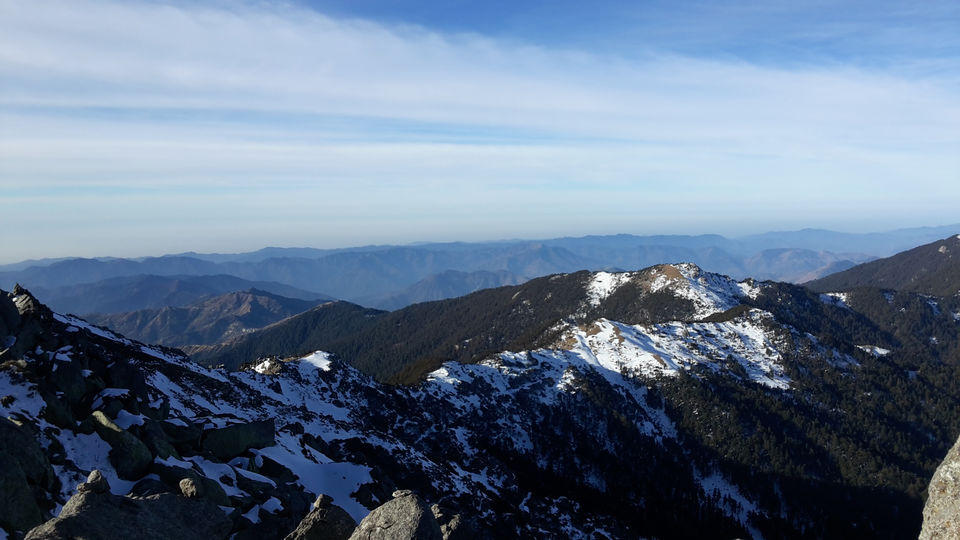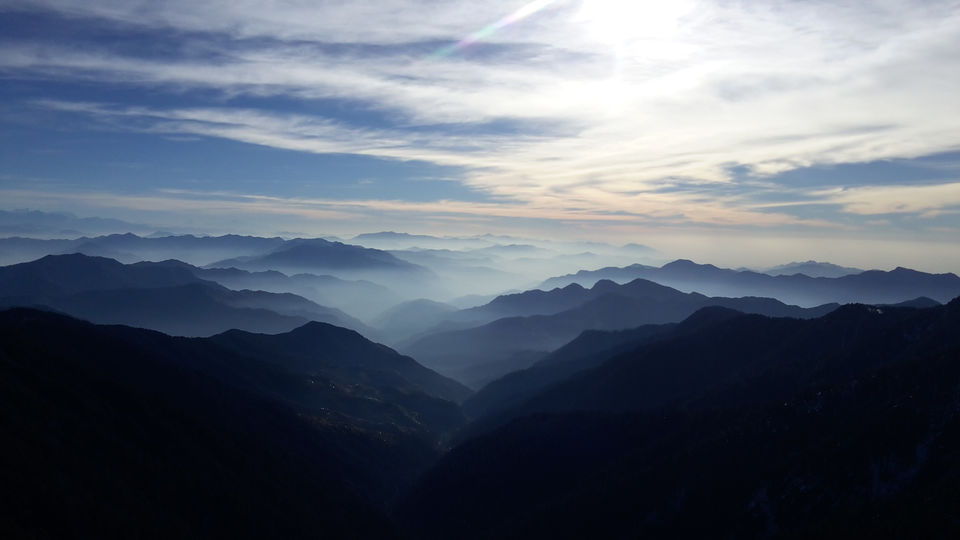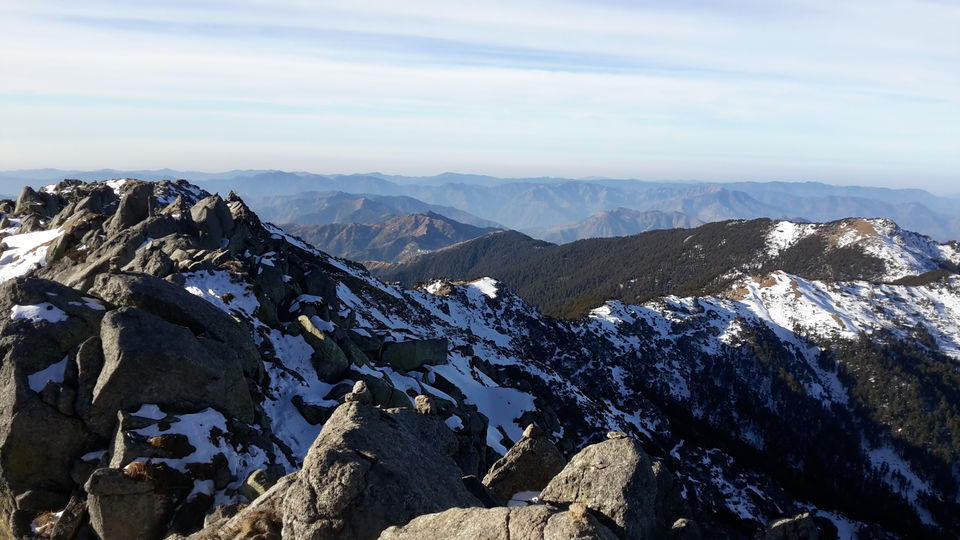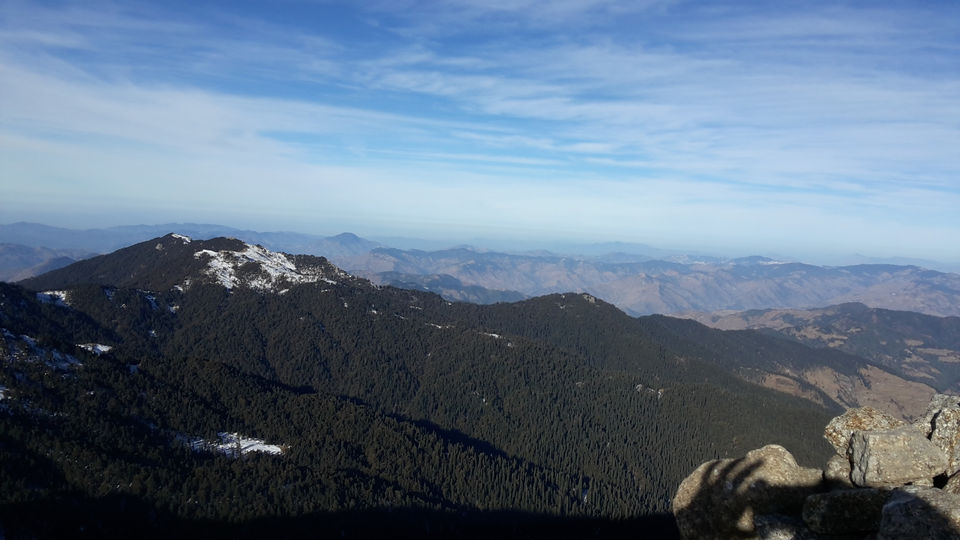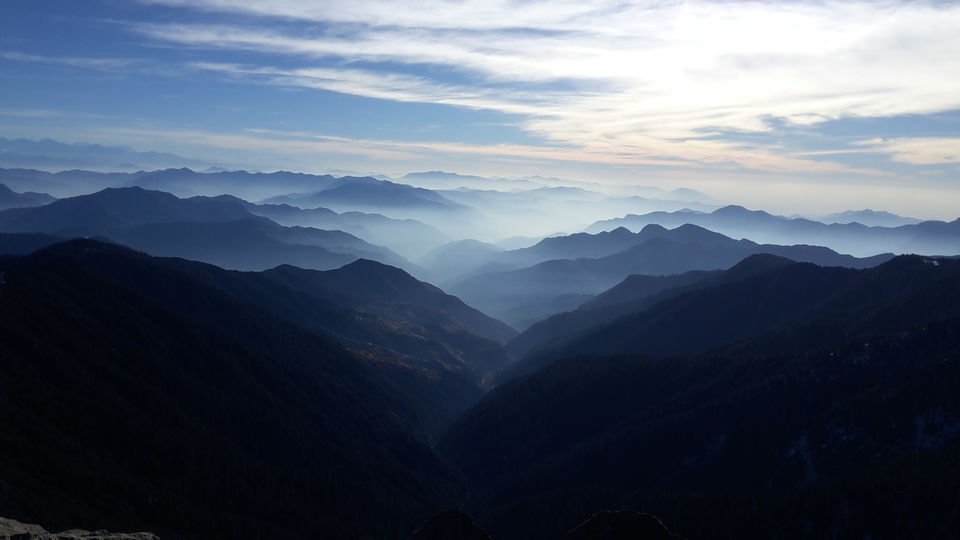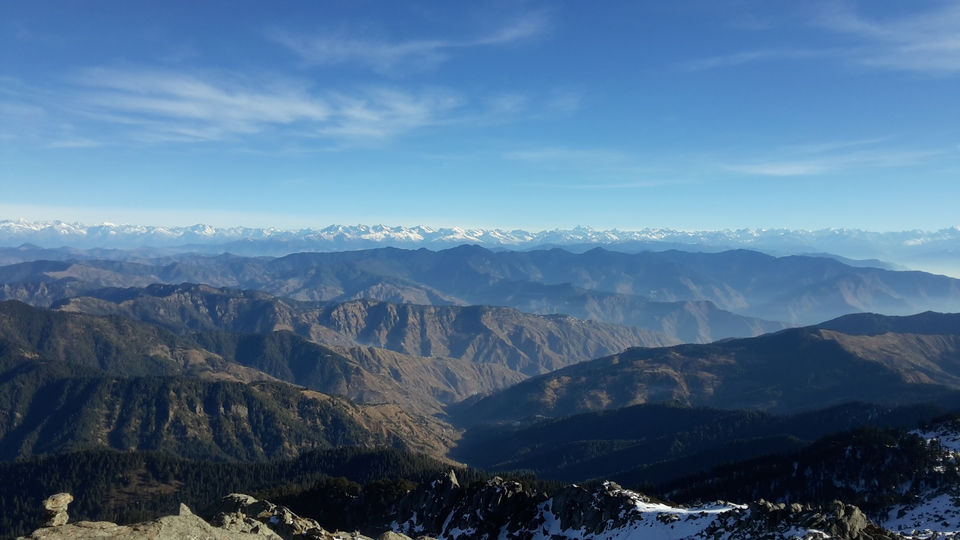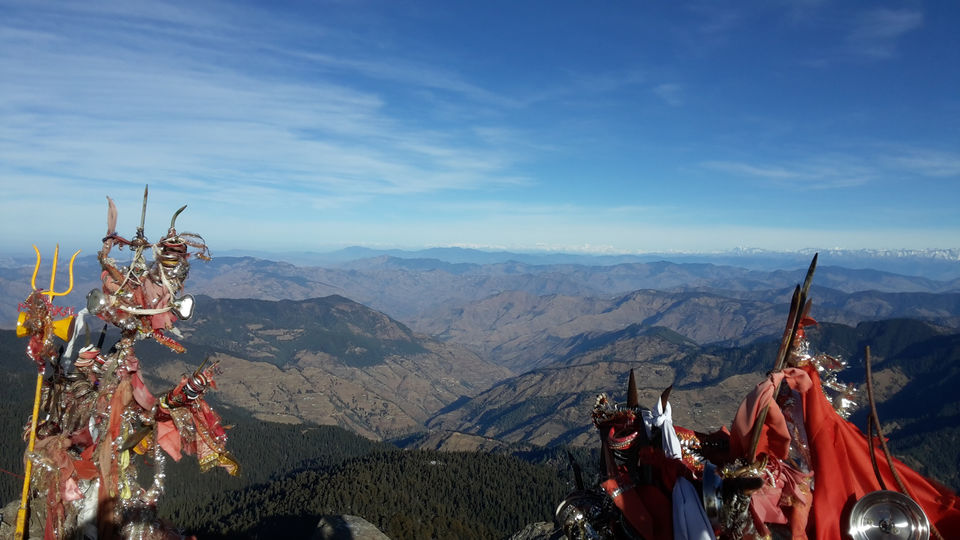 My respect towards the nature was increased and really I understood the power of the mother nature. I thanked god for saving us from everything and helped us getting to the top.
It was a wonderful experience I importance of each and everything in my life.
From the sticks that helped us to get to the top to the people who helped me.
It was very emotional and joyful moment for me.