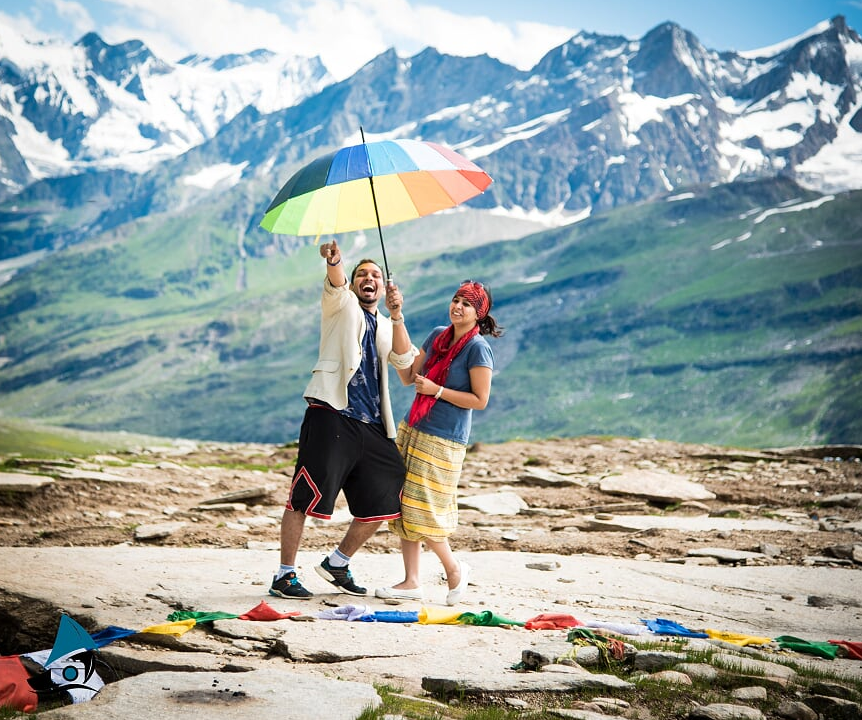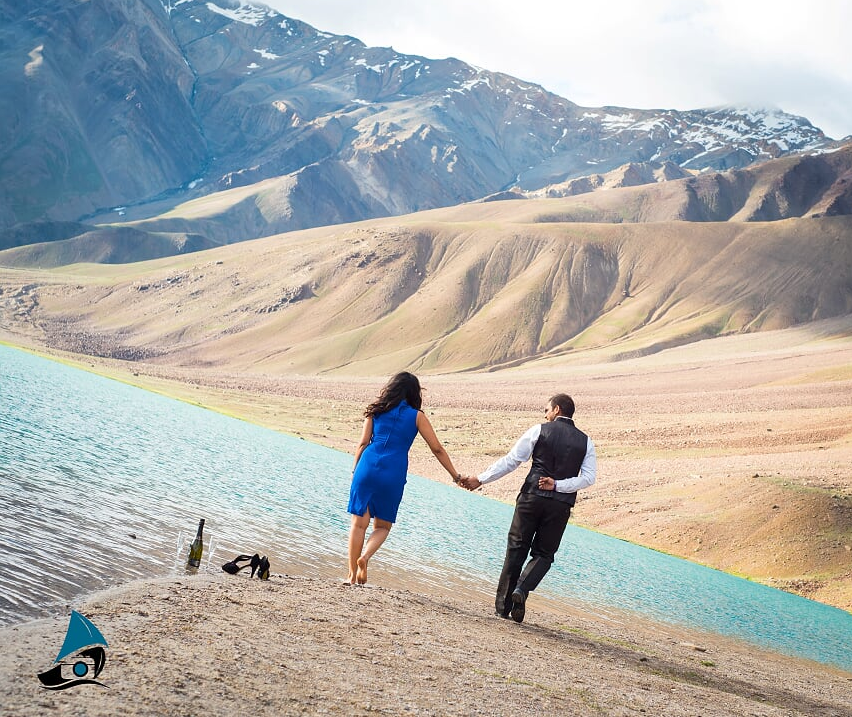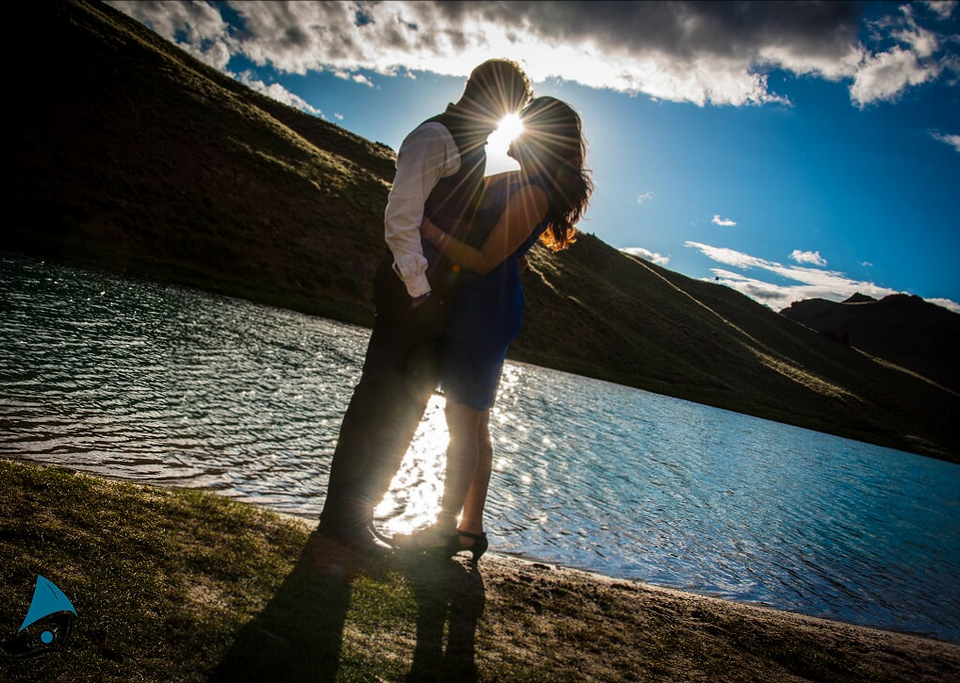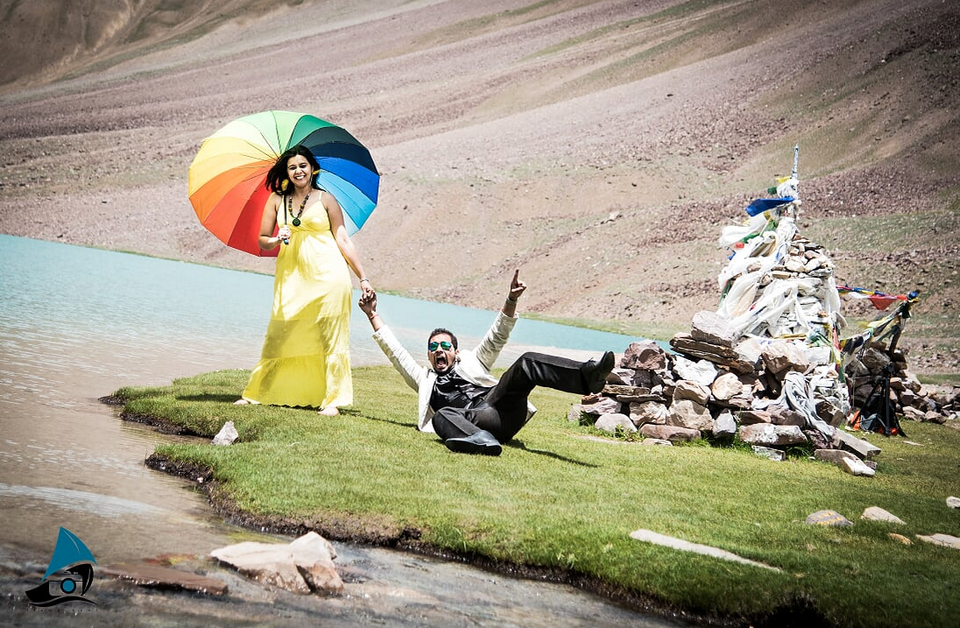 Warning: These pictures will give you MAJOR wanderlust. Courtesy: Our photography partner, Bhavesh Pandey.
It's all about an exciting motive "destination pre-wedding shoot" of a travel frenzy couple in a surreal dreamscape. Yes, It's us!
If you are looking to sway from the mundane and add little twist to your wedding theme or just simply looking for a fantastic backdrop for your ceremony, there is no better place to tie the knot than in high land 14,200 ft above the sea level. Far away from the hustle and bustle of city life and without the ever ringing mobile device.
Having many dreams in our eyes, for this crazy pre-wedding shoot, we left from Delhi on Friday 24th July 2015 alongwith Bhavesh Pandey (frameboat), our official photographer. He actually poked us to have a pre-wedding shoot at such place. Yes it's very important to have onboard an optimistic photographer who breathes travel and eats adventure. Our Mr. BP have an additional quality of drinking lots of TEA. Accompanied by two of our very close schoolmates and a THAR. Friends are indeed needed in life, not just to hold a big reflector for a prefect click, carry jackets to save us from chilling cold breezes OR building a tent as a changing room @14,200 ft but to give us enough support and confidence to pursue what you dream for Raja and Vishal – Kudos to you brothers for making this happen!
For all travelers, please find the itinerary for Chandratal, Spiti Valley. (Days are just for your reference and could be different from actual)
DAY 1
from Delhi, evening Overnight drive (or BUS) and reached Manali on Day 2 – 12:00 PM
If you are going via your own vehicle, take PERMIT from tourism development council Manali to cross Rohtang pass. It took us not more than 1 hour.
Please NOTE: This permit is MUST if you are planning to go by your own vehicle. Sunday is closed, rest all days 10 AM to 4 PM operating.
Day 2
Overnight stay in Manali on Day 2 night. Recommended is OLD Manali riverside. Nice café, Nice crowd and less commercialized as compared to New Manali. You will often see crowd from Israel and European countries.
Day 3 morning,
leave for Chandratal - as early as possible 6-7 AM will be perfect. Enjoy every ounce of the route to Chandratal. Here are the milestones your will come across your way to chandratal with the (approx) distances –
Manali – O Km
Rohtang – 60 Km (high altitude, good road, steep cuts that can cause AMS (acute mountain sickness)
Gramphu – 14 Km (diversion of road to Kellong and Kaza, Spiti)
Chatru  - 17 Km
Chotadhara – 16 Km (dangerous river streams, water level increases after 3 PM)
Batal – 16 Km (last eating joint before Chandratal Or Kunzum)
Chandratal – 14 Km (tough terrain.. one way.. trench…  Not recommended to drive after 4 PM)
Day 3 night – Spent in PARASOL Camps and Retreats to acclimatize and get familiar with surroundings. Our partner: Mr. Bishan Thakur
You can visit Chandratal on the same day evening if you reach camps before 4 PM but if you want to trek, plan for next day.
Day 4 –
6:00 AM: Start your trek to Chandratal, it starts from just behind the actual Parasol Camps by crossing a mountain. Do not try to experiment with taking your own vehicles till chandratal lake. It's a steep with many U turns. While on the way to your trek, you will find the most amazing landscape you have ever seen adn 2 hidden lakes too.. worth exploring
Take whole round of Chandratal lake and do return back before 5 PM. You will not be allowed to put your own tents out there.
Day 5 morning–
Leave for Manali after having light breakfast at our Parasol Camps and utilize the day by watching the mountains and Himalayas. 
after 6-7 hours drive, you will reach back to Manali 
Stay at Manali for Day 5 night stay.
Start on Day 6 and reach Delhi - late evening. 
Challenges/Happenings/Points to consider
1 day is must to acclimatize at Chandratal. Do not visit the lake if you reach after 4:00 PM to Chandratal. As lake is 3 kms far from Camp stay and that 3 Kms are most risky when it comes to evening cold breezes.
After 2 PM day time, the wind flow increases which could result in uneasiness. Avoid doing any physical activity in that duration. Utilize early morning time to visit the lake and places. A perfect still reflection will be captured as early in the morning as possible. later half of the days is Windy.
Take a lot of garlic with you, it helps in making the blood thinner naturally.
Water streams in evening have higher water flow due to melting of ice in day time hence, try to leave manali early in the morning and cross the water streams in prefered duration (with 2 Wheeler/4 Wheeler).
Only 1 Bus facility throughout the day, from Kullu to Kaza and Kaza to Kullu (via Rohtang and Manali).
7:10 AM from Kaza and reach Kullu at 6:30 PM
This is the only bus which operates on this route and last bus of the season is on Oct 10th. 
NO PHONE SIGNALS AFTER ROHTANG. Please be prepared for these 3 days out of telecom communication. Batal have the last phone calling station but availability & working challenge !
This is all about my pre-wedding shoot. 
Please log on to www.onedestination.co.in OR FB page for more details.
So here the love begins.