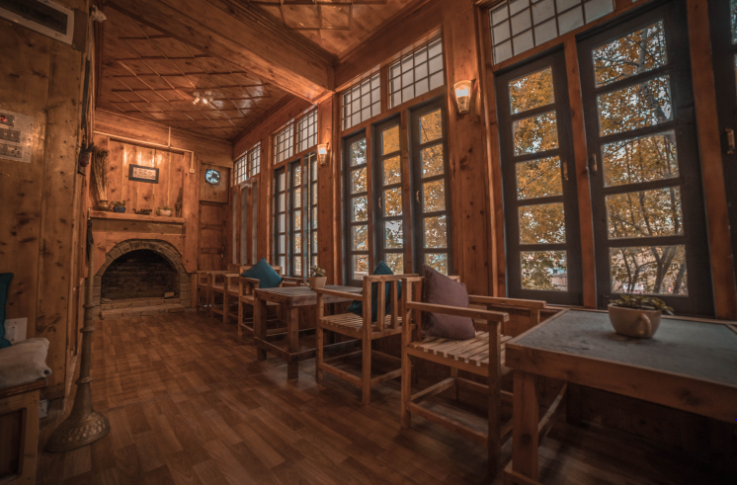 I bookmark places while travelling that help me live like a local. So naturally, homestays are always the first option to get that experience. The Blue Sheep Tirthan is a cute little B&B located right at the beginning of Banjar in Tirthan Valley of Kullu district. It became my gateway to the stories, food, and rich culture of Himachalis of that region.
Ideal for:
Go here if you are sensitive to the issues faced by people who live in difficult mountain conditions. Whether you're a couple looking for a romantic getaway or a solo backpacker wanting to take new risks, this place will give you that chance. It is family friendly, that means kids and pets both are warmly welcomed. Keep an open mind to adventures, lower your luxurious expectations, and let the hospitality of a Himachali bowl you over.
The Blue Sheep is run by an extremely adorable couple – Sheena and Aditya. Sheena is from Seraj Valley of Himachal Pradesh that rebelled her way to break stereotypes surrounding her. Aditya on the other hand is half Spanish/half Tamilian, who takes decisions rationally and is a great contender of PUBG. They met in college, fell for each other and decided to travel the world together.
But since life rarely supports our plans, they got diverted to Sheena's hometown when her parents opened a homestay, and needed help to run it. It was last year in December when they revamped their home completely to turn it into a stunning property for travellers.
Six rooms plus a dorm of six beds, house around 25 people, when in complete capacity. The whitewashed walls with hints of blue paint lined on the borders give you the first glimpse of this home away from home. It is surrounded by an orchard that has trees of apple, plum, pear, persimmon among others. It is the fruit of hard work (pun intended) by Sheena's dad who you can find gardening at most times. The surroundings change colour according to the seasons. You'll find flowers blooming in May, tasty fruits lined during August and leafless silhouettes against the sky in January.
Once you enter the space, a feeling of warmth washes all over you. Cedar-wood walls and furniture give you a sense of cosiness, and a cat passes by you, caressing your feet. The common room/dining hall is where you meet other guests, and bond with the ones you connect with. If it is cold outside, the tandoor inside keeps everyone warm as Sheena tells you tales of her village. And she is a damn good storyteller, I must tell you. While she keeps you hooked on to her words, Aadi sits silently, smiling every now and then.
It's a home packed with great vibes, friendly doggos (Momo and Thentuk) and service staff that makes you feel comfortable.
Food
When I say they give you a thorough local experience, I mean it. Aadi and Sheena cook the food themselves, giving you hearty healthy meals. Everything from a Non-veg thaali to pancakes is delightful to taste. But what I highly recommend is to ask Sheena to make Siddus – a local dish that is like a bao filled with walnut paste and dressed with warm ghee. If heaven has a taste, it'll be this for me. Pester her for more Himachali dishes and she'll be happy to cook them for you. Plus, you can learn it by helping out in the kitchen too!
Cost
It depends on the season but the room rates start at Rs 1800 for two and goes up till Rs 2500 excluding the meals. They have an in house café that serves food at minimal prices. The dorm rates are Rs 750 for a bed usually.
Best time to go:
Summer is the best time to visit this place, that is, from April to June, as the flowers take over the valley, sunsets are breathtaking, and you can even learn how to pluck fruits from the trees. The hosts will also teach you how to make jams and chutneys from those fruits! But if you go during the winters i.e. from October to December, you'll experience beautiful mornings and bonfire nights. It really depends about what you love.
Things to do:
In the property
• Laze around and play with the dogs.
• Learn how to cook local food with Sheena and Aadi.
• Go to the nearby natural pool to take a dip (only in summers).
• Read and admire the view.
• Go on short hikes and drives.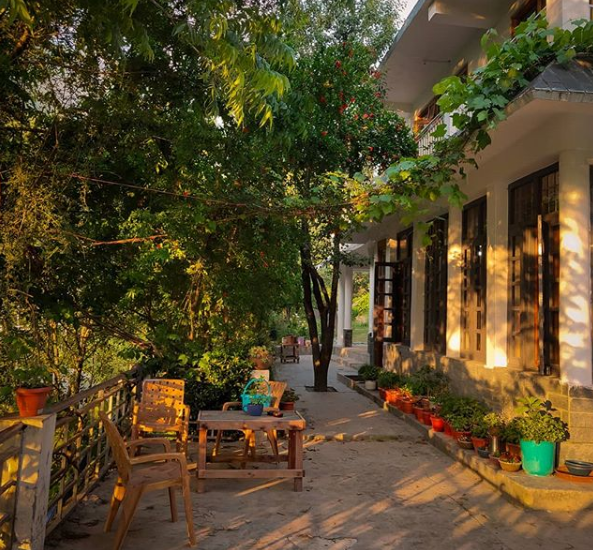 Around the property
There are a lot of places you can go to in and around Tirthan, for instance:
A tiny village nestled near the river with cafes that make for a good stop for dinner. There is a waterfall there with wooden bridges that are quite picturesque. And a fairytale house that has its own set of legends attached to it!
About 15 km away from the property is this beautiful village that is surrounded by snowcapped mountains for most of the year. Old style wooden houses with slanted roof welcome you, and from a vantage point you can see the peaks in all their glory. A short walk from their takes you to the Balunaag temple that is situated right in the middle of the jungle. The leisurely walk ends up with a treasure trove of stories. Right where the bus stops you there are stalls for momos and anda pav that are just so cheap and yummy that you can't afford to miss out on 'em!
Jalori Pass
A must visit when in Tirthan this pass is at a height of 10,000 ft and gives you majestic views of mountains as far as of the Dauladhars of Kangra district. Sit down at a dhaba to eat kadi or rajma chaval or hike up to the meadows to watch the sunset. You can also walk up to an alpine lake called Serolsar from there or trek up to the Raghupur fort for a 360 degree view of the valley. Both are definitely worth it.
Chaini Kothi, Sharchi, Gushaini and more such villages await your visit there. Talk to the hosts and decide which one suits your interest best.
Getting there
The nearest metro city is Chandigarh but most people prefer to travel from Delhi.
By air:
Catch a flight till Bhuntar airport and drive down to Tirthan. The drive is about 1 ½ hour long from there and this is possibly the easiest way to reach this place.
By road:
Daily buses ply from Delhi to Aut (you need to take any Manali bound bus and get down at Aut). From there you either take a cab to Banjar or another bus. This will be an overnight journey of 12-14 hours.
By train:
The nearest railway station is Pathankot but post that too it's an 8-hour-long drive, so this route is really not feasible.
Travelled to a homestay that felt like home? Share your experience with the world here!
Get travel inspiration from us daily! Save our number and send a Whatsapp message on 9599147110 to begin!