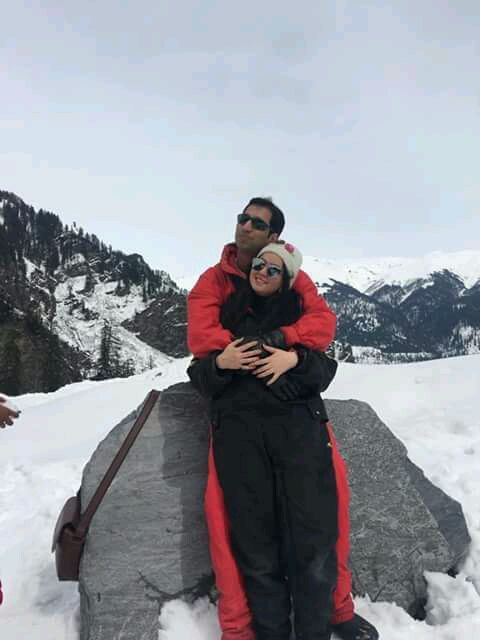 Like every year we were planning our holi holidays, But this time I wanted to include at least one off beat destination in our itinerary. The idea was to spend some peaceful time in a lap of Mother Nature. Away from the crowded hill stations ,with bit of research, I and Mukesh agreed to add a place known as Sarahan in our itinerary of Shimla and Manali. So now we know we are going to Himanchal this year. Like a good traveller , we got our bookings done before hand. It was going to be seven days trip starting from 10 March to 16.
We decided to start our trip from Shimla and got our booking done by train from Kanpur to kalka. The plan was to reach kalka in the morning and hire a taxi from there. The train was supposed to start in the evening and was expected to reach Kalka (nearest railway station to shimla) around 5 in the morning. We were very much excited to enjoy our much awaited holidays. So we reached station on time and board the train. People in next compartment were discussing about the "Toy Train"(THE HIMALAYAN QUEEN) from kalka to shimla. We knew about this train but didn't added it in our itinerary. But the more we were listening to our fellow traveller discussing about toy train, the more we wanted to experience it. It was around 8am when we reached kalka with a delay of 3hrs. As we stepped down from our train, we noticed everyone was rushing towards one side of the platform. We also decided to move in same direction. Soon, we noticed that it was Toy Train waiting for its passengers. Almost everyone with us had a prior reservation in the train. For the moment, we got very disappointed because by now even we wanted to experience the ride. We knew there was no chance, even then we decided to give a try and went to ask ticket collector about the seat in the train. To our surprise ticket collector said; yes, the seats are available. We immediately got our tickets done and board the train. We were being told we are very lucky because it's almost impossible to get seat in the train on arrival bases.
Toy train: kalka- shimla rail route was started in 1903, it also holds a "Guinness Book World Record". It is one of the steepest rail route in the world. The whole route will keep you mesmerized. It's advisable to take a morning train as it offers a great sunrise view on the way. Sitting on a window seat, you tend to close your eyes and breathe the cool breeze. The slow speed of 22km/h allows you to take a good look all around. The route consists of 800bridges, and 103 tunnels. It's a dream ride for everyone but the kids love it the most. As they get to see the real beauty of the Himalayas.
As we were moving up hill ,the weather changed rapidly. We had to pull out our jackets, etc. from the bag. It was an overcast weather which welcomed us to shimla. The moment we stepped down from train ,we were welcome by snowfall. All the fellow travellers started screaming with happiness; and we were on cloud9. Because, to encounter a snowfall in the month of March in Shimla is a very rare sight. And we got a chance to experience it ,with our first step in queen of hills. We were in no rush, so we decided to spend some time at station itself. Clicking the photographs and enjoying the weather.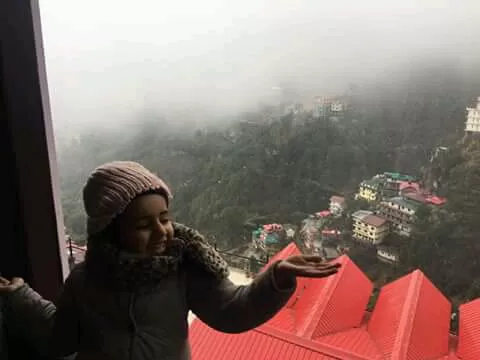 We hired a taxi from station to our hotel Snow Valley Resort. One of the best places to stay in shimla and highly recommended. The hotel had spectacular view from the room and was very neat and clean. It's best to have prior bookings when you are travelling to a famous destination.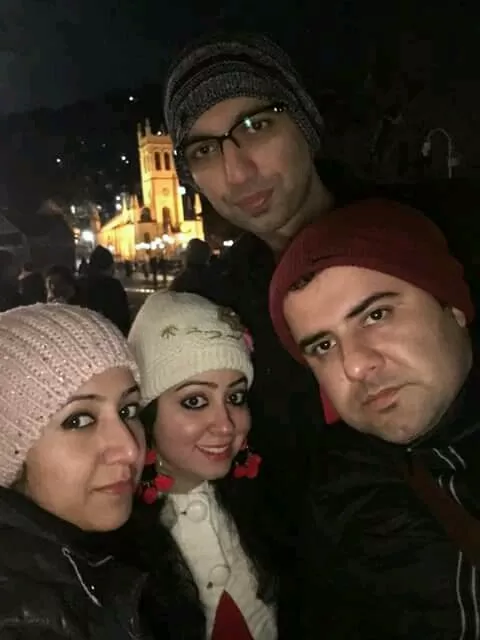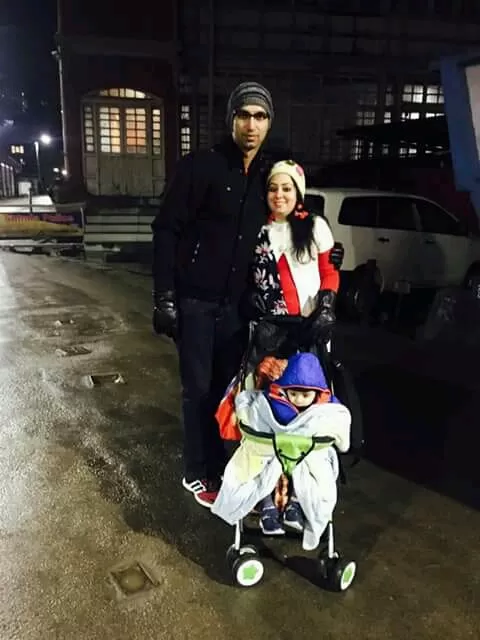 Evening in Shimla: After spending some time in hotel, we decided to explore the place in the evening. The moment we came out of the hotel, it was easy to guess the temperature is below 0. But that did not stop us from moving out. Mall road of Shimla was as good as the market of our cities. And one can spend hours shopping at this place. But the best part is food. Hot Momos combined with very hot coffee in a chilling weather in front of a beautiful church, it's one of the best combination one can get. Shimla is said to be the queen of hills and rightly so. It was around 10 pm when it started raining again which forced us to go back to hotel. The weather was extremely cold,so we decided to call it a day.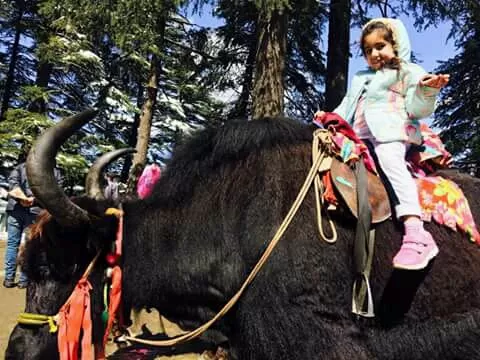 Our destination for Day2 was Sarahan, Kinnaur Valley via kufri and Narkanda. The distance between Shimla and Saharan is about 160kms. So, we left Shimla around 9am in the morning. Lot of snow was expected on route, as it snowed heavily the other day. With no idea of what coming next ,we started our journey to day 2. Our first stop was kufri,the most famous snow point near Shimla and it's only 17 kms away from Shimla. As soon after the slow drive of 1hour, we reached kufri and what we saw around, made us surprised and disappointed as well. We were happy to see fresh snow all over the place, but we got disappointed because 100 of cars were stuck in traffic jam. No, that's not what we are here for. This is a biggest drawback which one faces while travelling to a famous tourist destination. As we were in search of peace in this trip. So, we decided not to waste time in such a crowded place. That doesn't mean ,we were going to miss a chance to enjoy the fresh snow of the place. We enjoyed the best breakfast of the hills i.e. Hot Maggie clubbed with hot Tea with thick layer of snow all around. We also clicked some photograph and left the place for our next destination. Soon ,after leaving kufri the atmosphere became calm. The more we were moving towards Saharan ,the more beautiful the mountains were becoming..
After travelling about 70kms from Shimla, we came across the place named as Narkanda. It was a place which can make you hypnotize with its beauty. This place should have a Statutory Warning board mentioning ,one can loose himself in the beauty or can deeply fall in love with this place. A very underrated place in lap of Himalayas. Consist of a beautiful valley, untouched forest, ideal trekking route to Hatu Mata Temple and at the height of 3400mts. above the sea level,keeps the place covered with snow most part of the year. For me it was a case of love at first sight. Before this ,I had never heard about this place but now when I was here, I didn't wanted to leave it. If you love nature and are looking for an offbeat destination ,Narkanda deserve a place right on top of your wish list. Even though we didn't wanted to leave this place, we had to, because we had our booking in Sarahan . So ,after enjoying Narkanda the expectation with Sarahan was higher than it was before the starting of the trip.
Further travelling about 50kms from Narkanda towards Saharan, we saw a very beautiful snow peaked mountain named as Srikhand, in front of our eyes. And with every single mile travel towards Sarahan, the mountain kept on coming close. The beauty of landscape was such that you will not want to blink your eyes, because that might make you miss something. Soon we were inside a very small village which is located at the height of 2100mts above the sea level. At the base of very beautiful snowcapped Mountain. ( Srikhand ) the place was very quiet and had a jaw dropping panoramic view all around. Yes!!! that's what defines the offbeat destination for me. The weather at Sarahan was extremely cold. This was making it bit difficult for kids,we immediately checked into hotel, which again offered a great view from its balcony. But after booking the best hotel at a place with limited options ,we found the rooms did not have central heating and the heater provided by the hotel was quiet old,which made us understood that we were about to face a very chilling night. The temperature of the place goes down to -2 in night. Without wasting more time, we decided to have dinner and went to bed to call it a day.
A day in Sarahan: I always have a habit of waking up early at hills, as I don't want to miss the sunrise despite of extremely cold weather I got off the bed with first ray of Sun. And immediately went to the balcony of the hotel. OMG!!!! were my first words of the morning. Srikhand (the mountain) which accompanied us to Saharan was right in front of my eyes. And Sun was ready to make love with the mountain. Despite of the fact ,that I was shivering like anything, I didn't wanted to miss the sight. Golden Sunlight, beautiful green valley, lovely song of the birds, and spiritual calmness of the place was taking away all my stress. After waking up with the nature, i felt it's today that I actually woke up. Otherwise, I was just getting up daily in my urban life. If you are looking for quiet few days for yourself away from the urban life and crowded tourist destination in a lap of mother nature , then this is the place which is just tailor- made for you .The beauty of the place ,tells you how beautiful our country India is. Because it's incredible! Ya, that's right Incredible India!!!!!
As we did not had any plans for today, we decided to explore the place after sipping a hot cup of tea. We got ready and went out of our hotel. Just outside the hotel there was a beautiful Bhimakali Temple which is one of the 51 shakti peeths. The temple is inspired by Hindu and Buddhist architecture. This temple is the reason behind the spiritual calmness of the place. The oldest part of the temple is locked which is being replaced by the newly made temple of goddess Bhimakali. After offering our prayers and spending sometime in the temple,Now it was our turn to explore the village. For the tourist looking for big markets, restaurant, cafes, etc. Sarahan will be a big disappointment. But on the other hand, if you want to experience a nature walk, and want to enjoy some quality time with yourself, then this is a place for you. Our whole day passed by enjoying the beauty and by walking around the town. As we opted for a two days stay at Sarahan, the hotel staff advised us to visit another place known at Chitkul, which was only 16kms from Sarahan. According to them,Chitkul was more beautiful than Sarahan,as it is the last Indian village and also had a river flowing from the center of it. So we decided to move to Chitkul on 2nd day. And started our research about the place on internet. The place looked great, but the temperature of Chitkul was below 0 in the day time which goes to -10 during night. As we had kids along with us ,it was practically impossible for us to visit Chitkul. After making few calls in different hotels at Chitkul and receiving the advice of not coming with kids, we decided to drop our plan. This gave us opportunity to enjoy one more beautiful day at Saharan. This day was well spend enjoying the local food, looking at the changing color of the mountain Srikhand.
Saharan to Manali: This was going to be a long journey of approx. 235kms. So we decided to take a night halt at small town named as Chindi. The journey between Saharan and Chindi is not worth mentioning; as the day was hot and the journey was tiring. We reached at this place name as Chindi around 6pm. Chindi does not have many options when it comes to hotels. But even then we were lucky enough to find a decent place to stay. Asking about the options available at Chindi, we got to know the place is famous for trekking. And basically it act as a stop point for people going to Kinnaur or Spiti, or coming back from there. It also have some very old temples around the town.
So we decided to have some trekking experience next morning. We got up early and were done with our breakfast by 9am. Soon after we decided to start our trek to a nearest hill. The trekking trail was just behind our hotel. It took us about 90 minutes to reach the top of the hill. The view from the top was splended and one can see the beautiful valley; thick forest of pine & deodars.Apple plantation is also done here. After enjoying scenic beauty of Chindi, now it was time to head towards our final destination Manali. It took us whole day to cover the distance from Chindi to Manali. This was around 200kms. We had prior bookings with the hotel snow valley. This was located approx 2kms away from the main market and had spectacular view of flowing river from the rooms.
Manali is a beautiful hill station situated on the bank of river Beas at the height of 2050 mtrs. above the sea level. And is one of the most visited hill station especially for newlywedded couples. If you are at Manali, you are never sort of an option. The place has plenty of options for everyone, Adventure sports like river rafting, trekking, paragliding etc. are available to increase your adrenaline rush in the body. And if you love to visit old historical temples, then places like Hadimba Devi Temple, Manu Temple, Durga Temple, Shiva Temple ,Tibetan Monastery may attract you. The nature walk is available for nature lovers. The mall road of Manali is one of the best planned markets of Indian hill stations. Shopping and food at this place is just irresistible.
Day 1 in Manali : For us the day started early as we planned to visit Solang Valley. After having our breakfast in the hotel we left for Solang Valley, which is located at an altitude of 2500 mtrs. from the sea level. And is only 13 kms. from Manali. The route towards Solang Valley was extremely beautiful, with a beautiful view of glaciers and snow capped mountains. The only problem we faced while reaching the valley was a traffic jam. After stucking for an hour, we decided to walk the remaining distance. And the moment we stepped out of the car we were welcomed by a very cool breeze and extremely cold weather. After a walk of 1km or so,we finally reached to our first destination in Manali. Right in front of our eyes, we had a beautiful valley covered with thick snow from all side, people were busy enjoying in various ways some were riding snow mobile, some were busy with paragliding other were having hot snacks. I mean this place is fully commercialised, which can be bit disturbing for a nature lover. Anyways it was our turn to enjoy the place ,we decided to climb over the nearest hill to have a better view of the place. And waoo!! what a good idea, because now we were away from the crowd and the view from the top was magnificent. We captured some very beautiful photographs. Despite of cold weather kids were very happy playing with snow. After spending hours at this great place, it was now time to pamper our tummy. we opted to start with hot sweet corn, which proved to be a deadly combination with a lovely weather. Mean while, we also interacted with foreigners, a beautiful couple from Holland,Came here especially to enjoy skiing. Always good to hear beautiful things about your Country from the people of other Country . They said they are in love with this place and India. After the good interaction and lovely snacks, now it was time to leave this place.
Evening in Manali : It was around 7pm we stepped out of our hotel to visit market. The market of Manali was full of energy and various colors. With endless variety of food and shopping, we ended up with over eating and over shopping. And it is not a big deal at this place. After shopping of unique items like handmade nameplates, bags etc. it was time to enjoy food which seems irresistible. We acted smart, as we wanted to taste different variety, so we ordered different items for everyone. Ended up having more options at the same time. This was the end of our day1 in Manali.
Day 2 in Manali. :Today, we decided to visit nearby places like Hadimba Temple, nature walk, and Tibetan Monastery, all three places are within Manali itself. We started bit late and left our hotel around 10 in the morning and straightaway went to Hadimba Devi Temple. The temple is of ancient times and actually it's a cave, which is said to be a place where Devi Hadimba w\o Bhima use to stay. The architecture of the temple will grab your attention, the moment you enter the premises of the same. It's a great piece of art, which is worth appreciating. After offering our prayers, we got some pictures clicked with a beautiful rabbit, and moved towards our next destination, Nature Park. If you are looking for a quiet and peaceful place in Manali ,you need not to go anywhere, there is a beautiful park by the side of main market. The moment you enter the place, you get disconnected with the busy traffic and crowd outside. It's an ideal place to spend some quality time with your loved ones,in a lap of nature surrounded by thousands of trees and a flowing river by the side. We spend some beautiful time here sitting quiet and listening to the music of nature. Now it was time to move to the final destination of the day which was Tibetan Monastery. A quiet place in a heart of a busy hill station is a rare combination. The place had calmness of its own, which will make you forget the busy world outside its premises. And you can spend hours meditating in the silence of Monastery. Soon after we offered our prayers, it started raining cats and mouse, which forced us to go back to our hotel. It was evening by the time, we returned back to our hotel. So we decided to have our dinner at hotel itself and call it a day. But wait!! around 10pm the rain started turning white, it was snow with the rain!! I ran out of the room to capture some photographs. It was extremely cold, so after clicking some,I returned back to the cozy room to call it a day.
Day3 in Manali : This day, we had only one destination to visit and it was Manikaran sahib, which was around 81 kms. at an altitude of 1760mtrs. But the weather was playing a spoilsport. It rained almost whole day and we were forced to travel in heavy rain. We visited the Gurudwara, which had natural hot water spring. Offered our prayer, had langar, and came back to kullu for some shopping. As shawls of kullu are world famous for its fabric and hand work. We bought some and went back to hotel. By far this was one of the best holidays, I have ever had. Signing off for now, will catch up with you guys later with lot more beautiful trips.