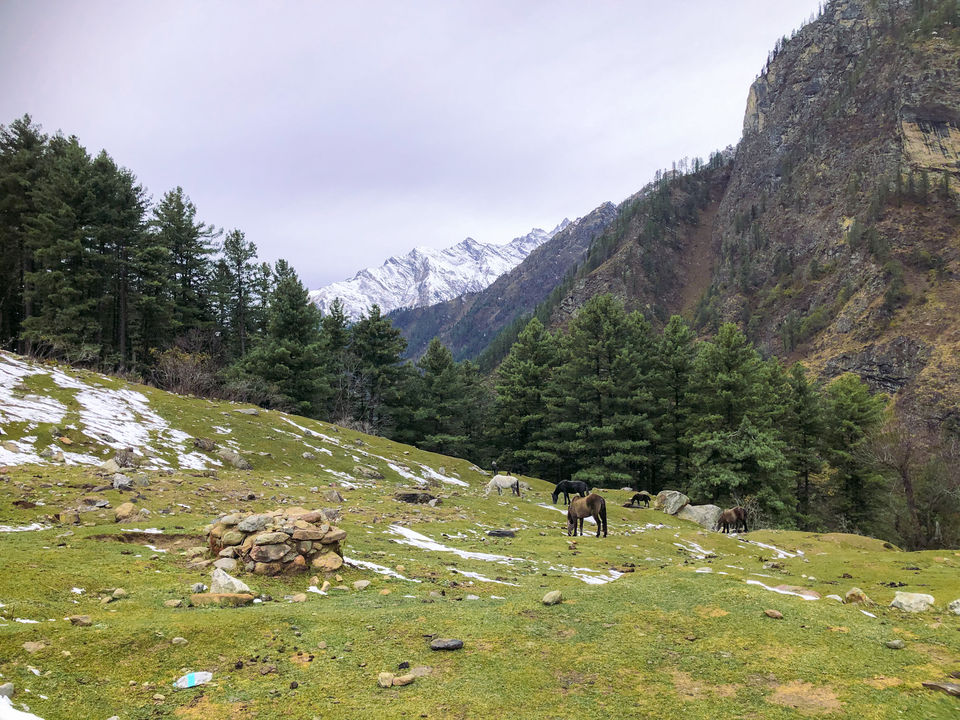 Mountains never leave you. Every time you visit them, you leave a little piece of your heart that always aches to go back.
Last time, I travelled to tosh (read my article here) and fell instantly in love with its raw and stunning landscape. This time again, I planned to go to the same area around Himachal but on a different trek.
(Both Tosh and Kheerganga can be covered in the same trip if you have 4-5 days).
We only had three and a half days in hand since my sisters (Two of them) could manage those many leaves from their office. We hired a private car for three of us as the bus timings were not suiting us.
(We booked the car via go ibibo and paid 16000 INR including toll taxes and driver allowance for three days)
Buses, however, are readily available from Kashmiri Gate, Delhi to go till Kasol/Bhuntar and then one can take a bus/car to Barshaini from where the trek starts.
DAY 1
We left from Delhi at 3 am and took a first pit stop after 2 hours at Murthal Dhaba to gobble some delicious aloo paranthas. We continued our journey afterwards for 6 hours straight and stopped to have some breakfast.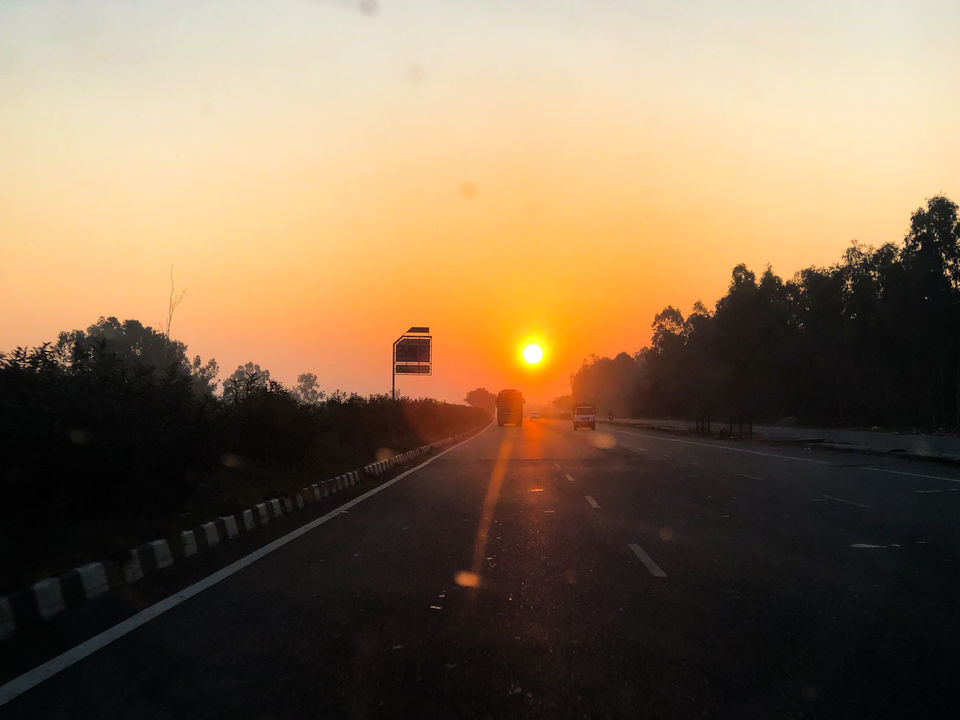 After breakfast, we commenced our last leg of the journey.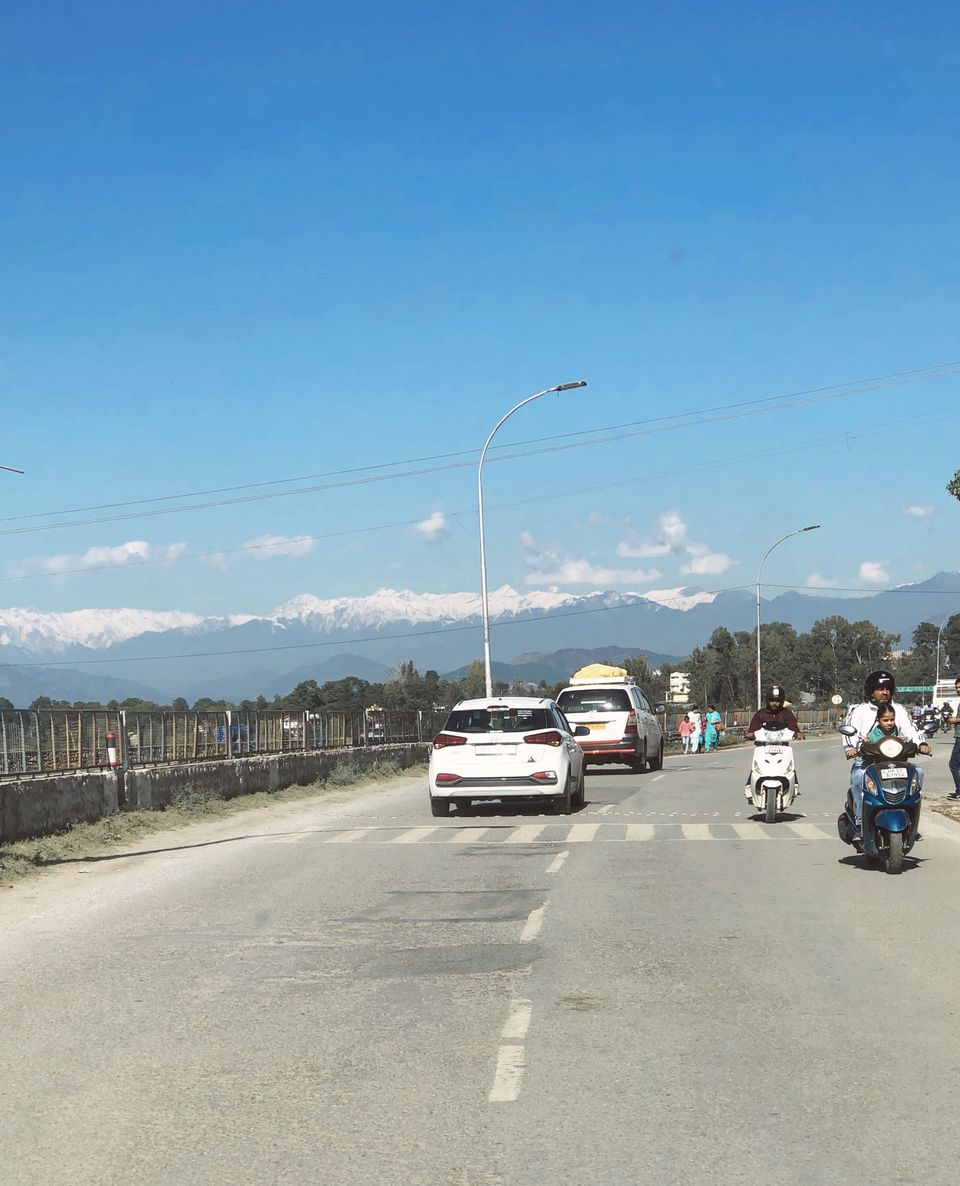 We reached Kasol at 4pm - it took us 13 hours to arrive in total. We decided to stay in Kasol for the night. We looked around for a hotel and settled in at the Hotel Kasol Inn. The hotel was decent & was close to the centre.
(Kasol is an ideal stopover to shrug off fatigue from a long car journey before starting the trek. There are lots of decent hotels and eating out options)
Hotel Kasol Inn - 1500 INR for a night (after a tough bargain)
In the evening, we walked to the Kasol bridge and later to a restaurant - The Rainbow inn and cafe - a nice place that offers local live band, cosy seating both inside and outside. After spending some time in the cafe, we had coffee at one of the corners shops, walked around a bit before heading back to the hotel.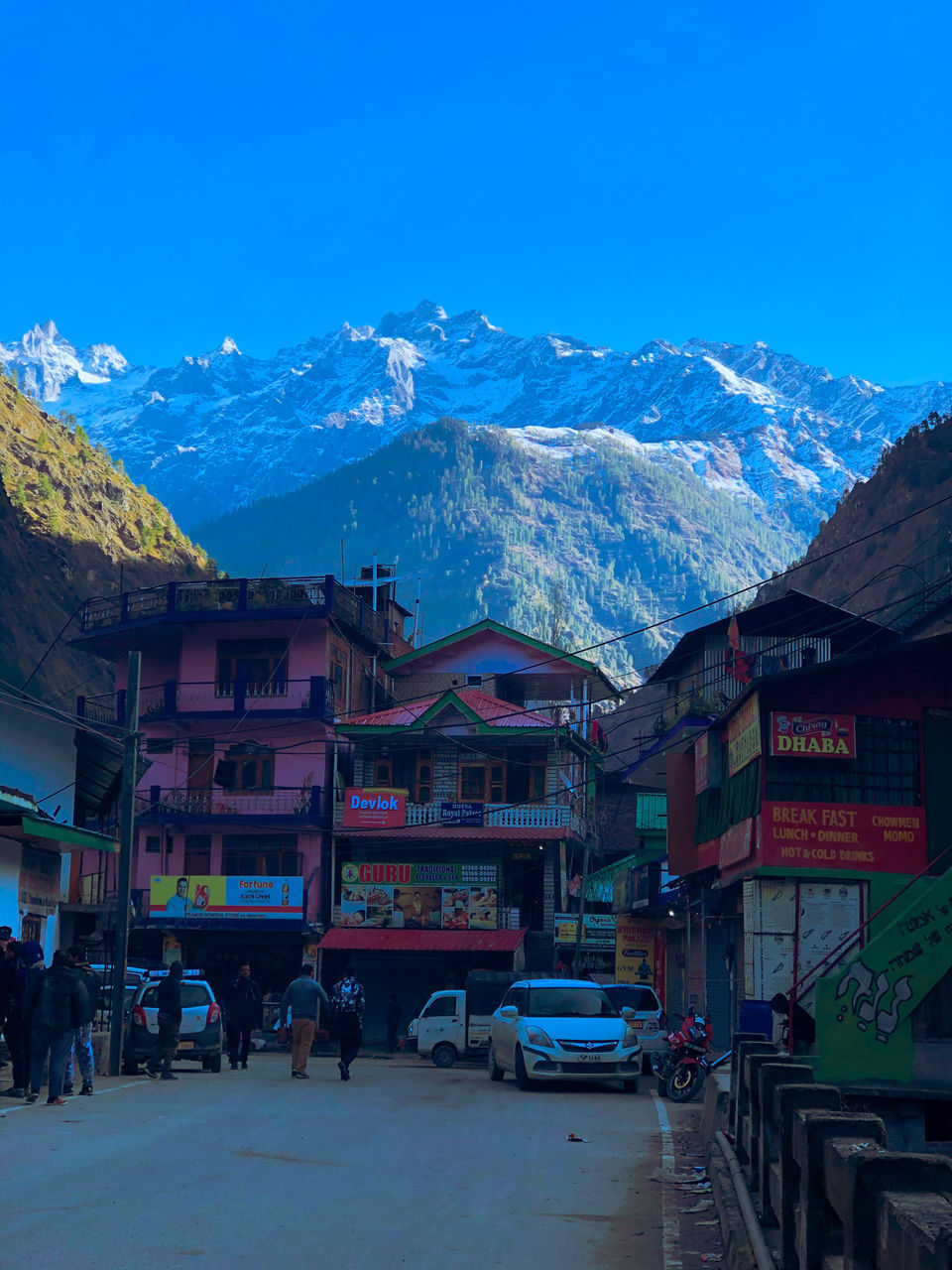 DAY 2
We had to leave for the Kheerganga trek; it was an hour drive away. We left the hotel at 10 am, which is very late if you want to finish the trek in a day. But as we decided to stay at Kheerganga, we left late.
TIP: If you happen to get up early, you can also stop at the Gurudwara Shri Manikaran Sahib, which comes on the way.
The Kheerganga trek starts just a little ahead of Barshaini Village. One can also stay overnight at Barshaini village as it has a few options for staying and eating too. It also has a taxi stand and a few basic trekking gear rental shops.
Before starting the trek, we stopped at a Dhaba which is right before the bridge from where the actual trek starts. We had light breakfast and while having that we googled to book a private tent at Kheerganga base. We also rented trekking poles (it was a thin cutout stick) and waterproof shoes.
Stick - 50 INR per stick
Shoes - 100 INR per pair
Kheerganga Trek
The total distance of the Kheerganga trek is 12-13 km one way, and it takes about 4-5 hours for regular trekkers. It has two routes one from Kalga Village and another one from Nakhthan village.
Kalga Route
After crossing the bridge at Barshaini, go right up on the steep ascend and hike up to the Kalga village. You would see a small shop and a resting point. At this point, one must buy refreshments if need be because next stop comes after a while. This route passes through forests, water streams, waterfalls and is mostly shaded. It's relatively easy and recommended for first-timers/beginners.
Nakthan village
The second route goes via Nakthan village. You have to take a left from the bridge at Barshaini. This one is a shorter route and is more picturesque - It goes through villages and waterfalls and Parvati river on one side for the company. But, it's without shade throughout and can be challenging to walk on a sunny day. This route is also quite challenging at some of the points.
Midway, These both routes intersect and become one way to Kheerganga.
Our Journey
While going, we took the Kalga route. After crossing the bridge immediately on the right, there was a steep ascend with many stairs. That left me gasping for good 10 minutes, and I thought in my head 'where have I put myself into! But then I saw the tip of the mountain basking in the sunshine, and I was up again walking.
The trek is challenging with many steep, muddy paths and narrow planks to cross at times but that's the beauty of it as nothing comes easy, you have to shed some sweat to witness the beauty that lies ahead.
We walked with the help of sticks and made multiple short stops on the way to catch our breath and dry the sweat. After 3 hours we stopped at a tiny cafe just before the waterfall to eat. (there are two cafes here adjacent to each other)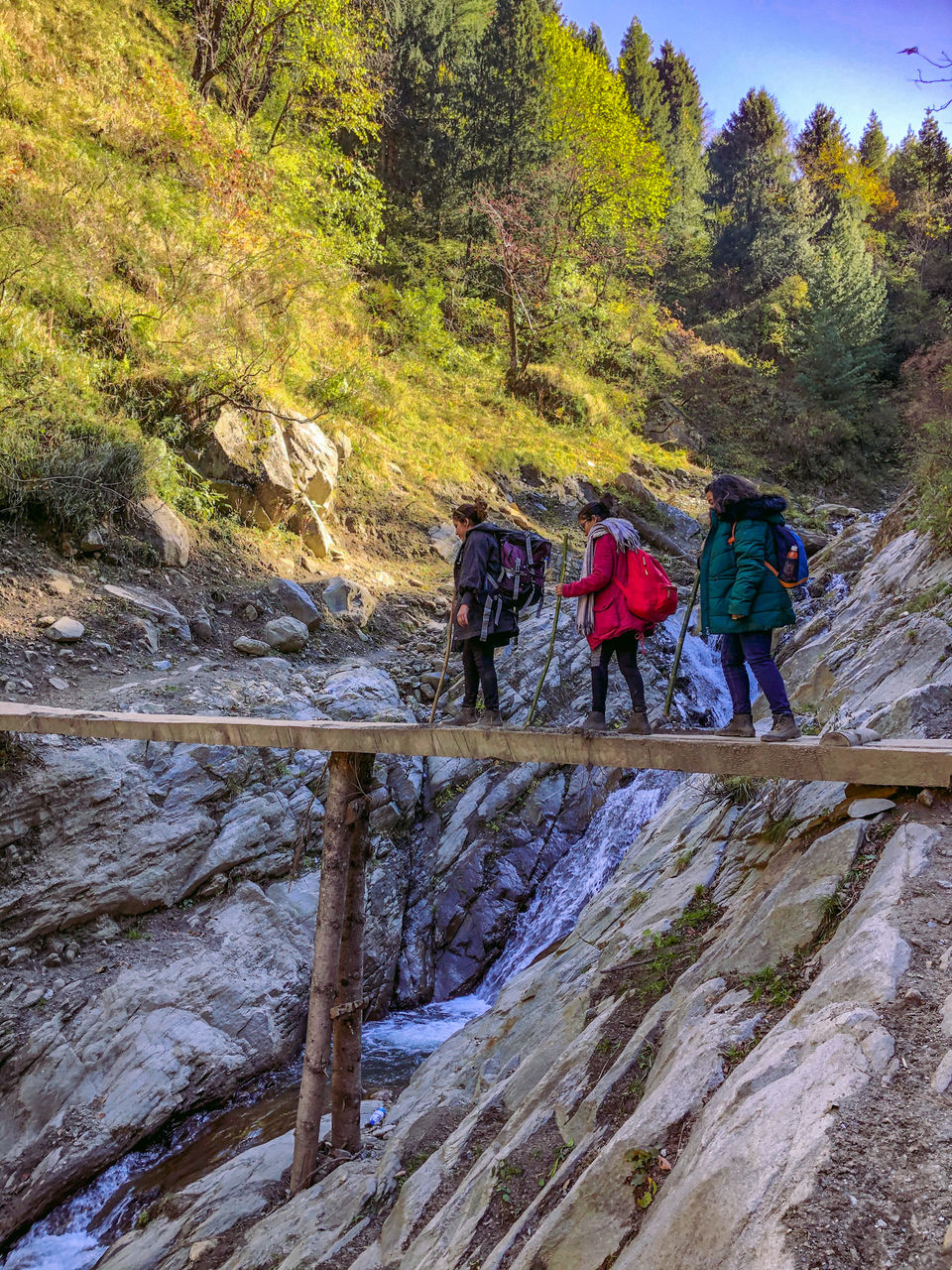 We were walking at a leisurely pace, but then it started getting dark, and the destination was still 2 hours away, so we paced ourselves and started walking fast. As the dusk was nearing it was getting impossible to see the way ahead but thank god for the light in the phones, it helped us get through the last bit, which otherwise would have been challenging. These are the times; I want to thank the technology so much. Also, I'd give the special mention to the cute doggo, who started walking with us after the waterfall and showed us the right way multiple times like a guardian angel.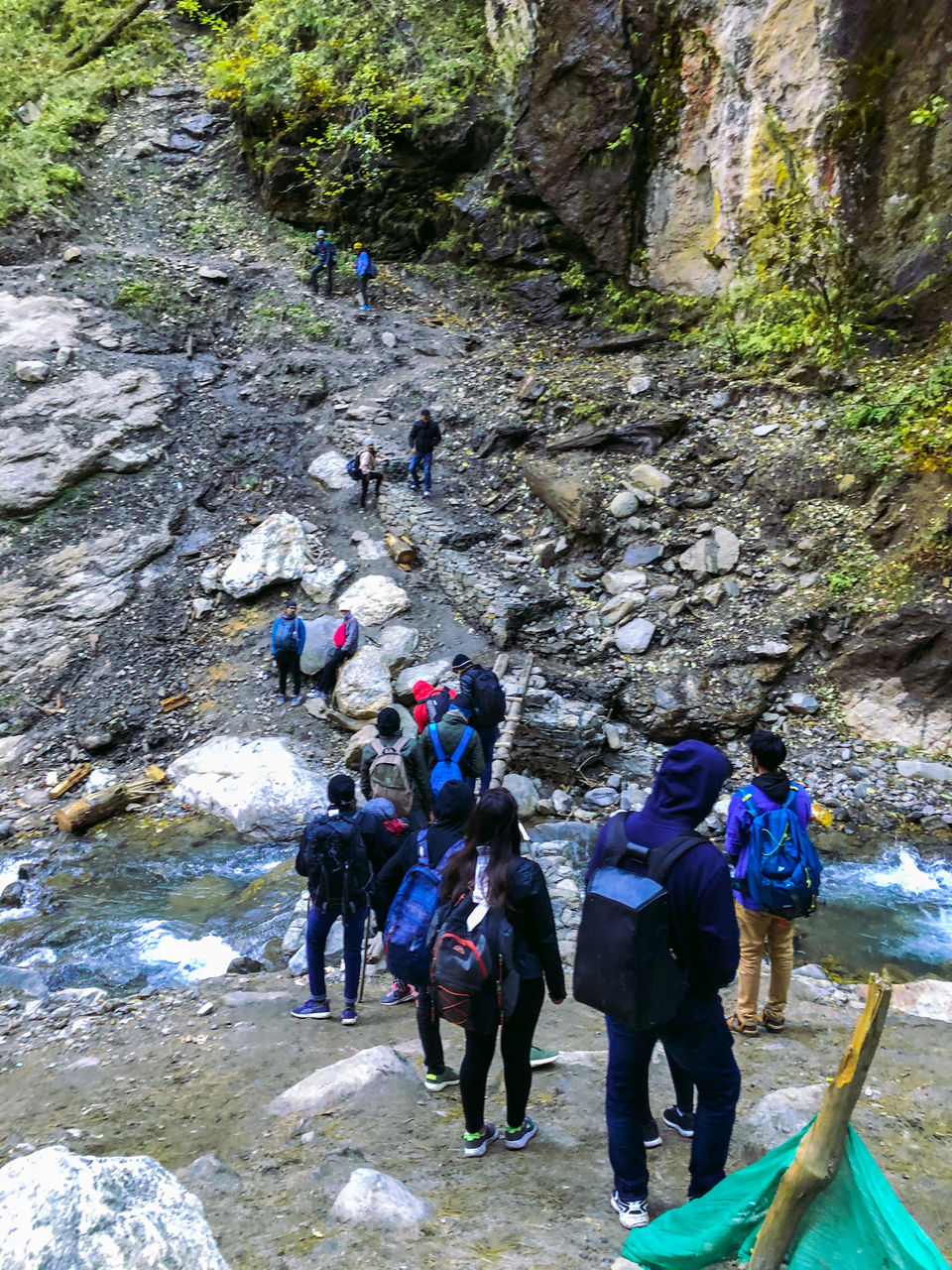 We reached Kheerganga at 7pm and had chai at the first place we saw. By this time, we were exhausted. As our bodies cooled down, we felt crisp cool air brushing against our cheeks; we saw patches of snow scattered here and there.
We were happy to have finally reached. After cooling for a bit we walked towards our tent, which was just 5 mins away.
We stayed in a private tent at Kheerganaga trekking camps which cost 600 INR per person which was inclusive of dinner and breakfast. There is also a dorm facility which supposedly is much cheaper.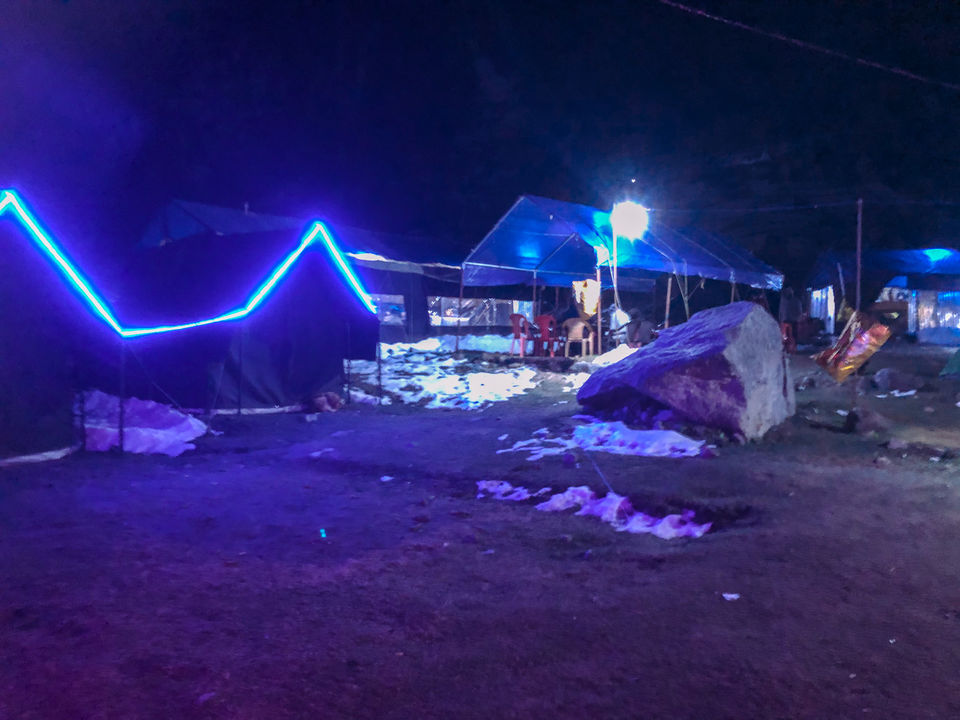 We reached the tent, kept our bags and headed out to have some dinner in the dining area. The room was packed with many people. They were singing, dancing and looked super happy. We also tagged along and had a great time :)
Post dinner, we sat sometime around the Bonfire - There was silence everywhere, the only sound was of fire crackling, and occasional chitter-chatter and laughter. But more stillness and peace from within. Maybe just to feel this feeling we head to the mountains. As the Bonfire started diminishing, It started getting unbearably cold. We headed back to our tent and rested.
(The tent facilities are bare minimum - Tents have no bulb/tube inside. Bedding and blankets are provided and have shared bathrooms. (Smart people get up early and finish their morning work so that they don't have to stand in queues)
DAY 3
I woke up and walked out of my tent. I saw a little bit of snow on one side and lush valley on the other side. I quickly woke my sisters, and we all went out to just observe the beauty that was in front of us.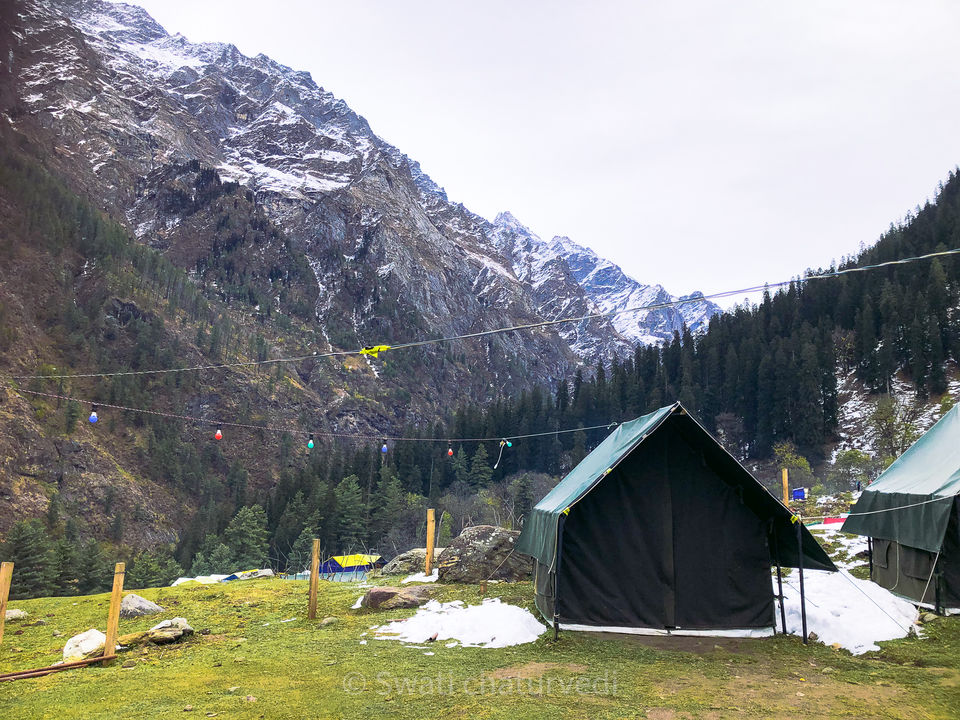 One thing I feel about mountains is there is no pretence here; everything is raw and beautiful. It treats us all equally with the same love and open arms, and probably that's the reason why I keep coming back.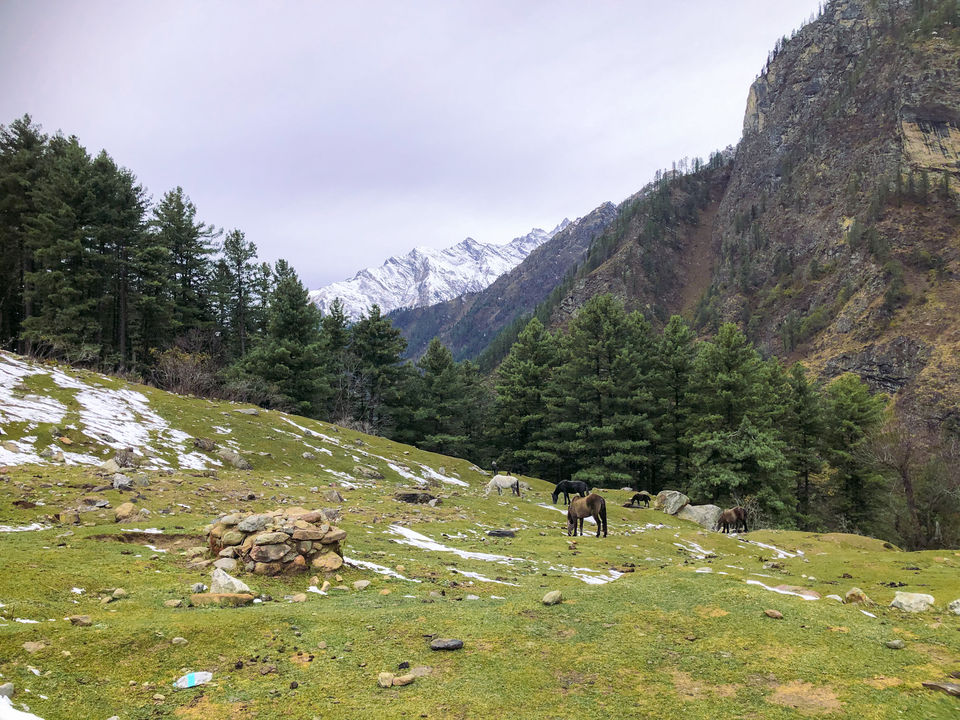 We then headed for breakfast and afterwards to Parvati Kund (Hot water springs) which was just 10 mins walk. Words fall short of describing the feeling of this place. The water in the Kund was hot and relaxing. It eased my pain from the previous day trek.
Its free of charge and there are two different sections one for boys and one for girls. The boy's section is open, and the girl's section is covered.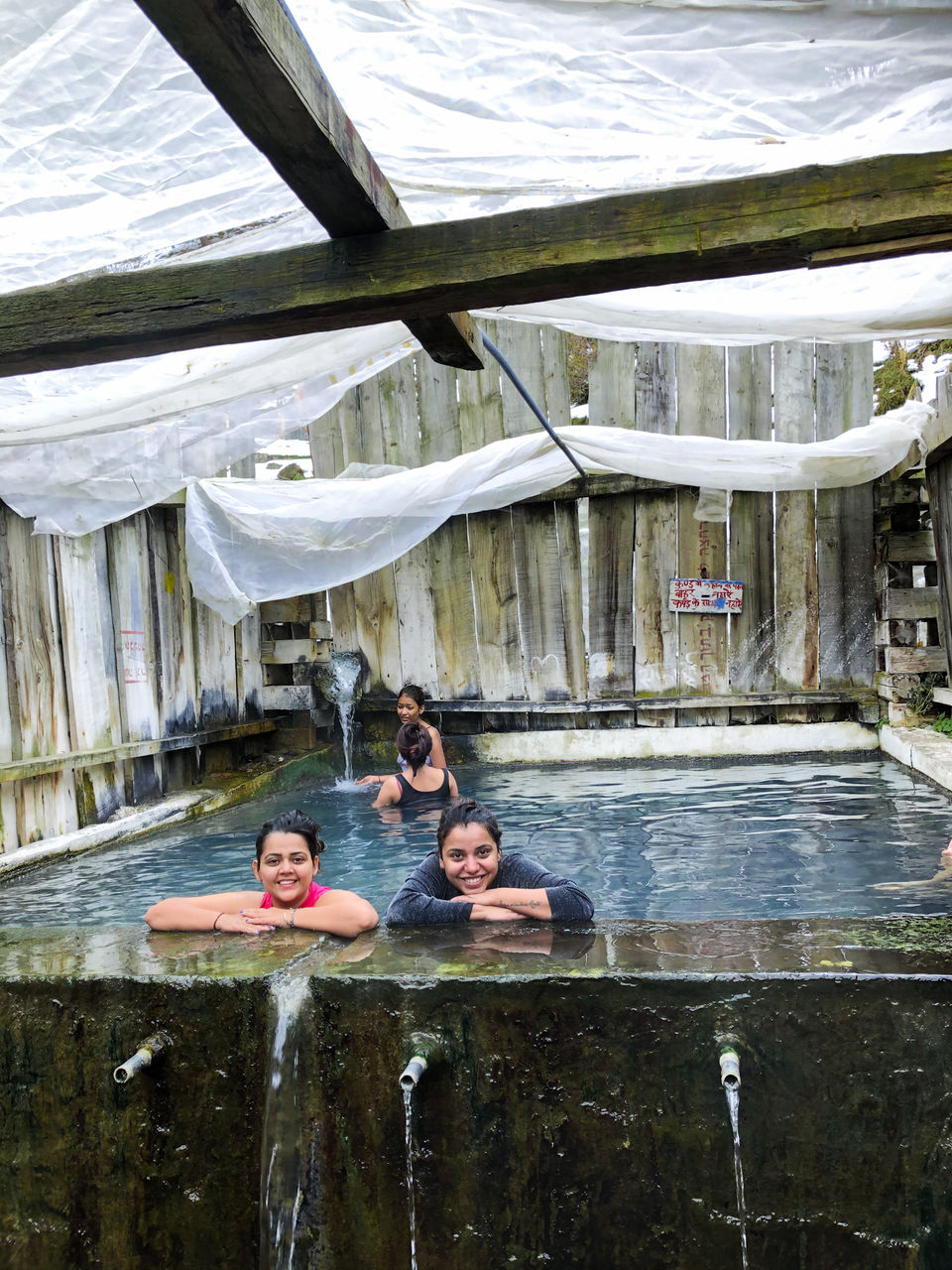 After we were done, we started going back to the base. We stopped at another Dhaba this time. We ordered momos and pancakes - they were super delicious.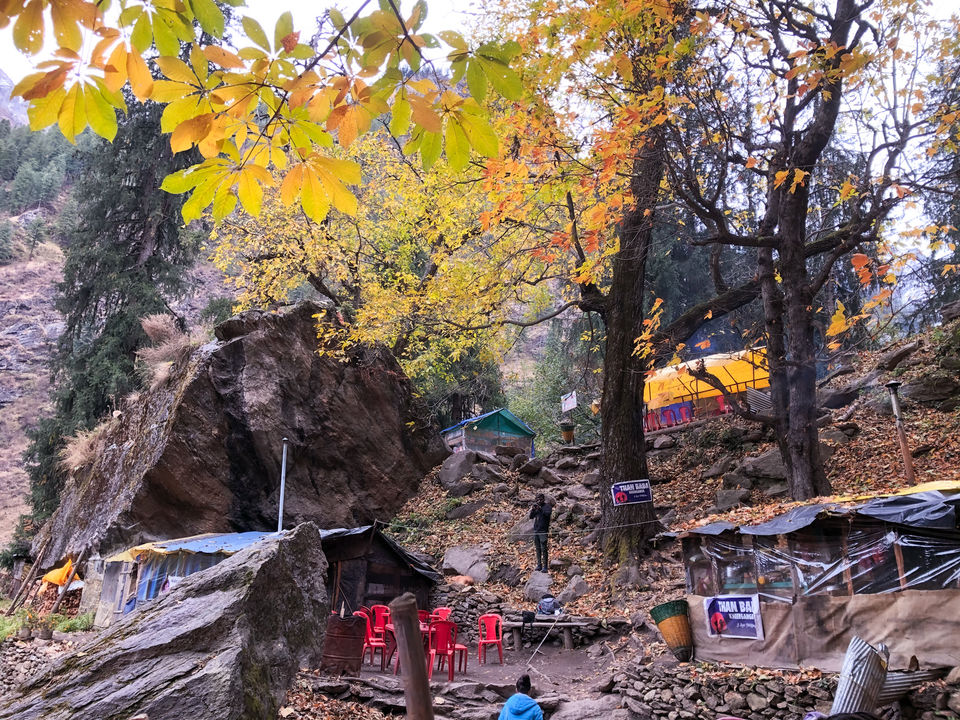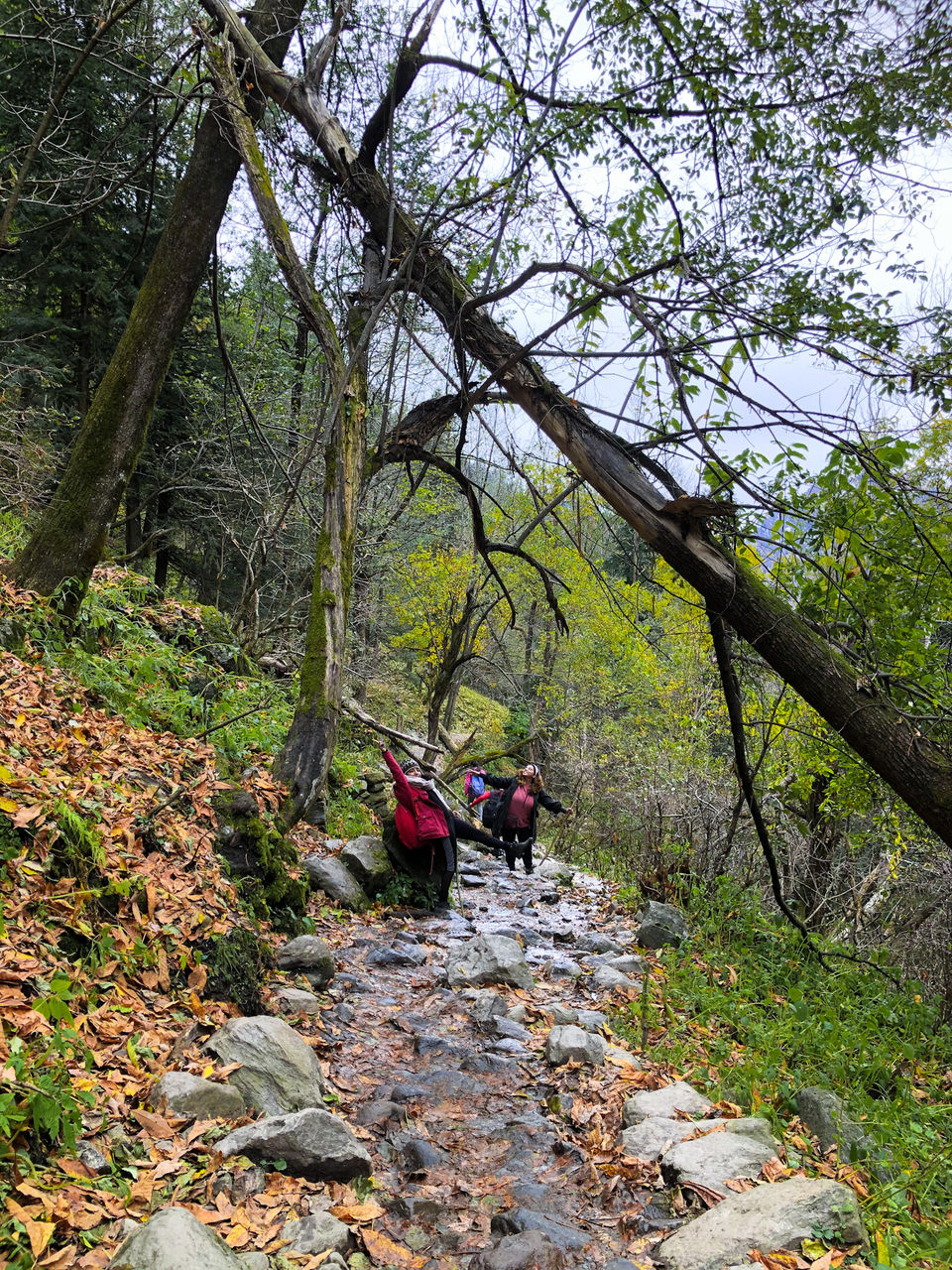 After the dhaba, the route divides into two, We took Nakthan village route.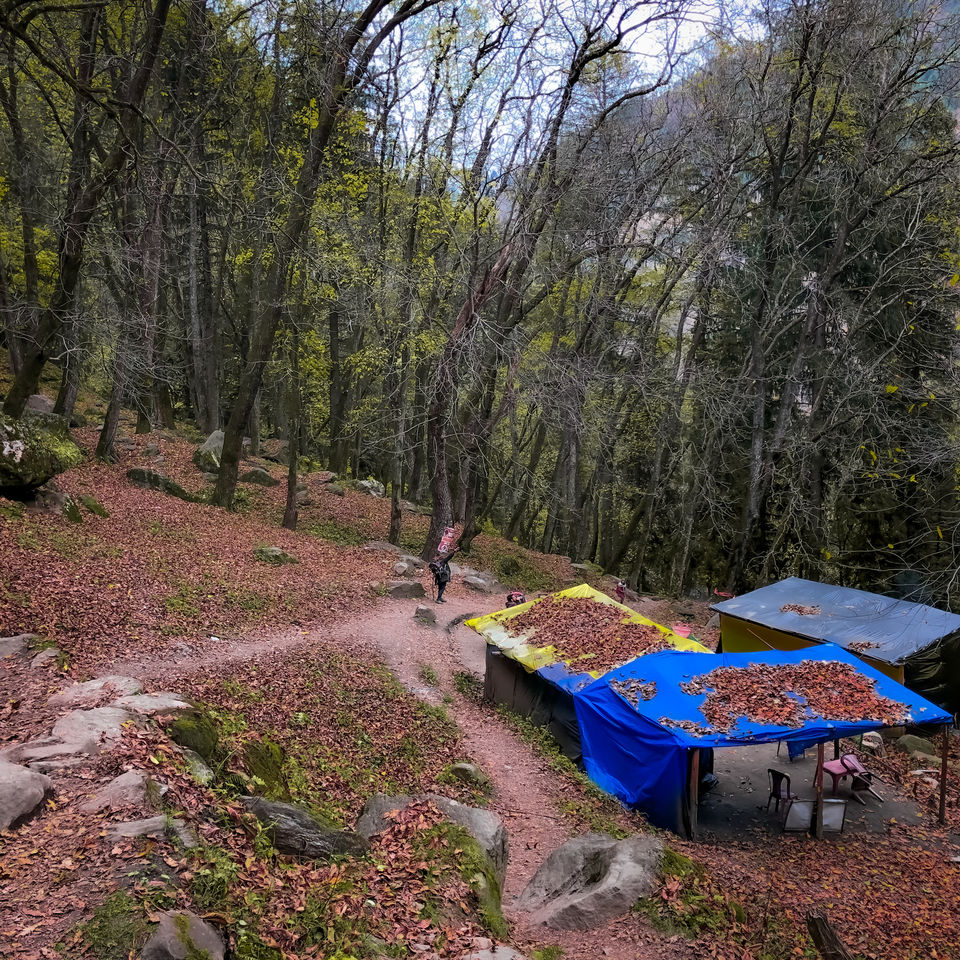 The route was nerve-wracking at few parts, but the views were quite stunning. We crossed waterfall, villages and made some friends on the way.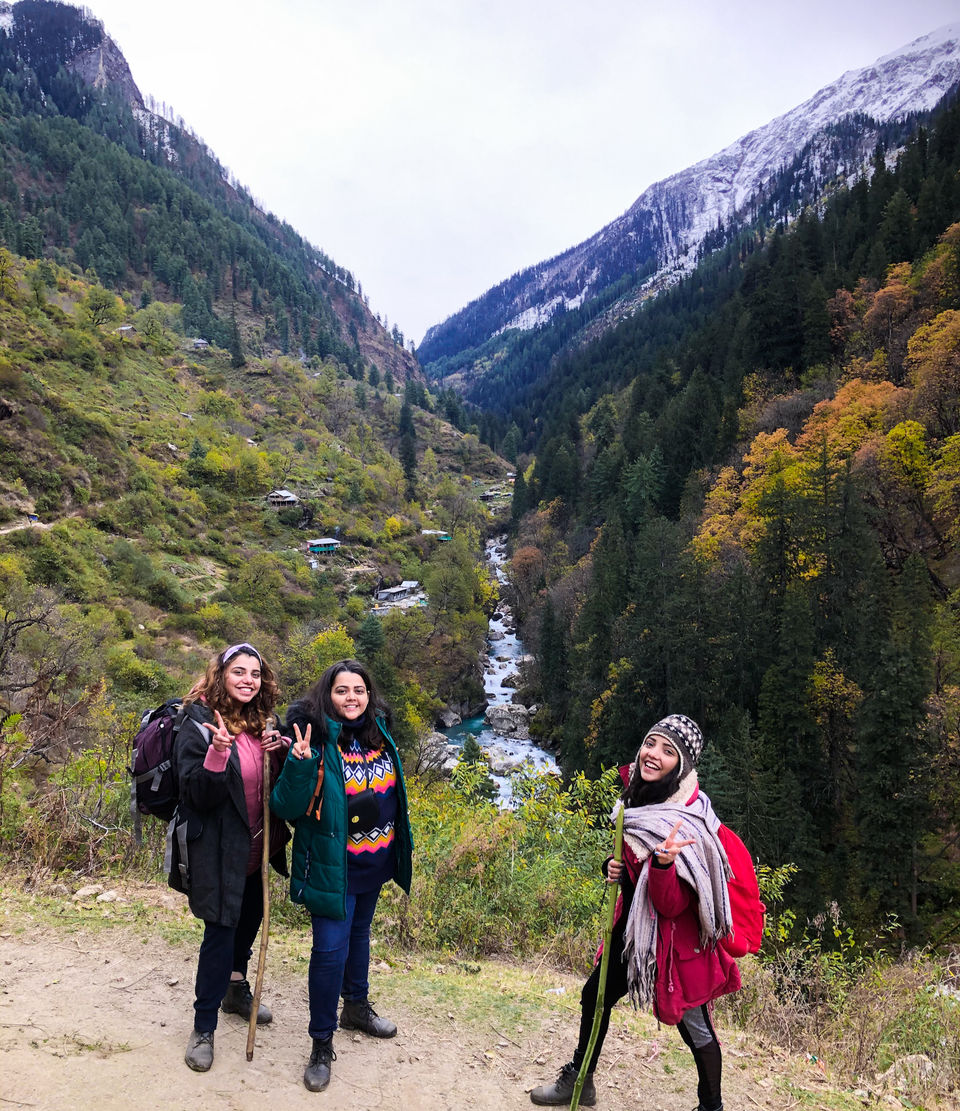 And again it started getting dark (we didn't learn our lesson a day before). But with the help of villagers and some friends that we made on the way, we reached back to where we started. We said our byes and started the journey back home with one last stop at Kasol to have dinner.
We arrived home the next day at 9 am and narrated our story of adventures to our family with a hot cup of chai.
Ideal months - From April to November is an ideal time but avoid going in rainy months. They can be really dangerous.
Safety - Safety wise I didn't find any issues. Though it is utmost important to be wary of your surroundings all the times.
Accommodation - There is no need to book the tent in advance as there are many staying options once you reach the top.
Many people hire a porter to carry their stuff and mainly to show them the way but we didn't. We just followed everyone and asked the villagers and fellow trekkers on the way. However, if you are going in off season you can hire one to just guide you the way.
Here are my two cents about the kheerganga Trek
1. Leave early by 7 or 8 am if you want to finish the trek in one day.
2. Wearing the right kind of shoes is utmost important. If you don't want to buy for one single trek, rent them. They are the lifesavers and prevent you from slipping and getting your feet wet from multiple water streams on the way.
3. Having a trekking pole is excellent for balance and stability on a rocky or a slippery trail.
4. Carry snacks like energy bars, chocolates or dry fruits as they are instant energy boosters. Also, sufficient water to stay hydrated. (Please don't throw the wrappers around. Collect everything and bring back the litter to your cities and dump at a proper place)
5. Weather in the mountains can be unpredictable. So, dressing in layers can save you from an excess of both hot and cold scenarios. Do carry warm clothes even if you are going in the summer.
6. Carry cream, lip balm and most importantly sunblock to protect your skin from sun and dry weather.
7. Carry toiletries, a quick-drying towel and a bag to keep wet clothes.
8. Take a hat/cap to protect your head from heat and sun. Please make sure that you call your family about your whereabouts before starting the trek as we didn't get any phone signals.
9. Carry a torch as everything in Kheerganga works on generators and there are bare minimum lights in the night and it does get really dark.Power bank to charge your gadgets.
Hope this article helps you in planning out your trip. Have a great trip!
Check out my other spaces as well
Connect with me on Instagram for more awesome travel pictures : click here
Check out my YouTube channel for travel videos : click here
Check out my website for more travel related articles : click here