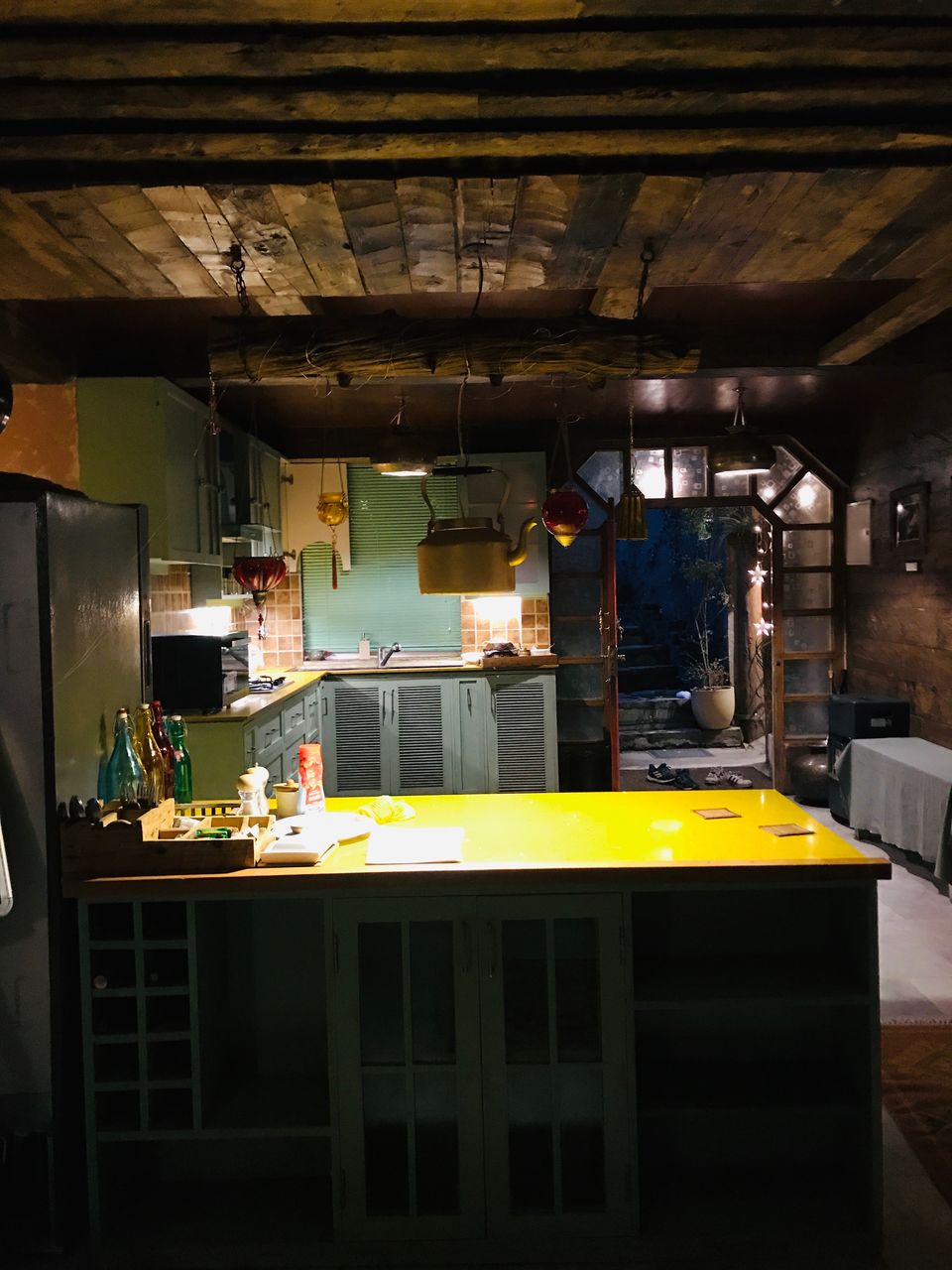 Everyone knows about Shimla. It is a beautiful hill station with colourful houses and it is located just 6-7 hours away from Delhi. Few adventurous travellers know about Shimla's well kept secret - Sanjauli. Sanjauli is located just 20 minutes away from the old bus station in Shimla and it is very accessible because of the buses that run between the two points. Sanjauli is the place in Shimla where you should head to because it is relatively less crowded and has a few beautiful properties to live in. Surprisingly, we found the Meena Bagh in Shimla. It was our good luck combined with a little bit of research on AirBNB and we landed up in the most beautiful place one can imagine.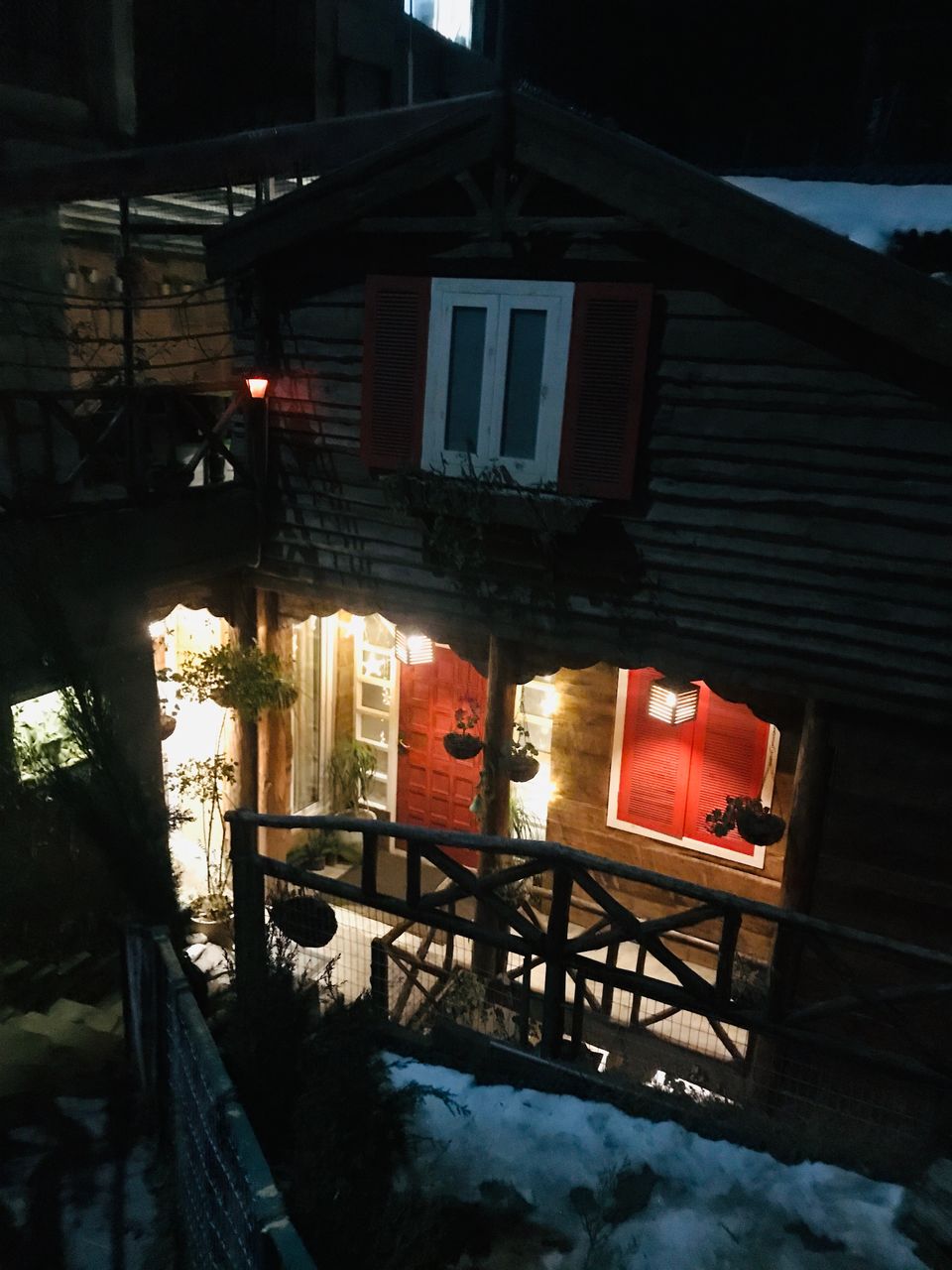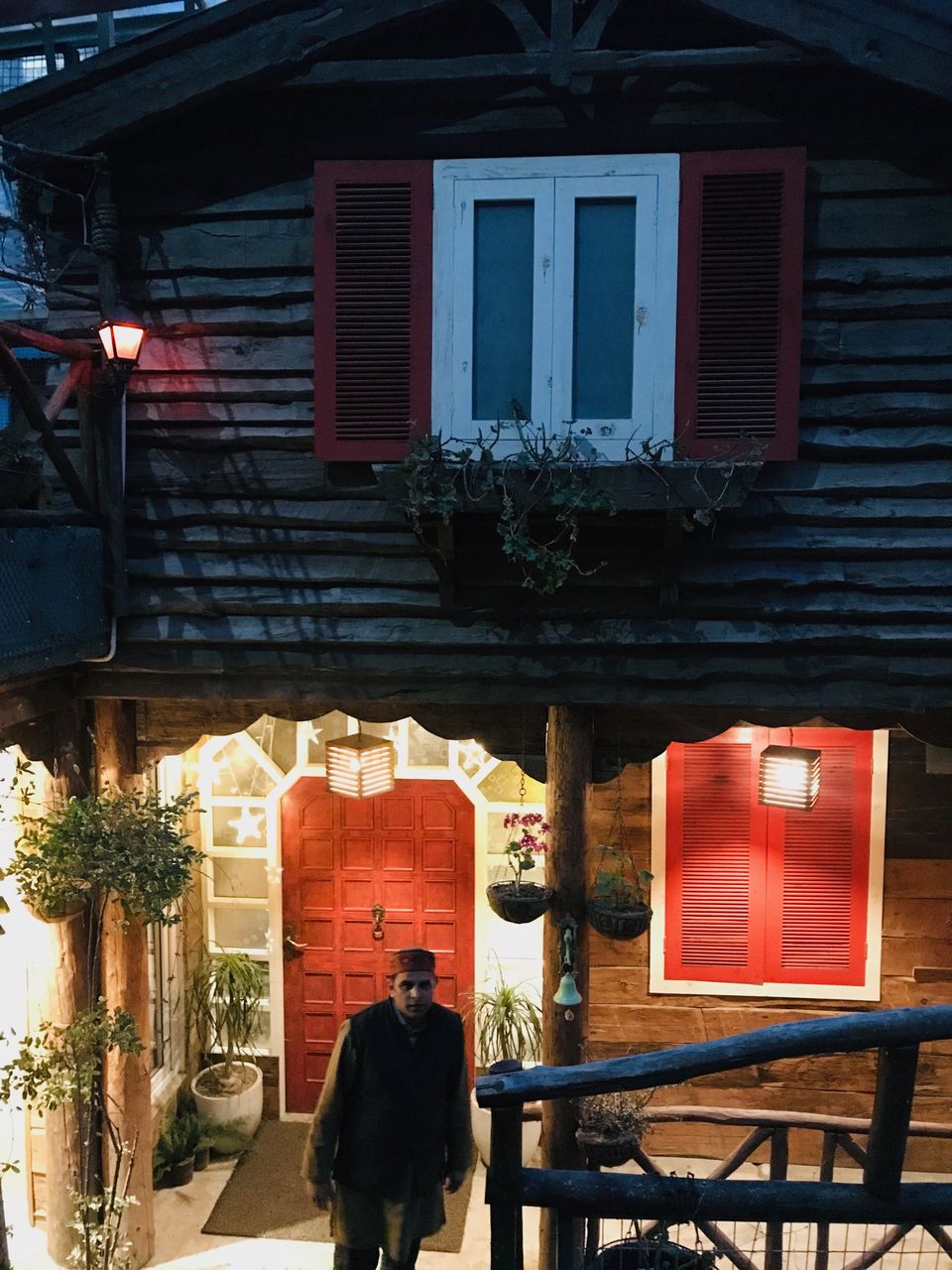 We were four friends who were travelling together and were looking for places. We found The Pahadi Cabin which is the first floor of the Meena Bagh in Shimla and were super excited to stay there. AirBNB did not help much because it did not tell us that the place could be this beautiful and the interiors could be so quaint. What we were expecting was a pahadi cabin with a pool table, amazing view and a bathtub in the bedroom (This is amazing too by all standards but the real pahadi cabin left us so awed that this is an understatement). Little did we know that the place would also turn out to be super spacious and have an amazing view of the hills (beautiful snow capped peaks, colourful houses of shimla and mountains with open skies) and some great interiors. For those of you who have been to "Good Earth", the furniture store, know the vibe that exists there. Imagine all the amazing furniture is hand picked from "Good Earth" and a house is made out of all the amazing furniture there. This house was exactly that. It was a dream house with great furniture which is super quirky and colourful. All of this together contributed to there being a super positive vibe inside the house which helped all of us friends to bond better and feel closer.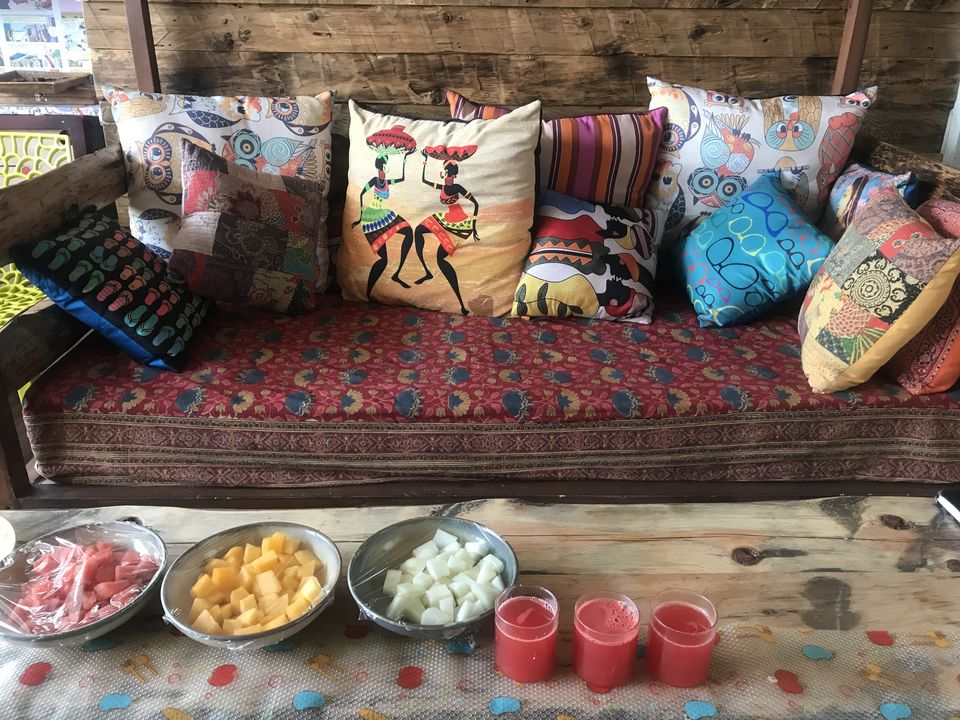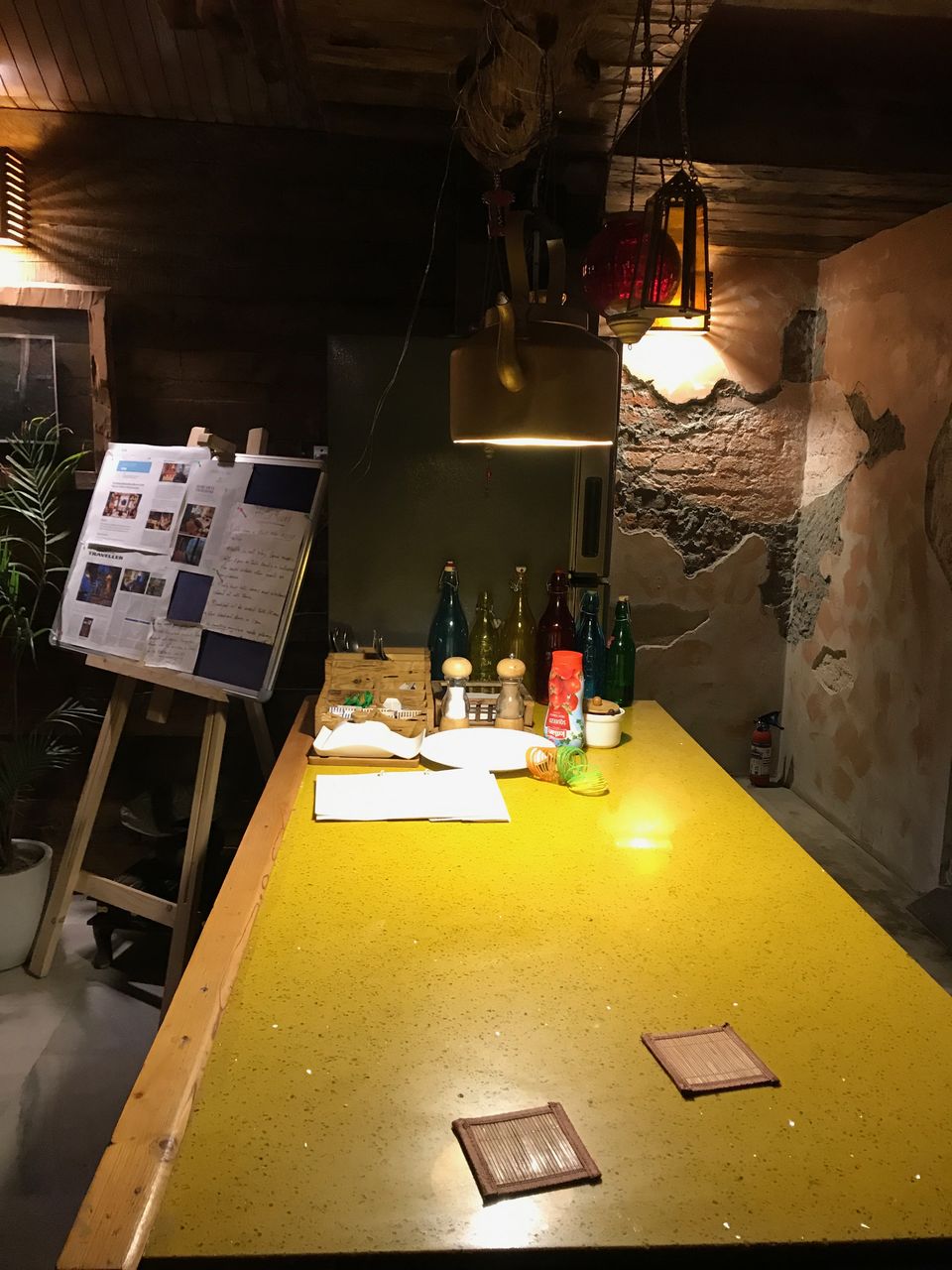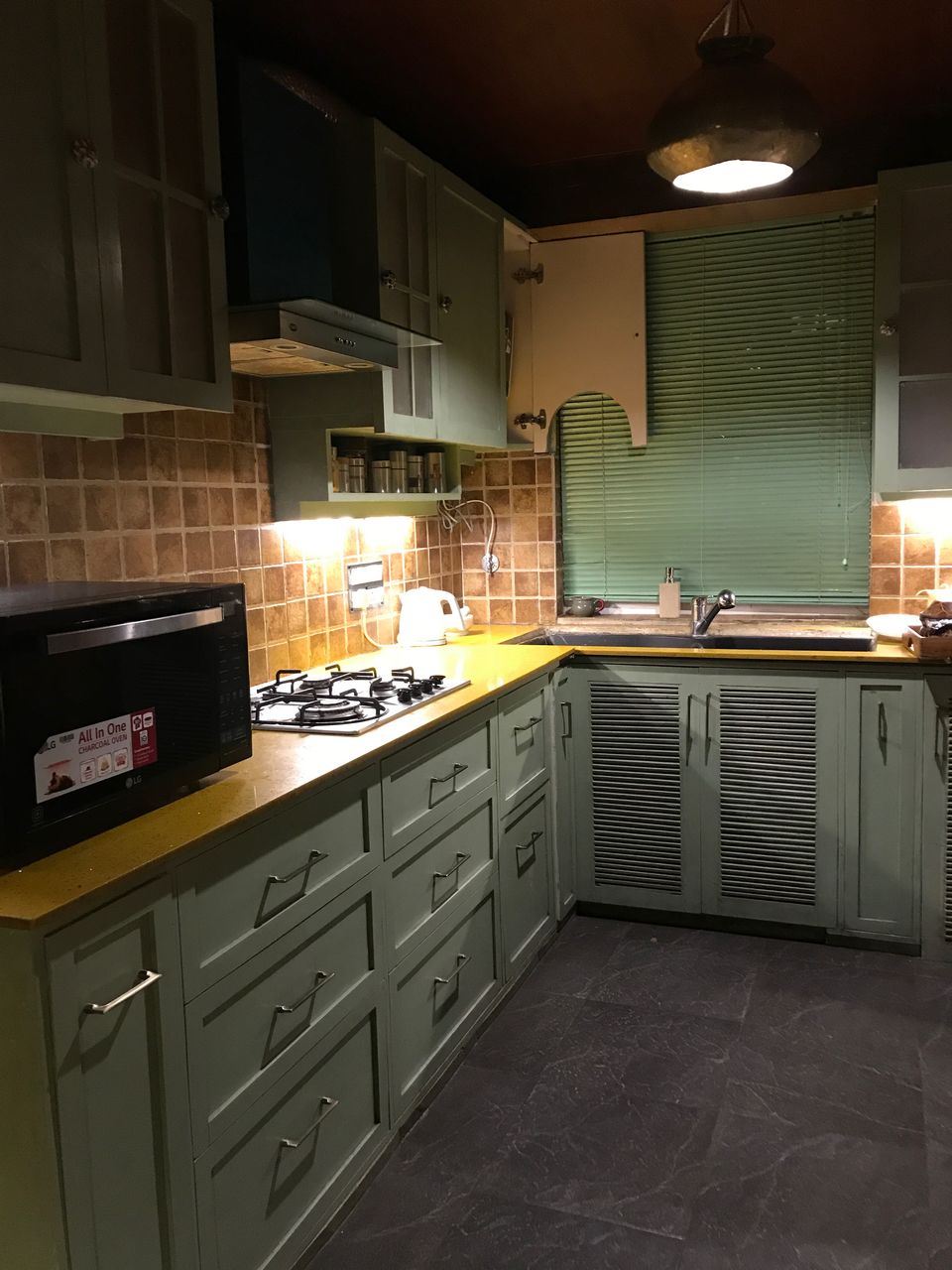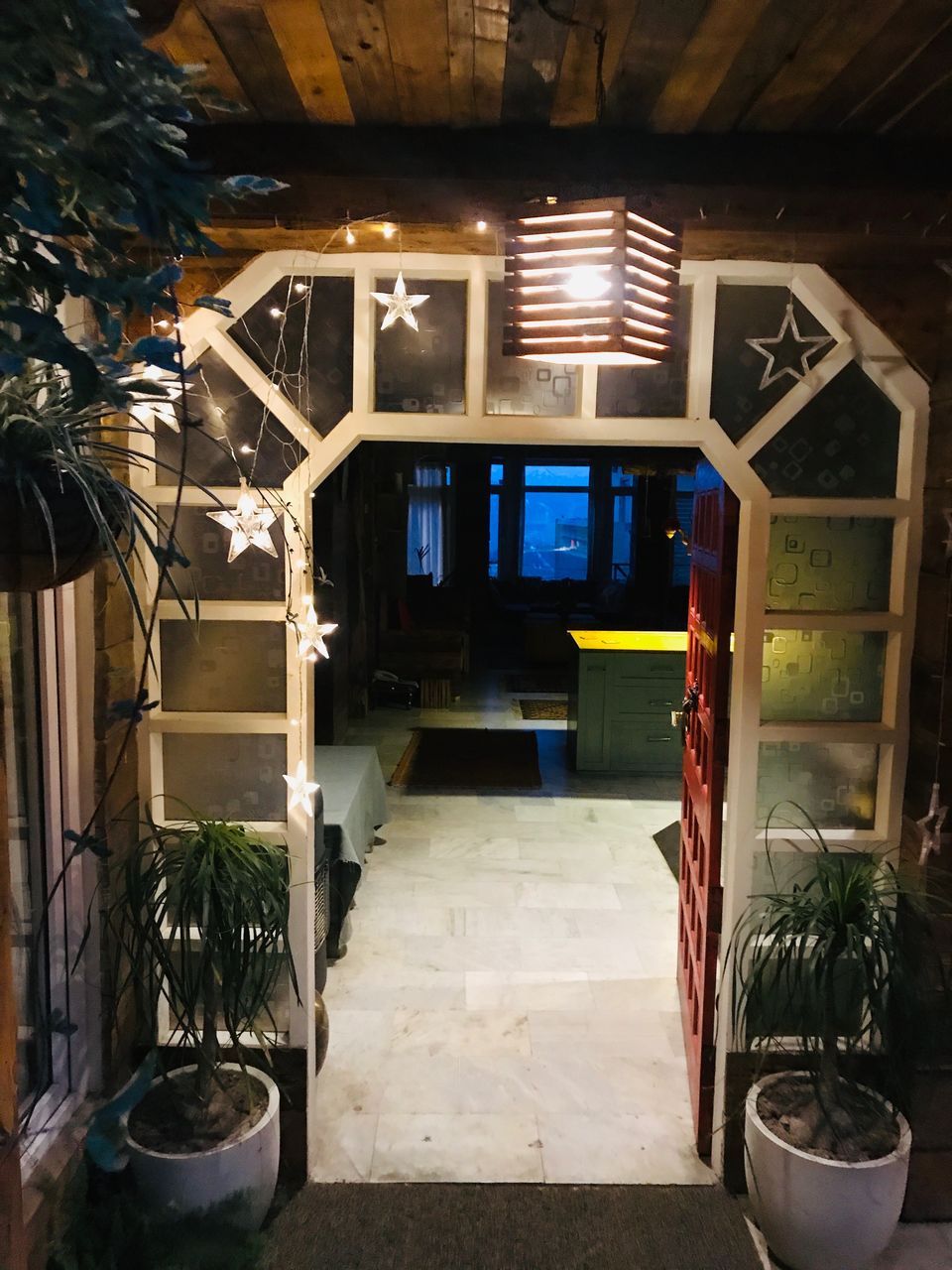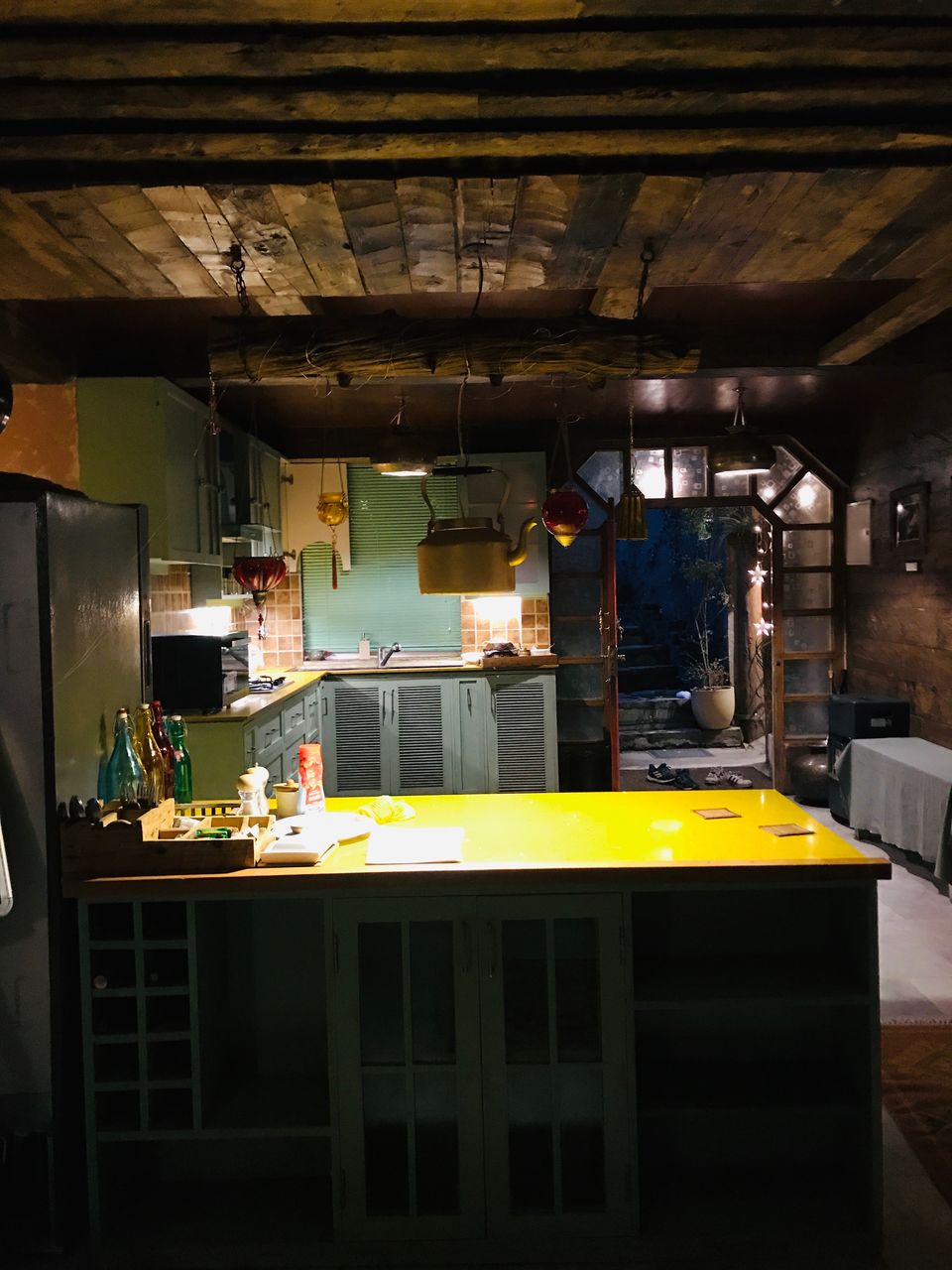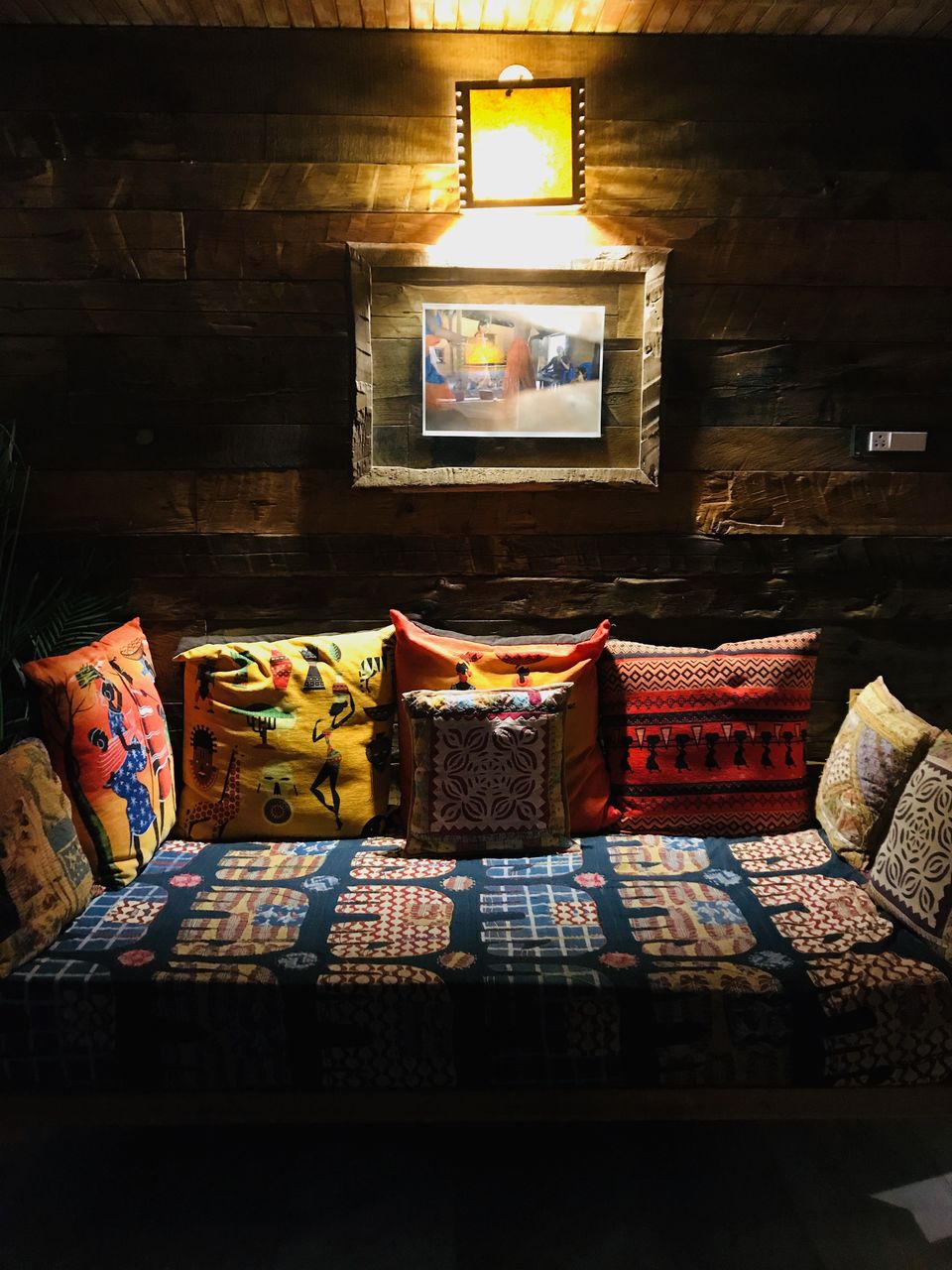 HOW WE WERE MAGICALLY ENCHANTED BY THE SPACE
"The house enchanted us and once we entered the house, we didn't want to leave at all. It was pure magic"
Honestly, we did not leave Meena Bagh to explore Shimla at all because the place was so beautiful and wholesome in itself. We did not feel like leaving at all. All of us bonded over pillow fighting, playing bluff with cards, eating a great breakfast, staying up late night and having conversations and watching television. We did go out to play in the snow occasionally, but the heater was super attractive and we ended up running back inside. There are many things to do on the property itself, like playing basketball, pool or reading books. The house has some fantastic books which can be read like 12 rules to life by Jordon Peterson and Homo Deus by Yuvah Noval Harari. Once you enter the house, you will not feel like leaving at all. It is that one place which binds you and feels fulfilling and makes you want to stay there forever. There was another book which I began reading, it was called God Delusion by Richard Dawkins. For someone, who is willing to learn more while they relax on the mountainside and sip hot chocolate in the snow, this place is perfect for you. It is going to be your artistic muse.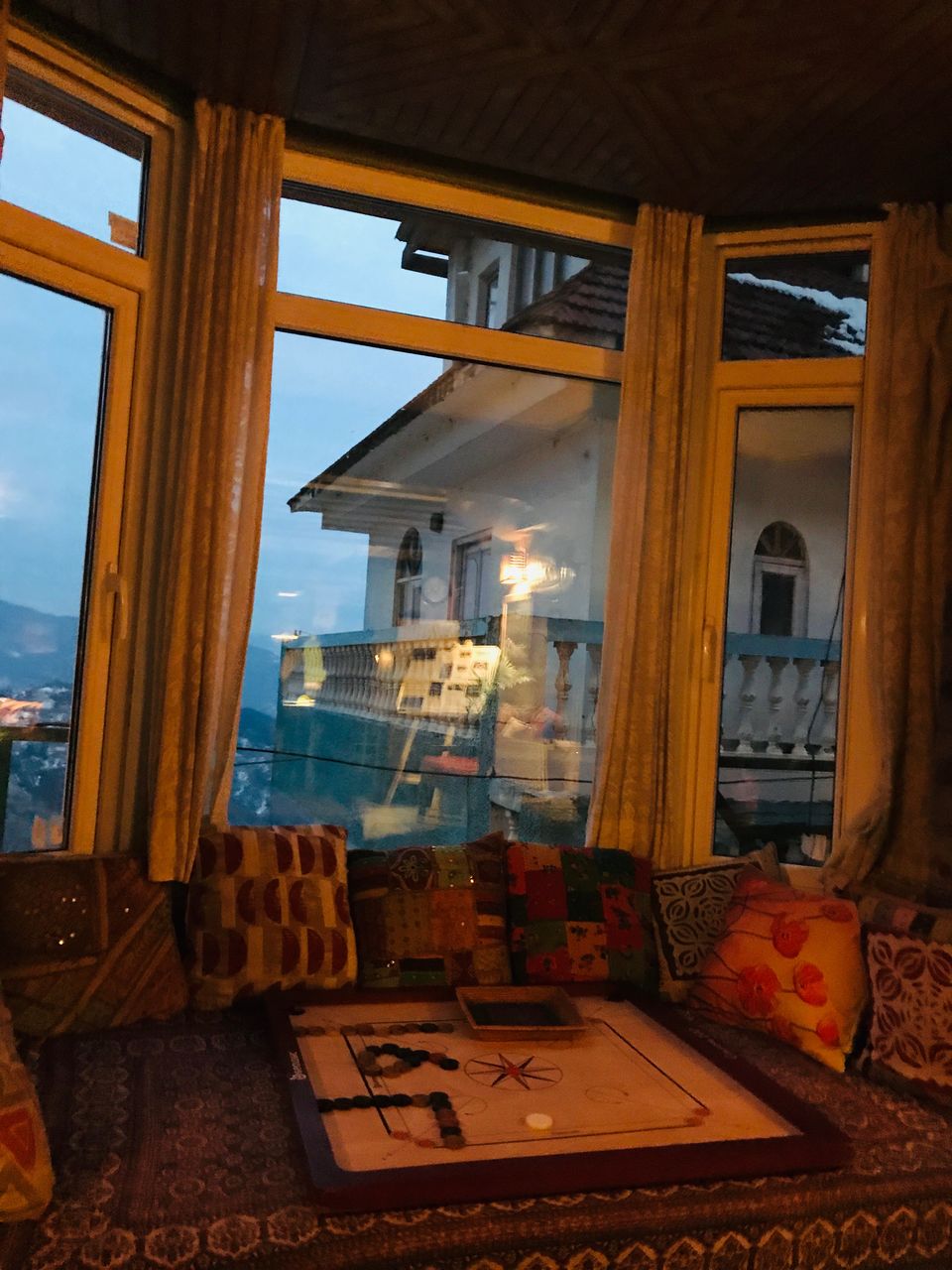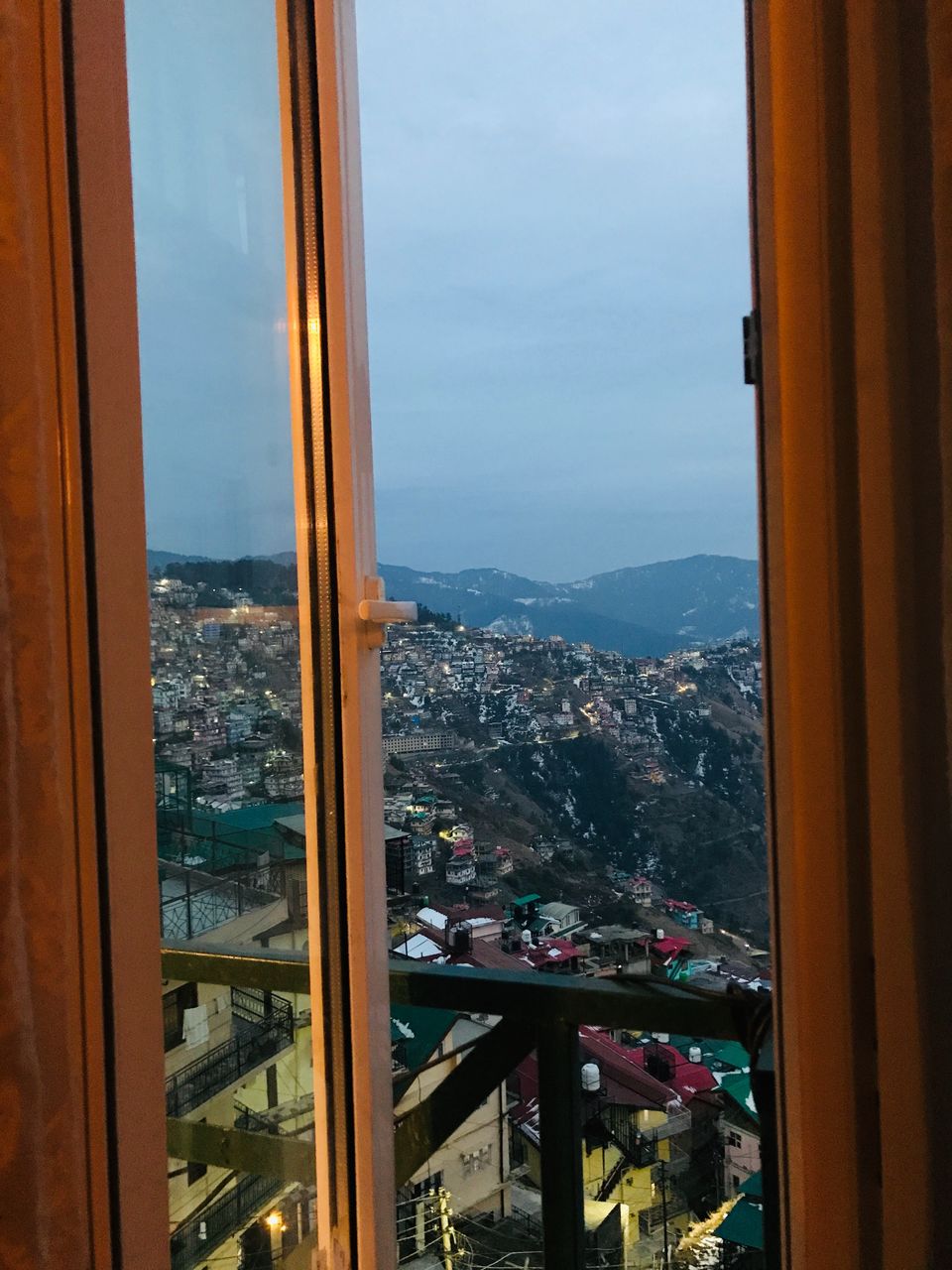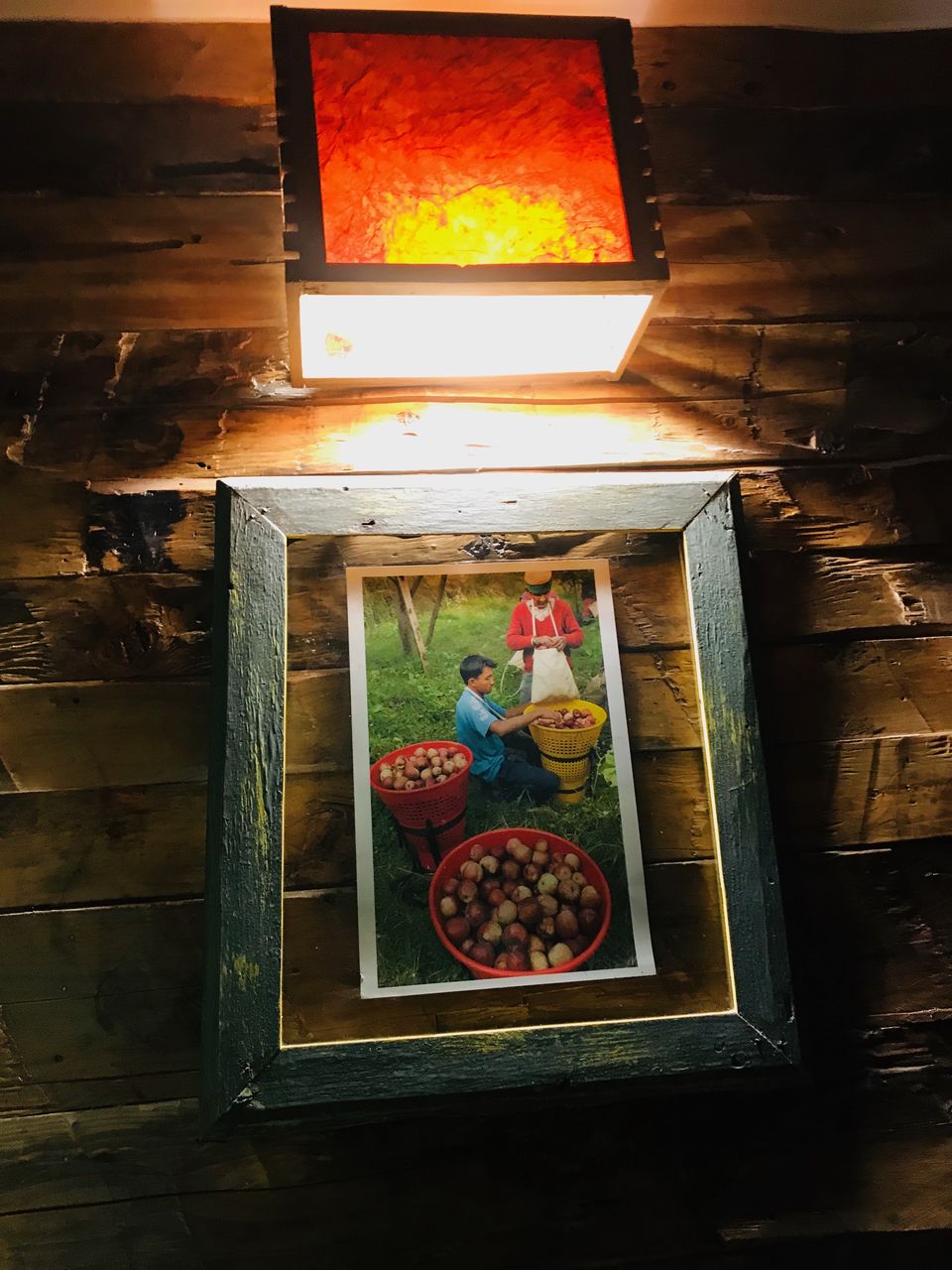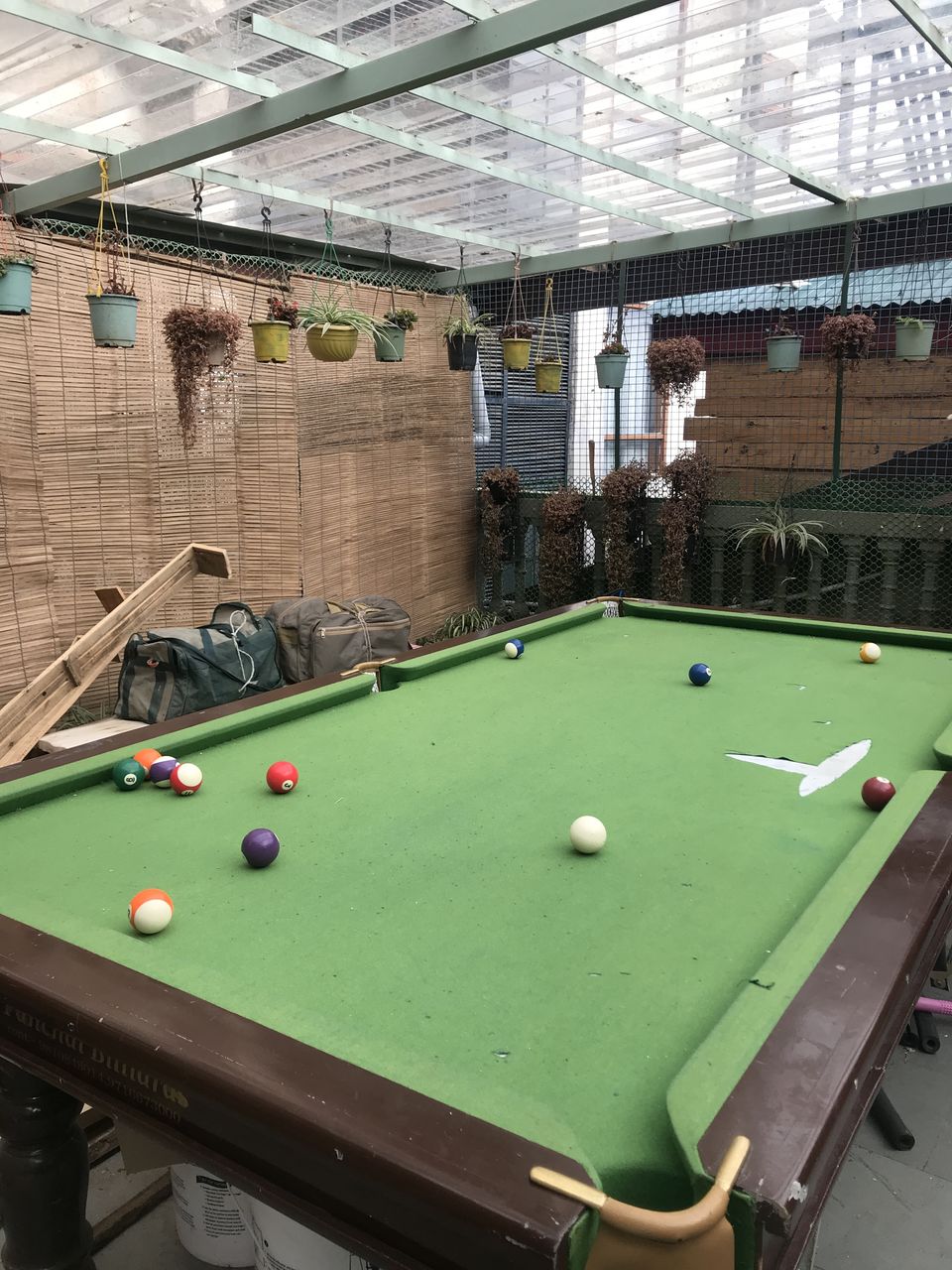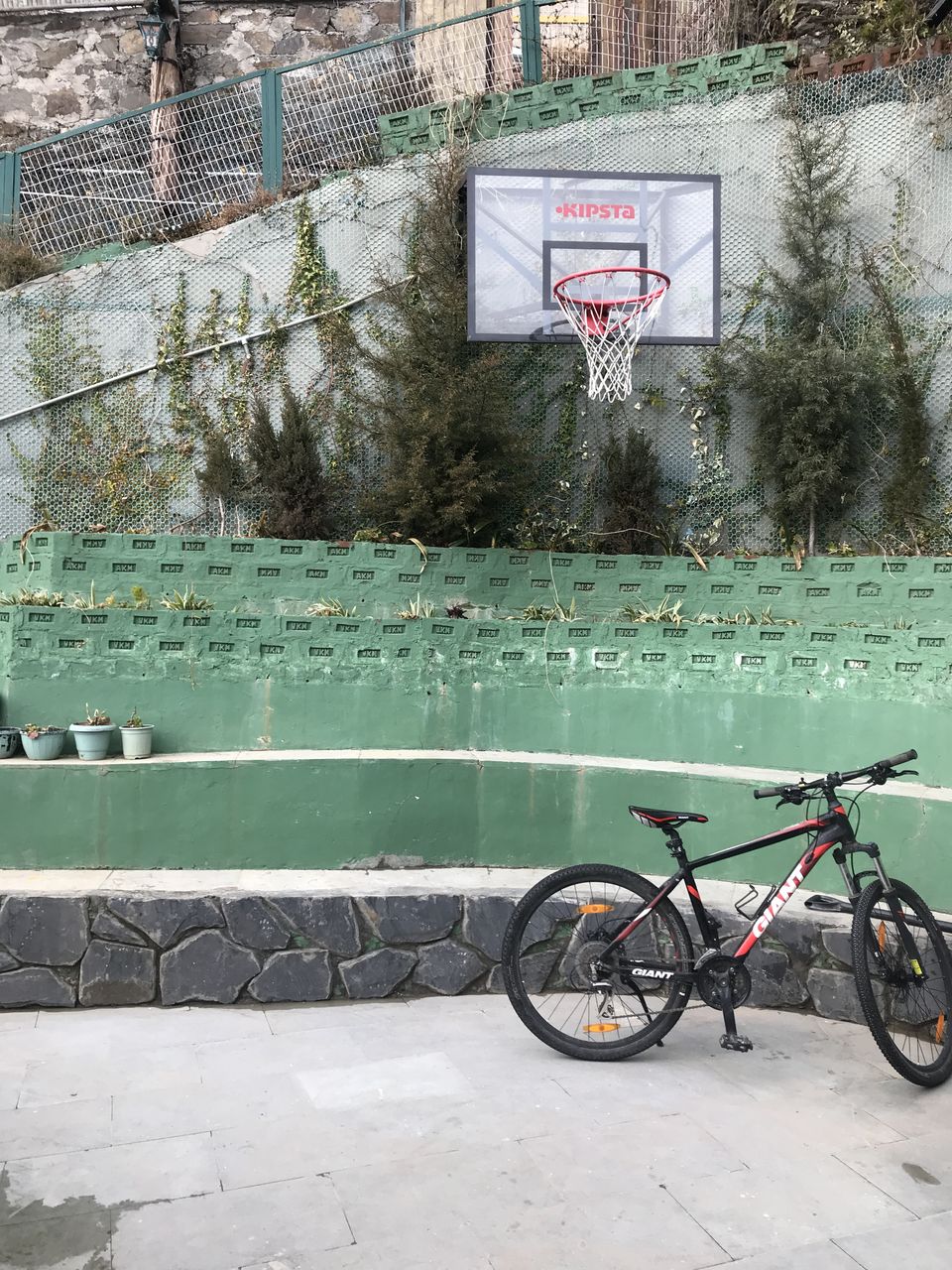 THE ARTISTIC REVELRY OF THE HOUSE WHICH FORMED MY MUSE
Generally people imagine cabins on the mountains to be cold and dark coloured. But the Meena Bagh exceeded our expectations tremendously. It had some great colours and lighting which uplifted all our moods and made us delve into the positive vibe. The furniture was super colourful and quirky. The pillow covers had different paintings printed on them. Some were very cultural and had traditional women and others had different designs. The bed covers were also colourful. To describe how colourful the house was aptly, let me tell you that the gate was blue in colour, like a semi rusted blue which you see on Italian Homes. (Well I have made a small mistake, the house was actually like an Italian home inside, you cannot imagine such a house in India, it can only be a dream home, BUT WELL AGAIN, IT DOES EXIST)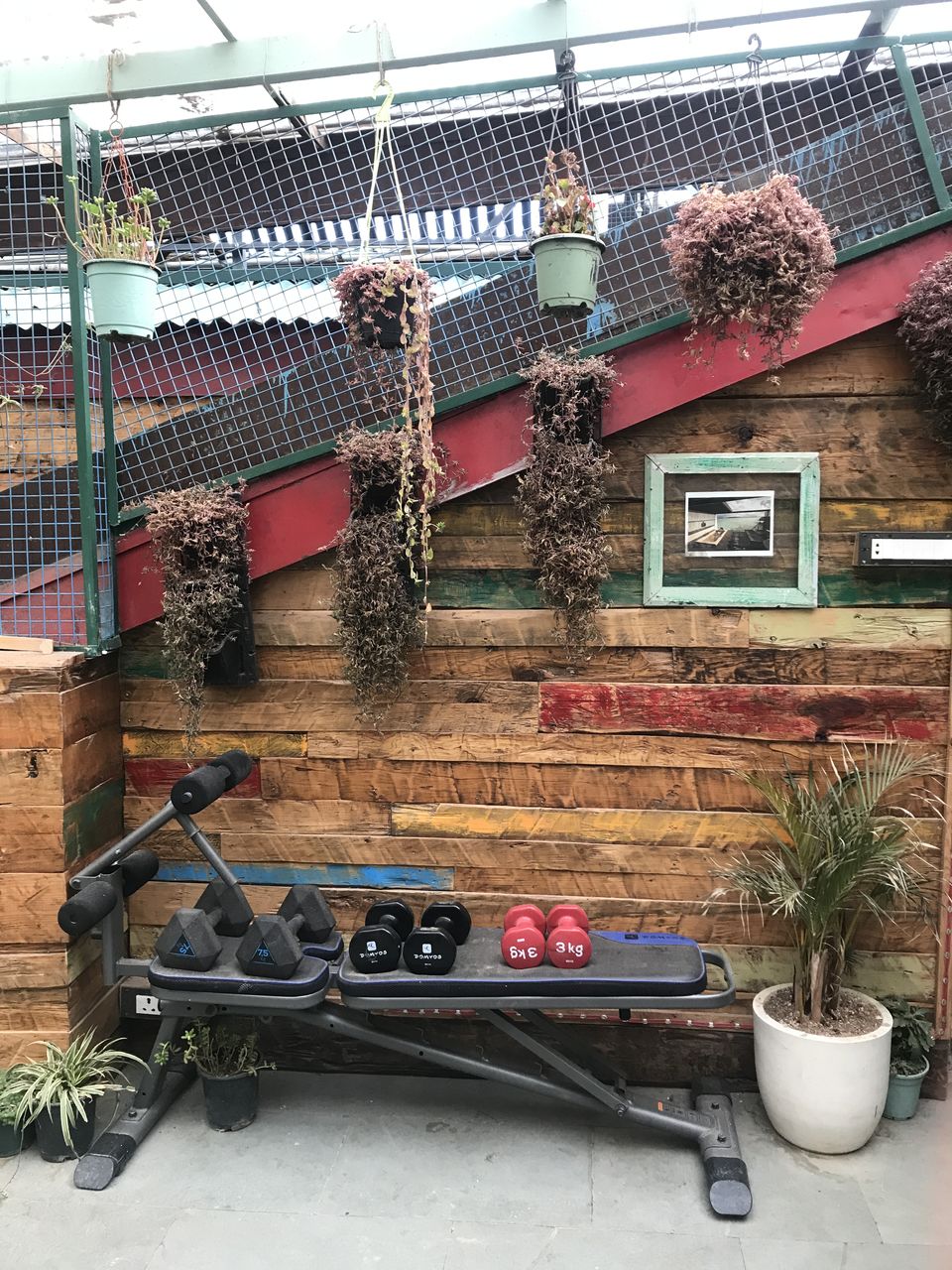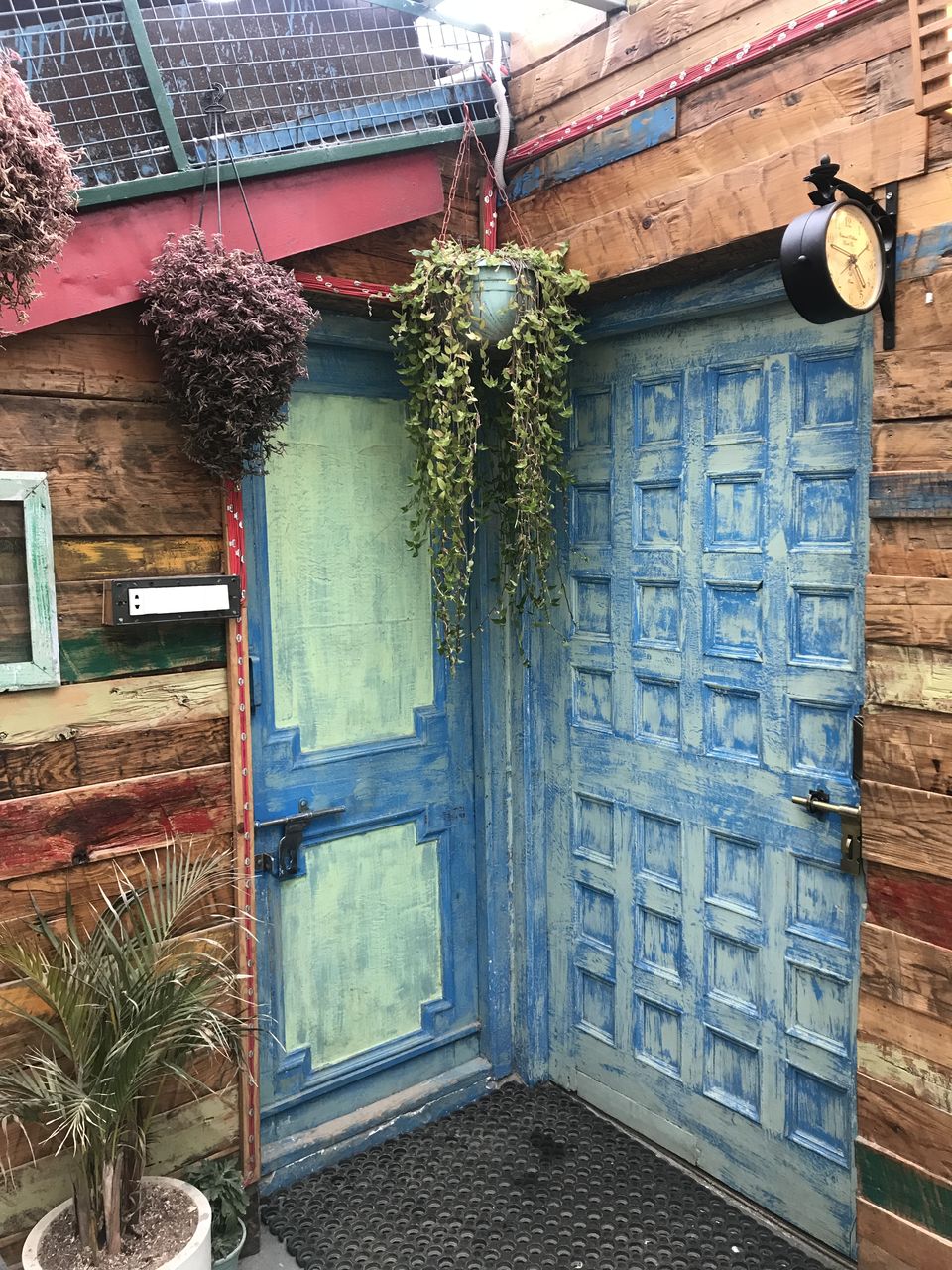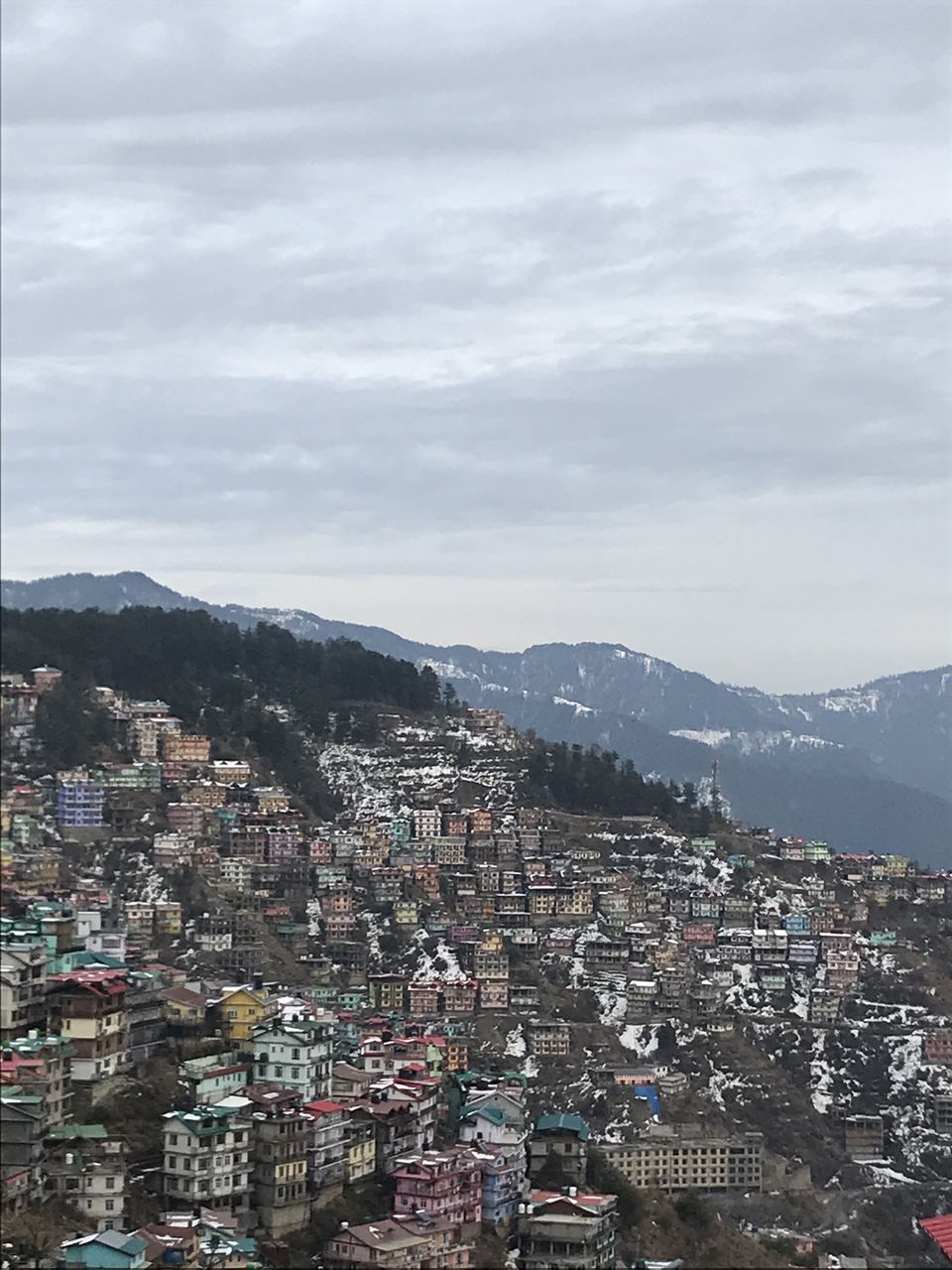 The house was made of wood and it had many carpets inside. The thing about city homes is that they do not have carpets because they get dirty very fast because of dust and pollution. The Meena Bagh was swept away from dust and pollution and had the most beautiful carpets inside. The owner of this house, Mr. Sanjay has some wonderful photography skills. He has beautifully decorated the house with many photos which are taken by him. Many of them are from his travels.
"This felt like a house designed by an artist, filled with photographs taken by artists and made for artists so that they can take inspiration from the house. "
For an artist, their personal space is very important. What can be better for someone looking for inspiration to live at a house which is owned by an artist and is adored by him. I do not know much about photography but I do have a knack for great photographs and I loved all the photographs which were put up in the house. The view from the house was so personal and touching. The snow clad Himalayas could be seen from each room.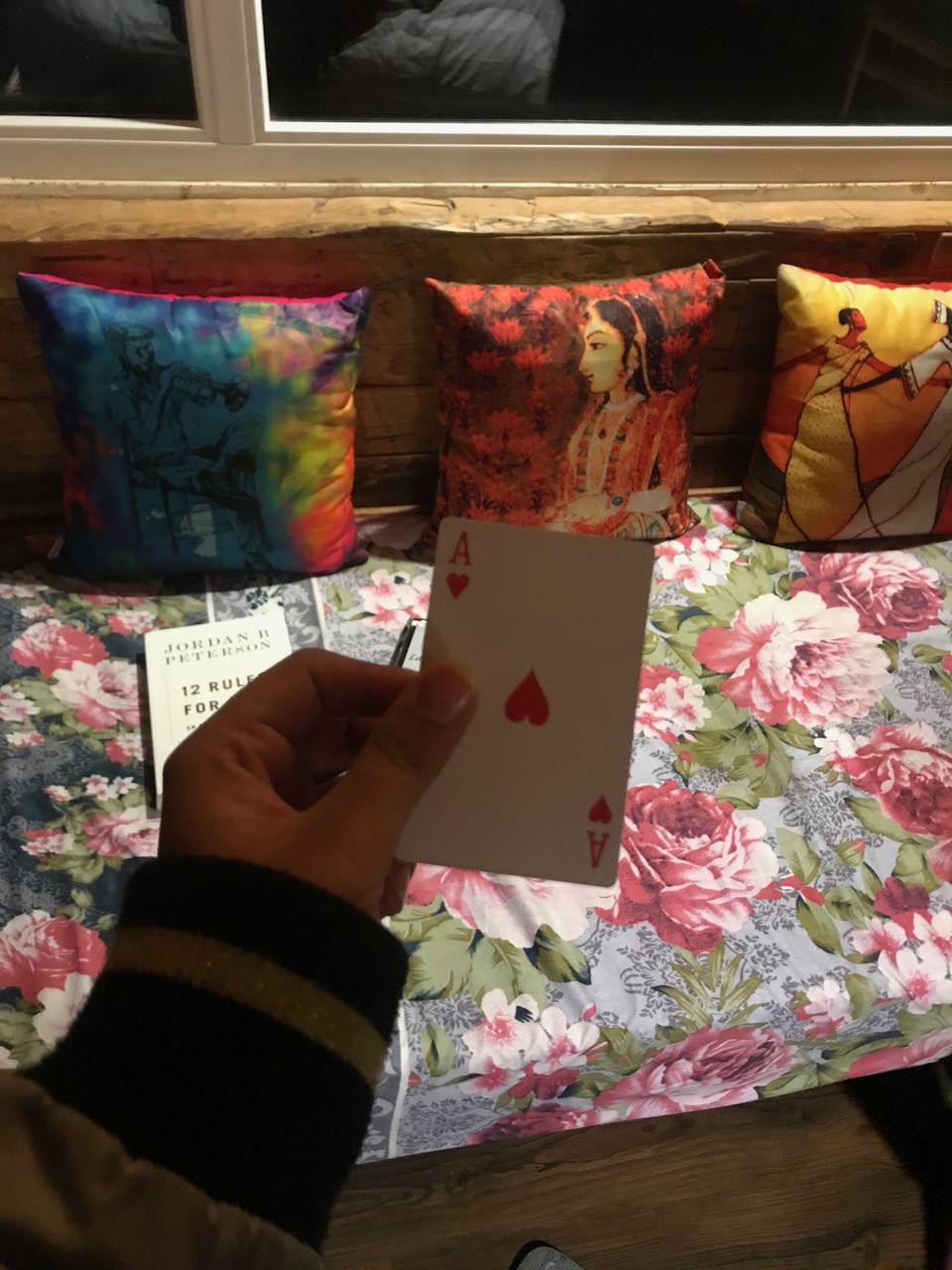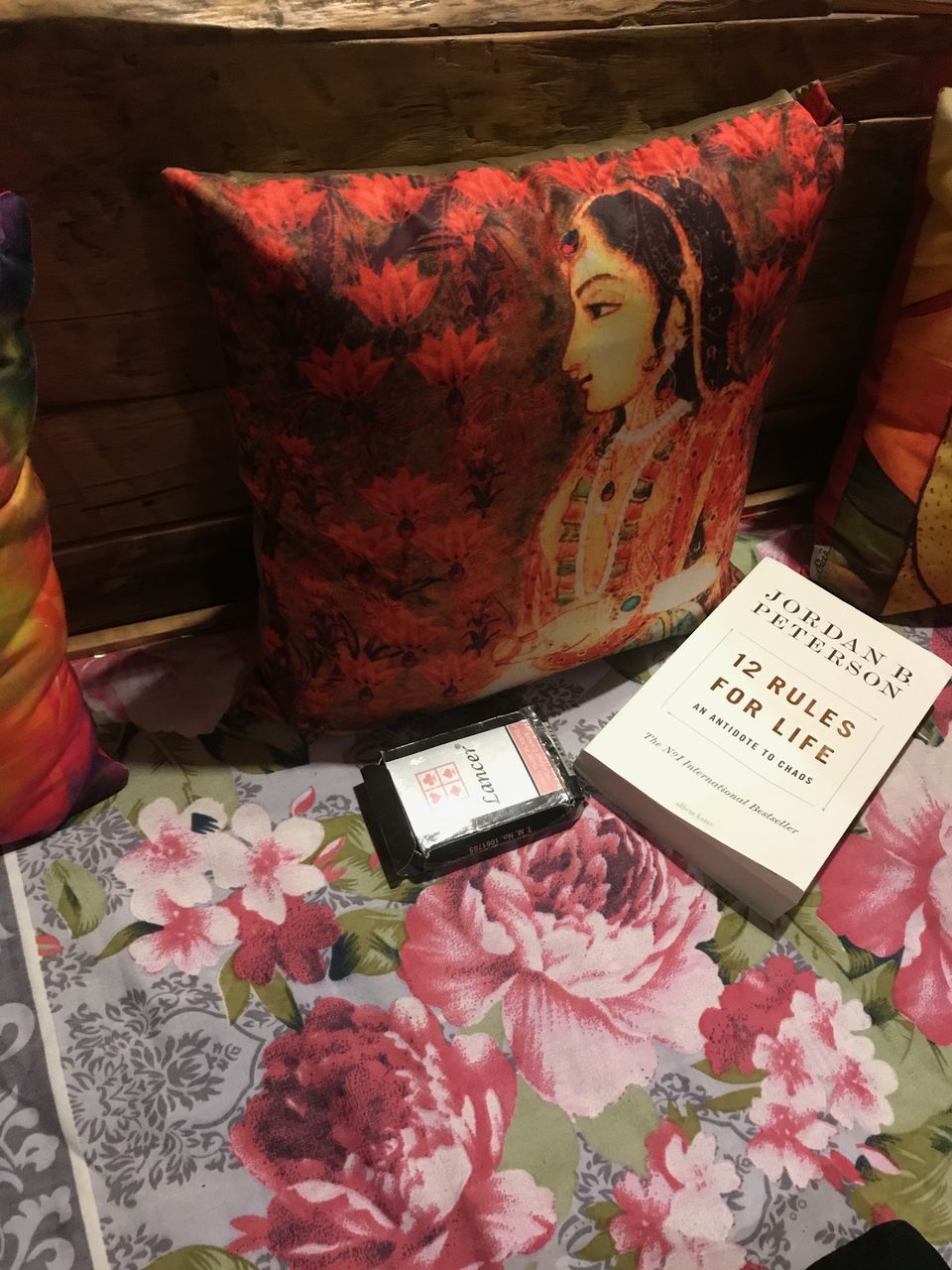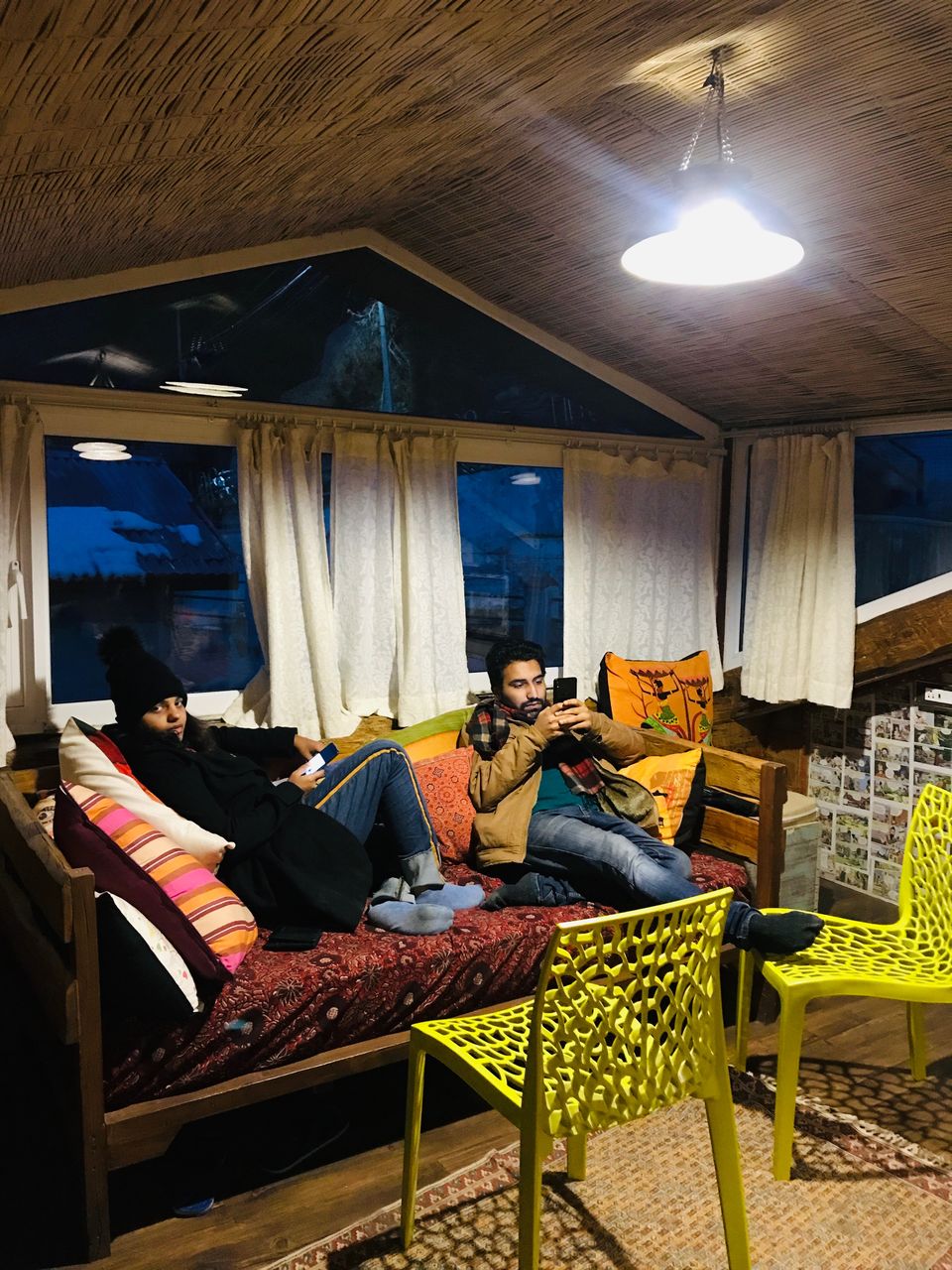 Being a trekker myself, I have always loved minimalism and have thought that life should be lived like people on the mountains, easy and quaint. The house furniture was colourful but it still had a minimalistic vibe. The ceiling hung low and the windows were huge.
THE ROOM WITH THE BATHTUB - the best room inside the Meena Bagh Resort
This section will surely go against popular opinion. The room with the bath tub was great, and the bathtub had an amazing view from the mountains. I too personally enjoyed the bathtub in the evening and then bathed in the bathroom with a heated flooring (that's all the bathrooms by the way). However, most of the memories which we made were in the living room or in the other room inside the cabin. For a group of friends, a bathtub inside a room may not be the best space because they may get uncomfortable. It is great for couples, but not for a group of opposite gender friends. Though we enjoyed the bathtub, we ended up hanging around in different spaces than the room with the bathtub. I know that when I end up going here with someone I love I will surely pick this room over any other space in the house.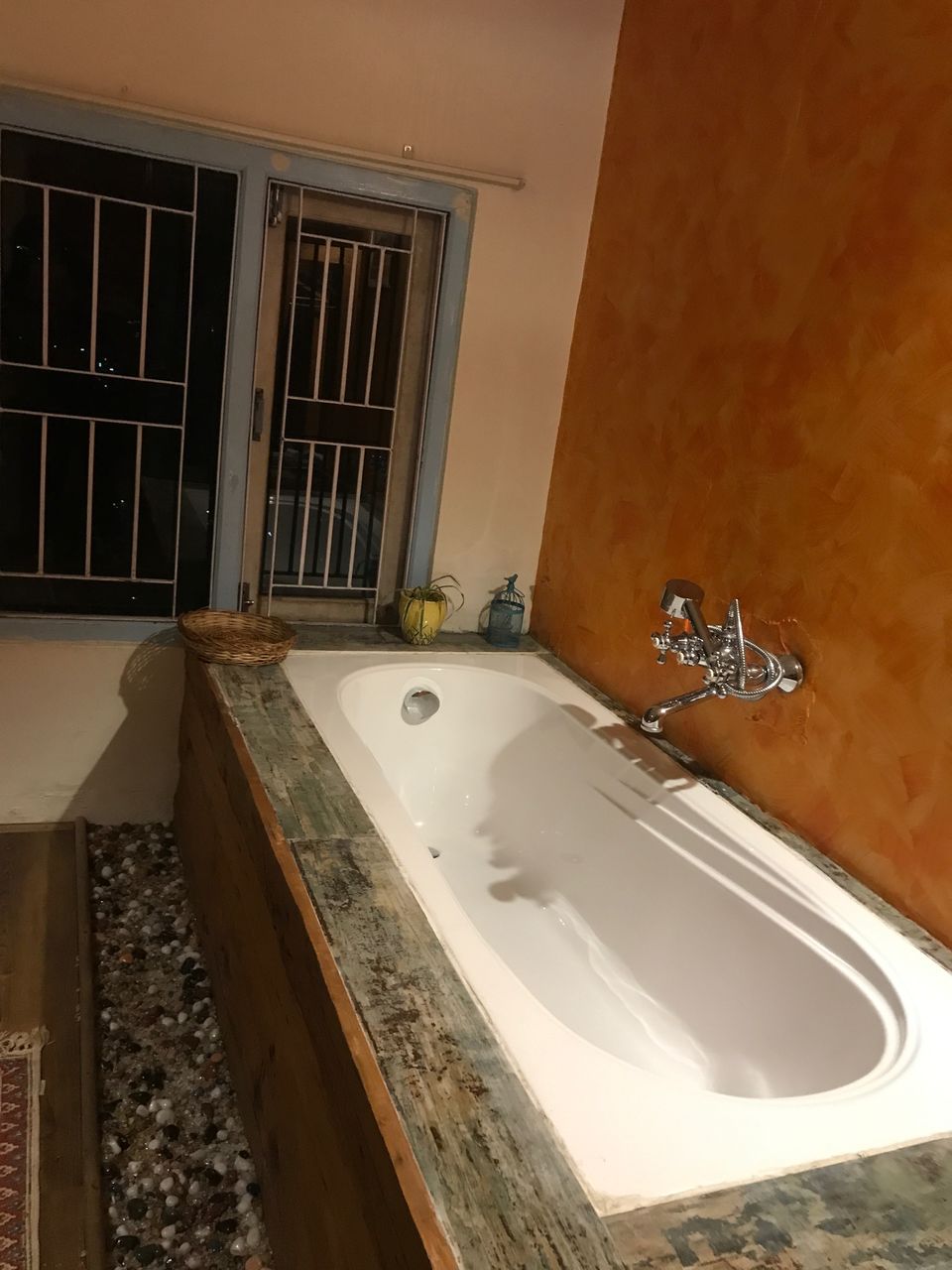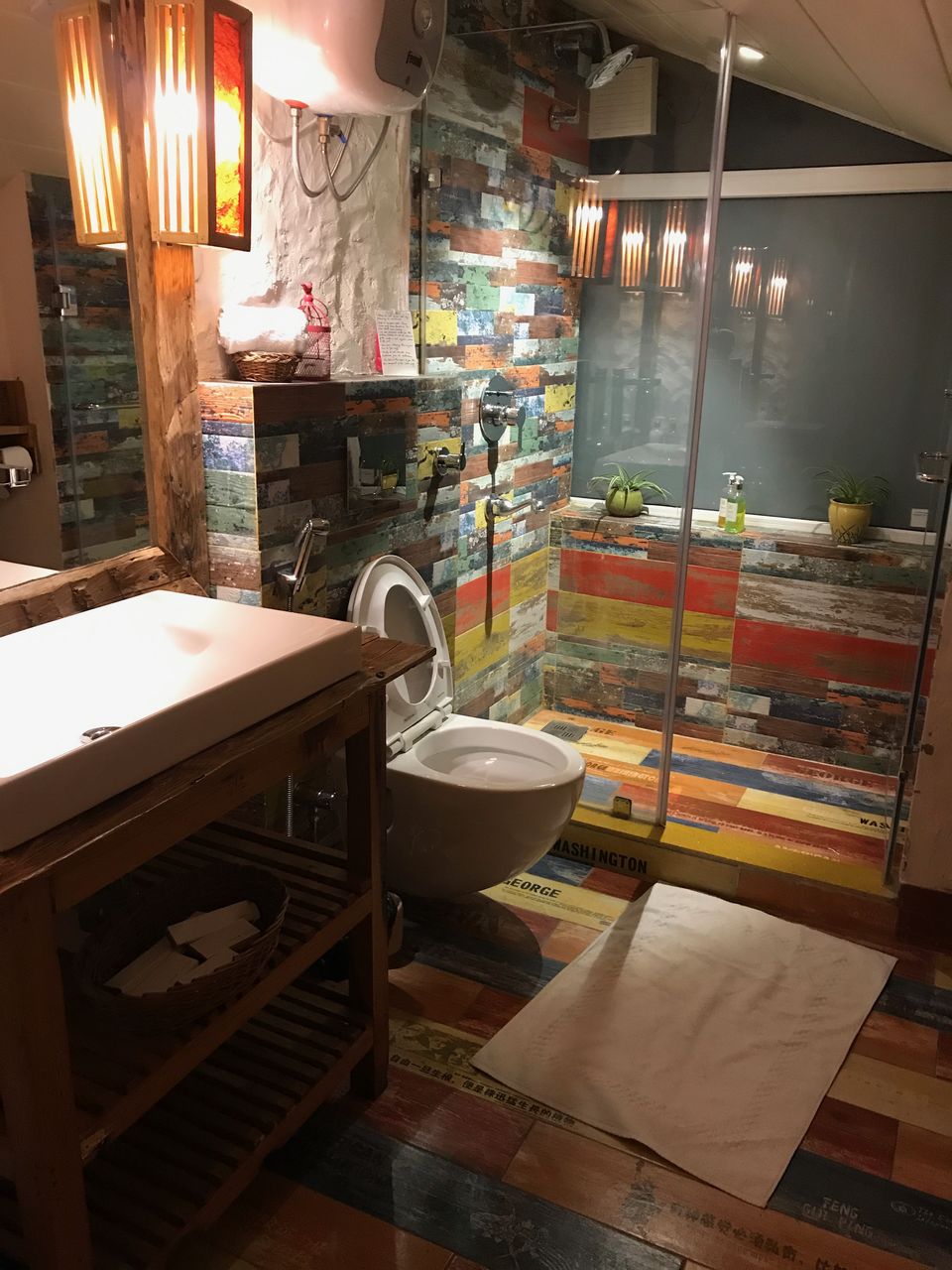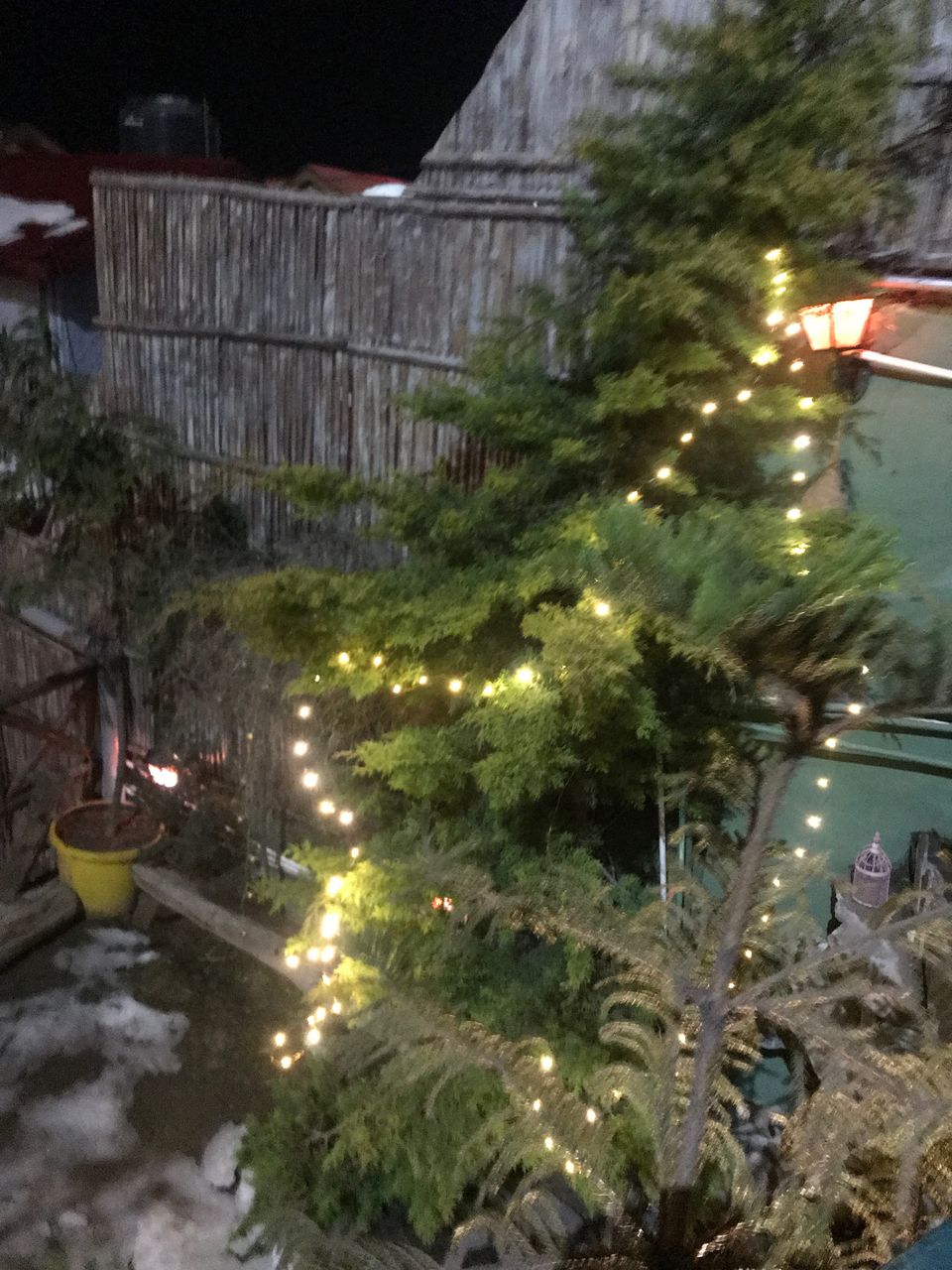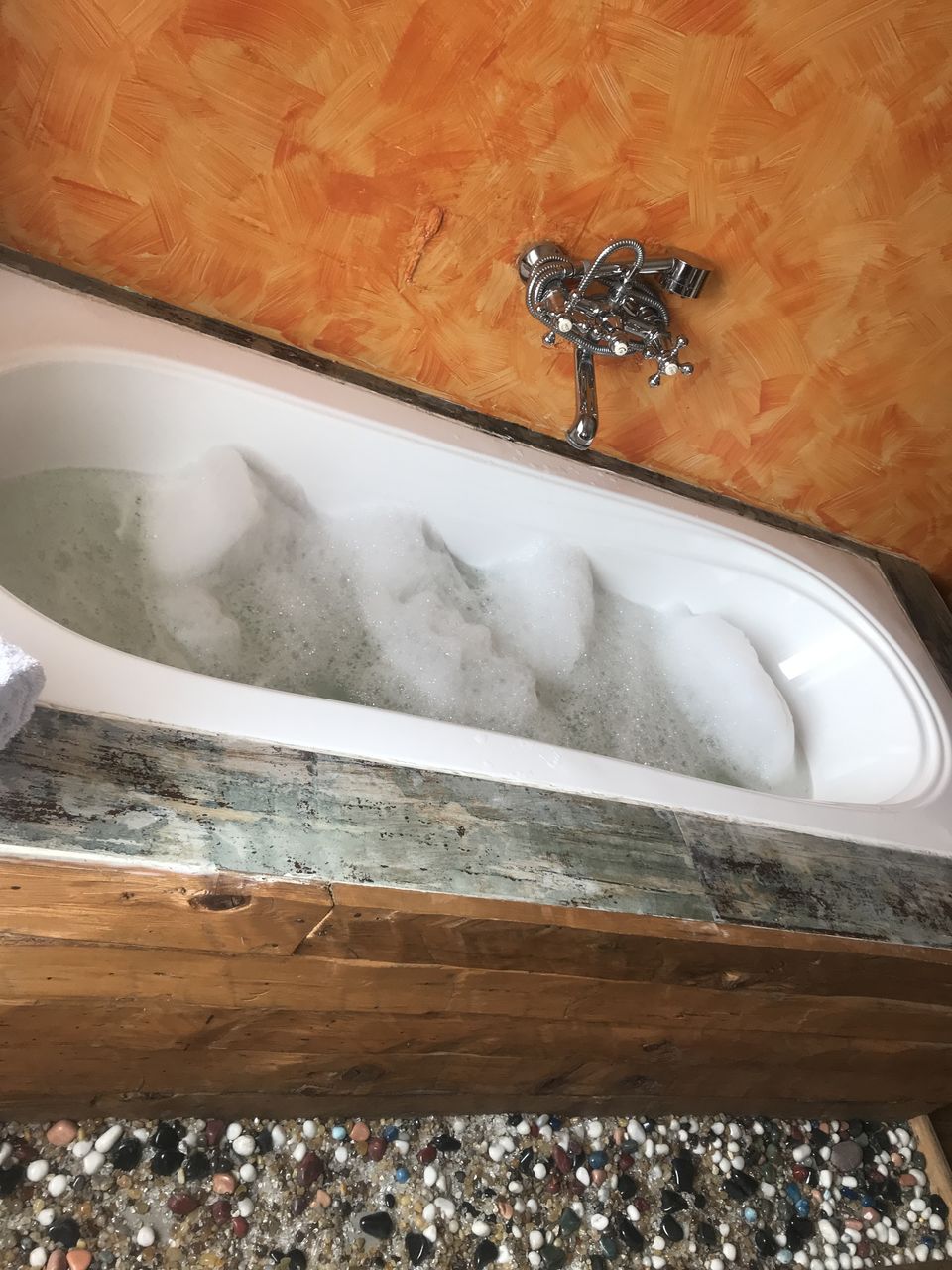 THE BREAKFAST
The cheese and vegetable sandwiches that I ate here were literally the best sandwiches that I have ever had in my life. The food was fantastic. We also had cut fruits, freshly removed watermelon juice, poori bhaji and eggless pancakes with honey. It was some of the most wholesome breakfast which you can get on the mountains and what's even better is that the breakfast is included in the package of the stay.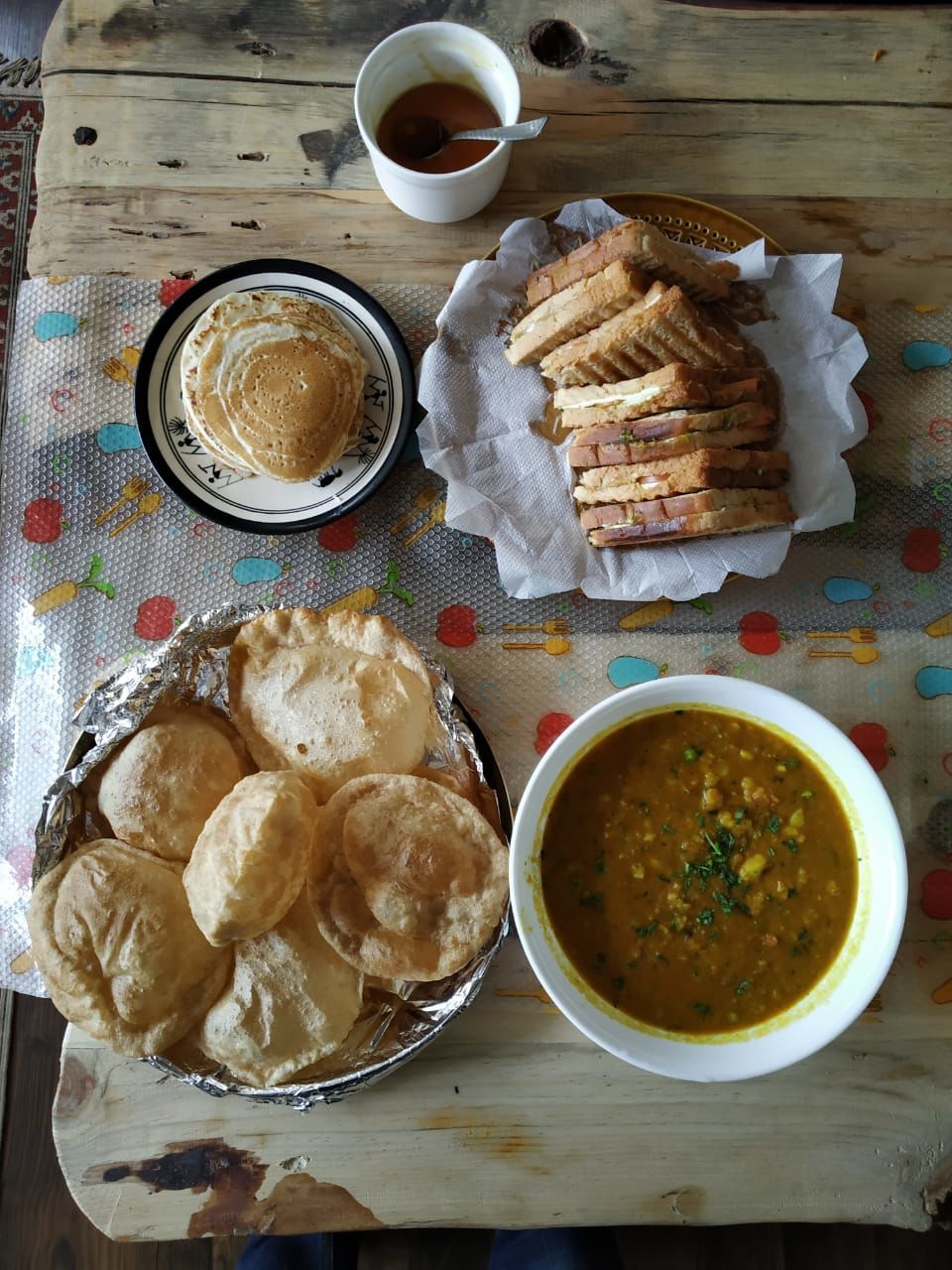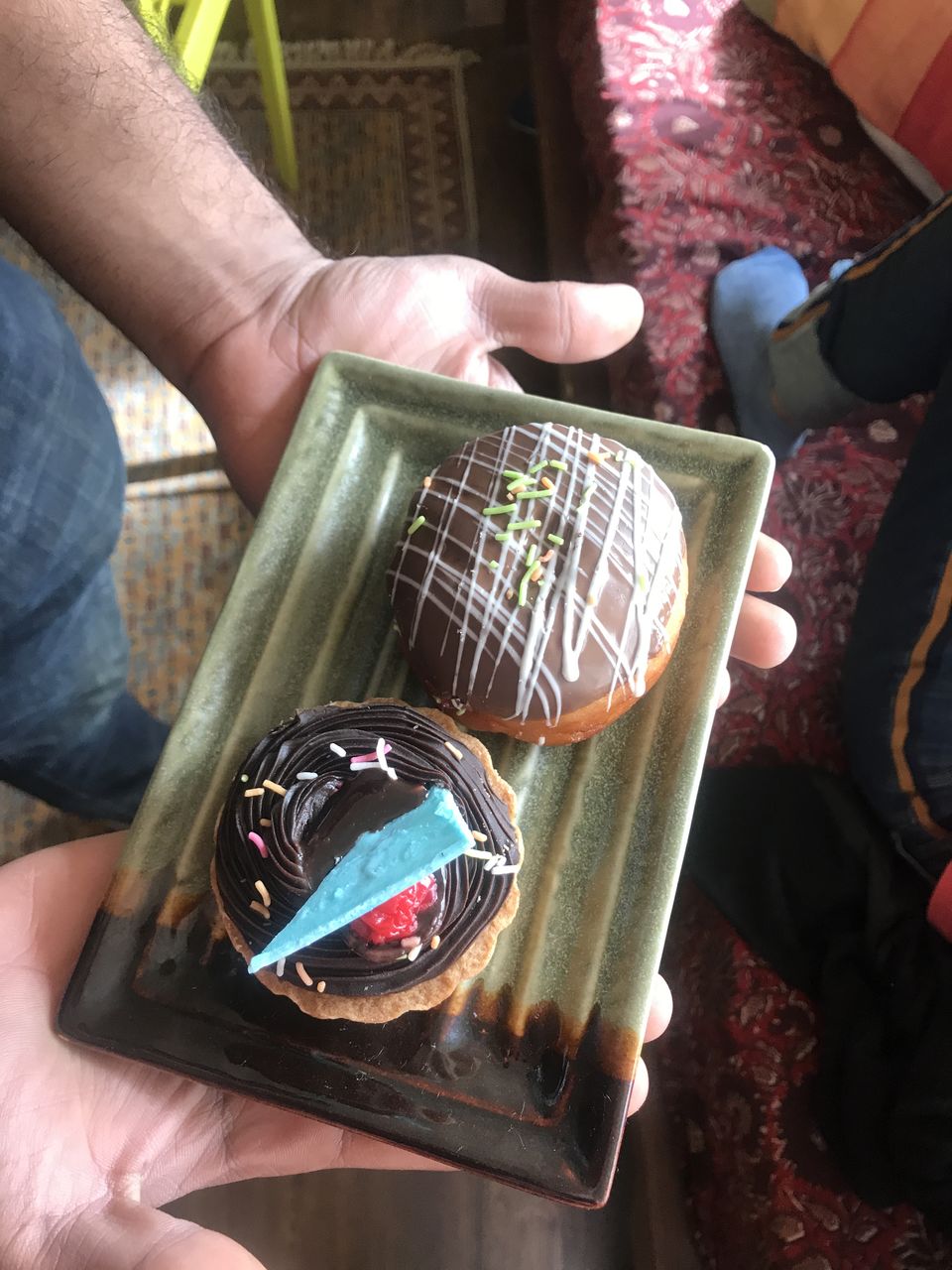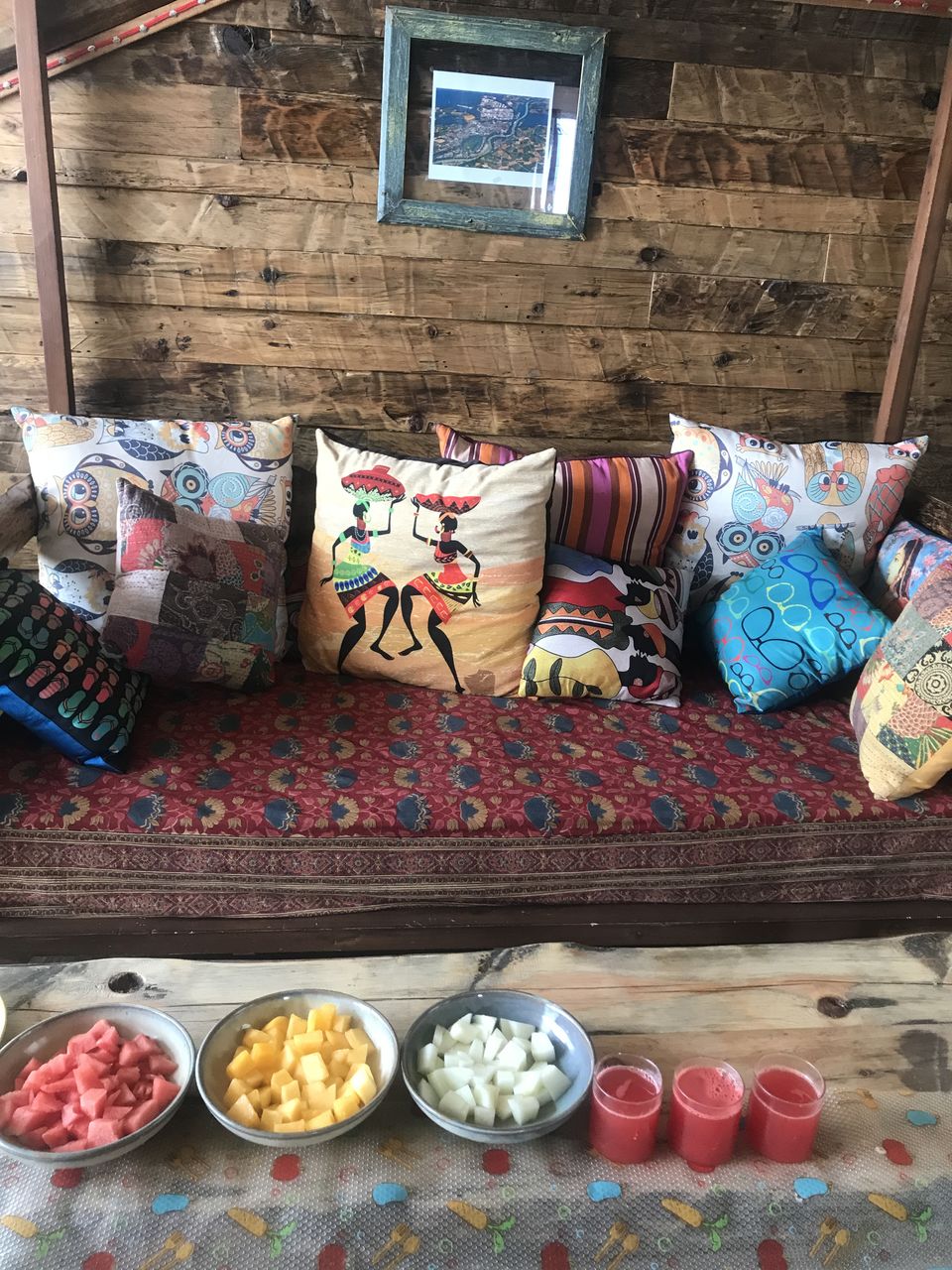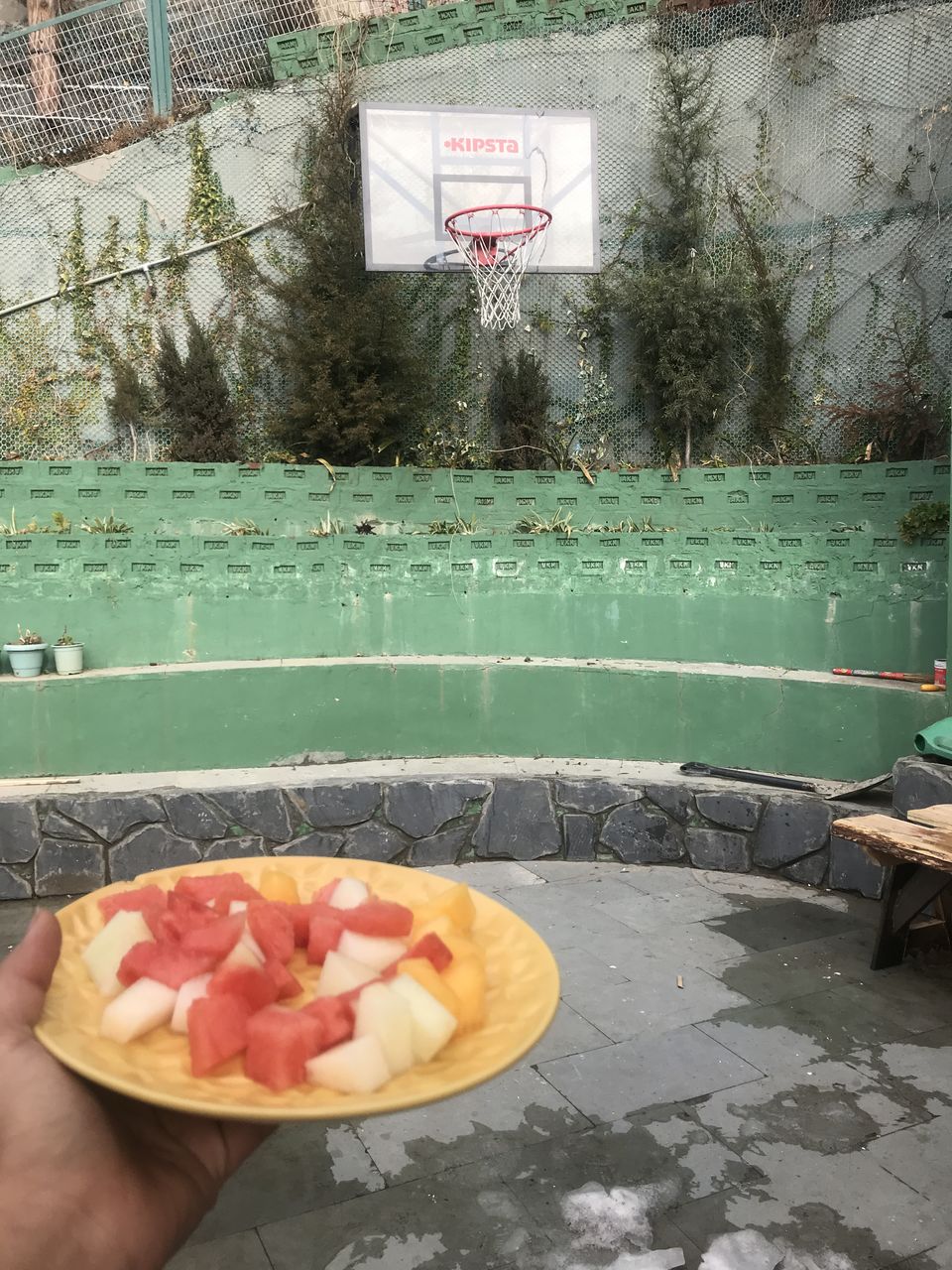 COST OF THE MEENA BAGH
The Pahadi cabin at Meena Bagh costs around INR 16,000 per night and can be booked from either AirBNB or by contacting the owner Mr. Sanjay through other platforms. The best part about this property is that since the owner is a photographer himself and has a keen eye for art, he offers the property at upto 50% discount to photographers, journalists, conservationists, writers and anybody involved in eco-businesses. Hence, this gives more reason for artists to visit the property.
HOW TO GET HERE
The best way to get to Shimla from Delhi would be to take a direct ISBT bus to Shimla. There are many local buses running to Sanjauli and they will drop you right near the property at a walking distance.
A FEW TIPS
1. There are two floors which the cabin has. You should choose the room on the upper floor. I personally liked that much more. It felt very cozy. The room on the lower floor had a kitchen and would be more suitable for those who would like to prepare a meal.
2. Take a keen look at the photographs which are taken by the owner, Mr. Sanjay, they will surely leave you in awe and will inspire you to travel more.
3. Sit back and relax, you don't have to go and explore Shimla, you can just enjoy the property like we did.
Here is the link to book the property:
http://meenabaghresorts.com