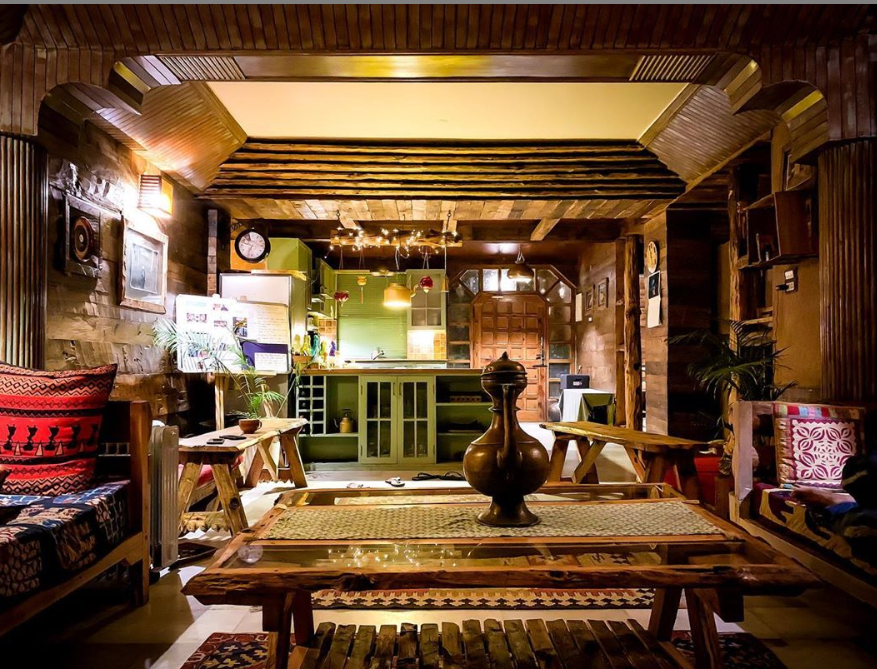 Mountains always keeps us calling, and Radhika being Himachali had been to her hometown in Himachal Pradesh, India almost every year in summer vacations during childhood. But Prince never had the pleasure of staying in any traditional Himachali home...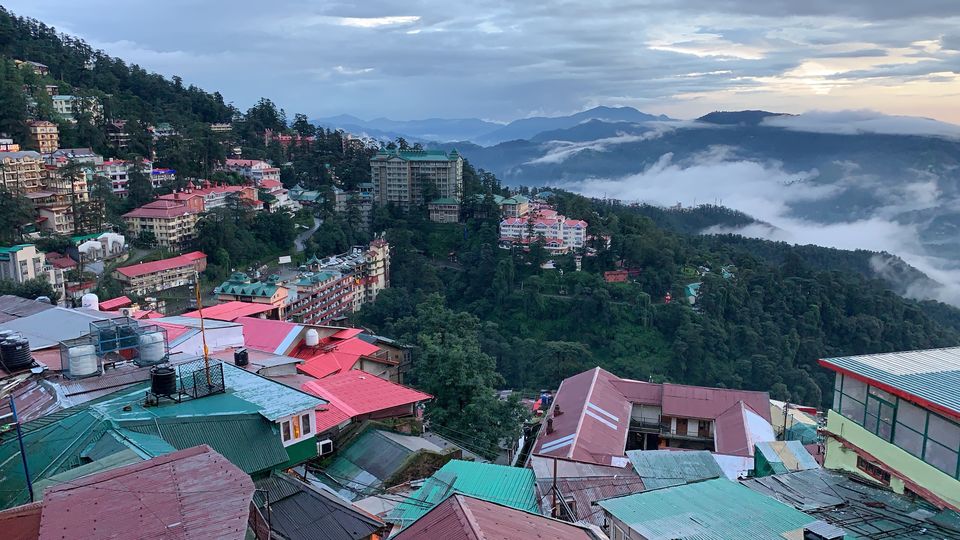 So last year, It was monsoon and we were having a long weekend. We desperately wanted to go on a road trip and after discarding lot of places due to different reasons, we decided to go to Shimla in Himachal Pradesh.
Even knowing the risks of landslides during monsoon on hilly areas, we decided to go on this adventurous trip in our Ford Figo car driving through the Kalka-Shimla Highway. And let me tell you it was so much fun due to the amazing monsoon weather. During trip we sang lot of Hindi and Himachali songs including one of our favorite "Mai ne meriye .. Shimle di raahein"
As Prince always wanted to stay in traditional Himachali home from long time, we decided to book a Home stay in Himachal and after checking few options, we booked the place about which we are going to tell you.
We fell in love at first sight with "Meena Bagh Homes, Sanjauli, Shimla, Himachal Pradesh, India". Meena Bagh is just a 2-3 year old property formed and owned by Mr. Sanjay Austa, a Journalist, Photographer, and Eco-Tourism Entrepreneur and a part time Orchardist also.. Yes, he does quite a lot :)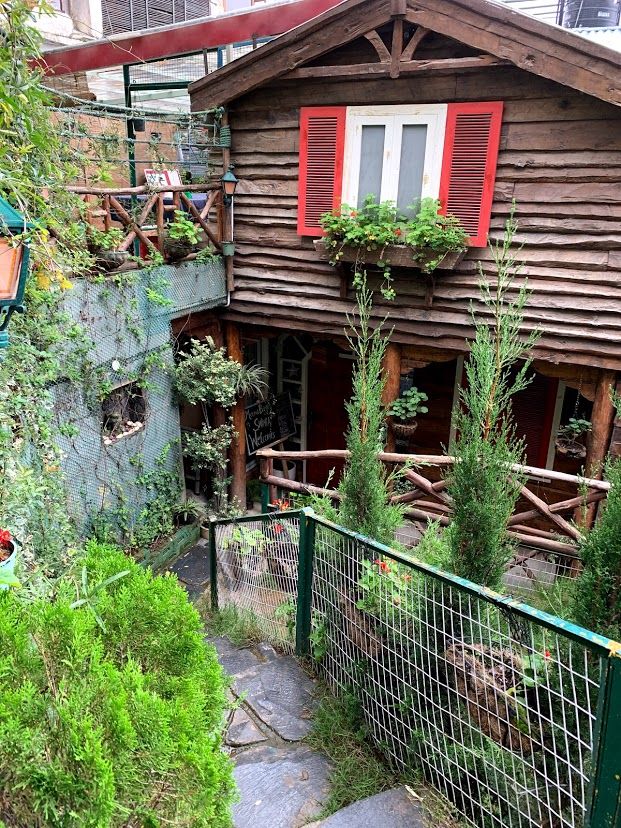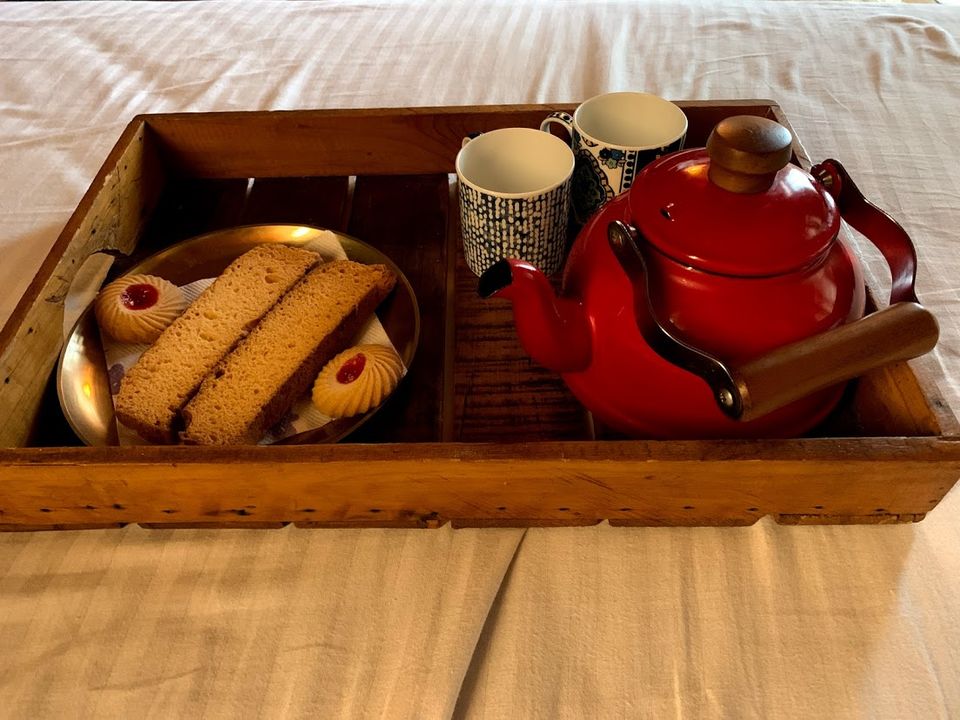 After dinner we stayed in the living room itself with all the hangover we got from dinner we overate😜 . We played carom for some time with the other guests and chatted for some time. Later we went to our super cozy and comfy room. Being tired from driving and because of having lot of food we slept.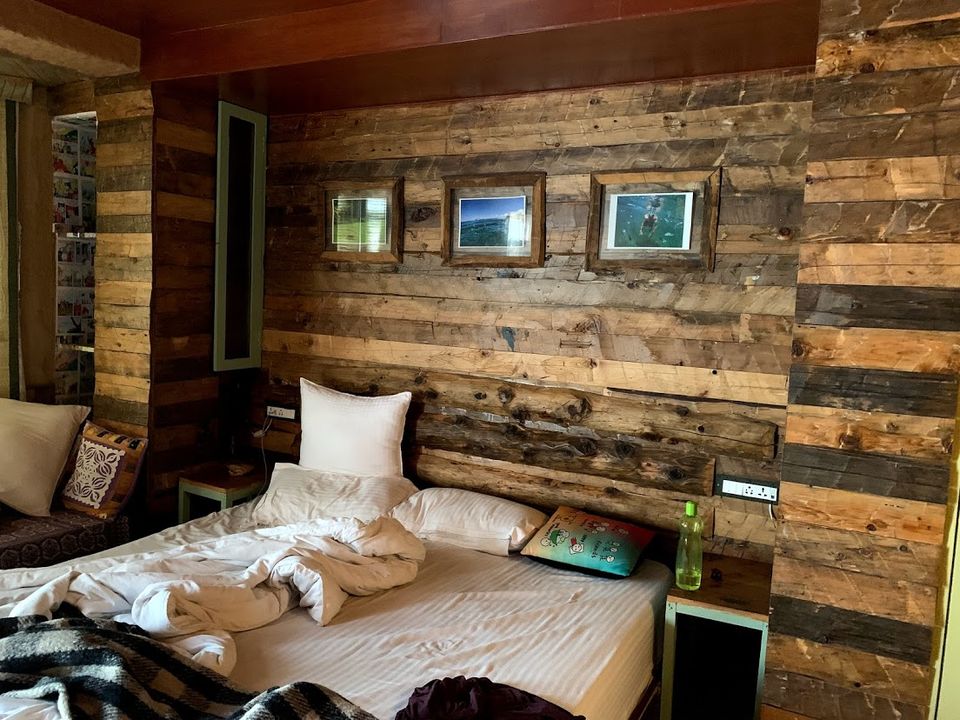 Next day in morning after bed tea and breakfast with our heavy hearts and a promise to come back here again, we checked-out and left this beautiful stay with lots of beautiful memories. We do still miss Meena Bagh Homes, Shimla and the hospitality of this place..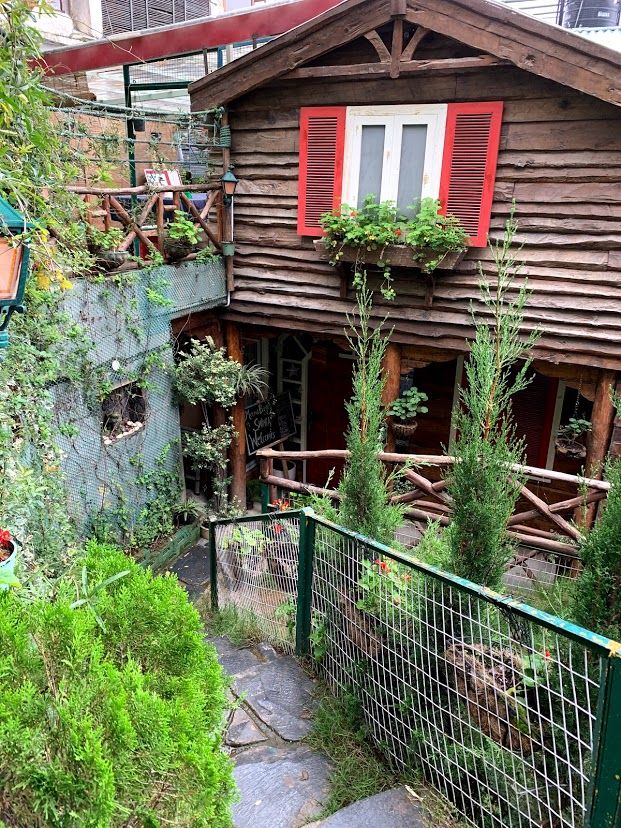 While we were booking this place we just saw the photos on booking website and were not sure what we will get in real as this was going to be our first time with Home Stays. But when we reached our destination after an amazing ride through the clouds, rains and mountains, to our surprise Meena Bagh Homes was even more beautiful than its photos on booking websites. From the stairs we took, it has all the vibes of a hill station traditional home, Prince was already so happy. And we had our name written on the black board.
Then comes the check-in part, the manager of the property greets us at the gates and just by showing our booking and ID's we are checked-in, Fast and Simple 😊
After check-in we entered through the beautiful red gate. And here we saw the beauty this place has and one of the many reason we fell in love with, "its Interiors". Meena Bagh Shimla is a bungalow with 4 bedroom, living room and kitchen. 3 of its rooms have balcony giving you a mesmerizing view of Shimla hills and city.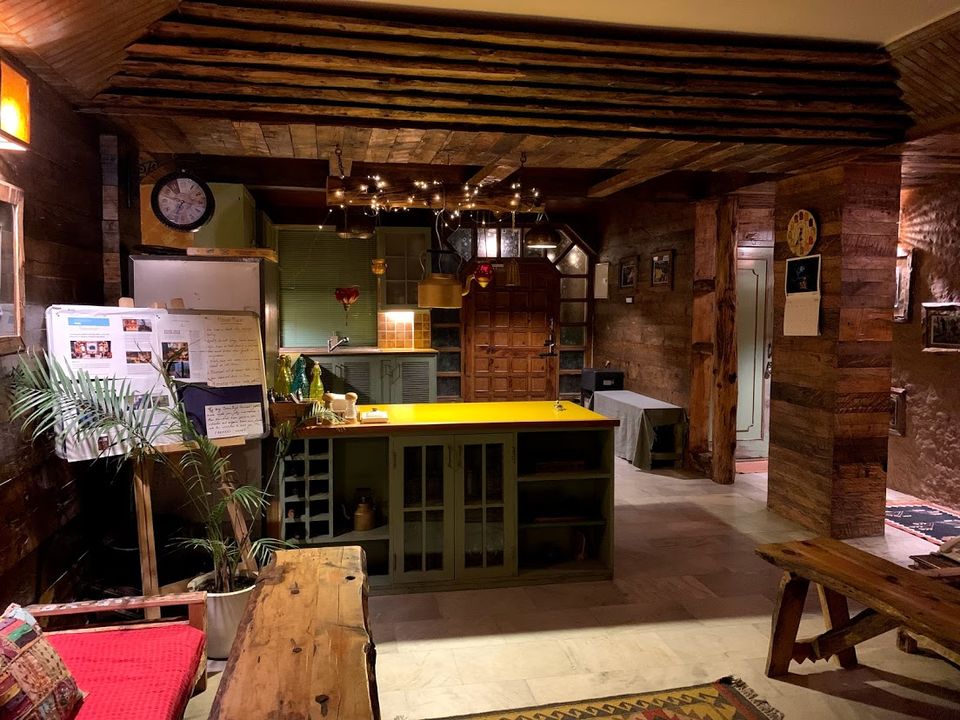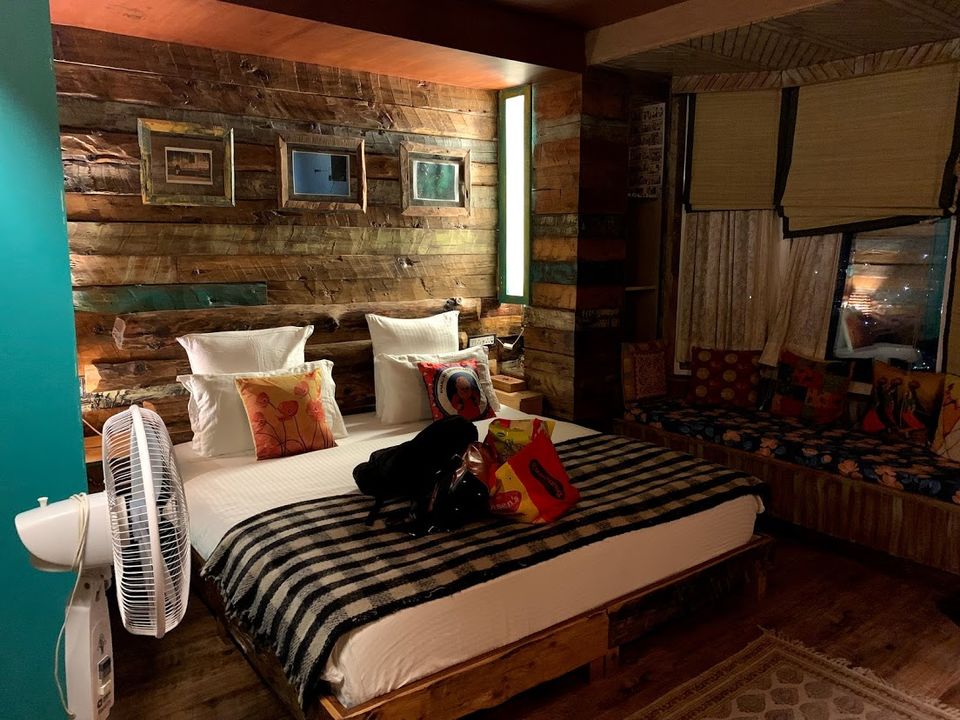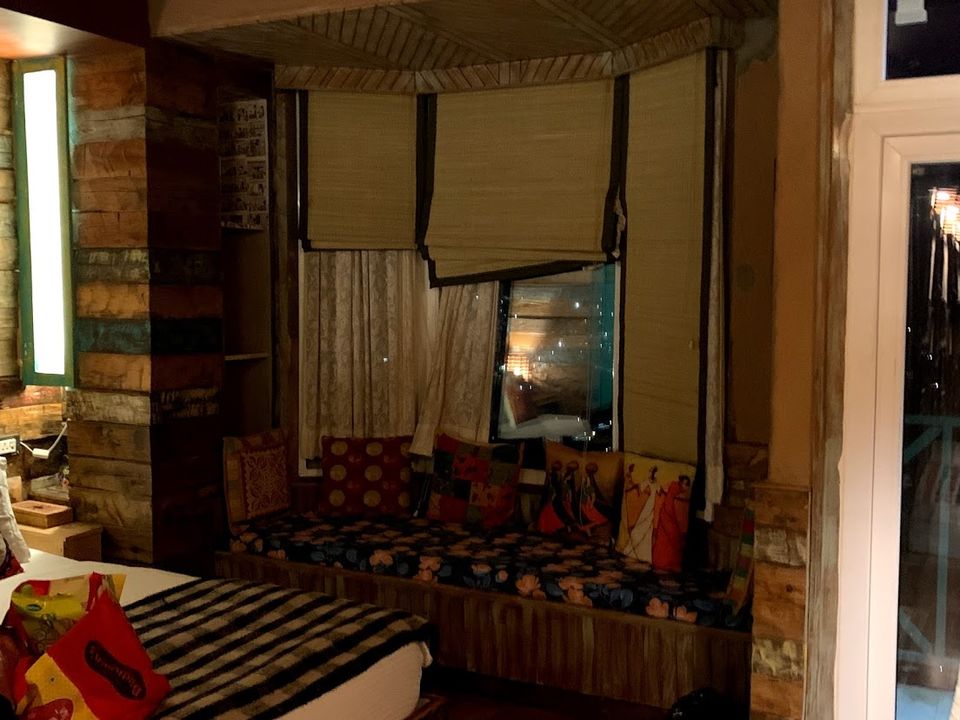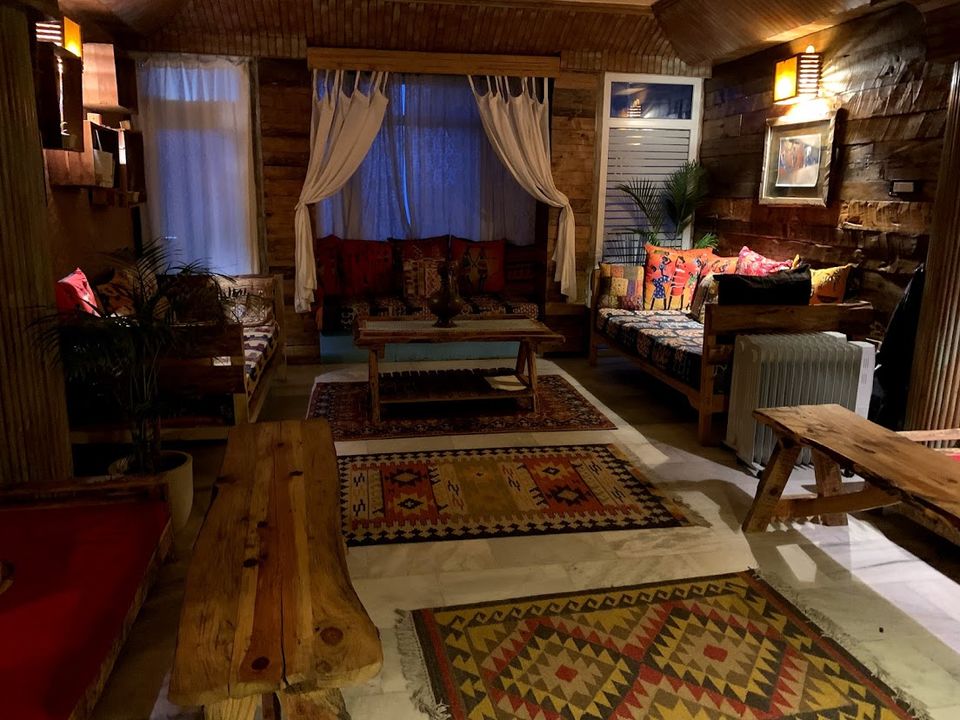 We had a pool table, a small library, board games, a guitar, carom and just about everything you need to keep us entertained. It's perfect for a family or a group of friends to spend the weekend.
As they have mentioned on their web with its wood-paneled and mud-plastered walls, this is the closest you get to live in a typical 'Himachali' home in Shimla and that's exactly what Prince was looking for.
We felt so homely and so joyful just after entering this place. Here they use rainwater for almost all needs and recycle water wherever possible.
The furniture is designed in-house using waste and recycled wood. And Mr. Sanjay Austa being an Eco-Tourism Entrepreneur has a strict "No-Plastic" policy here.
And being things here so environment friendly and recycled, they are still really really beautiful. Everything here feels so cozy, that instead of being on the roads of beautiful Shimla, you might want to stay within and enjoy the views with open doors of balcony sitting on the couch.
While we were feeling so excited to be here and doing the home tour, we were served with some Himachali sweet and sour homemade drink. After sometime supervisor Mr. Satpal, who is actually the jack of all trades and the in-house fixer of Meena Bagh Homes came to ask "khane mein kya lenge aap"(what will you have in dinner). As we love to try local food and already Radhika is big fan of Himachali food being a Himachali herself, we asked him about what they have in Himachali food. He told us about the famous "Himachali Totti Dal" (it is made from dhuli kaali dal in Lots of desi ghee). So we decided to taste Totti dal in dinner and asked for the same. With smile on his face Mr. Satpal took the order and left for the preparation.
After deciding our dinner we left for the famous Shimla Mall Road by local bus to come back on time and have dinner in our beautiful home stay.
When we came back it was already night, with clouds and moon in the sky from the entry gate Meena Bagh Homes feels like something out of beautiful imaginary painting.
This time we got some company as well, new guests checked in to another room, so we had a little chit chat with them. As it was dinner time we got what we ordered and served by Mr. Satpal. As we expected, Totti dal was so delicious that we recommend it to everyone visiting this place, it is a must try.
After dinner we stayed in the living room itself with all the hangover we got from dinner we overate😜 . We played carom for some time with the other guests and chatted for some time. Later we went to our super cozy and comfy room. Being tired from driving and because of having lot of food we slept.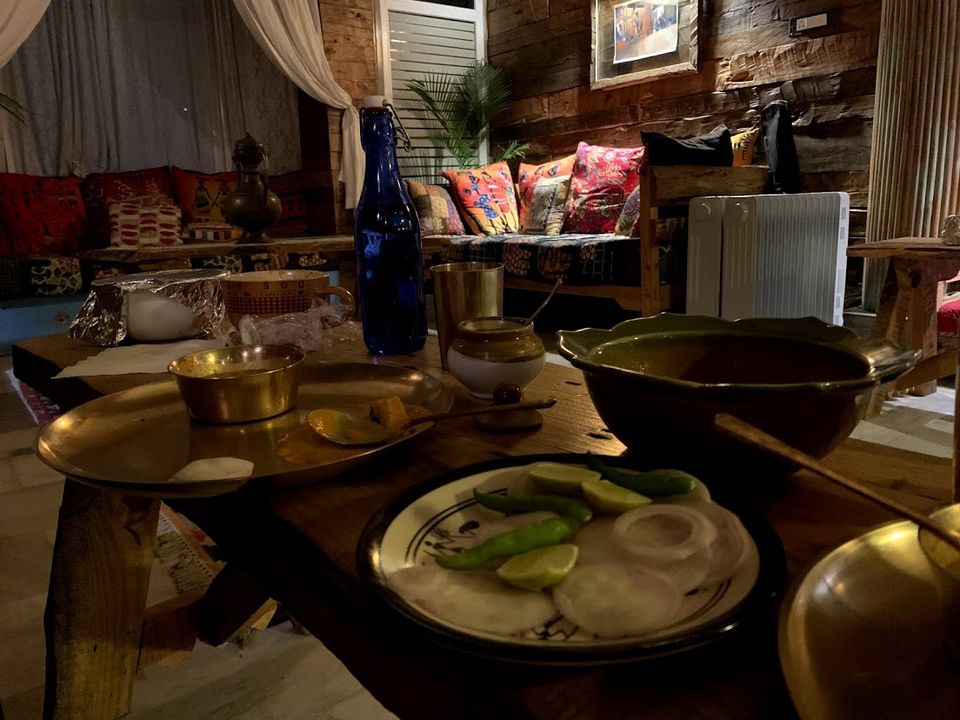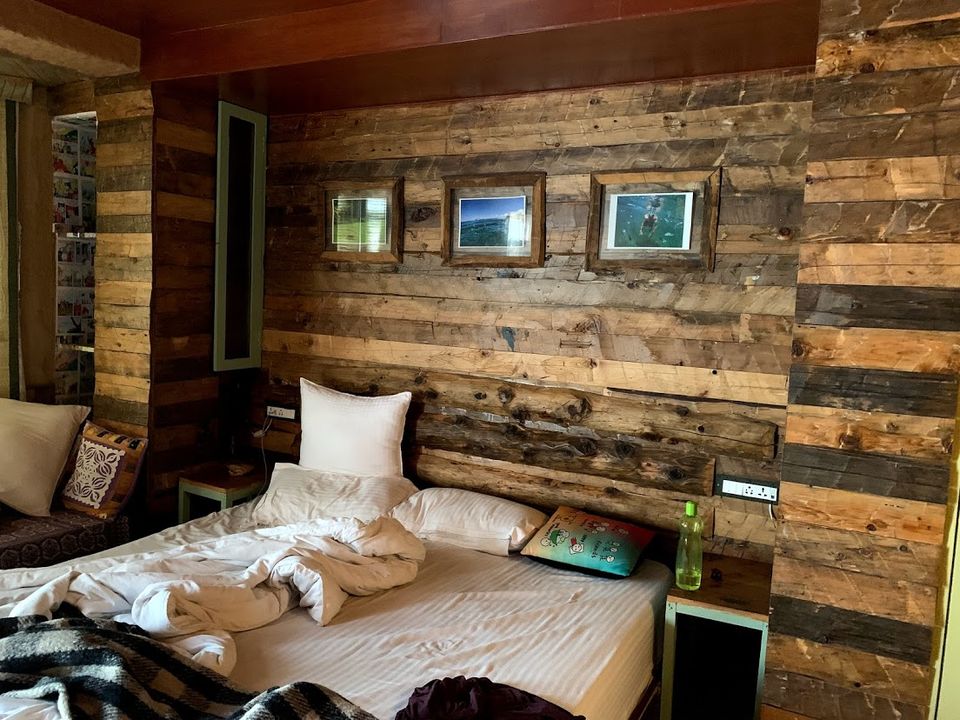 Next day morning we woke up early to enjoy the early morning view of mountains, and as it was monsoon season we woke to beautiful view of scattered clouds passing through the hills of Shimla from our room balcony. We enjoyed the sip of tea and biscuits from the balcony itself. We must say this the beauty of monsoon which can not be enjoyed in any other season.
We freshen up and after sometime ordered our breakfast the yummy paranthe and bread with organic apple jam and honey which actually home made. Jam was really tasty. We sat on the living space sofa enjoying the Tea again with the view from open balcony.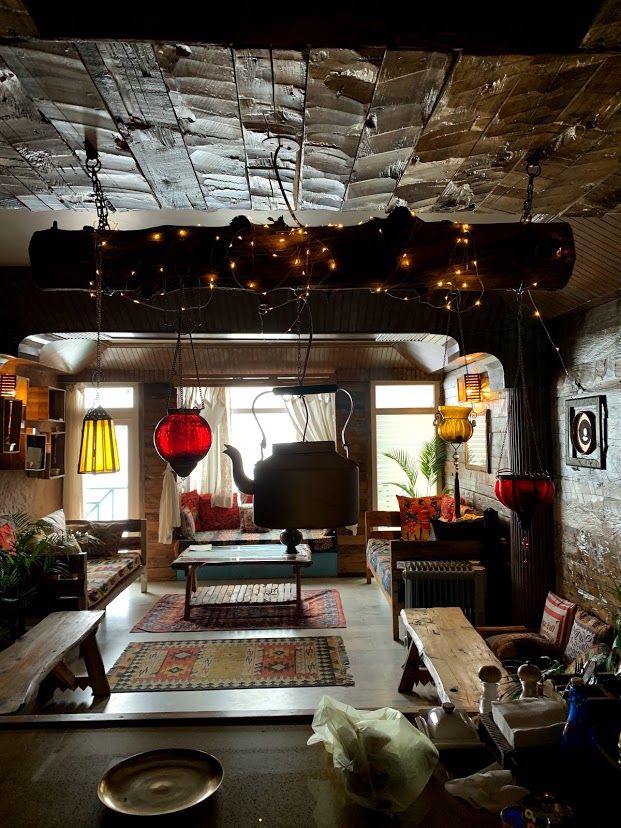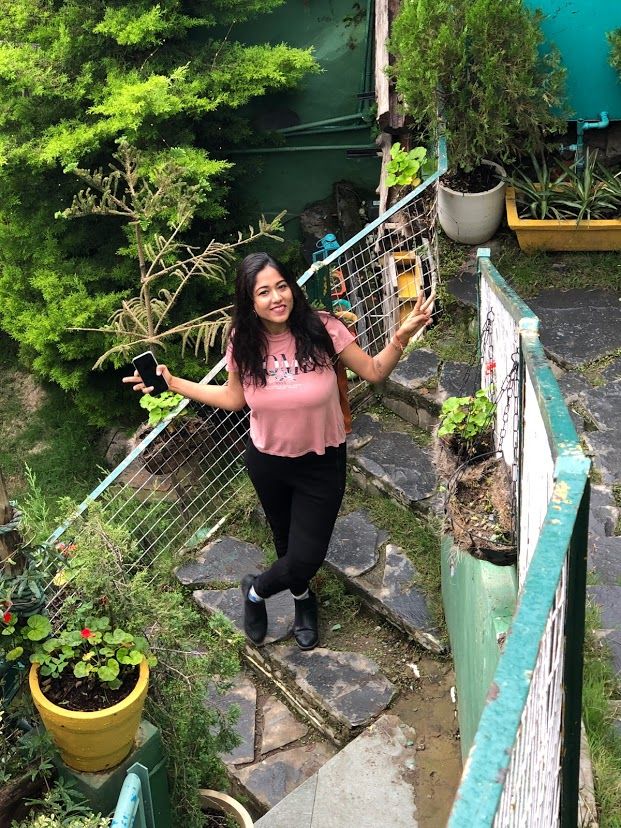 After sometime we went for Tara Devi temple, we wanted to visit this place from long time. After our trip to Tara Devi temple and mall road walk, we again came back to our stay. This time we got the rainy view of Meena Bagh as it was raining heavily now.
Now this was our last night in Meena Bagh and we were already feeling sad to leave this place next morning. We enjoyed our stay for the last night with spending our time in our favorite common area of Meena Bagh homes by sipping on tea and playing cards.