Shoja is often the village that people spend a few minutes at to sip on some tea or just stop to take a few pictures of the surreal view. It's that village that lies in the middle of the famous Jalori Pass and Jibhi. What if I told you, you could stay in this village in a house that would be just yours? Rihaaish is that house, and here are all the details about it!
Ideal for
A family on a vacay, and a group of 4-6 friends that want to create new memories – this one is ideal for you. Couple's can also find this place to be away from the crowd and hence get some privacy.
About the property
Located 2 km short of Shoja, you can easily spot the green-blue house from the road. A few steps will lead you to the little garden area upfront, that's perfect for bonfires and picnics. The vacation home is a total of two floors with two neatly furnished mud rooms with their own washrooms on the upper floor. The corridor ends at a common room or the hall with traditional Himachali style seating for you to unwind at. I believe, the best conversations will definitely brew here. The view from the windows here is a mental picture worth keeping.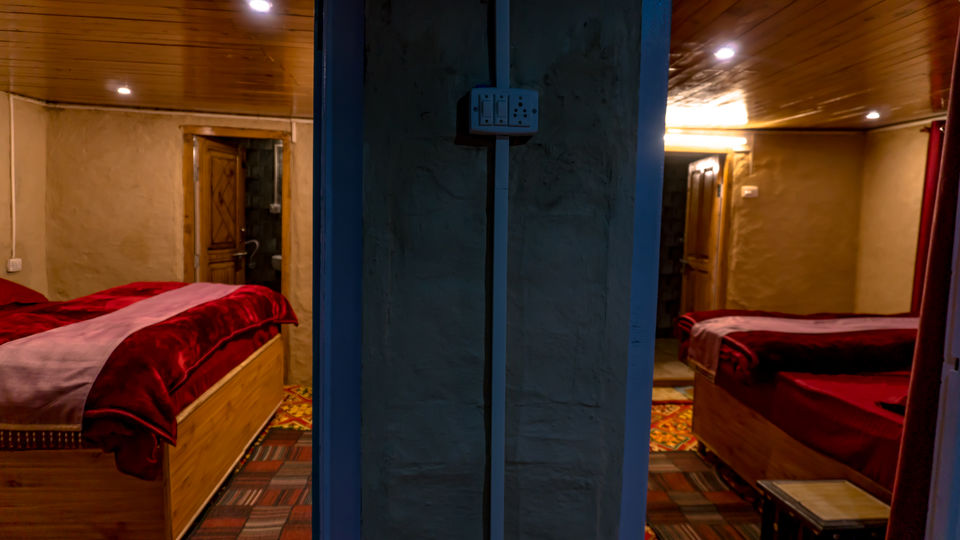 The floor below has a kitchen with all the basic amenities and an inside Himachali dining space. A tandoor in the centre for you to cuddle up during winters. While it snows outside, you eat hot meals in this room. How beautiful is that?
There is a tiny garden space behind the kitchen as well for you to have your morning cuppa at. All in all, a complete home at your disposal!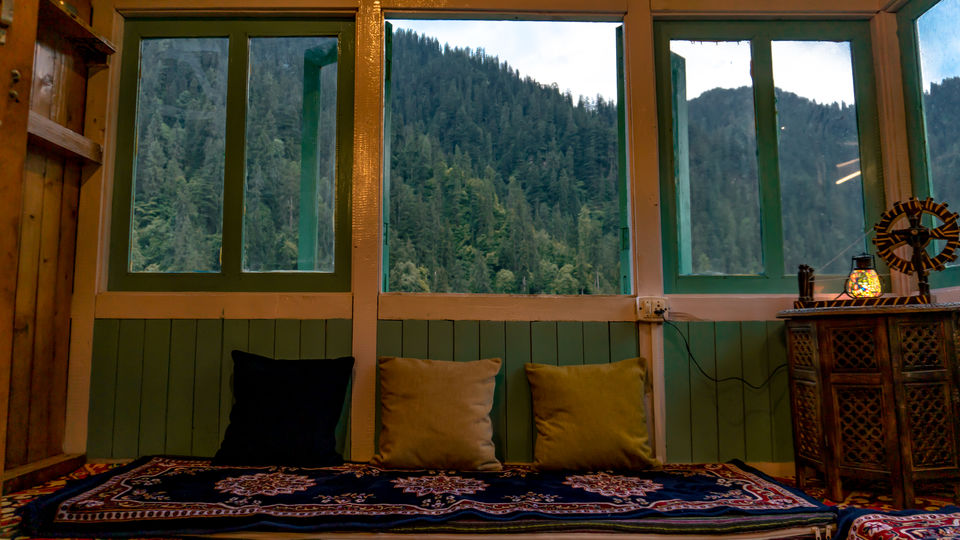 The hosts of Rihaaish are the cool guys at E-living Project, that have other properties like mud house hostels and a co-working space called Karyashaala. Interesting story though, they first took this house to make it their home. Furnished it in a way they would stay and filled it up with all the love but as plans changed they decided to set up Rihaaish for travellers. Anyone who has been to Himachal knows them, and knows how brilliant their hospitality is.
Food
Since it's a self check-in vacation rental, even the kitchen is stocked with basic stuff for you to cook. You can cook any meal you want or go to the village to eat. The other property Mud House Hostels is like 7 km away from Rihaaish, where there is a fully functional in house café where you can get your meals. The hosts stay there and are just a call away in case of any help.
Cost
The entire house is priced at Rs 3,499 for four people per night (also depends on the season). Now, that's a steal, right? Obviously this doesn't include food costs.
Best time to go
Summers are lively here with trees all green and rivers gushing swiftly. Winter is beautiful but harsh as the roads shut, blocking your routes, the only way to reach anywhere is to walk in snow. Autumn means orange leaves fallen on narrow pathways, making the valley look oh-so-dreamy. Monsoons are not advisable to travel.
Things to do
In the property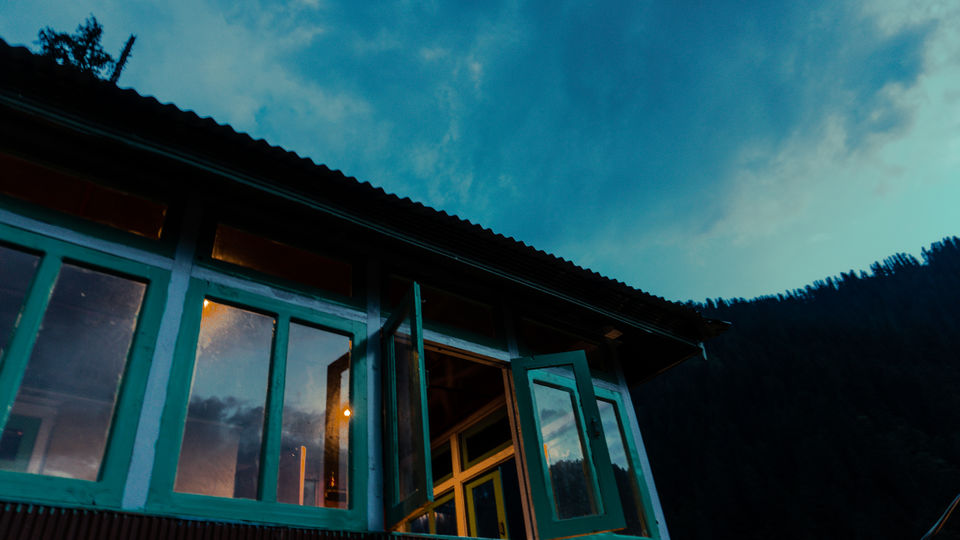 • It's your home in the hills so whether you want to snuggle up with a book or watch Netflix (though the internet is quite slow) or just admire the views – it's all your choice.
• Snowfall here sure makes the place looks straight out of a fairytale. Imagine the pine trees covered in white. You wouldn't want to leave Rihaaish at all.
Around the property
Go to Jalori Pass
This 10,000 ft high pass connects the Kullu region with that of Rampur-Shimla. A temple at the top, sacred to the locals, this spot has views that are worth living for. From there you can either hike up till the meadows, walk till Serolsar lake or trek till Raghupur fort. Whatever you choose make a day out of it.
Explore Jibhi
To go to Jibhi you'll have to go downhill towards Banjar. Here you have a waterfall, stream that you can sit by and eat a snack, interact with the locals or hang out at the cafes. Plenty to do in this tiny village of Himachal Pradesh.
Getting there
By air:
Take a flight till Bhuntar and then a cab till Shoja via Banjar and Jibhi. This is the fastest but most expensive way to travel.
By train:
Since no trains ply towards this region, this mode of transport is not recommended at all.
By road:
The best way to reach Shoja is by either driving on your own or taking the bus till Aut and then a cab ahead.
All pictures have been sent to us by the host of Rihaaish
Vacational homes or hotels? What do you prefer? Tell us in the comments below!
Get travel inspiration from us daily! Save our number and send a Whatsapp message on 9599147110 to begin!