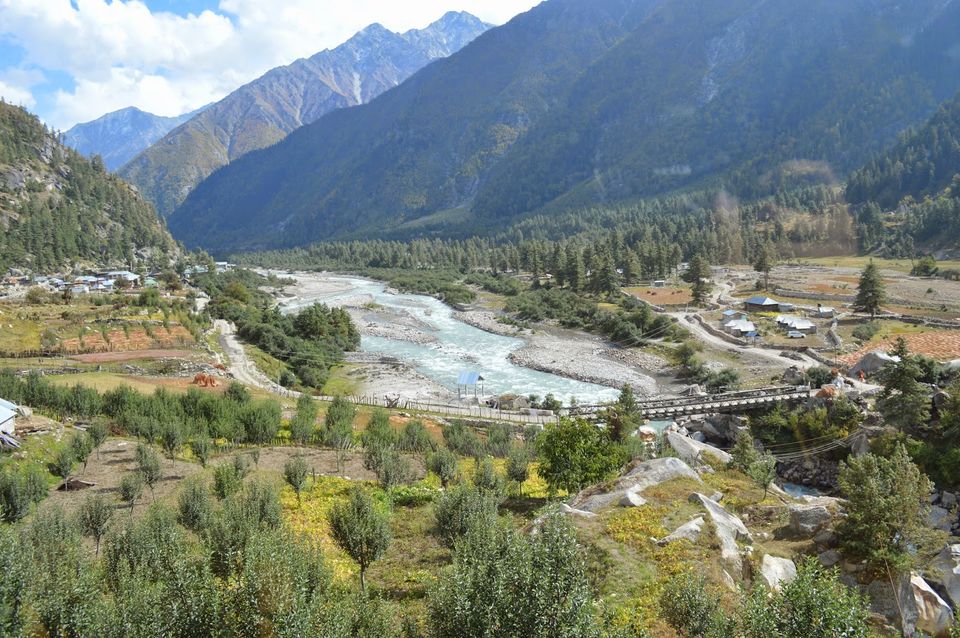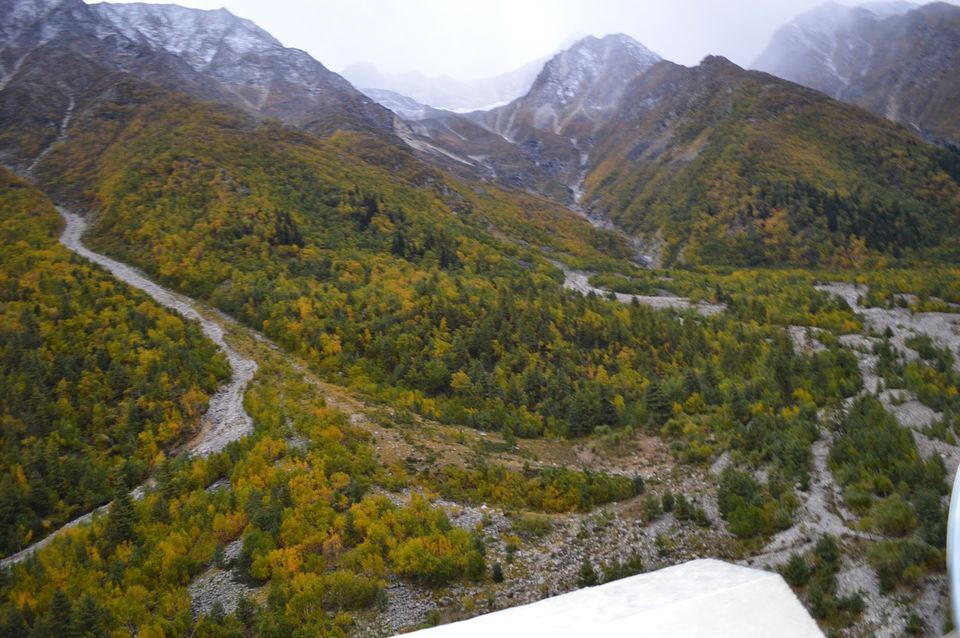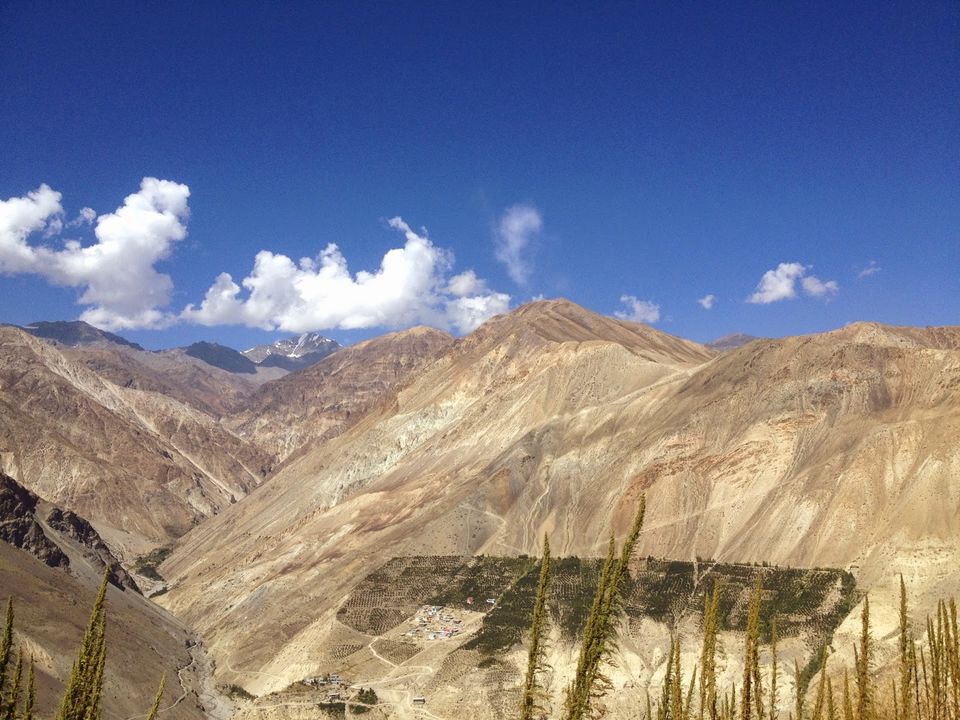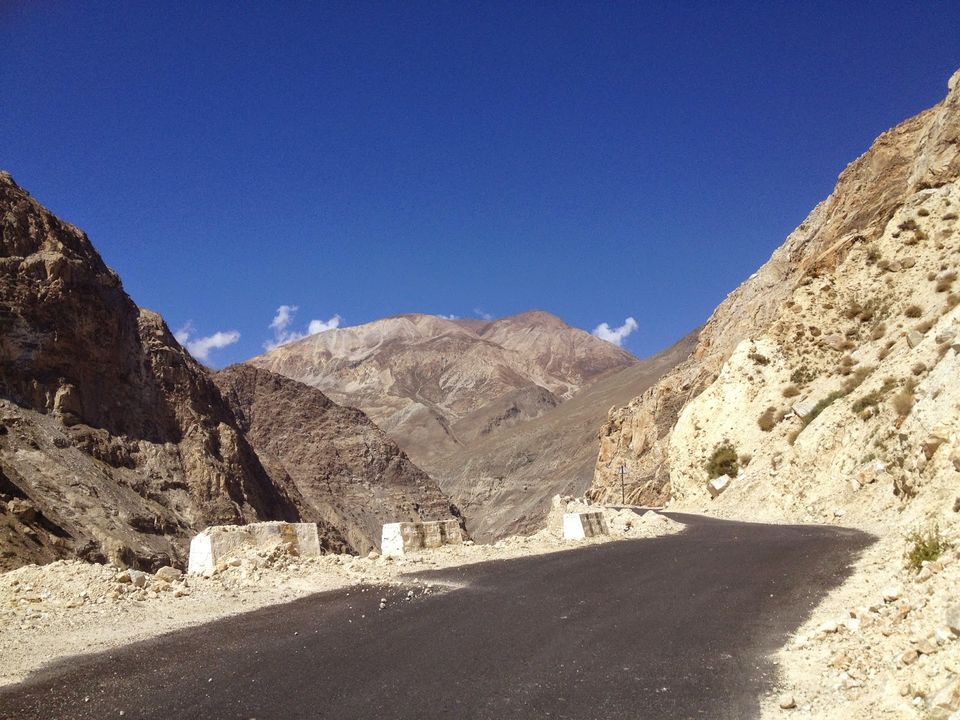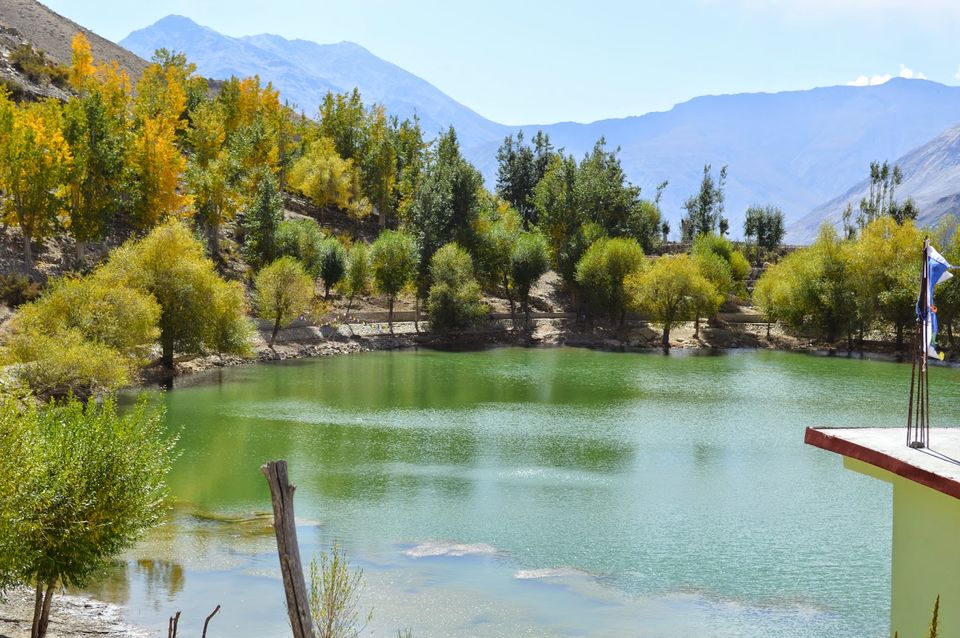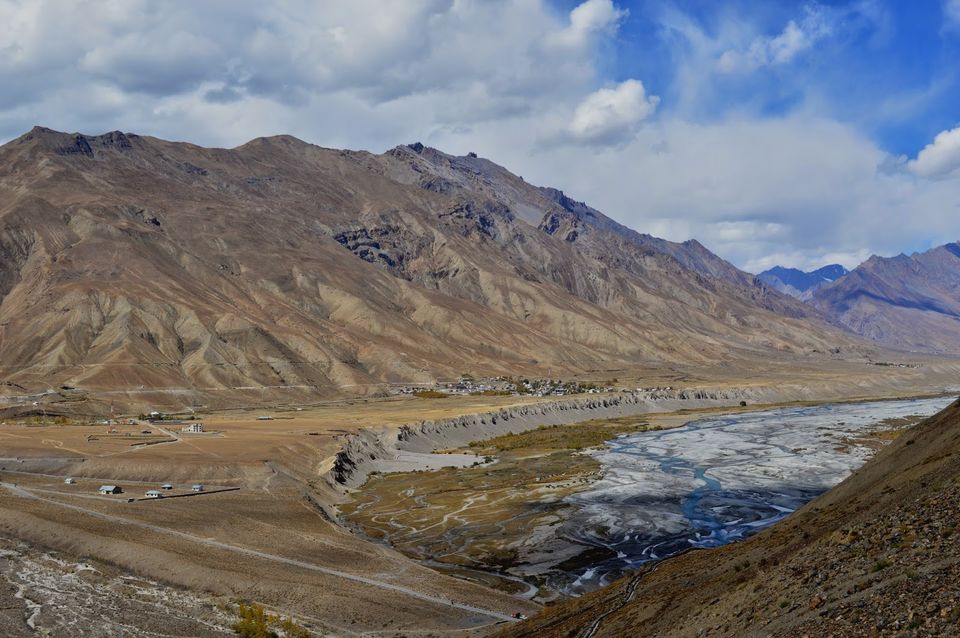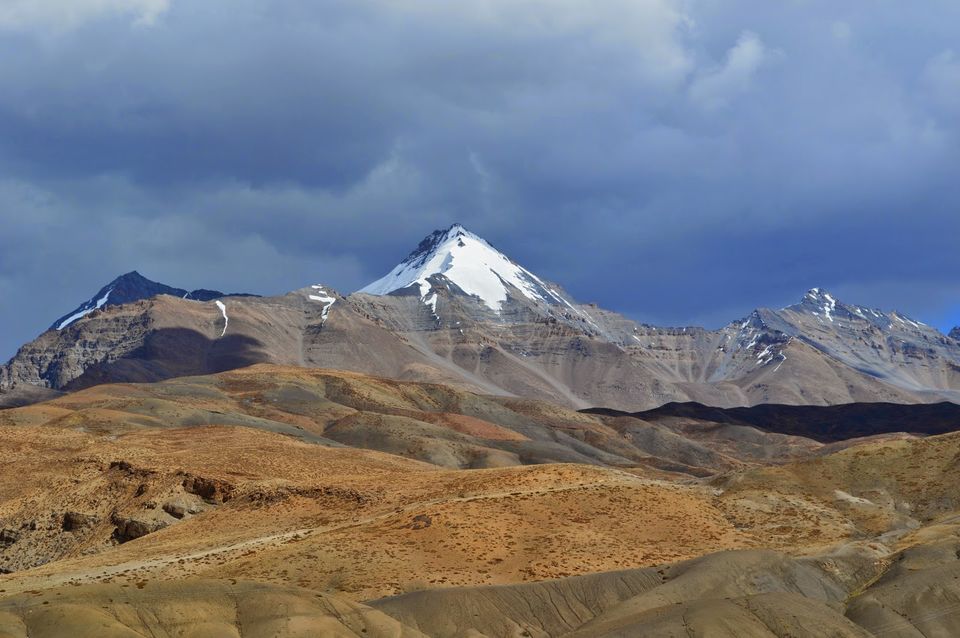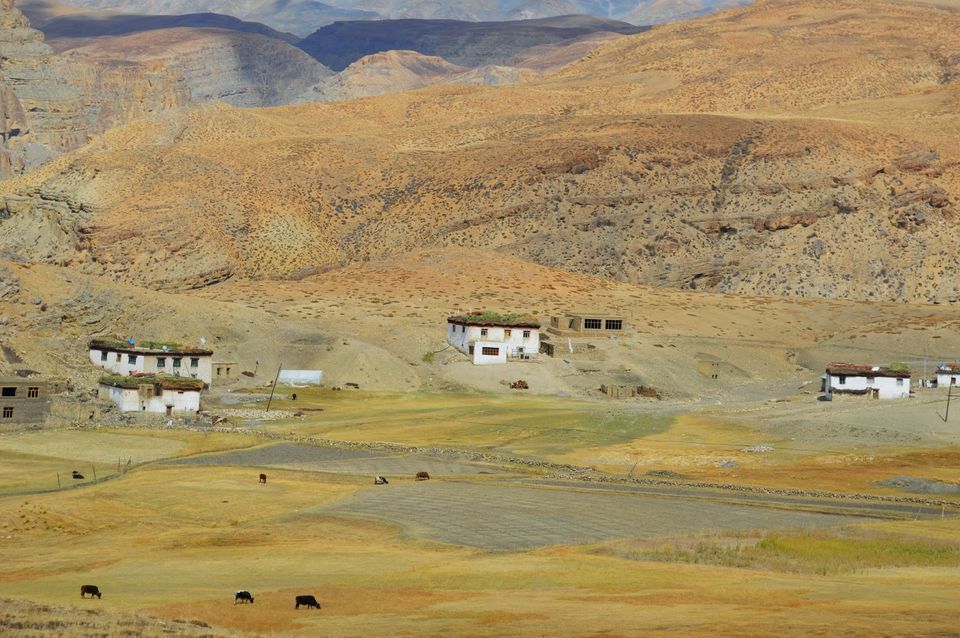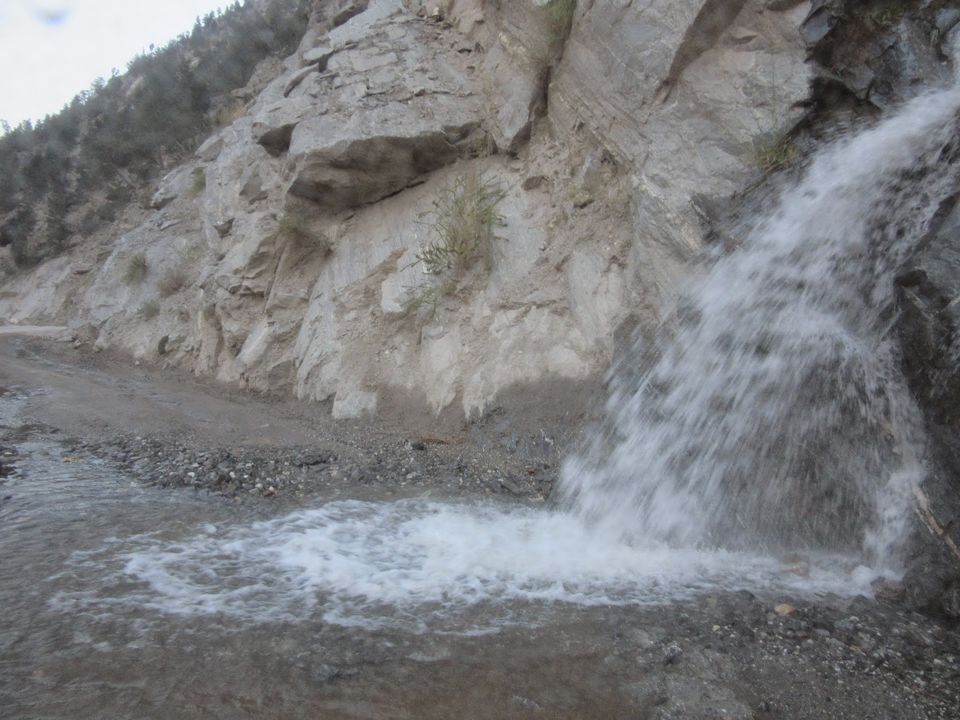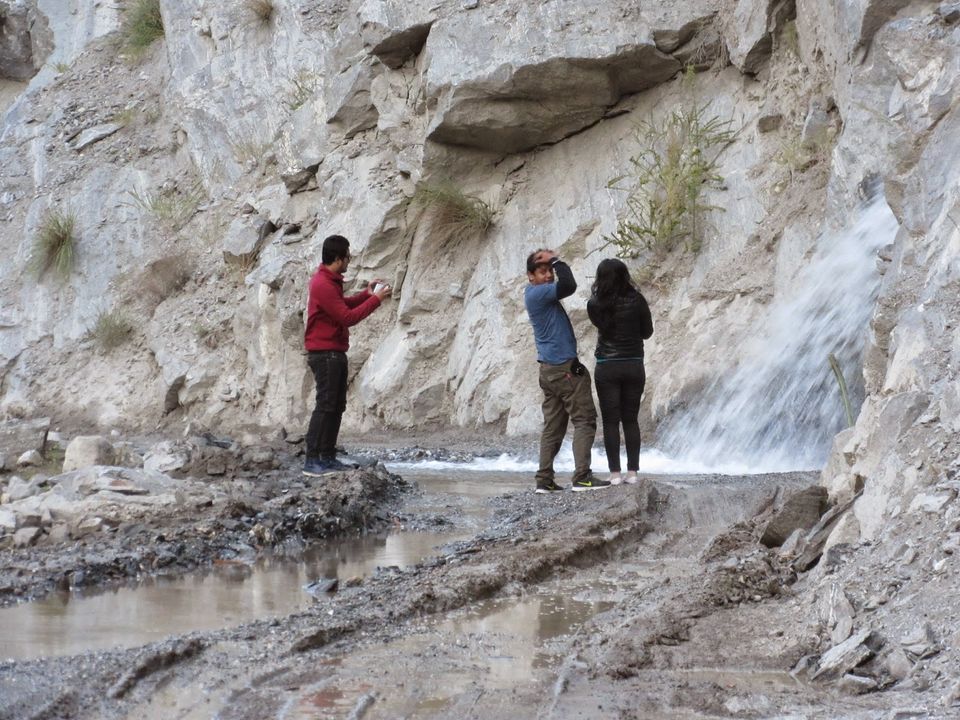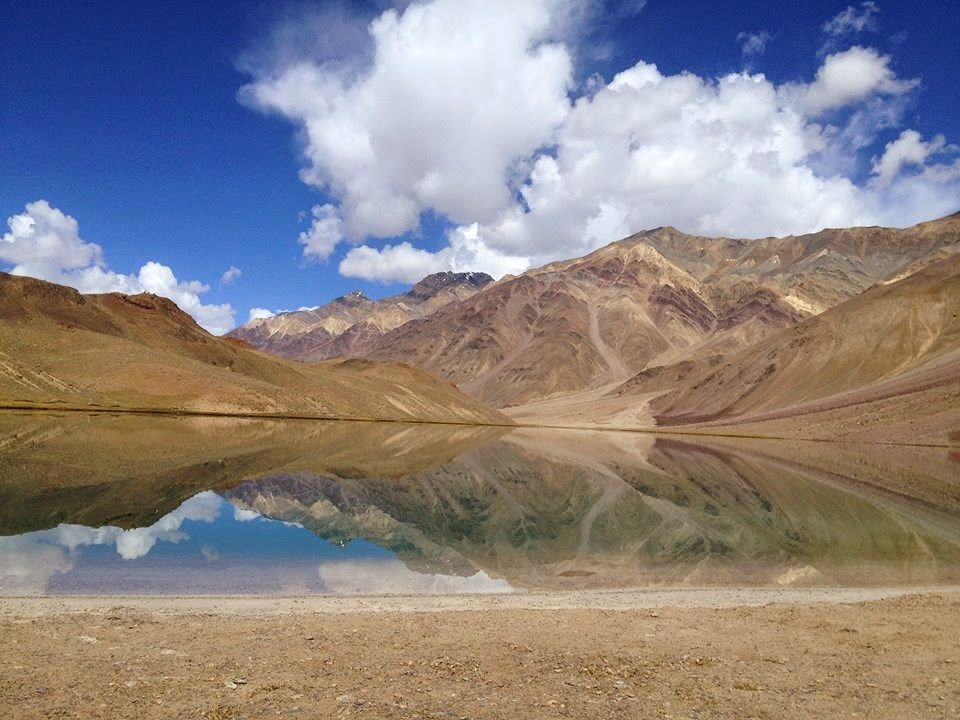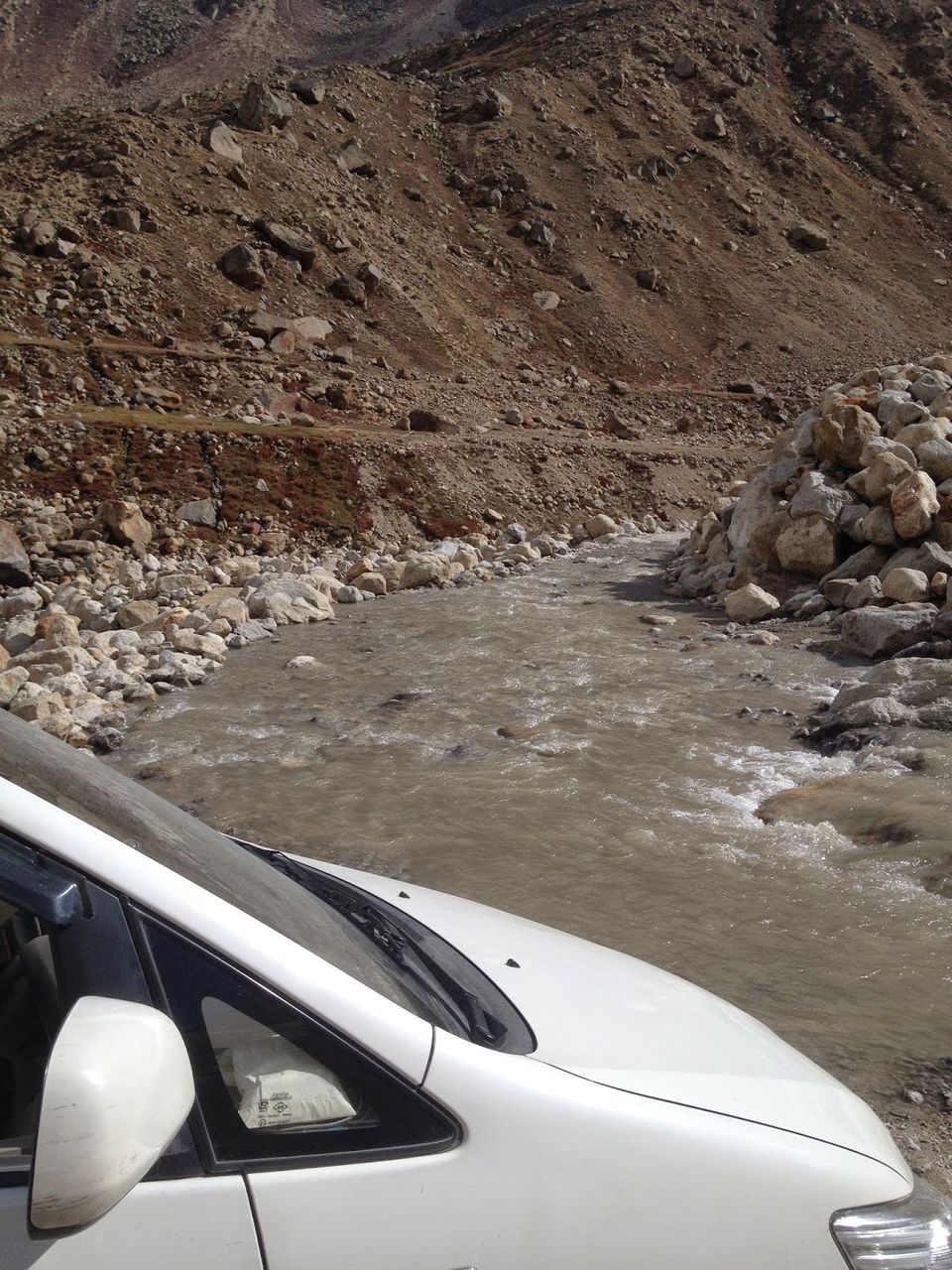 This wacky idea sprouted in Anuj's head one fine day. "Let's go to Spiti," he said and by showcasing around a hundred pictures enticed me into this. Although convinced, yet extremely nervous for this dangerous trip, I squeaked in front of a friend a week before the trip, "Will I die?" He pacified me saying," If this is how you are supposed to die, you will atleast have the satisfaction of having lived your dream. Not many get that chance." Those words reverberated in my head so powerfully that they gave me immense courage to get ready for yet another adventure; BOLD AS EVER.
I've heard that to reach the gates of heaven one has to pass through a million roadblocks; it is correct!! And I swear that you won't find less than a million should you wish to reach the resplendent and heavenly valley. Pelted stones are spread onto the treacherous terrains, making it one of the most risky routes in the world. There are hardly any roads, and those which are there, are not just less traversed but also least constructed. After a very long time I was travelling with a group of jubilant folks who had so much madness in their heads that they were ready to undertake any risk to cover the place in the entirety.
This is the longest trips I've ever taken and Udbhav Rai remained our guide and navigator for the trip. I am talking about 6 days and 7 nights of endless driving, skirting almost every state of Himachal Pradesh starting from Shimla, covering Fagu, Theog, Narkanda. Sarahan, Sangla, Chitkul, Kalpa, Nako, Tabo, Kaza, Kunzum Pass, Chandrataal, Batal, Rohtang and then exiting through Manali. Be ready to take some stopovers to break the journey into doable parts as you can't reach there in a day.
Starting from Delhi on a Friday afternoon, we boarded Kalka Shatabdi at 5:15 PM from New Delhi railway station and reached Chandigarh at 8:40 PM while a car was already waiting for us in the parking lot. 'Shimla we are coming'. Just a bit of breaks before we caught Shimla in pitch dark at around 12:30 AM, tired and exhausted. A 6 hours sleep was all we needed to be born again; fresh.
Day 1, we started for Sarahan at 7:00 AM. We were all pepped up with energy to kick start the journey that we had all been looking forward to in the last one month. Sarahan is a little farther from Rampur and is the best destination to take a halt.
Day 2, advancing further from Sarahan we left for Sangla Valley and Chitkul with the plan of stopping there for the night, but we reached sooner than expected, so we skipped our stay there and rather drove 50 Kms extra to pull over at Kalpa. Kalpa is just a few kms uphill from Rekong Peo, which is a major diversion for Spiti. We slept in Kalpa with the idea of starting Day 3 at 4:00 AM for our Mission Kaza. From Kalpa to Kaza was no road, but a long stretch of stones which had come down from the sky rocketing mountains. Occasional showers from the molten glaciers had created small ponds on the roads. Hurdles of rocks we had to pass every now and the driver sometimes asked us to get down the car to avoid the risk of falling backwards in the Satluj River. The plight of the roads actually choked me to the core. Vijayendra Nigam, alias Viju, started chanting a mantra which further made me conscious of the danger while Richa, who was the most composed out of the lot, showed no signs of worry.
The landscapes had started changing as we were moving closer to the destination; the real worth of the trip was now showing. The mountains which recently were covered with green plantations were now ripped-off of their green to expose the deserted rawness and brown colour. The dusty sky of the past few hundred miles had magically turned blue; a blue so clear that you would doubt your eyes. The endlessly curvaceous roads had abruptly turned into finely designed elevated stretches. The nature had turned its beauty mode ON.
Altitude was gradually rising, breathing was becoming a task and I realised that we take many blessings for granted in life. Peeping out of the car window I was trying to capture every small detail of the place when suddenly the driver informed of a flat tyre. The only option to get it fixed was to drive an hour back. Taking this as an advantage, we moved out to eat and hang around in the apple gardens which in the month of September are fuller than ever. The driver returned after an hour with mended tyres. The exorbitantly spread splendid landscapes were of supreme aesthetic value and caressed my soul with its beauty. The deep turquoise Spiti River that was running parallel to the road was flowing through finely scaled paths cutting through a constant breadth. The sun rays falling on the waters were bringing out its freshness, beautifully. On the other side of the road were stupendous rock formations which transitioned from sandy terrains to sturdy spikes. The shadow of the sun was graciously falling on the mountains. It seemed that the mountains were displaying their different moods. I exchanged a few glances of amazement with my friends. Overwhelmed with the flood of unblemished sceneries, we all went speechless.
By the time we reached Kaza, it was already dark. Cold had become bitter. Oxygen had decreased further, resulting in heart palpitations and need for deeper and longer breaths. We had our dinner and decided to keep the next day a bit easy and relaxed so as to revive our energies. On the dinner table that night, we all made a little attempt to pull Viju's leg for the panic he had created on the way.
AND THERE WE WERE - -- RIGHT THERE -- IN SPITI --- THE KINGDOM OF HEAVEN.
Next morning we couldn't control but rush, although slowly to keep our lungs alive, to Langza Komic, our first destination in Spiti district, 1 hour uphill from Kaza at a whooping height of 13000 feet. The altitude was so high that every step required us to take 3 breathes to compensate for one. The sceneries were in such bounty that our lenses fell short of capturing them in totality. It was too much of beauty and probably that can explain the tears that kept bulging in my eyes. Deeply touched by the ecstatic beauty, I could have traded anything and everything to take and keep with me those picturesque delights. Whoever said that, "Anything that remains untouched and unbounded beholds supreme beauty." I can vouch for its correctness.
We stopped at the Komic monastery, where the monks served us traditional food. Poori with a bowl of soupy Rajma served with an extra bit of red chilly on the platter. Wow!! That was a real delight and in lieu of their goodness we volunteered to wash the utensils. Next on the cards was Ki Monastery for which we traced the whole route back to reach the main road from Komic and then drove 18kms east. This monastery is very important in the history of Spiti as Dalai Lama spent a very long time here to give his preaching's. After covering the monastery we drove some 23 kms in the opposite direction to search for the beautiful spiked landscapes which we could barely view in the night sky while coming to Kaza. The boys had left hope to find it, but Richa and I were adamant of finding the lost treasure. Desperately pleading the driver to keep driving a few kms more, we finally found the stretch with the ornamental mountains that beautified the Spiti valley.
The time to say goodbye to this heaven was approaching. We were about to leave this beautiful place to resume with our monotonous lives. Were we going to return without a celebration? HELL NO. Later in the evening we made a small bonfire, small, but big enough to celebrate the victory of having accomplished this expedition, although this wasn't the end. The challenge was getting back to where we started because we were exhausted and fatigued out of the arduous 5 days of travelling and keeping the ribs straight up for fun.
Three people out the team of five voted to change the route of return. And only after a bit of friction, we all happily agreed to exit through Manali. The distance is a bit less, but somehow to our 'drained out of energy' selves, the idea then appeared - a lot less. Expectations, however, are not always met. Especially, when things are beyond your reach and are ruled by the mood of cosmos. The Manali route came as a blow. Things had started to turn out exactly the opposite of our very prudent and mature discussions. The 200 kms route came out as the most dangerous route ever; of course, equally adventurous. I'd heard a lot about off-roading from my friends, but I honestly had never thought, one day I suddenly would find myself in middle of it; the day I would be least interested in another adventure. The Manali route is so damn adventurous that the thrill can make one forget their fatigue.
On reaching Kunzum Pass, we decided to take a detour to Chandrataal, the Lake of the Moon. A total of 14.5 kms included 12.5 Kms of drive and a trek of 2 Kms at an altitude of 15000 feet. Trekking took a toll on us and only a thousand breathless moments later we reached the lake. What came next was a miracle of nature; a mirror like lake lying naked in front of our eyes. As a clear instance of conscious and sub conscious mind, the lake reflected exactly what lay above. The water was so still that it took a pebble to prove its existence. We sat for a while and marvelled at the beauty. The quietness and inactivity of the water was somehow cushioning our restless souls. While trekking back, we were all quiet, as the place had filled us with a calm that cannot be put into words.
We continued our journey to Manali an hour later. As alert as a fox, I don't remember missing the slightest of details of each moment which passed when my heart had jumped in my gullet and I could feel it beat heavy and sometimes skip a beat. We were literally thrown into the wild with a challenge of finding our own path.The river that was flowing right across the road was haunting me, as if trying to engulf me into the unknown. The sight of a few cars that had fallen into the abyss created panic in my heart. It was a daunting task for the driver to jigsaw between rocks and rivers and my panic-stricken howls were distracting him. He requested me to sit on the opposite side to divert my mind and I submissively followed his orders.
After some 10 hours of continuous driving we finally reached Rohtang Pass and called it a day to the deceptive roads. We all were feeling numb towards the hustle and bustle of the place as we had been uprooted from it in the past few days. We felt accomplished of having completed the trickiest journey's of our lifetime and were also deep in our heart missing Spiti, which was still commanding over our souls.
Rohtang Pass was filled with thick mist and the cold winds were piercing through our skin. We put on our caps and gloves and stopped for some quick photography and a Maggie delight. Manali was another hour downhill where our phones signals came back to life which had gone extinct in the past 3-4 days. We took a stopover at Manali and exchanged some pleasant stories at dinner. As we had to leave for Chandigarh early next morning, so we all parted to sleep on time, though I always doubt if the boys did the same. It took us around 10-11 hours from Manali, to reach my home in Chandigarh from where my friends had to proceed to Delhi.
The only relief that came at the end of the day was home cooked food with a cup of tea. Early next morning my friends left for Delhi and I was left with a little grief in my heart to have left their amazing company. This trip had exposed me to the delight of travelling with a group of likeminded people. I am fairly short of such experiences and needless to say, I am looking forward to a lot of such experiences in the future.
This trip was originally published on Not Just Travelling.