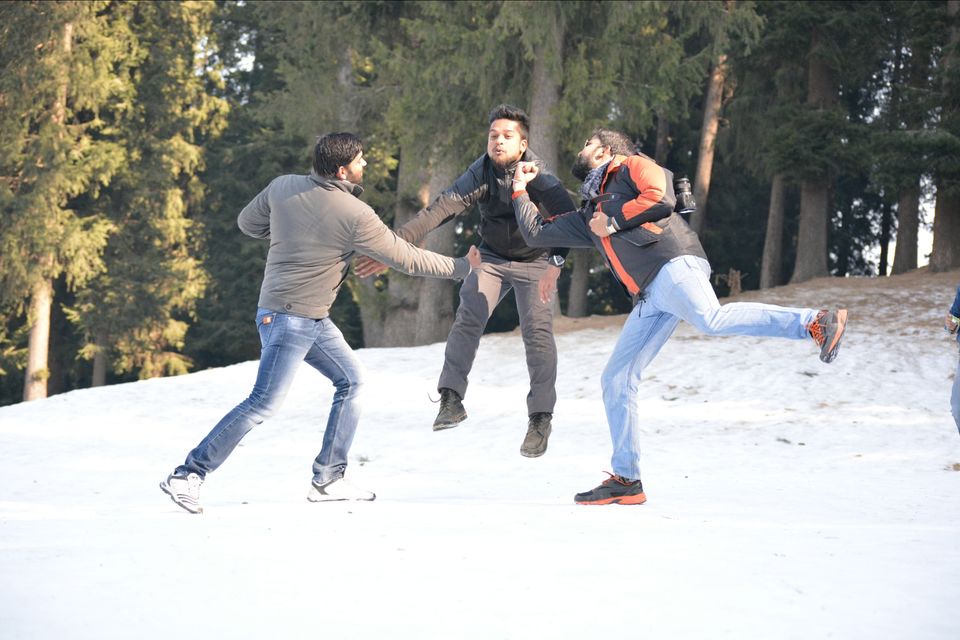 On the other day we headed towards narkanda hills at an altitude of 2780 m which was around 65 km from Shimla. We drove for around 3 hrs to reach Narkanda hills with lots of scenic spots on the midway from shimla to Narkanda such as Theog, Kufri amd many more. It was my first snow experience after all, i was so much excited to see the white snow 🌨 reflection in my eyes under bright sunny day in chilly winter in the month of January.
Then we reached narkanda but we had to trek for 3-4 km towards top point where we were expecting some good snow, and guess what we found good amount of snow and it was a skiing area.
Since this was my first snow experience you can see the excitement in this picture and posing for pictures posing like anything, my buddies punched me and i gave action reaction😂.
Traveling and sudden plans are best combo for youths and which also provides certain experience for surviving life. It was an auspicious week of Republic Day which was a hope of rest in lazy winter in Dehradun during our MBA. We were happy enough for the golden opportunity of holiday in weekdays and we started partying at night and suddenly we four people me, Ritesh Pal, Shrey Sacchar and Vikash Duhan decided on phone on 25 Jan that we will be leaving for Shimla early morning at around 6. I was like, 'abe pagal h kya 12.30am ho rhe kl kaise uthunga mai abhi dinner bhi nhi hua, socha tha kl sounga'. It was a situation of excitement and laziness, but i was also crying inside for my sleep and on the other hand excitement of traveling to Himachal😍.
I tried sleeping but could not manage to sleep before 4 am, as soon as my eye lid got shut my phone started ringing and i was like 'kyu Haa bola mai Shimla jaane liye'.
It was 6°C in Dehardun and it was obvious that i cant take bath, so after coming out of bed immediately started shivering and i was motivated by my brain, 'ab to bathroom me jana hi nhi, brush kr aur nikal'. We managed to start at 6.15am and Sharey was driving his car with Ritesh on co pilot seat, me and Duhan where sleeping at the backseat. We took route from Derhradun-Nahan-Chandigarh-Solan-Shimla. After we crossed and entered Himachal, i literally felt vibes of purity in the chill breeze from Himalayas and after that i didnt sleep, we had lots of photography breaks on the way, we were posing for photographs but as u can see these were natural shots. We reached Shimla by 2pm and thought of heading to Manali but then we realised that we dont have time, so we returned from 30 km far from Shimla towards Manali. We found an accomodation above mall road near jakhu mandir which was at affordable rate.