You must be wondering why such a title to this post. Does it mean I went for a office work alone and extended or I went in group with my other team members, left them instead and stayed back to experience the chilling Shimla weather in the month of December? So yeah its the later one as it sounds more adventurous.
You check out some more interesting travel stories by clicking here.
So we went there in a group of three (I, Devika and Dhiraj) to study Himachal Pradesh's Road safety system but believe me neither the road was safe and neither were we. Starting from the early morning experience of an absurd looking stranger with clumsy hair and wearing just an open jacket with his clearly visible bare chest trying hop into the back seat of our car to my near miss of being hit by a bus on a crowded chowk or searching for our hotel which was 8 kms away from the main city towards the jungle. There are enough stories to follow to prevent you from switching to other pages.
The start We started our corporate trip on a thursday morning around 4:30 and took our office cab. Since we all were coming from three different parts of NCR, we decided to pick Dhiraj from the highway. So while we were waiting for him in the dark amidst little showers, I suudenly heard a sound of someone hitting our car's boot. We thought probably its him as he kept saying that he is just 10 mins away though he never was, but to our surprise someone else opened the backdoor. As I turned back to wish good morning to our respectable manager I realized that Devika a small 4 feet 30 Kg Senior consultant looked blue in fear with her mouth wide open. At the same time I heard someone saying from the other end saying "Arre bhaiya bitha lo na". The stranger literally tried to enter the car and looked so weird and strange wearing just an open torn jacket with his bare chest completely visible.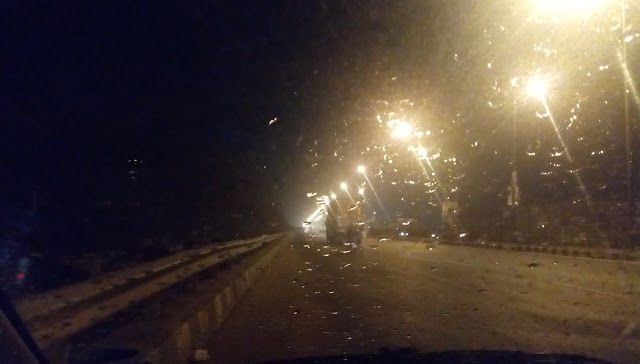 The way It took us almost 8 hours and we entered Shimla in the afternoon when I experienced a near miss by a rashly driven himachal local bus. The road till Chandigarh is really good and it takes around 3.5 hours to cover the 250 km distance but the remaining stretch is under construction which consumed most of the time.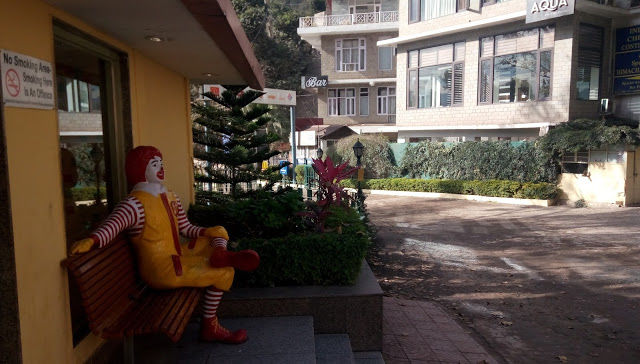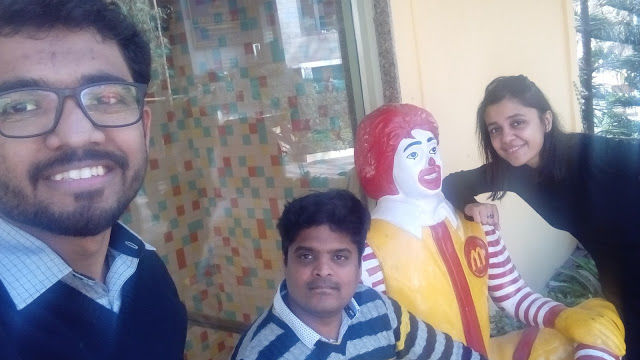 It started the next day when Devika also left taking the cab as well in the second half after a 2 hour long meeting at HP police. I checked into my dad's guest house in a suspense whether the care taker and the cook will accept me as their guest but they were happy to welcome me and even cooked maggi.
Wake and Bake
After getting something into my tummy, it was the time to hit the mall road and explore, and what could have been a better way to start other than the famous café "Wake and bake". Situated at the famous scandal point it's a café which gives a perfect view of the mall road through its yellow colored windows and also has a terrace with a beautiful Himalayan range view. I tried the famous carrot cake and Italian sandwich surely was filling and justified all the reviews available on trip advisor.
When you are alone you tend to do and experience things which otherwise you may hesitate or resist. The next experience was the a theatrical play titled " Taj Mahal ka tender" which was organized and presented for the Himachal police in the geity theatre and was free for anyone to attend. I thought that probably I'll sit for some time and will sneak out, but to my experience the play was so exceptional with perfect dialogue delivery, lights and sound that I kept sitting for next two hours and enjoyed. This is actually you could do once you are on your own roaming here and there, talking to people, eating chocolates and coming back late to hotel with no one to question and interrogate.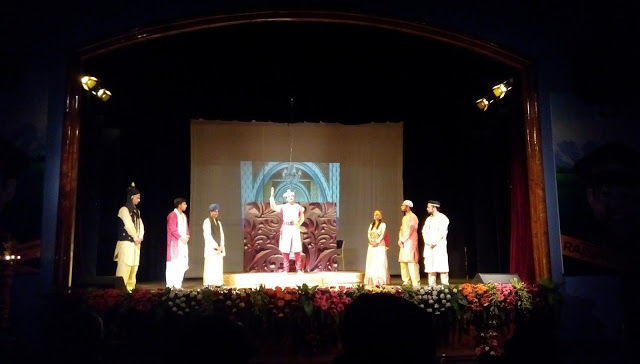 To my surprise it wasn't that cold in Shimla even in first week of December specially the day time which was sunny and clear. So after the lunch at local restaurant and after about 3 hours of meeting with Himachal PWD people it was the time to hit the famous and highly commercialized mall road. So around 5:30 when sun was about to set there was a beautiful orange glow coming from the mountains and the cold breeze made us realize that winter is coming. Also even on a working Thursday the mall road had that rush and buzz which reminded me of my summer holiday in my old school days when Shimla was one of the most exciting holiday option.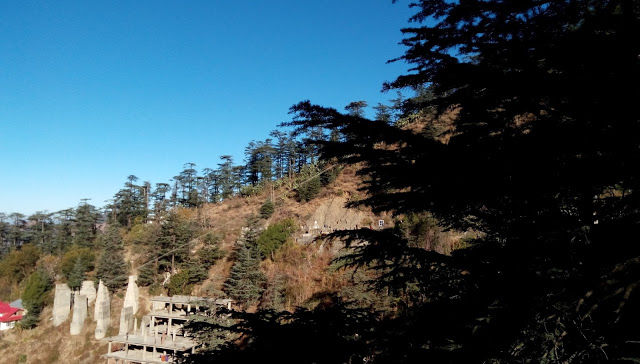 Since it was Dhiraj's first visit to Shimla and he had just that day, the only restaurant and the eating joint I was able to think was the iconic Ashiana Restaurant. Situated on the ridge, the most beautiful architecture and heart of Shimla along with the church and Gandhi Statue is the this restaurant. Its one of the oldest which may have upgraded there menu from purely Indian authentic food to pizza and pasta but its surely a must visit just because its so old.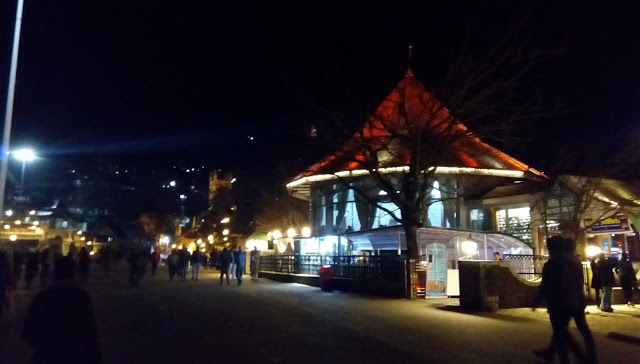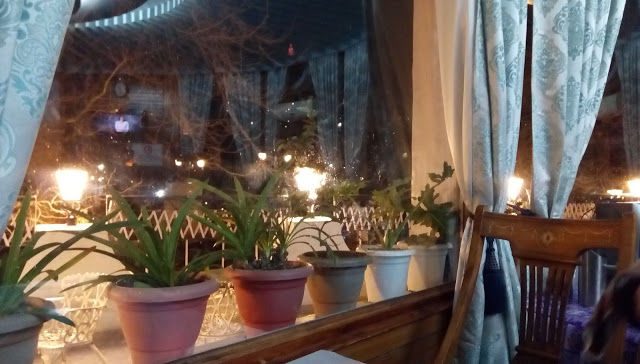 We ordered veg cutlet, pizza and soup as we went a little earlier and the main course wasn't available.
The haunted drive After dropping Dhiraj at the bus stop, I and Devika headed towards our hotel which was like 8 kms away from the mall and present somewhere in the Jungle. The road was all empty with no presence of street lights or any lights for that matter. I don't know why all my rides turn haunted and scary when I head towards my hotel. The experience became more adventurous when the hotel we booked was locked and there was no one around. We looked at each other in a surprise and felt stranded on a haunted road in a jungle with no where else to go. But soon the care taker came and welcomed us in the hotel.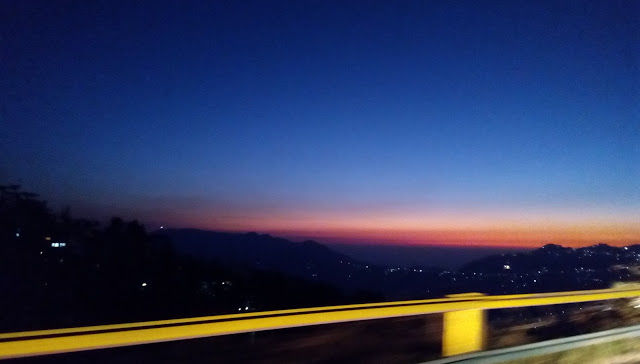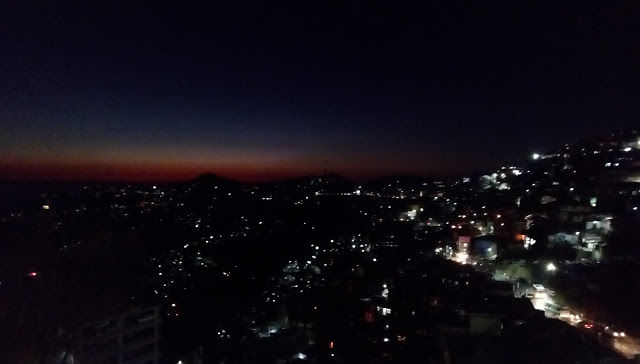 So after the play I also clicked few pictures, checked out girls on the ridge road, ate 2-3 crackles on the way back and when almost everything got shut and the cook called that my Shahi paneer is waiting, I returned.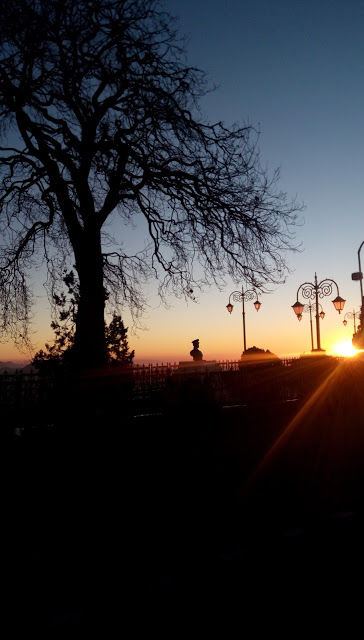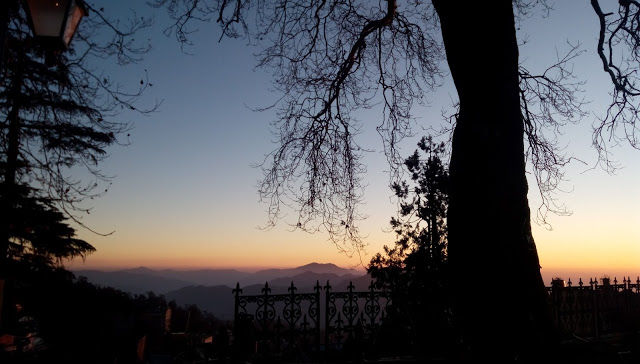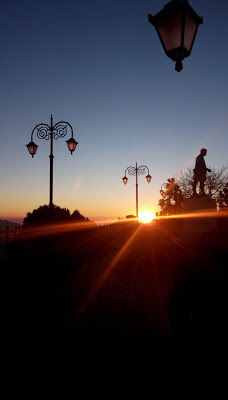 Shimla being the capital city is highly commercialized and few places to go such as Jakhu Temple, Christ church, Kufri, Narkanda etc. But since it was my 6 th trip to Shimla I didn't really wanted to go there again. Instead next morning I headed towards rather rustic church know by the name "Cathedral church" was suggested by one of my traveler friend. It was actually very really beautiful, peaceful and unexplored.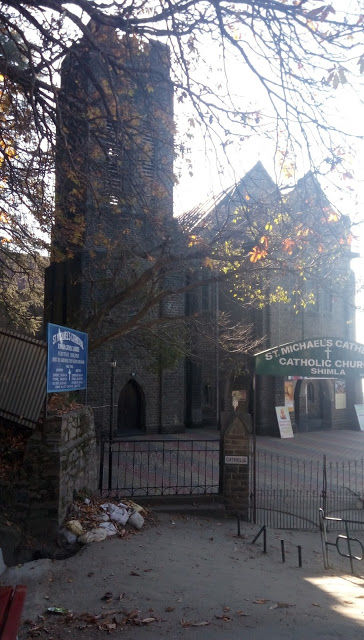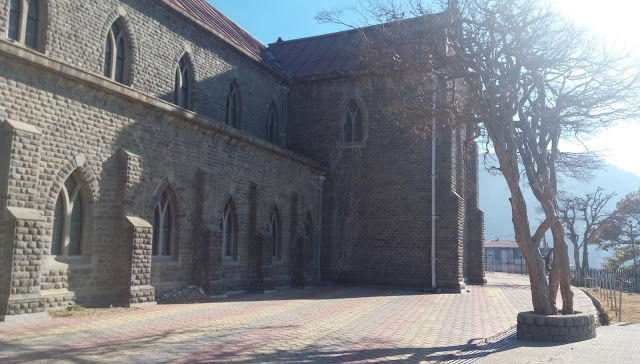 For the remaining time whatever I had I just stood on the mall road's end feeling the breeze and admiring the majesty Himalayan beauty realizing that these are something immortal and were there even when I visited in my childhood, are here now and will be there when I would be no more.
Being a consultant I am getting habitual of analysing the take away's of my each visit. And from this visit I can surely say that, one should try to travel solo atleast once just to experience the independence, the calmness and see whether you can fill that void own your own and with no one else being in your life. Because no matter what, everyone at some point or the other will leave you permanently or temporarily, hence it's very important that you are comfortable with your own self because a person can live with someone else only and only if he can live with himself.