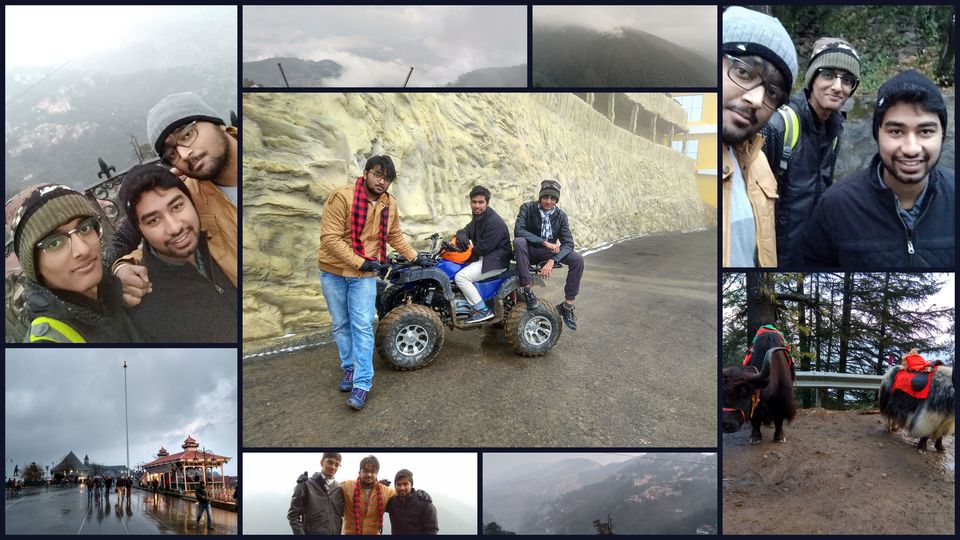 I was sitting in my room in Varanasi, my bag packet, waiting for the clock to strike 9:00 p.m. I had a train to catch, at 10:30. I was going on a trip to Shimla, with my friends. When someone asks me about my friends, my favorite thing to say to them, my own made up quote," When I was 10, I just had 2 friends. Now 10 years later, I have the same two friends". That's true, I met my friends as a kid, and since then we had always been together, well not lately, but that's a story for another time. The plan was for me to travel to Delhi, where I'd meet one of friends, then we together would travel to Shimla where we'd meet our third friend. You see, this was my first train ride, alone. Yeah, judge all you want, I had never traveled anywhere alone, there was somebody with me every time. When I look back to that ride, I wouldn't say it was a very special journey. How I passed my time? Let me tell you something, I had an android phone in my pocket with full battery, I had two novels in my bag, and not one time I felt the need to turn to these things to pass my time. I was so damn excited, I sat there thinking about my adventure to be, that how those 15 hours passed I don't even remember. I had to wait for my friend in Delhi station waiting room, I sat there for 3 hours straight, with only one thought in my mind, "Just a few hours and I'm gonna have the best 3 days of my life". This might not surprise you, but try sitting still, in one place, doing nothing for 1 hour and then you'll realize the beauty of the situation.
We reached Kalka the next day, and took a cab from Kalka to Shimla. That turned out to be a pretty good decision. The road trip was amazing. Since I was witnessing the beauty for the first time, my mind was going haywire, I wanted to get out of the car and run to Shimla on foot, shouting at the top of my voice.
Our third friend was already waiting for us in Shimla, in a hotel which he booked according to convenience. The hotel was "Siddharth regency" which is near the Mall road, it is a pretty good hotel, we weren't dissapointed with their service. In 8000 rs, we were provided a three bed room, for 2 days and also a cab for visiting places in Shimla.
The other two decided to take a nap in the noon, wake up in the evening and then we would go out. Again, I was too energetic to sleep, I wanted to go out at that moment itself. Although I decided against it, it started raining and I sat at the window just staring into the mountains barely visible due to fog and rain. In the evening we went out, walked on the mall road, travelled to the ridge, the church there. Loitered there for few hours, clicking pictures, talking, doing what 3 friends do when they are together, 2 ganging up and insulting the third. We went further, ahead and ate dinner at a restaurant near the Police headquarters, I don't remember the name of that restaurant. Came back, walking, it was pretty late, not late for Varanasi but apparently the shops in Shimla are all closed by 10:00 p.m.
Back at the hotel that we did another of firsts for me. We had bought booze and we were planning to get hammered that night. It was going to be a first FOR ME. Let me tell you one thing, that night I slept like I had never slept in years. Not to whine, my life so far had not been something one would aspire to have, I was broken, with many emotions bottled up inside me for years, and I never had the courage to share them with "anyone", not even with my friends whom I had known for 10 years, not with people who had known me for 20 years. I let everything out, next day I didn't remember clearly was had happened last night. But I remember crying like I had never cried and laughing like I had never laughed.
Bottom line is next day when I woke up, I was happy, a little hung over, but happy. The cab that hotel had arranged for us was waiting outside. We got ready as quickly as possible. Kufri was the place we headed to. We first stopped at the adventure park on the way to Kufri, and tried some of those tasks, not too scary if you ask me. We ate our lunch at a restaurant in the park. However we learned that one can not go to Kufri on foot, you have to pay those horse owners 500 rs per head to reach the ultimate destination. The road was covered with horse poop and it wasn't possible to walk on that. It decided to give it a pass, things were going a little over the budget. We couldn't go to any other place as we had spent most of our time at the adventure park, and the other places were covered in a "different package" according to the driver.We stopped at the "Green Valley" on our way back. We went back to the hotel, ordered a pizza and ate that for dinner. Next day we were heading back to Varanasi. The holiday was over.
That trip changed my life. I had done multiple things for the first time. Before that, I was haunted by things, horrors of my life, in my dreams but as it turns out, opening up to people really helps. I now do not find any trouble getting through the day. I am happy, truly happy, most of the times. I get angry a lot less than before. I have started doing things that I enjoy, more often. Things like reading books, drawing, running, cycling, playing my Sitar. Above all I had tasted something really addictive on this trip. (It isn't what you're thinking, I haven't drunk after that day) It is the joy of travel, too often I find myself sitting on my laptop, searching for destinations to plan my next trip. Hey, I walk the Talk!! December of 2018, I have planned another trip, "A Solo Trip", to Manali and I'm sure it will be as awesome. My friends don't seem to happy with my decision to go solo, but sometimes we've got to do things that are good for us. Sometime we've got to be selfish.
I am attaching few photoes from my trip, it turns out we are not that good photographers. If you're wondering which one is me, try searching for the weirdest, tallest and thinnest looking dude.