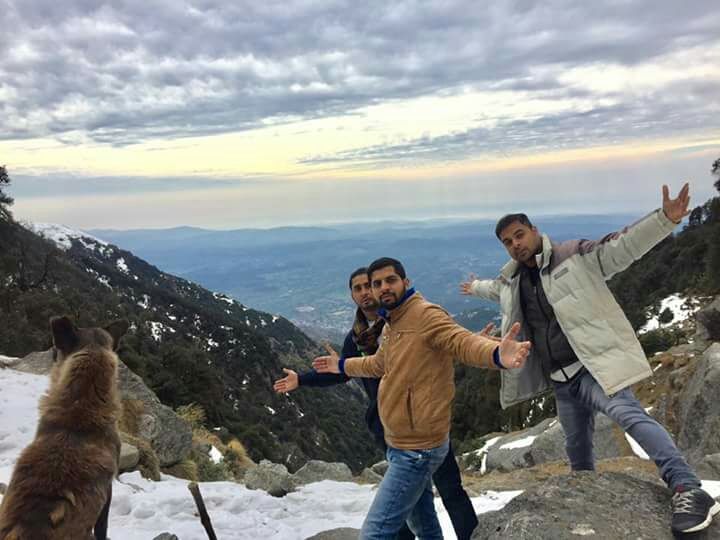 So Here we go..a much awaited road trip from Jalandhar to Triund with my Oldies (Schoolmates). I am Nishant ,28 , Software engineer,Single and Wanderer. So we left from jalandhar at 2PM and reached Mcleodganj At 8:30PM. We had some stoppages on our way like very famous Bombay Picnic Spot near Gagret himachal. Had dinner in Mcleodganj at Bhim sen Dhaba in lower market. It has some delicious menu and reasonable pricing. Got a good hotel room in Rs.800 which in season would cost Rs.1400-1500 according to the hotel owner. Had fun with Nikhil and Jammy(My schoolmates) in hotel room. Its our last bachelor trip because Nikhil gonna get married soon...Yayyy. we slept around 12
So..on day 2 ..Time to go for our destination Triund. We asked some locals and got to know that Triund hill top is snow covered and the trek is closed and camping is impossible at this time of the year. Still,I didn't want to go back without going there. I asked some more people and got to know that we can hike for the day and can go to a certain point of the trek where trails are cut now due to 4-5 feet snow. So we went for it. Something is better than nothing. we hired a taxi from mcleoganj main square to Galu temple which is merely 6km bumpy ride. This 6km taxi ride will save you 2 hours and ample energy for the main 7km trek. We had to hire a guide because a policeman didn't let us go without a guide. We paid 700 hundred to the guide. It was a simple to moderate trek for first 2-3km for the beginners. I have an athletic body and I regularly do workout so this trek wasn't a problem for me. on the way to triund two cafes are there. Magic view cafe and Best view cafe.You can have a cup of tea and maggi and others cookies and chocolates. After 3kms trek got a little tougher for my besties ..not for me lol. We reached our destination point which was snow covered in around 4 hours of hike. We had a drink of rum on the top and had fun with snow. I tested my singing skills also there which turned out to be a disaster according to my mates lol. How mean. I thought I sang well. But mind you it was heaven out there although we couldn't reach the triund hill top helplessly but still it was so calm and peaceful out there with merely two-three more hikers.Time to click Pictures yayyy.
That was a day hike unfortunately we could not camp there because of the rainy weather. So we came back to our Hotel room and got freshen up and went outside to the main square of Mcleodganj to have some snacks like momos and paneer tikkas. It was Saturday and great rush even in off-season. Had dinner in a punjabi Dhaba and went back to room and slept. It was a tiring day.
We planned to go to Naddi which is only 4km from Mcleodganj but on a high altitude. It was very cold up there. On the way to naddi..there was a Lake named Dal. Not like the Dal lake of Sri nagar. But it was quite a stop.