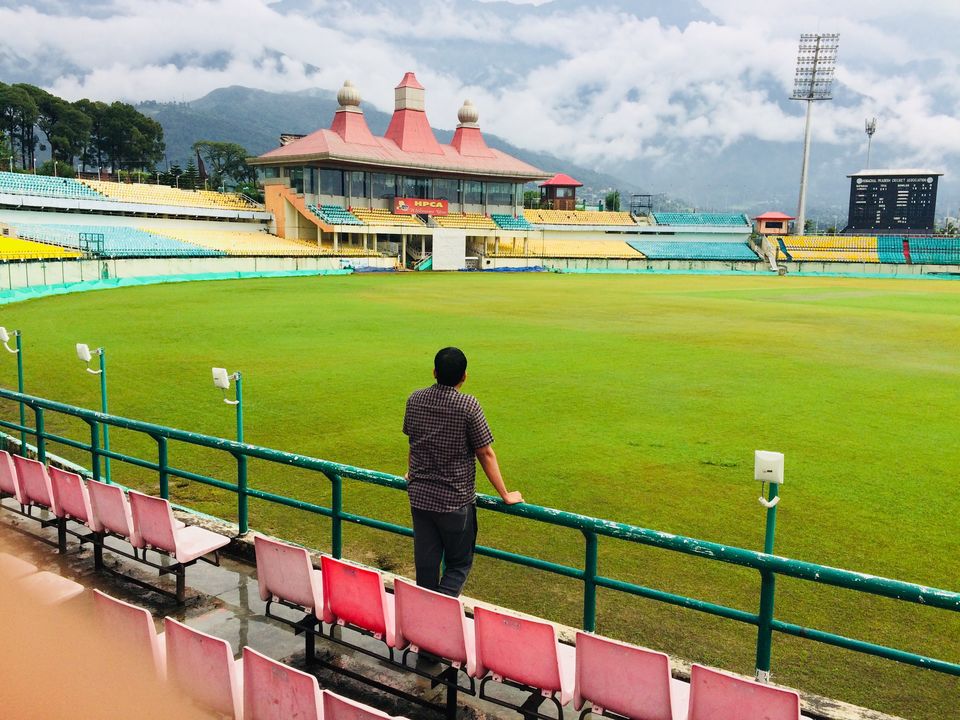 Well to start with, this was not my first solo, this was the second and more to come. So, to start with, where I work we get least fingers countable holidays, no Saturday off too, so whenever I get any long weekend (my definition of long weekend is either Saturday or Monday holiday), I get the itch to plan the weekend for someplace off to. So I marked my calendar for the days coming. Thanks to Janmashtami!! Well living in Mathura (my work place), and HIS janambhoomi got me a weekend to remember. I was on my nerve to push the comrades/colleagues to get on with, but shoot! with the statements"Monsoon and mountains don't get together" Well I said, i'll make them go along. So, that's how solo planning started leaving a space if anyone rush in last minute. But as anticipated no one had, leaving me to go with a flow and see what 's in store for me for the next three days where I'll be completely in different world. I booked a taxi, packed my mini and hopped in to the journey in the misty mountains. It was late evening on 31st Aug'18, and 12 hours ride to the destination, So I thought i got to stay the night somewhere half way. It was Ambala I decided to get some rest. But before that I had dinner in Amrik Sukhdev Dhaba. Fellas! you got to try this place.. It's something.
I started early from Ambala to Mcleodganj. I reached Mcleodganj in afternoon. It was cloudy, misty and cold. All in my likings. the first spot was THE St. John Church. The silence of nature's sounds is medicinal. The church so old, I was memerised, it was reliving the memories i have watching those old gothic horror movies with church in them. If only this place could, so many stories it would have to tell. After unticking it off my list, I decided to check in to my hotel it was dusking soon than I expected. Well turned out my hotel was not in Mcleod but in Naddi 5 kms u turn from Mcleodganj. Driving up the hills further, the clouds covered us with nothing to see the way ahead, there's no feeling like it.The reason why I love hills. Somehow, nature showed her kindness and I reached my hotel with little bit of shivering. I checked in and worn something warmer and again decided to explore near to my hotel.. I found out I was staying very near to Sunset/Sunrise point. Thought to chekout the points, although there was no point going to see sunset, the misty nature doesn't want us to.. Still in between the drizzle, youngsters were all over the place, After a long tranquility on the way, i heard them chattering, I felt lively standing in between them. I checked out sunset point and decided to sit there a while observing the strangers, hearing some foreign linguistics and cherishing my hot cuppa. It was getting dark near to 1900 hrs, I checked in to wine shop bought myself a vintage red wine and it was time to call a day off.
The next day after taking a hot shower, I went to hotel balcony, my my what a view, it was sunny today. Perfect time to check out the sunrise point, I called my cab and went straight upwards to the point. The mind-blowing view brought tears to my eyes leaving me to no choice but to appreciate the creator. The weather was shifting from being sunny to cloudy in no time.Bought an umbrella in case. Headed off to Dal lake. But the main destination was for me to go to Bhagsu trek. I took my cab driver with me, to assist me get the shots on the way. He was a good companion during. I trekked up way around 1 km to go to Shiva Cafe, a place so lively with good music, food and ofcourse the view.. Gosh!! only if time was on my side. It started raining heavily during my descend to the mall road. I was half drenched so decided to buy a shirt. The next spot was Dalai Lama Temple. I met some beautiful people there, and they shall be there atleast for sometime in my heart. Spinning the prayer wheel and seeing the old monks so lost in their prayers was an experience. After spiritual combat, it was time to explore the small town, The Mall road, filled with cafes, bakeries, kitchens, spas, restaurants. All in one place. By evening I was so tired to even lift a leg. I slept well that cold silent night.
It was time to leave this place. I had one more in my mind, Dharamshaala. On my way return, the last spot was this HPCA stadium, worth coming. Then it was about time to return. I reached Mathura at midnight. 
Well to end with, I really urge you all, do travel whenever you feel like it. Nothing can heal your soul the way travelling especially solo travelling does. As I have read in Tripoto only, You never are the same you were when you come back from a place you've never been to.
Last but not the least, 
" The soul always know how to heal itself,
The challenge is to silent the mind." So long!! until next trip.