Lazing around in perfect peace in a mesmerizing ambiance with your "happy hormones" completely boosted. The best thing about these kind of places is that they simply create a perfect environment which forces you to switch off your work phone, no meeting updates, no escalation mails and no deadline notifications!

I love to call these places, "the perfect Weekend getaways".
2017 is a happy year with uncountable long Weekends and one of them is coming up soon (24th June). Wondering where to head in this Weekend in the middle of peak summer, mixed with a gentle and romantic rain?
I have handpicked a few of my favorites from the places I visited.
Near Delhi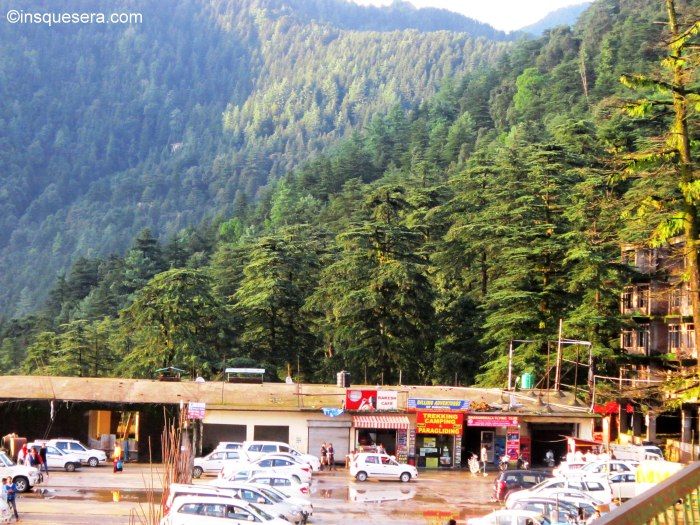 The distance from Delhi to Mcleodganj is around 500 Kms. You can either opt for a Road trip or a Train Journey to reach Mcleodganj from Delhi. Via NH44 and NH503, the road is pretty smooth till Pathankot. From Pathankot, remaining 100 kms is a bit bumpy ride and it is advised to keep an well experienced driver at the Wheel while ascending the road amid hills. After Dharamshala which is around 9 kms till you reach Mcleodganj, the road becomes all the more tougher with decreasing width and huge traffic Jam.
Direct train from Delhi is available only till Pathankot. From Pathankot you can either go by Bus or hire a Taxi. Taxi is bit costly and good for a big group. There is also an option of Toy Train which runs in specific scheduled time. But, that is good only if you desire to experience the ride. Timing is infrequent and you need to plan way ahead. There is no direct train till Mcleodganj. Nearest station is Kangra which is around 30 kms away from Mcleodganj.
Positioned in the Suburb of Dharamsala in Kangra District of Himachal Pradesh, Mcleodganj seems more like home for Tibetans than Indians because of its large population of Tibetans. Amazing fresh air, laid back environment, chilled out tourists (mostly foreigners) are enough to make you feel completely rejuvenated.
It is a picturesque small city surrounded by pine trees all around. I would advise to take up a hotel in the middle of the city if you want to take a leisurely late evening stroll in the main market filled with cool tourists, lively Spirit of the locales, attractive flea market and authentic cafes and eateries. We had stayed in Hotel Holiday Hill with an amazing view which was just 10 minutes walk from the main market area.
Some of the attractions of Mcleodganj are Bhagsu Waterfall, Bhagsunath Temple, Monasteries, Tibetan museum and Dal. There are also many cafes which serves authentic food and snacks. Some of worth visiting places are Tibet Kitchen, Woeser Bakery, Lung Ta and off course the most popular being Shiva Cafe.
2. Escape to Tals [Nainital.Bhimtal.Naukuchiatal]
From Delhi, Nainital is around 300 km and bus or car is preferable. By train the nearest station is Kathgodham which is located at a distance of around 34 km from Nainital.
It is strictly advised to reserve hotels way ahead if you plan to visit Nainital, especially, during long Weekends. It is a very small place and crowded with tourists with limited number of hotels. However, there are numerous luxurious yet budget Resorts bit far away from Nainital, located at scenic locations. We had traveled in a big group during one long weekend without any hotel reservations. After struggling for around an hour, getting fully drenched in rain we ended up in a very beautiful resort, Van Vilas Resort in Bhimtal, around 20 kms from Nainital. Even though resources like Tea, coffee, breakfast et al were not very adequate due to the location, it was quiet a comfortable stay with amazing view of the Bhimtal Lake.
A day is sufficient to cover all the mandatory sightseeing places like Apple garden of Raniket, Naukuchiatal, Frog point etc. An evening can be dedicated to visit Nainital for leisurely boat ride and cafe visits.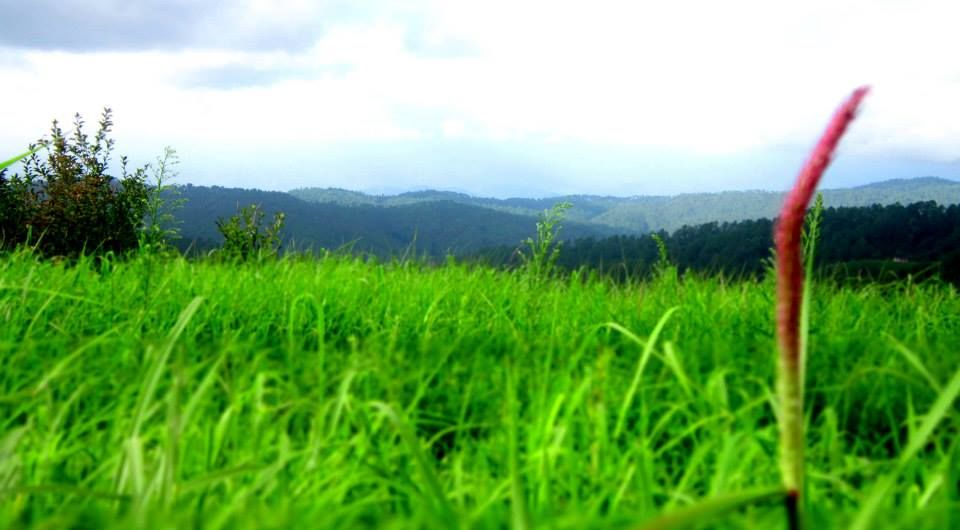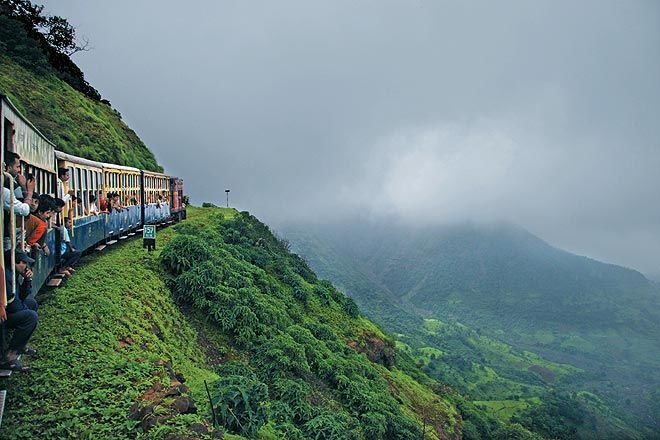 Matheran is one of the cleanest and most peaceful hill stations located about 171 kms from Mumbai. Specialty about this cute little hill station is that no vehicles are allowed inside and tourists are required to park their vehicles at the entrance of the town and travel on foot or a pony. Monsoon is the best season to visit this cloud clad peaceful hill accompanied by occasional showers.
One of the best experiences of visiting Matheran is the toy train travel amid picturesque Western Ghats. The train starts at Neral, a junction railway station between Kalyan and Karjat in Mumbai Central line. Train timings are very specific, not very frequent and thus, prior planning is required to catch a train at perfect timing.
Louisa Point, Charlotte Lake, Porcupine Point (Sunset Point), One Tree Hill Point, pony ride are some of the places to visit and things to do while in Matheran.
2. Lonavala and Khandala
My another favorite getaway while I was in Mumbai was Lonavala and Khandala. Rainy season is the best time to visit this twin hill surrounded by mini water falls all around. If possible take the 110 kms road trip from Mumbai to Lonavala through well maintained Mumbai-Bangalore highway, which gives an amazing refreshing experience.
Some of the highlight of our trip was picturesque hills all around, hot cup of ginger tea, relaxation in an exotic resort and trying out varieties of chikkis.
3. Alibaug
Alibaug is an attractive coastal town situated in the Raigad district of the Konkan region in the state of Maharashtra. It boasts of beautiful resorts if you plan to spend a lazy and cool evening in this leisurely town. Many B-town celebrities love to own luxurious farm house in this town to sneak away from the glittery World for a while, making this place all the more attractive for the tourists.
The best part of the trip I felt was the Ferry ride from Mumbai to Alibaug amid sparkling and crystal clear water of the mighty Arabian sea. Thus, I would suggest you to take a ferry ride instead of the road to not miss half the fun. Ferries are available at every 2 hours from Gateway of India port.
Alibag Beach, Kolaba Fort, Akshi Beach, Undheri Fort are some of the places where you can laze around for a day.
Near Bangalore
1. Coorg
Located amidst misty landscape, serene mountains and surrounded with lush coffee plantations, various types of spice, Coorg is a perfect escape place for nature lovers in Karnataka.
Situated about 200 kms from Bangalore, best way to travel to Coorg from Bangalore is to take the road. There is no direct train. The nearest train station is Mangalore which is around 3 hours away from Coorg.
With pleasant weather and temperature ranging between 15 degree to 20 degree celcius throughout the year any time is comfortable to visit Coorg. However, Oct-March is the time if you want to indulge in some adventure activities like trekking. Spring season during March and April enlightens the tourists with beautiful valley enveloped with white flowers.
Apart from visiting the must see places like Abbey Falls, Dubare Nagarhole National Park, Namdroling Monastery, Iruppu Falls, you can also opt for a plantation stay to have an enriching experience of coffee plantation.
2. Gokarna
Situated around 500 kms from Bangalore, Gokarna also known as mini Goa doesn't need much of an introduction. The best way to travel from Bangalore to Gokarna is by Road or Train. Apart from many buses plying daily, there is also a direct train, Karwar Express between Bangalore and Gokarna.
The best time to visit Gokarna is from October to March. Generally, June is a peak summer time and not recommended for travel to Gokarna but this year monsoon kicked in bit earlier than the usual month of July. Thus, it is a perfect time for the Rain lovers to visit Gokarna to take off-season advantages. One thing is important to keep in mind if you plan to visit during rains is that the water activities are dangerous and should be avoided.
Om Beach, Kudle Beach, Gokarna Beach are a few major places to have some relaxed moment.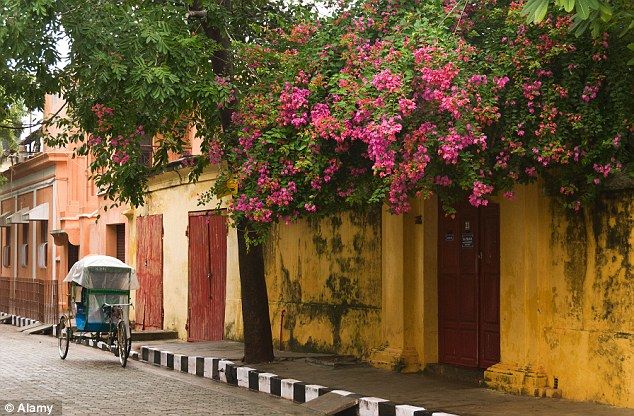 Even though peak summer time with soaring temperature is not a very pleasant time to visit Puducherry, these days are graced by "Varun Devta", Hindu God of water who decided to shower his blessings on tired and stressed mechanical people this long weekend with plenty of rain and pleasant weather in Pondy.
Pondicherry or Puducherry, commonly referred as just Pondy especially by the localites and people from in and around Pondy is a former French colony. Its gives a beautiful glimpse of colonial heritage with small lanes surrounded by yellow walled houses along with many attractive French cafes serving delicious French and Indian coastal dishes.
Paradise Beach, Seaside Promenade, Auroville Ashram are some of the places to visit while in Pondy.
Even though I always end up staying at my in laws place whenever I visit Pondy, some of the best places, location wise, service wise and ambiance wise which I recommend are Le Dupleix, Hotel Atithi and Le Pondy.
This travel story is replicated from an article first published in my personal blog
Frequent Searches Leading To This Page:-
Top Nainital Tour Packages With Prices, Nainital Honeymoon Package Price, Top Nainital Tour Package For Family, Top Nainital Tour Packages For Family, Top Nainital Tour Package For Couple From Delhi, Top Weekend Getaways From Nainital, Top Weekend Getaway From Nainital