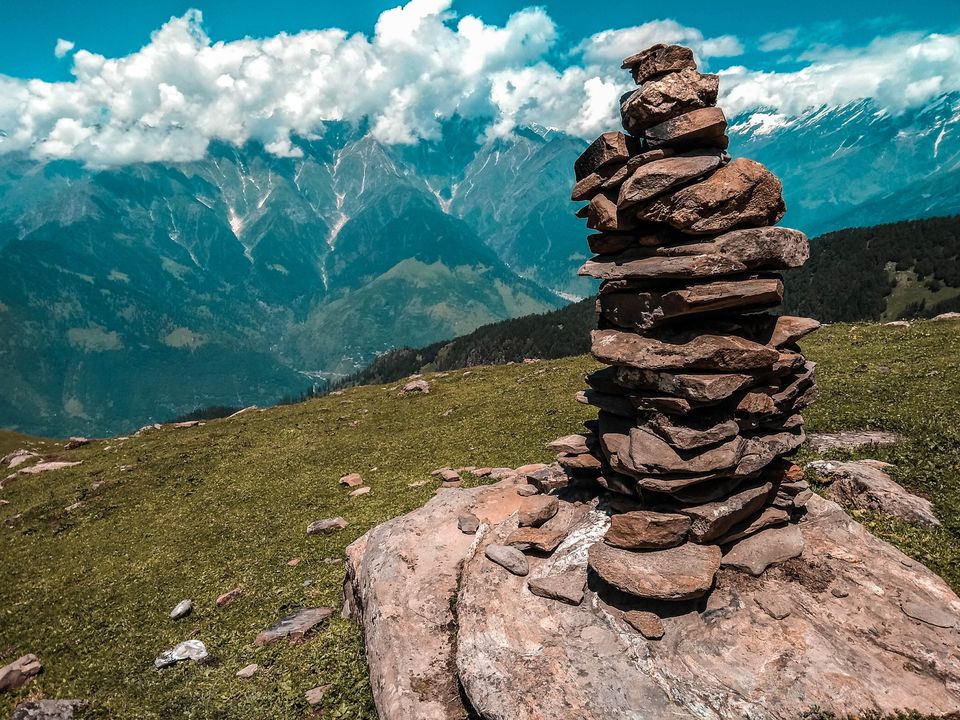 Note: Please read the first part of the blog here before going further
Finally getting back on track
As we were moving downwards after our brief encounter with the danger, after some time we finally saw a man-made shelter somewhere 60-70 meters above from where we were standing. This was the first sign of civilization in nearly two and a hours after we had left our guesthouse from Kutla. In a hope to find someone in that shelter, we started climbing towards it, so that we can ask the right directions to Barshaini or Kheerganga.
As we climbed again, this time towards that shelter, we saw a bunch of langur sitting on our way. Now we had to take the trail which went all the way around to get to that place. Luckily as soon as we took the longer route, we finally saw a local person some 40-50 meters away upon which we waved and called out to him with all our might for help.
That person thankfully came down to us to help even before we could reach up to him. When we asked for directions to Kheerganga, he pointed to the fact that the way to our destination is from far down and we had come up the wrong trail. He told us that the only things which we will find in this direction were some weed plantations, panthers, leopards and some wild bears.
Feeling our helplessness, he decided to lead us to the correct path. While going down we had to remind him to slow down so that we don't get stuck far behind and get lost again. Finally, after 20-25 mins we reached the path which would meet the trail coming from Barshaini and he left for his village nearby after we thanked him with all our heart.
By the time we reached the actual trail to Kheerganga, we were already exhausted due to this unexpected adventure we faced. The first thing we did after reaching the trail was to eat something, as the breakfast, we had three hours back seemed like a lifetime ago and our stomachs were absolutely empty. After we filled our stomachs with some Aloo Parathas, we regained some energy and got ready to start our trek to Kheerganga finally.
Rest of our trek from there to Kheerganga was quite uneventful when compared to our adventures some hours back however the views were just getting better as we got closer to our destination. As we were already exhausted even before the real trek began, we took our time by soaking in every bit of nature and spending some extra time relaxing at each break.
Due to this our trek took almost 6 hours and we reached Kheerganga around six in the evening. During our last bit of the trek, it started drizzling which made our last kilometre walk a little hurried than we wanted as we could not afford to get wet as we did not have any spare warm clothes other than what we were wearing.
Reaching Kheerganga
By the time we reached Kheerganga, I was totally exhausted and my feet had become numb due to cold and rain. I entered the first shop which I saw and just sat down in front of their Bukhari (which is a fuelwood heating system followed by the locals of Himachal for generations) to get my feet warm again and had a couple of teas to inject some doses of energy into my body. After one hour of soaking up the heat and waiting for the rain to wane a little bit, we finally decided to move from that shop and hunt for a place to stay.
As we started to hunt for a place where it started to rain heavily which left us with a few options and we finally decided to stay in one of the dormitories which charged us Rs 100 for one night. This was my first experience of staying in a dormitory and to be honest I found it to be quite interesting and a good way of saving up your expenses for accommodation. In this dormitory, all we got was a space to sleep and a blanket to keep you warm and any food we ordered was charged separately.
As the rain was poured throughout the night without any break, it made our plan of gazing at the Milkyway down the flush. Catching a full view of the Milkyway through my naked eye was one of the bucket list experiences I was looking to fulfil and one of my prime reasons to come to Kheerganga apart from experiencing the first Himalayan trek of my life.
Even as the morning arrived, I was still feeling exhausted from yesterday's adventure and due to the body ache, I could feel each and every point in my body. It felt like my body was not in any shape to take any more exhaustion and I will be finding even going down a tough task. Anyway, I forced myself to get my half-dead body from the dormitory to the hot sulphur spring there.
Once I reached that spot, the only thing I did was to sit in that warm spring for 15-20 and all my exhaustion just vanished away. It is one of the best things you can do while you are in the beautiful Parvati Valley.
Day 3: Leaving Kheerganga
After getting ourselves fresh in the Kheerganga's hot spring, we moved to the nearby cafe called "Lonely Planet" for breakfast. The food there was not that great, however, if you keep your expectations low you won't be disappointed. We filled our stomachs with some decent scrambled eggs and toast and got ready for our journey back.
The journey back from Kheerganga was quite easy in comparison with what we have to endure yesterday. However, we kept our pace slow and tried to soak in the beautiful views as much as we could. On every break we took, I didn't miss a single chance to have the ginger lemon honey tea which had become my new favourite drink. That drink was as refreshing as the bath in the hot spring from Kheerganga.
We reached Barshaini just in time to catch the last bus to Kasol. As there were not many accommodation options in Barshaini, we left for Kasol from where we also had to book our ride back to Delhi for the next day. Once we reached there, we just decided to relax until we left for Delhi. All we did there was take a warm shower, dig some nearby cafes and explore the peaceful Chalaal.
P.S. - If you are planning for your first trek, don't go for it without any proper guide just like I did!
Please feel free to follow my trekking tales by subscribing to Just an Ordinary Trekker. You also follow me on Instagram.