A famous quote "We travel not to escape life, but for life not to escape us." has always inspired me to travel & explore. Travelling alone is fun, because everyone you meet is company. At first, I asked my friends & it was planned as friends-outing, but when all got busy, it eventually became a solo-trip. Travelling from Delhi to Mcleodganj, Volvo-travel is a perfect choice. It's relaxing & economical too.
A wide window glass, few power naps, mom-made paranthas, 2 already watched movies, that's how i spent my night. One halt at Haveli, tea-time for me. Being my first solo-trip, i was excited, alert & on top of my exploring mode.
Day-1
Early morning at 5.30am, & i was already at Dharamshala. Up there at Triund, you either stay in tents, or there's one guest house of forest department, for which i had booked a room already, when planned for friends. Once paid the room rental, a reservation slip can be taken from "Forest Division Office" at Dharamshala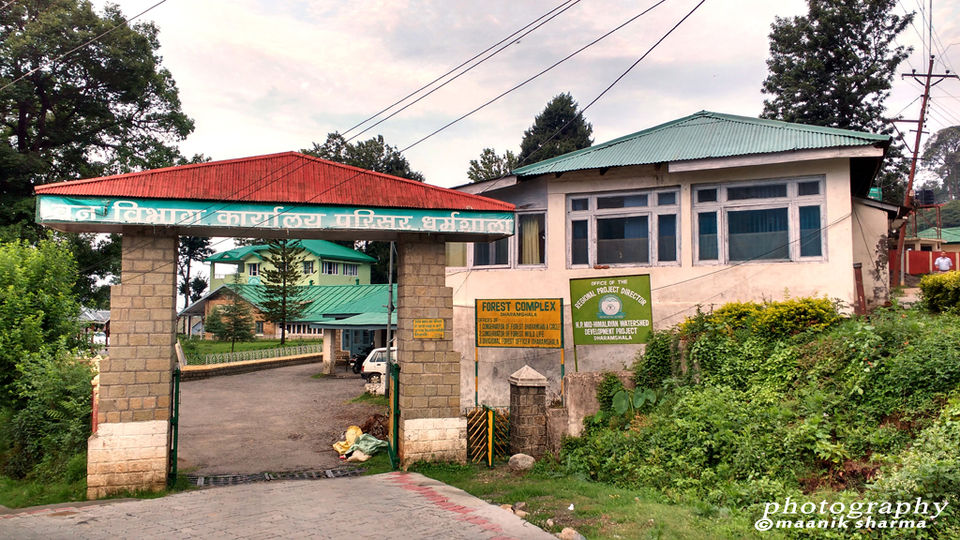 How to Reach: Get down at Dharamshala old post office, then its 2 min walk.
Office timing starts around 10:30am, so i had almost 5 hours to wait. Soon enough i found a tea shop, though it was a little early for my bed-tea. A cup of tea, with a bread-pakoda. I needed it badly. I guess, tea is good fuel for ideas, it also charges brain-battery. There's this beautiful Gurudwara, a 20 minutes walk, such a divine start of day. In hills, fresh air brings extra-efficiency for walking.
Dharamshala Stadium was next on my list. Its so colorful & fancy stadium.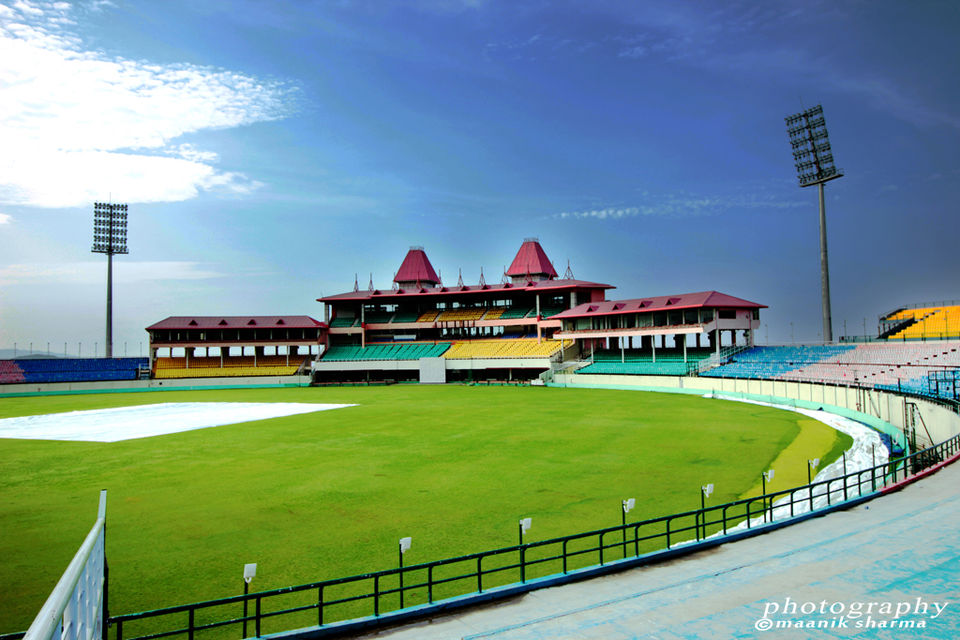 After a few clicks & a couple of selfies, i went back to Forest office & collected my reservation slip for next day.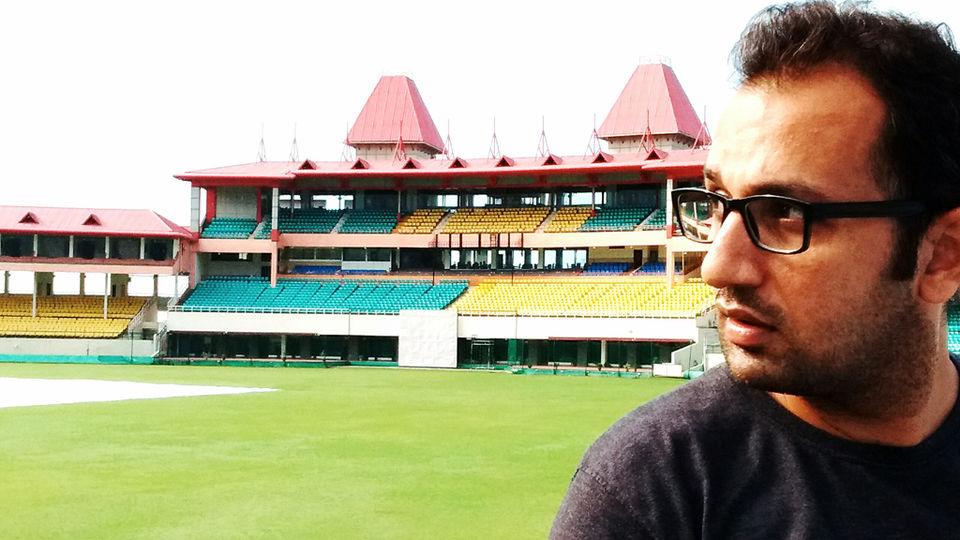 Dharamshala to Mcleodganj : 5-6km by road, a local bus would take you in approximately half an hour. Bus fare was Rs.15, & luckily i again got a window seat, to witness the beauty of turns. First thing on my mind, was to find a hotel as i needed some good sleep.
Slept for 2-3 hours, & then i went to local market in evening, & also bought an umbrella for backup. Kept some glucose biscuit & chocolates for next morning, they both work effectively.
Day-2 Mcleodganj to Triund
From main chowk, Taxis can be hired for Rs.400 up-till Gallu-Devi Temple. However, i chose to save money & decided to walk.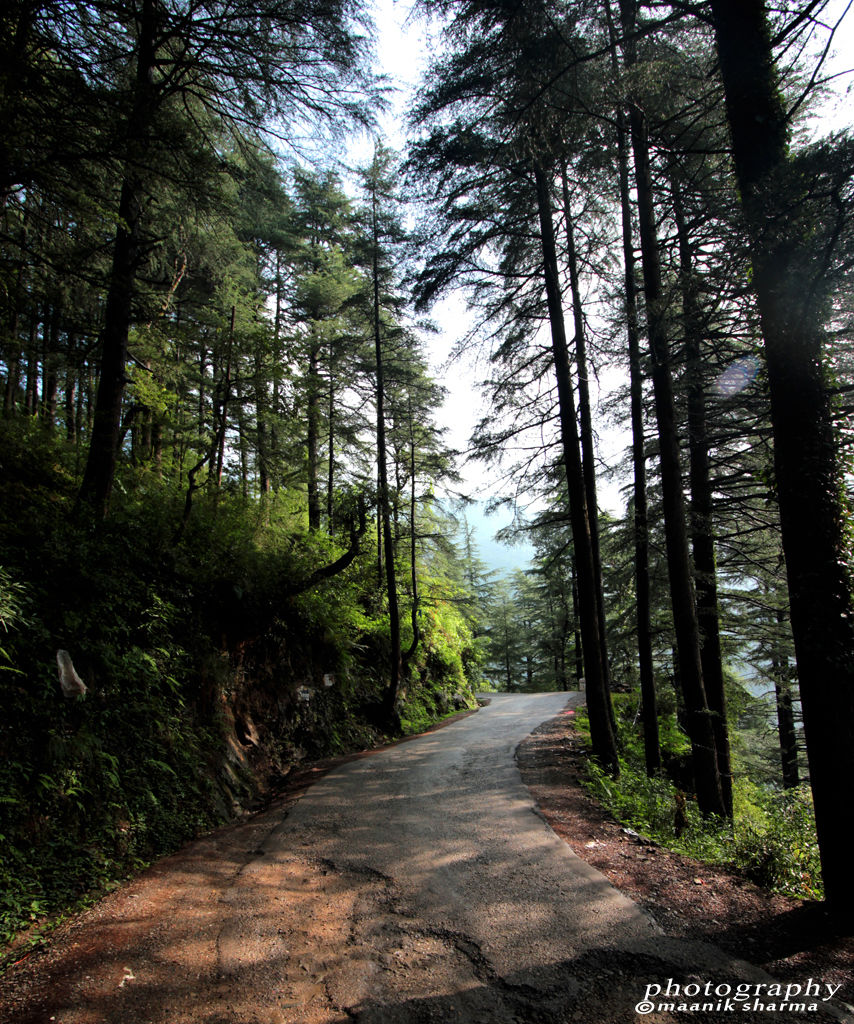 It's a 4km of unhealthy road. I discovered this money saving talent, only during this trip. With every step forward, chirp sound of birds so clear, i even got company by some monkeys & langurs.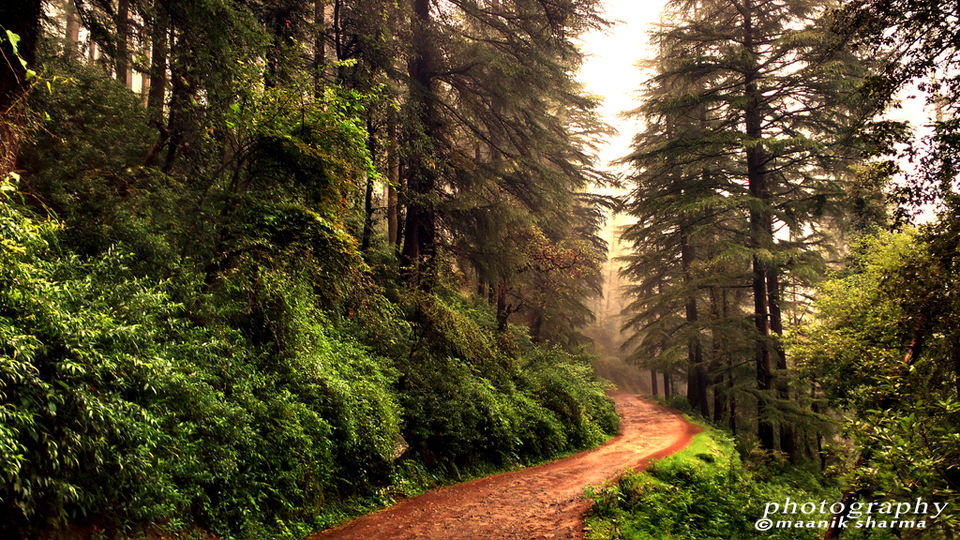 I was on the road, & they were on trees, following same direction. I would have surely missed this, sitting in Taxi. Last motorable point is Gallu Devi temple. From thereon its 6km of pure trek, all by feet.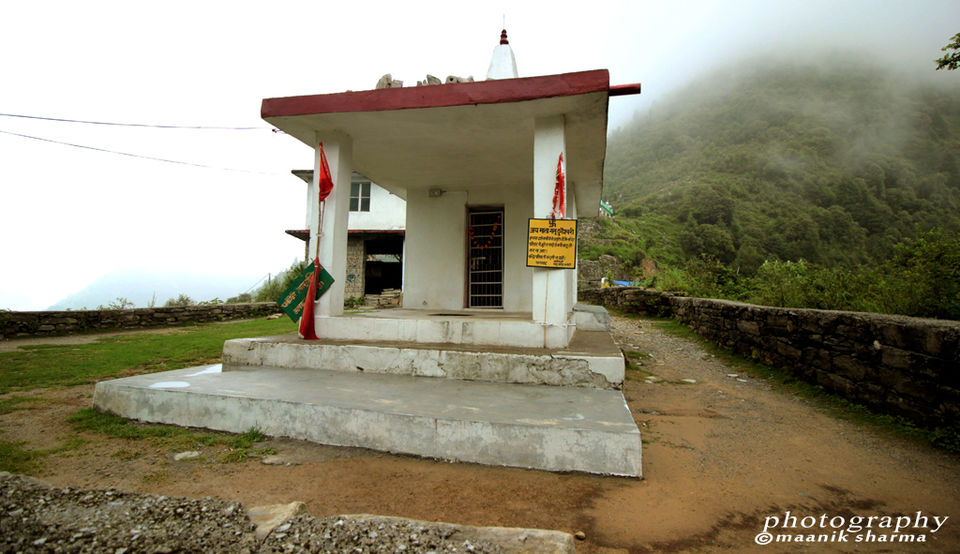 At Gallu Devi temple, there's a small shop, where you can buy snacks, water bottle, can have tea & maggi also.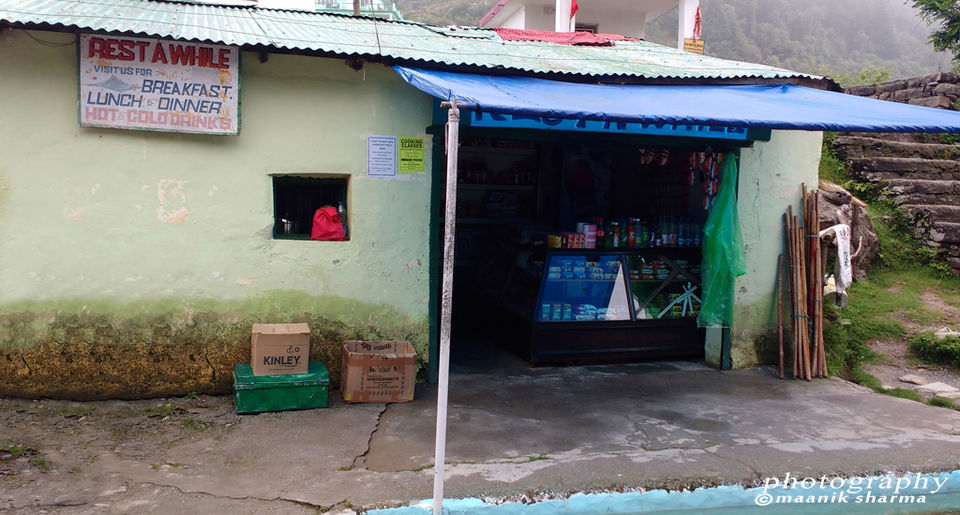 That's where i met these 4 fellows. Three of them were from Punjab, Father, Son & their relative and the forth one was from Delhi.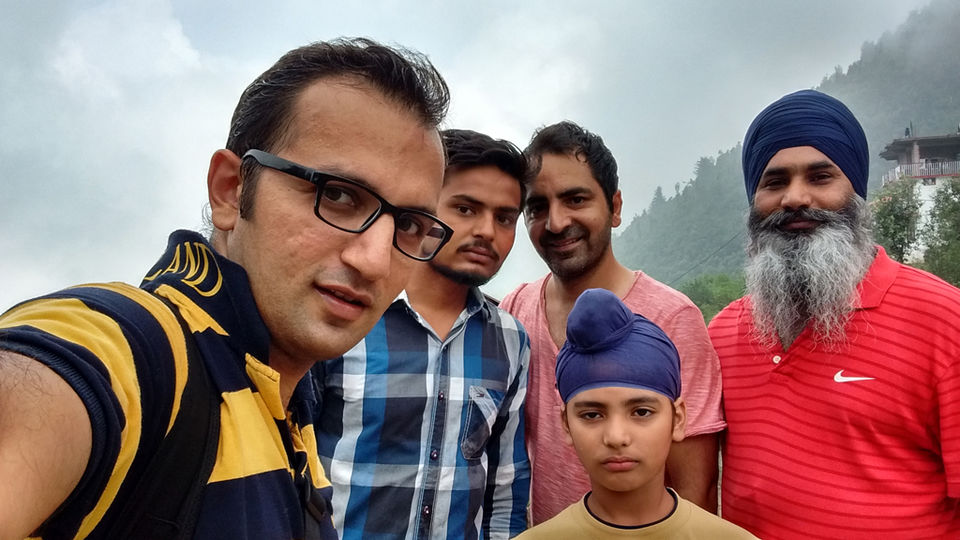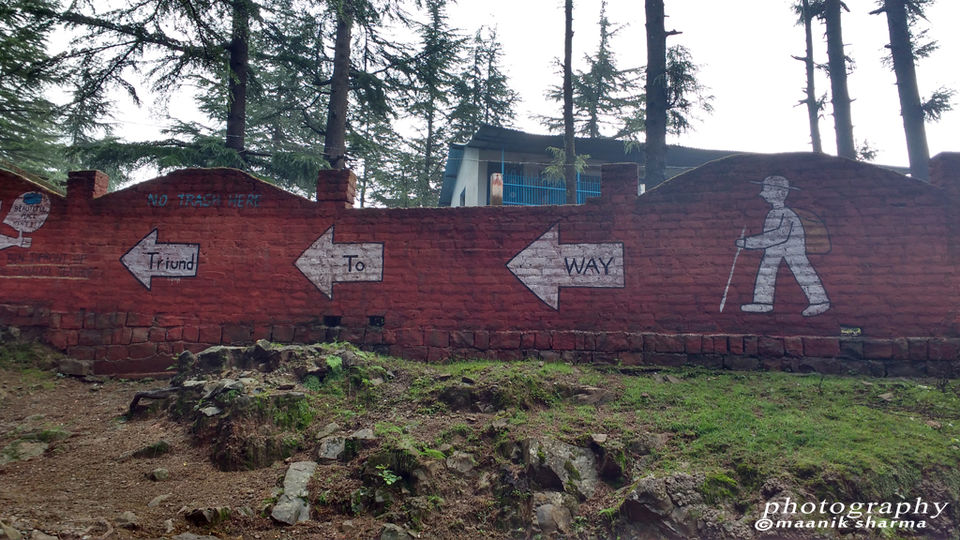 After fueling up my tummy, i bought a water bottle, "it's costlier in Triund" said the shopkeeper, & he was quite right. Finally, long awaited trek had just started.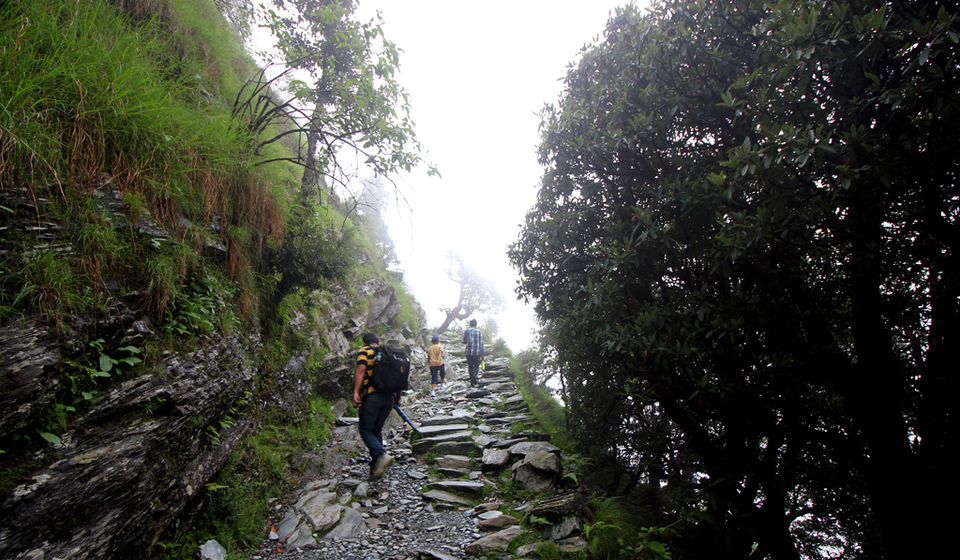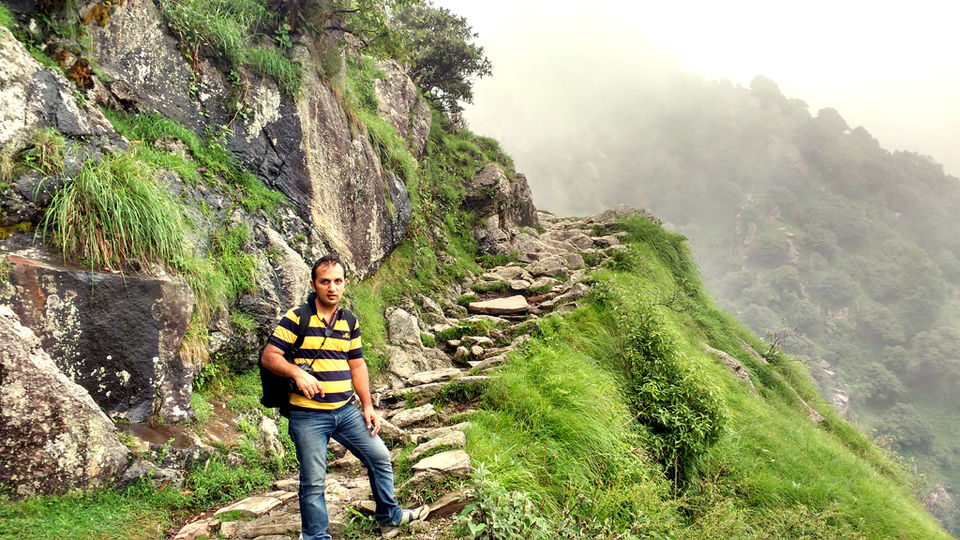 Mystical fog, breathtaking beauty of mountains; GOD's best creation is certainly not human, its nature.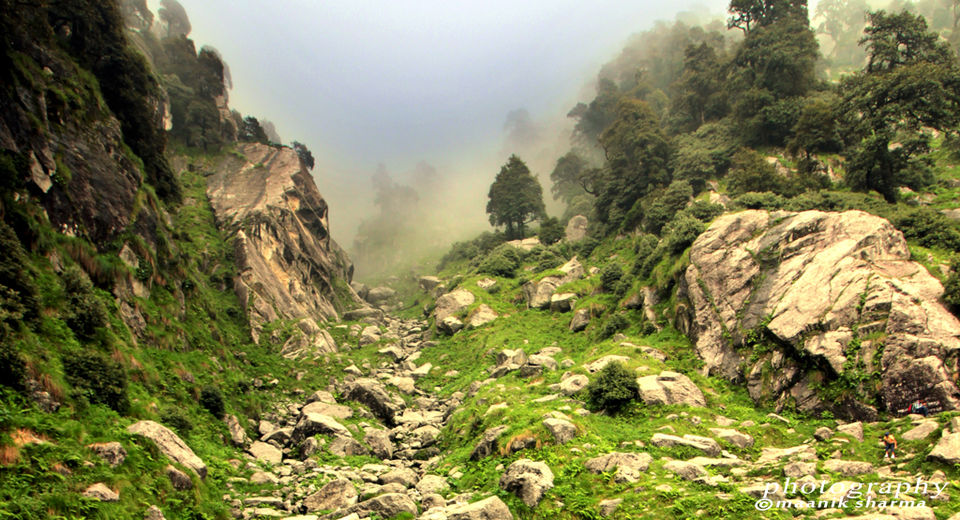 From tiny to huge, every rock with so accurate & perfect balance.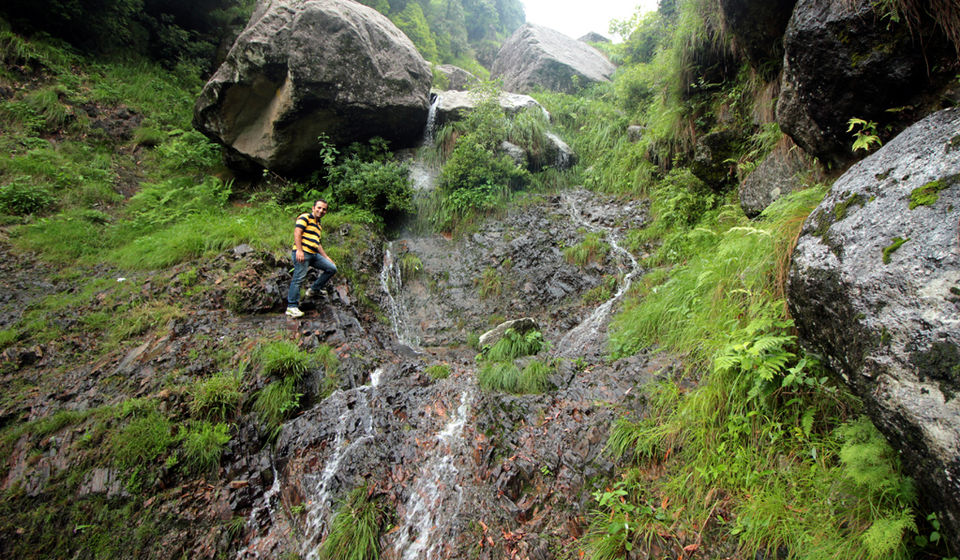 I'm sure, Nature is GOD's favorite.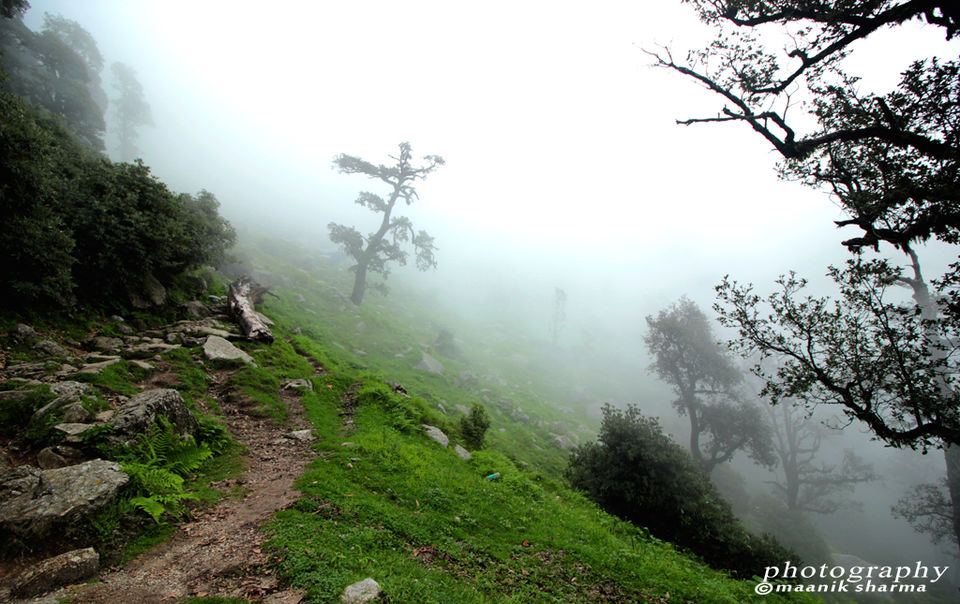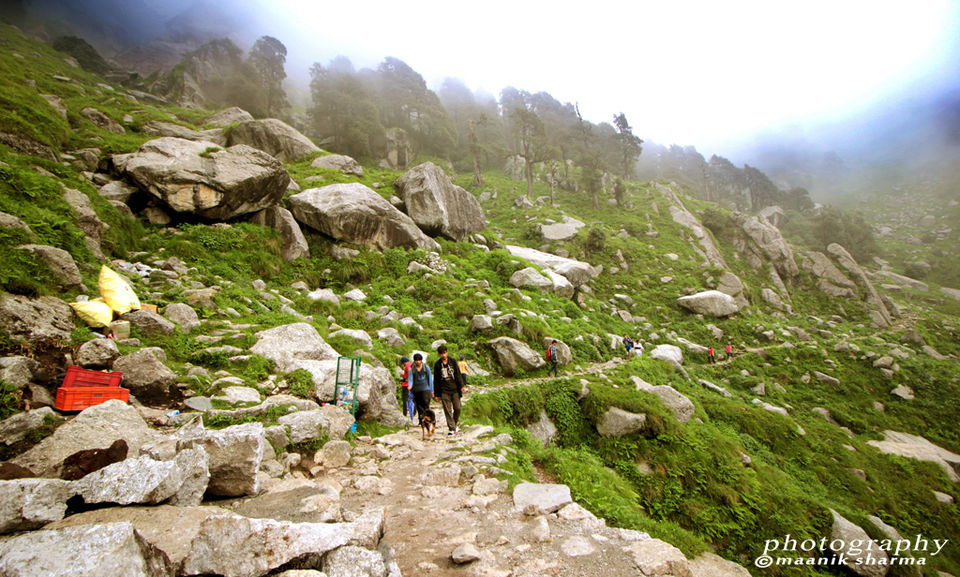 Darkest to brightest shades of green, so nicely painted.
One funny thing, whenever we asked the returning trekkers, "how much is left ?" (as in trek) they all replied same, "It's another 2-3 kilometers more", & i was like "Seriously??, Dude We have been walking for 2-3 hours."
So, we took a couple of halts for saving our energy. Chocolate was really helpful energy dose then.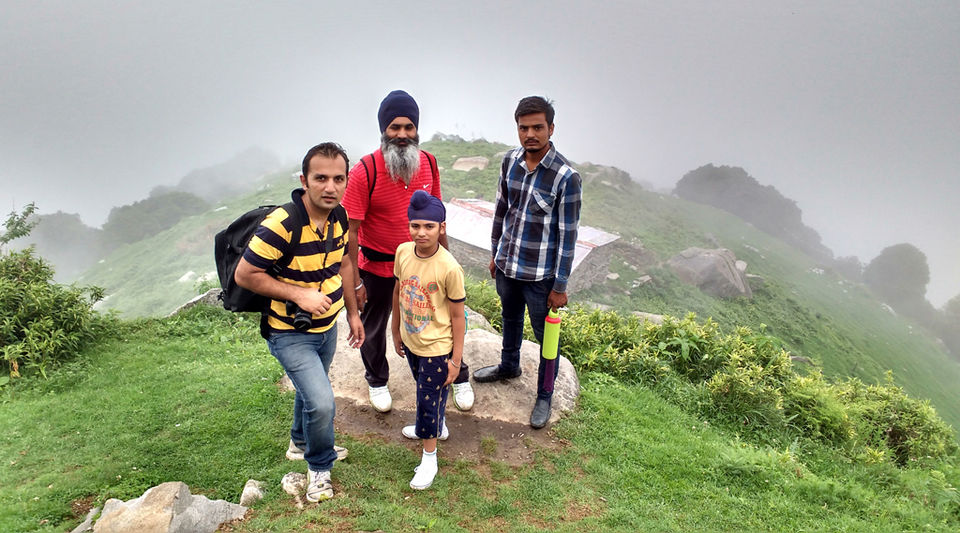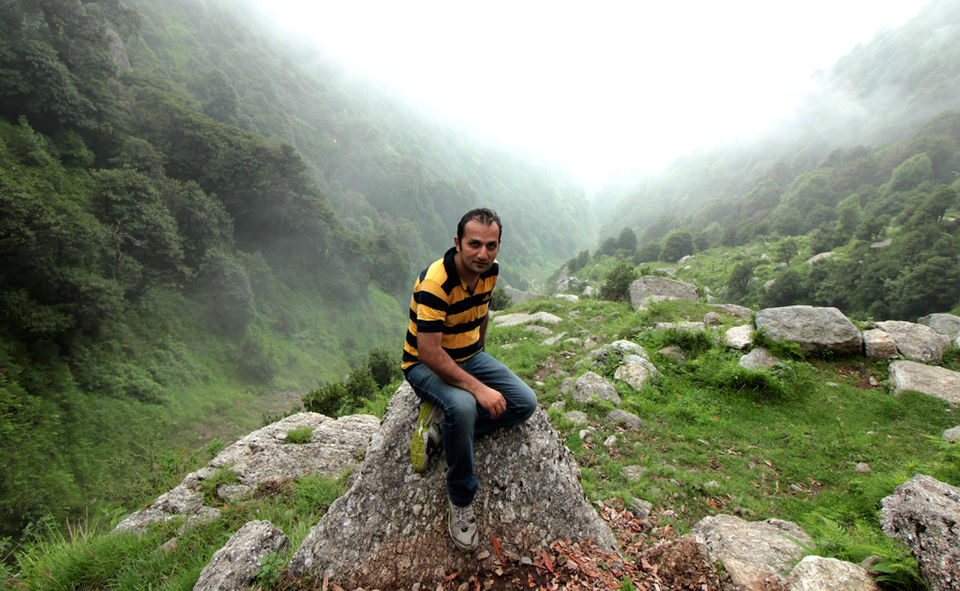 Patience & courage brings beautiful results. When we reached at top, this mesmerizing glory of the great almighty, relaxed all our anxiety.
It was real achievement. As they say "Once you reach there, nothing else matters". All our tiredness, just got disappeared.
We really needed some rest, & my backup plan was ready.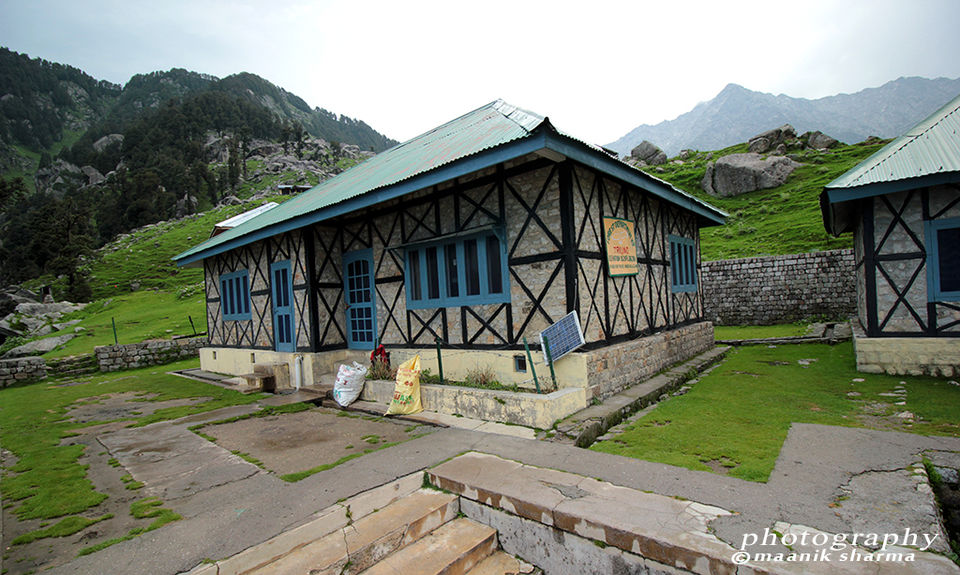 There were no tents available by then, so i shared my room with 3 of them, Delhi guy had left back same day. After some rest, it was time to roam around in the fresh mountain air.
Important info: There's no electricity & mobile network up there in Triund. So, bring torches, battery lamps, power-banks etc on your trip. You should inform your closed ones before you begin trekking, in case you haven't.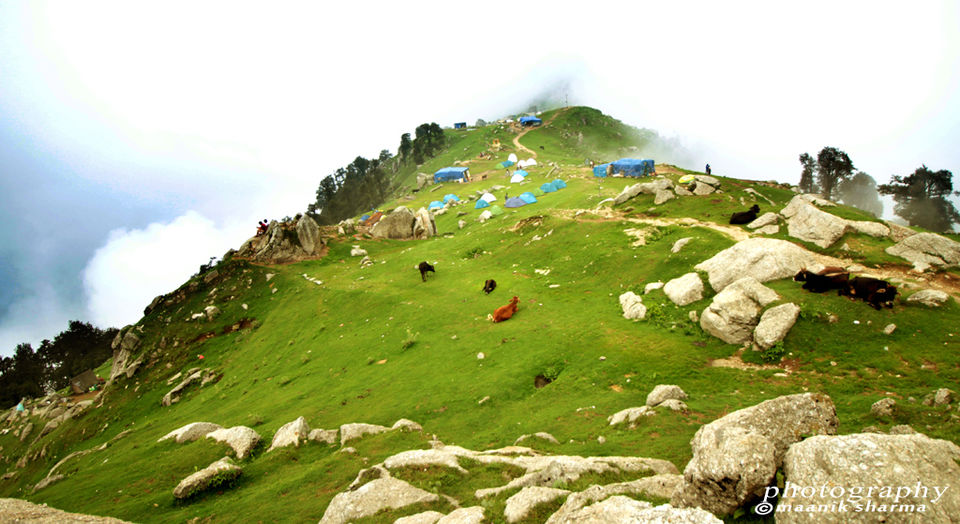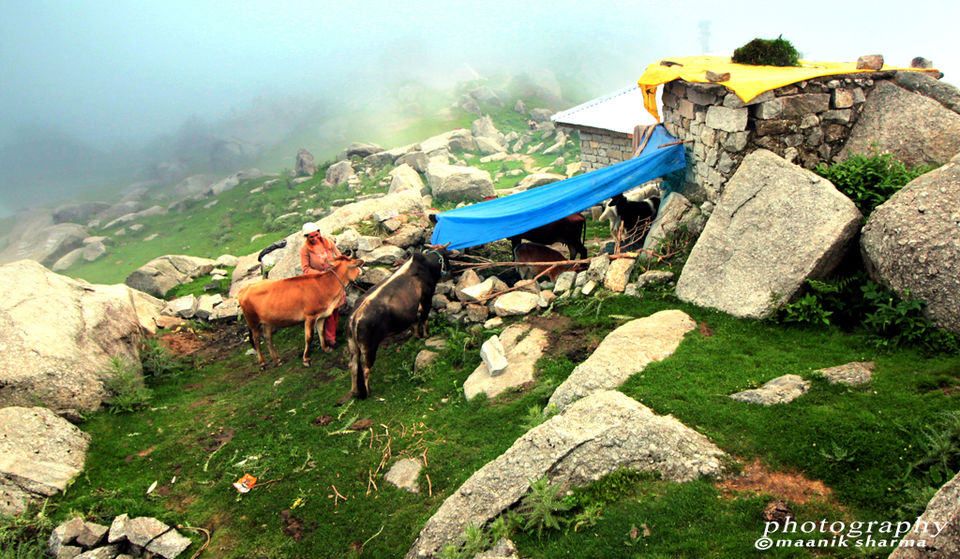 & right before dawn, another beautiful view.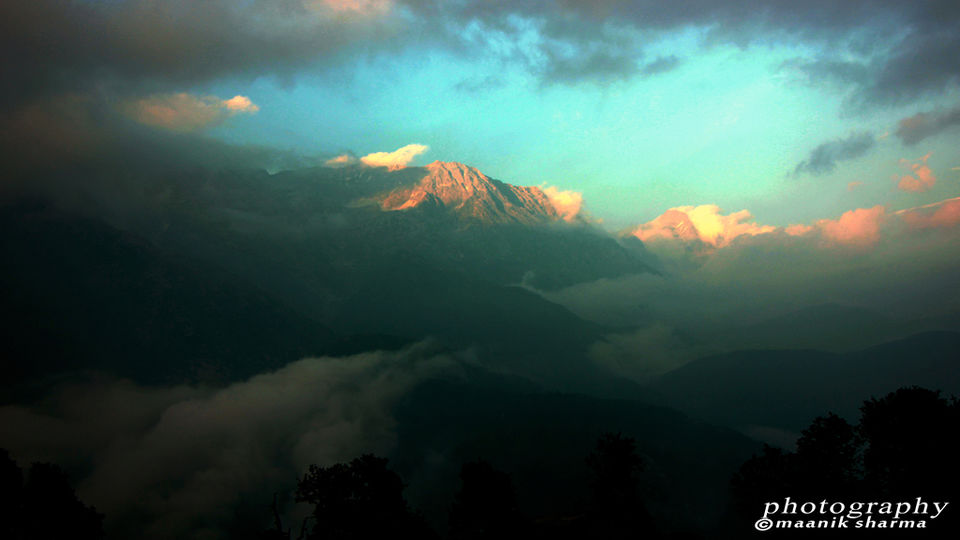 Night Stay at Triund is a must, if you want to enjoy to the fullest.
Next morning i woke up early to witness some more magical beauty of nature.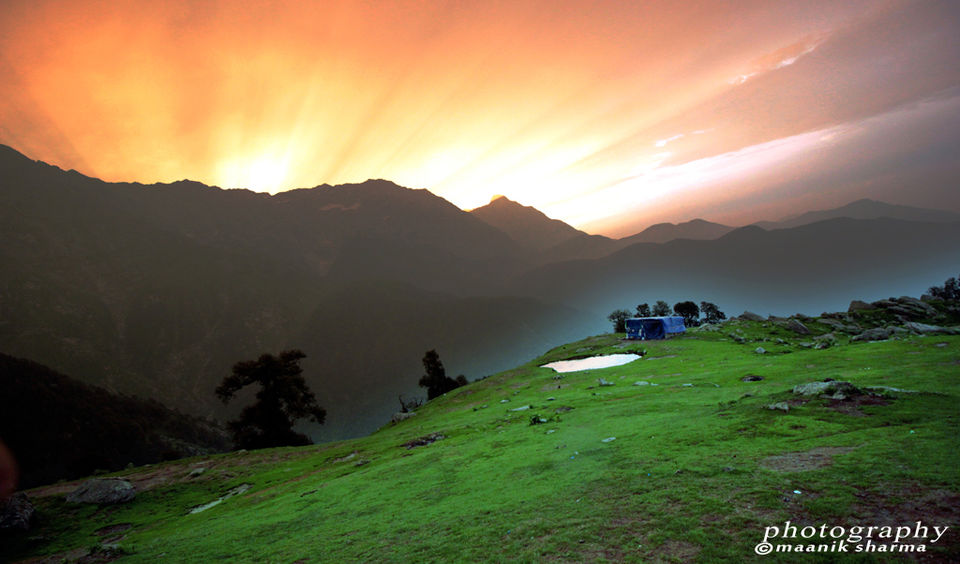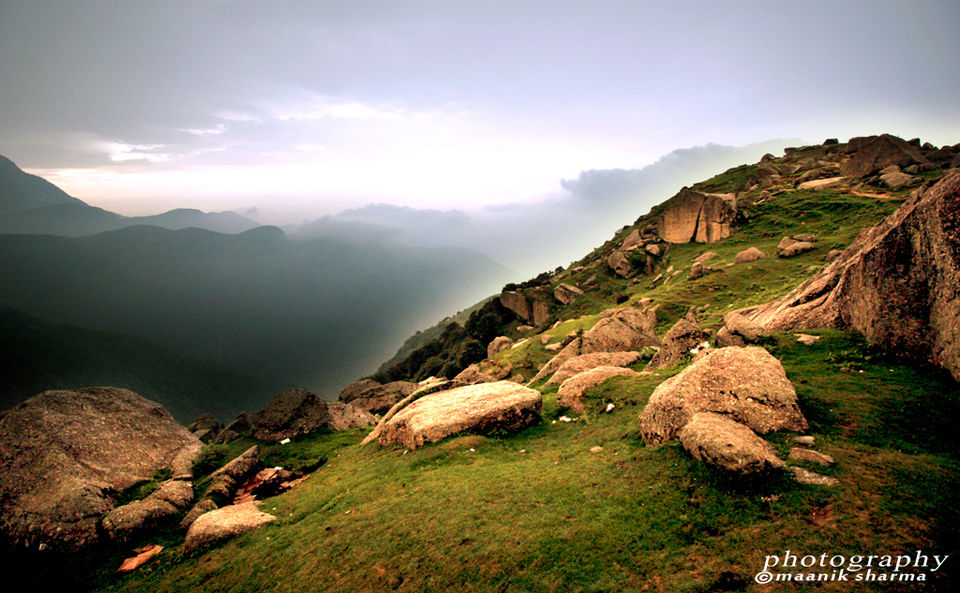 It felt like being kissed by a charming breeze. Look around, & there's painting in every view. Its so magnificent that at times you don't even want to blink eyes.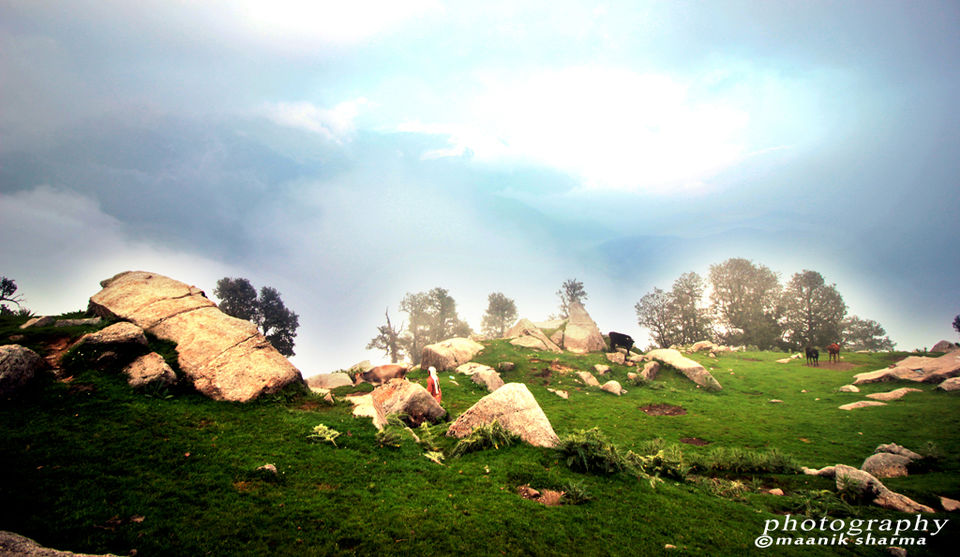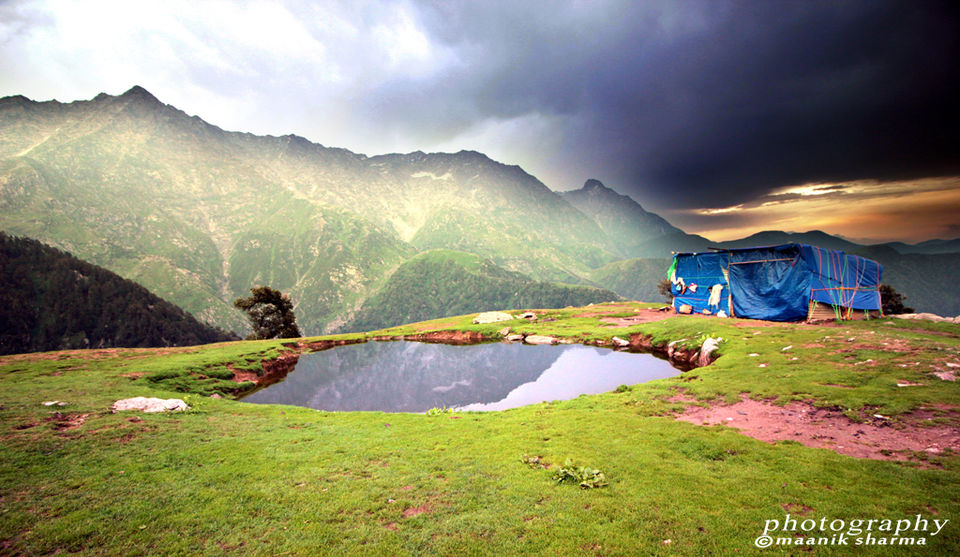 I think that's where i belong, & my idea for travel is "go get lost & find your true self".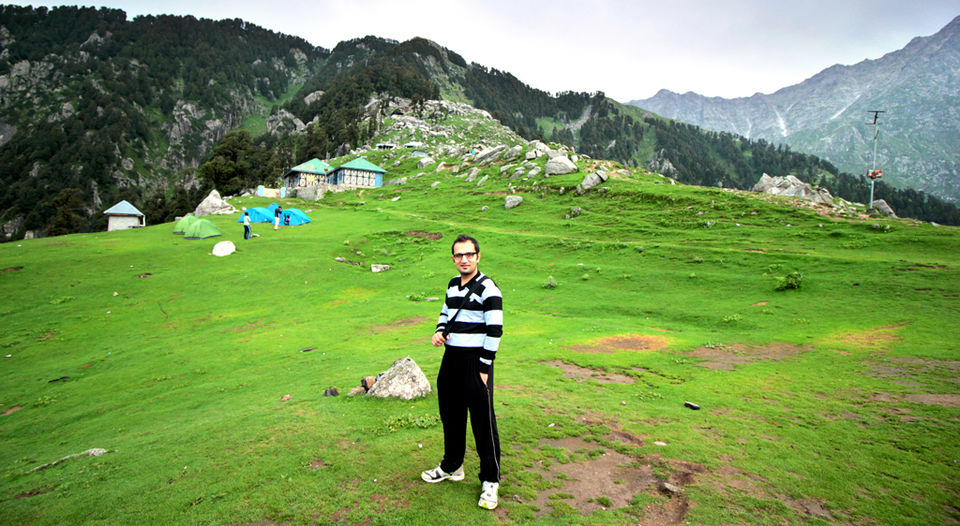 Even when i'm back here in Delhi, my soul's half there. Really miss the calmness , sitting in the lap of mother nature. Hope to find it back soon. During this trip, i learnt a lot & soon enough, want to apply my knowledge. One must go on solo trips, atleast once every month.