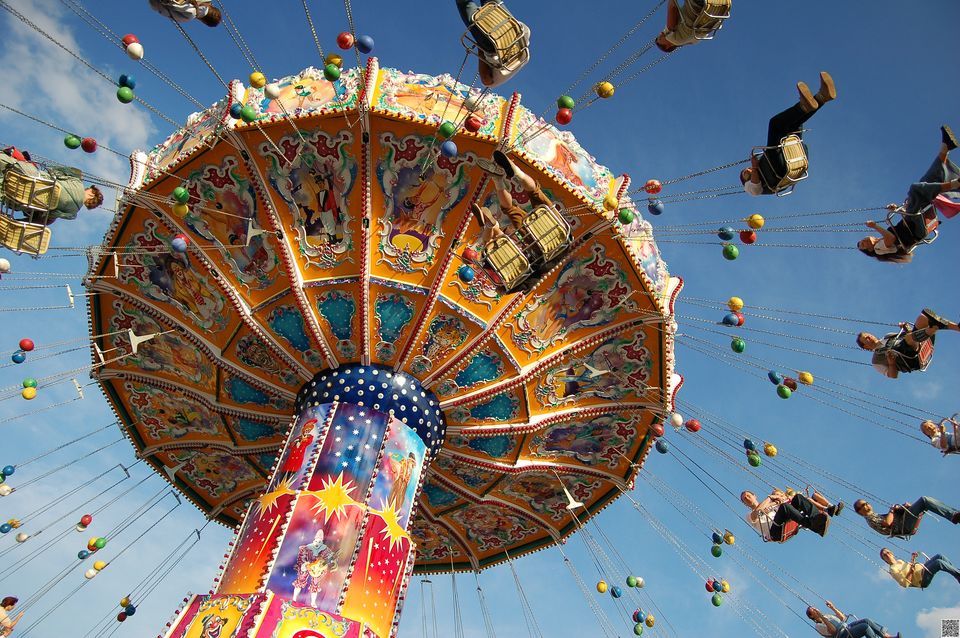 There is no better place to spend time with your family, especially if you have children, than in an amusement park. With their electrifying rides, delectable treats, pretty picnic spots and professional performers, these fantasy lands tend to bring out your inner child and make you believe that a wonderful world exists, after all! To that end, here are some of the best rated amusement parks on this planet. A whole lot of fun is coming your way.
Disneyland is undoubtedly the happiest place on earth. The land of Mickey, Pluto, Goofy and Elsa ensures that the sound of laughter is constant and the aroma of caramel and chocolate perpetually wafts through the air. Right from the imposing spires of the Cinderella Castle to the many twists and turns of a roller coaster, every second in this place will release endorphins in your system. There are as many as 11 different Disney parks in the world and each one of them is divided into different themed sections called Main Street USA, Adventureland, Frontierland, Fantasyland, Tomorrowland, Critter Country, Mickey's Toon Town and New Orleans Square. A place that welcomes several thousands of visitors on a daily basis, Disneyland is the closest one can get to paradise. This article should help you make the most out of your visit.
Opening Hours: Daily: 09:00 to 00:00 (Disney California). Timings are different for different locations.
Tickets: Different for different countries. Usually around 124 USD for adults. Check their official website for more information and offers.
The only amusement park that comes close to the magnificence of Disneyland, the Universal Studios is an absolute delight as it allows visitors to experience the make-believe world of fantasy movies. With the Wizarding World of Harry Potter as its drawcard, the park is the third largest of its kind in the world and attracts as many as 40 million visitors every year. Located in California, Florida, Japan and Singapore, other popular sections of this paradise include Jurassic Park, Marvel Super Hero Island, Hollywood, Water World, The Lost Continent and Land of Oz. There's also a new Walking Dead attraction if you are a fan of the series. Get ready to say hello to Spiderman, the Minions, King Kong and Harry, of course!
Opening Hours: Monday to Friday: 10:00 to 18:00; Saturday and Sunday: 09:00 to 22:00 (Hollywood). Timings are different for different locations.
Tickets: Different for different countries. Usually around 105-116 USD. Check their official website for more information.
The largest theme park in Germany, Europa Park is not for the faint-hearted as it is home to 13 thrilling high-capacity roller-coasters. Alpenexpress Enzian is the oldest and the most popular as it takes guests through a mysterious diamond mine and also comes equipped with VR headsets. Watch out for the Poseidon Water Roller Coaster as it will leave you soaking wet.
Opening Hours: Adults: 41 EUR; Children: 34.50 EUR.
Tickets: Winters: 11:00 to 19:00; Summers: 09:00 to 18:00.
The second-oldest amusement park in the world, Tivoli will transport you to the days of yore when carousels belonged to soldiers and knights and strolling through perfectly-manicured gardens was an act associated with royalty. To this date, Tivoli's drawcard continues to be its oldest roller coaster the 'Rutschebanen' or the Mountain Coaster. Its 'Fatamorgana' Condor is the newest attraction that is wooing visitors from all over the globe. Tivoli is also an important address for performing arts in Copenhagen with its Pantomine Theatre and Concert Hall. Watch out for the fireworks on Saturdays before midnight if you're visiting between May and September.
Opening Hours: Monday to Friday: 11:00 to 23:00; Saturday and Sunday: 11:00 to 00:00.
Tickets: Unlimited Ride Tickets (recommended): 290 DKK.
Legoland is where every child's (and some adults) dream comes true as it is a theme park and a miniature world of Legos rolled into one. There's also an aquarium and a water park themed around everything that the iconic toy company represents. You can let your hair down and enjoy a screening of the Lego movie, get drenched by the water cannons of the 'Joker Soaker' and get up close and personal with the many fascinating creatures of the sea. Legoland parks are located in Florida, California, Dubai, Japan (opening in 2021), Malaysia, Denmark, Germany and England.
Opening Hours: 10:00 to 19:00 (California). Timings are different for different locations.
Tickets: Usually around 75 USD. Prices depend on the location. Check the official website for more information.
An entertainment paradise that holds the Guinness World Record for the largest indoor theme park, Lotte World is one of Seoul's many exciting offerings. With the 'Magic Island' as its drawcard, this amusement park has thrilling rides like the 'Giant Loop' roller coaster, the 'Flume Ride' that takes you through a Jurassic forest, a Viking ship ride called the 'Conquistador' and an IMAX screen theatre called '3D Desperados'. There's also an ice-skating rink, an interesting museum and several department stores to woo visitors.
Opening Hours: Monday to Thursday: 9:30 to 22:00; Friday and Saturday: 9:30 to 23:00; Closed on Sunday.
Tickets: 52,000 Won; Children 41,000 Won.
With an adventure park, a massive go-karting track and a top notch water park, Worlds of Wonder is a relatively new addition as it opened its doors only in 2007 but has emerged as one of the finest entertainment addresses in India. The most popular adrenaline-pumping rides include Dizzy Diana, Chart Smashers, Feedback, Fast Forward, Big Beat and Mega Disco apart from activities like Go-karting and Paintball. The La Fiesta zone, on the other hand, is dedicated to the younger visitors of the park.
Opening Hours: Daily: 10:30 to 19:00.
Tickets: Adults: Rs. 599; Children: Rs. 498.
One of the oldest and the largest amusement parks in the country, Essel World is an institution of sorts. If you are a kid from the 90s, the catchy jingle for the park "Essel World mein rahunga main ghar nahi jaunga main" will remind you of the good old days. Inaugurated in 1989, the park continues to be one of the most visited attractions in Mumbai. It has the city's first ice-skating rink and as many as 11 and 15 rides for adults and children respectively. The most notable names include 'Shoot N Drop', 'Top Spin'. 'Enterprise', 'Hoola Loop' and 'Kangaroo Hop'. Water Kingdom, its sister park, is a paradise for those who love being splashed.
Opening Hours: Monday to Friday 10:00 to 18:00; Saturday and Sunday 10:00 to 20:00.
Tickets: Combined Ticket (Essel World and Water Kingdom) : Rs. 1299 for adults and Rs. 899 for children.