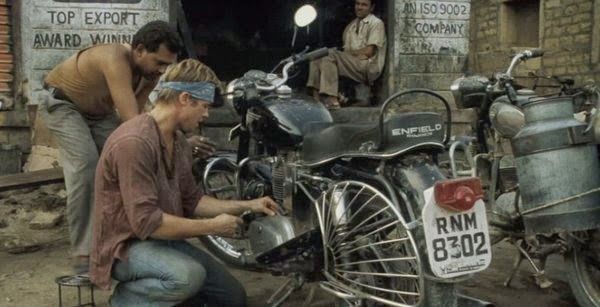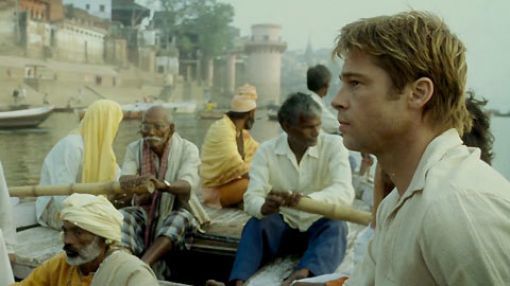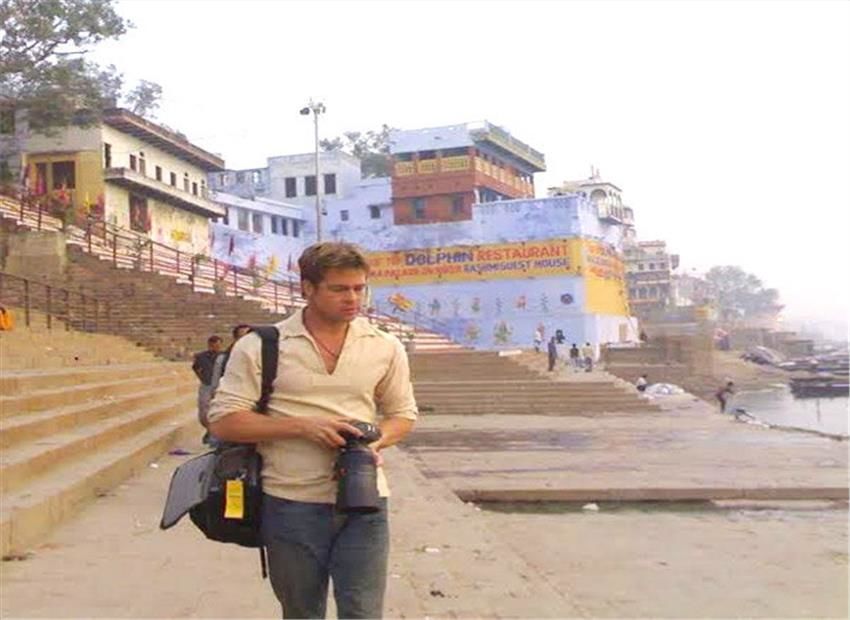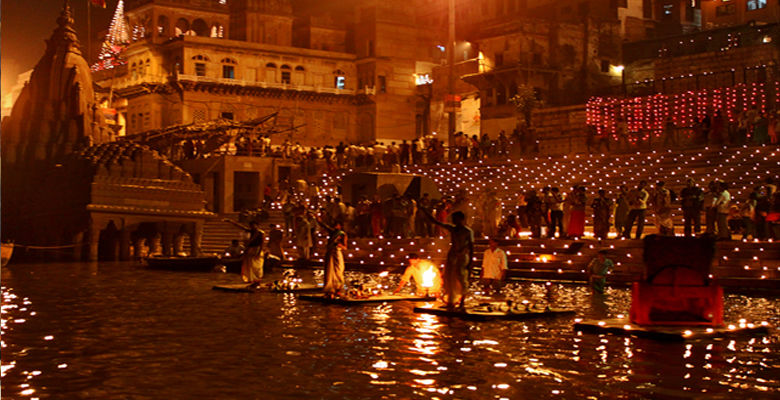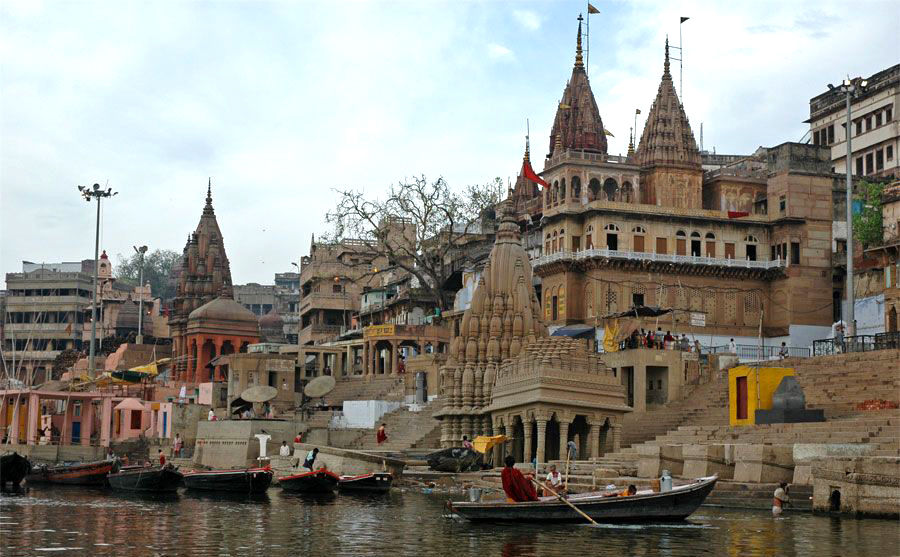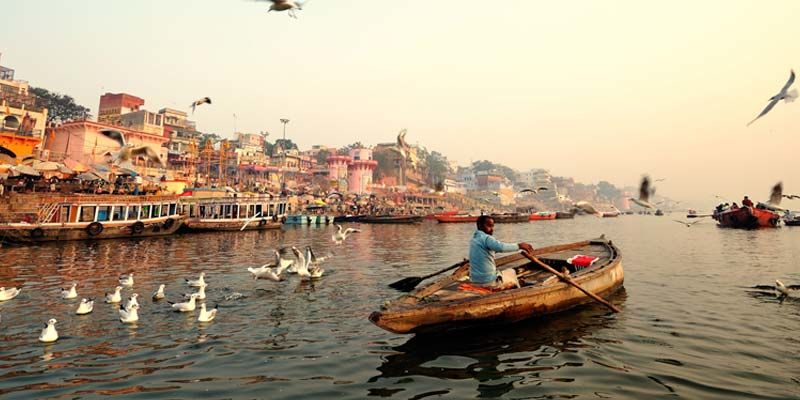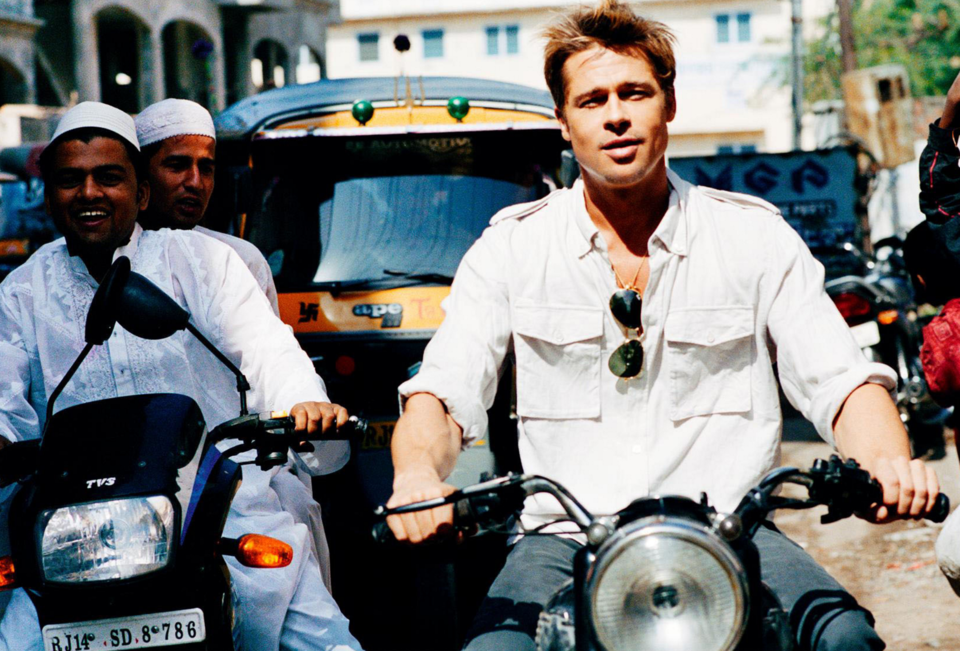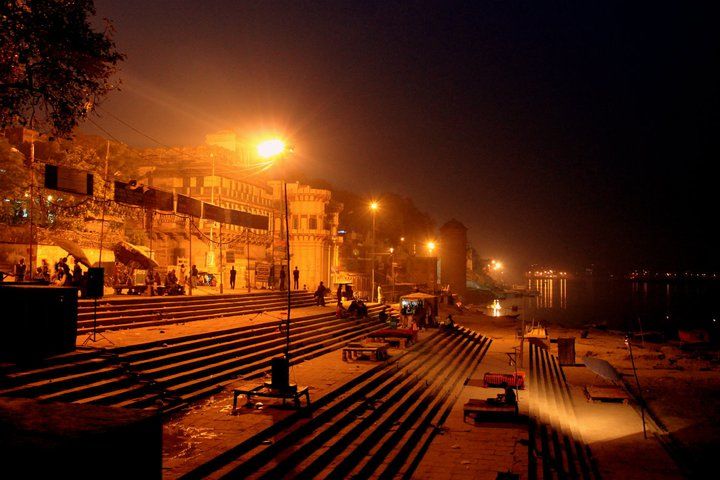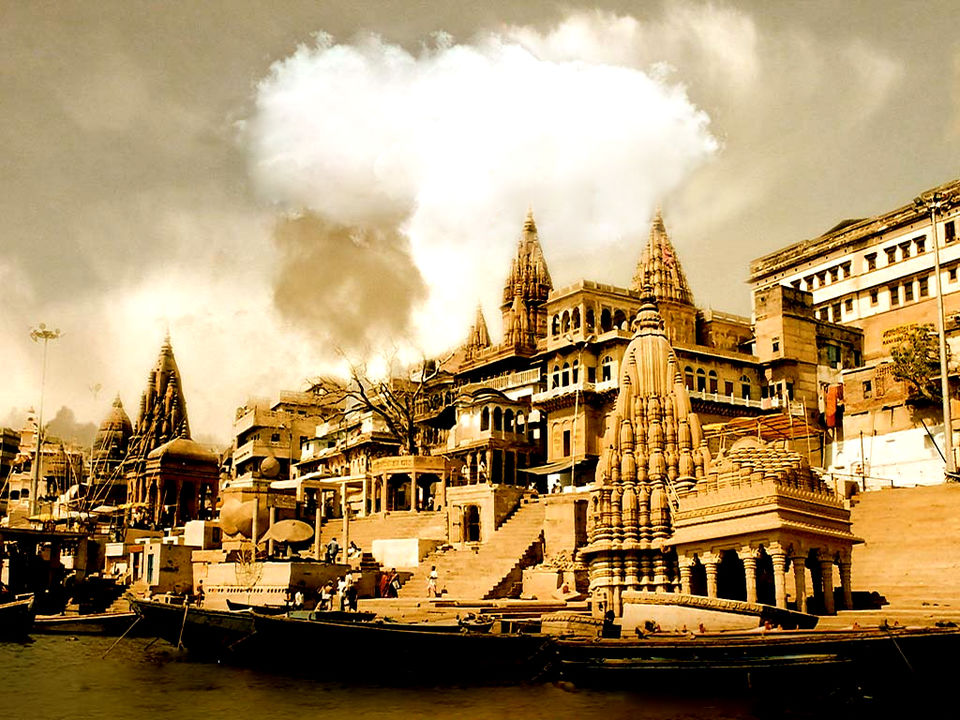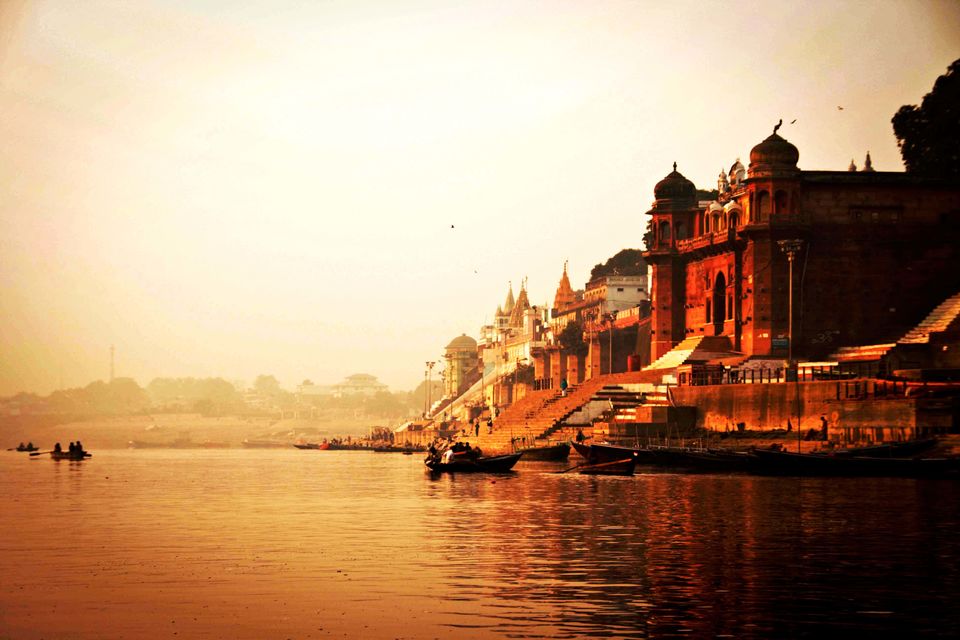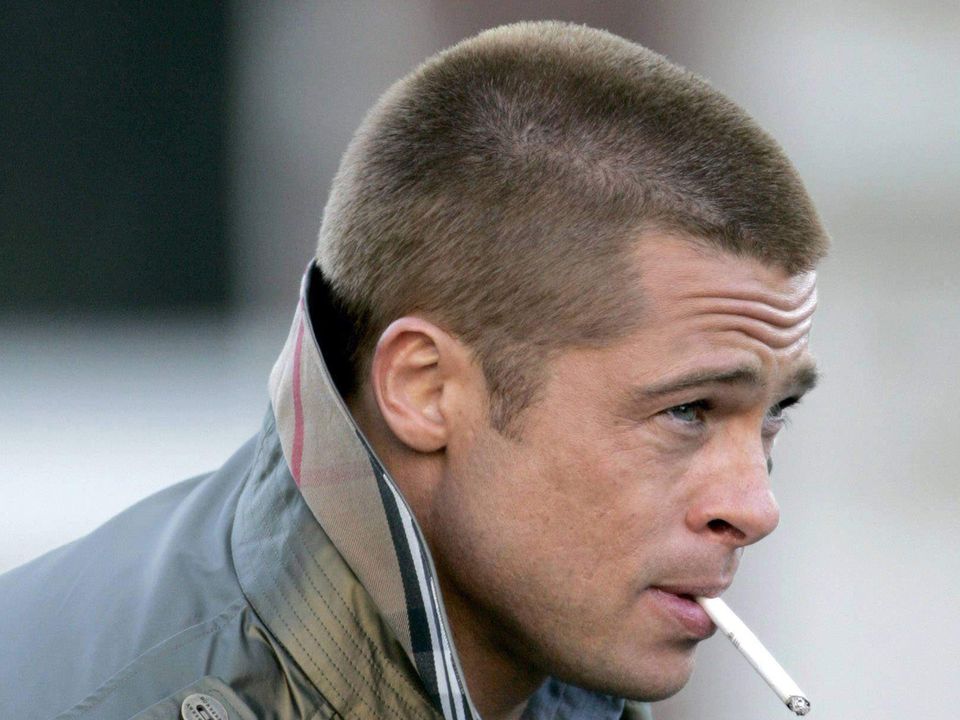 "Baba, maal to bahut solid hai. Ye firangi bhai dhanyawaad keh rahein hain." (Great stuff, Baba. This foreigner says thank you.)
"In firangin Ka kahi ki aur chahi to kutiya mein aa jaayi." (Tell this foreigner to come to my hut if he wants more.) "Ye pooch rahein hain ki aur koi maal milega wahaan?" (He asks if he would get the other stuff there?) "Raand, Saand, Seerhi aur Sanyasi! Inse bache to pahuche Kasi!" (Hustler, bull, stairs and mendicants! You will only achieve Kashi (heaven) if you renounce these four!)
It may be extremely hard to believe at first, but the person referred to as the "foreigner" in the conversation above is the Hollywood heavyweight Brad Pitt. It was the winter of 2007 (January) and almost nobody recognizes Hollywood stars along the ghats of Benaras. Keeping all my political arguments aside, it is a land where the only celebrities known to the Aghoris are Lord Shiva and Pravin Togadia (Vishva Hindu Parishad chief). The rest all (whether it's a foreigner or an Indian) are only a means to leech money out of, nothing more & nothing less. So, Brad Pitt, Tarsem Singh (Director of Hollywood movies like 'The Fall,' 'Immortals,' etc.), I, and a couple of other technicians (one of which was a friend of mine) could just sit by the Assi Ghat from dusk till dawn and no one would go berserk.
David Fincher's 'The Curious Case of Benjamin Button' was released amidst much fanfare and Oscar buzz in the last week of December, 2008, and it was a great movie; I am just sharing a couple of days from the shooting schedule of that movie. For all of you who have already watched this cinematic brilliance on screen, what must have surely stuck in your minds is when Benjamin Button came touring down in India when he started looking really young in the movie; one of the India sequence was shot by Assi Ghat. And that's when I had the chance to be present by Brad Pitt's side and provide him with some good authentic stuff. No, I am not a peddler, I am just a bastard who wanted to cash in on this once-in-a-lifetime opportunity to hang out with one of his favourite stars. Guys, I am as straight as they come, but Brad Pitt is one hell of a handsome guy and I would date him if I were a woman.
One of my good friends was a part of Tarsem Singh's cinematography crew in India, who had invited me over for this experience since I had traveled to Benaras earlier and so I could be "useful in arranging things." I did not use to smoke up but I had a gift of finding the right people. The entire movie crew was supposed to be stationed at Assi Ghat for just two days (but in the end, they ended up staying for the whole week.) During those days, Assi was still pretty unknown (or rather unwelcoming) to Indians and so it was a perfect Ghat for Mr. Pitt and the likes to experience the heart of the spiritual India. Surprisingly, Tarsem was well-versed with the place and he even knew some people there.
On my second morning, I came out of my room at about 7. It was spine-chilling cold and still dark. I walked a bit to reach the Ghat with my blanket wrapped around me, and I saw Brad Pitt and Tarsem Singh already sitting there sharing drags between themselves. Both of them were wearing mere cotton t-shirts and here I was still shivering even with the entire blanket around. Brad asked me to sit down and have a drag, to which I politely declined and asked them to carry on. I just sat by their side and lit up my cigarette. We must have been there for a half an hour when we watched the sky brighten up a bit as the ringing of the temple bells became more vociferous with each minute. It seemed as if the bells welcomed the Lord Surya to the Ghat. Tarsem clicked some pictures of the holy Ganges and was pretty stoned. Brad seemed alright though since he asked all about my education, religion, Indian culture in general, and my family in Delhi. Pleasantly enough, he knew a lot about our country than most foreigners do. He told me that his wife (Angelina) also wanted to come but she couldn't because of the children at home now. The conversation flowed like our holiest river ahead and I finally decided to leave back for my room by noon. The shooting was scheduled for 4 in the evening, and so my friend needed some help with his laptop.
I did not have a one-on-one with Brad Pitt after that but I was with the crew for another day before I decided to head back for my college in Pune. Benaras becomes ultra-beautiful in winters, and before it was completely sold off by the parasitical Pandits in saffron, I could actually believe in the usual Hindu theory of Benaras being the place where we wash off our sins. Not anymore, for sure. But then, I had not gone there for religious reasons in the first place.
Ghats that lead to heaven.
Frequent Searches Leading To This Page:-
brad pitt indian movie, robert pattinson in india, brad pitt indian food