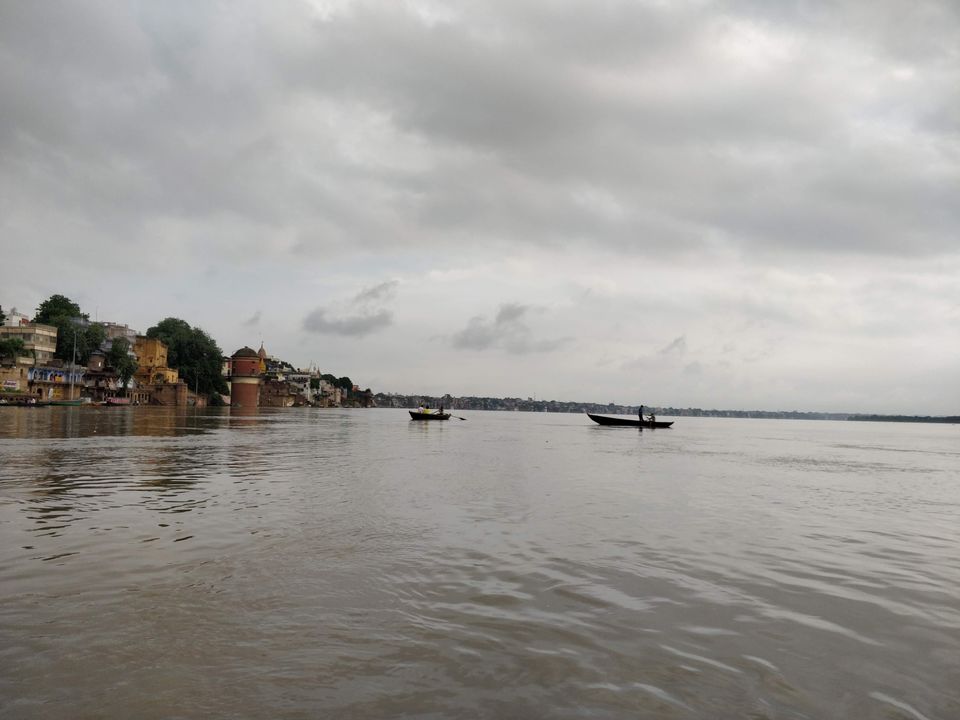 "Benaras is older than history, older even than legend and looks twice as old as all of them put together."
Having read this quote by Mark Twain, I was really longing to go to Varanasi to get a feel of the antiquity. The easiest way to reach Varanasi is through train, however, you can also take Volvo buses or flights .
Where to stay?
Varanasi is a hot favourite among foreign travellers, so, you can find a number of Bohemian hostels in the serpentine lanes leading to the ghats. I stayed at Zostel, which was a little off the ghats but I had an amazing experience with the owner and the fellow travelers. These hostels are also very easy on pockets. However, if you want a luxurious trip, there are a few boutique and luxury hotels as well.
What to eat?
Okay, brace yourself! Food is one thing which Varanasi won't disappoint you with. At every nook and corner, you can find halwais seiving kachoris in oil, panwaris colouring the betel leaves with lime, shopkeepers twirling curd and what not. The cocktail of aromas you get, leaves you mesmerized.
Where to shop?
Banarasi silk has carved a niche for itself in traditional fashion. With its resurgence, due to the impetus given to handlooms, it's back in the game. There are a few shops which provide good quality handloom- Taj Estate at Bhelupura, Shah Narayan Das at Chowk, but they are not too easy on the pocket. If you want good quality banarasi stuff, with strong aesthetics, there's a shop called Raj Luxmi at Chowk, I'd highly recommend. The owner, Kanhaiya is very warm and will show you the best of what he has. You will find a large number of shops near the ghats, but the quality of stuff isn't that great. Bargaining is the key. However, faux banarasi which is much cheaper can be found all around Banaras.
What else to do?
1. Don't miss the evening Aarti at Dashashwamedha. The Aarti has the potential to give you goosebumps. For a greater impact, watch it from a boat to get a better view.
2. Watch sunrise and subah-e-benaras at Assi Ghat.
3. Go for a boat ride, preferably in morning.
4. Go to Manikarnika Ghat to see how life comes a full circle. Don't take pictures of cremations.
5. Walk, walk and walk. I walked for more than 8 KMs in my two day trip. You get to absorb the culture better on foot.
6. Talk to locals. People from benaras are in general very friendly.
7. Visit Kashi Vishwanath temple, which is one of the 12 jyotirlingas in India and is of great significance in Hindu mythology.
8. To balance the sweet chaos of Varanasi, visit the tranquil town of Sarnath. It takes 40 mins to reach Sarnath from Varanasi. It's a great experience to see the place associated with one of the most important events in the life of Buddha.
9. Be careful of pick-pockets.
10. You can visit Ramnagar fort to see the seat of erstwhile Kashi Naresh.
11. You may visit BHU if you like.
Varanasi gets it name from the conjunction of Varuna and Assi but the city is a concoction of multiple cultures. It's a unique city which provides you a coexistence of calm and chaos. Maze like lanes, with people, vehicles and cattles; paan clad walls; ancient havelis with small doors; people in colourful clothes, everything can be found in Varanasi.
Visiting Varanasi can be a little overwhelming for you, so come to the city of colour, crowd and culture with an open mind and heart and take away good memories.