Craving an island getaway that's not your clichéd beach vacation? What if you could experience luxurious hospitality, a slice of Hollywood, a dash of adventure amidst nature and Michelin star restaurants? Resorts World Sentosa, Singapore offers all of this and much more on one island! Located on Sentosa Island in Singapore, you can experience the best that Southeast Asia has to offer at a destination that's not far from home.
Resorts World Sentosa is spread across an astonishing 120 acres that provides its visitors a diverse range of attractions. It's also known to be home to award-winning hotels, unimaginable biodiversity all while being a gastronomic haven. A perfect holiday for couples, friends and family, the island destination is easily accessible from the Changi Airport. Home to enthralling activities and hospitality that remains unmatched, Resorts World Sentosa has plenty to offer for the experienced jetsetter and thrill seeker alike.
Wondering where to begin your holiday at Resorts World Sentosa? We have you covered with the must-do activities here:
Feel like a star with the Universal Studios Singapore VIP Experience
Opt for the VIP experience at Universal Studios Singapore and enjoy red-carpet treatment during your tour. Start out with a guided tour of all the wonders of the park and then pick your favourite rides and shows from six themed zones. Breeze ahead of queues to hop on your favourite rides whether it be Battlestar Galactica: HUMAN vs. CYLON - the fast-paced, duelling roller coaster which is the tallest of its kind in the world at 42.7m-high (14 stories) or the Jurassic World ride where you'll come face to face with dinosaurs. Want another go? With the Universal Express Unlimited pass in hand, you can go on the ride as many times as you want! Meet and greet your favourite adorable characters from blockbuster movies with private and priority access and as the perfect day winds to a close, don't forget to take home exclusive merchandise to remember the day with.
Enjoy an underwater adventure like never before at the S.E.A Aquarium VIP experience
Unravel the secrets of the underwater world at S.E.A. Aquarium which is home to 100,000 marine animals across a 1000 species and 40 habitats. Marvel at the different varieties of sharks, colourful fish, corals and other marine life and with the VIP experience you'll be privy to a guided tour that'll help you leave with a deeper insight into the underwater world. Steer clear of the crowds and queues with VIP access to your favourite habitats such as The Open Ocean Habitat with a mind-boggling range of aquatic life, Shipwrecked! where you'll discover how old shipwrecks become thriving ecosystems and more. How about a view from the other side of the glass? Enter the Aquarist Lab for an insider's look at the nursery where hatchlings from our in-house breeding are cared for and learn how plankton is cultured for their food.animals.. Make sure you get some great photos with fascinating inhabitants here and leave with exclusive merchandise!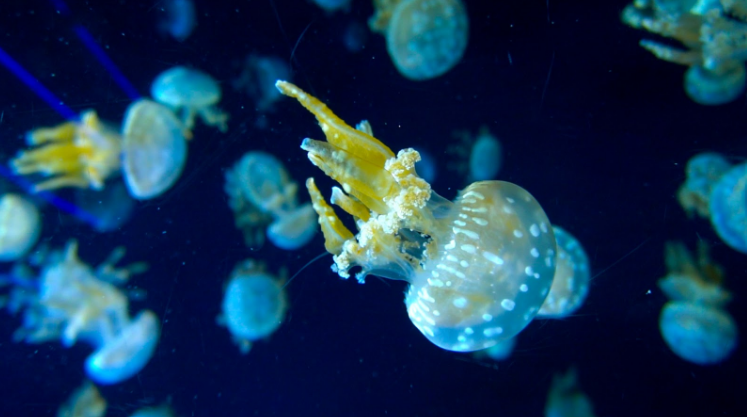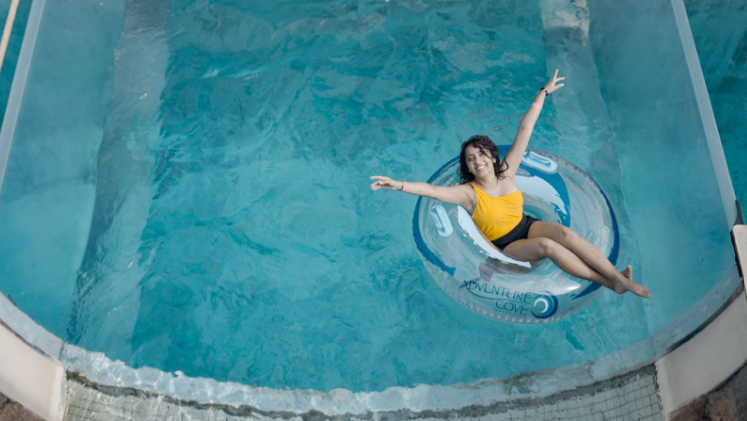 Whether you want to lazily float down a river or scream your heart out while being flushed down a twist, the Adventure Cove Waterpark is the place to be! A water park like no other, it boasts of unique experiences you won't find anywhere else in the world. The Rainbow Reef is one of those experiences where you can snorkel with 20,000 colourful fish. The incredible habitat is about nine feet deep and has colourful corals that creates a unique display of marine life. Get the 'fish eye' view in a safe and controlled environment where you'll feel like floating for hours watching the fishy residents swim happily along. Don't forget to make a splash at Adventure Cove Waterpark when visiting here.
Get 'nosy' with one of the friendliest sea creatures at Dolphin Island
Meet the incredible Indo-Pacific bottlenose dolphins in person or from the lagoon edge without having to get in the water. Dolphin Island offers a diverse range of experiential programs that allow you to gain a deeper understanding of these magnificent marine mammals from their habitat, diet and anatomy. or. Opt for the Dolphin Discovery experience that allows you and your loved ones to wade into a shallow pool and observe dolphins at close quarters or the Dolphin Encounter to interact with the incredibly smart dolphins without even having to get in the water! Learn about important conservation efforts here and the lifestyles of these beautiful creatures who liven up the oceans around the world.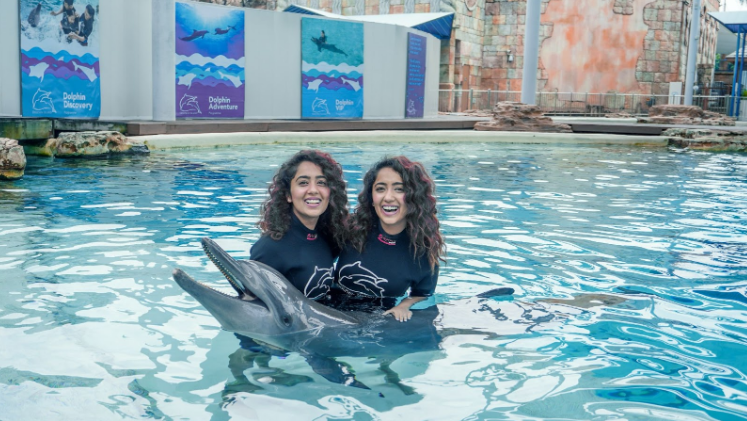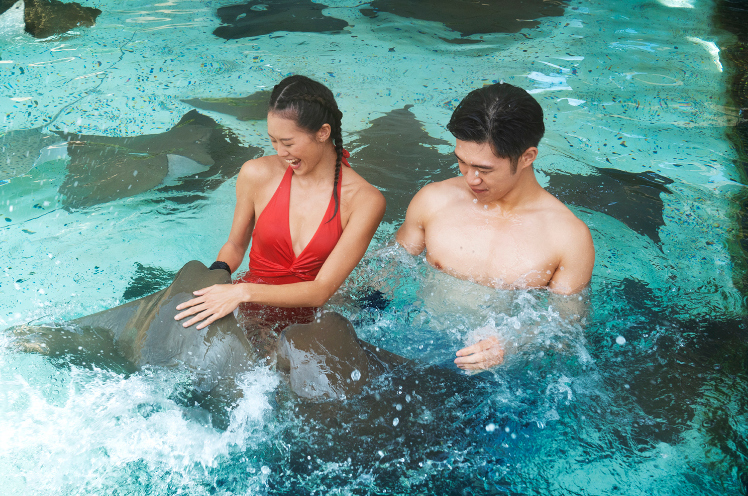 Wade into a pool full of majestic rays swimming around and indulge in an interactive feeding encounter. Take a closer look at these glorious animals, touch their velvety wings and feed them all as they crowd closer to you for a surreal experience.
Check into the lap of luxury in the new bleisure space Hotel Ora
In need of a change of space but still have to work? The new Hotel Ora is the hottest new bleisure destination in town. Take your work to this 5-star hotel and watch the creativity flow! With luxurious amenities and a smart and sustainable design you can ensure that work feels like a paid vacation! Choose a room with a view of the pool for calls paired with a quick swim or drop by their restaurants for a delicious meal that'll keep you charged. With guestrooms and workspaces designed to put you at ease, you can wind up work and step out for some fun!
Resorts World Sentosa is a premium lifestyle destination with much to explore.. It redefines the meaning of an island getaway and pushes you to think beyond sipping chilled Margaritas on a beach and watching waves crash on the shore. These six experiences are just some of the activities you should consider at Resorts World Sentosa with so much more on offer at the island destination. So the next time you're tempted to visit a tropical getaway, you should probably swap the typical beach holiday for something new and exciting at Resorts World Sentosa. There will never be a dull moment and you'll wish your holiday lasted a bit longer so you can explore all that there is to see at Resorts World Sentosa.
Ready to travel for free? Earn credits and redeem them on Tripoto's weekend getaways, hotel stays and vacation packages after the pandemic is over!
Explore the best of travel inspiration on Tripoto Instagram!
In association with Resorts World Sentosa