Adventure Cove Waterpark™ at Resorts World™ Sentosa Singapore has given us yet another reason to visit the fine city. Offering unique water rides and encounters with marine life, this is the ideal destination for all travellers who'd like to add a touch of thrill to their vacation. Adventure Cove Waterpark will take you on a roller coaster ride like never before.
Adventure Cove Waterpark

Offering a full day of splashing in the sun, Adventure Cove Waterpark is designed for thrill-seekers and family alike, promising an exhilarating day of enjoyment. Take high-speed water slides, snorkel with 20,000 tropical fish over a colourful reef, or simply while away your time drifting on a lazy river.
Take these thrilling rides
The park redefines water rides and has introduced activities that are new and exclusive. The rides are designed for all ages and remain high on the thrill factor.
Riptide Rocket:
This is the first of its kind hydro-magnetic coaster in all of Southeast Asia. This ride combines all the powerful climbs, plunging drops, terrifying twists and tight turns to set your adrenaline pumping. Take this ride if you've got the guts.
Dueling Racer: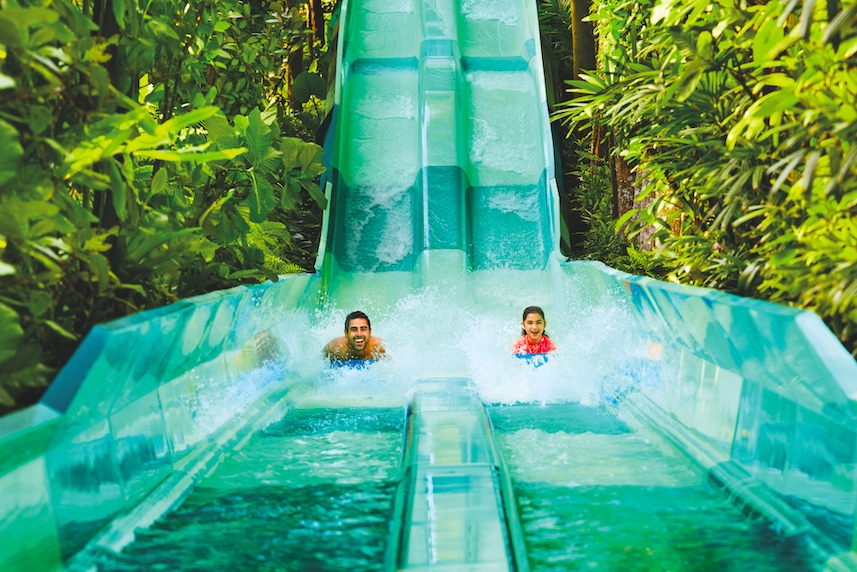 Launch yourself on a racer mat and zip down with your friend on the two lane waterslide. Beware of all the bumps and dips as you pick up speed and descend down the slide.
Spiral Washout:
Spiral Washout is an oscillating tube ride that will definitely give you a hypnotising experience. So hold on tight!
Head to these zones for a SPLASH!
Chill out with friends at the wave pool or grab a tube for the lazy river – the water park offers fun activities for everyone.
Rainbow Reef: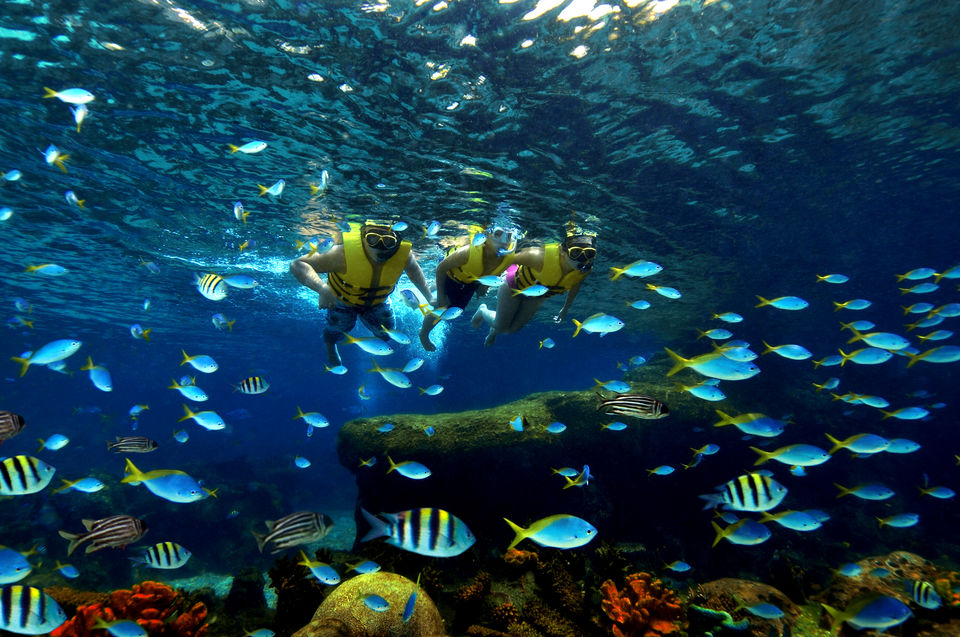 This is one of the most outstanding aspects of the waterpark. Along with offering rides, it also offers a chance for you to interact with marine life! Imagine taking a plunge into deep blue waters and immersing into a meditative experience as you snorkel with over 20,000 friendly fishes and explore their habitat over a colourful reef. This will be an experience that you will never forget.
Adventure River: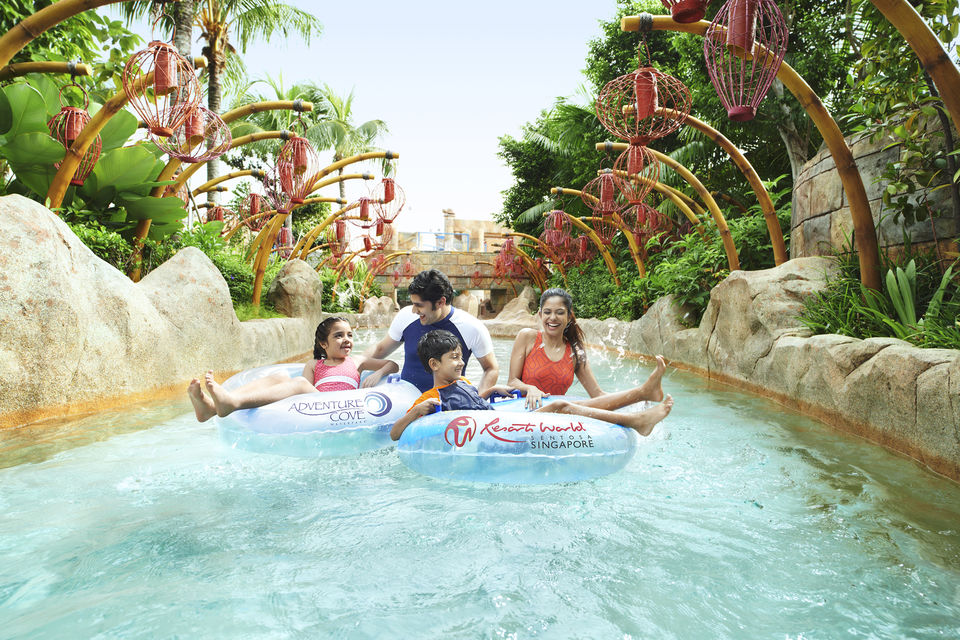 Float down the 620-metre long Adventure River, where you will be taken through 14 breathtaking vistas including tropical jungles, canyons and grotto caves, to name a few. One of the most stunning highlights of Adventure River is a surround aquarium where you can witness numerous species of fish while you relax on your water-tube.
Bluwater Bay:
This is a wave pool where waves are raised as high as 2.2 metres. The pool is also surrounded with deck chairs, loungers and cabanas that will give you the experience of being on a beach. This is the ideal place to rejuvenate between rides.
Big Bucket Treehouse:
In Big Bucket Treehouse, a massive overflowing bucket is overturned on those standing underneath it. In addition, this area has interactive elements like water slides and net climbs to make the experience more enjoyable.
Wet Maze:
Propel into action-packed excitement at this two-floored water adventure zone that features activities and obstacles that you need to pass in order to reach the second floor. Elevate the challenge at the upper level where a ropes course in mid-air awaits. Turn on your ninja mode to conquer the terrain with speed and wit as you watch others try to escape from the maze below.
Adventure Cove Waterpark is open from 10am - 6pm everyday.
Tuck into a world of flavours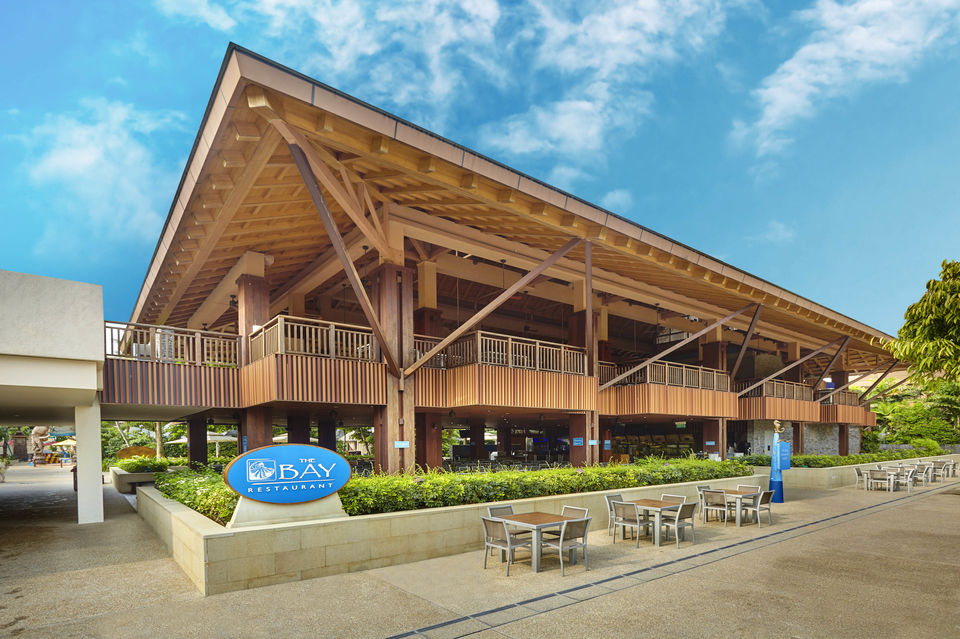 Need some refueling? Adventure Cove Waterpark offers a wide array of food options for you to feast on. Tease your taste buds with mouth-watering Asian and western food as you treat your eyes to gorgeous views of the park while dining al fresco from the second-storey terrace.
How much does it cost?
A one day pass at the park is priced as follows:
Adults (Age 13-59): ₹2,035
Children (Age 4-12): ₹1,566
Senior (Age 60 and above): ₹1,566
You can Book your tickets here.
If you're heading to Singapore, you need to lose yourself at Adventure Cove Waterpark for the most memorable experience of your life. You can thank us later.
Been to more such theme parks around the world? Tell us your favourite ones by creating a blog on Tripoto.
This article is written in association with Resorts World Sentosa
Frequent searches leading to this page:-
Singapore holiday packages all inclusive, Singapore honeymoon package cost, Singapore tourism honeymoon packages from India, Singapore tourism cost, Singapore holiday packages for family, Singapore trip cost for couple