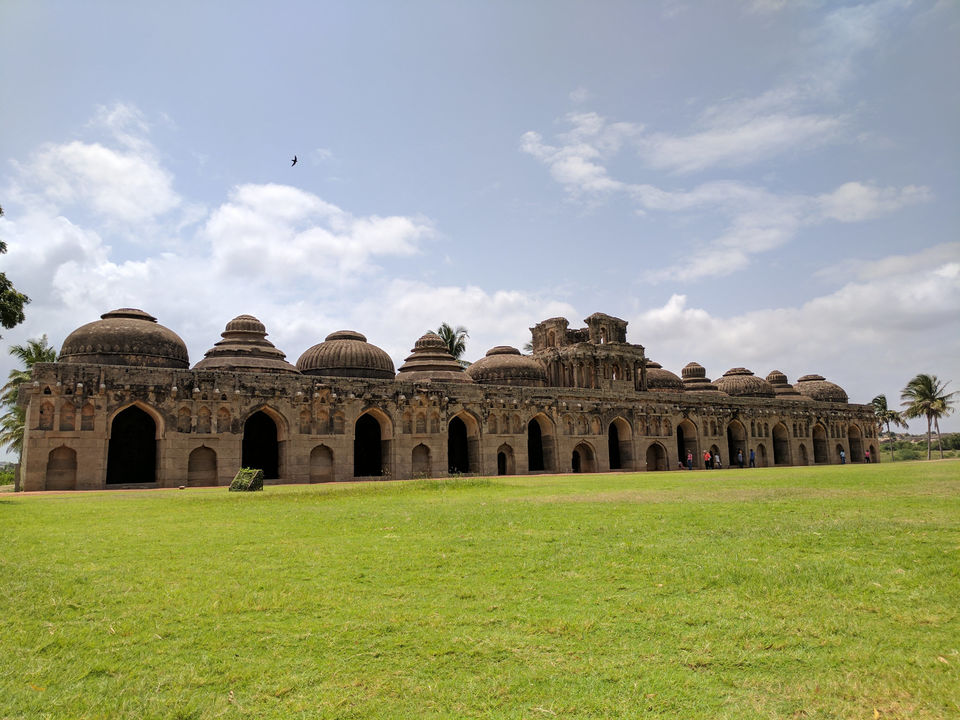 Hyderabad
A spontaneous decision to visit the land of boulders and ruins, and I left from office, reached home, packed by bag and left for Hampi, all in 45 minutes.
Ok Google, trains, an argument with the guy issuing train tickets and an all night journey standing in an unreserved coach of 2 trains took me to Hospet, the closest town to Hampi that's well connected to the rest of the world. A bus to the main bus stand and another one from there took me to my destination. Hampi, finally! I preferred the bus over an auto because this was meant to be low budget trip.
Standing throughout the night, exhausted I was and so booked a cheap place at 03:00 AM adding a note that I'll be checking in by 08:00 AM. I didn't quite expect the keeper to be there waiting for me because I had booked at the Witching Hour! I took a quick nap to juice myself up after the tiresome journey and then headed to explore Hampi.
I know there'll tons of people who'll say I could've taken a bus to Hospet and with a reserved seat that would have been much much better. Well, I know, and I didn't.
I walked around the town, explored all the places, learnt a lot about the fascinating history of the place full of ruins and monuments that is spread across around 25 sqkm. Wait! Whaaaat! Amazing, right?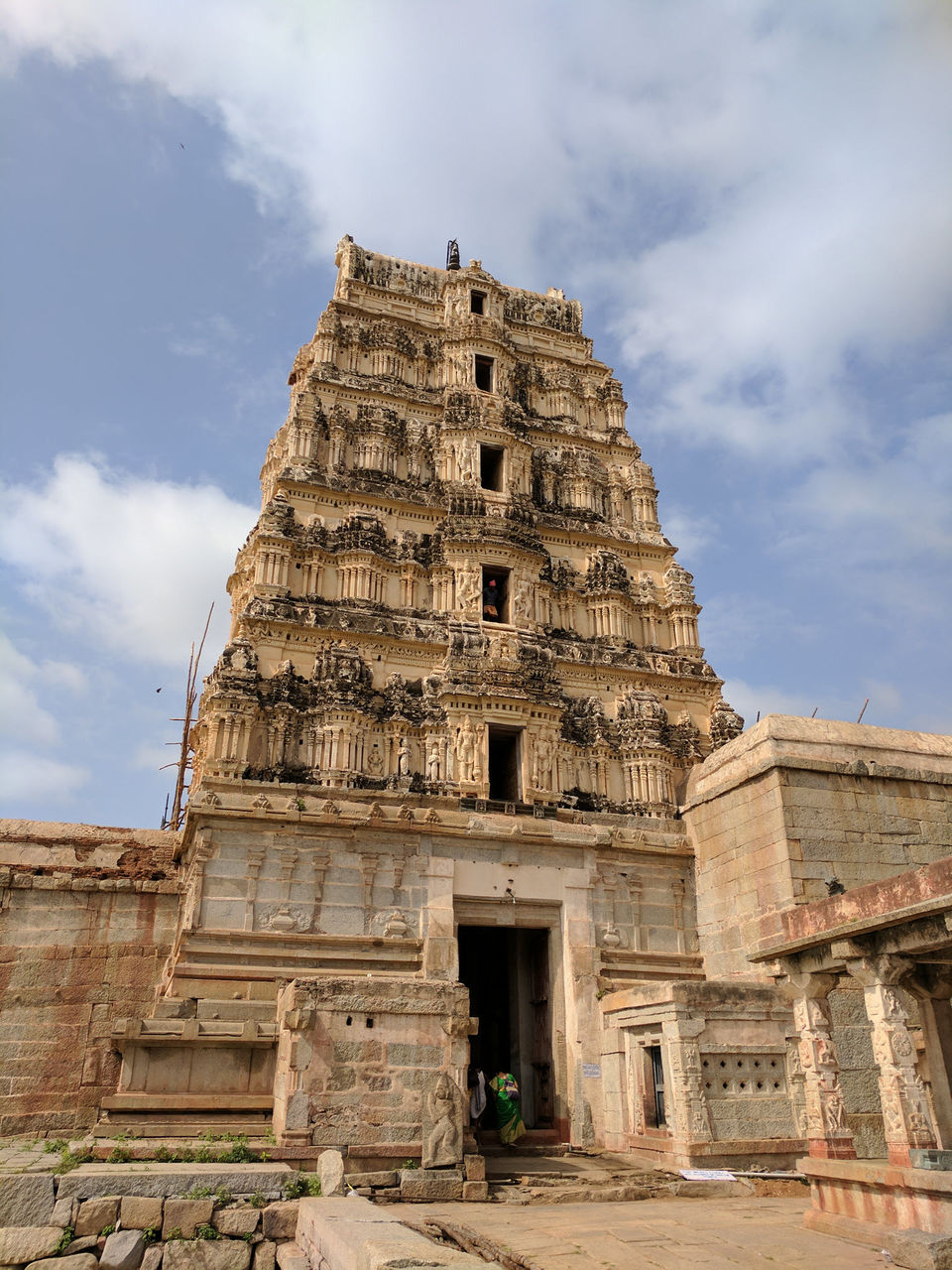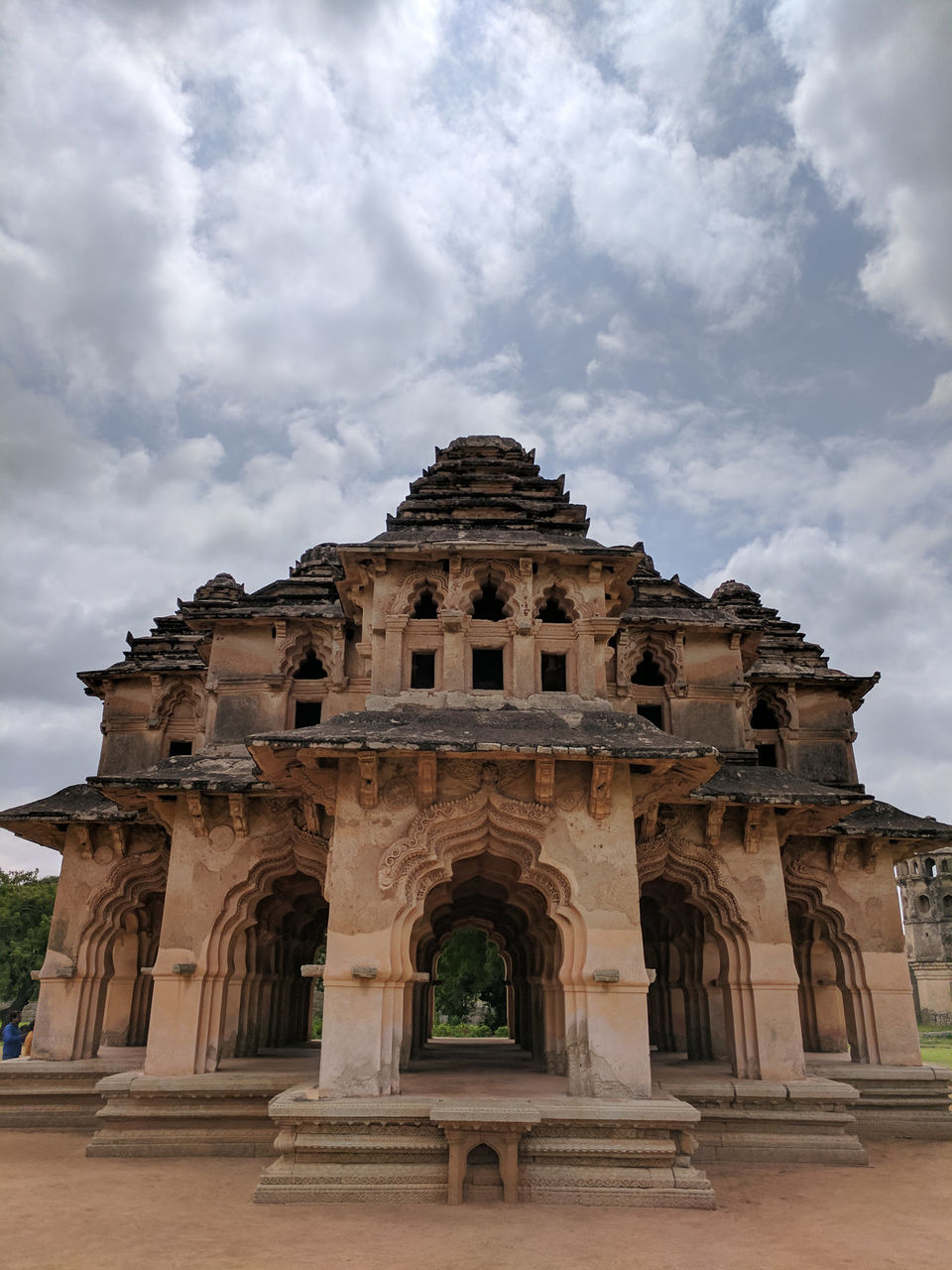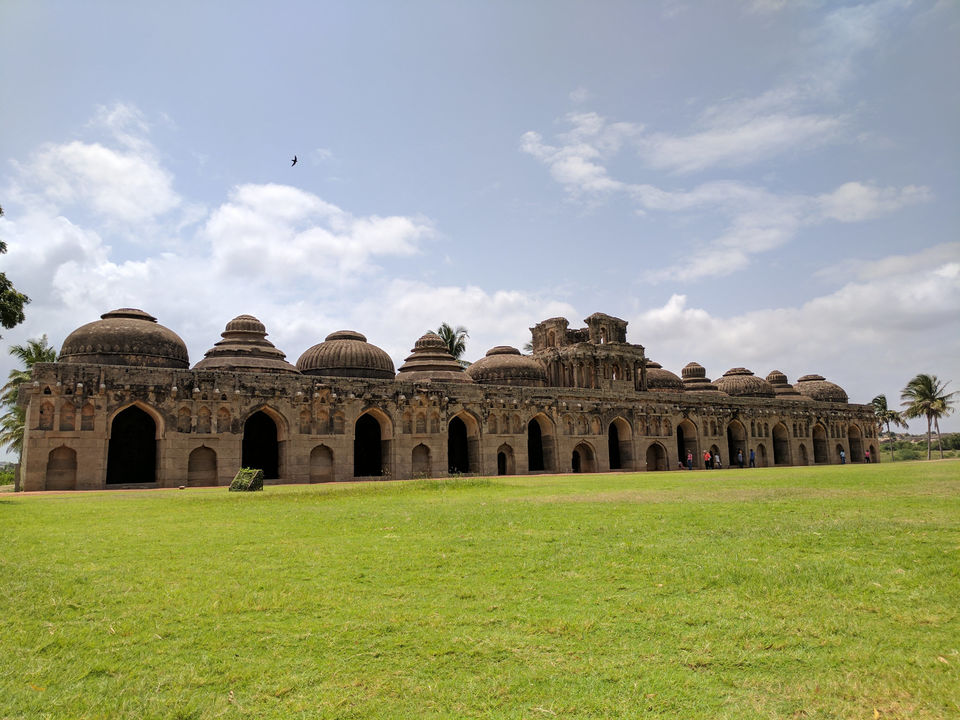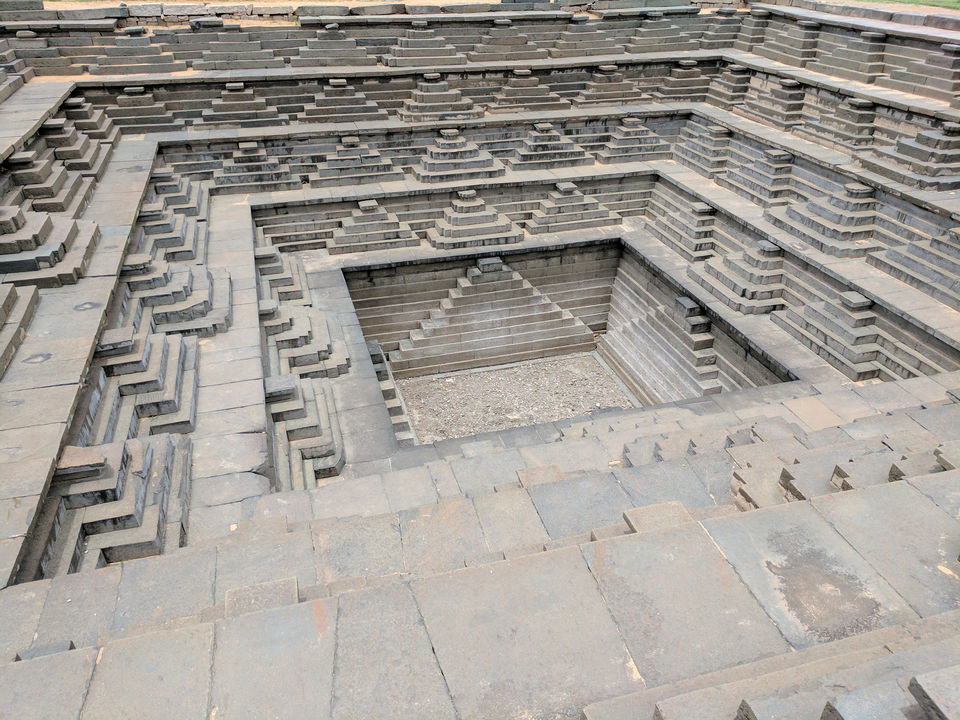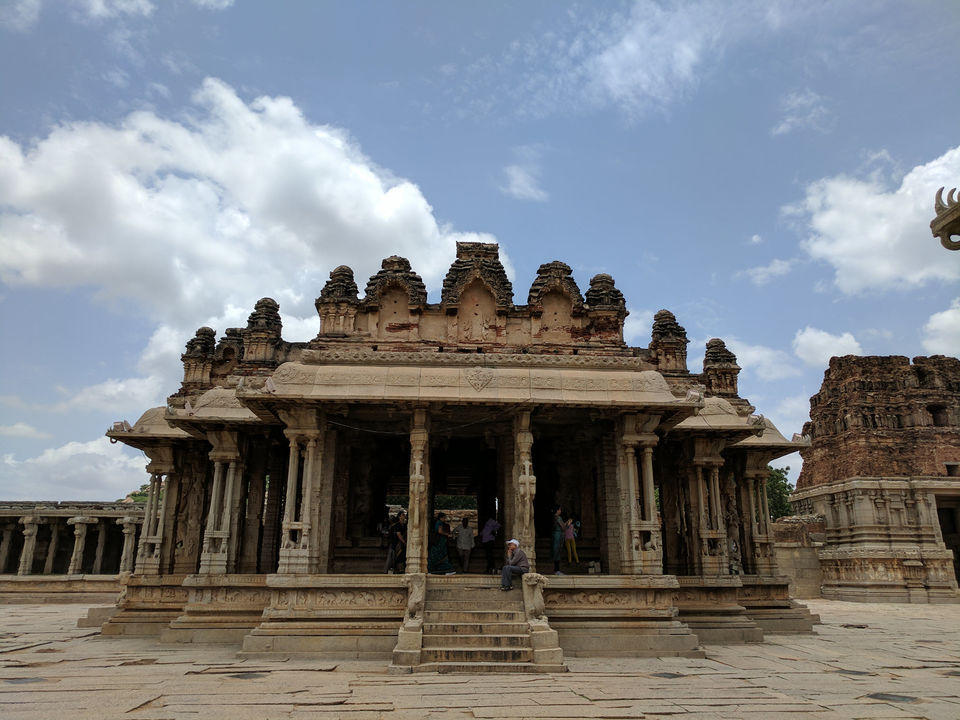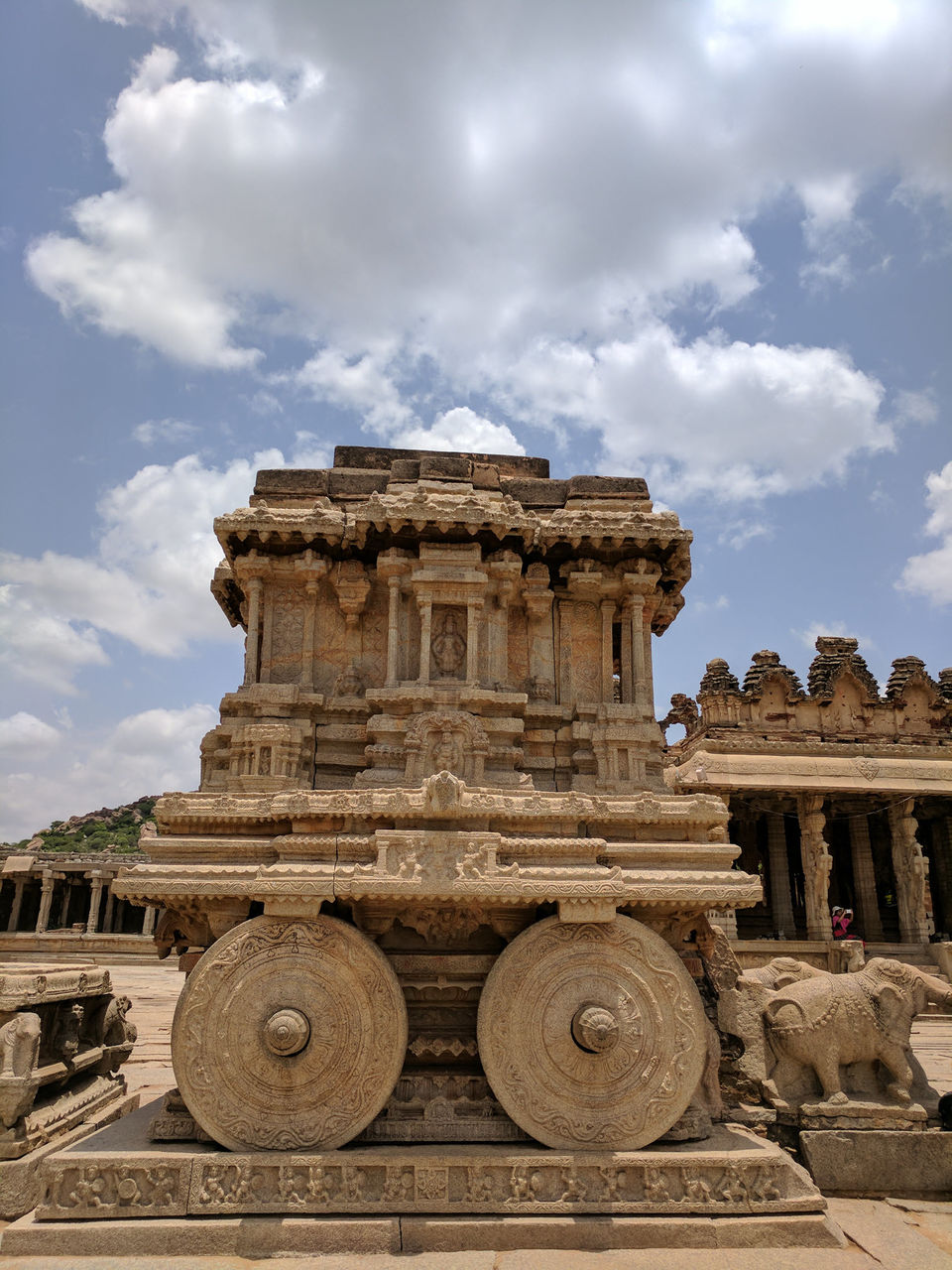 After exploring the entire place by noon, I went to the place where I was put up and rested for a while and juiced up my phone, all set for the evening - Experience Sunset from Matanga Hill. Matanga Hill, I feel is the most talked about hill in Hampi all because of the glory of the view this hilltop offers.
I started climbing at 3:30 pm and it took about 30 minutes including the breaks in between to click some pictures. There are markings at several places leading you to the top. The place is well maintained, can't complain of anything here and couldn't have asked for more.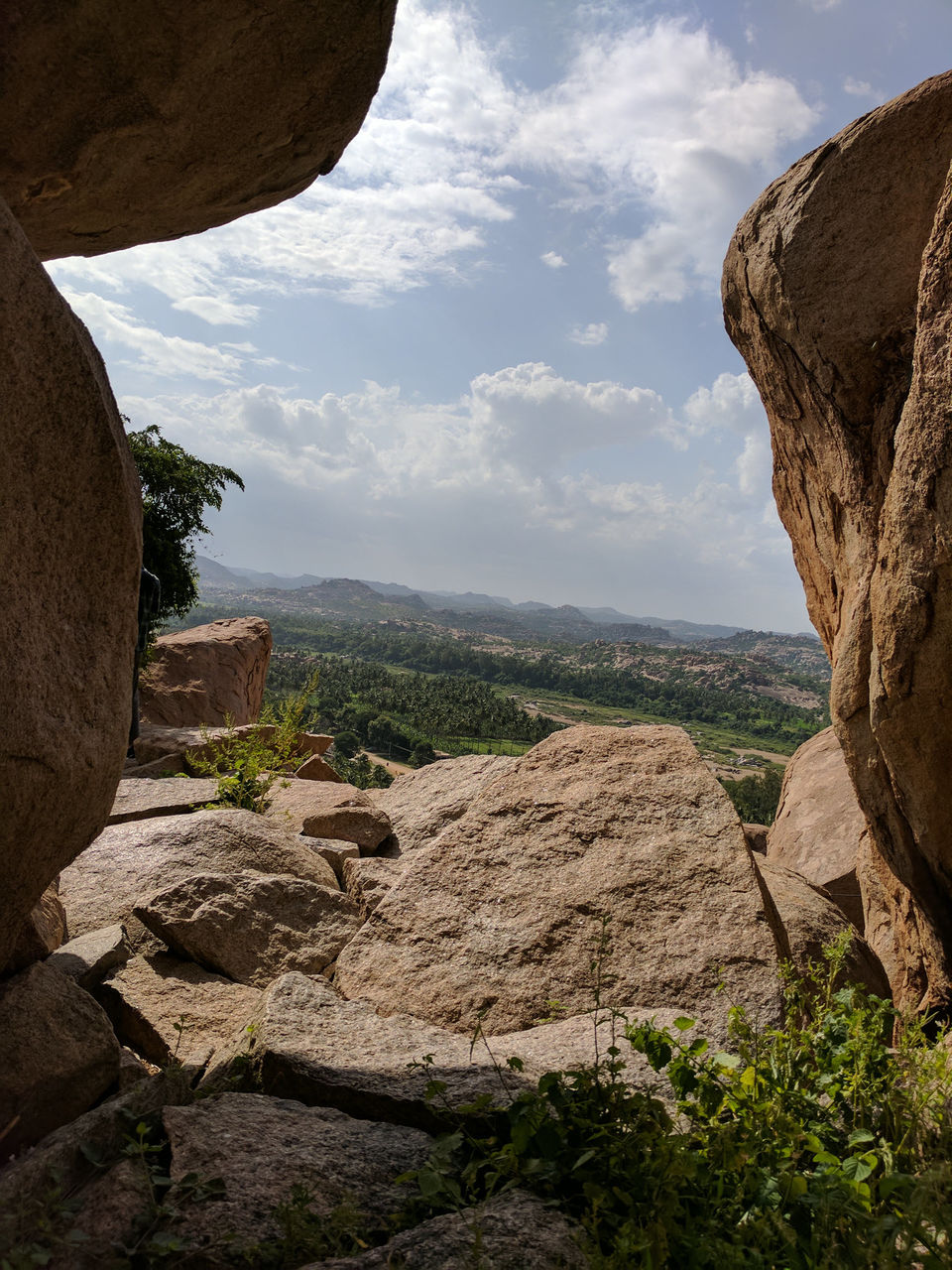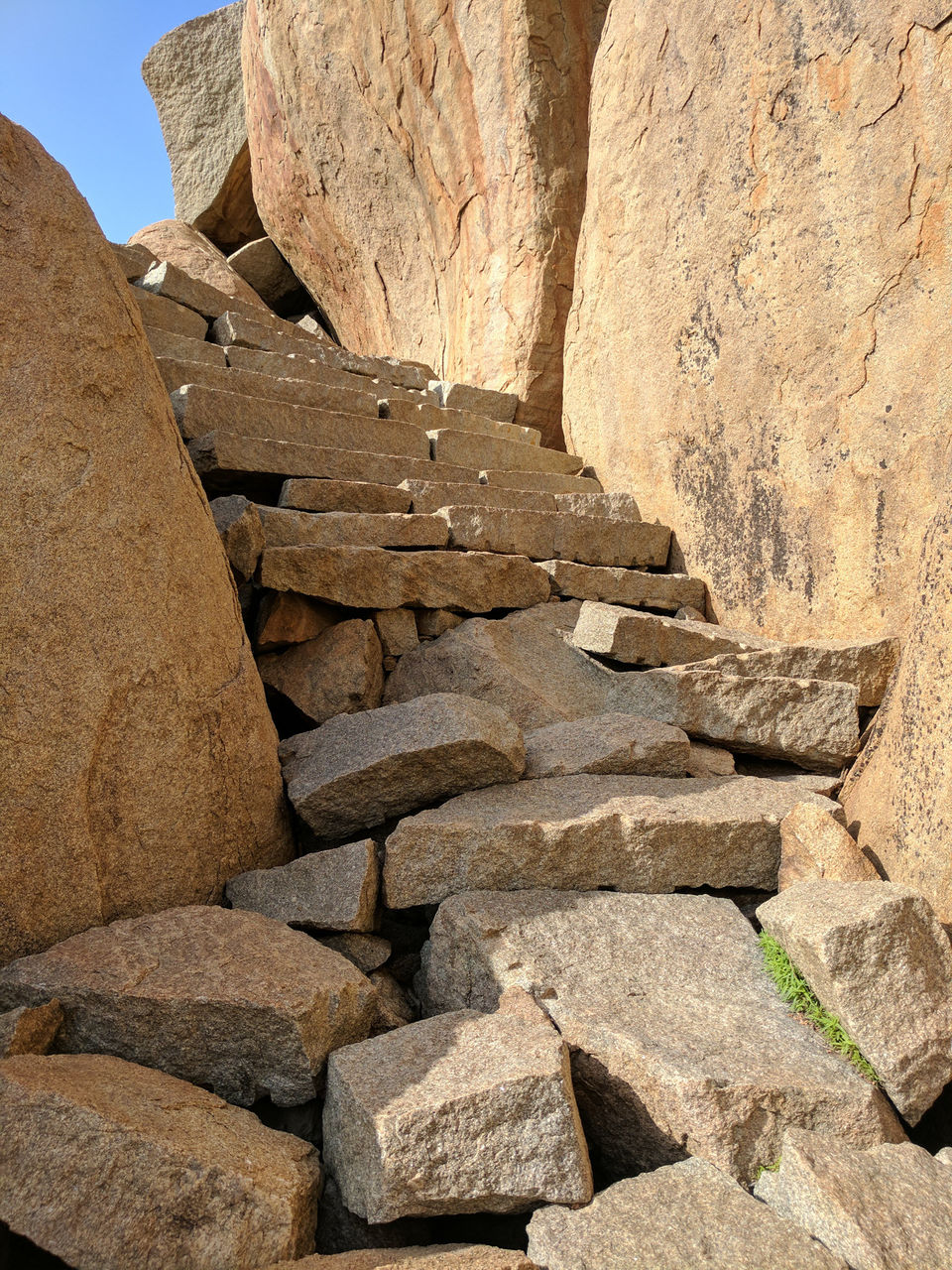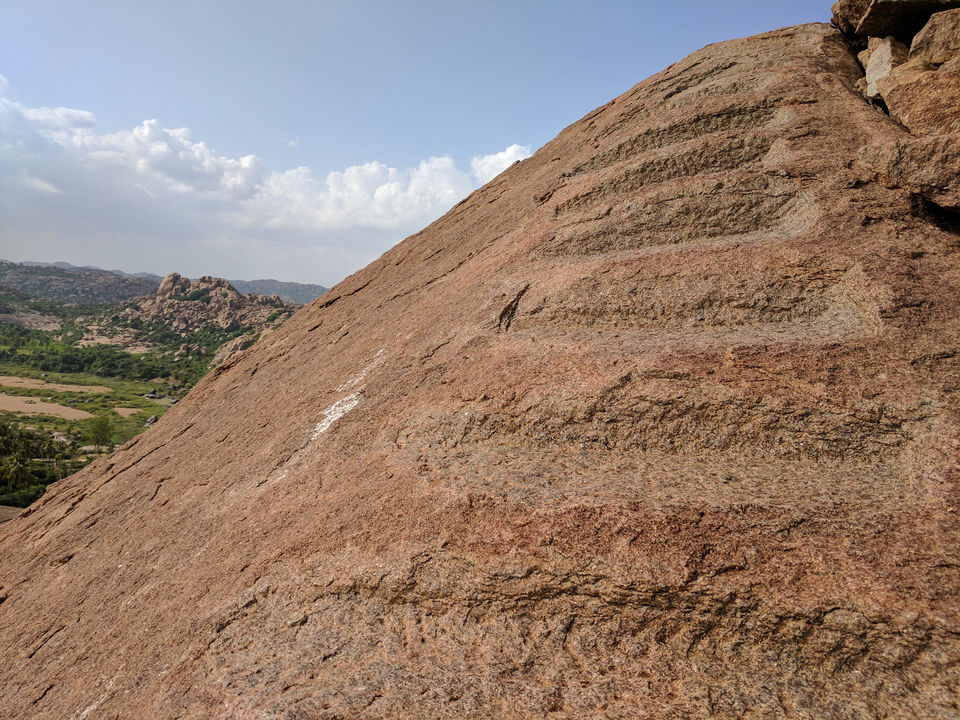 When I reached the top, there was just one guy there. I walked around completely spellbound, by the beauty of entire surrounding and then settled at a spot, set up my phone to record an hour and half long timelapse of the sun going down and getting lost somewhere in the horizon. Spent a couple of hours here at the top, made some friends, chatted till the Sun went down enjoying sitting there at the edge.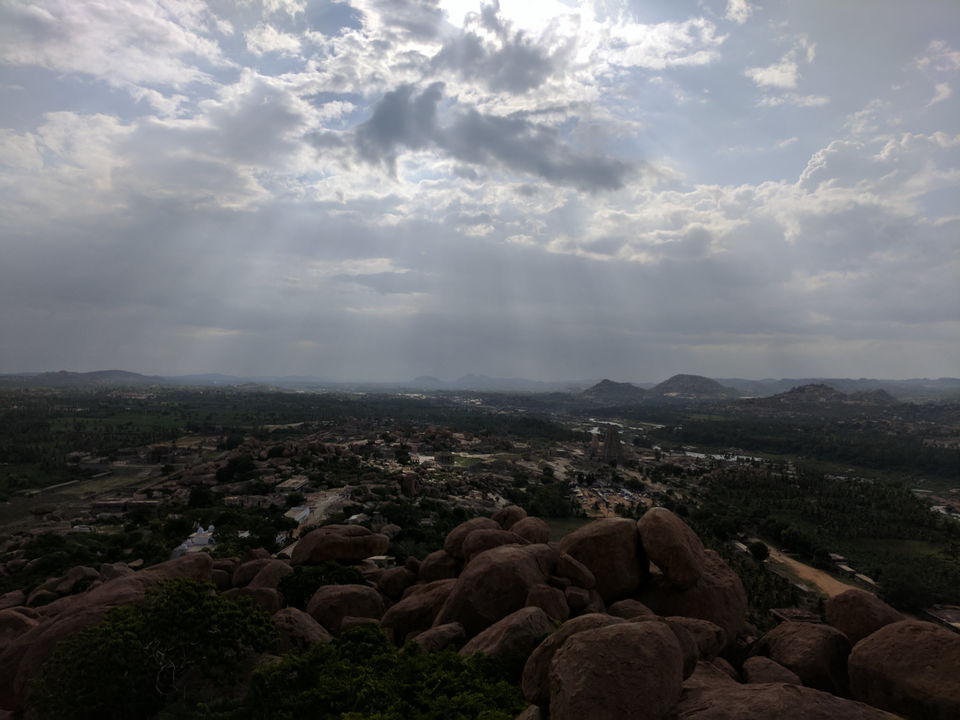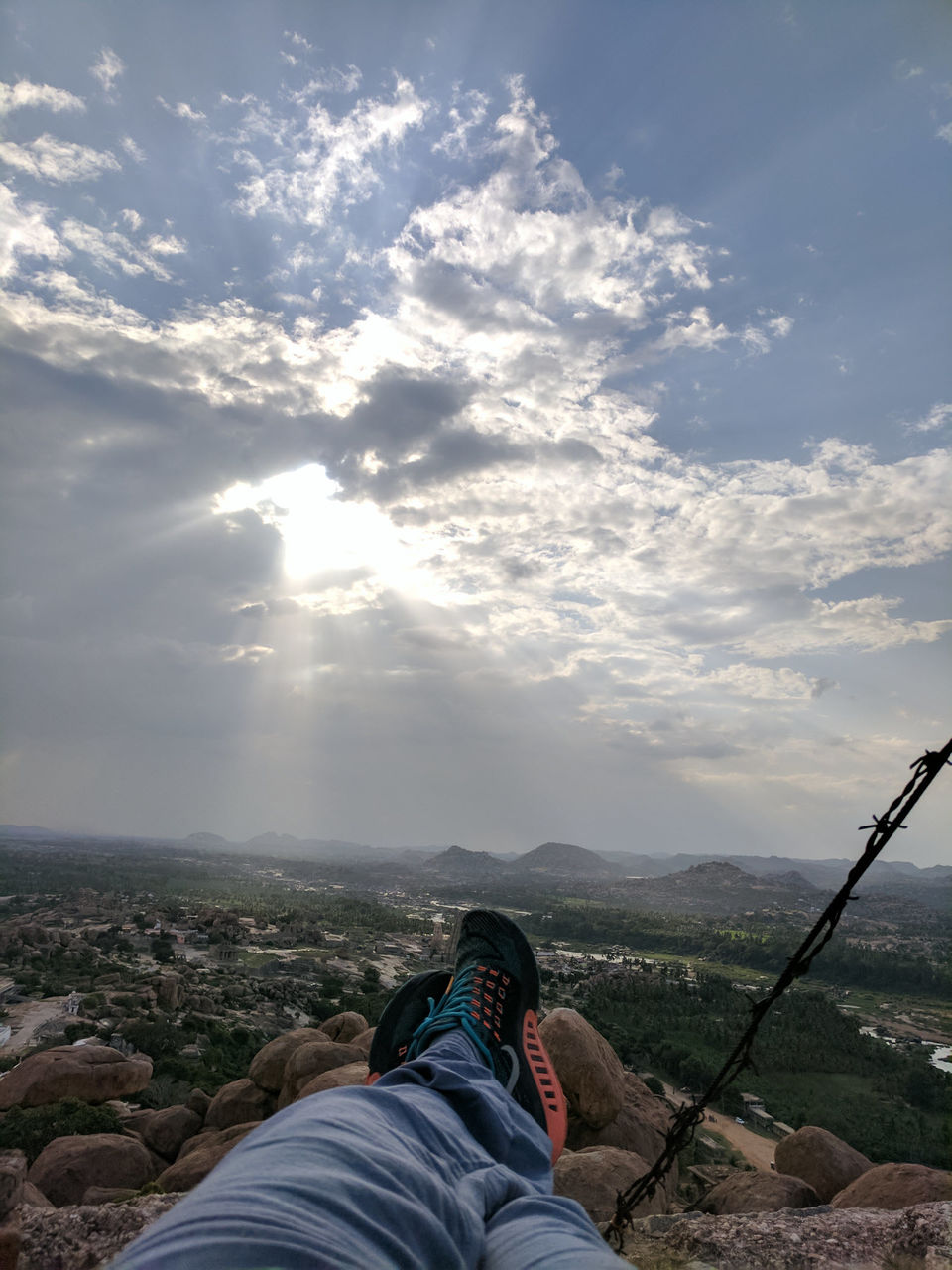 After experiencing Sunset, I got back to my room freshened up and went about to explore some places to take care of my hunger pangs. I was on this side of the river, and the locals said the options on this side are less and there's only a long road way to cross to the other side of the river after 6:00 PM. That wasn't an option for me. So, walking through the streets and asking the locals, I landed at a place, had dinner and relaxed there till they closed. End of Day 1.
I left early in the morning before first light and explored some places, tried boulder climbing, succeeded. There though was a point when I didn't I'd be able to make it, but eventually did. And there was a point where I couldn't figure out how to get down, it was fun, and a point where I was hanging with my backpack with no ground beneath. Some scars and boils were the rewards I had on my when I reached down.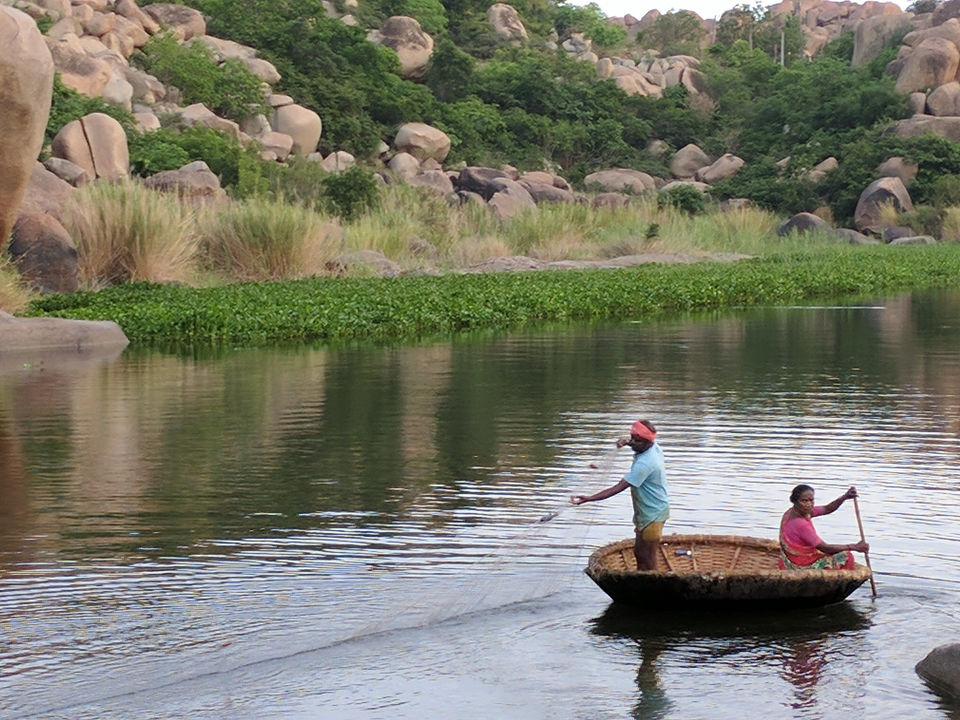 It was time for the ferries to start that would take me to the other side of Hampi. This ferrying point is also the place where you can watch Elephants being given bath and I can vouch for this - it is really soothing to just see the Elephant being treated like that. It's kind of an Elephant Spa!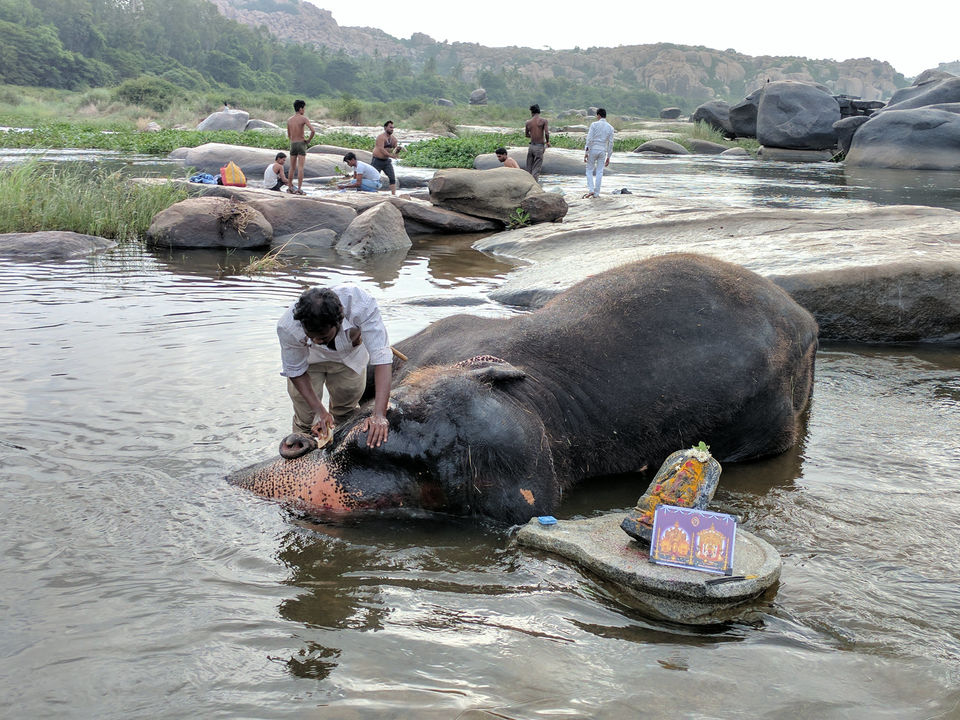 Reaching the other side, I asked some locals about a place, Nargila - restaurant & guest house, that a friend I met at Matanga recommended. It was a 5-10 minutes walk from the point where the ferry dropped me off. A totally laid back place. This is absolutely what I needed after the tiresome train journey and the exhaustive Day 1 walking around and exploring the entire City of Ruins. Nargila does not have tables and chairs, Nargila has mattresses (gadda), Wow! I took a place and just stretched and relaxed, took a quick nap there itself (LOL) before having breakfast.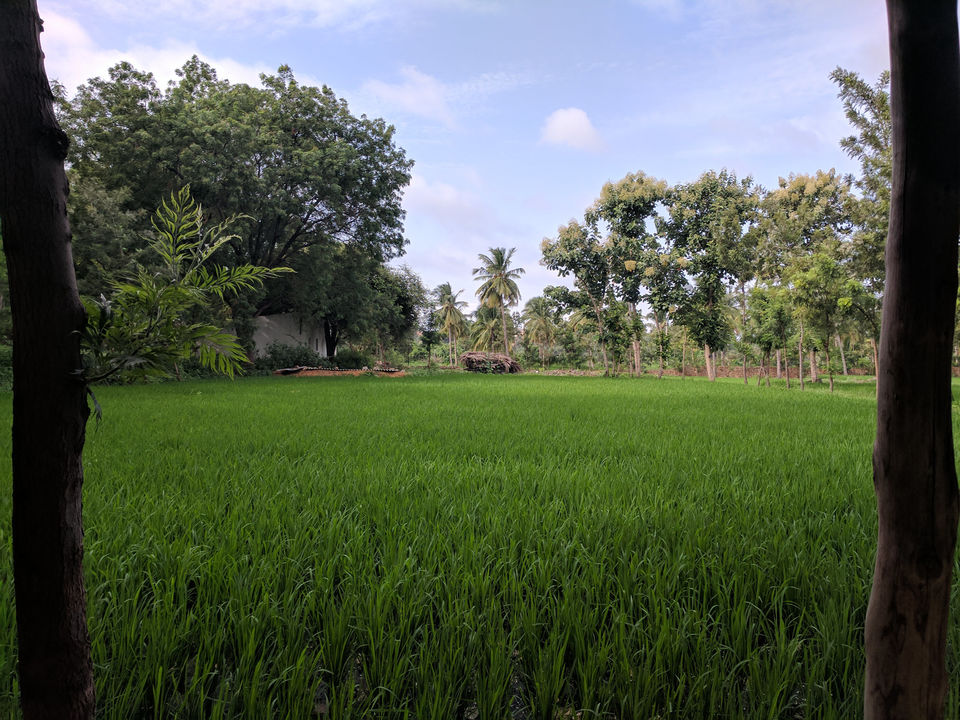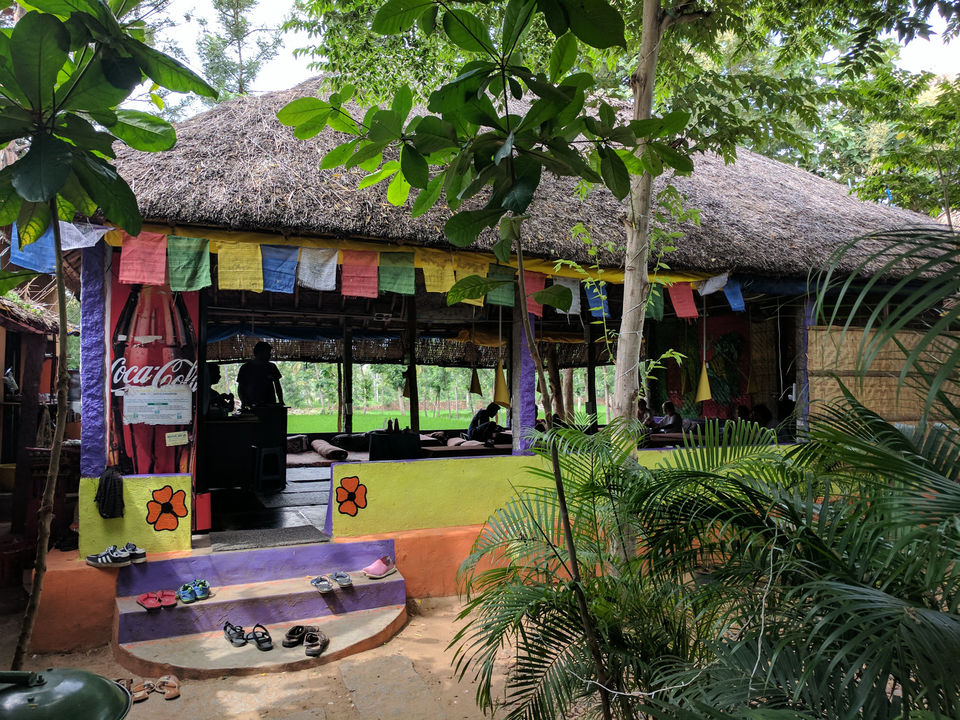 I just had 2 places that I wanted to visit on this the other side of the river. Sanapur Lake and the Hill with the Monkey Temple on top. I sooo wanted to go be a part of the jam session that happens around sunset but found out they happen only during the winters when there's a lot of crowd because of the peak season and they all gather and jam till late in the night! Calls for another trip (wink wink)!
I rented a bike from one of the guys who worked at Nargila for Rs. 150 + 90 for the petrol and started off to Sanapur Lake. Couple of kilometers later and passing by a desolate road, I reached the Lake. The view was splendid with the rich color of sky mixing with that of the lake and the sand surrounded by boulders, a lot of them.
It was pretty hot and so I didn't spend a lot of time here. There were some places where I could see warnings which read "Beware of Crocodiles", but it seems these are just to prevent a lot of people from cliff jumping here.
Next destination was the Hill with the Monkey Temple on top. Climbing 575 steps in scorching sun took about 15 minutes. Another panoramic view of Hampi and the surroundings. I stayed up for about half an hour and then made my way back down to the bike and rode back to Nargila.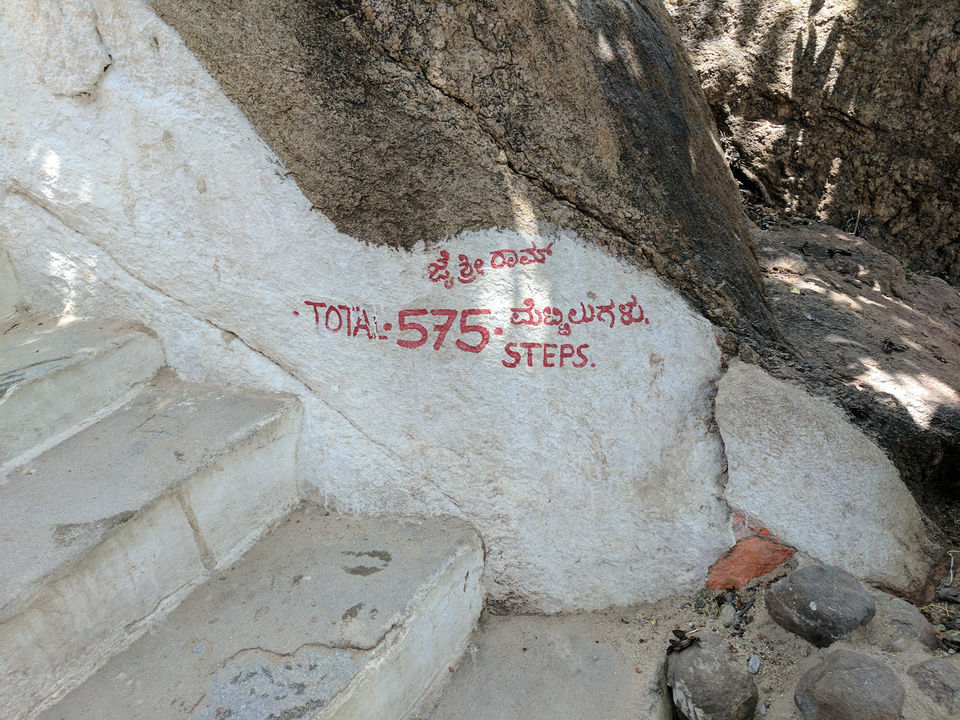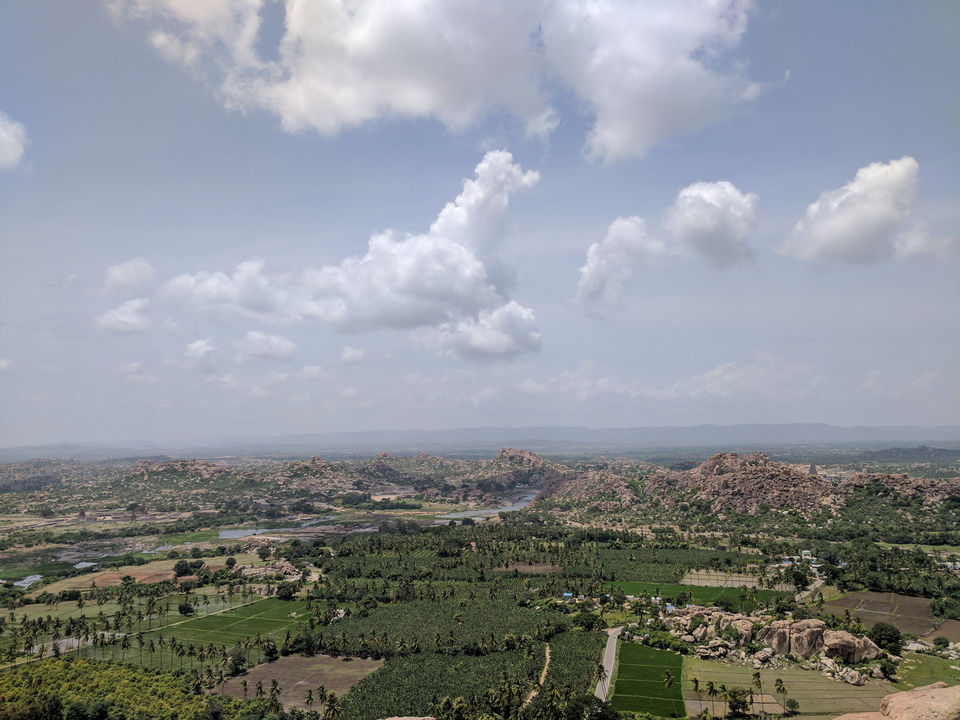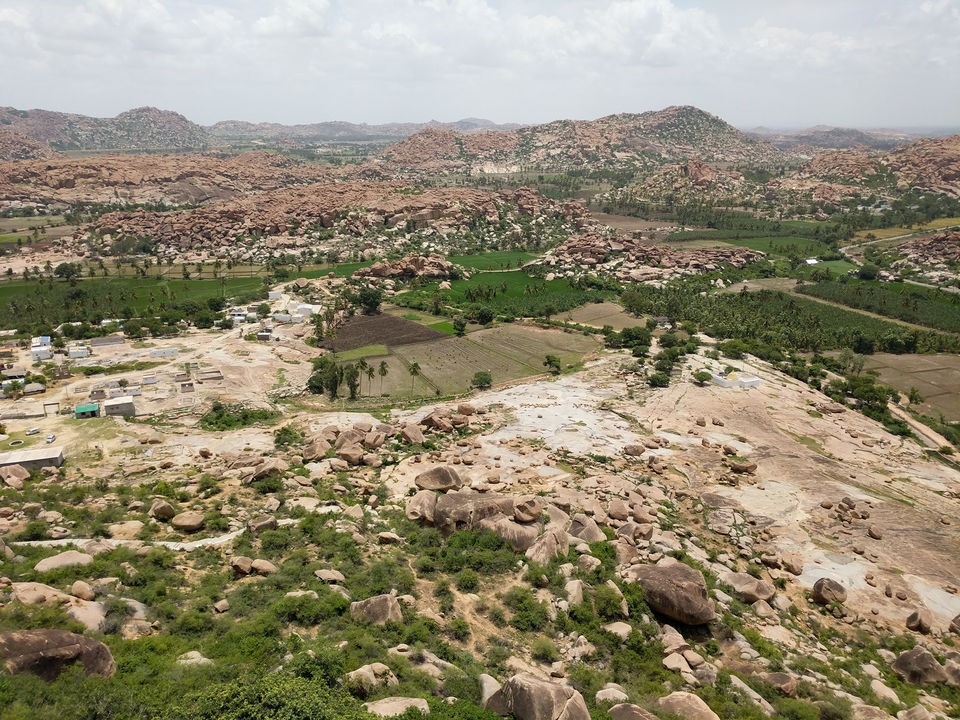 I relaxed for a while, took a short nap again at Nargila, had lunch and left to cross the river, roamed around the market for a while and then headed to Hospet from where I would take a bus back home.
2 days well spent, and as they say "Hampi bala Chanagide". Until next time.