And it probably won't be the last. Okjokull, a glacier which once spanned across 15 square miles, has melted and fallen prey to climate change. A glimpse at these photographs will help you understand the fearsome rate at which the earth is burning up.
Okjokull on September 14, 1986
Okjokull on August 1, 2019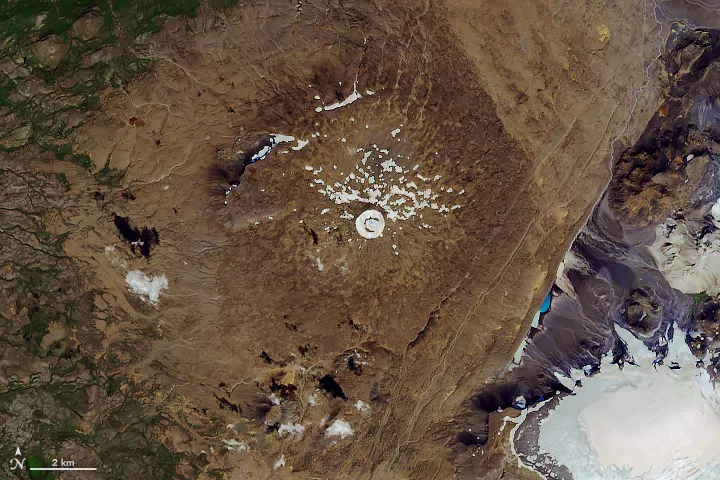 Around 100 people, including Iceland's Prime Minister, Katrín Jakobsdóttir and former UN human rights commissioner Mary Robinson, among researchers and scholars who organised the event, hiked for two hours to reach the site where the remnants of what was once Okjokull lay. Many were sporting protest signs demanding action against against climate change and looking towards environmental activists for inspiration.
The sobering event took place days after scientists announced that July was the hottest month ever recorded. With world leaders refusing to recognise climate change as a threat to all life on earth and the planet itself, many more funerals for life as we know it, seem inevitable.
The site now has a plaque there that reads both in English and Icelandic:
"A letter to the future: Ok is the first Icelandic glacier to lose its status as a glacier. In the next 200 years, all our glaciers are expected to follow the same path. This monument is to acknowledge that we know what is happening and know what needs to be done. Only you know if we did it."
These chilling words are a message to the future generations. Everything depends on how we act now. Rising temperatures around the world, caused by noxious greenhouses gases and excessive consumption of fossil fuel are causing havoc by melting age-old glaciers which result in increased sea levels until we are trapped in a vicious cycle of global warming. The earth is dying around us as we look the other way.
Cymene Howe, associate professor of anthropology at Rice University and one of the co-leaders of the event explained the rationale behind the move to The Guardian,
"By memorialising a fallen glacier, we want to emphasise what is being lost – or dying – the world over, and also draw attention to the fact that this is something that humans have 'accomplished', although it is not something we should be proud of."
As Iceland's PM, Katrín Jakobsdóttir put it,
"I hope this ceremony will be an inspiration not only to us here in Iceland, but also for the rest of the world, because what we are seeing here is just one face of the climate crisis."
Iceland comprises of 11 percent of ice. The nation has been losing 11 billion tonnes of ice per year and according to Howe, scientists estimate by 2200 all of Iceland's glacier will die a similar death to Okjokull's.