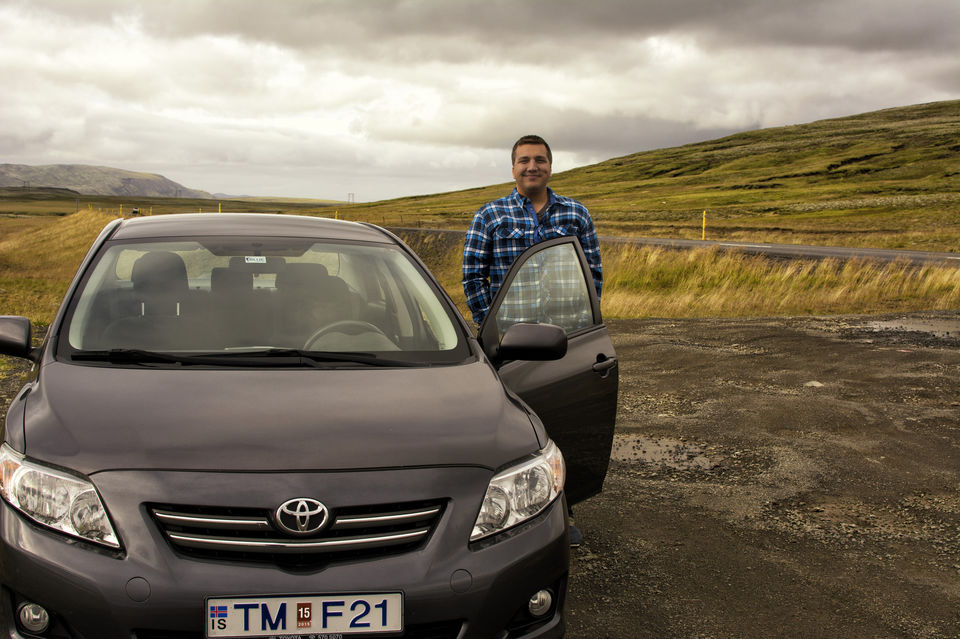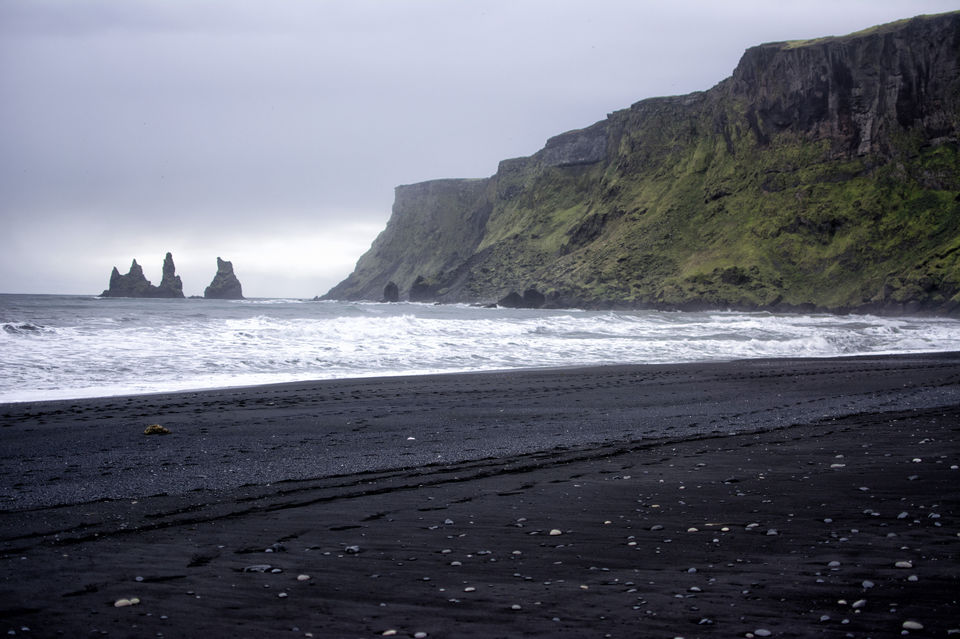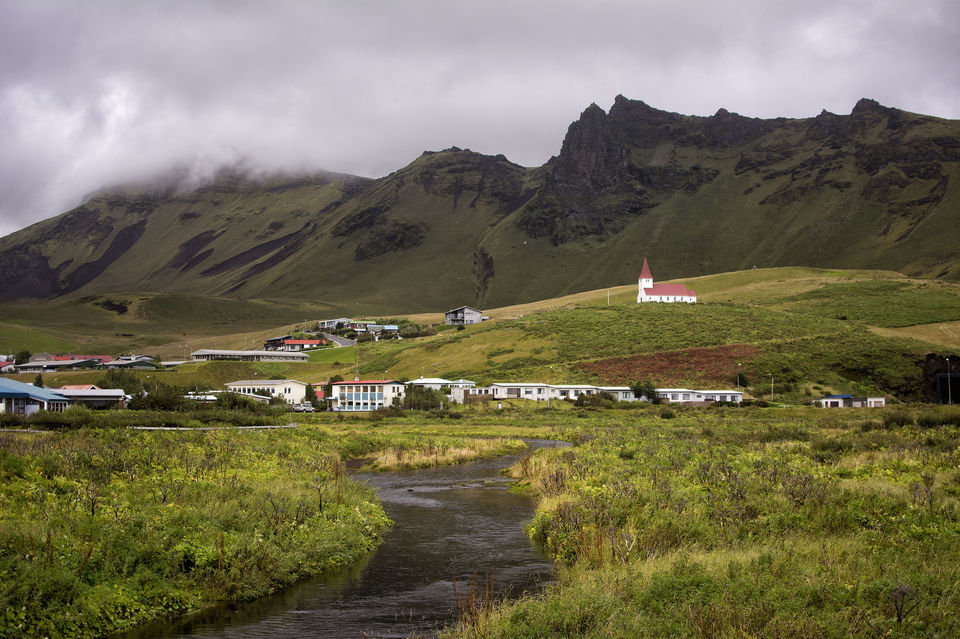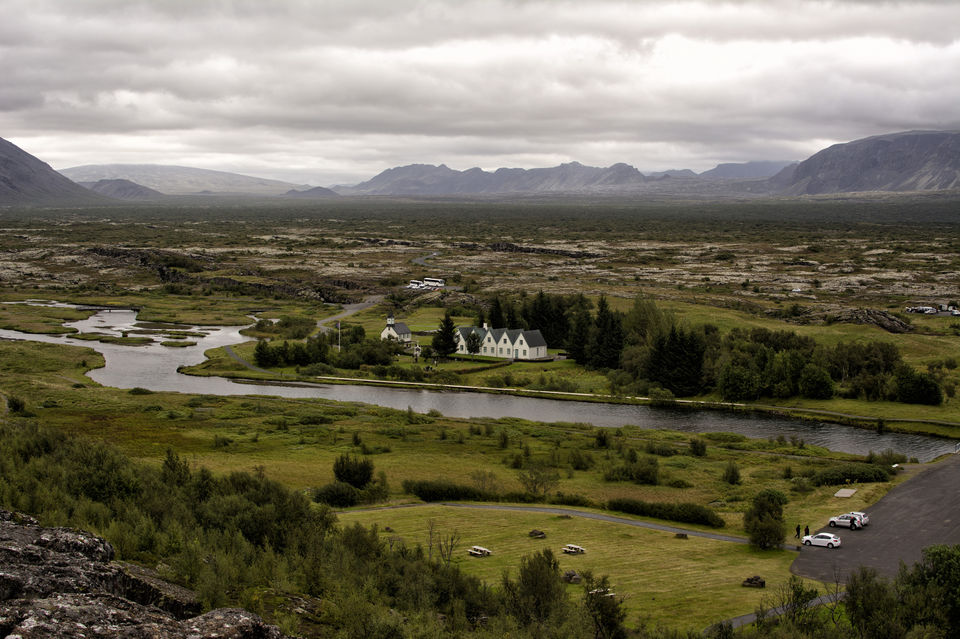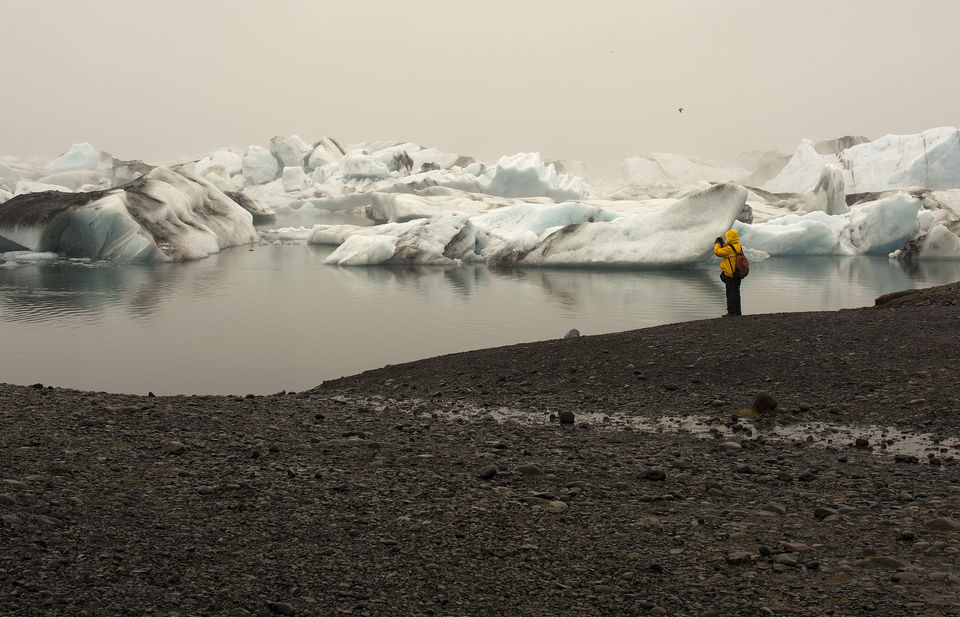 Wanting to make the most of our four days in Iceland, we hit the road – Iceland's Golden Circle Road – immediately after landing at Kelfavik International Airport. The Golden Circle loops through southwest Iceland and incorporates three of Iceland's most recognized landmarks: Thingvellir National Park, Geysir, and Gulfoss.
Driving in Iceland is rather stress free, with clear signage and little traffic to deal with. After picking up our vehicle from the Blue Car Rental office, just a short walk from the airport, we headed towards Reykjavik while also keeping an eye out for a petrol station and grocery store. We ran into a bit of trouble early on trying to fill our rental car with gasoline, as the first two stations we came to were self-serve and didn't seem to be fans of our foreign credit cards; however, after finding a bigger station, complete with attendants and a small convenience store, we were told that this often happens and they were able to charge our credit cards in-store. *Upon refueling a second time we learned that it's possible to buy a prepay fuel card to use at these self-serve stations in lieu of a credit card.
With a full tank of fuel (and a few less dollars in our bank account – currently gasoline is about $2.20 CAD per litre in Iceland) we needed to stock up on some groceries before heading for The Golden Circle. In a country where the word town refers to a few scattered houses, it can be difficult to find places to eat when outside of Reykjavik , so we figured that packing our own provisions was not only fiscally smart but responsible as well. We pulled into a Bonus, a simple chain-style supermarket easily spotted by their piggy bank logo, and grabbed some basic items – rye crackers, cream cheese, buns, deli meat, grapes, water, and some Skyr (Iceland's famous yogurt we kept reading about during our trip planning) – this would be lunch and dinner for the next two days while exploring Iceland by car (breakfast was provided by our accommodation).
Our first stop was at Þingvellir National Park, one of only two UNESCO World Heritage Sites in Iceland and the location of Iceland's first Parliament (AlÞingi) in the year 930 AD. These parliamentary proceedings are said to be the founding of the nation of Iceland and laid ground for a common cultural heritage and national identity. Today, the remaining structures are one of Iceland's most popular tourist sites. However, in addition to the historical and cultural significance of the site, this area is also of geological importance and became a national park in 1928 as a result of its special tectonic and volcanic environment. It is one of the few places on the planet where you can see the Earth visibly tearing apart as the North American and Eurasian plates drift away from each other. This has left a huge rift through the park, measuring up to 40 m deep and 64 m wide in some parts. And it's not just the land that's pulling apart – the rift also runs right through Þingvallavatn (the largest lake in Iceland and a stone's throw from the Parliament), and has created some of the most breathtaking diving spots in the world. Standing atop the park's lookout platform we were immediately impressed by the magnificent views overlooking Þingvallavatn (Iceland's biggest lake), the moss covered cliffs, and the picturesque AlÞingi. As we moved down through one of the deep rifts, we couldn't help but stare into the gaping tears in the Earth, wondering just how deep they may be.
A 60 km drive from Þingvellir brought us to the second stop on our driving tour, the geothermally active region of Haukadalur and its famous geysers – Geysir and Strokkur. It didn't take long for the excitement to begin, as Strokkur went off just as we were pulling into the parking area. As we walked towards these two larger geysers, we passed pools of boiling water, spurting up from underground and letting off a strong smell of sulphur. While less impressive than the larger eruptions, these smaller hotspots allow for closer inspection and lead the way up a small hill towards Strokkur and Geysir. As we approached Strokkur, evident by the large circle of people surrounding it, all that was left to do was choose our vantage point, ready our camera, and wait for it to go off. We didn't have to wait long, as it erupts regularly (every 5-10 minutes), and were treated to four shows during our twenty minute visit, the largest of which seemed to reach a hundred feet in the air.
Hopping back into the car, we had one more stop on our Golden Circle tour – Gullfoss – Iceland's most famous and dramatic waterfall. As we pulled up towards the visitor centre we could visibly see the spray coming from the falls and hear the roar of the rushing water, even though they were still a mile away. Although not visible from the road, a short walk along wooden pathways leads to both the top and bottom of the falls, allowing visitors a full vantage point for pictures before getting up close to the roaring falls.
As our tour of the Golden Circle was officially complete, we made our way back towards Reykjavik and onto our accommodations for the night just outside of the town of Vik. However, we couldn't help but stop every few kilometers to snap a picture or two of the picturesque landscapes and some extremely friendly Icelandic horses. With so much to see and do in this region, our Golden Circle Tour was a full day trip, about 300km (6-7 hrs) total.