Forget para-gliding, zip lining and sky diving, if you're looking for that adrenaline rush, there's actually quite an easy means to do that right here in India. All you need to do is just get from one end of the bridge to another.
There are some lengthy and really shaky hanging bridges in India that run over water bodies at times and really thick forests at times. And it could really give you a case of the shivers and cold feet trying to get from one end to another. Take a look at some such hanging bridges which are scary to cross but beautiful nevertheless.
Dibang Valley, Arunachal Pradesh
This picturesque hanging bridge over the Dri river is in the Upper Dibang Valley of Arunachal Pradesh is delicately built and quite scary to walk over.
Gandhi bridge over Siang river, Arunachal Pradesh
The Gandhi bridge over river Siang in Yingkiong town of Arunachal Pradesh built with wood and wire may wobble a little while you walk over it giving you a good scare but the surroundings sure are gorgeous.
Lohit river, Arunachal Pradesh
This bridge over the Lohit river in Arunachal Pradesh connecting the villages Kibithu and Kahoo is stunning to look at and can give you quite a thrill while you try to walk or ride over it.
Walong, Arunachal Pradesh
Also, in Arunachal Pradesh, this hanging bridge of Walong is not only light in its build but also gets a bit shaky as we walk through it, making the experience of crossing it all the more scarier. However it, it makes for one stunning picture.
Thenmala sway bridge, Kerala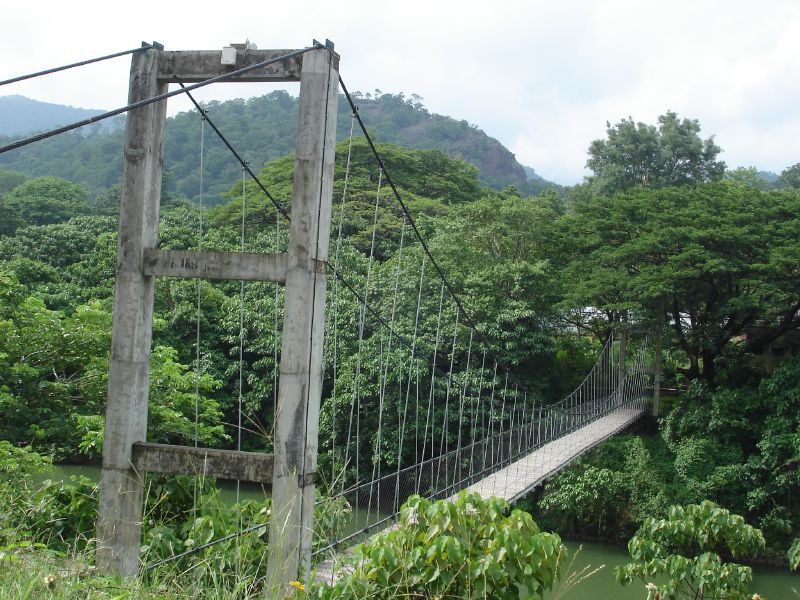 This "sway bridge" as it is called is in Thenmala, a beautiful hill station in Kerala and although it does look sturdy, it sways a little bit as we walk over it and that makes it slightly scary to cross.
Hanging bridge over river Hathi, Coorg, Karnataka
This hanging bridge in Coorg runs over the river Hathi and can get a bit challenging to cross with being so rickety. All the flora around it and the waters that run below it make it one insta-worthy hanging bridge.
Loleygaon, Darjeeling
This hanging bridge in Loleygaon of Darjeeling is a bit too fragile to walk or ride over but people love crossing it for the thrill of it. There is a rather thick forest beneath it and that makes it even scarier.
Thimmankudru bridge of Tonse, Karnataka
The Thimmankudru suspension bridge of Tonse, Karnataka, is hung by ropes that aren't extremely thick and runs over water. Yet lots of people ride and walk over it each day and while it has become a routine for the locals to cross it, for visitors, it could actually get quite scary.
Have you had the chance to cross any of these bridges? Have you encountered scarier things while travelling? You can share your story here.
Get travel inspiration from us daily! Save and send a message at 9599147110 on Whatsapp to start.