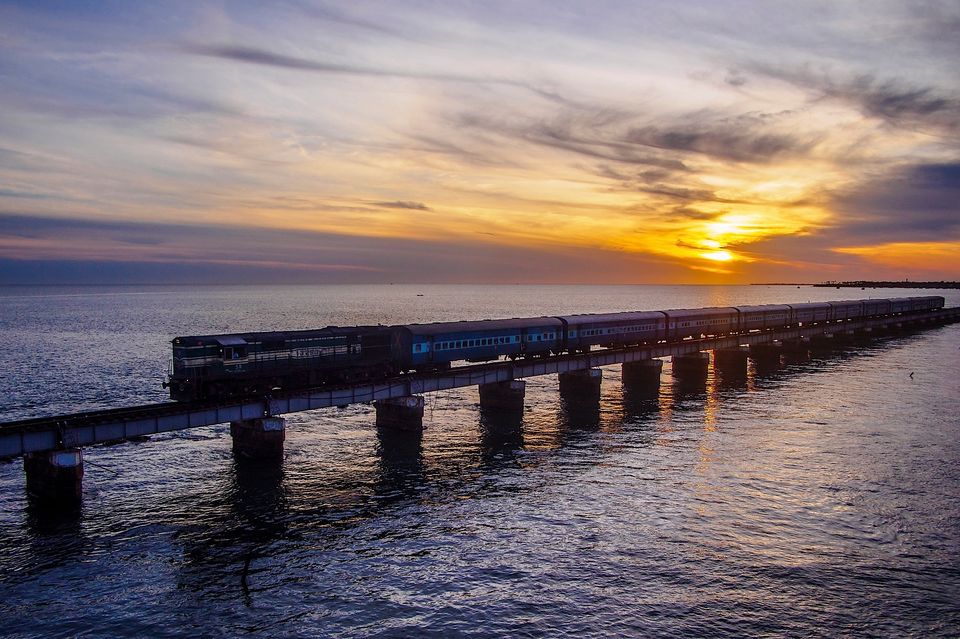 A 100-year-old railway bridge located in the southern state of Tamil Nadu, Pamban bridge connects Rameswaram island to the mainland. It is not just a railway bridge but a major tourist attraction in Tamil Nadu that leaves travellers awestruck with its scenic beauty. Surrounded by pristine blue waters till as far as your eyes can see, this bridge is 1 metre wide and 2.5km long. Narrowness of this bridge and the beauty around makes your train journey no less than an adventure. With 143 piers, spanning 2km between the mainland and the island, Pamban bridge is the second longest sea bridge in India.
Where is Pamban Bridge?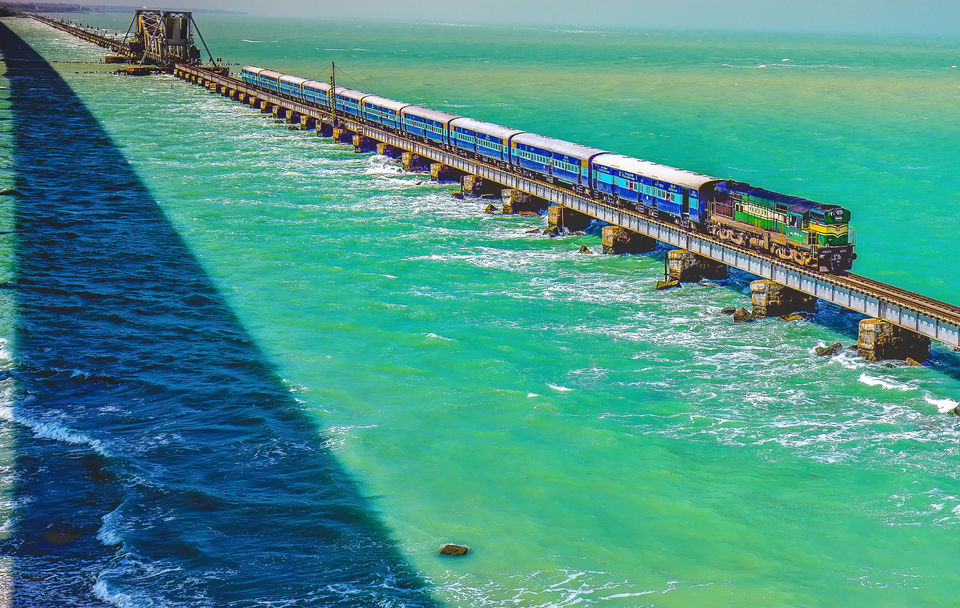 Pamban bridge is located in Tamil Nadu's Rameswaram which is literally the south eastern tip of India. Rameswaram is an island in itself and it connects to mainland India through this century old sea bridge. The bridge is located 14.8km from Rameswaram bus stand. You can reach the bridge by government buses or private vehicles. You can either take the rail route or a road route which runs parallel to it to get to Rameswaram.
Take a ride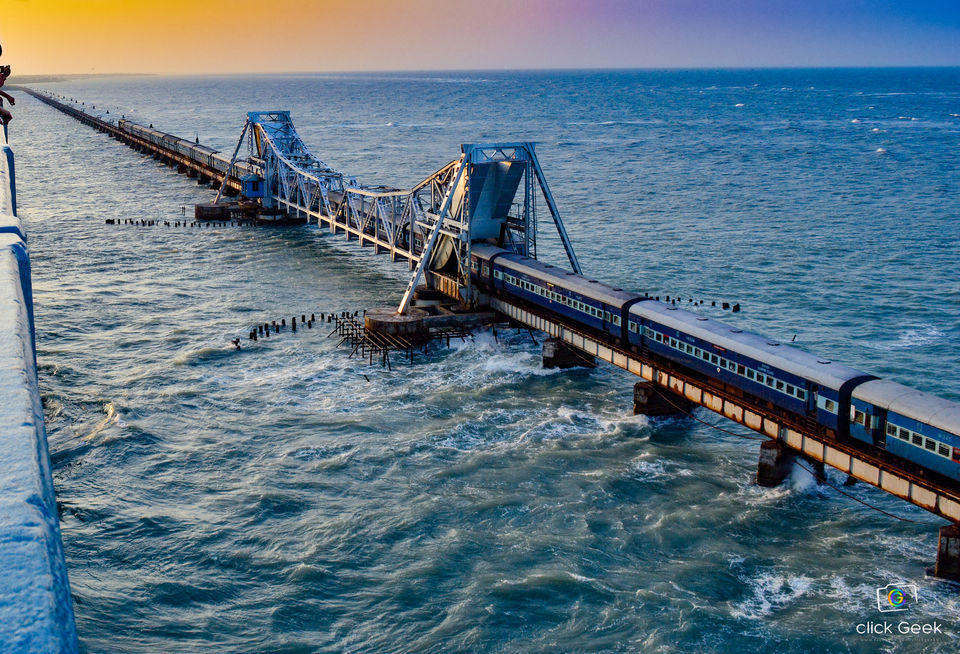 There aren't too many trains that go over this bridge so you are adviced to plan your trip well. The Rameswaram Chennai Express leaves around 5pm everyday from Rameswaram station. Pamban junction is another nearby station from where you can board a train. Get a ticket for a thrilling ride over this fascinating sea bridge.
Interesting facts about Pamban bridge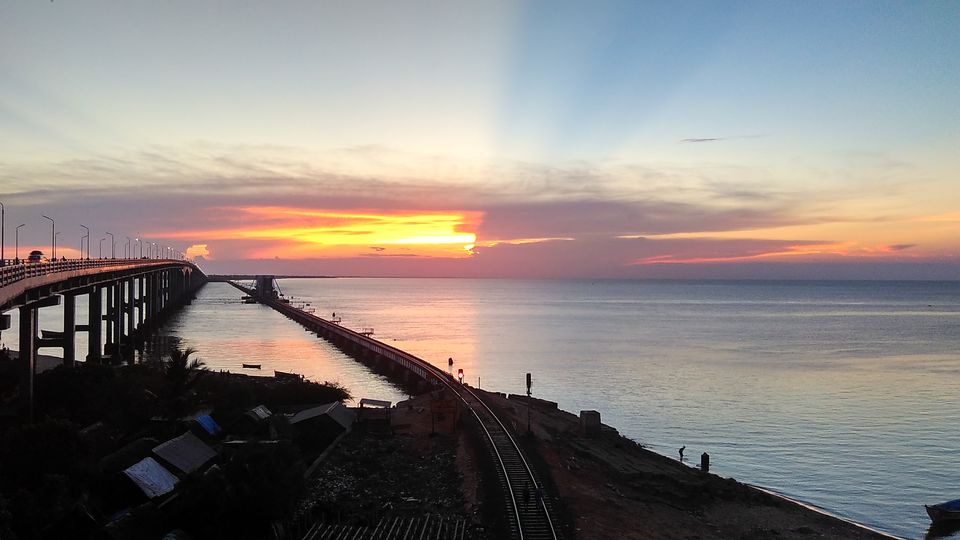 1. Construction of Pambam bridge commenced in 1911 and it was opened on February 24, 1914. In 2007 the railway line on Pamban bridge was converted from metre-gauge to broad-gauge.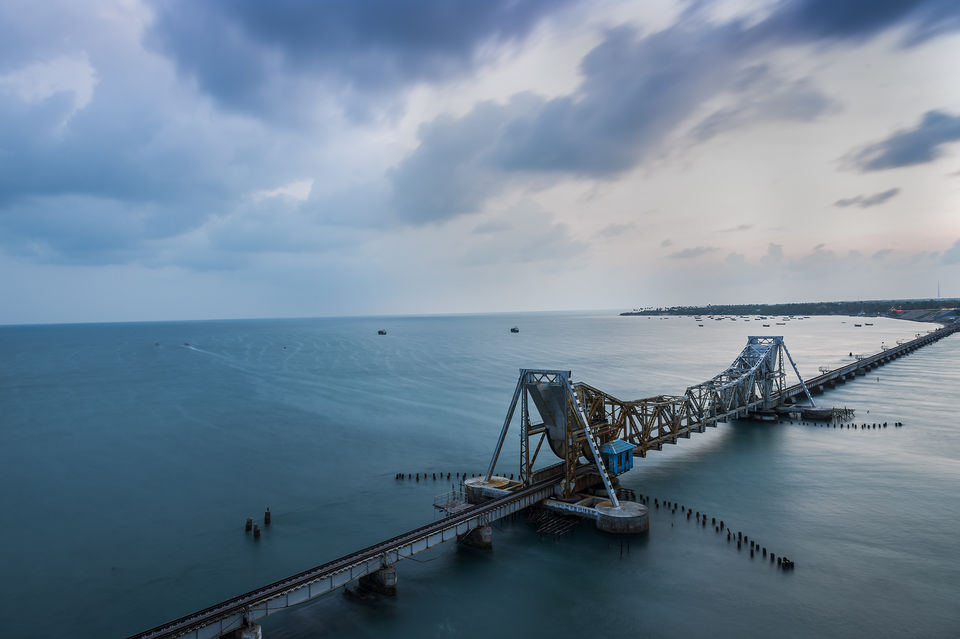 2. Central part of the bridge was designed by German engineer Scherzer. This part, that is 114th span, midway along the bridge, is called the Scherzer span and it opens up to allow ferry movement. On an average, 10 to 15 boats and small ships pass beneath the bridge every month. The opening of the bridge is a spectacular sight to behold when a ferry passes beneath.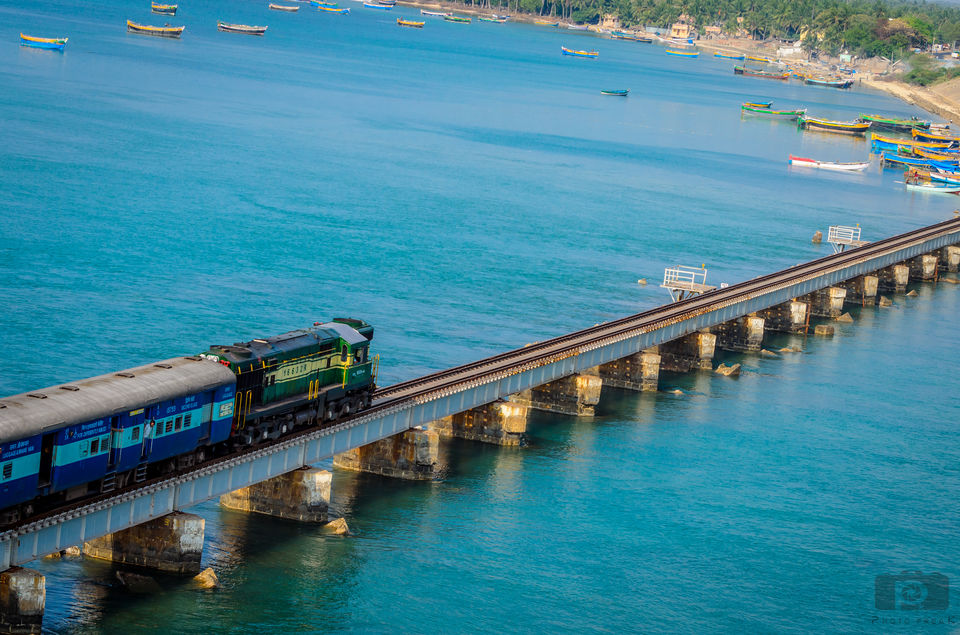 3. This bridge is known to have survived a major cyclone in 1964 that flattened thriving port town Dhanushkodi.
4. Pamban bridge is a cantilever bridge, that is, it has structures that project horizontally into space, supported only on one end.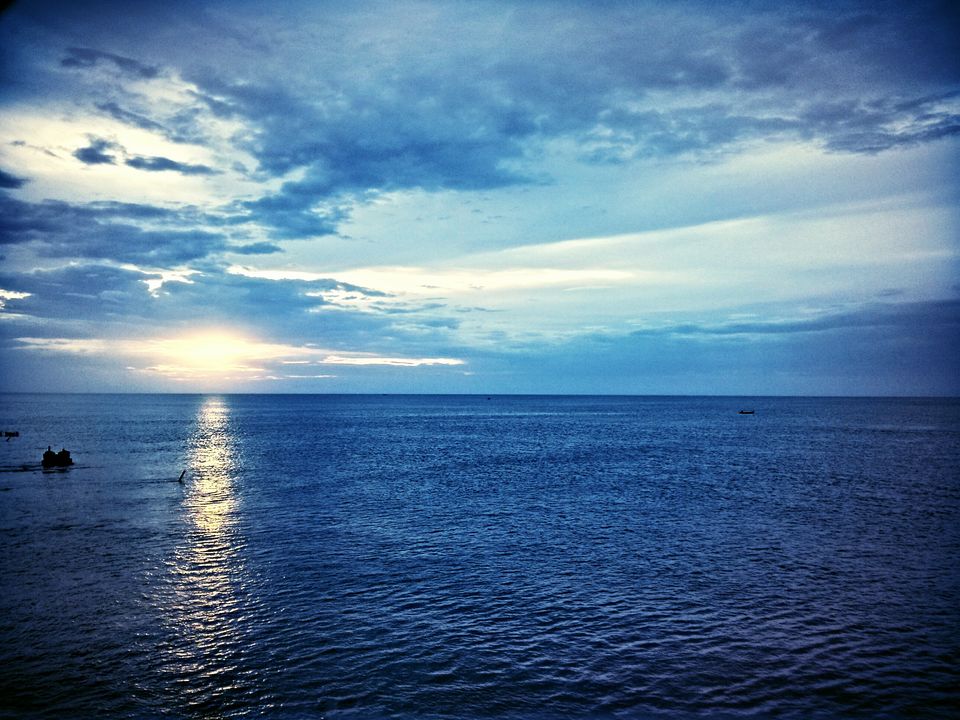 5. The cyclone in 1964 lead to a tragic train accident, following which Indian Railways installed devices to check the wind velocity across the Pamban via duct. Train movement is halted on the bridge when the wind speed exceeds 58kmph.
What else to enjoy?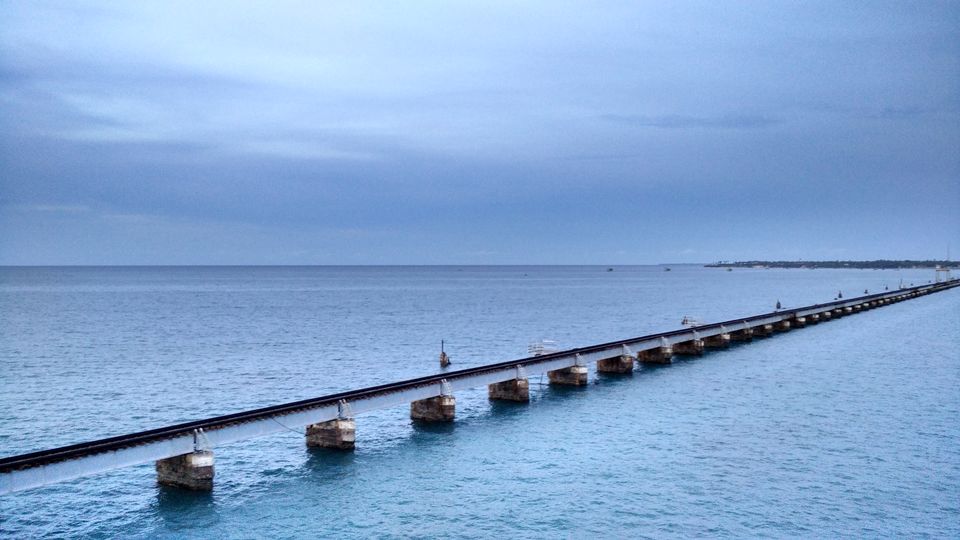 Behold the beauty of Rameswaram Island from the Pamban bridge.
Spectacular view of sea, Kunthukal Vivekananda memorial and nearby islands will leave you mesmerised.
You can spend some quality time with your family in Children's Park at Mandapam shore. The shore is at the farther end of Pamban bridge.
Relish some dry fishes in Pamban town and they are cheaper in Pamban.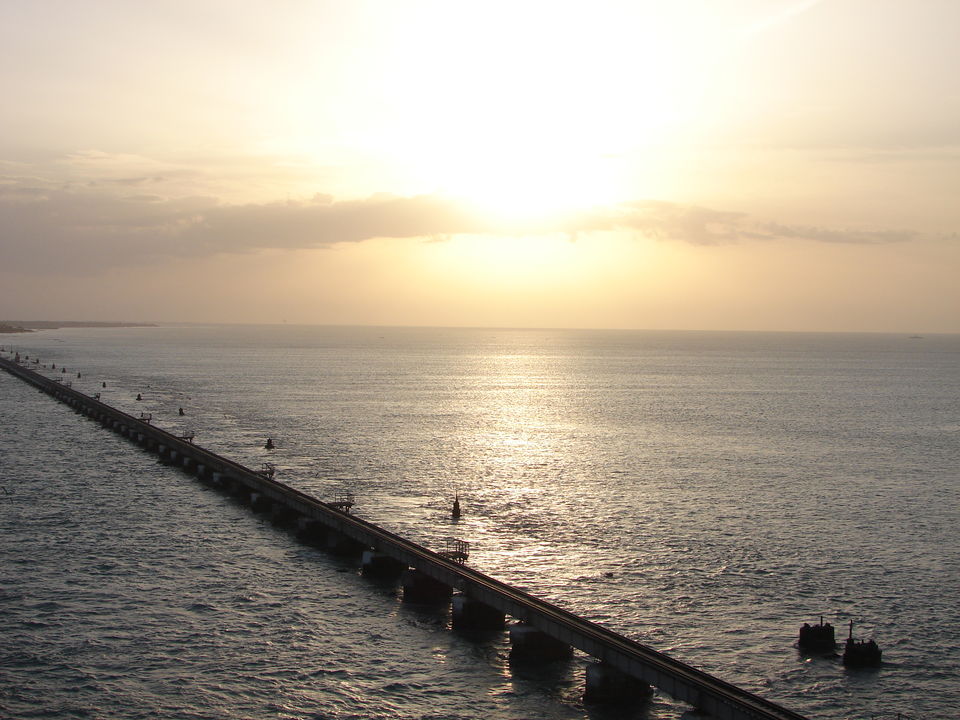 If these breathtaking pictures of this beautiful bridge have swept you away and if you are completely spellbound by the details and facts, then you need to rush to Rameswaram soon.
Pack your bags and go strait to this outstanding engineering marvel to have a short and stunning trip over the sea. The Tripoto community will be right here waiting for those stupendous shots of the sea and the sun.
Meanwhile, watch some really amazing travel videos to get inspired by the beauty of this world at Tripoto's Youtube channel.
Frequent searches leading to this page:-
pamban railway bridge length, pamban bridge train accident, pamban bridge train timings, tamil nadu tour packages itinerary, tamil nadu tour packages itinerary for 3 days