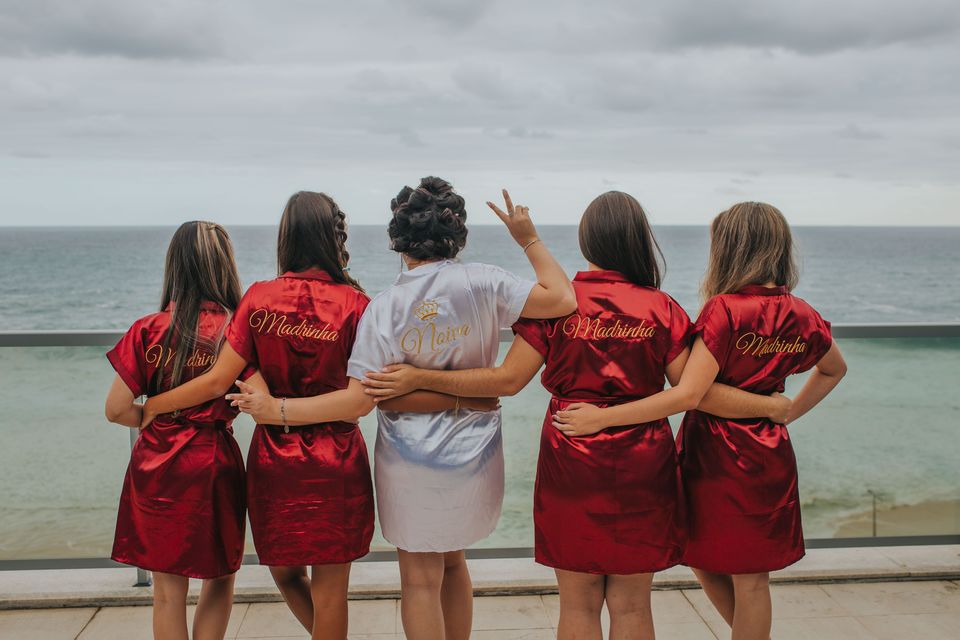 You're engaged! But...
Let's be honest, if you're fueled by wanderlust, the next obvious thing you'd probably think about is - "which destination do I head to for my bachelorette?" because if you eat, sleep and breathe travel, it's really all that's on a girl's mind.
Confessions of a bachelorette - Hopeless romantics who love travel probably have Pinterest boards filled with destinations for every milestone of their lives!
With the pandemic killing our travel-bug symptoms, it's hard to visit destinations outside of India for that perfect bachelorette. Difficult, but not impossible! India has some of the best destinations that can play host to your ideal bachelorette party, or adventure!
Confessions of a bachelorette - Stay away from clichés and just plan a bachelorette that's truly your style!
When we think of a bachelorette, we immediately picture American sitcoms where people black out through a trip before the characters say "I do" to their fiancé. But a bachelorette doesn't have to be all about hangovers, strippers and dirty jokes. And not unlike The Hangover, you can still have fun stories to tell your friends about. Here's a list of Indian destinations to live out your single days, just the way you want to!
Andamans & Nicobar Islands - snorkel your singledom away with sun, sand and Sangrias!
Sip cocktails, wear sun hats and bask by the pure shores of crystal clear waters - but the Andamans can offer a lot more than just that. The perfect place to go diving, explore hidden islands and get the perfect tan to go with your bridal couture - nothing like sun, sand and singledom to celebrate with!
Confessions of a bachelorette: The island offers a range of great diving spots. Get your diving certificate while vacationing, in the blue waters!
Rajasthan to live like a princess before you take over the crown
Shopping, amazing food, breathtaking architecture, cafes situated within forts and palaces to stay in - turn your bachelorette into a luxe getaway with all this and much more! Home to some of the best artisans for jewellery and bridal wear - turn your trip into a shopping expedition with friends to put together the perfect ensemble for your wedding day.
Confessions of a bachelorette: Jodhpur and Neemrana Fort Palace also have a zip-line by Flying Fox Zipline which can get your adrenaline rushing for that perfect rush of blood to the head! And if you want to drift away, head to Jaisalmer for a shot of Bhaang to make your trip an even more colourful one!

Rishikesh for a wellness retreat and a whole lot of fun
If you're the kind who likes to breathe fresh Himalayan air, scream your lungs out while Bungee Jumping and feel the fresh water of the Ganges splash over your face as you river raft - Rishikesh is the best place to spend your bachelorette! Well connected to the mountains, this destination also let's you discover little waterfalls, cafes with global cuisine and trek to valleys where the Gods are believed to dwell in. With views like this, you'll tend to agree!
Confessions of a bachelorette: Opt for luxury camping experiences which also offer white water rafting and adventure sports to make your experience a heavenly one!
Varkala for a private experience by the beach
Varkala in Kerala boasts of pristine beaches and incredible views. But that's not all, the Trip is Life cabin is an incredible experience like no other. A luxury getaway, you'll have panoramic views of the beach, an open garden area to feel the grass under your toes and beautiful sunsets to spend your bachelorette by. Hosted on Air BnB this luxury resort promises to make your last days of being single, memorable!
A cool bachelorette in Himachal Pradesh for the summer
Spend time in the lap of nature, live off the edge on curvy roads and experience cool pastures in Himachal Pradesh. The destination has several options and includes adventure activities like paragliding in Bir, hidden cafes and spiritual retreats at the foothills of the mountains. Nothing like a Pahadi-adventure to prepare for another - your wedding!
Confessions of a bachelorette: Have your upcoming wedding blessed by His Holiness the Dalai Lama by scheduling to meet him at Dharamshala.
Take a plunge into the sparkling waters in Lakshadweep
An archipelago of islands with so much to offer, you'd wonder why you didn't dive into this adventure before! Swim past coral reefs, soak in the sun, watch the shores pass you by from a yacht or go parasailing with the girls to feel weightless and free. Lakshadweep's beautiful beaches are also less populated and offer some of the best nightlife to dance your heart out to. If you're worried you and the gang will get bored, go island hopping and try fishing, learning to snorkel or scuba dive. And if all else fails, there's always some shopping to treat yourself to!
Karaikudi - the Chettinad home to diamonds, palaces and antiques
If you enjoy walking past quiet homes with gigantic wooden doors, and ornate engravings across the walls, head to Karaikudi for a private escape with your besties. Walk past Chettinad mansions, eat delicious meals filled with chicken and seafood, and discover the architecture of the past in Tamil Nadu's little known gem. Previously known for the best diamonds in South India, this little treat now offers a tour into the past with grand mansions which play host to guests who have an eye for the exquisite.
Confessions of a bachelorette: Explore the myriad patterns of the Athangudi tiles which are slowly turning into a forgotten art form. A great way to create memories and even choose decor for your new home!
Off the beaten track in Meghalaya
The best way to spend your bachelorette could be doing a road trip through Shillong. Star gaze, discover waterfalls and living root bridges. Eat some delicious food and even party at the clubs which are known to be quite hip. Meghalaya can be a gorgeous treat if you enjoy a journey of self-discovery topped with lots of fun!
Confessions of a bachelorette: Make a trip to the Shillong Market which has some of the best street shopping coupled with night clubs making it a great place to spend a night with your friends!
Rose petal baths, biryani and bangles at the home to Nizams - Hyderabad

Savour exquisite flavours, explore fragrances loved by Mughal princesses and shop for the best pearls the country has to offer in this eclectic destination. Tour the Salar Jung Museum, spend a day at the Falaknuma Palace (or better still check-in!) and watch the sunset while preparing for an unforgettable meal at the world's largest dining table which can serve 101 guests. Hyderabad is also home to several pubs and clubs which can make for a memorable night out if you enjoy a good party.
Confessions of a bachelorette: Hang out at Banjara Hills for a chance to bump into celebrities. Visit the Charminar market for delicious Sulaimani chai and to shop for pearls that come at a bargain compared to larger boutiques.
Whether you enjoy the typical bachelorette party or crafting a unique experience for yourself or your best friend who's getting married, there are plenty of hidden gems just waiting to be discovered in India!
What's your favourite Indian destination to spend your bachelorette at? Share your comments below or tag me on Instagram to help me discover more places!
Think we missed out on something? Tell us about it in the comments below. Or write about it here on Tripoto and earn Tripoto Credits!
Ready to travel for free? Earn credits and redeem them on Tripoto's weekend getaways, hotel stays and vacation packages!