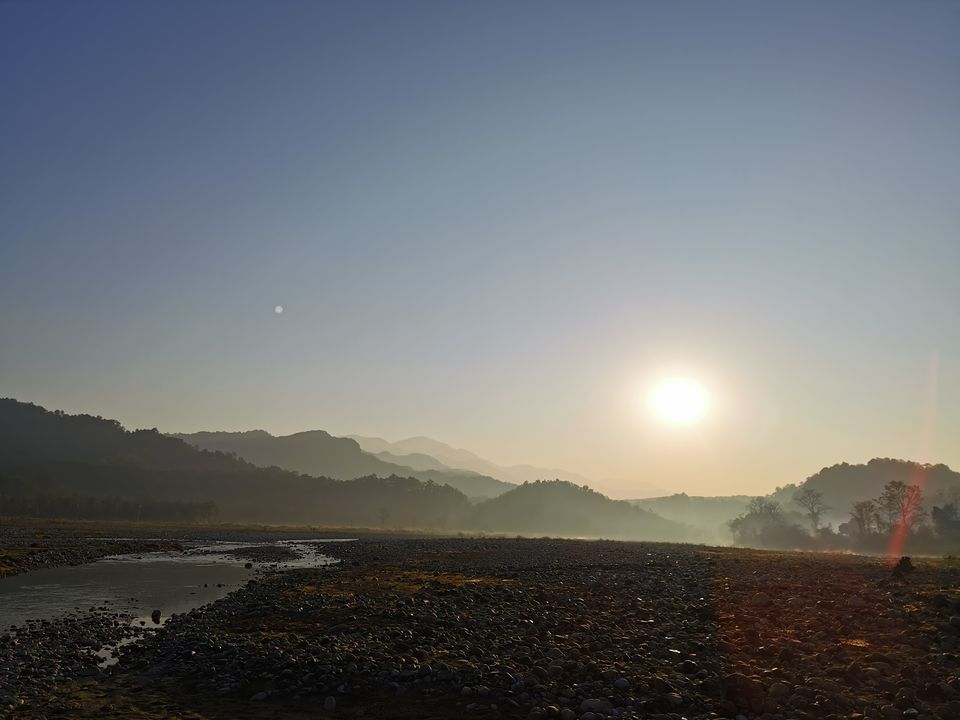 Who hates a road trip! Said nobody ever. We have all grown hearing 'Follow your heart!' And trust me, when you take a road trip, you have all liberty to do so. You can start at your will, make a pit stop of your choice, halt as long as you want and reach anytime your heart desires to. Road trips aren't about reaching the destination but about guzzling up all the experiences on your way.
Having a Sunday column on a newspaper to write on cars, I have been on road trips since a decade now. It started off as the need for the job, which unknowingly turned into passion. Through my stories, I would tell you about some memorable road trips in India and abroad. And while you would love reading them, these would also serve as ready made guidebook of road trips. Having navigation is one thing, but getting to know about everything that comes on the way – the pit stops, the dhabas, the incredible sunset points, the bridges to park and hear the boatmen sing and many more.
So today, I shall be telling you the story of my road trip from Delhi to Lansdowne. This small cantonment town in Pauri Garhwal district in Uttarakhand is at an altitude of 1,780 m. So if you are planning to begin your hill drive, this is the destination nearest to Delhi to master your driving skills. While the roads are average condition, the width of the roads is good, there are railings on the roads and also the terrain isn't very steep.
The start
The best time to start for destinations under 500 kilometres is always right before the sunrise. This is because you would reach the destination in 5-8 hours and by the time you reach it would be check-in time by the hotel clock. That's what a person expertised in economics would say. But for me, the gradual lighting up of the sky, the feel of driving in the dark followed by turning off the headlight and then a refreshing tea break at a road side dhaba – all contribute to the magnificence of the journey. So we began this Delhi-Lansdowne trip around 5 in the morning. I was driving a Renault Kwid then and I thought why not take this little wonder for a spin! The Outback Bronze coloured Kwid was asleep in his stable. Before every trip, I make sure to clean the car a little, put in a couple of 'media test drive' signs and stock up water, snacks, toilet paper, wet tissues, first aid-medicine box, and a few cotton napkins. These things ensure a safe trip. We have the 0.8 litre version of the car, yet the driving passion in my heart called out 'Aaj kuch toofani karte hai!'
The Route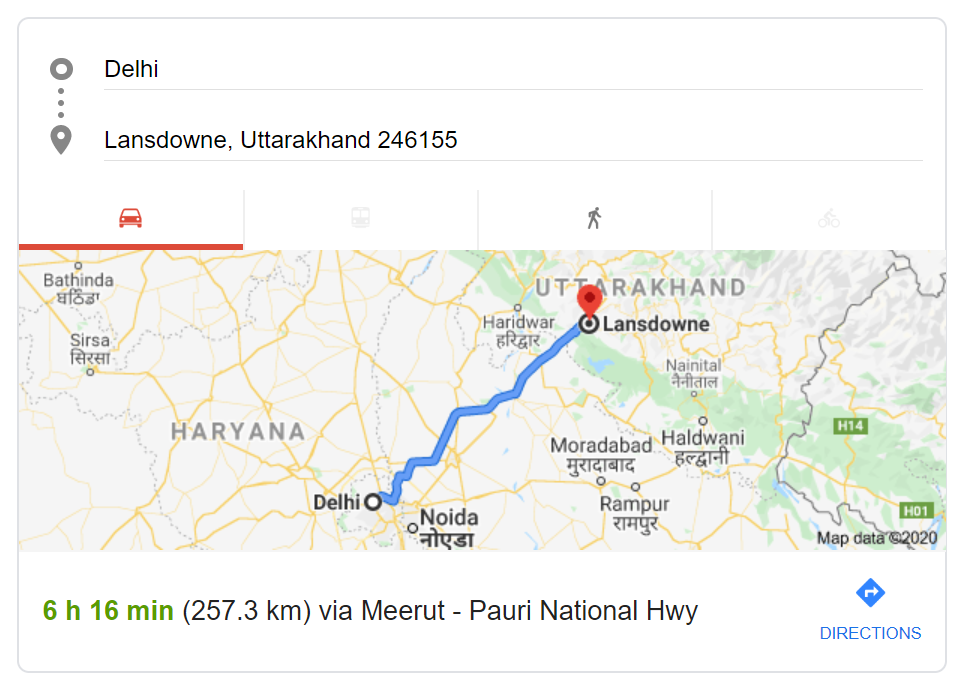 The Kwid has got a good centre console with a big infotainment screen. The navigation is on and we found there are two routes.:
--Delhi - Muradnagar - Modinagar - Khatauli - kiratpur - Najibabad - Kotdwara – Lansdowne
--Delhi-Lalkuan -Babugarh - Gajraula - Dhanaura - Tharpur - Kotdwara – Lansdowne
The total distance shoulde be around 260 km and the estimated duration was forecasted as 7 hours. The first route would be 15 km less but the condition of road in the stretch between Chaudhary Charan Singh Barrage and Mujhera was heard to be miserable. Hence, we decided to stick the Delhi- Lalkuan stretch.
Expert tip: When you choose the Google Map navigation, keep in mind, Google always tends to the route most often travelled or the shortest. But when we are on road trip, we want to stay away from the crowd and also don't want to miss out on panoramic views on the way. So choose your road trip route wisely.
After the sunrise
We had covered close to a hundred kilometres in two hours. So, by the time we were near Gajraula, we have crossed the sleeping towns of Lalkuan, Babugarh and started to feel hungry. The sun is still mild and on both the sides there are green stretch. At times the dew drops on the crops reflect the sun and surprise us. Oh! Little beauty!
We wanted to make a tea stop, but we were caught up in a bad traffic while leaving Noida city and nobody had the mood to stop and have tea.
I have been seeing this huge signage of 'Shiva Dhaba' and 'New Shiva Dhaba' since an hour now. Each signage said '20 minutes ahead', which never seem to end. At one time, I actually started thinking if I have got caught in a time loop and if this Kwid was some sort of time machine. May be we were stuck in time and could never get out of it. But then appeared a signage of Bikanerwala '5 minutes ahead', which made me realize, people who created these bill boards are really bad in maths. How can you go wrong in calculation! What's the problem if you write exactly how much time left.
Anyway, I kept blaming this Bikanerwala guy in my head and then the restaurant popped up on the left side of the road. Be careful here if you want to make a stop here. This is because there's a bridge and once you cross it you will see the restaurant appearing suddenly. You may miss it if you don't go slow here. Yes, you always have the option to reverse. But just be careful on the highway.
A clean washroom
When on a road trip, you want nothing but a clean washroom every 50 kilometres. This would make your trip most memorable. A clean washroom is the deal breaker.
Well, this restaurant has a clmyeean washroom with hygienic handwash and paper towel. What more could you ask for! The tea cost Rs 30 here but I hate the paper bag tea. So I have got myself adraki-elaichi chai in a flask. So I would sip on that and ordered a plain dosa for myself. In general, they don't go wrong here. While on road, I stay away from coconut chutney because if its not fresh, you know what may happen.
When you are with friends, remember, there need to be a self-appointed captain. And yes, I am the one in the group. If you don't have one, you would be spending an hour or more in a restaurant. So I would request people to hurry up a little with their food because the toilet duration cannot be compromised.
The road playlist
Once back in the car, my co-driver decided to take charge of the playlist. Yes, when your wife handles the jukebox you better not interfere. So with Ed Sheeran and Sia playing, we zoom off. This stretch starts getting bit boring because the usual Saturday traffic has started and you would need to honk behind tempos, auto rickshaws who would crowd the middle of the highway without letting people pass by. But here's a catch. When you cannot avoid the bad traffic, start relishing it. While we were headed to a destination and spend a day or two amidst lush green Himalayas, the locals here are on their way to work. So you cannot keep honking.
We have crossed the half way mark at around Zoya and cruising at around 80 kilometre an hour. The Kwid was now delivering an impressive 22 kilometre to a litre. The ride quality is good. The suspension is bit steep so in case of speed breakers a little high and you might get a thud. Having said so, you actually sit a bit up so have a good visibility on the road. There is no blind spot in the front pillar, which ensures you drive safe. The audio quality of the speakers is decent enough to keep you hooked for seven hours. We over took an orange Maruti Suzuki S-presso quite a few times and our car definitely looked much better at least on the cosmetic side.

Welcome to Devbhoomi
Along the way we kept conversing about things. The upward drive had begun a while back and it was miles before Kotdwar we started feeling the real journey has begun. Till now the AC was on and we decided to switch AC off and roll down the window. Well, it wasn't the true Himalayan breeze but there seemed to be a drop in the temperature. It was 11:30 by then and we weren't hungry from the breakfast yet. So we decided to halt to have a some tea. We found a grand looking restaurant called The Grand Republic. Now when we are on the road, we generally prefer shacks for tea to strike a conversation with the shop owner. Unfortunately, on the whole stretch we couldn't find a decent one that would have a washroom as well. So we walked into this. We had coffees and took off.
Soon we were climbing up. The green is getting intensified. We could see clouds coming down and the Himalayan peaks are hazily visible. The sun seemed to have gone mild and the road calling us.
I have slowed down because there are frequent bends and you need to be careful. The rear seat of the car is fit to accommodate two people and one child in the middle. Not for once did my friends in the back complain of any cornering effect when turning on the edges, a complaint though.
I could smell the earth here. And Lansdowne is only 20 odd kilometres ahead.
Relishing the Himalayas
Our journey had begun the moment we stepped out so reaching the destination isn't the goal. On a lonely stretch we decided to switch off the ignition and just step outside the car. We weren't exhausted. Washed our face with the bottled water we had. And then came out another flask of elaichi tea. We had got kulhars with us to use the opportunity. And then sitting by the edge of the road overlooking a valley, we took the first sip. It felt like the tea added the icing on the cake of the enjoying the place. Suddenly in a matter of 10-15 minutes, the sun has disappeared. And we could see the ridge opposite to us, there is rain. In five minutes the cloud came floating and drenched us all. We rushed to the car. I was all in to get wet in the rain but then there are two nights ahead of us and I am the only driver. As we climbed up, the rain stopped just like the suddenness it had appeared with.
We are in the town of Lansdowne. To charm us up, we generally don't book hotels in advance. And this time after a thorough look at a few hotels and resorts and negotiations, we zeroed in on Samskara and Samsara Homestay, a decent place to be for two nights. Nothing luxurious. But had a place to park and a delicious hot meal ready, our only prerequisites.

Return
On the way back, we started at 11AM right after breakfast and reached Delhi by 7 PM. On the way we stopped for lunch at Udupiwala in Zoya. There is artificial grape vine inside the restaurant, which can be a highlight of the return trip.
Things to note:
The trip cost us: Rs 6700 for two people in twin sharing accommodation including food. We ate non vegetarian for breakfast, lunch and dinner and only had packaged drinking water.
Petrol cost was Rs 2730.
Ensure you fuel up before leaving Delhi and refuel with two bars remaining. And checking tyre pressure every fortnight should be a regular practice to help you keep savings in check.