"The secret village- Bara Bhangal" .
Long walks lead to magical views in the Himalayas. This trek goes through a different vegetation zone on each day... It's like walking through four seasons in a two weeks' time.
Bara Bhangal, the hidden gem of the Himachal Pradesh! A walk that starts in the Kullu valley and ends in Kangra Valley. A long trek crossing two remote passes, the Kalihani Pass in the Bara Bhangal at 4,850m and the Thamsar Pass in the Dhaula Dhar at 4,665m. In best way, drop to visit the large and lonely village of Bara Bhangal. This trek is not for the novice; the terrain encountered en route comes with sheer steep inclines, vertical descends, extensive scree, never ending moraine patches and vast glaciers.
Being an outdoor enthusiast, I always make sure that apart from my professional visits to the mountains I should visit them in my personal time. Sometimes, with my work commitments and fixed itineraries I couldn't justify my visits. Yes, leading an official group, it has its own perks! But, walking with your buddies in an unknown terrain is bliss.
There are several reasons to go on a long trek- to test your limits, to seek adventure, to check endurance or tick off an item on your bucket list. I had a different motive. I wanted to realize my dreams, and find the motivation to follow them. To do this, this 12 days trek to Bara Bhangal in Himachal Pradesh seemed like a good idea. After some research and discussion with my friends, we started our fitness training along with shopping for appropriate trekking gear.
As decided, we checked in our hotel in Solang and as a thumb rule for high-altitude treks, we did an acclimatization hike- Mt. Patalsu base (3300m). Acclimatization is a process that results in the body adjusting to lower levels of oxygen at altitudes. It is only achieved by spending extended periods of time at various levels of altitude before progressing to higher altitudes. With sheer excitement, on the practice hike , we discussed our plan, clicked some amazing pictures and did final check on our medical kit and other essentials.
After all the planning and discussion, our much awaited day had arrived. W we drove to Hidimba temple (old Manali). We met our local guide and his assistant with 05 horses, named; Billo, Sheru, Dani, Bacchi and Sapna and their proud owner Joginder Singh! The horses were all geared up with saddle bags to carry our camping gears and much needed fuel for the trek. We entered the lush green rich and fertile eastern Himalayan forest on the rising slopes of Dhaula Dhar. Distant views of mount Indrasan, Deo tibba to the east and the peaks of Bara Shigri region to north-east could be seen from the trail.
These alpine pastures have provided livelihood to thousands of families of Gaddi shepherds, for several generations. Their choice of livestock is sheep and pashmina goat. The Gaddi use and sell their produce of milk,cheese,meat andleather, stays entirely dependent on its herdand is fully committed to their well-being. we camped at place called Lamadugh (3293m).
Beyond Lamadugh, we crossed the Khandpara Pass also known as Manali Pass(3870m). This terrain is absolutely unimaginable, the grassland was a huge because of the rich glacial soil and rains must have got caught because of high walls of Dhaula Dar. By the time we reached Riyali thach (3475m), we were totally exhausted, our group got split into 03. It was 1645 hrs we settled at our campsite. This was the last day where we connected with our loved once, showed them the surreal campsite. As usual we discussed our next day's plan with Keshu, he briefed us about the following day's terrain. We spent that night thinking about what is going to be coming to our platter.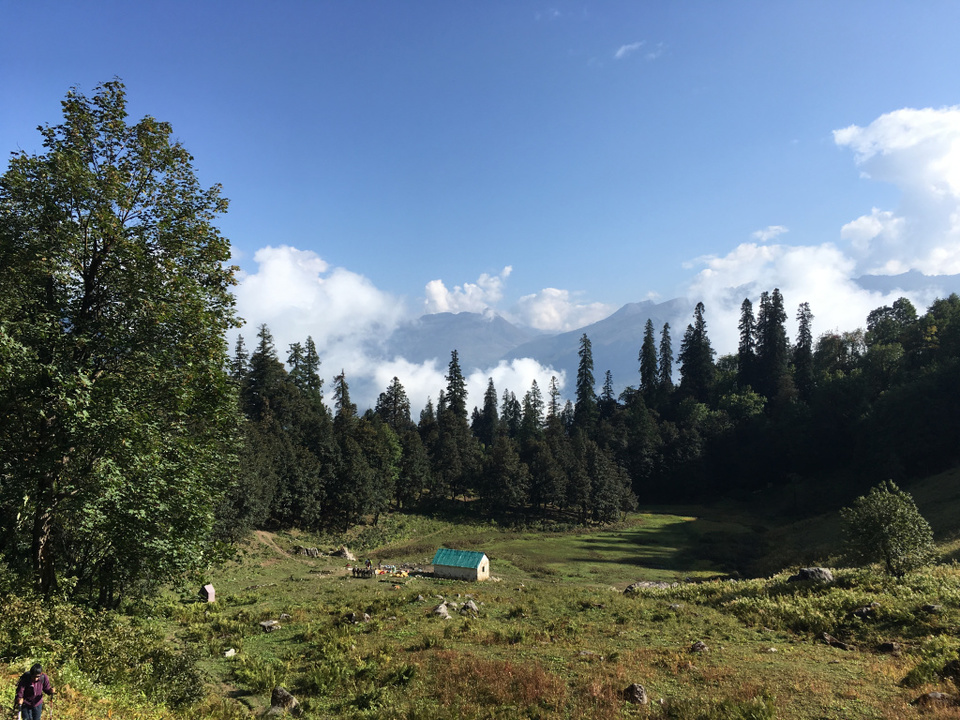 PIC BY- VIVEK O.
Pancake, honey, bread butter jam, omelette/boiled egg all ready, our kitchen wasall set to serve us a hot delicious breakfast along with packed lunch. After finishing the lip-smacking breakfast, it was indeed like a small meal only. We start our trek towards base of Kalihani Pass. The trail climbs gradually over alpine slopes for couple of hours before continuing on a ridge. After crossing a series of rocky patch of zig-zag formation and old frozen snow slopes with a very low visibility, we reached the flat plain of Kalihani base(4023m). It's started drizzling with some snowflakes by the time reached at the camp. Evening we spent in our tents as it was really cold outside. On a very next day we were going to cross one of the highest passes in the region- Kalihani Pass (4850m). Decidedly, we signed off early and were actually in the sleeping bag at 2000 hrs.
As the elevation grew, we hiked through old moraines and scree- trust me it was hell all the way! The going got difficult as the air thinned out and it also started pouring again. A six hour long slow and steady climb over rock and snow took us to Kalihani pass. From the pass, great views of Dhaula dhar to the west and peaks of greater Himalayan ranges to east could have been visible but the weather gods were not on our side. We kept our cameras inside and started descending. It was unending day; we could not see either any campsite or horses, we went on walking following the Kalihani nallah for two hours and then arrived at our campsite. Well, it was one of the toughest walks I ever experienced with a bad weather. It was almost a 10 hour walk without sunlight as it was pouring since morning. Not a single cloth on us was dry, one by one we went inside the tent and got in our fresh cloths. By dawn the weather showed some mercy on us and it did open for a while. That night one thought crosses my mind, 'We are the most evolved species on the planet because we have the skills to explore, adapt and survive'. I closed my eyes- looked back and relearn from everything the mountains had taught me and waited for everything that I was yet to learn.
As they say, every cloud has a silver lining. We looked back to the Kalihani Pass and started walking towards our next camp. From here the trail follows the watercourse of Kalihani. Many streams have cut down the valley laterally to enter the main nallah which made it challenging to cross . Freezing cold knee deep water din't us leave any choice but to remove our shoes and cross the stream. The water was cutting sharp like a serrated knife. We made a human chain to balance and somehow, we succeeded crossing the river. We were just one day behind arriving at the hidden village - Bara Bhangal! We hit the sack with a vague picture of the hidden village- Bara Bhangal!
Next morning, we made an early start. Slow and gradual ascent up the moraines and then a g long traverse across the mountains for almost 03 hrs. The first panoramic view of the village you will get it from the farms of kidney beans. While descending we encountered timber, blue pine and rhododendron forest. A remote and isolated village which is accessible only for 4-5 months in a year, is inhabited by the Himalayan shepherds who lead a nomadic life. We decided to camped here for 02 nights, after talking to one of the local teachers we pitched our tents in a government primary school premise.
By the time we settled down it was 1430 hrs, the elevation also not that high (2400m) so we were comfortable. Our blistered feet and disruptive weather had been our companion since we began our trek 09 days ago from Manali, but that did not matter anymore. The day was bright and sunny, to make a most of it we took out our bags, sleeping bags and shoes which were soaked for last 4 days and kept them out in the sun! Got rid off our heavy jackets and gloves too. Rest of the day, we just relaxed at the camp and strolled around the village until dark.
Next morning, we got sunlight. The sounds of our kitchen tent being unzipped and found myself looking at bunch of children from primary school waiting for us. Being 02 Oct- Gandhi Jayanti, every year they arranged some small program and this year they got an unexpected guest! People were just beginning their day; the men and women were heading out to the fields and the elders make themselves comfortable in their verandas. After spending some time with the children in the school, we headed out to explore the village. Twenty minutes later, we were at one the student's house sipping tea. Wherever we went, we are greeted with smiles, offered tea and invited for lunch. When we told them that we've promised our camping kitchen, invitation extended for afternoon snacks and dinner or breakfast next day. 'It's tradition' an old man said to us and invited us to have some apples from his farm. The houses were quite warm from inside. If there's anything to remind me of the city, it's the larger than life posters of Bollywood stars and singers, which must be brought by youngsters back from the city. We had detailed conversations with the ladies around, if they ever gone to cities knowing all the facilities out there, they responded with obnoxious face that they returned in three days as they felt that was dirty! We excused ourselves from the house, as we were keen on meeting more inhabitants.
As rightly said by Moroccan scholar Ibn Battuta , "Travelling- It leaves you speechless, then turns you into story-teller".
Another gentleman we invited us for Arrack (rice beer) which we avoid having but with due respect we sat with him and initiate conversation with the history of the village and other things. I had read somewhere, the village inhabitants are descendants of the soldiers in Alexander's army who weren't keen on the long journey back home and over the year they settled down here and married to nomadic shepherdesses, so the reason behind the different looking people- sharp face, pointed chin, blue eyed. And also, it does make sense- because history does document Alexander's return from the bank of the Ravi river. The mystery of how they thought up Bara Bhangal of a name still remains one.
Two-day passed in the blink of an eye. It was time to say good-bye to this paradise. Leaving Bara Bhangal behind, we head south crossing Ravi. We pushed further on a gently sloped terrain full of huge boulders. We had our old companions - blistered feet and adverse weather back with us after two days of separation. Our next campsite 'Mudh' was a small clearing in the middle of glacial debris and boulders, but we had to camp much before the actual site as it snowed heavily, and our horses wouldn't have got any grass there. The entire night, it snowed continuously. Next morning, we made an early start with packed lunch for the last but not in any way the least pass of this journey - The Thamsar pas (4665m). The ascent was gradual, but our pace was slow due to the bleak moraines, loose rocks and an unfavourable weather. On our way, we passed by a large frozen lake. The view was exclusive and unfathomable. It took us seven hours to get to the pass. There was good amount of snow on the pass itself and it made our descendent difficult. I distinctly remember, I was alone on a great white field by the time I had reached the top and I could see my companions struggling on the descent. By the time we crossed, our team was separated; the horses had gone ahead of us and we got split into two groups of 3 and 2. It took almost 12 hours to reach our campsite which was on the bank of river Uhl. I can not describe that night as I don't remember when we went in our tents and slept. We all were very exhausted and completely drained. Your mind quits a thousand times before your body actually does. It is very important for us to know the process of training your mind. Without that it would have become impossible for us to cross the Thamsar.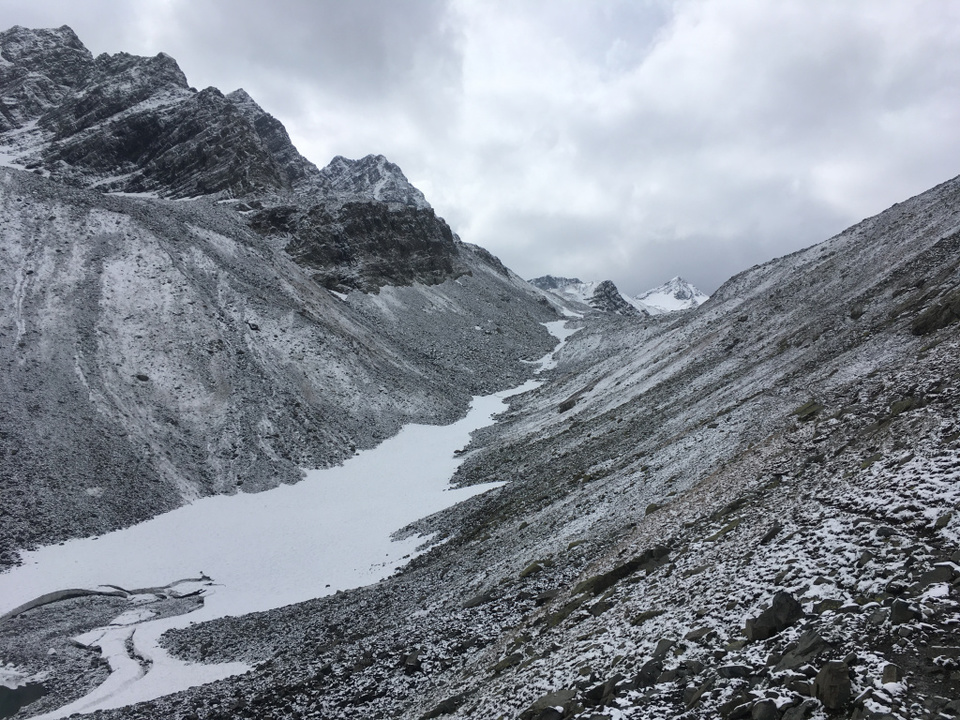 Crossing over the moraine- Pic by Tanuja T.
Next morning, we descended down to village called Rajgunda (2600m) through easy trail. From there it was a easy flat walk to Bir from where we got in an overnight bus to Delhi.
"Pristine places can be found, though not on four wheels, or two. If you are willing to give your legs and lungs some exercise, there is much more to be enjoyed than just views of distant mountains from the hotel window"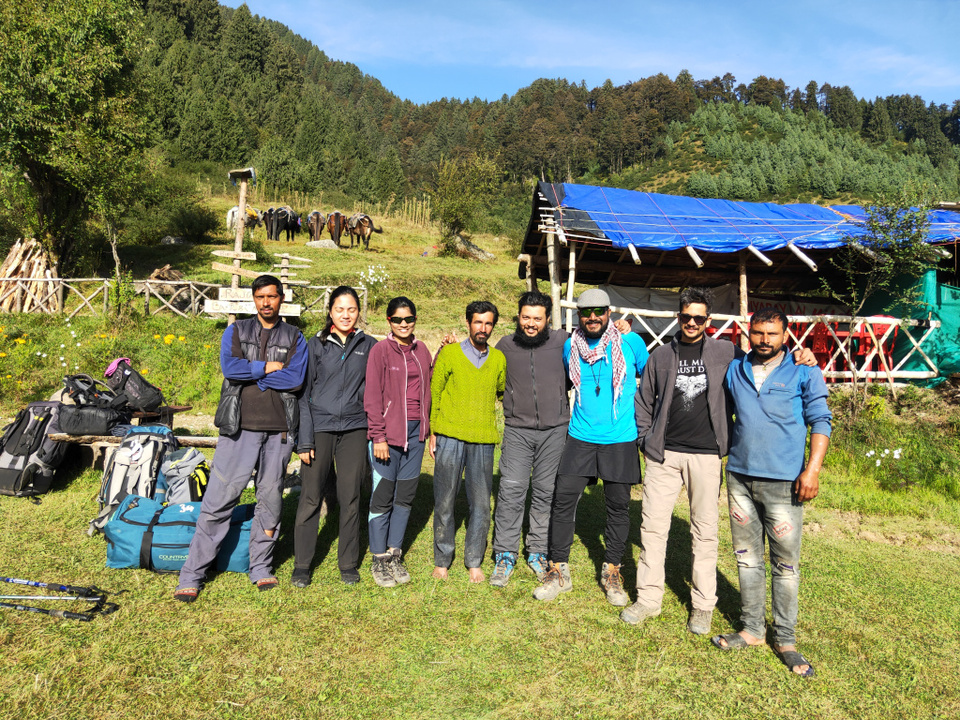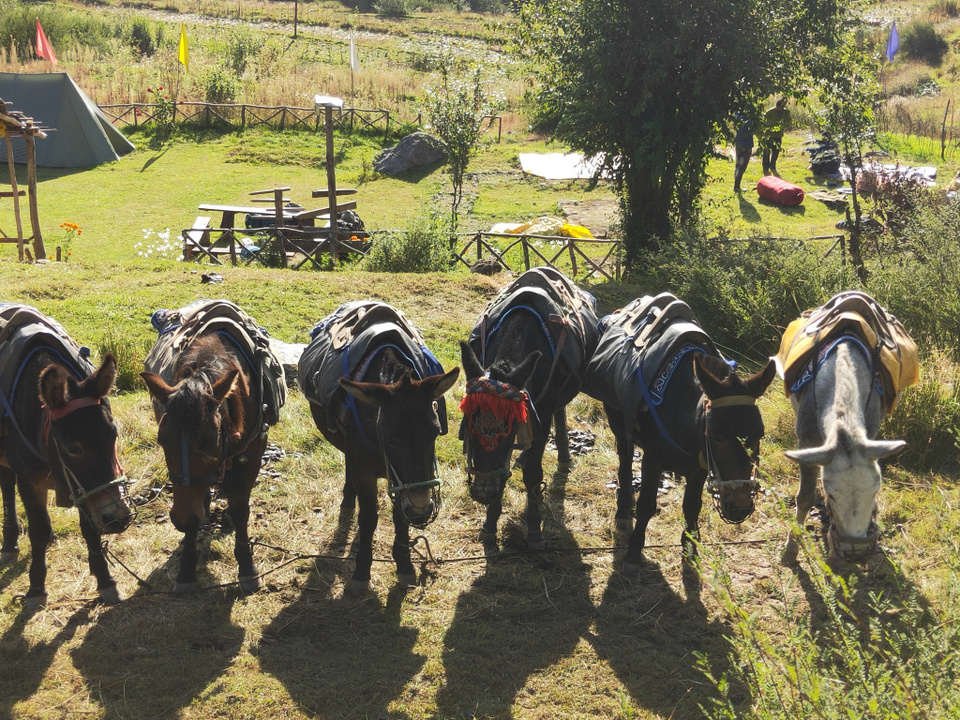 The Team From Left: Keshu(guide), Tanuja, Reshma, Zabeji (assistant), Vivek, myself, Heramb and Joginder Singh Supporting Staff : BILLO, Rani, Dani, Sheru, Bacchi, Sapna